Do you know how many countries are there in the world? If yes, then this article is useless for you.
However, if you need to increase your knowledge, feel free to check the following apps.
Here you will find the best games to learn about countries and their flags.
Find more cool guessing games here!
Most of these games are free of charge. There are nice options for iOS, as well as Android users.
World Geography – Quiz Game
Do you want to expand your knowledge of geography? Then this app is a must! It is packed with a big number of features, which makes it possible to carry this 'teacher' anywhere you go.
Why should you give the app a try? Well, there are at least three reasons for it.
There are

4 difficulty modes

. We recommend starting with the easiest ones and then moving forward to harder levels.

Practice different exercises

. For example, you can learn flags. You will see a new flag and you have to choose the name of the country out of four options. Try to give as many correct answers as you can in a row, this will boost your scores.

Read

a built-in encyclopedia

. This will help you to get smarter and commit fewer mistakes when you play next time.

The app

supports a big number of foreign languages

, such as Russian, Indonesia, Polish, Italian, Spanish, and many others.
What is more, you can study geography as well. There is an interactive map where you can spot countries and learn their location.
The app needs about 75 MB to be installed and function well. Most functions (at least flags) are available at no cost.
If you choose to go for the free version, you might face a significant number of ads but it is the only way of playing for free.
World Geography is available for Android and iOS users. Get it now and explore the world!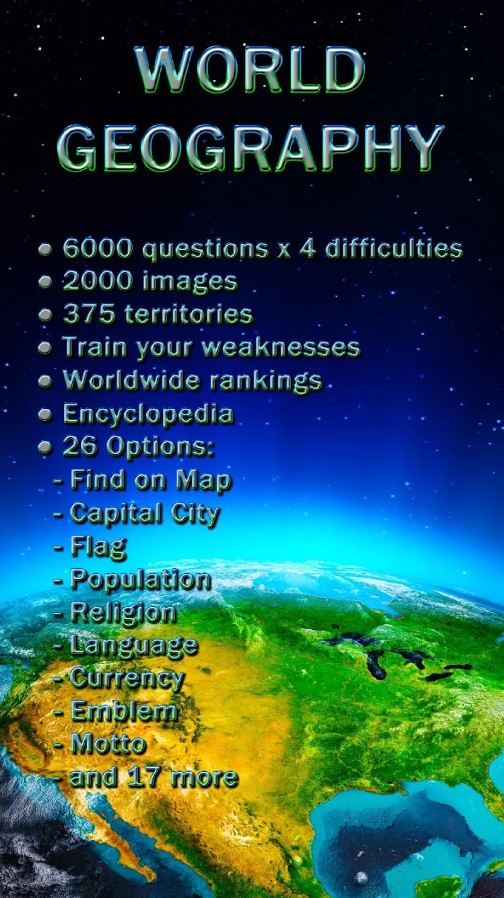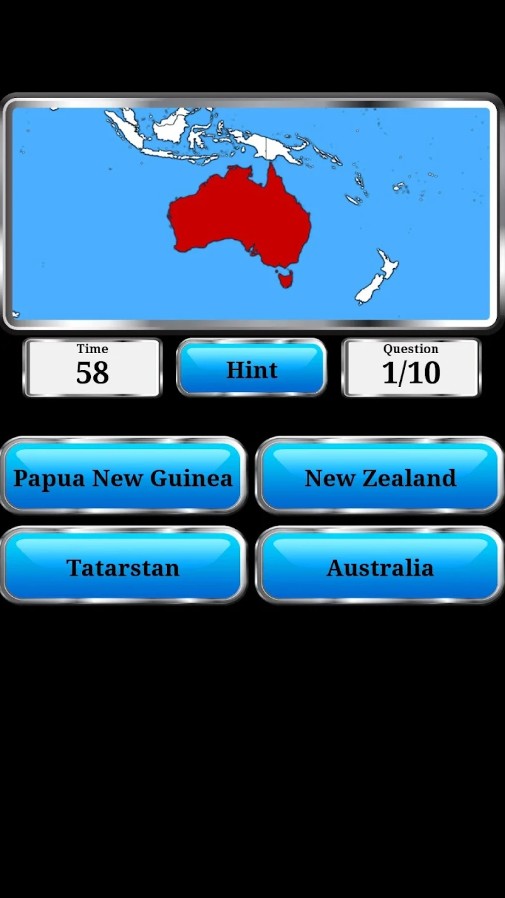 You may also like: 11 Free Lake Map Apps for Android & iOS
Flags of All Countries of the World: Guess-Quiz
Did you study well at school? What do you remember about world geography? Do you know how the flags of different countries look? It's high time we checked it!
This is a free application aimed at boosting your knowledge. There are 197 flags of pretty big and independent countries and about 50 smaller and dependent ones.
Once you feel you are stuck, don't hesitate to go for hints.
The game is divided into several playing modes. Let's take a closer look at them:
The

first one is the easiest

. We recommend that you start with it. It contains flags of widely-known countries, such as the USA, Japan, Russia, and many others. Players usually have no difficulties with it.

The second contains

more rare flags

. They are much harder to guess. There are flags of Haiti, Cyprus, and many others.

Try to

guess dependent countries

and territories, such as Puerto Rico and Scotland.

The next option is to

guess all the countries one by one

. In general, there are 245 flags. Guess them all and you will win. Please note that in this case, you can't commit a single mistake!

Map guessing

. You will be shown a world map with one country highlighted on it. Your aim is to guess what country is highlighted. This will be harder than you think!

Guess the capitals

. You will be shown a flag of the country. You need to understand what country it belongs to. But what is more, you also need to remember its capital.
This educational game supports a big number of foreign languages, such as German and French.
The app will be a great option for anyone who would like to expand their knowledge of geography, both for adults and kids.
The application is free of charge. It is available for iOS, as well as Android users.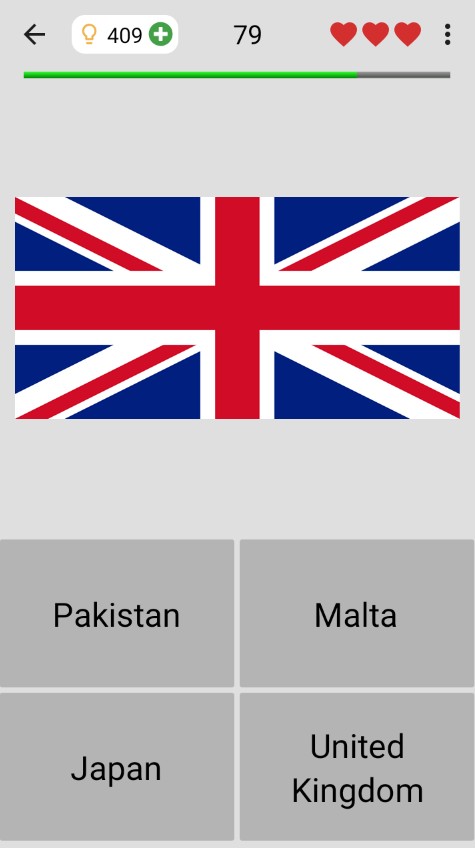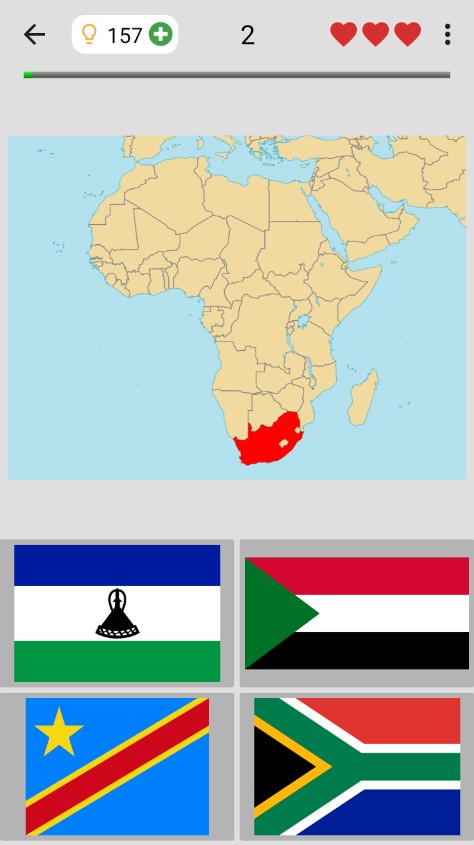 Flags Quiz
Are you looking for a simple app with cool flags and countries you may guess? Here it is. With the help of Flags, you can boost your learning progress greatly.
However, flags aren't the only thing you might learn with the help of this cool quiz. You may also study landmarks, as well as capitals.
Here are the most striking features of Flags:
There are 5 ways of playing this game. For instance, you can play alone or compete with your digital opponents. You can guess one flag or be shown four flags with four options to choose from. What's more, you can go for the hardest game where you can commit no mistakes.
Learn more about various tourist places. This will help you to broaden your horizons.
Compete with one or a few players. This multiplayer mode requires speed and correct answers.
The app is being used by thousands of players all around the world. They love it for its simplicity and a great number of cool playing modes. It is rated 4.7 out of 5 on the App Store and 4.4 on Google Play.
You can get it for free and start learning without stress and boring textbooks.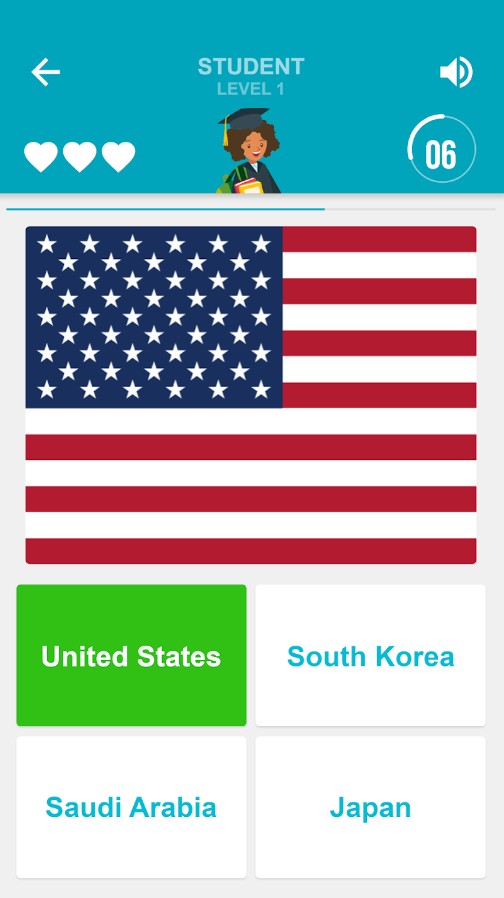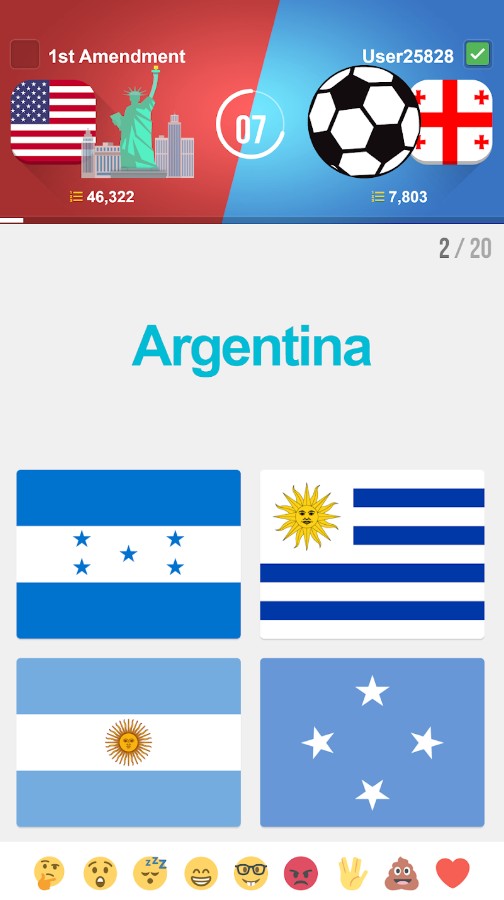 Guess The Country – Flags Quiz
If your aim is to study the flags only, then this app is even better than the previous one. Yes, it contains fewer functions but most of them are related to flags rather than countries.
Let's see why you need to try Guess the Country. There are some good features you will discover for free.
There are more than 170 different flags of Asian, European, African countries.And more are about to be added with the next release of the application!
It's not just a test, it's a big path you will explore. The game is divided into 9 levels so you can start with the first one gradually unlocking more difficult and rare flags.
When you feel you are stuck, there is no need to worry about it, just use the hints. Their number is limited. However, when you give the right answers, you will be given additional clues as well.
This application is being updated regularly meaning all the bugs are fixed on time and new flags will appear soon.
Compete with your friends. Let's see who is the best at guessing the country!
Guess the Country is free of charge. However, there are some ads but they are not too frequent to appear.
Unfortunately, the app is available for Android users only.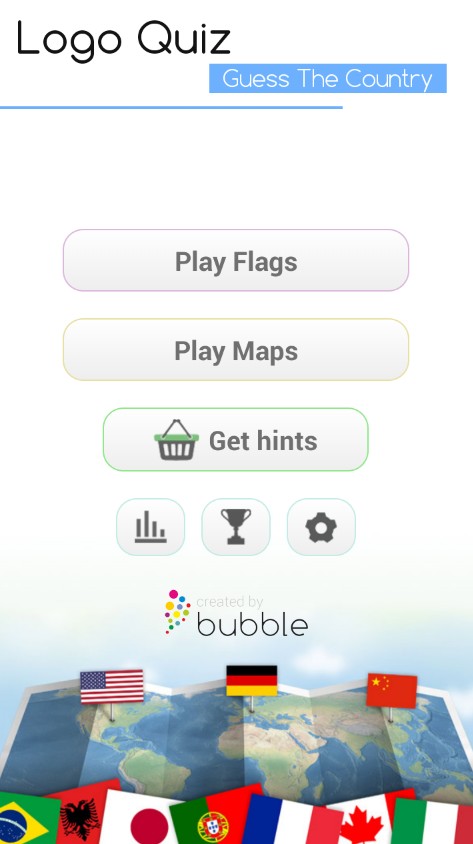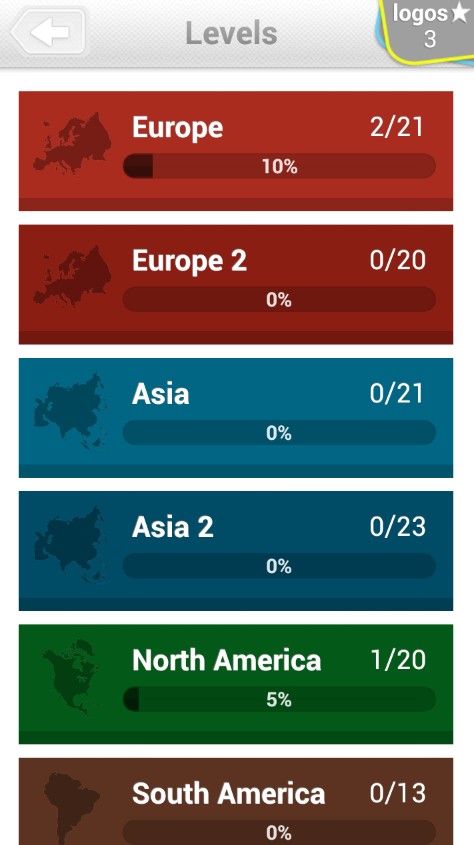 World Map Quiz
Are you looking for a good application to study geography? Then you might like this app.It's not about flags only. It's more about countries and their locations.
We can't say the application is packed with a big number of features. You will just be shown a map with a country highlighted on it. What you need to do is to guess the country.
The app is rated 4.7 out of 5 meaning it's a high-quality app that can teach you a lot in terms of geography.
The app is free with ads. For sure, there are some in-app purchases that will give you additional game features. However, you can study the location without paying.
It requires only 16 MB to be installed on your phone or tablet. You can get it now on Google Play.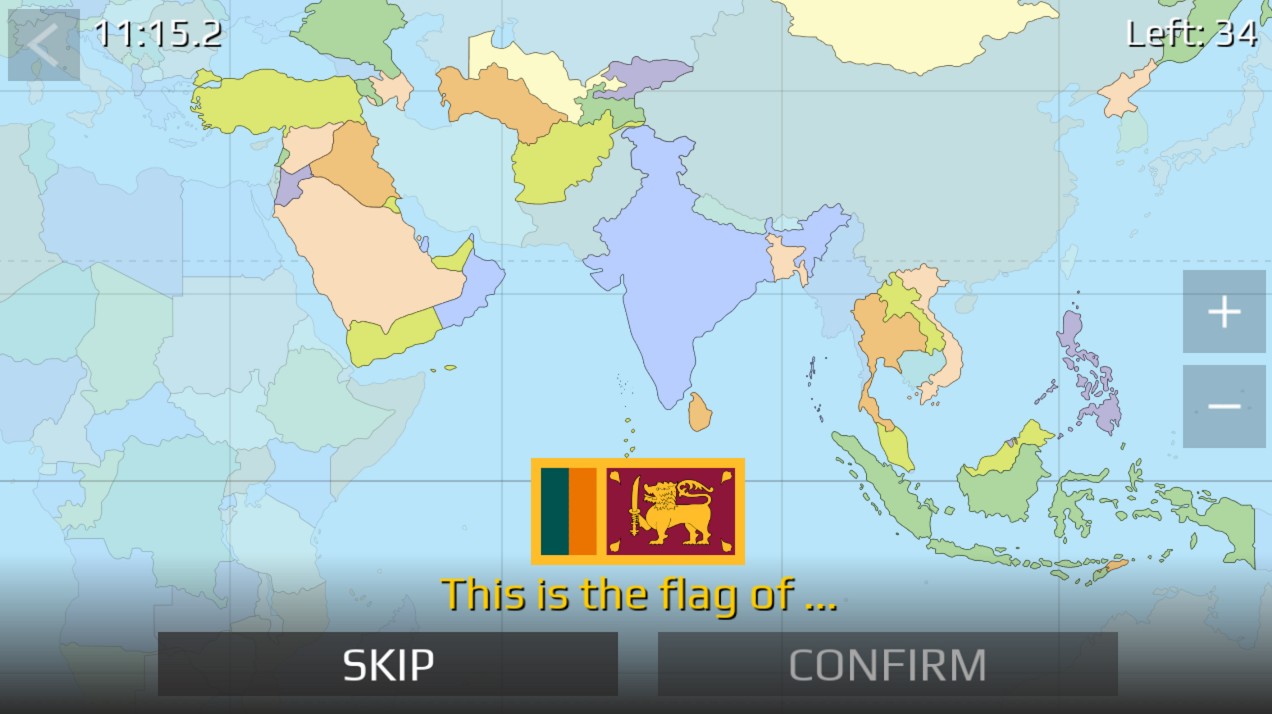 You may also like: 7 Best Guess The Code Games for Android & iOS.
GeoGuessr
GeoGuessr offers a diverse range of quiz modes to keep your exploration exciting.
From "Classic" mode, where you're dropped in a random location and must pinpoint it on the map, to "Explorer" mode, which lets you embark on thematic adventures around the world, the app offers hours of engaging gameplay.
The app's flexibility is another highlight. You can embark on your global journey online or download maps to play offline, ensuring that your geographical exploration continues even when you're off the grid.
Main features:
Diverse quiz modes
Offline play capability
Multiplayer challenges
Leaderboards to compete with friends
An extensive library of maps
Finally, with the help of this game, it is possible for you to learn more about countries and their cultures in a convenient and fun way.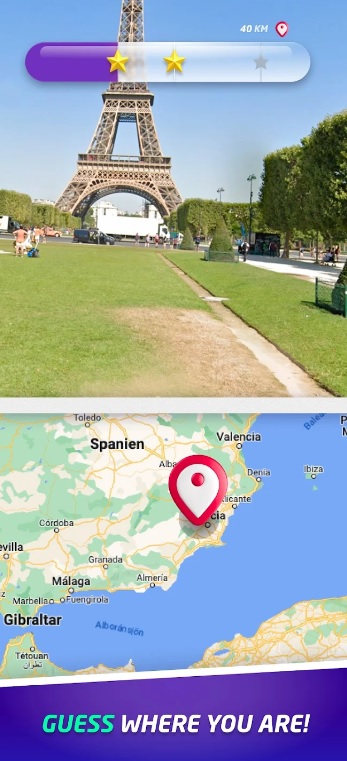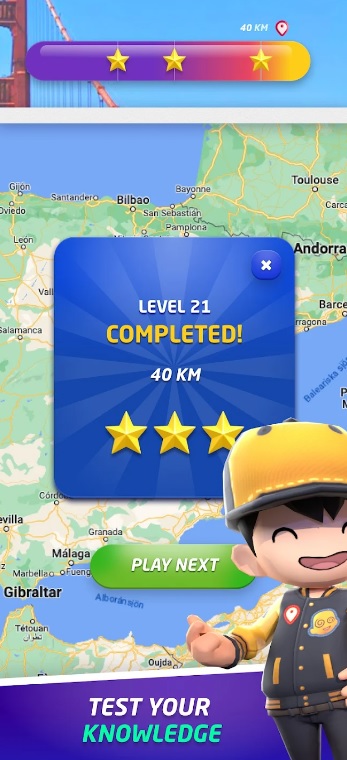 Country Mania
Country Mania offers a wide array of quiz types to cater to your interests. Whether you want to challenge yourself with country capitals, identify flags, or explore global geography, there's a quiz mode for you. It's an enjoyable way to boost your knowledge while having fun.
The app features sections organized by categories, making it easy to focus on areas that intrigue you the most.
Main features:
Diverse quiz modes: capitals, flags, maps, and more
In-depth country profiles
Score tracking to monitor your progress
Fun and challenging questions
User-friendly interface
To my mind, Country Mania can be both an entertaining and educational app for people who are interested in geography or traveling.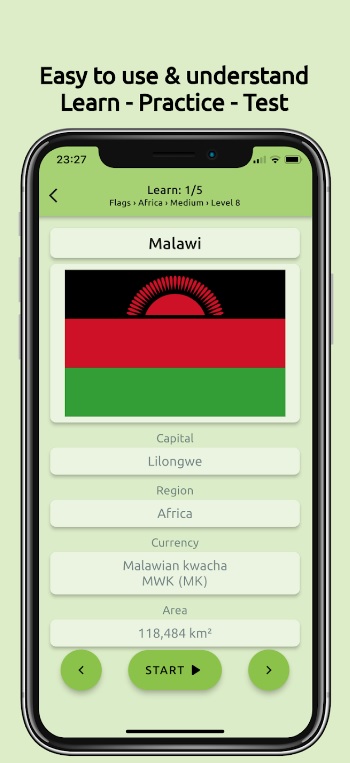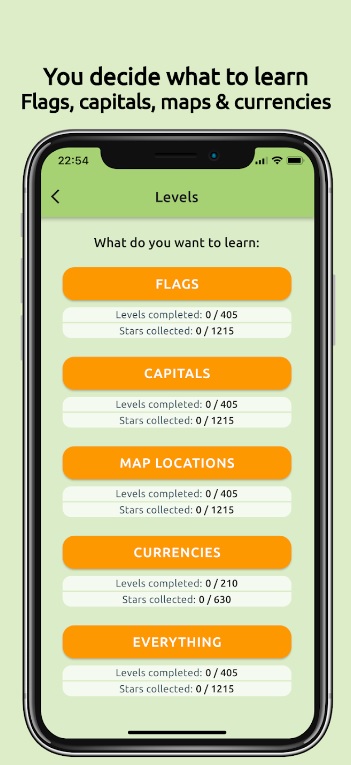 The Flags of the World Quiz
If you would like to concentrate on the flags, not on the location of the countries, this app is a perfect solution. It is fast, simple, and effective at the same time.
The game contains about 200 countries and their flags. You can do a great number of things with them.
Paint the flags

. This option will come in handy if you want to relax and study at the same time. It can be a great way of spending time.

Take part in an interesting quiz. This is much better than just guessing. In the quiz, you will have to guess the flags and avoid making mistakes. If you do, you will lose scores and might lose.
Check the statistics. You need to know about your progress to find out if you are getting better in your guesses. You can always save this data by downloading it on your smartphone.
Learn new facts. You can tap on the flag you don't know yet and read an article about it. There are also links that lead directly to Wiki or any other site. Use it to become smarter and make fewer mistakes.
The app is pretty small. It requires 37 MB to be installed on your device. You can download it on Google Play.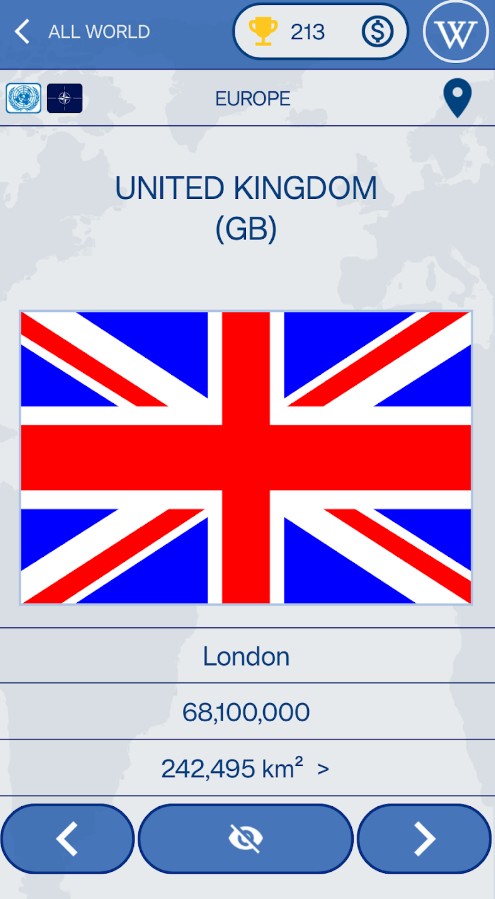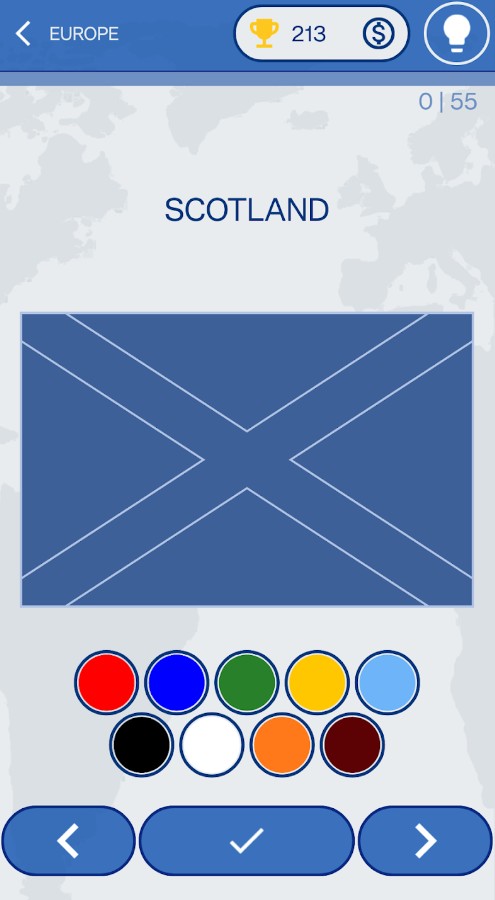 Flags Quiz – Guess flags!
This is another great Guess the Country game that enables you to study flags. It has a smart and simple interface. There is only one function – flag quiz. This makes the application lightweight and fast.
Now let's review the best features of Flags Quiz:
It's a perfect tool to

broaden your horizons

. Every attempt will make your knowledge of flags better.

There are about 200 flags in this game at the moment. And a lot more is about to be added soon. You can probably name a big number of countries from different corners of the world. But can you recognize the flags? Let's find it out!
Ask for help when necessary. You can't know everything and it's fine. Feel free to ask for help. You can ask other people using social networks such as Twitter or Facebook or use hints. Be careful when going for the second option as the number of hints is limited.
Unfortunately, the app is available for iOS users only. You can download and use it for free on the App Store.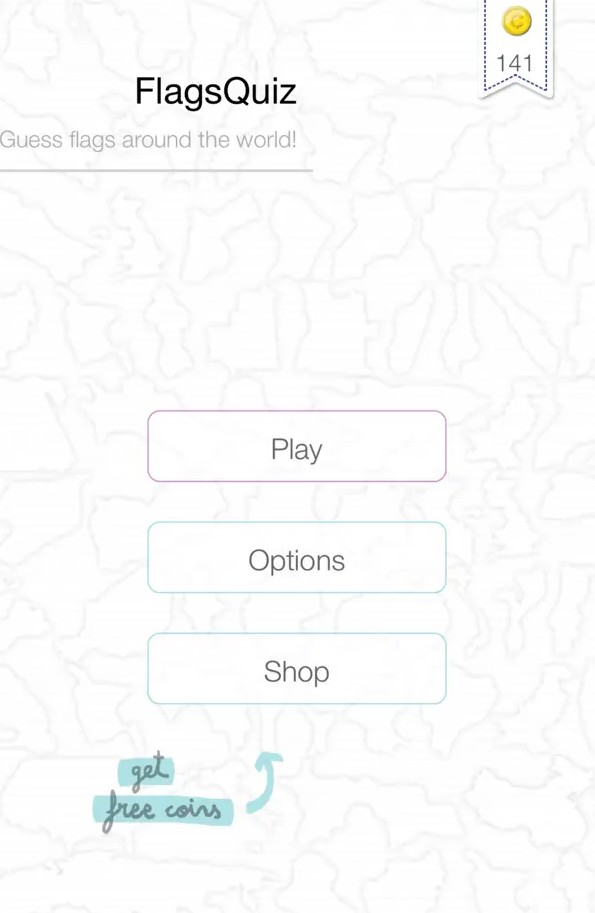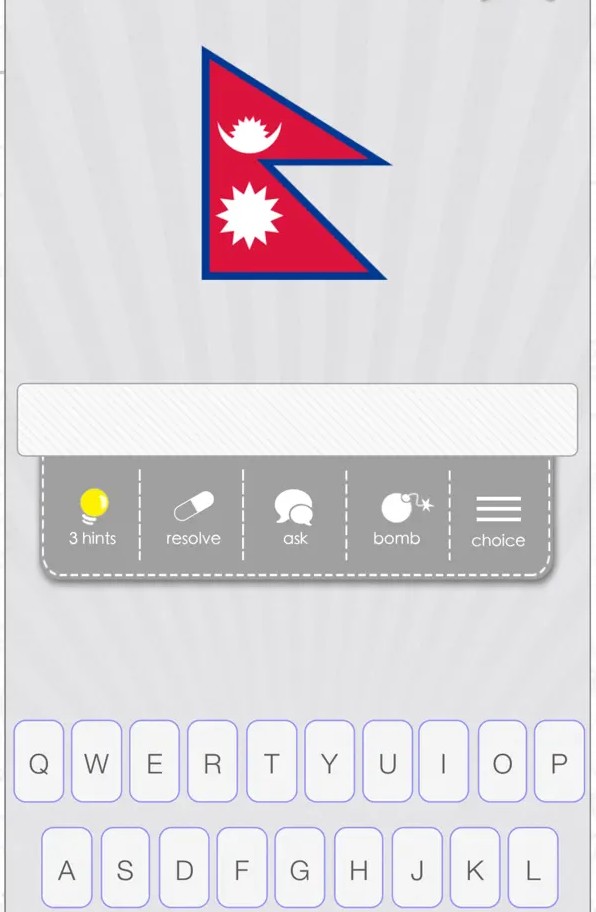 You can also check: 7 Best Guess Celebrity Games for Android & iOS
World Quiz: Learn Geography
Here is a good way of learning geography! If you would like to broaden your horizons, it's better to forget about textbooks and lessons at school. Playing an exciting game might help much better.
What can you do in World Quiz? Well, this app has a pretty big number of playing modes. Let's talk about each of them:
The first mode

looks quite typical

. It is divided into levels. The more levels you can accomplish, the further you will get. And don't forget about achievements and awards! Commit fewer mistakes as you can and you will be the winner.

There are

multiple game styles

. It can be a classic quiz game, write quiz (this one is quite hard as you need to write the answer yourself), and write race (in this game, there is a time limit so you have to be quick).

If you don't feel like competing with others or going through hard quizzes, it's fine – you may just

focus on learning

. In this case, a smart teacher mode is what you need. You will play a game with no time limits imposed on you. There will be no ratings as well. You just play and learn in your own way that is comfortable for you.

Let's say

a few words about write race

. You have some time to write down all the countries you know. Then you can compare the number of countries you have to the ones your friends managed to write.

Compare the details

. For example, the app might ask you which country's territory is bigger and you have to choose the right option out of two.
Please note the application tracks some data about you, such as your location and some data about your device usage.
You can get World Quiz at no cost on the App Store.