If you have a passion for stamp collecting, you're in for a treat!
We've scouted the web to find the best free stamp identifiers (Apps & Websites) you could try. These apps use powerful techs and let you identify the stamps by taking a pic of them.
Some of these cover other tools that will be useful for coin collectors as well. No need to memorize everything or pay money for identification: these apps provide accurate results and let you digitalize your collection. Let's get into it!
Stamp Identifier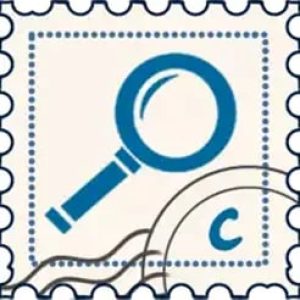 Here is a great application that will assist you in stamp identification. To use the app, just download it and give it permission to the camera.
Stamp Identifier has a simple interface that is clear at first glance. However, this isn't the only thing you will like. The set of options is also impressive. Let's take a look at them:
Instant identification by the camera. Open the camera right from the app and tap 'identity'. Wait for the result. It usually takes a few seconds to fulfill the recognition.
Create your digital collection of stamps. The app will remember all the stamps you managed to identify.
Read info about your stamps. This is the best way of getting information about stamps. All the facts were checked by professionals. The sources used for the articles will always be displayed on a screen.
The database of stamps is really impressive. It contains stamps from all over the world.
Stamp Identifier requires about 25 MB of your phone memory, which isn't a lot if we keep in mind a big database of stamps from almost all the countries.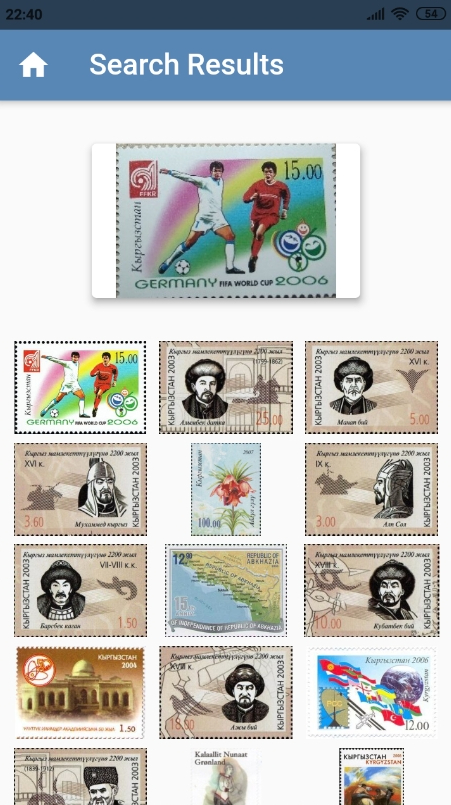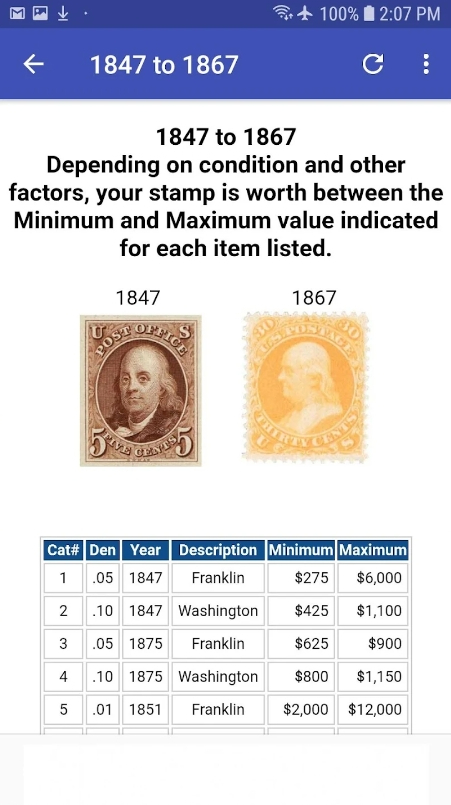 You may also like: 9 Free Book Scanner Apps
US Stamps Catalog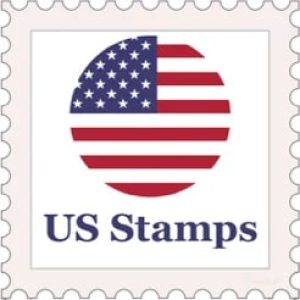 If you collect stamps in the USA, you will like this app. It is a catalog of the stamps that are used in the United States.
Unfortunately, the app can't help you with the identification by the camera. This means you can't use your photo of stamps to recognize it.
One of the features is its brilliant system of filters. You can find almost anything you want with the help of these advanced filters. Let's imagine you have a stamp you can't identify. Take a look at it. You can set filters, telling the app about colors, images, and text you see on a stamp.
Another cool thing is that there is a vast community of people who love stamps and know a lot about them. Feel free to ask a question.
The app doesn't collect your personal info so you are 100% safe in terms of your usage of your sensitive data.
To install and use this tool, you need to have about 55 MB of memory. This isn't a lot for such a huge database.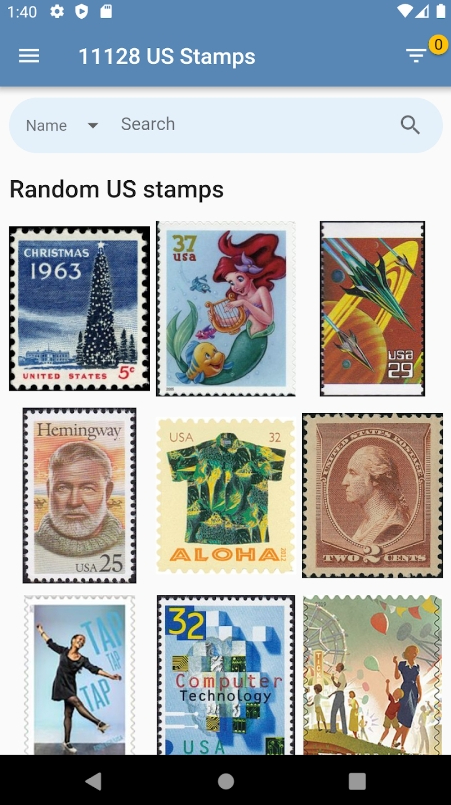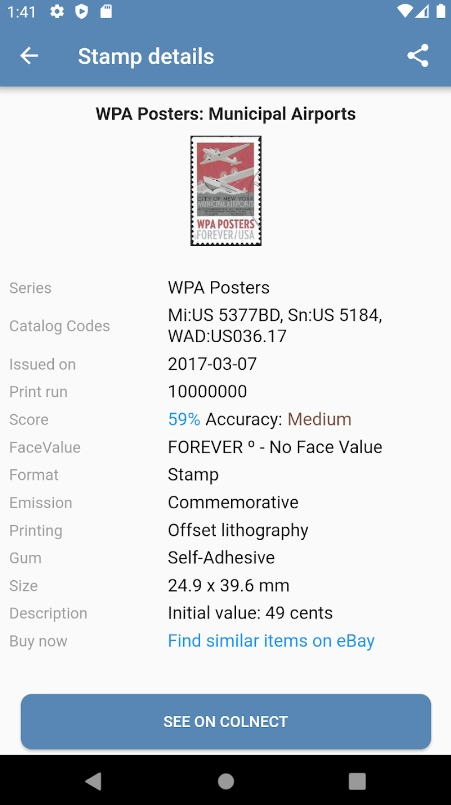 Stamp Mate Mobile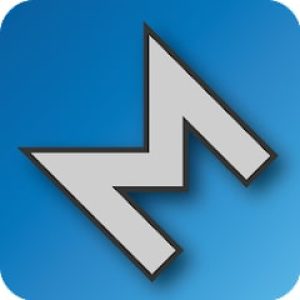 This app isn't about identification only. This is a universal tool for stamp lovers. You can do all the operations in one app.
The interface of Stamp Mate Mobile might be a bit confusing. Still, if you use it for a few times, you are highly likely to get used to it.
What can you do with the help of Stamp Mate Mobile?
Create an extensive digital collection of your stamps. For sure, you might also have a real one, but storing your stamps in the app might help you to filter them.
Read info about each stamp. Every stamp has a card where you can find a short description and files attached to it.
Identify a stamp. Yes, you can't recognize your stamp by camera, but you can always use the system of advanced filters to find what you need.
Enjoy full synchronization. If you choose to use the app on multiple devices, the data will be automatically synchronized once you log into your account.
Try online auctions. If you want to sell your stamps, this is a brilliant opportunity to do it. You can purchase and sell right in the app. This is a very secure and simple way of stamp trading.
Share data with other members of the community. For instance, you can share a photo of your favorite stamp.
Stamp Mate Mobile has a free version. If you are an amateur collector of stamps, you can go for the basic version, you won't probably lack options. There is a free trial as well.
The app doesn't collect your data, so you are 100% safe. What is more, the app is quite small. Having 50 MB of memory will be enough to install and enjoy its options.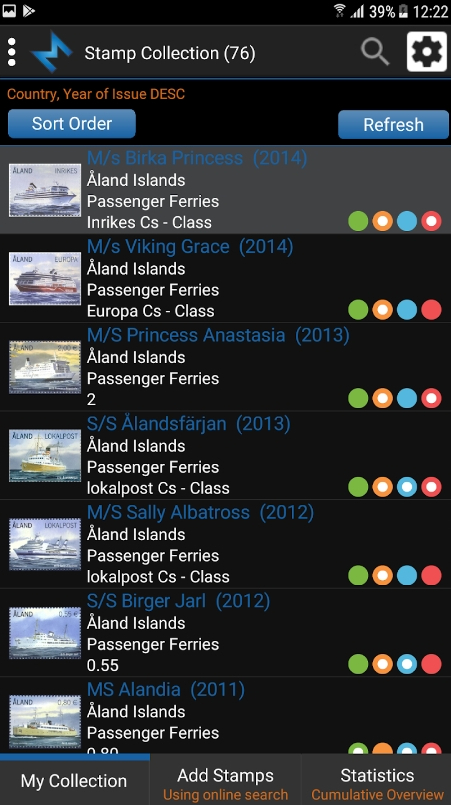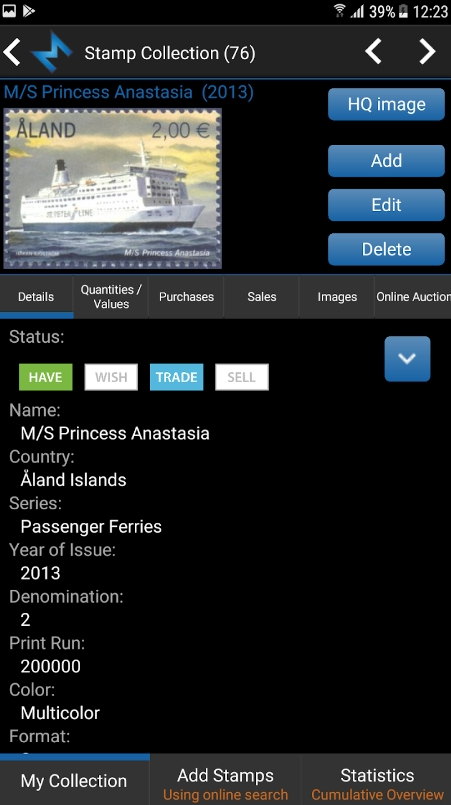 U. S. Stamp Checker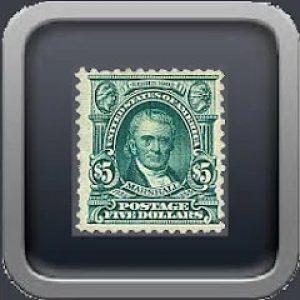 Here is a great application for stamp lovers who live in the United States. This tool is rich in data that is connected to any stamp made in the USA.
Most users say it is easy to get started. You don't even need to log in if you don't want, the info will be available anyway.
This is what you can do in the US Stamp Checker:
Identify stamps

yourself, using the database and advanced filters. There is no way of scanning stamps by the camera, but if you remember what the stamp looked like, it won't be hard to find it.

Read additional info

to become an expert in the stamps of the USA. You can fully trust the data, as it was double-checked by the experts in this sphere.
Here is one thing you need to know. The database contains info connected to the US stamps dating from 1847 to 1951. If you need to identify modern ones, it won't be helpful.
However, here comes a serious downside. The app has ads, and its number is big. What is more, if you go for a premium subscription, they won't disappear either.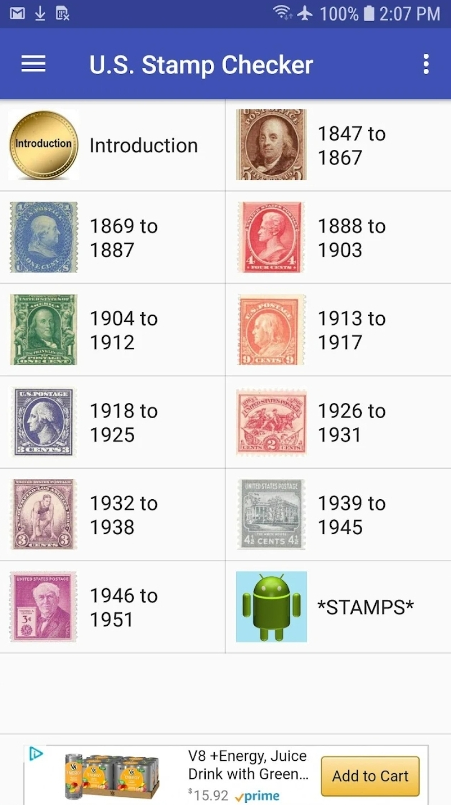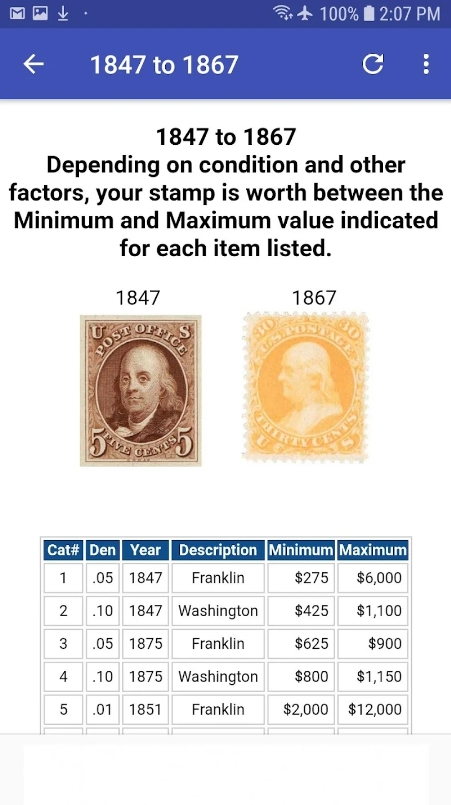 Check also: 5 Coin Identification Apps by Picture
Philately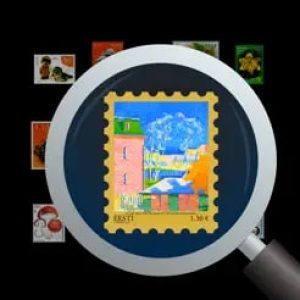 Do you want to find out more about stamps? Well, here comes a good option. With Philately, you can study interesting facts about stamps and envelopes, as well as identify them.
The UI is a bit old-fashioned but still quite friendly to users. Let's see what you can do in Philately:
Explore the collection of 30,000 post stamps. Most of them belong to the United States. The stamps are divided into groups according to their characteristics.
Check over 20,000 envelopes. They are divided into groups as well.
Ask questions about stamps if you have a hard issue to solve. For instance, you might need to sell some stamps but have no idea how much they cost, feel free to ask for help.
The catalogs are enriched with every new update. It means the app is getting more and more accurate all the time.
Philately has two modes – a free one, as well as a paid subscription. The good thing is that you can enjoy a free trial and enjoy all the premium options.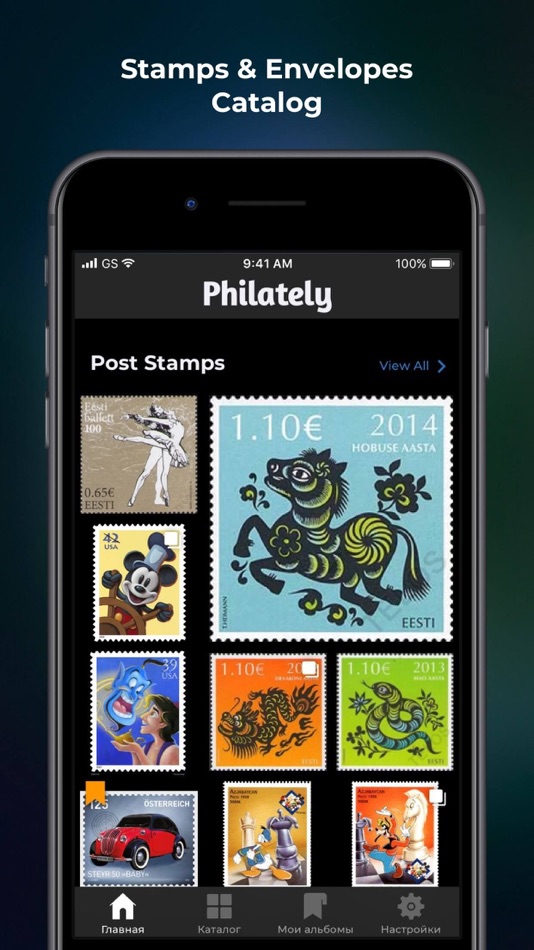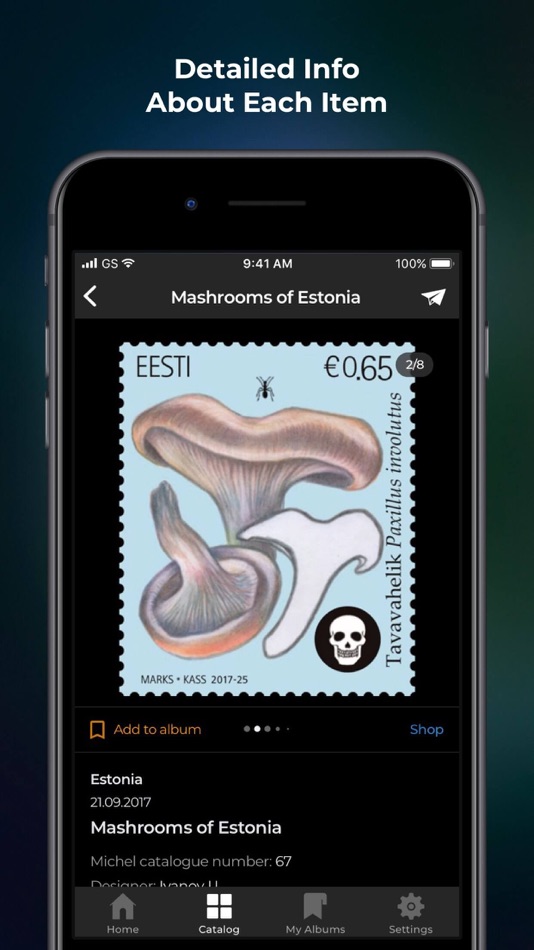 Stamp ID Pro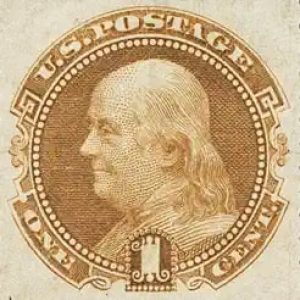 This is another fabulous stamp-collecting application for the residents of the United States. Its main feature is stamp identification. However, there are also some other options you might enjoy as an amateur or professional stamp collector.
The app doesn't have a camera scanner, meaning you must browse the database to identify your stamp. This isn't difficult, though. To browse correctly, use help and an advanced sorting system. The search takes a few seconds, and as a result, you will find the list of stamps that might be yours.
Then you have to open all the options from the list and see which one is right. Unfortunately, you have to do it manually.
Stamp ID Pro contains more than 1,400 US postage. The stamps you will find there belong to the period from 1847 to 1963. If you need another period, the app can hardly help you.
The database is enriched with new stamps with every new update. If you have a stamp you want to add to the database, you can contact the developer and ask for it.
Another cool thing is that the app is small. You will need less than 40 MB to install it on any device. All the basic options are available at no cost. However, you can also enjoy premium features by using a trial.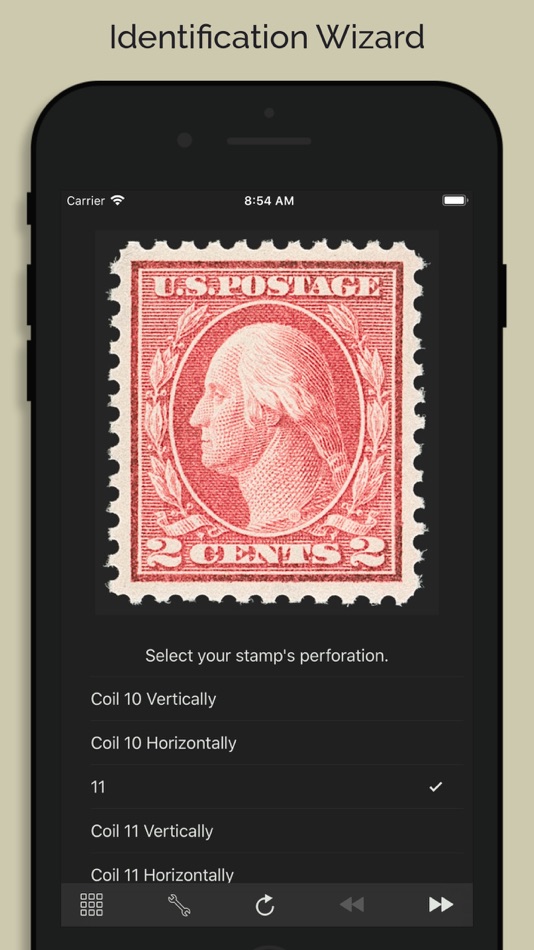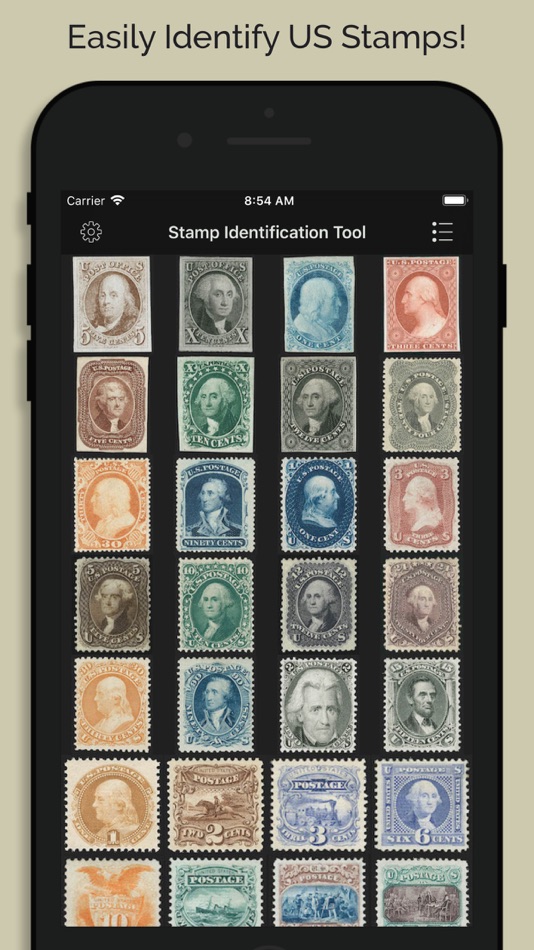 StampID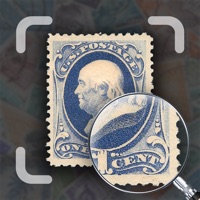 This app is a treat for all the stamp collectors out there. It's rich in features yet incredible easy to use, so even if you're not tech-savvy, you'll quickly figure it out. The app uses AI tech to recognize the stamps with nothing but your cam.
That's right, all you need to do here is to point your cam on the snap and let the app do its magic. Just make sure the lighting conditions are good enoguh to ensure the results are fully accurate. Plus, you'll need to crop a pick so that only the stamp is visible. There are even a couple of tools to maximize the clarity if needed.
Once it's done, the app will identify the stamp by comparing it to its wide lib. The database is beyond expensive, so that chances for it to not recognize the stamp are minimal.
The process takes a few secs at max, and you get all the essential info right away. It also works with rare and error coins if needed. You can use the app to find out the price of the stamp and monitor the value of your collection.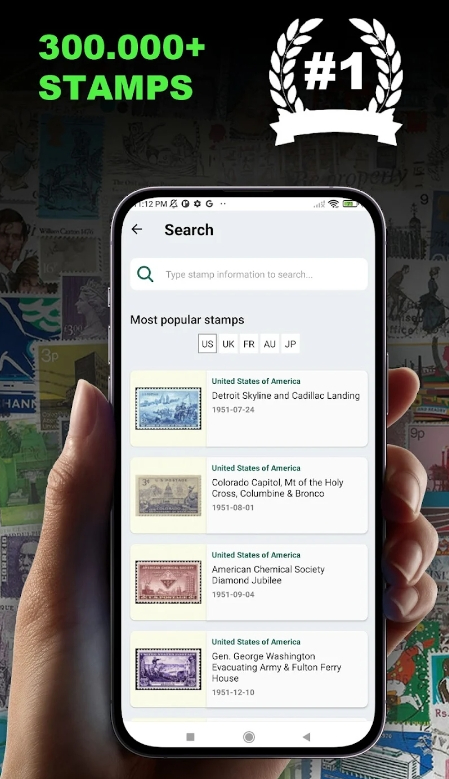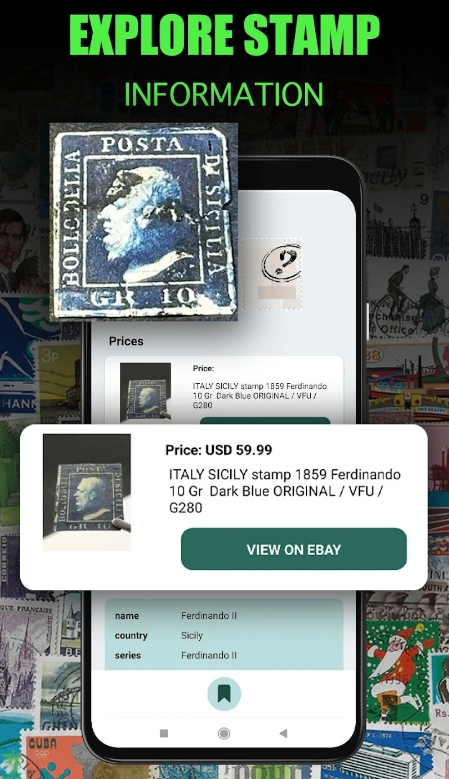 StampSnap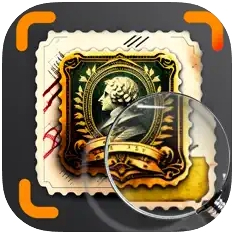 With this app, you'll get to identity the stamps from all over the glove within a few secs. It's all about simplicity, so the UI is as intuitive as it can be. No need to spend precious time figuring out how all the features work.
The ID process happens with the help of AI. Your job here is to take a snap of the stamp (you can load it from your cam roll, too). The process only takes a few secs, and you'll get in-depth accurate results on the stamp. You can also use it to digitalize your collection and monitor its value.
The app will show you the current price of the stamp and some basic info you may want to know. The only thing that may affect the accuracy of results is poor lighting, so keep that in mind.
Above that, the app is able to determine rare coins and even the error ones. The mechanics of coin recognition is pretty much the same. There are no hidden fees and the ads are minimal.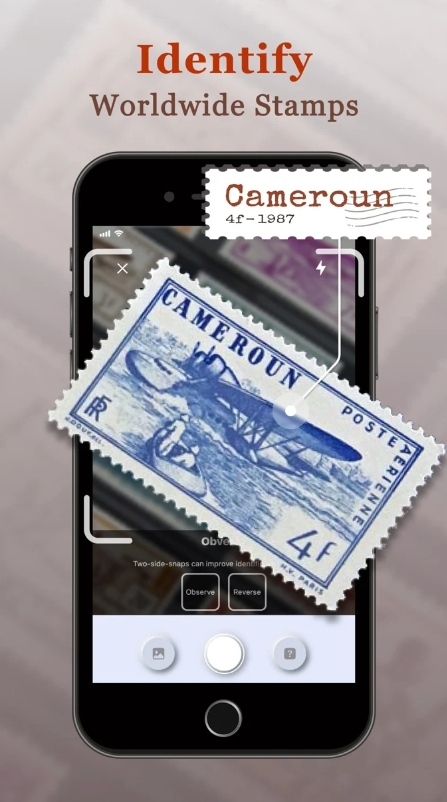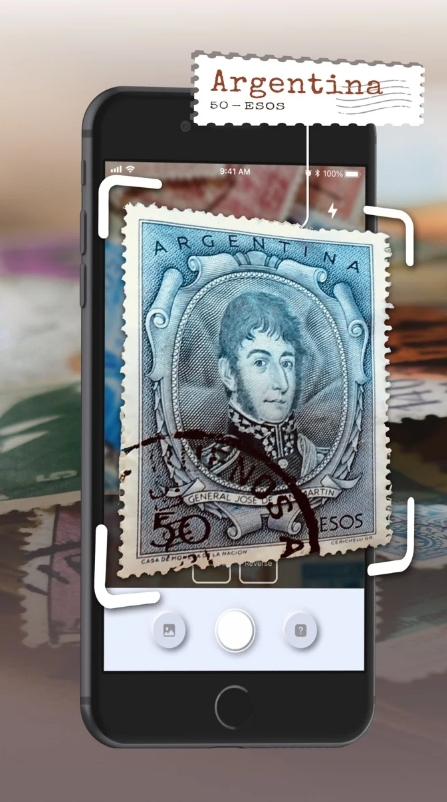 You may also check: 7 Best Pill Identifier Apps
Find Your Stamps Value
To wrap up, there's a simple website that lets you identify stamps by taking pics of them. It covers a wide database of stamps from all around the globe, so there's a high chance it will recognize yours as well.
It only requires one pic for the ID process to start, and it only takes a few secs at max. Just make sure the lighting is good enough and crop the pic so that there's only a stamp in it. As for the info the website is able to give, you'll see the country of origin, year, and denomination.
You can also identity by entering the stamp's description or just browse through an entire catalog. The app works great if you want to digitalize your collection and track its value. You'll be able to rearrange the stamps as needed and even put them into folders.
It will save you tons of time and ensure all the stamps are accurately identified. You can also backup all the data so that it won't get lost in any way. And all that without spending a dime. Cool, right?