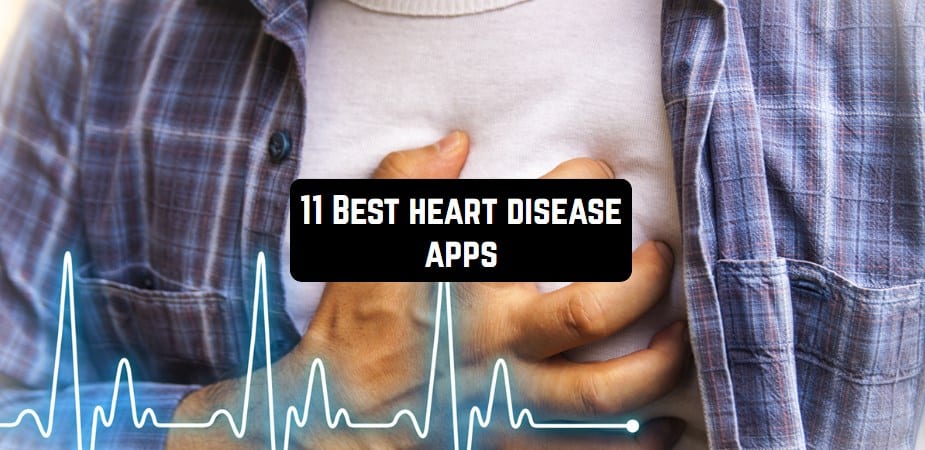 Millions of people all over the world suffer from high blood pressure and other different heart diseases that can end up with a stroke, heart attack or other cardiovascular disorders. All of them has to monitor their heart rate and blood pressure constantly on a daily basis. Moreover, those who have a weak cardiovascular system has to be more wise and careful about their health. It includes a healthy diet, healthy sleep, and lead an active life.
Luckily there are lots of apps created to help people to do all the actions mentioned above. We have collected the list of best heart disease apps for Android and iOS that will do a great job in maintaining a good "heart health".
Qardio Heart Health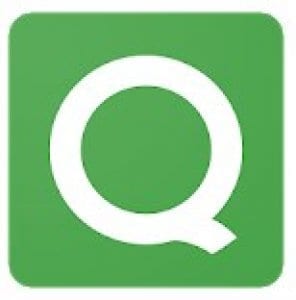 Qardio Heart Health is a free app created to track on your heart rate and blood pressure. It also collects different data such as irregular heartbeat, body mass index, weight, calories, skin temperature, and steps. It easily integrates with other apps like MyFitnessPal, Samsung Health, Google Fit and has an export feature. According to the information you logged in to the app you will see the analysis of your health condition. Whether you have normal blood pressure and no reason to worry or one of the levels of hypertension and the subsequent decision to consult your doctor.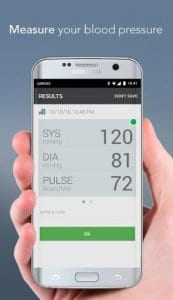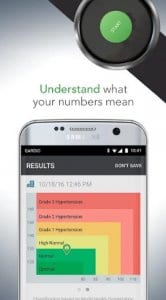 The app is very popular and has been highly rated. It also has a few awards and was called " The Best Health App".
You can also check: Best step counter apps for Android & iOS
Best apps to measure blood pressure
back to menu ↑
Blood Pressure Companion 
4+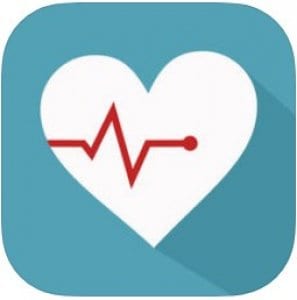 It is absolutely mandatory to keep on tracking the heart rate and blood pressure in case of having some cardiovascular system diseases. It's also a good habit to monitor those indicators for any person. Blood Pressure Companion is derived to track all these data and produce the total in graphics and diagrams to show you the risk of heart arrest or high blood pressure.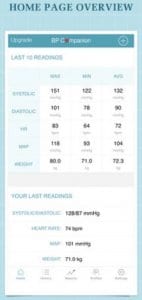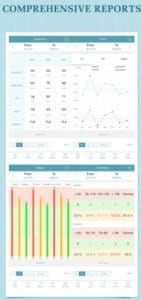 In this app, you can track systolic and diastolic blood pressure separately, weight and heart rate diagrams will be shown as well. The statistic will be available in a day, week, month or a year. In the end, you can save all the charts in PDF or HTML format and send it to your doctor.

back to menu ↑
ASCVD Risk Estimator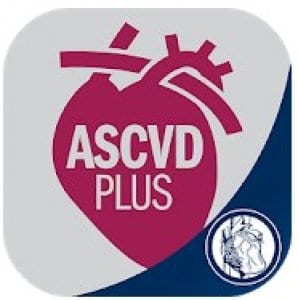 The app is a collaboration of two organizations American Heart Association and American College of Cardiology. The aim`s objective is to estimate the risk of atherosclerotic cardiovascular disease for each individual. It assesses different data that the user adding into the app.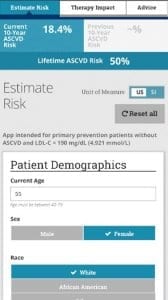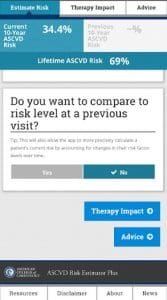 The app requires to add:
age;
race;
systolic blood pressure;
diastolic blood pressure;
weight;
lifestyle habits;
cholesterol level and its different indicators, etc.
The app will present the current risk and the risk for the next 10 years. The information given in this app is dedicated to informing patients but not to replace treatment or to be the only good solution for therapy.
back to menu ↑
My Cardiac Coach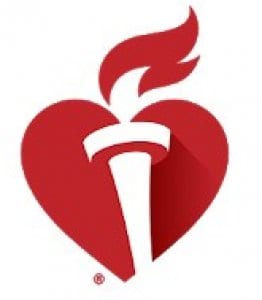 My Cardiac Coach has developed by the American Heart Association in order to help those who had experienced a heart attack and need to recover. The app was created with a set of features that are essential for heart disease patients. It includes heart rate monitoring, different lessons dedicated to heart-related problems, medication taking reminders and a big community of others experienced a heart attack.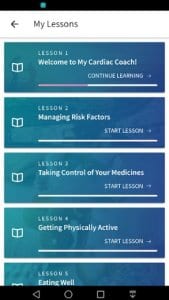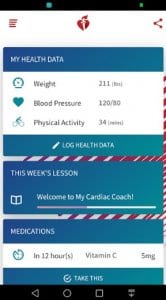 The app is considered as a complexed recovery tool. Collection of scientific articles are coming from American Heart Association itself. The app also can be used as a fitness tool. Not only heart rate can be monitored here. Weight and physical activity can be logged into the app as well.
Luckily the app is free and available for both platforms.
back to menu ↑
Instant Heart Rate+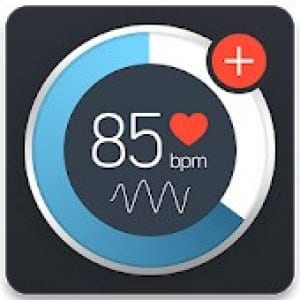 This unusual app will be very handy for those who need to measure pulse on a regular basis. It lets a user measure a heart rate using a phone camera. The unexpected feature of the app is that it recognizes your current heart rate by the analyzing color changes on the finger. The app has a good rate and positive reviews that prove that the app is accurate. Moreover, you will see every heartbeat on a screen of your phone just placing our index finger.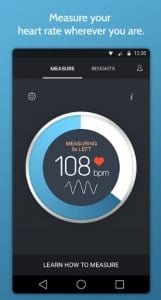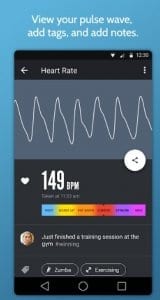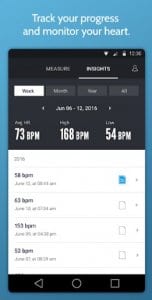 It's been said that professional medical oximeters have same principles on pulse measurements.
The app will be helpful not just for heart disease people but also for athletes who constantly monitor their health condition throughout workouts. Instant Heart Rate is available for Android and iOS.
back to menu ↑
PulsePoint Respond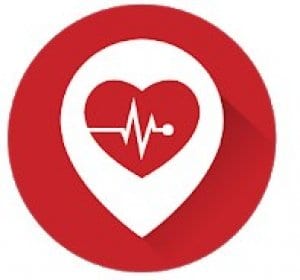 PulsePoint app represents a huge community of CPR trained volunteers that are always near to provide assistance in emergency cases. Those who are in a risk of cardiac arrest have little time an emergency can be late to help. The app offers a good service for those who suffer from heart diseases.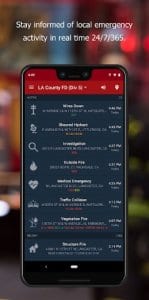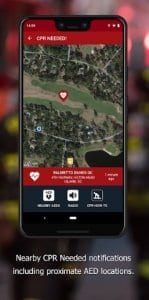 Pulse Point is location-based and works as an emergency alert. It will notify volunteers in the need of urgent CPR. They can work at the same office or be in a nearby store. They can provide life-saving help before the professional emergency appeared. Its a very crucial point as there are numerous situations had happened when the emergency car was late due to different reason. One of them could be traffic congestion as a problem of big cities.
The app also will alert you about any other dangerous event happening in real time. For example a fire or flood.
back to menu ↑
Kardia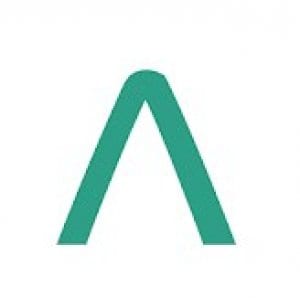 Kardia is the app dedicated to ECG analysis. It works with FDA-cleared Kardia Mobile. You need to place your fingers on electrodes. No wires or gel are required. The result is an accurate medical ECG right in your phone. Then Kardia will give an ECG assessment. Either it's normal or you need urgently consult your cardiologist.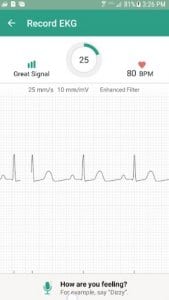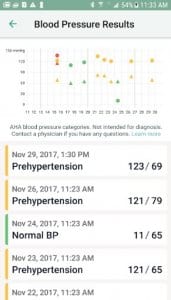 The app will also give an assessment to your blood pressure: normal, prehypertension or hypertension. Body mass index can be analyzed and presented in a chart as well.
back to menu ↑
Heart Habit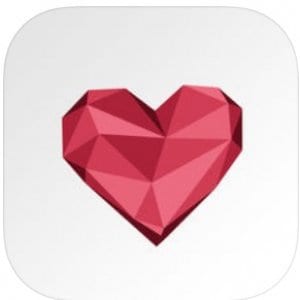 Heart Habit app is a result of dieticians, physicians, and pharmacists collaboration from different universities such as Stanford, California, San Francisco and others. It was created to help those patients who have experienced a heart attack, a stroke, or having hypertension. So all of them are in the group of risk.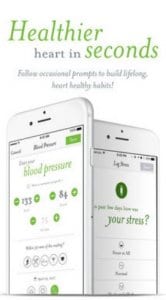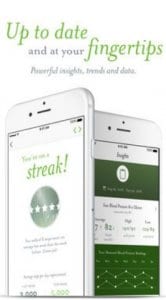 Heart Habit will help you to track the risk of heart attack or hypertension. Each patient will get a personalized analysis of his/her blood pressure changes. There is also a 30 days program to set goals and learn how to reduce the risk of any heart-related disease. New users can have a free first 7 days in this program.

back to menu ↑
CardioVisual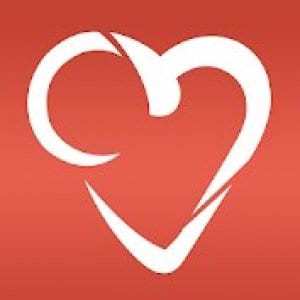 Cardio Visual offers an enormous library of articles and lessons related to the cardiovascular system and its disorders. The app has two different versions. A separate one is for medical workers specialized in heart and vascular diseases. And the second one for patients and those who complain of different diseases. The interesting fact is that the app was awarded in 2018 as "The Best app for Heart disease".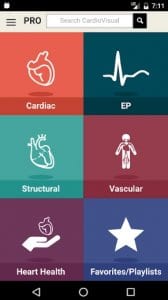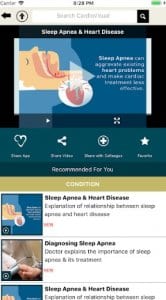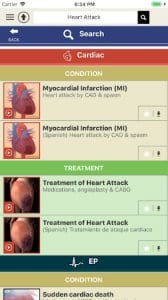 The app`s huge collection of lectures, videos and articles are constantly updating. It includes such topics like aortic & mitral heart valve disease, diabetes, peripheral artery disease, heart attack or myocardial infarction and many others. It also includes expert`s discussions of treatments and new medications. All information is simplified in order to be easily understood by non-medical related users.
back to menu ↑
iBP Blood Pressure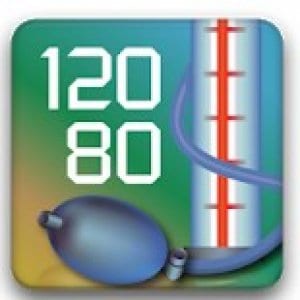 iBP Blood Pressure is one of the most popular apps for heart indicators tracking. It requires to log in systolic and diastolic blood pressure, a pulse, weight, and blood glucose. The app will assess your cardiovascular system condition marking measurements with different colors according to the American Heart Association. For example, blood pressure less than 120/80 will be marked as green. More than this will be red.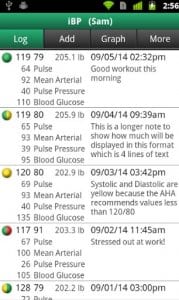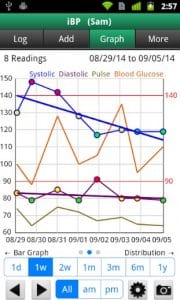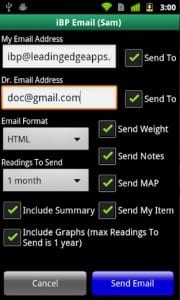 Measuring all indicators everyday and adding them into the app will give you graphs and stats in the end. All those reports about your heart rate and blood pressure are easy to send to your doctors' email.
back to menu ↑
SmartBP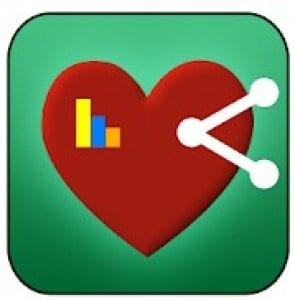 Use Smart Blood pressure app to log data about your blood pressure, pulse, and weight. It will play the role of your health diary also offering stats and measurement analysis. You will find diagrams with all heart-related numbers that you were adding daily to the app. The app can sync with different programs and is letting a user share important data with his/ her cardiologist.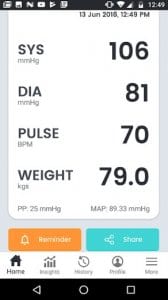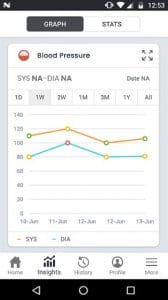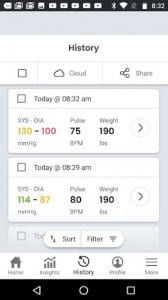 You add into the app systolic and diastolic blood pressure and have a separately generated analysis as both of these numbers are very important and crucial at some point. The PDF file can be generated in the app and sent directly through email. You can set reminders in order not to forget to make measurements.  It also allows you to see the difference in stats before and after taking medications. The app is free with some in-app purchases. It's available for Android and iOS.
You can also check: 13 Best Health Coach Apps for Android & iOS