Idle games are loved not by all people who love games on smartphones. Usually, they do not require increased mental work, reflection on strategy, or teamwork. Idle games allow the player to relax, as all actions are quite simple – mainly it is frequent clicking on the smartphone screen.
Usually, for such an action the player gets the game currency, which in the future can be spent on various purposes – improving the characters, buying items, skills, and so on.
These games are presented in different formats and topics, among which you have to choose. It is also worth noting that the whole process is built in one chart, so it is worth paying attention to.
The simplicity of idle games is a great way to relax or distract from the work at half-time, without burdening yourself with extra thoughts. We decided to collect 21 Best Idle Games for Android & iOS and 15 Best auto clicker apps for Android & iOS for you.
Make More!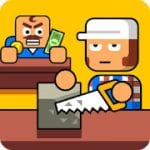 Even the title of the game immediately tells you that you should do as much as possible! Money, goods, workers – it does not matter, just do more. Make More is a game that simulates how the factory works.
From the very beginning, you only have one worker, but over time you will hire more people. Of course, each of them will first need to be trained so that they can benefit the production. If you're not satisfied with their work, replace them with robots and things will go up.
In Make More, you're the boss, of course, but you have a Big Boss. He'll give you tasks all the time, and if you do them, you'll get a good reward. By earning on every employee and accomplishing your goals, you can become a real billionaire who started small.
The factory, by the way, can be quite strange and funny – only you decide what it will be like. You can bet on the production of clowns, medieval peasants, or other people.
You should also consider that the motivation of employees depends on you. There are many different "boosters" in Make More – music, energy drinks, and much more.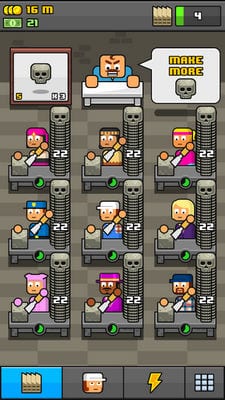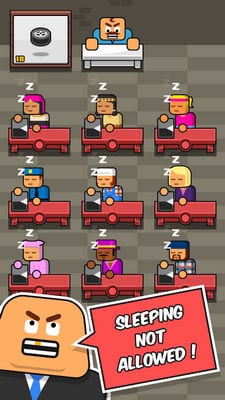 You may also like: 23 Free offline Android games 2020
AdVenture Capitalist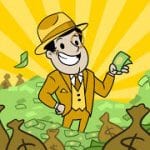 Money is the dream of many people. It's a lot of money. AdVenture Capitalist will give you the opportunity to become a real tycoon, where all you have to do to get money is play.
However, even in the game, you will have to work hard: you will go through everything, sneaking from the bottom and working as a lemonade salesman and reaching the top. In this game, you are building a real empire for making money, and you will become its founder.
Besides the fact that you can earn money on the Earth, AdVenture Capitalist also offers you to create a business on the moon or in the space – expand your possessions, becoming richer and richer in every part of the universe.
There are also frequent contests and events between users, which can bring you additional rewards or bonuses. With the money you earn, you can improve your prestige, buy additional parts and accessories for your business, as well as just have fun.
Don't forget to develop your business anyway – in AdVenture Capitalist you can't go down, you can only grow.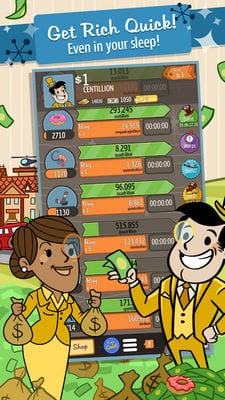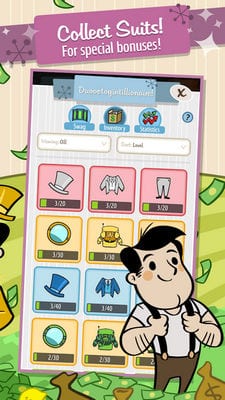 Almost a Hero – RPG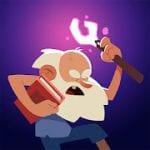 Some idle games have a full story, as well as several main characters. They are the ones that players like and make them reopen the game on your smartphone. This is Almost a Hero, in which you have to fix the hopeless losers.
Although they may well die in the process because the failures are literally behind them. There are 16 such heroes in total, and everyone dreams to become a hero of ancient lands. You will become their teacher and mentor, teaching from scratch all the basics of martial arts.
Almost a Hero will constantly offer you different tasks, missions, and different secrets that will be revealed and applied in practice. In fact, there is nothing complicated here, because all you have to do is click.
But as the game progresses, new aspects of the characters will be revealed to you, and also the whole process will become more complicated. Changing roles, you will be able to start from scratch every time you want.
Remember, that in Almost a Hero the characters don't even know how to point the sword at the opponent – the work will be hard.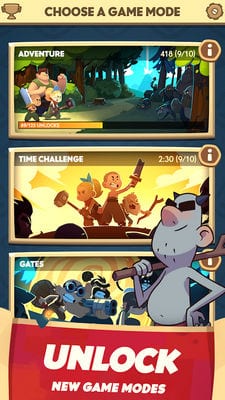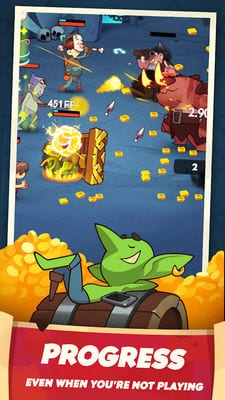 Egg, Inc.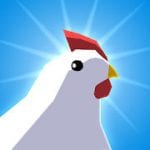 Egg became extremely popular in a short period of time, and you definitely saw these peculiar graphics. In fact, this game will please even those players, who are not very good in the idle genre – there is also a calm atmosphere and good design, that can attract attention.
Throughout the gameplay, you will not just need to click on the screen. Egg periodically makes you change your style of play so that you don't get bored.
So what's the story and plan? Egg wants you to build an entire chicken empire! The joke is that you'll actually just be building chicken coops and raising chickens by studying them.
As a result of long and productive work, you will be the creator of a technological and productive poultry farm that will produce eggs literally as fast as a machine gun fires. Try to organize everything so that your farm will be perfect in a short time.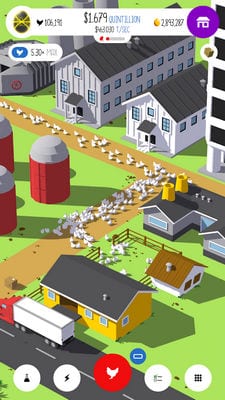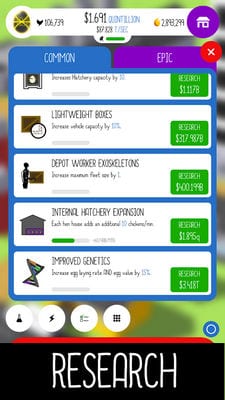 Tap Titans 2 – Combat of Heroes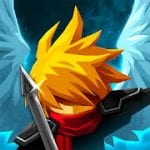 For RPG fans there are also a lot of mobile games that do not need to be particularly stressful. Tap Titans 2 is a legendary application that has more than 70 thousand different levels – just try to pass them all.
As well as progressing through the levels, you'll also be able to take part in tournaments and battles where you can show off your skills. In the game, there is a system of different clans that are fighting against evil lords of titans. Each attack on them gives you bonuses and adds to the piggy bank.
So that you can play together with your friends, Tap Titans 2 offers you to go into raids, receiving unique rewards. You can also meet titan lords, your enemies.
Of course, with the coins you receive, you can easily improve your skills and strengthen your warrior. It is also done with the help of cards, which you have to collect all. Find artifacts in Tap Titans 2, compete with other players, and try to pass all 14 different worlds.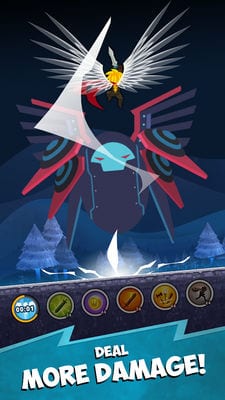 Cow Evolution – Crazy Cow Making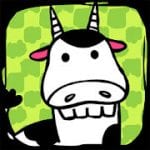 Sometimes mutations can give quite interesting results. Cow Evolution is a game that offers you to make some amazing animals by yourself, as well as watch their development.
You will have to combine the cattle in different ways, creating more and more new species. You will be able to further expand your domain in Cow Evolution, capturing literally the whole planet. Actually, you will stand at sources of an absolutely new civilization.
The whole process of evolution happens by adding two individuals – just move one cow to another and you'll get a completely new creature. Each of the developed animals will bring you even more money.
In total, you can get 5 different higher creatures, but you will need to play the game anew each time. The developers assure that only they, and not animals, suffered during the creation of the game – so even animal protectors can be calm and play Cow Evolution!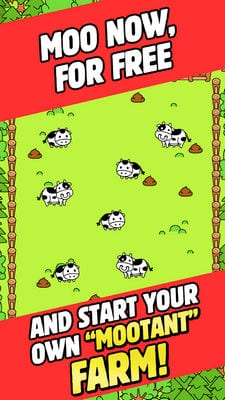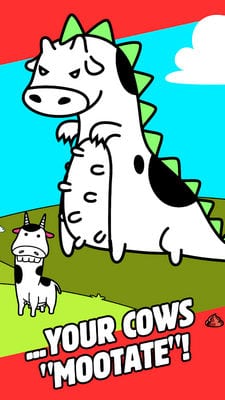 Bit City – Build a pocket sized Tiny Town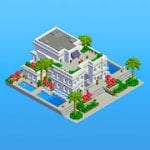 Having your own small town in your pocket is a good idea for people who like to watch development. Bit City is a simplified game with the construction and creation of the city, but you don't need to watch it constantly, like in other similar games.
This application organically combines the clicker and standard game with the development of objects, which offers you to build several famous attractions in the same city – such as the Statue of Liberty and the Eiffel Tower.
In order to develop Bit City, you will need to add some elements – for example, transport, such as cars or ships. Over time, the city will become so big that you will practically take over space.
The style in which all the city buildings are built is a bit like the famous Minecraft, but you won't need to extract all the resources yourself. The appearance of your city and the overall concept of buildings you choose, the main thing is to have enough money to buy them.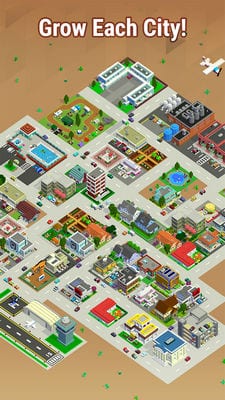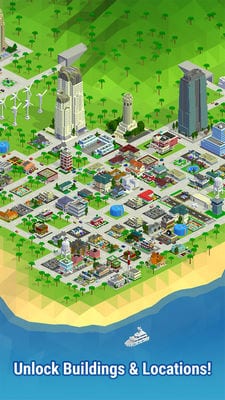 You may also like: 17 Free City Building Games for Android & iOS
DragonSky : Idle & Merge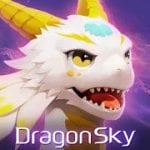 Dragons are essential characters in fantasy. DragonSky invites you to relax with dragons, creating new and legendary creatures.
Not only will you be able to relax and spend time in the game, but you will also be able to admire beautiful creatures, which previously could only be seen in pictures. DragonSky forms your own personal dragon squad, and you can use them to fight against bosses and other users.
DragonSky offers you a whole league, in which each player has his place, depending on the overall rating and the number of accumulated points. It is worth mentioning that the game has one drawback as well.
When your dragons develop, they will automatically merge into new types, so you won't be able to combine them by yourself. But otherwise, DragonSky is a great and spectacular idle game, where you will be able to play for 10 minutes, and then you won't notice how many hours flew by.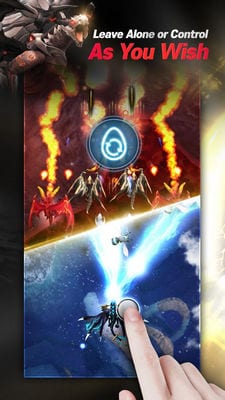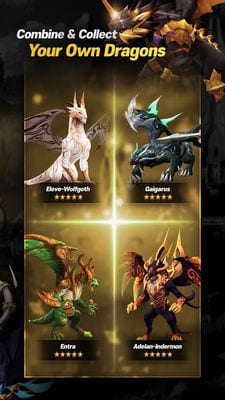 Sushi Bar Idle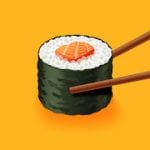 Food is one of the most popular topics for mobile games. We all love delicious food, as well as have our own preferences. So if you are a fan of Japanese cuisine and want to get stuck in a simple mobile game, then we offer you Sushi Bar Idle.
Here you can open your own restaurant with rolls and sushi, as well as deliver them to customers. The whole gameplay is very simple – you control the chef and the delivery of food to visitors, constantly pressing the screen and not distracted.
Sushi Bar Idle allows you to prepare new and completely crazy dishes that can combine the weirdest ingredients. It is madness that will bring you the most income and will please your customers – you should just cook.
At Sushi Bar Idle, you can change the appearance of the restaurant where you cook – change the color of the serving ribbon or completely change the color scheme. Try to become the richest and most famous master of sushi – you'll have to work hard to achieve this.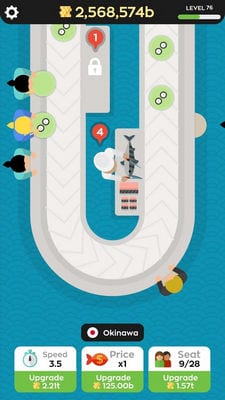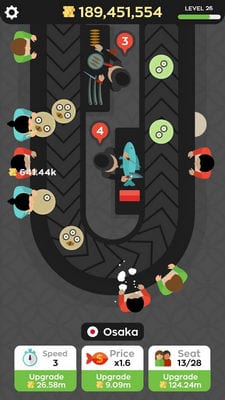 Doomsday Clicker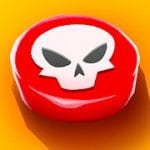 Would you like to be an evil genius? Or the biggest villain in history? Doomsday Clicker will let you do it and destroy the world – literally. You just push a giant red button and the world disappears or rather something that wasn't protected.
The people who survive the cataclysm will have to come to you – and you know how to make money on it. Doomsday Clicker offers you to become an evil genius and entrepreneur who can make the most of the apocalypse.
You will have to build a bunker for all those people who have survived or are planning to escape. Pressing the screen, you increase the bunker, which can accommodate only a limited number of people.
Doomsday Clicker offers you not only to destroy the world but also to create something new by increasing the bunker and the number of people in it. In fact, in order to gain income for new buildings, you will need to destroy everything around you over and over again and watch it ruthlessly. Watch the survivors mutate each time.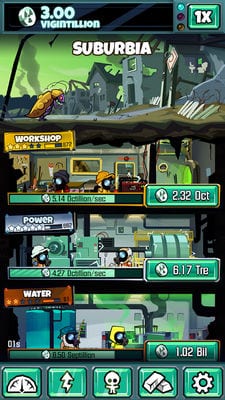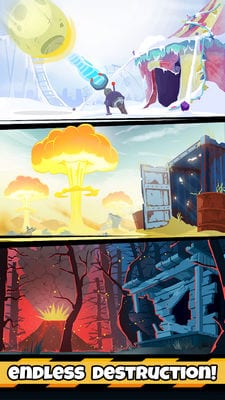 Tap Tycoon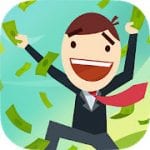 How often have you heard the phrase "making money out of thin air"? In Tap Tycoon you will literally get it from the air. All you have to do is click on the sky, and the bills will appear by themselves.
This investment will give you the right funds to develop your own business, as well as build entire empires on a certain path. Here you will live far in the future, where everyone has the opportunity to get a lot of money and climb to the top of the world.
Tap Tycoon shows you the technologies of the future if you can call them that. It can be anti-gravity forks, holographic view from the window, and much more. Yes, it may sound absurd, but it's very funny and you never know which startup is next.
The mega-dollars that you get can be invested in various powerful enterprises, as well as join other players in the competition. The stunning technologies that you will encounter can really come true in the future.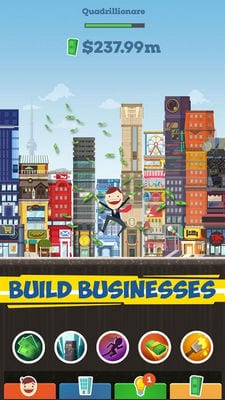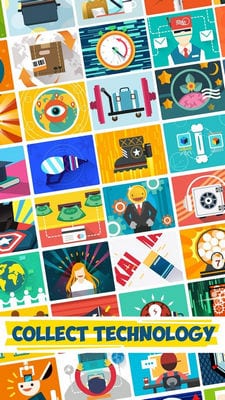 Hooked Inc: Fisher Tycoon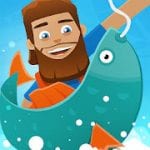 If you think that fishermen are poor and hungry people, then you are mistaken. Fisher Tycoon is an idle game that invites you to try your hand like a fishing legend and collect all possible treasures.
Of course, you will not be able to achieve great results alone – that's why you will need to gather a team that will help you with everything. At Fisher Tycoon, you will have to travel the high seas, earn money on fish, and even build your own fishing empire.
In order to make even more money, you will need to catch large and exotic individuals. They are found only in uncharted waters for which there are no maps. However, after such races, you can improve your boats, as well as reach the highest level of the yacht.
Fisher Tycoon has the largest and rarest fish in the world – it is only one. It will be your jackpot, but it will take a long time to get enough skill. Money is earned even in your absence, so you can leave at any time and not lose anything.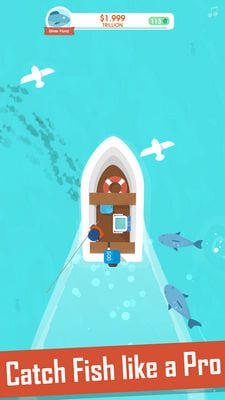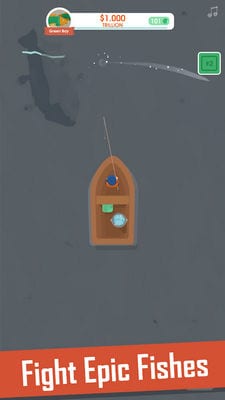 Game of Evolution: Idle Clicker & Merge Life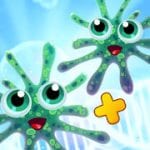 We have already told you about selection games in which you simulate the process of evolution. Game of Evolution brings you an incredibly simplified history of planet Earth, in which you will develop absolutely all spheres of humanity and technology.
You can play the game in the lunch break, during snacks, on the way to work, or before bed, paying literally 5-10 minutes. From the very beginning, you may think that everything is too simple and easy – but the complexity grows exponentially.
Game of Evolution will make you click as fast as you can. In the beginning, you'll have only the simplest ones that appear automatically over time. When you get new cells, elements, and creatures, you'll be able to move on and on the evolutionary ladder, but the starting point is always the same.
At some point, the evolutionary process will be divided into 3 different branches – science, art, and war. You will promote each of them separately, as well as meet celebrities familiar to all – Elon Musk, Marilyn Monroe, and others.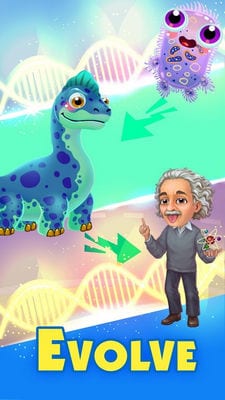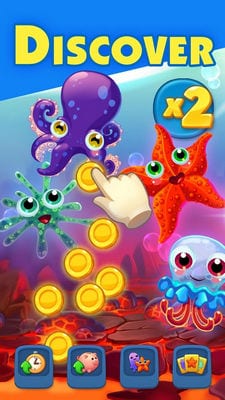 Monster Chef
https://www.youtube.com/watch?v=6LCPCy0lYbY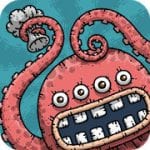 Monsters can also have their dreams – for example, to be the best chef in the world. At first glance, you'll think it's very unusual and strange, but in fact, it's much more complicated.
Monster Chef is a game that offers you to become a member of the Secret Kitchen Society, which explores and tries various unique dishes. They are looking for different places to find dangerous and… delicious creatures. You are to cook all of these, as well as combine normal ingredients for surface dwellers.
Each monster that you will play has unique cooking skills and abilities. You can try each of them to add new combinations to your collection.
It is also worth noting that in Monster Chef there are several different maps, which are required to find ingredients and resources to collect them.
Be careful, because you are surrounded by monsters for a reason – anything can happen. At any moment.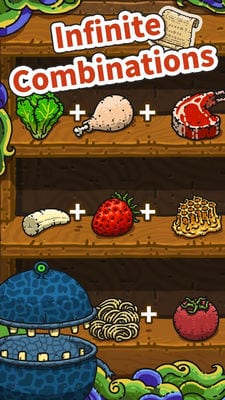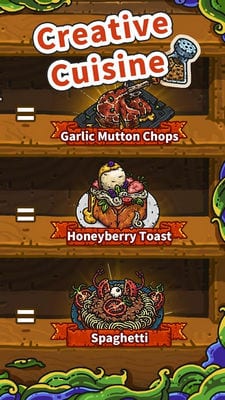 Ulala: Idle Adventure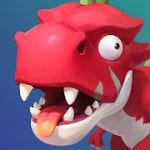 The anime characters have always been popular, and Ulala game offers you to get to know them. Here you will have to pass several missions to reach the main goal and help the main character to find something.
Ulala is a whole country, that consists of several different parts. On each of them you have special missions that you have to complete in time.
Ulala doesn't have the same levels or tasks. The developers present new events every month and exactly 1 month is given to you to complete them. In fact, this is a whole story that you have to solve in a limited time.
All received coins are spent in a magic shop, where you will find themed items and clothes. The subject matter directly depends on the mission you are facing in a certain month.
The owner of the magic shop is always inspired by certain characters or holidays. With the help of mini-games you can explore all continents in Ulala and get to know the seasonal heroes.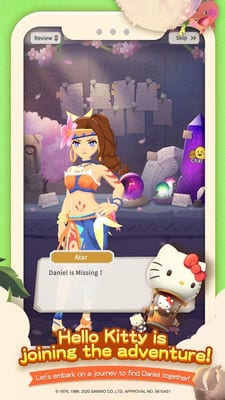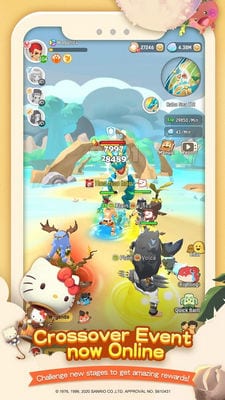 Rocket Star – Idle Space Factory Tycoon Game
https://www.youtube.com/watch?v=_LhU5cQFOAE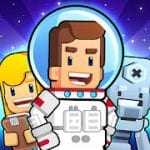 Still, idle games are mostly tied to the game currency and imply something economic. Rocket Star game is just such a game, and you have to intelligently allocate resources and coins to create the largest rocket company.
All your development and expansion depends only on the efforts and opportunities that you put in the construction of the game.
Rocket Star puts in your smartphone space center, which you can play even without an Internet connection. All production and expansion can be done at any time – only with hard work you can colonize other planets.
In Rocket Star you need to think through a strategy with which your employees will create new missiles as quickly and well as possible. By the way, if you want to watch the construction process, you can watch it in 3D mode.
To increase the power of the company you need not only to automate the processes and manage yourself, but also to hire scientists, who will help you to move to other planets.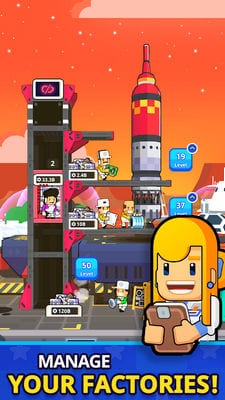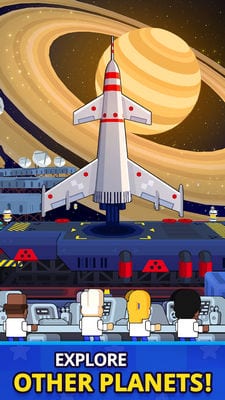 Dungeon Breaker Heroes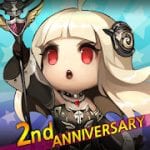 Dungeon Breaker Heroes is an idle adventure game that will appeal to all fans of fantasy and hunting for strange creatures. Here you will appear as hunters, who are constantly waiting for monsters in the dungeons.
You have to help them and fulfill the main goal – to find the queen. She was kidnapped by monsters, and to get to the Queen is possible only by killing them all. Cleaning the dungeons is not an easy task, but the hunters will move through them even when you leave the game.
All actions need to be done with just one touch, so Dungeon Breaker Heroes has no complicated controls. All players make up the overall world ranking – depending on how many battles they have passed and how many monsters they killed.
To increase your position in the rating, you can take part in battles with bosses and perform daily tasks that also bring you rating points and money. Try to become the best hunter, and also watch the great graphics and cute heroes in the game.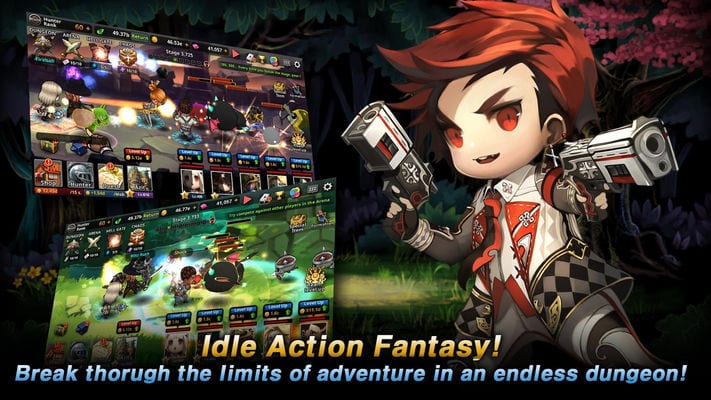 Evolution Heroes of Utopia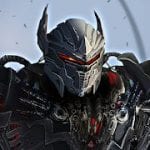 If you are looking for a fascinating game without the need to connect to the Internet, you may be interested in Evolution Heroes of Utopia. This game is a quality clicker in which you have to fight with monsters.
If you do not want to play alone, then with a network connection you can create alliances with your friends or other players and together overcome obstacles. It's worth noting that in Evolution Heroes of Utopia you don't just click the screen, you also increase your level and open up new opportunities.
As you could already understand, the control here is incredibly simple. In the game you need to save Utopia, but for this you need to master all kinds of weapons and pass the tests. Evolution Heroes of Utopia has 20 main and legendary heroes, that will help you to advance.
You will also improve each of them – acquire knowledge, buy new weapons or improve them. The whole universe of Evolution Heroes of Utopia is thought out and connected with each other, and you will have to understand everything. Gather all the main characters together to confront the strongest opponents.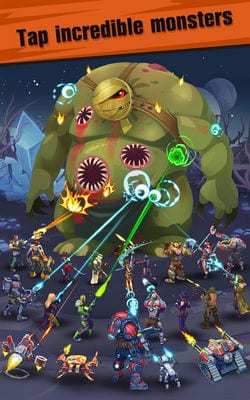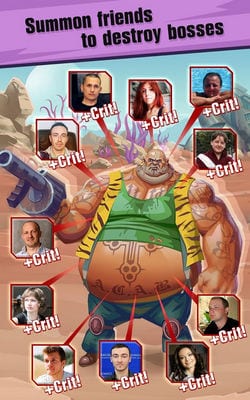 Cookie Clickers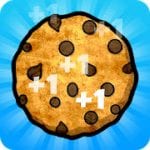 Cookie Clickers is one of the first idle games that started a lot of other great games. The game is the easiest and most basic clicker in which you can become a cookie king.
Everyone loves cookies, right? In order to bake them as much as possible, you can buy extra amps and other tools. The main rule in Cookie Clickers is to click as often as possible, because this is how you can reach the tops.
You can improve your skills by purchasing new levels in the shop. The main currency here is cookies. Cookie Clickers has a total rating of players, but only those who were able to create 1 quadrillion cookies are the best.
The game is really endless, because you don't have a certain goal or task to perform. You relax and rest in the moment when you just watch the new baked goods appear on your screen. The main thing is not to run to the kitchen for another cookie, otherwise you will eat all their stocks in one game.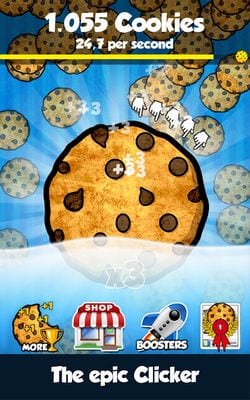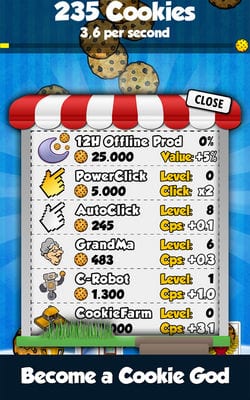 Penguin Isle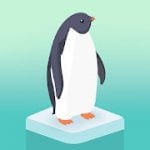 The sound of the waves, the sea, the water… Can you imagine the perfect beach at once? Actually, that's what penguins on icy islands see every day.
In Penguin Isle, you get your own cute penguins to live their own lives. Besides them, there are also other inhabitants of cold lands, but the main attention is concentrated on them. Will you be able to improve their lives?
You will create new penguin playgrounds, as well as add new items to the ice floes. Penguin Isle proposes to create a complete personal population of animals that will interact with each other.
You just have to relax and watch, adding more and more space to their lives. Penguin Isle also has a soundtrack that will help you calm down and relax – the sound of waves and calm melodies. Don't forget to turn the sound on and you can immediately recline in your chair.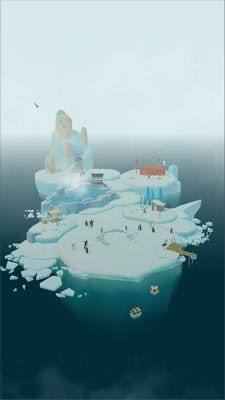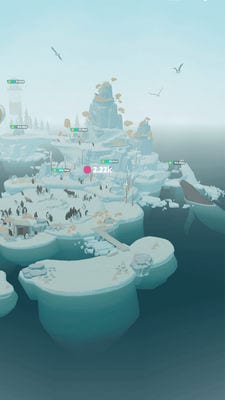 You may also like: 9 Best random workout generator apps for Android & iOS
Idle Fitness Gym Tycoon – Workout Simulator Game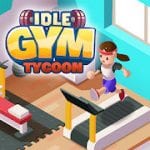 There's nothing better than watching other people do. Not all of us like to go to the gym. In Idle Fitness Gym Tycoon you can lead a whole fitness empire, and you won't even need to visit it yourself.
You'll start with a small gym with no equipment, but after a lot of effort your gym will be transformed. Idle Fitness Gym Tycoon offers you a complete view of the fitness industry and how much money you need to invest in a good room.
Here you can't stop at one sport, because you have to manage an empire wisely. Listen to the demands of visitors and hire new staff, open pilates or yoga classes, and invite professional athletes.
At Idle Fitness Gym Tycoon, everything is just as it is in reality – everything depends on the feedback from visitors. Invest wisely in your business by improving not only the quality of your simulators, but also of your coaches, territory and expanding your range of services.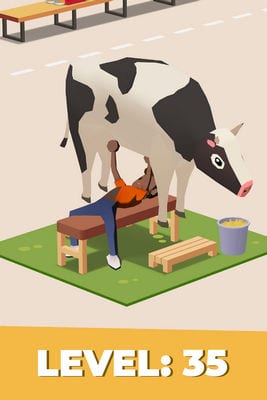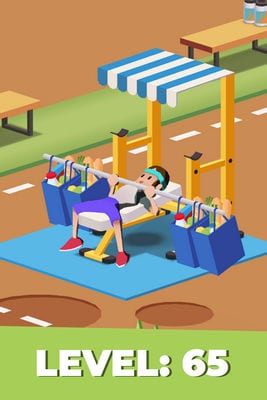 In fact, it's the simplicity that attracts people to such games. The whole process is dragging you, and trying to raise your own level and get more game currency, you will try to click on the screen as many times as possible.
Like in standard games, over time the whole process will become more complicated, and you will need to spend more and more time improving your skills. We've warned you – keep an eye on the time!
You can easily quit the game and the process will continue even when you're away. That's the beauty of the idle genre – you don't need to keep track of the process all the time, you just need to enter the game sometimes.
We hope that we were able to help you find the most interesting games with good idle graphics.