People concerned about their breathing, meet the PERFECT APP to reach the best results in your breathing sessions! HeartRate+ Coherence PRO will help you breathe to achieve coherence between your heart rate and breathing to reduce your stress, make you more relaxed, and improve your performance.
HeartRate+ does not require any authorization and is free for sessions no longer than 90 seconds so that you can check if your smartphone can work with HeartRate+ properly. To unlock the time limit to perform real sessions of cardio-respiratory coherence, you have to purchase its paid version.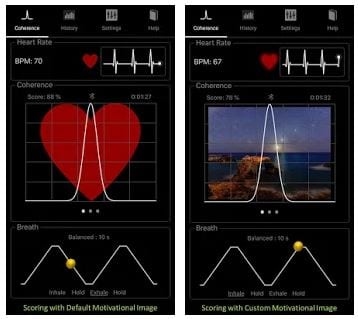 HeartRate+ app welcomes you with a Quick Guide explaining how you should act during your session. When you tap the Close button, you see the screen with graphics and a big Tap to Start button. Tap to Start! It is noticeable that HeartRate+ cares of those who opened the application for the first time.
If you start the first session but struggle to act, HeartRate+ instantly stops the session and notices you about Heartbeat detection failure. The app understands that your finger is not in the proper place (camera lens or Bluetooth sensor). It will instruct you again where to put your finger, how to breathe, and what to do.
During the procedure, HeartRate+ suggests you watching the moving yellow ball. Underneath you can see highlighted Breathe in, Hold, Breathe out and Hold tips. Just follow them. The history button at the top of the screen will show you the result of your session. Besides, you can adjust settings for your liking.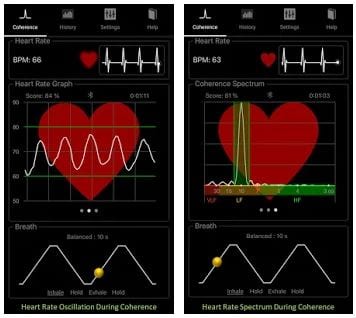 The Settings button allows you to select the type of sensor used during the session: Camera or Bluetooth. Also, Breathing Types, Reminders, and other settings are available. If you are to know in-depth information on what you are doing, what all these graphics mean, get support, or leave feedback, go to the Help icon.
To sum up, HeartRate+ creators have definitely succeeded to accommodate such an important and challenging function as the Coherence level between your heart rate and breathing into such a minimalistic, intuitive, and functional interface. If you care about your health on a regular basis, you WILL BE DELIGHTED with HeartRate+!