People counter apps have high accuracy and incredible convenience. They are a useful assistant for shopkeepers and various public institutions.
With their help, you can count the number of visitors. If you have limited room capacity, then such an application will be an excellent solution for you. You can set the required number of people. Then you will find out how many visitors can still enter.
These are multifunctional applications that will be useful to you in all areas of life. This list contains the best and most useful people counter apps.
You may also like: 5 Best BPM Calculator Apps for Android & iOS
People Counter by Techyour
The People Counter app allows you to track the number of visitors. That is why this app will become a useful assistant for owners of shops, clubs, and others.
You do not need to buy special expensive equipment with many cameras. Just install this application on your smartphone or tablet and enable automatic counting.
The application People Counter keeps track of incoming and outgoing customers. It uses a special algorithm that recognizes each person.
You can enable special alerts. So you will receive notifications when someone enters or leaves the premises.
Use the extra features of the application People Counter. You can enable video recording, which will be saved in the gallery of your device.
The finished video is of very good quality, but mostly it depends on the camera of your phone. When viewing, you can enlarge the image. You can also enable audio recording on video.
The application People Counter saves the received information. At the end of the day, you can view detailed statistics or save a report. It can also be emailed.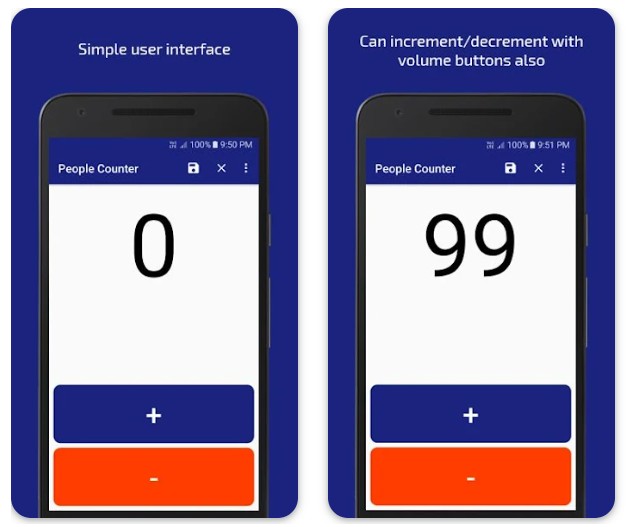 You may also like: 9 Best motion detector apps for Android & iOS
People Counter +
The People Counter + application is designed to count people who have appeared in the camera lens. You can use it anywhere. For example, in cinemas, museums, shops and much more.
Set the largest number of people that can enter the room. When the number approaches the set value, you will receive a notification. You can also use this application as an object counter.
The application People Counter + is very easy to use. It has an intuitive interface and nice design. You can adjust all the parameters in the application settings.
You can also use the app People Counter + manually. If you hold the phone with one hand, then you can choose the left-handed or right-handed mode. In this regard, the developers took into account all the smallest details.
You can also resize buttons for your convenience. If you are in a low-light room, you can reduce the brightness of the buttons in the application People Counter +. This is a great feature for nightclub workers.
Also at any time, you can reset the counter to zero. All previous data will be saved as statistics. This information can later be saved or sent by e-mail.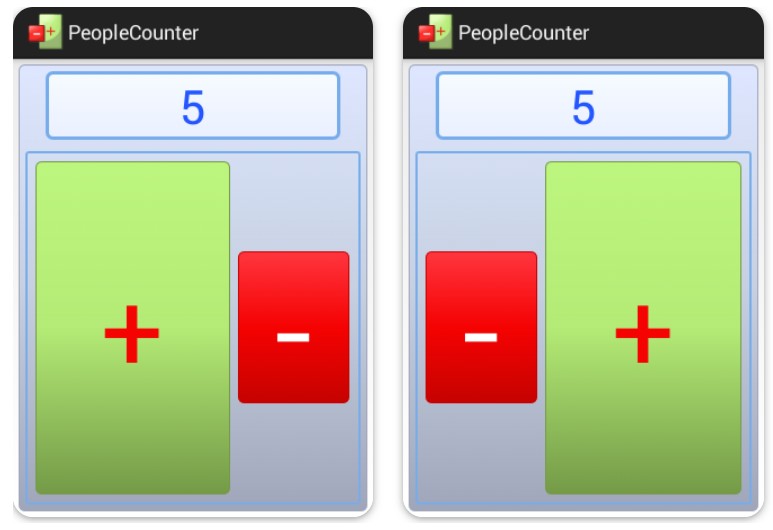 Hypno Counter
Hypno Counter is a universal application that allows you to count the number of people and objects.
You can use it manually or enable automatic counting. Here you can create several counters, sort them, group them, and much more.
The application Hypno Counter supports entering largest and smallest values. For example, if you set the largest number of visitors, then a countdown will become available to you.
If the figure approaches zero, the application will notify you of this. Also, this application is rich in various features.
If you do not have time to enter the number of visitors one at a time, then you can use the buttons "+10", "+20" and so on.
Besides, you can use the volume buttons of your phone to count people.
As mentioned earlier, you can sort the counters into different groups. If you need to move the counter from one folder to another, then you can do this by dragging and dropping.
Also available here are tags that can be combined counters in one direction. Group operations are also available. With their help, you can read, reset or delete several counters at the same time.
View detailed statistics based on the information you collect. It is stored as a table in a separate tab.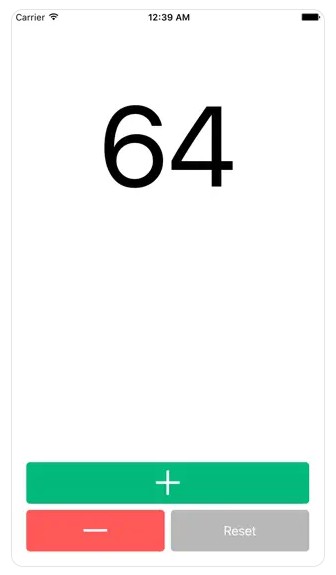 You may also like: 8 Best Stair Calculator Apps for Android & iOS
Crowd Control
Crowd Control Tally Counter is a mobile software that allows users to easily keep track of counts for various purposes.
You can quickly and easily add or subtract from their count with just a single tap. The app also includes a reset button for when users need to start over.
Sometimes it can be slow to load or lag when trying to add or subtract from a count. This can be frustrating for users who are trying to quickly update their count.
What's more, the app can have bugs and freezes which can lead to losing their progress.
Crowd Control is a useful app that can be helpful for a variety of purposes. Whether you are using it for inventory, attendance, or any other purpose, this app is a great tool to have on your phone.
Advantages:
Simple and easy to use.
Intuitive interface.
Helpful for various purposes.
Positive reviews.
Drawbacks:
Slow loading and occasional lag.
Crashes were reported by some users.
The design could be improved.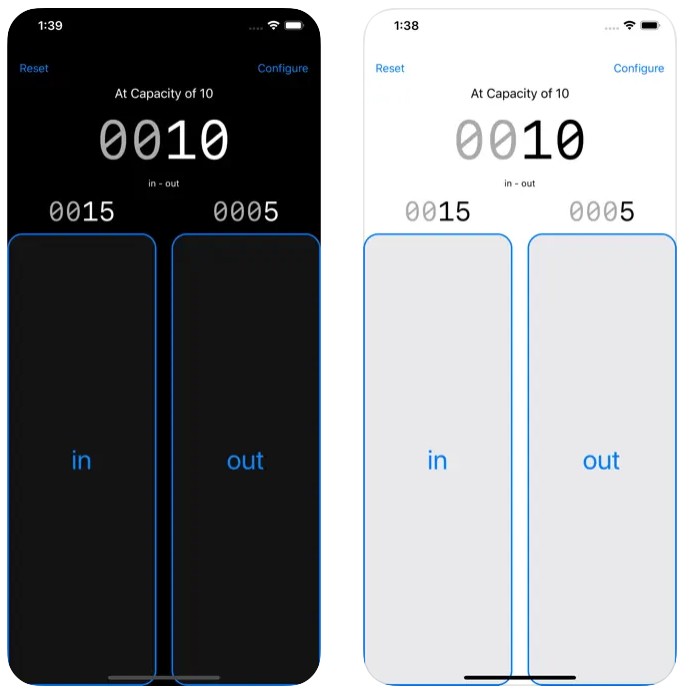 Smart People Counter
The Smart People Counter app will provide you with a simple count of people and objects.
This application is very easy to use and has many useful features. So, the counter itself is located on the main screen. With manual entry, you need to click on the "+" button.
If you make a mistake, you can change the value using the "-" button. To reset the counter, press the "RESET" button. You can also change the readings using the volume down and volume up buttons on your phone.
You can use this application in various institutions, at concerts, stadiums and so on. But, the scope of this program is not limited to counting people. Count traffic, money, steps, take an inventory, and more.
In the application Smart People Counter, you can create several counters. They can be sorted into separate groups by topic.
Smart People Counter is a simple and convenient application for counting counters. You can create several counters inside the application, and you can also add a minus or reset a counter. You can even control the counter with the phone's volume keys.
The application Smart People Counter has a nice design that you can change according to your preferences. It has great graphics and interesting sound effects.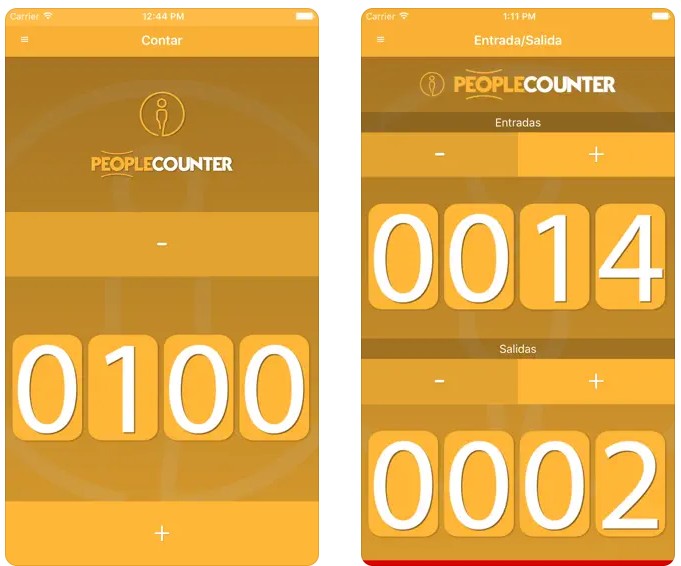 People Counter
People Counter is a top-grade application that allows users to estimate the number of people at a party or somewhere else.
One of the best features there, it is extremely lightweight, that's why the installation process will take just a few seconds.
When you have downloaded the app, it does not require you to pass the registration procedure.
The first thing you need to do – tap on the plus or minus button to launch the counting process. You should press the "+" button to enhance the number of people and click on the "-" button to decrease it.
In the settings section, you can also customize the number of people. For this, click on the icon located right bottom of the screen.
Here you can insert the preferred number, save the results or reset it. Just tap on the required button.
Another useful feature of this tool – there is no need to have a constant internet connection while working with this tool. Thus, you can use it anywhere you are.
As for the app's interface, it is quite user-friendly. There are not any redundant features there, so even novice users will instantly find out how all the functions work.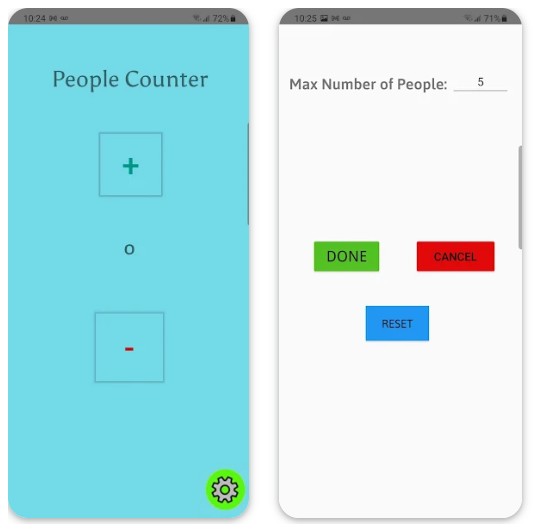 Tally Counter Tap Tool
Tally Counter Tap Tool is a simple and easy-to-use app for keeping track of counts.
Just tap the screen to increase the count. The app also allows users to customize the counter with different themes and sounds. Additionally, users can set a target count and the app will notify them once they reach it.
This feature is particularly useful for people who need to count items or occurrences for work or personal projects.
The interface is user-friendly, and the text is easy to read. However, some users may find the design too simple or lacking in creativity.
One potential disadvantage of the app is the lack of a reset button. Once you start counting, there is no way to reset the count to zero without closing and reopening the app.
Another issue is the lack of integration with other apps or platforms, such as Google Sheets or Excel, which could be helpful for users who need to export their data.
Advantages:
Simple and easy to use.
Customizable.
Clear interface.
Drawbacks:
No reset button.
Lacks integration with other apps/platforms.
Some users have reported issues with notifications.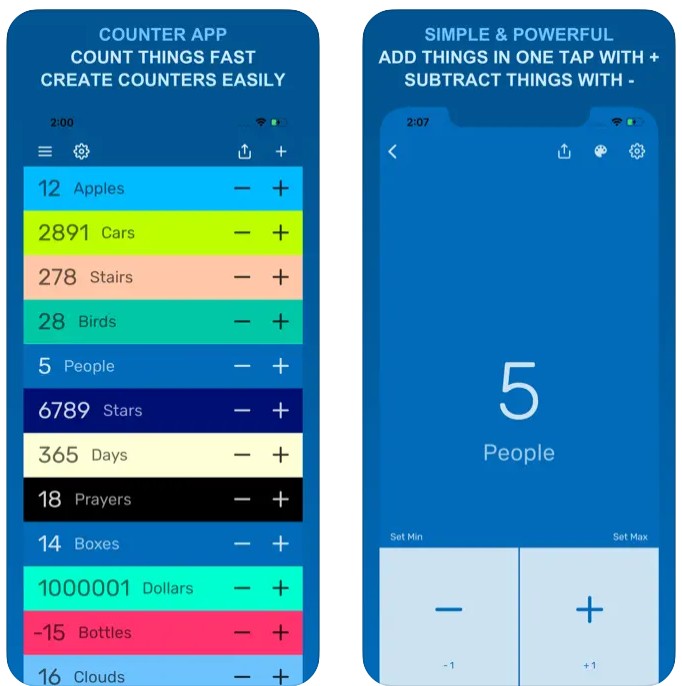 Easy Click Counting
Easy Click Counting is an app that aims to provide a simple way to keep track of counts.
Users can set a specific count target and then start clicking the counter button. The app allows users to customize the button color, size, and sound to their preferences.
Additionally, users can adjust the count increment or decrement, which can be set to one or any custom value. There's also an option to save the count progress and continue it later.
The counter button is big and prominent, and the interface is easy to navigate. The color scheme is primarily blue and white, which may not be everyone's favorite, but it is easy on the eyes.
However, the app lacks the visual flair that many users may expect from a modern mobile app. The graphics are functional, but they're not visually engaging.
Some users have complained that the app crashes or freezes occasionally, which can be frustrating if you're trying to keep track of a count. Additionally, some users have expressed frustration with the lack of options for saving or exporting count data.
It would be helpful if the app could save the count data in a format that can be exported to a spreadsheet or document.
Despite these flaws, Easy Click Counting is still a great app for keeping track of counts. The app is easy to use, has a straightforward interface, and offers customizable options that allow users to personalize their experience.
Advantages:
User-friendly interface.
Customizable button and sound.
Ability to save count progress.
Drawbacks:
Occasional crashing or freezing.
Limited options for saving or exporting count data.
Minimalist graphics.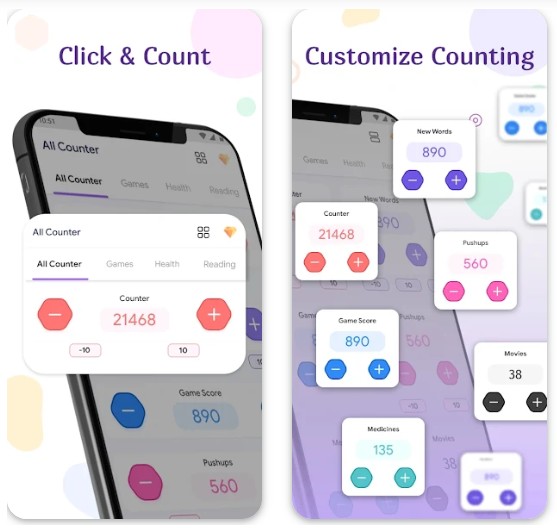 You may also like: 15 Best step counter apps for Android & iOS
Headcounter
Headcounter is a software that helps users keep track of attendance at events, conferences, or any other kind of gathering.
You can create an event, add attendees, and mark them as present or absent. Additionally, the app provides a real-time overview of the attendance status, allowing users to monitor the event's progress and make informed decisions.
The app can work offline. Users can use the app without an internet connection, making it ideal for events held in areas with poor connectivity.
However, the app syncs data with the cloud when an internet connection is available, ensuring that no attendance data is lost.
One flaw that some users have pointed out is the lack of a feature that allows users to import attendance data from external sources. This can be time-consuming for users who have to enter a large number of attendees manually.
Advantages:
Simple and user-friendly interface.
Works offline.
Real-time attendance overview.
Drawbacks:
Graphics are not aesthetically pleasing.
No feature to import attendance data from external sources.