We all love Birthday. This is a bright and funny celebration that reminds us of our childhood.
However, no Birthday can do without warm wishes. What to do if you are too tired to make up a good wish for your relative or friend? It's not a problem anymore, just delegate the task to an application.
By the way, if you are about to celebrate a Birthday, you should check 7 Best Singing Birthday Card Apps for Android & iOS.
We have collected a list of the best Birthday wishes apps. There are good options for Android, as well as iOS users. Most of them are available at no cost or they have a free trial period.
Birthday Wishes & Cards
Are you looking for cool Birthday cards and wishes? This app, created by 123Greetings, will be the best solution. It is packed with great options to choose from.
Try various items, such as flowers, smiles, cakes, and many others. However, the app will be equally great for Anniversaries and couple celebrations. You can create a unique card or wish, making it from scratch, or use a template to save time and energy.
Let's look at the best features of the application:
You can enjoy not only

bright cards

but also

great animated videos

. Send it to your friends right from the app or download it on your device.

Birthday and Anniversary reminders

. When you are too busy to keep all the details in mind, you can delegate remembering important dates. Set the reminder for each of your family members and friends, and you will never forget to call them!

Make sure you

use synchronization

between your phone and Facebook. This will help you to share the most important information without doing it manually.

Send your cards

via WhatsApp, Facebook, Twitter, and email. Choose the most comfortable way to send your wishes to your loved ones.
Should you face any problems, don't hesitate to contact technical support, they are usually very fast to respond.
The app is rated 4.7 out of 5, meaning it's a reliable service, which you can fully trust.
You can get the app for free on the App Store and forget about problems with Birthday cards and wishes.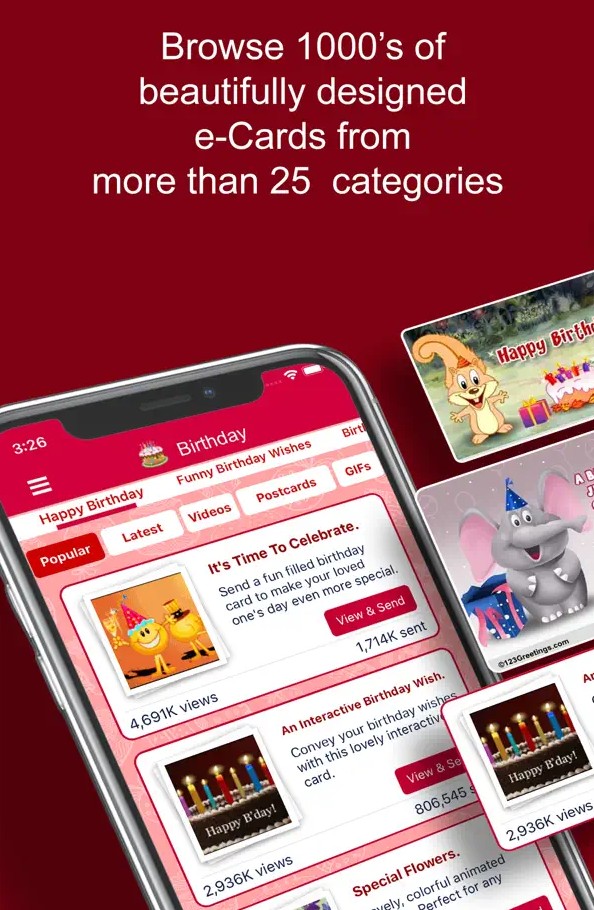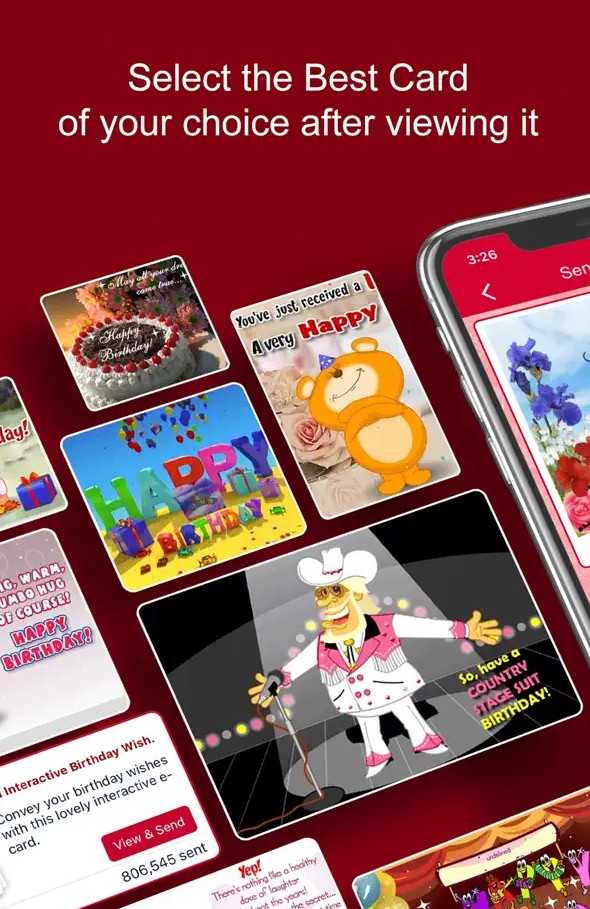 You may also like: 11 Best Dancing Apps for Kids (Android & iOS)
Birthday Wishes Creator
If you want to make something new and unique, this application is a must for you. It's time to stop worrying about your family members Birthdays.
The app is famous for its simple interface. Even if it's your first experience with such a service, you won't have any difficulties. Everything is clear thanks to its primitive and friendly to users interface.
What can you do with this application? There is a great number of functions available for free:
Create expressive GIFs

that you can send to your relatives and friends.

Enjoy Birthday Card Maker

. You can use a template or create your card from scratch.

Draw a nice Birthday cake

. Choose a template and then add new elements to it. You can write something on the cake. You can send it to your loved ones on an important day.

Create a warm Birthday wish

. When you put all your heart into this wish, you can create the best wish and then send it. You can find some great poems right in the app if you are not keen on writing.
The developers try to update the app regularly. Should you face any difficulties, don't hesitate to contact the support.
However, there is one serious disadvantage. There are many full-screen ads popping out of nowhere. What is especially bad about it is that you can't remove them. If you are not ready to put up with ads, this app isn't for you.
You can get the application on the App Store and start creating best wishes at no cost.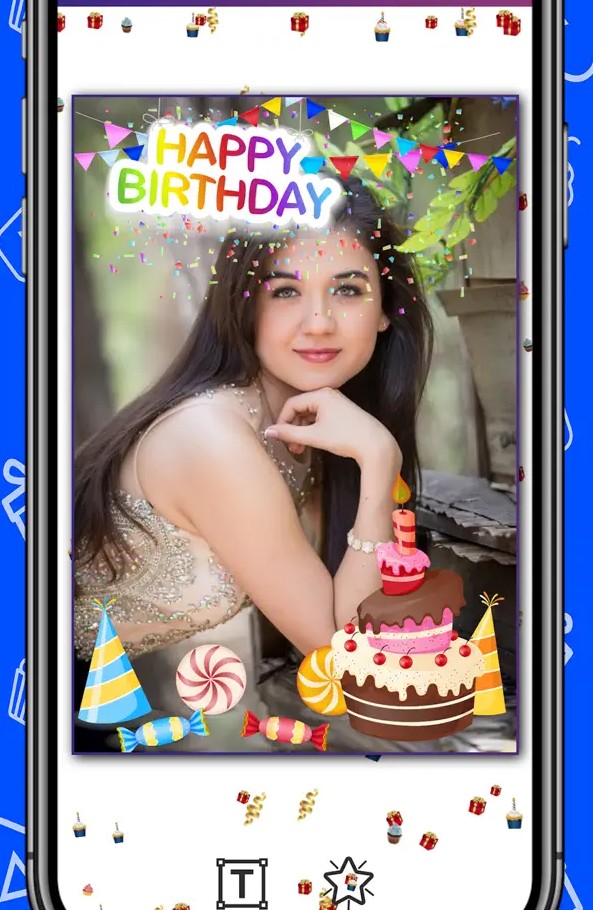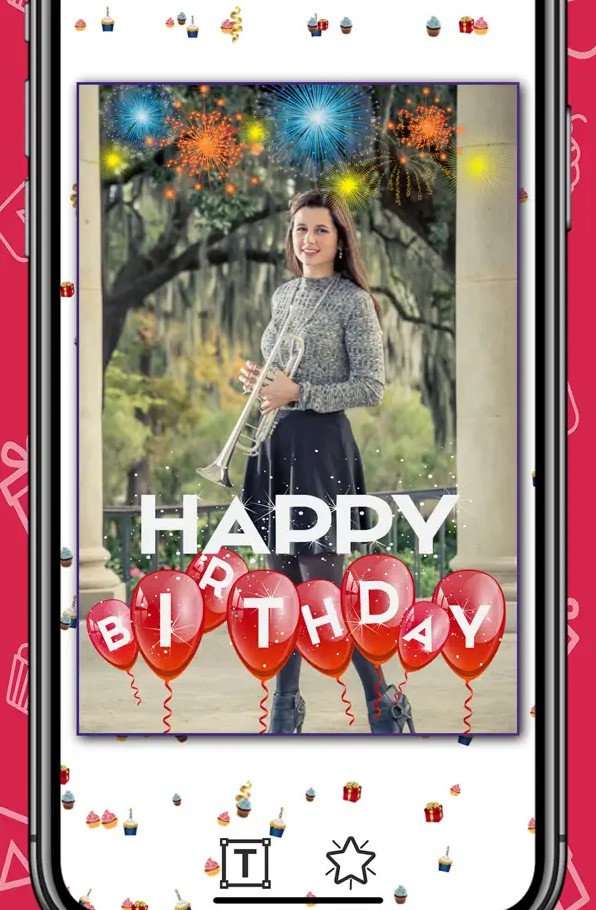 All Wishes & Greetings Images
Let's look at another good application for Apple users. This isn't a typical application that will provide you with cards, messages, virtual cakes, and many other Birthday items.
This app is more about images. You can explore thousands of cool pictures and choose what you like. You can edit it at the click of a button.
The app is packed with many wishes that can be applied to many celebrations, including New Year, Mother's Day, and Birthday.
You can also add your own images to the application. In this case, you can't make money by it.
The app is very reliable. It is rated 4.7 out of 5, proving it's a great tool. The size isn't too big – it is 45.6 MB, which isn't a huge app.
What is more, the privacy policy is very friendly. The developer doesn't track your location or store your data on its servers. It will never sell your data to other companies.
You can get the app for free on the App Store and start browsing through a great number of images.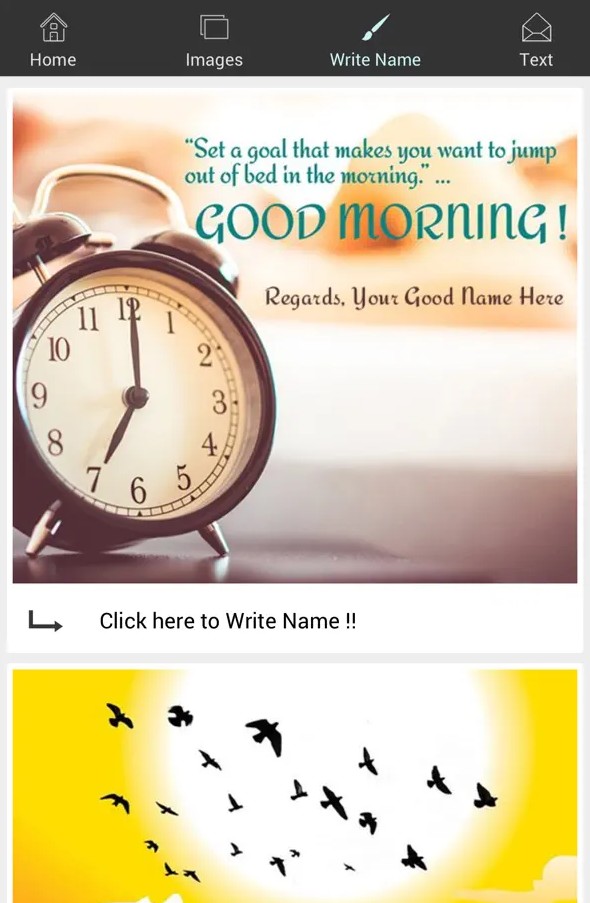 Birthday Wishes, Messages, Poems & Greetings
If you are an Android user, this application is a good tool for you. It will help you not to worry about the upcoming birthdays in your family.
The app has a pretty simple and intuitive interface so you can start enjoying all of its functions right after the download.
The app is fully free with ads, which is great – you don't have to pay.
Now let's look at the coolest options the app can give you:
There are

more than 5000 unique and beautiful wishes

you can send to your family members and friends.

Create great cards

from scratch or download those that are already there in the app. You will explore 100+ different cards.

All the

items are divided into groups

so that it's easy to find what you need. There are wishes for wives, sisters and brothers, parents, partners, colleagues, or just friends.

Set a reminder

not to miss an important day.
What is more, the application is super small. Its size is 11 MB only. It's great for such an application full of functions.
The only disadvantage is that there are too many full-screen ads.
You can get the app for free on the App Store.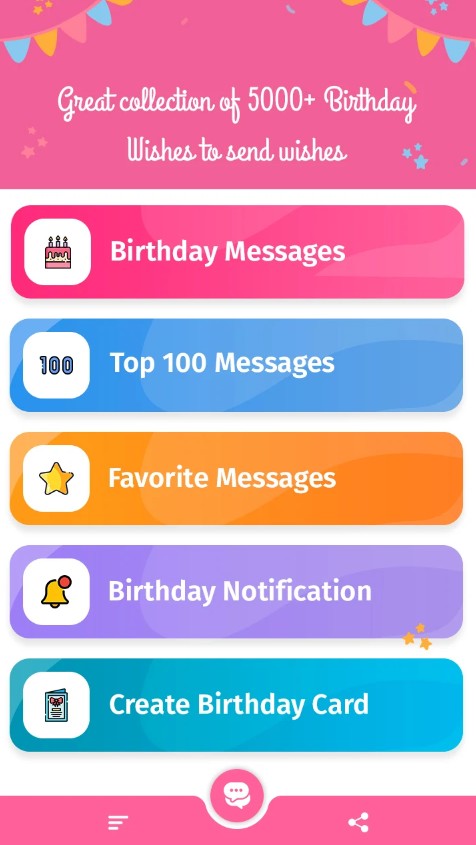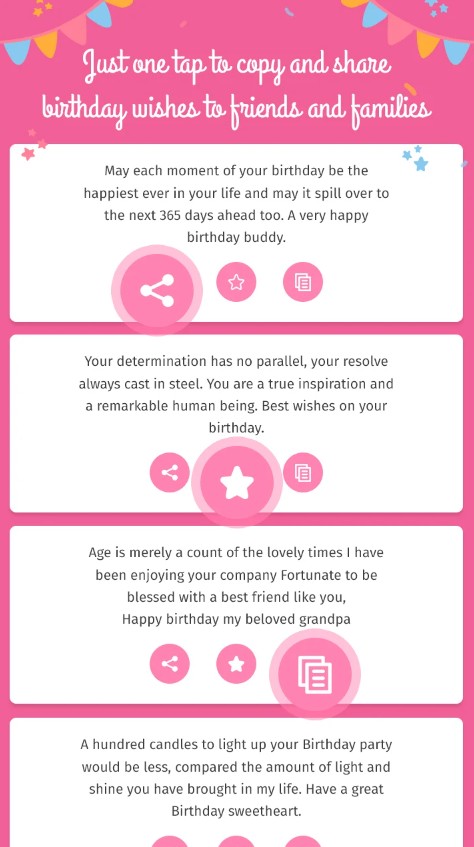 By the way, if you like to celebrate Birthdays, you can't do without 11 Best Birthday Tracking Apps (Android & iOS).
Birthday Wishes Messages
Let's look at one of the most elegant and at the same time powerful applications. Its size is 5.3 MB only. So even if you don't have a lot of memory on your device, you can still enjoy all the functions.
There are many things to choose from:
Beautiful and colorful

cards that you can send to your relatives and friends. They are divided into groups according to the topics they represent. You can use the search as well to find what you need easily and fast.

Thousands of wise quotes

you can use in your cards. You can create and add your own quotes.

Once you created your birthday wish, you can

download it

on your device.
What is more, you can easily customize the app according to your tastes and needs. For example, you can try various themes. The best one is dark, it will also save your phone battery level.
The app was downloaded more than 100 000 times. Its high rating is proven by hundreds of positive comments.
There are some ads that might distract you from choosing the best birthday cards and wishes.
You can get the app on Google Play for free.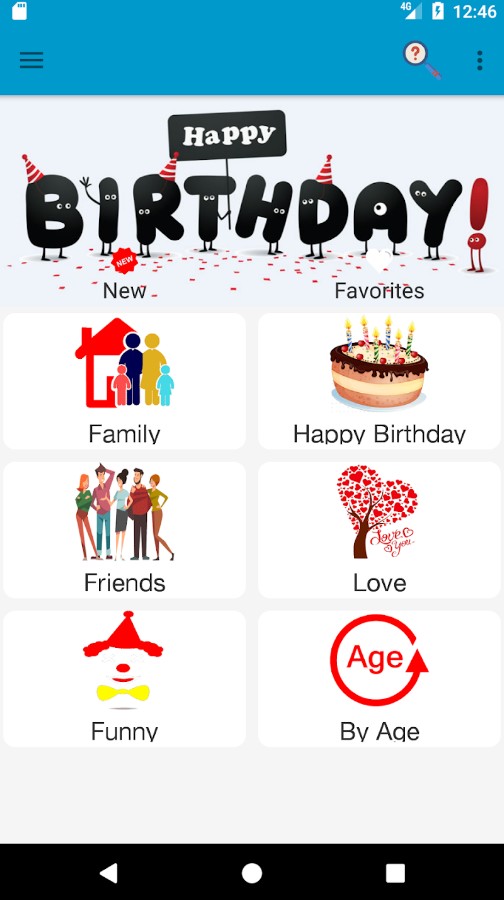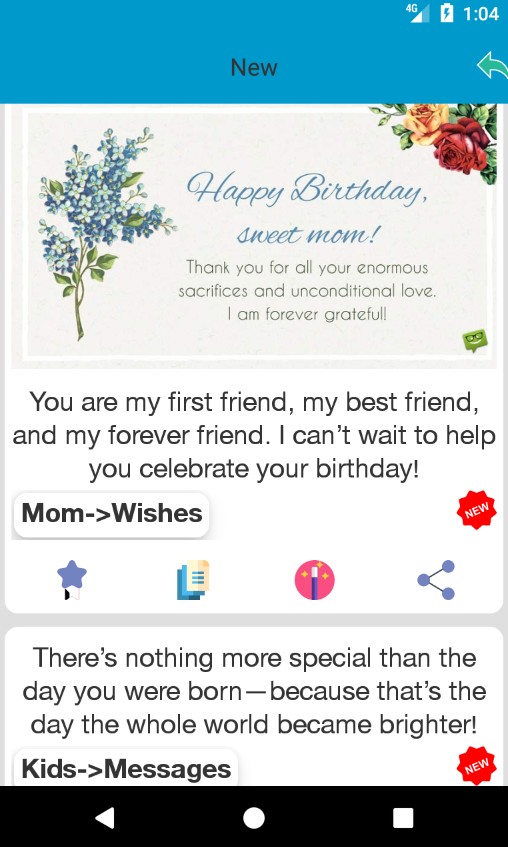 Greeting, Birthday Cards
The Greeting, Birthday Cards app is a warm and thoughtful platform designed to help you celebrate life's special moments with your loved ones.
Inside this app, you'll discover a wide array of beautifully crafted greeting cards suitable for various occasions. From birthdays and weddings to holidays like Christmas and Easter, there's a card to express your sentiments on every special day.
The app also provides an opportunity for your creativity to shine. You can personalize your cards with custom messages and photos, adding a personal touch that turns your greetings into cherished keepsakes.
App Features:
The app's interface is designed for easy navigation, ensuring that you can find and customize cards effortlessly
You'll find an extensive library of cards covering numerous events and occasions
The ability to add your own messages and photos lets you create unique, heartfelt greetings
In general, this is a decent app that gives you plenty of ideas on how to celebrate your friends and say ordinary "Happy Birthday!" in a new, creative way.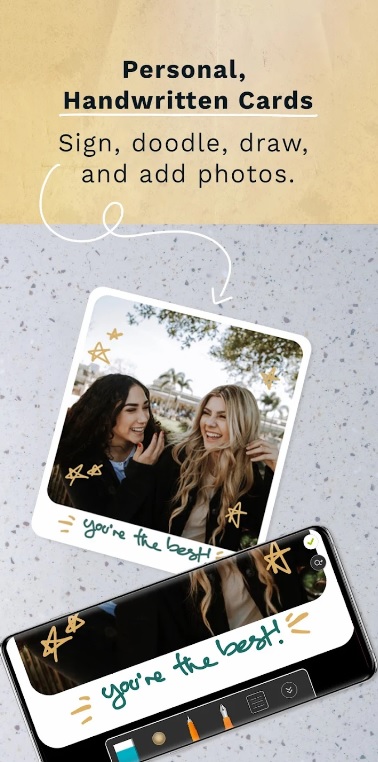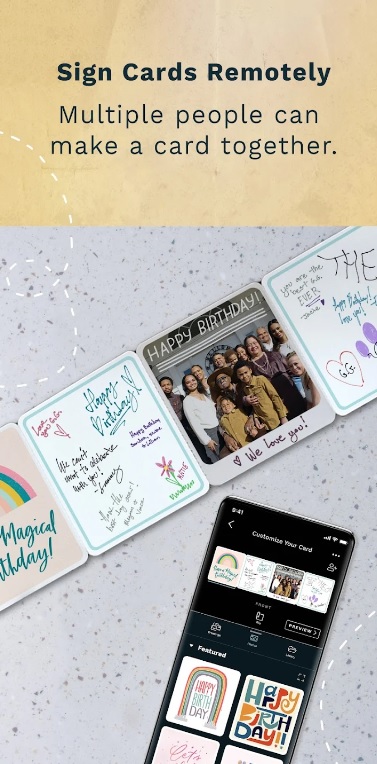 Greeting Cards & Wishes
The Greeting Cards & Wishes app is great platform for spreading love, joy, and warm wishes to family and friends on special occasions.
Sharing your heartfelt greetings with loved ones is a simple process. You can send your chosen card via various messaging and social media platforms, ensuring your warm wishes reach the recipient no matter where they are.
Inside this app, you'll discover an extensive collection of greeting cards suitable for a range of events and occasions. Whether it's a birthday, anniversary, holiday, or a simple "thinking of you" message, there's a card to fit every special moment.
App Features:
The app provides easy sharing options, so you can send your wishes without any hassle
You'll find cards for numerous events and occasions, ensuring you're prepared for every special day
Adding your own messages and photos allows you to create one-of-a-kind greetings
The app allows you to add a personal touch to your greetings. You can customize cards with your own messages and photos, making each one a unique expression of your feelings.
To sum up, this app provides a convenient and heartfelt way to connect with the people who matter most.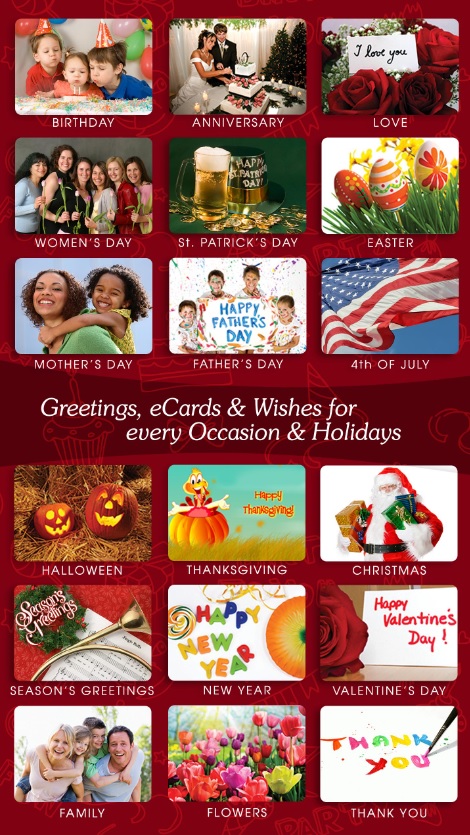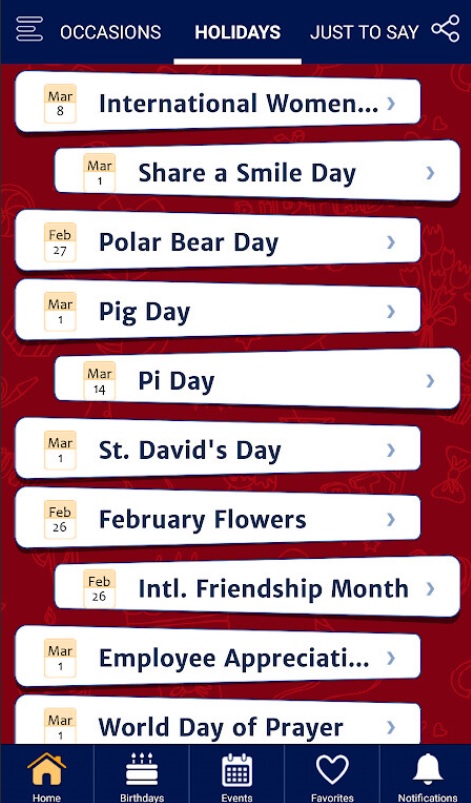 You can also check: 7 Free Apps to Add a Name on a Cake (Android & iOS)
Happy Birthday Wishes GIF
Sometimes you might like to create a dynamic card for your loved ones. In this case, you can use GIFs. They are not as big as videos, but much cooler than images.
What is more, the app is quite simple to use. Let's see what you can do in Happy Birthday Wishes GIF:
Explore a plethora of great GIFs. What is especially cool is that you don't need to browse the Internet yourself and spend long hours comparing the GIFs. Everything is already there for you – just check these GIFs.
Customize the GIFs using the name of your partner. To do it, follow these steps. Firstly, choose a GIF you like most of all. Then add a name of a person you want to congratulate. The only thing you have to do is to save the result of your work.
Share the results of your work. Other people may use this GIF as a template.
Even though the app will collect some data about you, it won't give or sell it to others.
You can download this striking application on Google Play.