Do you like to listen to music? Do you always listen to music on the way home? Many people love hip-hop music. It cheers up. It is energetic. It will definitely energize you for the whole day. We will help you choose the app on your smartphone phone.
All apps from the list are very good. You can find any hip hop music there. Download them and you can always listen to your favorite songs.
You may also like: Best Rap battle mobile apps
Hip hop music appeared in America. It has an energetic rhythm. Hip hop became popular in the late 20th century. People still adore it. If you also like to listen to hip-hop music, these apps are just for you.
Find thousands of tracks. Listen to them anytime. Hip-hop makes life brighter and better. There is a list of the best hip hop music apps. Try them all or choose only one.
LiveMixtapes
LiveMixtapes is a music app that allows you to enjoy a wide range of music content in various formats. It primarily focuses on hip-hop and rap music, making it a go-to platform for hip-hop enthusiasts.
You can listen to music on this app in streaming format, giving you instant access to a vast collection of tracks.
In addition to hip-hop, LiveMixtapes also features other music genres like R&B and urban music, providing a diverse listening experience. You can discover new artists, explore mixtapes, and stay up to date with the latest releases in the world of hip-hop and related genres.
The app's features include easy navigation through its extensive music catalog, customizable playlists, and the ability to save your favorite tracks and mixtapes for offline listening.
In conclusion, I would say that in case you're a die-hard hip-hop fan or simply looking to explore new music, LiveMixtapes provides a user-friendly platform to enjoy your favorite tunes and discover new ones.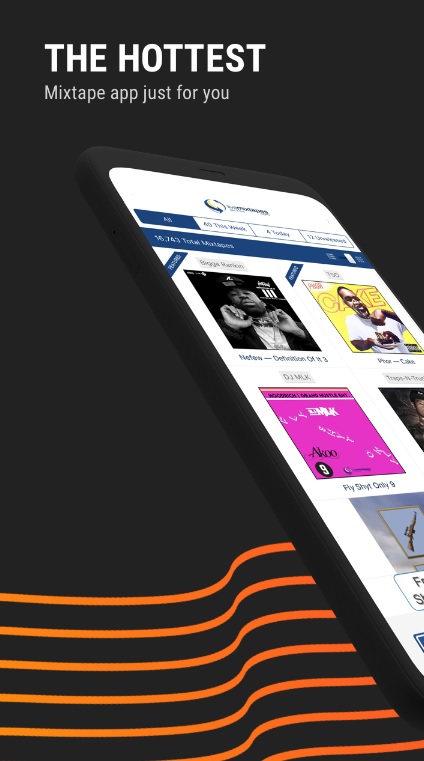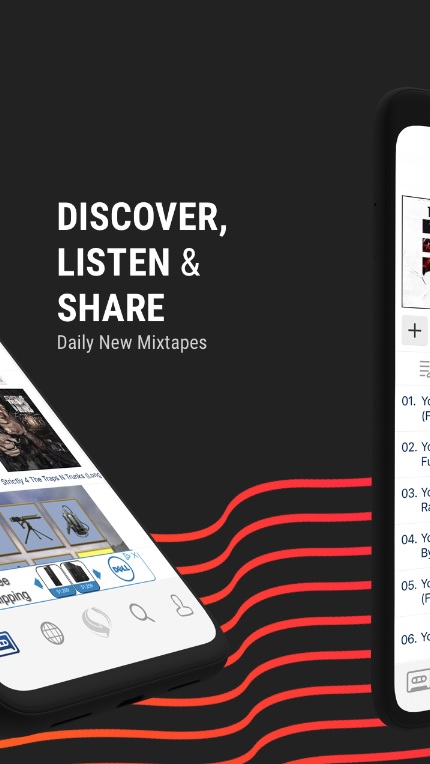 You can also check: 21 Best Offline Music Apps for Android & iOS
Hip Hop, Rap and R&B radio
This is a great radio for listening to hip hop music. You can listen to songs all day. All your favorite hip hop radio stations in one app. You can view the video of any song. The app uses YouTube. You can listen to the radio on which only songs are broadcast. You can also find radio podcasts. You can learn all about the history of hip hop.
The app will show you the top 100 songs. Listen to whatever you want. It will memorize the radio station. You will receive recommendations. If you can't sleep without a radio, the app has a sleep mode. Set the timer and the app will turn off after a while. It is very convenient. It will save your battery. The app works well.
The app has been installed more than 1 million times. The design of the app is nice. It is easy to navigate in the app. The interface is intuitive. You can turn on the radio in the background. Use other apps. It doesn't waste a lot of battery. The world of hip hop is waiting for you.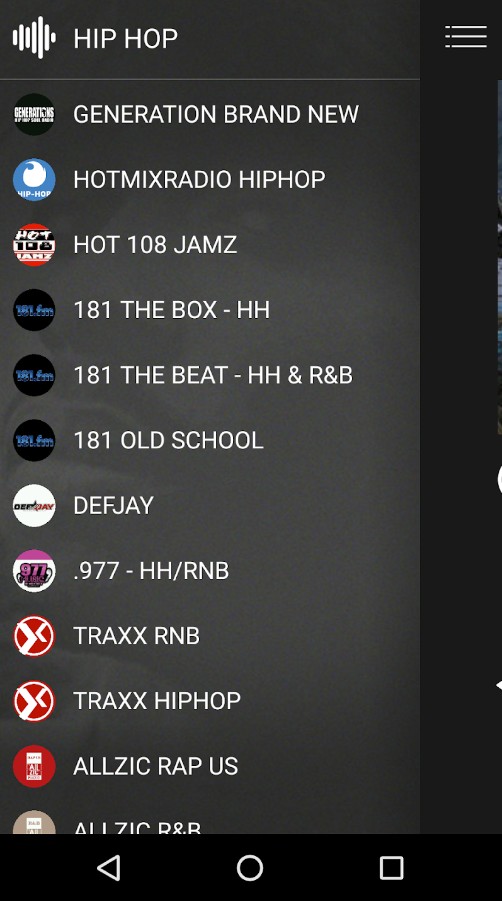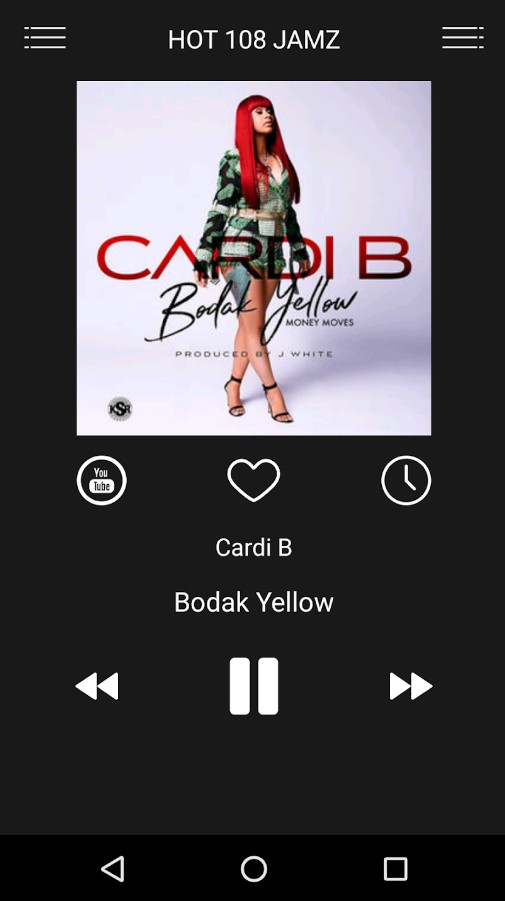 Hip Hop Music
This app offers a diverse range of music genres, making it a versatile choice for users. While hip-hop is the primary focus, you can also explore other genres like R&B, rap, and urban music, ensuring there's something for everyone.
Some notable features of the app include its extensive music catalog, the ability to favorite and save tracks for later, and the option to create playlists tailored to your music preferences.
To my mind, Hip Hop Music is the best app too listen to hip hop music because it provides a platform to enjoy great tunes and explore new sounds in the world of music.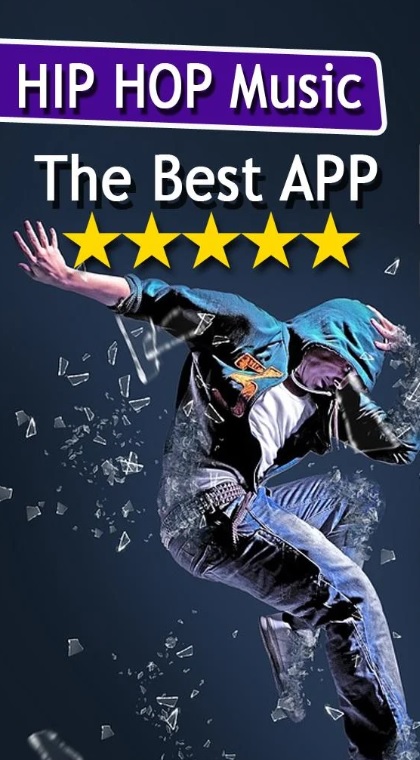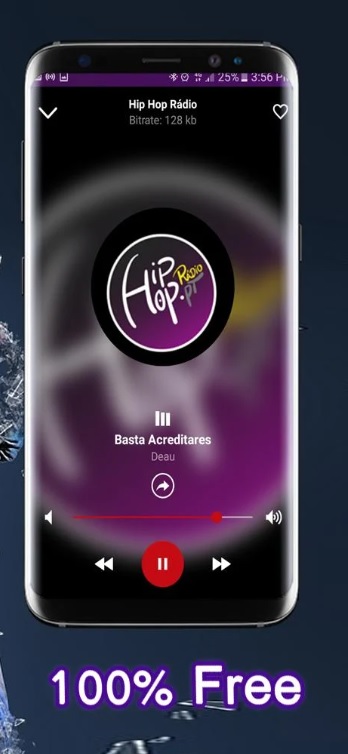 Audiomack
Audiomack is a music streaming app that allows users to enjoy a wide variety of music in different genres. One of the great features of Audiomack is its extensive library of music, including tracks from both emerging and established artists.
The app offers music in various formats, including MP3 and M4A, ensuring high-quality audio playback. Users can stream music for free, making it accessible to a broad audience.
Audiomack also provides the option to download songs for offline listening, which is handy when you don't have an internet connection.
Moreover, it allows users to create and share playlists, discover new tracks through personalized recommendations, and follow their favorite artists. The app also offers a user-friendly interface, making it easy to navigate and find the music you love.
In addition, Audiomack provides a platform for artists to upload their music, helping them reach a wider audience.
To sum up, it's a music app that caters to both music enthusiasts and musicians, offering a diverse and engaging music experience.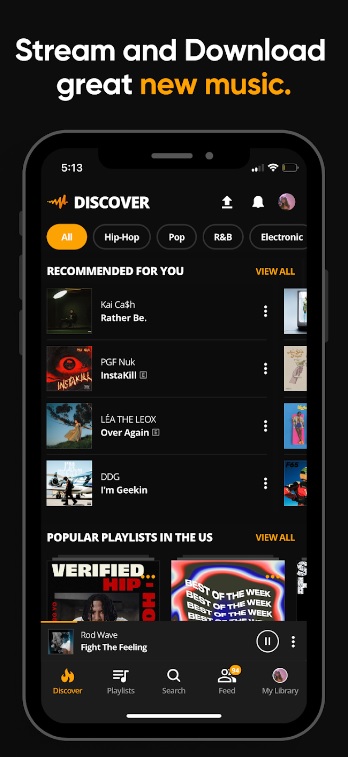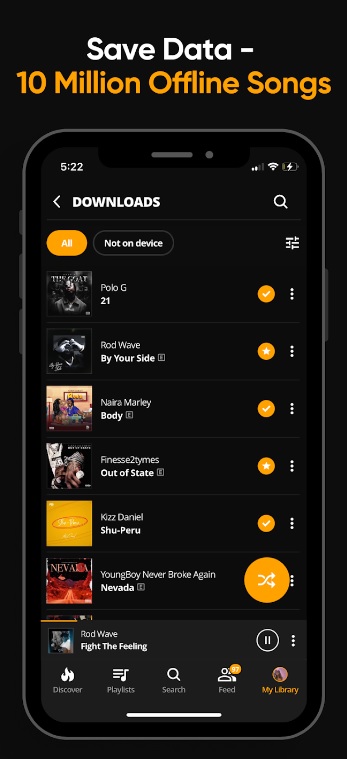 HIP HOP RADIO
If you're a hip-hop enthusiast looking for a convenient way to enjoy your favorite music and explore new tracks, HIP HOP RADIO is a valuable addition to your Android app collection.
The app supports various music formats, ensuring that you can enjoy high-quality audio playback. It offers a wide range of hip-hop music, from classic hits to the latest releases, making it suitable for both old-school hip-hop fans and those who love the contemporary scene.
Moreover, you can tune in to live radio streams, allowing you to listen to hip-hop tracks in real-time. This feature adds an element of spontaneity to your music-listening experience, as you never know what track might play next.
Furthermore, HIP HOP RADIO also provides information about the songs and artists you're listening to, enhancing your overall music discovery journey. While it primarily focuses on hip-hop, the app may also include related genres like rap and R&B, broadening its appeal to a wider audience.
So, you will be satisfied with all the features this app provides.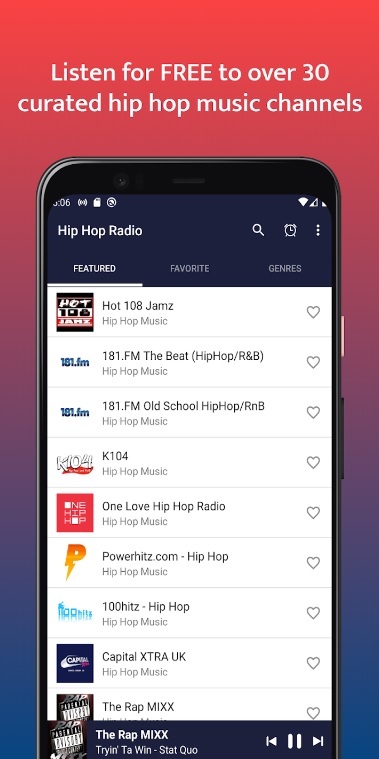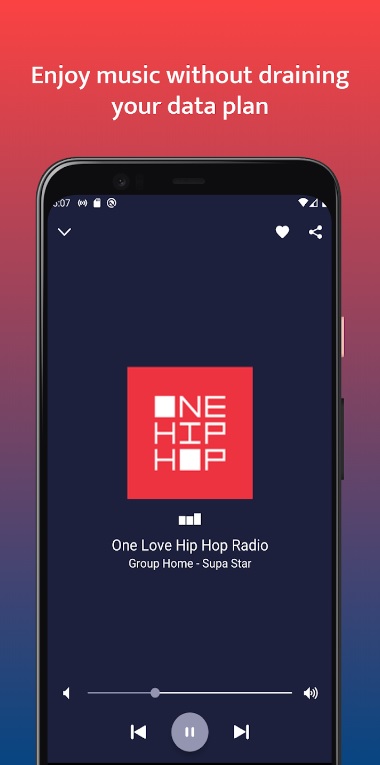 Rap Radio+
This is one of the few hip hop radio stations that is available both for Android and iOS. This app is pretty simple though, don't expect the superior interface or functions. It is a collection of the best rap radio stations and you can browse through them and choose the one you like more.
You can always put this app playing in the background while you're doing other stuff on your phone. In general, the interface of the app is extremely simple and a little bit obsolete. By the way, the drawback of it is that when you're listening to a certain hip-hop radio it doesn't show the name of the song playing so you will have to use Shazam.
Overall, Rap Radio+ is one of the classic radio apps that appeared on the market a long time ago. There are mixed reviews about it, however, the most of them are saying this app is decent.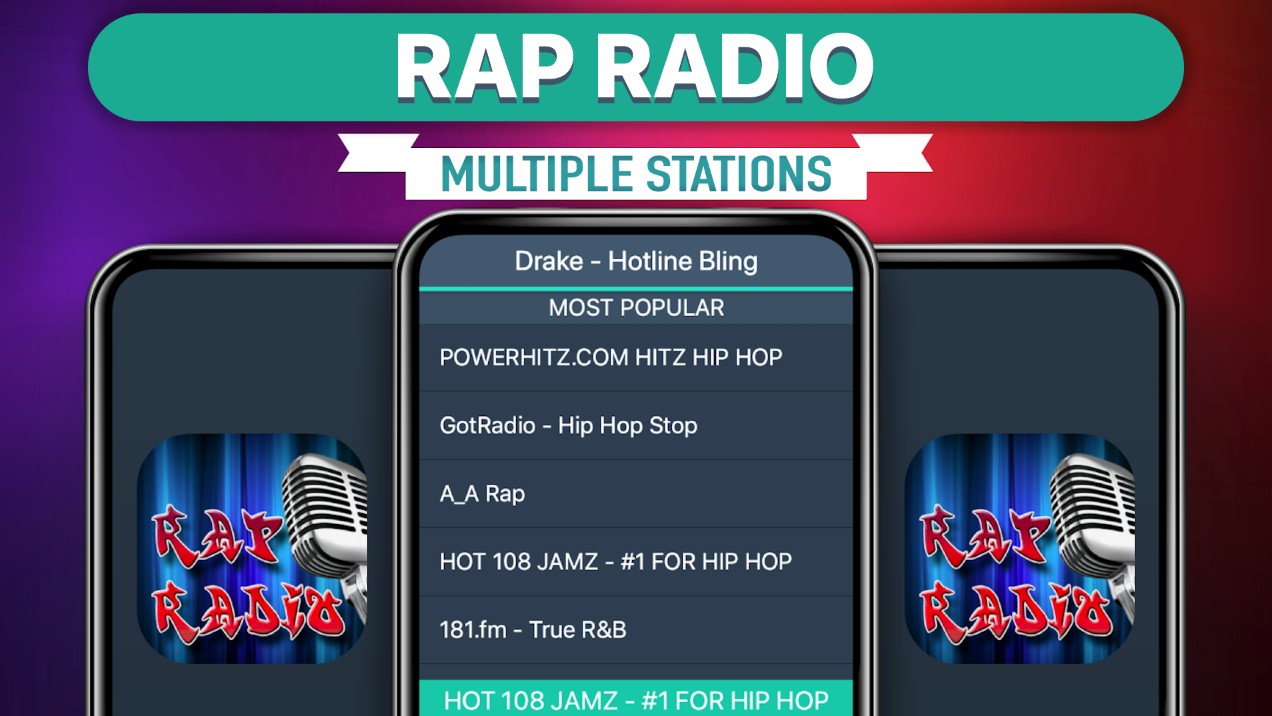 KEAKR
KEAKR is a music and rap recording app that caters primarily to hip-hop enthusiasts. It's a platform designed for both aspiring artists looking to create and share their music and fans of the hip-hop genre.
You can listen to music primarily in the hip-hop and rap genres. Users can create their own rap and hip-hop tracks using the app's recording tools. This means you'll find a diverse range of hip-hop music, from amateur artists to more established ones.
The app is centered around user-generated content. Artists can record their own tracks, add beats, and enhance their music, then share it with the KEAKR community and on social media platforms. KEAKR is not just a music player; it's a social platform.
Users can discover new music from other creators and interact with the community by commenting on tracks and providing feedback.
In summary, KEAKR is a creative hub for hip-hop and rap enthusiasts. It's a platform where users can both create and listen to music, fostering a community of artists and fans.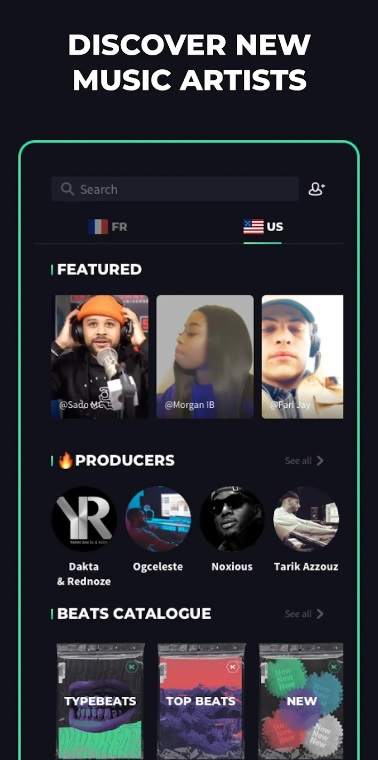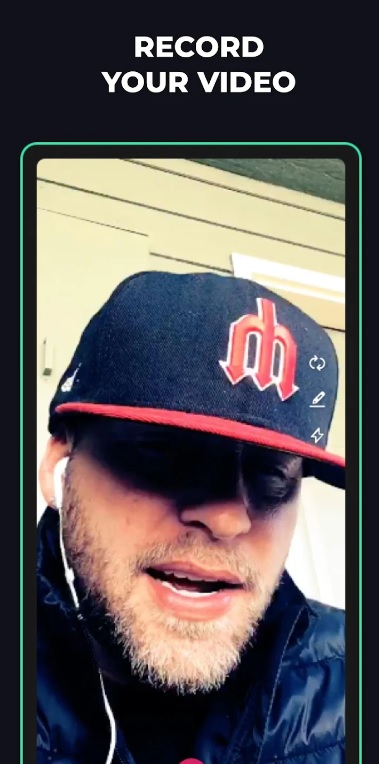 You may also like: 7 Best Beatbox Apps for Android & iOS
Power 106LA
If you want to tune in into the most classic hip hop music and, what is more, you are a west coast team, then you should definitely get this radio app. It plays all the possible rap and hip-hop songs, including the latest releases and the most famous tracks ever, creating the mood for every day.
Listen to New at 2 for breaking new hip hop music, the LA Leakers, world-famous Powermixers, and non-stop hip hop. The interface of this app is extremely cheesy, which can be explained by the fact that this is, first of all, the radio app. In the side menu, you will find several options though.
You can choose to listen to what is currently playing, you can go to their Facebook page, Twitter or Instagram. One more or less interesting option is to listen to the podcasts. Besides, there is an alarm function where you can set up this Powe 106LA radio as your alarm – wake up and start your day with hip hop!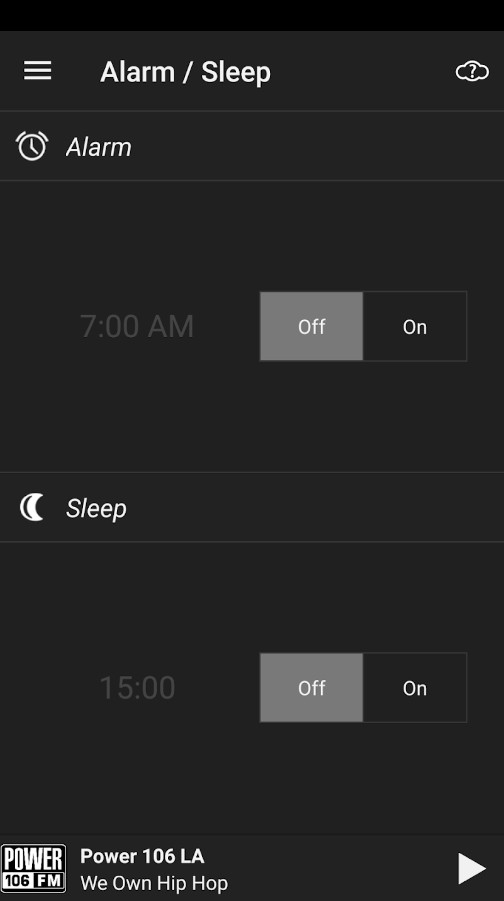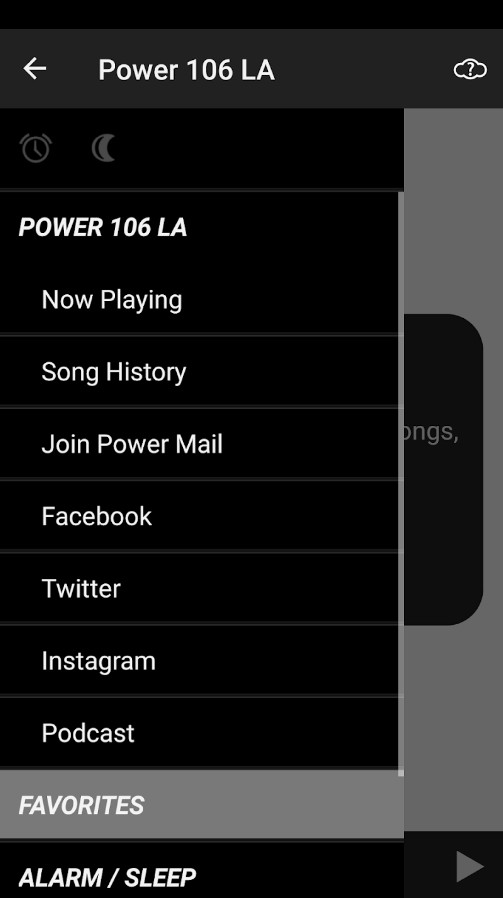 Music Worx
Music Worx is a versatile music app that offers a wide array of music genres to cater to various tastes. It's a platform designed for music enthusiasts who want to explore and enjoy different types of music.
This app boasts an extensive collection of music genres, ranging from pop and rock to electronic dance music (EDM) and hip-hop. This diversity ensures that there's something for everyone, regardless of their musical preferences. The app allows users to stream and listen to their favorite tracks within their chosen genre.
In addition to enjoying familiar tracks, users can also discover new music and emerging artists. This feature is perfect for those who love exploring fresh sounds and supporting up-and-coming musicians.
The app may also include social features, such as the ability to follow favorite artists, share music recommendations with friends, and engage with the music community.
While Music Worx offers a wide range of music genres and streaming capabilities, it's important to note that the availability of specific features may vary depending on the version of the app and any potential subscriptions.
Nonetheless, it provides an accessible platform for music enthusiasts to enjoy and explore a diverse world of music.
To sum up, I'd recommend you this app as it provides you with plenty of hip hop tracks.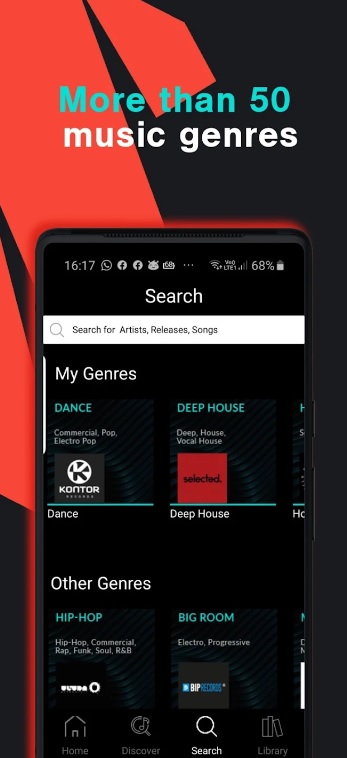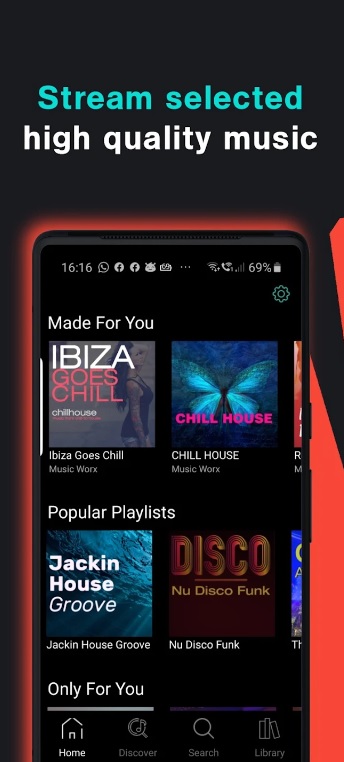 SPRK MUSIC
The SPRK MUSIC app is a user-friendly music platform that allows you to enjoy music in various formats and genres. With this app, you can listen to music in popular formats such as MP3, WAV, and more, ensuring compatibility with a wide range of audio files.
The app offers a diverse collection of songs spanning different genres, ensuring there's something for everyone. If you're into hip-hop, rock, pop, or electronic music, SPRK MUSIC has you covered. It also provides playlists and recommendations, making it easy to discover new music that suits your taste.
Additionally, SPRK MUSIC is designed with an intuitive interface, making navigation and music playback effortless. It's a great choice for music enthusiasts who want a seamless and enjoyable listening experience.
In general, I think this is a great app as it offers you the option to upload your own music to the app, creating a personalized listening experience.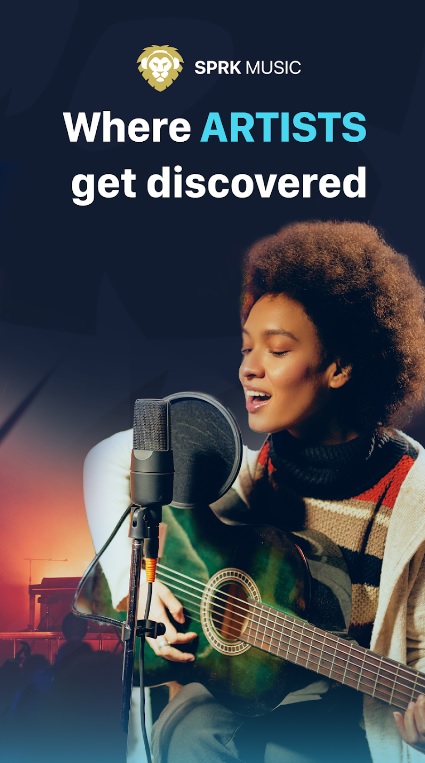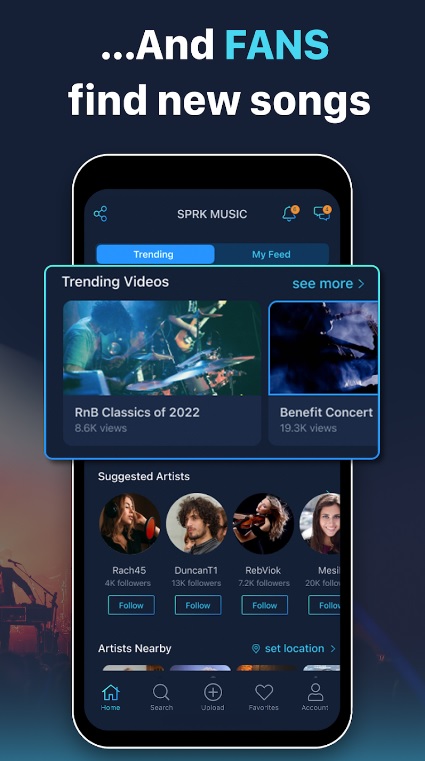 Drum Pad Machine – Beat Maker
Well, this is probably the only app on our list which is not about hip hop specifically, but it can be useful in this category as well. If you don't want to just listen to hip hop and follow all the coolest artists on the radio, Instagram, and other social media, but want to create your own hip hop tracks, then this is a tool that could help you to do that.
If you're familiar with the music composing at least a little bit, you should have seen a music pad at least once in your life. Actually, it is an extremely convenient instrument that allows you to write music even without knowing the subject. You just choose the type of sound in the settings and then tap on the buttons, creating a melody.
This is what the Drum Pad Machine app basically is. First, you choose the type of sound and then go to the board. You can also regulate the intensity of the sound and the echo effect.
If you're completely new to all of this, you can watch a tutorial right in the app. The sound pad is actually how many hip hop tracks are made – so don't miss the chance to create your own rap music.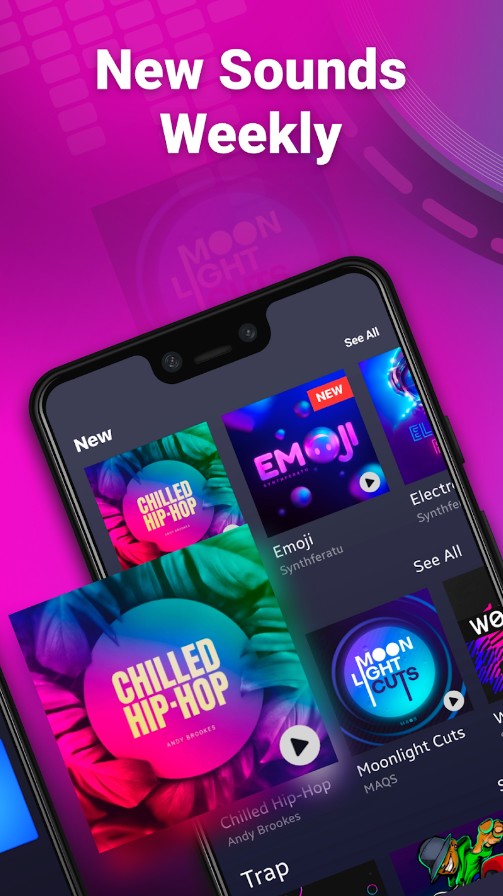 You can also check: 11 Best music sync apps for Android & iOS
Hip Hop Music DJ
Have you ever wanted to be a DJ? You can become one. Try this app. You can create your own hip hop tracks. It is very simple. The app has everything you need. This is a whole music studio. Create music. Use electric guitar, flutes, and drums. Turn on the imagination. You can add vocals.
The app is suitable for novice composers. The interface is very intuitive. You will immediately understand how to use the app. Press the buttons to make a song. Save it and share it with your friends. Send songs to the radio. You will become popular. It is easy to create music with this app.
You will feel like a professional. Multi-colored buttons will cheer you up. The app doesn't take up much space on your phone. It will give you a lot of joy. Download this app and create music. Being a DJ is great. You can learn how to make music. Music is a joy.