iLuna is a cool app for all astrology fans and all of those who want to track the lunar phases. Here you can explore the program can explore the lunar cycle, keep track of lunar phases, and comprehend how the lunar cycle influences your astrology readings.
iLuna offers a simple and easy-to-read interface that shows the moon's phase and the zodiac sign that goes with it.
Users of iLuna may view the lunar phases for any range of dates using the calendar that is included with the app. The program also provides details on the many moon phases and their associations with other facets of life, including relationships, health, and careers.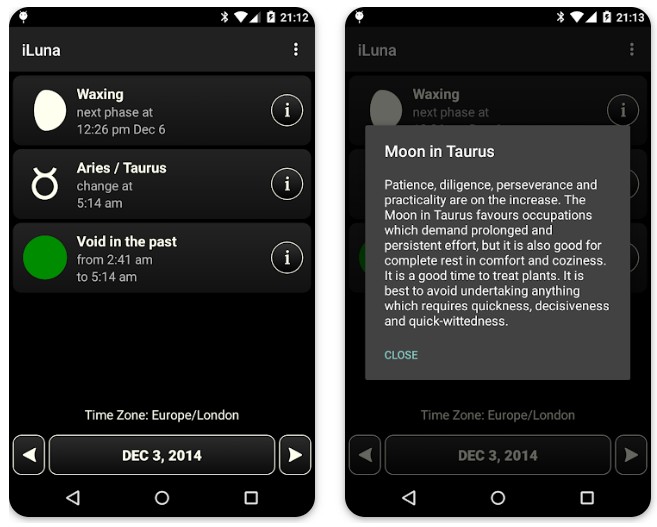 The iLuna app employs a lunar astrological calendar that is based on the moon's phases and how they relate to the signs of the zodiac.
The app shows the current lunar phase, the zodiac sign, the dates and times of future phases. The app's calendar function allows users to examine the moon phases and zodiac signs for any date range they choose.
The New Moon, Waxing Crescent, First Quarter, Waxing Gibbous, Full Moon, Waning Gibbous, Third Quarter, and Waning Crescent are the eight main lunar phases that are visible on the iLuna app. The app also provides details on each phase's astrological importance.
Since its first release in 2009, the iLuna app has undergone a number of upgrades and modifications to improve both its usability and usefulness. Users have given the app great ratings, praising its precise and insightful insights on lunar astrology.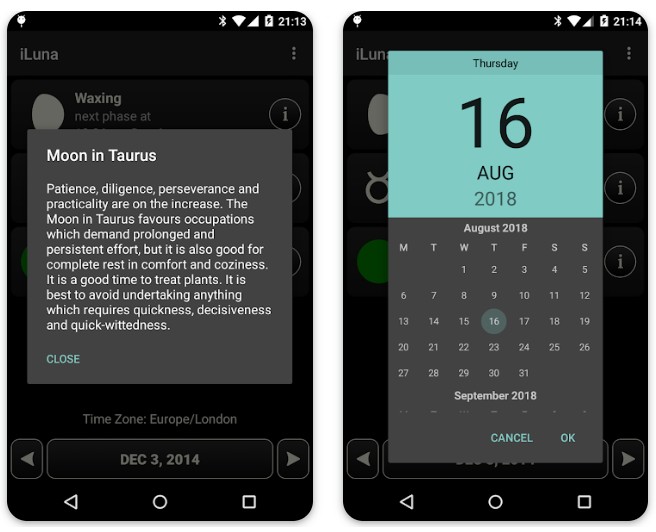 iLuna's user interface design is clean and contemporary, with a dark color palette and a simple layout. On the main screen of the app, you will discover recommendations and insights based on the lunar cycle. There are also details about the current lunar phase.
What is more, the app has a monthly calendar view. That calendar shows the lunar phase for each day as well as extra details about the lunar cycle – this feature I especially liked.
There are a lot of interesting features in iLuna. For example, here you can choose how you want to be notified about the lunar cycle, including receiving alerts about impending lunar events.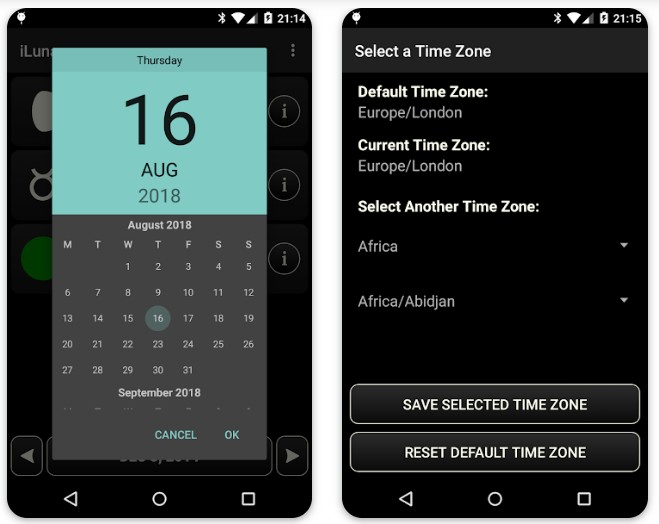 Also, the app informs users of the astrological sign that correlates to the current moon phase and offers insights and suggestions based on that sign. Also, the app provides users with a number of settings and personalization choices so they may personalize their experience to their tastes.
iLuna is great for learning more about the secrets of the lunar cycle and how it affects our lives, whether you're an experienced astrologer or just getting started.