We try to support local apps that make people's everyday life more comfortable and productive. That's why today we decided to tell you about this app that helps you to track trains in India.
You may also like: 11 Best Train Game Apps for Android & iOS
This app makes it simple for travelers to plan their trips and keep informed of any delays or changes by providing real-time updates on train timetables, arrival and departure times, and other crucial information.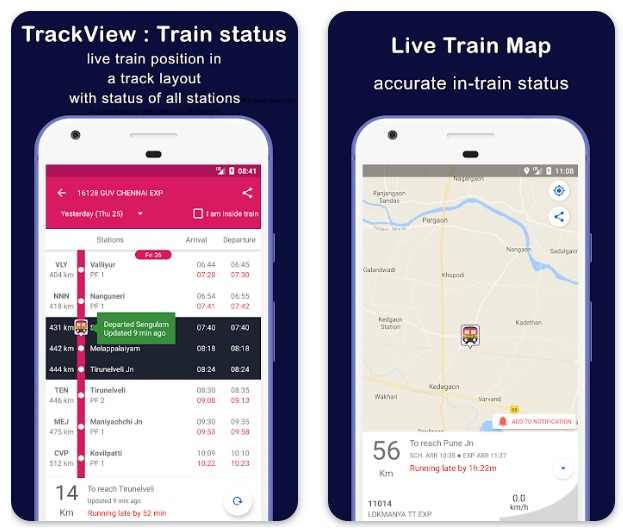 The app's capability to deliver real-time train monitoring data is one of its primary advantages. To obtain real-time updates on the train's position, projected arrival and departure schedules, and other crucial information, users can input the train number or name.
Travelers who wish to minimize delays or make better use of their route planning may find this option to be especially helpful.
The simplicity of this app is one of my favorite aspects of it. The app gives me all the details I need about my train, including its current position, anticipated arrival time, and any delays there may be. The user interface is simple to use. Along with information about the train's destination, the app also lists the stops it will make along the way.
The app includes a variety of other services in addition to live train monitoring, such as the ability to explore rail routes, check train schedules, and learn about cancellations and delays. Additionally, the app sends notifications for critical developments like modifications to train timetables or unanticipated delays.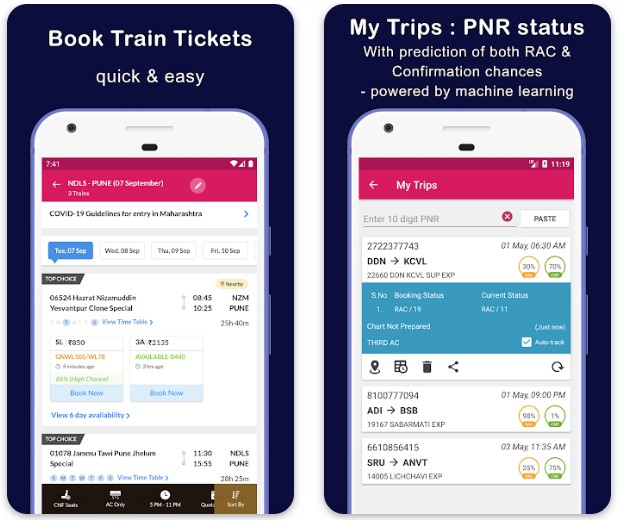 The main menu offers choices for following live trains, looking up train timetables, seeing rail routes, and learning about canceled and delayed trains. Using the search box at the top of the page, users may also look for individual trains or stops.
The precision of this software is another quality I value. I may make travel arrangements in light of the app's real-time information regarding the train's status. As a result, I no longer need to rely on manual updates from staff members at railway stations, which has saved me a ton of time and headache.
The accuracy of the Indian Train Railway Status app is one of its main benefits. The software is made to give users with up-to-the-minute information about train timetables and status, allowing them to plan their travels.
You may also like: 11 Best racing apps for iPhone
Users should be ready for unforeseen developments at all times because train delays and cancellations might occasionally happen without prior notice.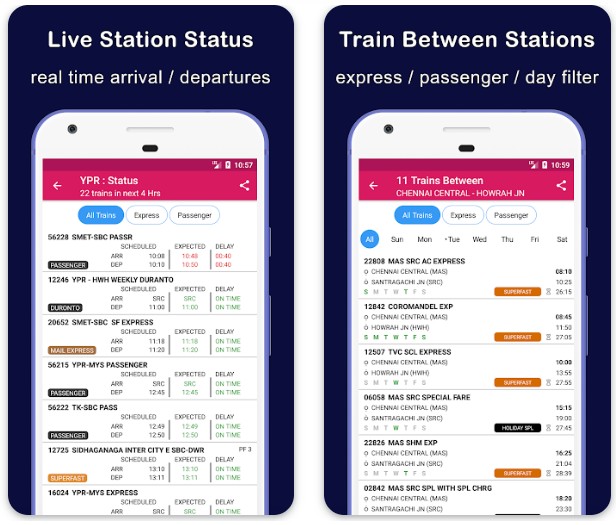 Users may choose the "Train Schedule" option from the main menu to view the train timetable in the app. They may then search for the train they wish to look at and examine its timetable, which includes stoppages, departure and arrival timings, and other crucial details.
You may also like: 7 Best Apps to Check Road Status (Android & iOS)
The "Running Train Status" app is a fantastic resource for passengers in India since it is overall user-friendly and simple to use. In addition to providing accurate, current information on train timetables and status, the app has a number of handy features. This software is definitely worth a look, whether you take the train frequently or maybe sometimes.