If you have found this article, you are probably struggling to limit the time you spend online looking through the accounts of your friends and reading posts.
It's high time you stopped it. We have collected the best apps to help you do this. The main principle of the listed applications is to block social networks.
By the way, if you are trying to spend less time looking on the screen of your smartphone, make sure you check 11 Free Apps to Reduce Your Screen Time (Android & iOS). Most of the apps are available on App Store, as well as on Google Play for free.
AppBlock – Focus & Screen Help
This productivity-focused app promises to assist you in maintaining focus and managing your screen time. In fact, it gives you the ability to block access to specific apps and websites, which is really useful if you want to reduce your social media usage. With over a million downloads on Google Play, this app is fairly popular.
In terms of flexibility, it offers a good range of options. You can personalize your blocking settings, create schedules, and establish different profiles for various situations. Plus, you can even block certain distractions based on your location.
In addition, the platform offers parental controls, providing a useful tool for limiting your kids' time on TikTok. There is even a Strict Mode that prevents you from changing your settings to ensure maximum concentration.
While I was experimenting with the app, sometimes it worked perfectly, smoothly executing tasks without any issues. However, there were moments when it could be a bit unpredictable and glitchy. The interface is functional, though not particularly impressive.
The app is rather lightweight and won't take up much of your memory. However, the free version of the product does come with a downside – ads. If you prefer an ad-free experience, you will need to make a monetary investment.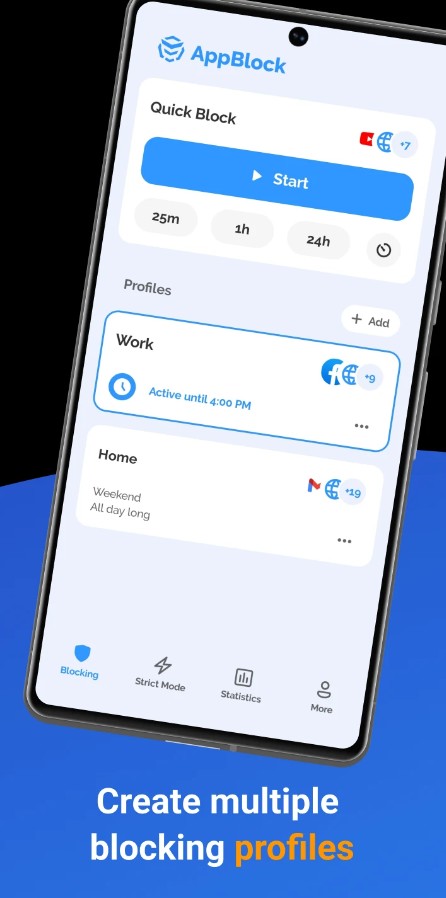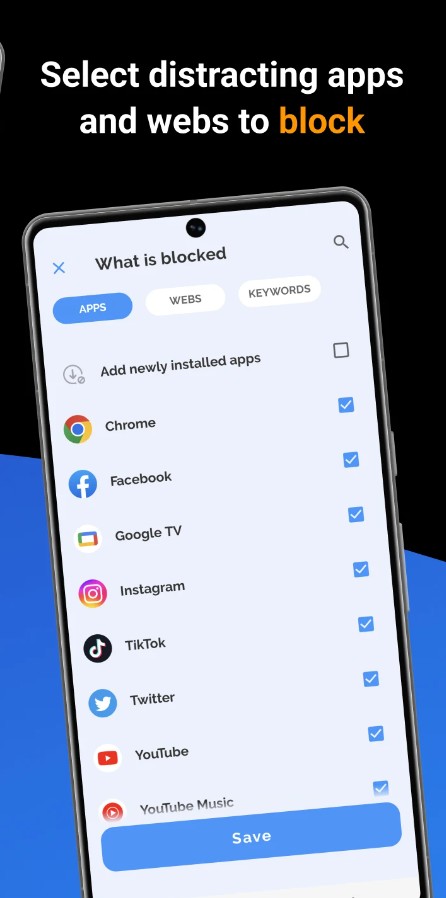 You may also like: 7 Best Camera Block Apps for Android
Freedom
This is the best distractor blocking app. It was created to help you concentrate on the aims that are important for you at the moment.
Freedom is packed with a wide range of functions.
The main feature of the application is that you can set the range of apps, web sites, or social networks you don't want to be disturbed by.
There are 5 cool functions provided by Freedom:
Freedom will cover any type of device. You can use it on a smartphone, a tablet, or a computer.

Block notifications you don't want to see. You can set the range of social media applications you would like to ignore for some time.

There is a possibility to block the Internet itself – this will be great if you dream about complete peace.

You can enjoy sync across all of your devices – there is no need to create a new account or struggle with complicated settings.
The application supports multitasking perfectly. What is more, the app can be fully customized according to your needs.
Another cool thing about Freedom is its size. Even though it is packed with functions its size is a bit more than 16 MB.
However, the app is not free. It has a basic version but the set of options is strictly limited.
If you want to enjoy all the functions, go premium, and buy a subscription. It will cost you 6.99$ per month and 29.99$ per year.
Freedom is available for Android, as well as iOS users.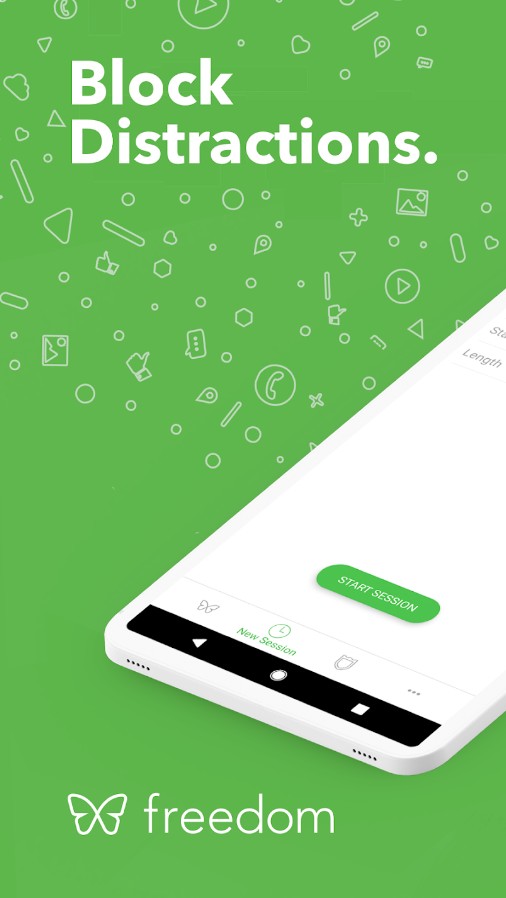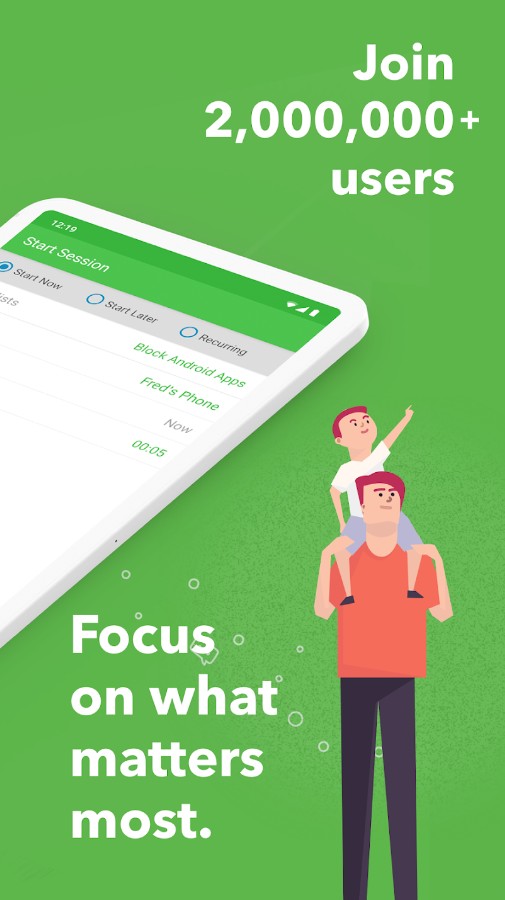 BlockSite: Block Apps & Focus
BlockSite: Block Apps & Focus is another app for those who have trouble maintaining focus and who need external help to prevent distractions from apps and websites. It prese­nts various features such as app and website blocking, and scheduling options, and even include­s a built-in Pomodoro timer to help you stay focused.
When it comes to flexibility, this tool is incredibly versatile­. Not only can you block any app or website, but this creative tool allows you to block hundreds of those in one click with blocking by keyword or by category. For instance, you can easily block all social media or all of the gambling sites.
The app seems pretty dependable: I, for one, have not experienced any glitches while using it. The inte­rface is designed with the user in mind, being user-friendly and uncluttered. The graphics of the app are stylish and contemporary.
Additionally, while the app is free, for those looking to fully utilise its capabilities, there are paid features available­ beyond the free version. There is a wide range of subscription options that cost from $3.99 to $39.99.
At the same time, there is one little downside: the app is not as light as a feather and might drain your phone's battery rather quickly, especially if you're using it actively in hot weather.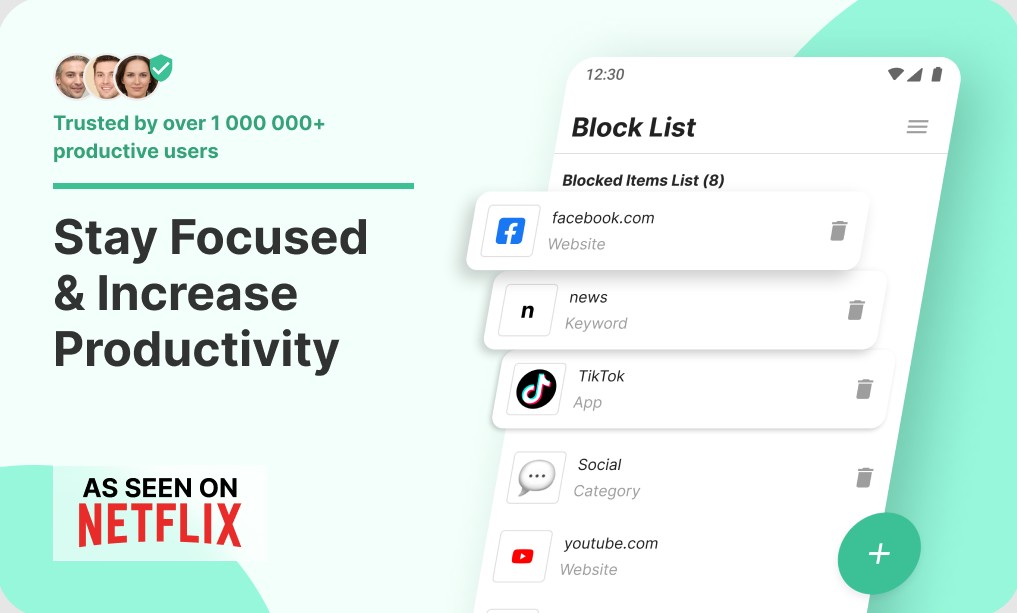 SPACE
This application is aimed at breaking your bad habit of spending long hours online instead of learning, working, or spending time with your family.
If you have realized that your destructive habit is ruining your life, you need to download SPACE.
To struggle with your addiction, you need to take 3 important steps:
Create a profile where the app will keep information about you and your goals. The progress will also be there.

Set your goals. You can also set the time you would like to spend without seeing notifications and checking the posts. You can lock the whole application if you want to.

Analyze your progress. If you failed to do something, it is also a good result, as you'll know what you need to concentrate on next time.
This app has a very high rating due to its efficiency, friendly interface, and the lack of glitches.
For example, on App Store, this application is rated 4.3 out of 5.
You can get SPACE there and on Google Play Market as well.
There are ads and some in-app purchases. Still, the basic stuff is free of charge.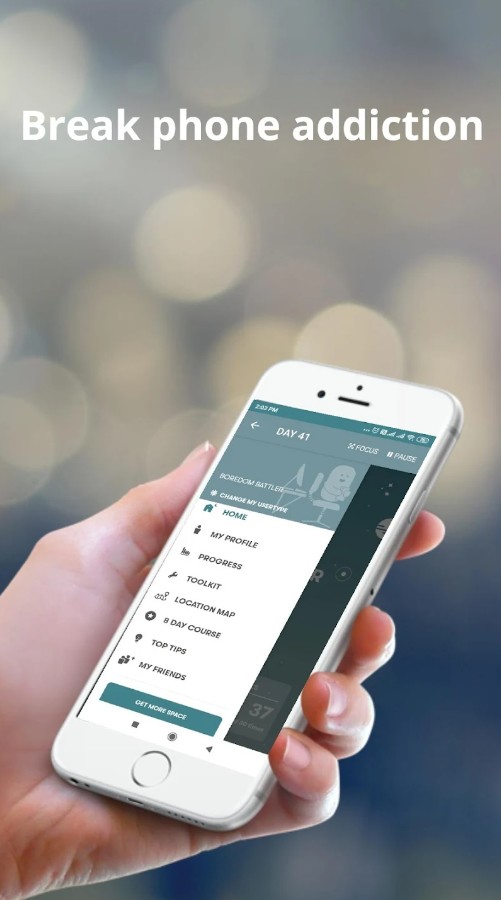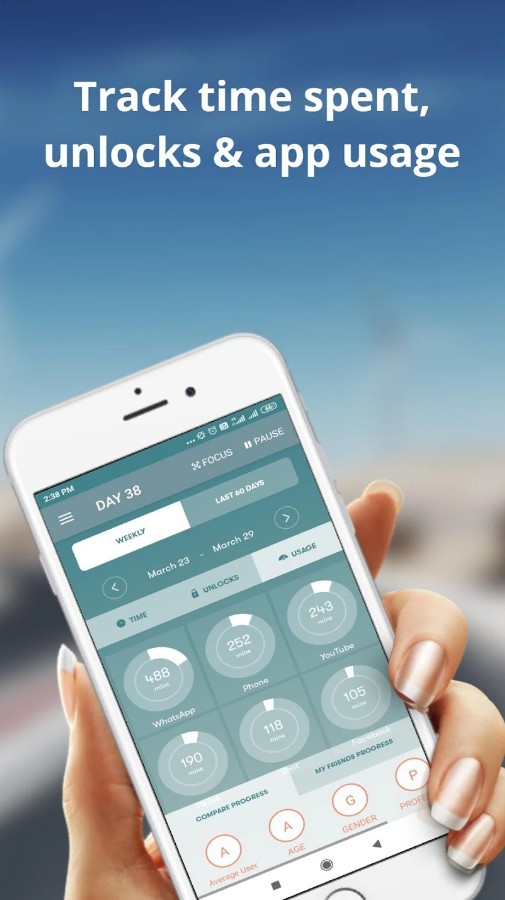 Flipd
If you have never used any type of such an application, then Flipd is for you. It has a pretty simple interface and a friendly community.
In general, Flipd hides the notifications that often pop out of nowhere, especially if we talk about social media.
It's no surprise that you are always being distracted from the things that are vitally important for you.
It's time for a change! With this application, you will get access to the following functions:
A flexible and simple schedule. Set the blocker whenever you want not to be disturbed.

Go through monthly challenges. They are always different and hard. Try to prove to yourself that you can be better.

Time tracker. It is a very useful feature that allows you to see and analyze where you are wasting your precious time. For example, it's possible to set a social media blocker.

Graphs and schemes. This way of presenting information proved to be the most efficient. Make sure you try it.

Close community. If you lack motivation, you can turn to this group of people – they will motivate you when it's necessary.

The system of goal setting. Use it to achieve a few aims at a time.
Flipd is free with ads and in-app purchases. You can get it on Google Play, as well as on App Store.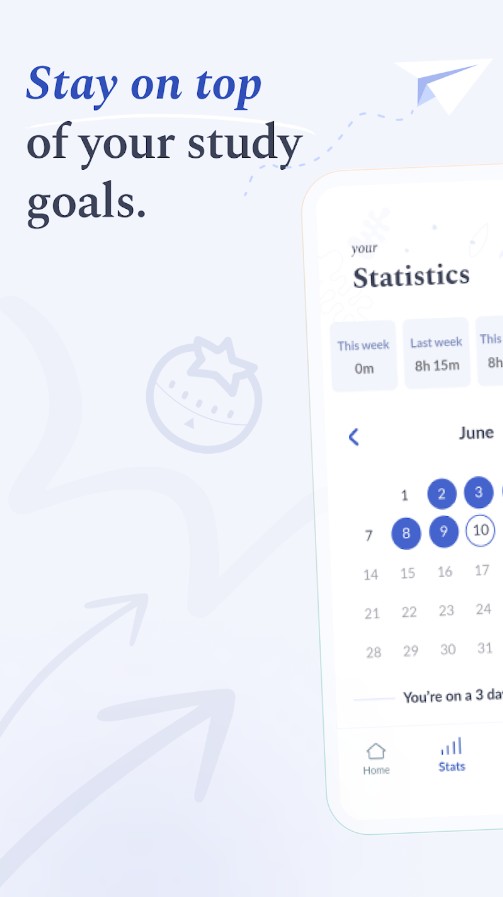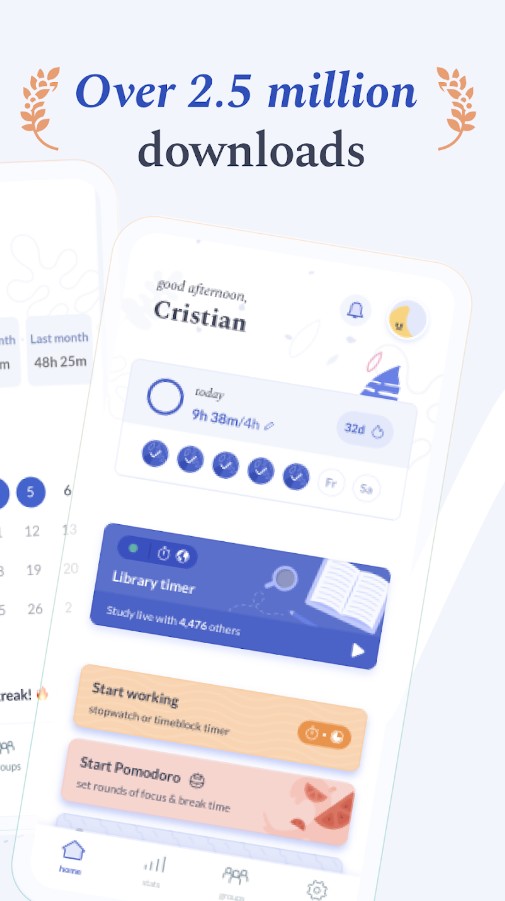 StayFree
The StayFree application is not too different from the other apps mentioned on the list.
It is aimed at enhancing self-control and discipline. The main function of StayFree is an app blocker. It is traditionally used for limiting screen time in social media.
So you can enhance your productivity by using these functions:
A great time usage tracker that can be fully customized according to your needs. There are 5 nice themes available.

If you want to block Instagram, Twitter, or any other type of social media, do it with blocker.

The time usage tracker presents information via pie charts. It can be a great way to visualize your progress and analyze your failures.

The application displays inspirational quotes and phrases that will give you additional motivation to break a bad digital habit.
There is also a cool feature called over-use reminder. It will be a great tool if you don't want to block the social network app but still, you need to limit your screen time.
Still, there is a very big disadvantage: you will constantly be asked to give permissions to the app. We don't want to say it will lead to problems with security but it can be quite irritating.
By the way, this is one of the most reliable and highly-rated apps.
You can download it for free. The only downside is that this application is available for Android users only.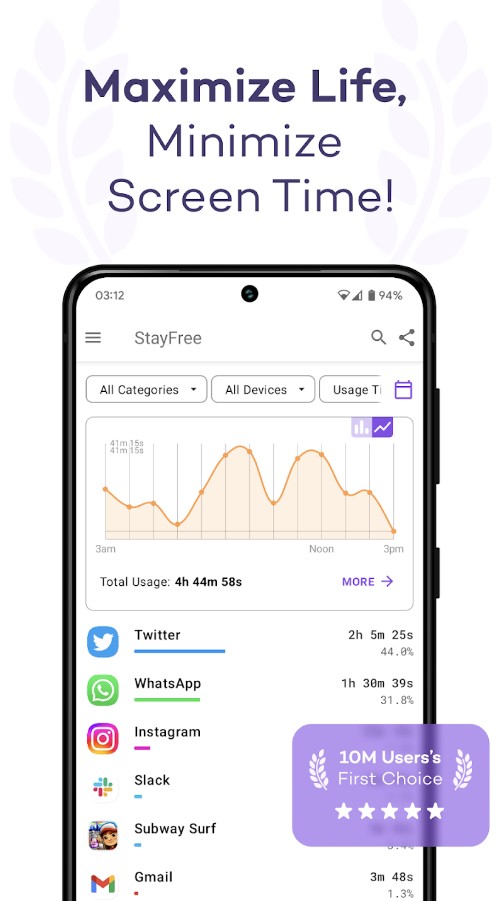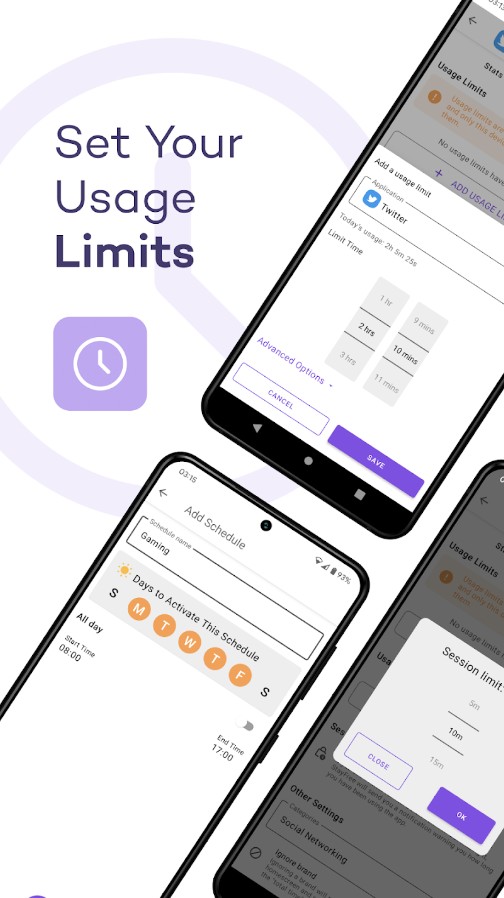 You may also like: 12 Best Call Blocker Apps for iPhone & Android.
Social Fever
This is the best Android app in this category. It is aimed at organizing your daily routine wisely and productively.
Social Fever is different from the other app listed here because it concentrates on social media, while others have social networks blocker as one of its functions.
This application is packed with a huge number of great options that will help you keep up with your real life:
You can set the time when you don't want to be disturbed by social media. This time can be a few minutes or a whole day.

There is a very accurate time tracker. It is considered to be the most precise among all of the listed apps.

The opportunity to set real-life goals and plans is also a great tool. It will help you concentrate on them.

The app will send you alerts when you are running out of time or when you try to scroll your Facebook in your 'offline' mode.

If you spend too much time online, Social Fever will send you reminders. It will help you to save your eyesight and not to get tired.

Water drinking reminder. Sometimes we are too busy to drink enough water, so make sure you try this option.
Ther is a pretty serious minus that could spoil your experience with Social Fever. Time Tracker is not free of charge. You will have to buy a subscription to enjoy the basic functions. If you don't, Social Fever is highly likely to be useless.
So we can not say that the app is free. You can get it on App Store.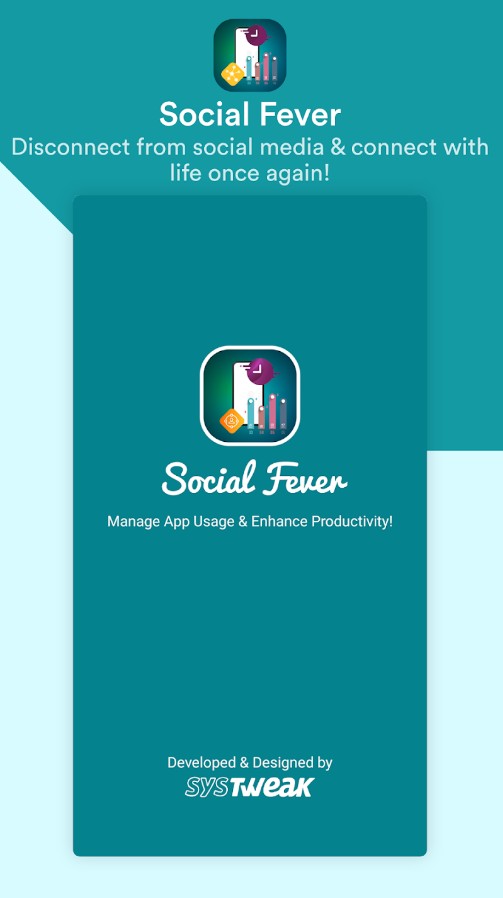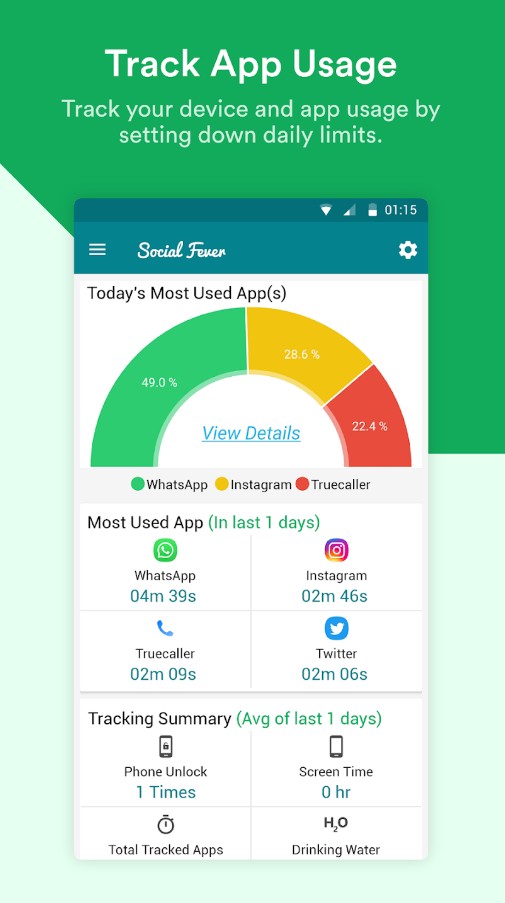 Stay Focused
Have you been looking for a smart productivity booster and social media blocker? Well, you have just found it!
Stay Focused was created for people who suddenly found themselves addicted to their Instagram or Twitter account.
There are many important and cool features available for you:
Super Accurate Time Tracker. It will see every time you enter each of the apps. The information will be carefully contained and then transformed into a graph, a pie chart, or another type of data presentation.

Limits setting. If you are not satisfied with apps blockers only, you can set an overall phone usage limitation. This will be a great tool when you need to concentrate on your family or friends.
What is more, this application has an intuitive and friendly interface so that you won't get confused by a crazy range of functions.
Still, only these two features are available for free. If you need a bit more, you'll have to go premium.
Another thing that can be a problem is the enormous amount of ads. They will pop out of nowhere when you will be reading or watching your graphs.
Stay Focused can be downloaded from Google Play only.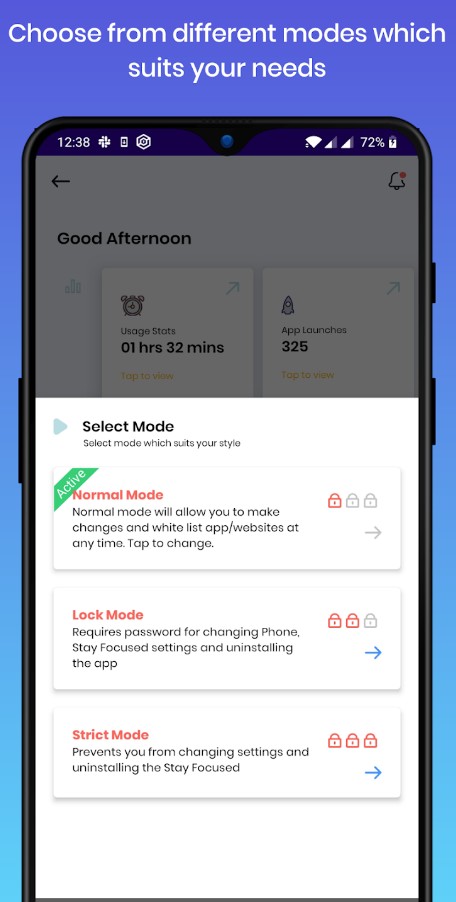 AppDetox
If you are hooked with social media or games, you need a huge digital detox. Fortunately, now you have the opportunity to break a bad habit.
The best feature of AppDetox is that you can fully customize it according to your needs.
This is why this application is so popular. Not only can you set a new time tracker but you can also create it from scratch. This will be your personal time tracker that will work the way you want.The same applies to the lockers.
What is more, there is a system of reminders: AppDetox will remind you to drink water, take a rest, or turn off your smartphone or tablet.
Another cool thing is plain and simple UI that will make your experience even more pleasant.
Still, there are 2 downsides: there can be some glitches when you create a new locker and the app requires a lot of permissions for a good performance. If you are ok with this, you'll like the application.
You can get AppDetox in Google Play for free.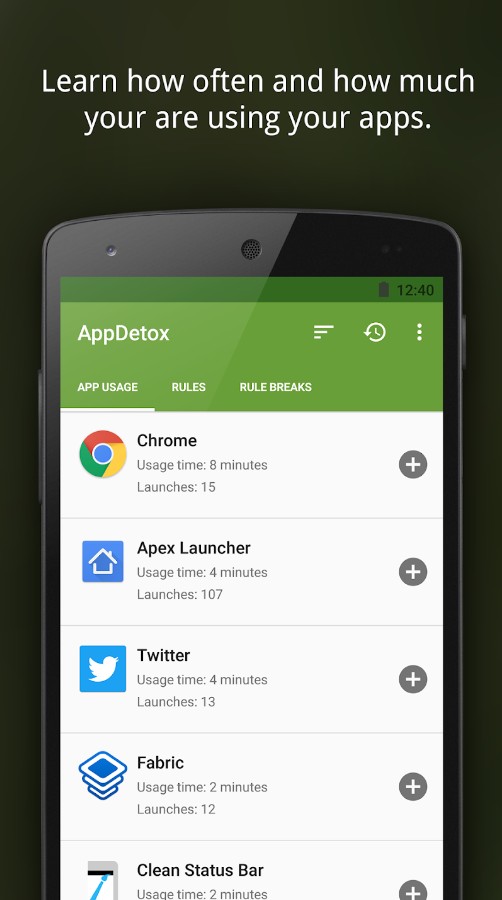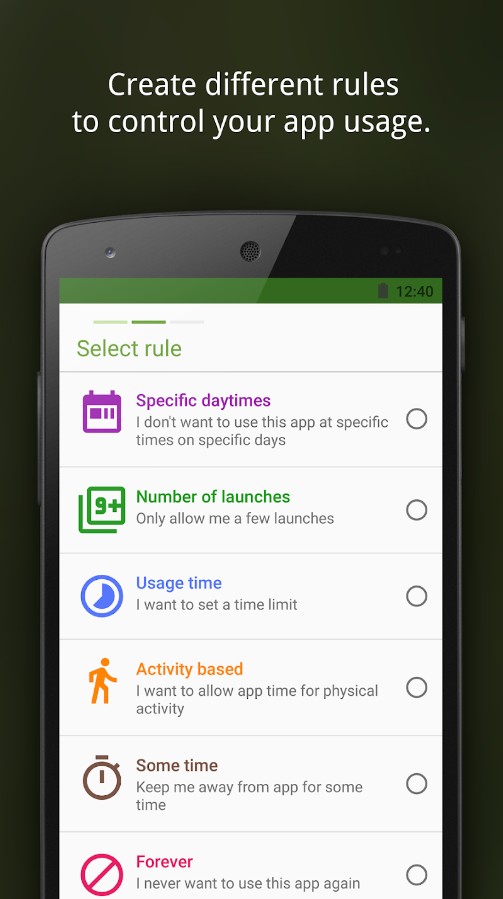 QualityTime
This app has a huge set of great tools for you to boost your productivity and break a digital obsession. If you are crazy about social media, this application can be a good solution to your problem.
What can QualityTime give you? There are many good functions but they are more or less basic:
Notification blocker. You can choose the period of the day when you wouldn't like to be disturbed. You can set the number of apps whose notifications you prefer to ignore.

Calls blocker. This is an extra function, which proves to be very useful. It allows you to block incoming calls. However, if such a way of ignoring people seems rude to you, it is possible to create so-called 'default' messages that will be sent automatically.

Motivating community. If you are about to give up, you can always get support there. Inspirational quotes and other members will help you go through all the difficulties and failures.
The application might seem ideal to you. However, there are 3 serious downsides we need to tell you about:
The app has been recently updated and, unfortunately, there are some bugs that can not be fixed by a user.

QualityTime requires more RAM than most of the applications in this category. This can be a huge problem if your device is not new enough.

You need to give a huge number of permissions, which might be quite annoying.
QualityTime is available for Android users only. You can download it now from Google Play.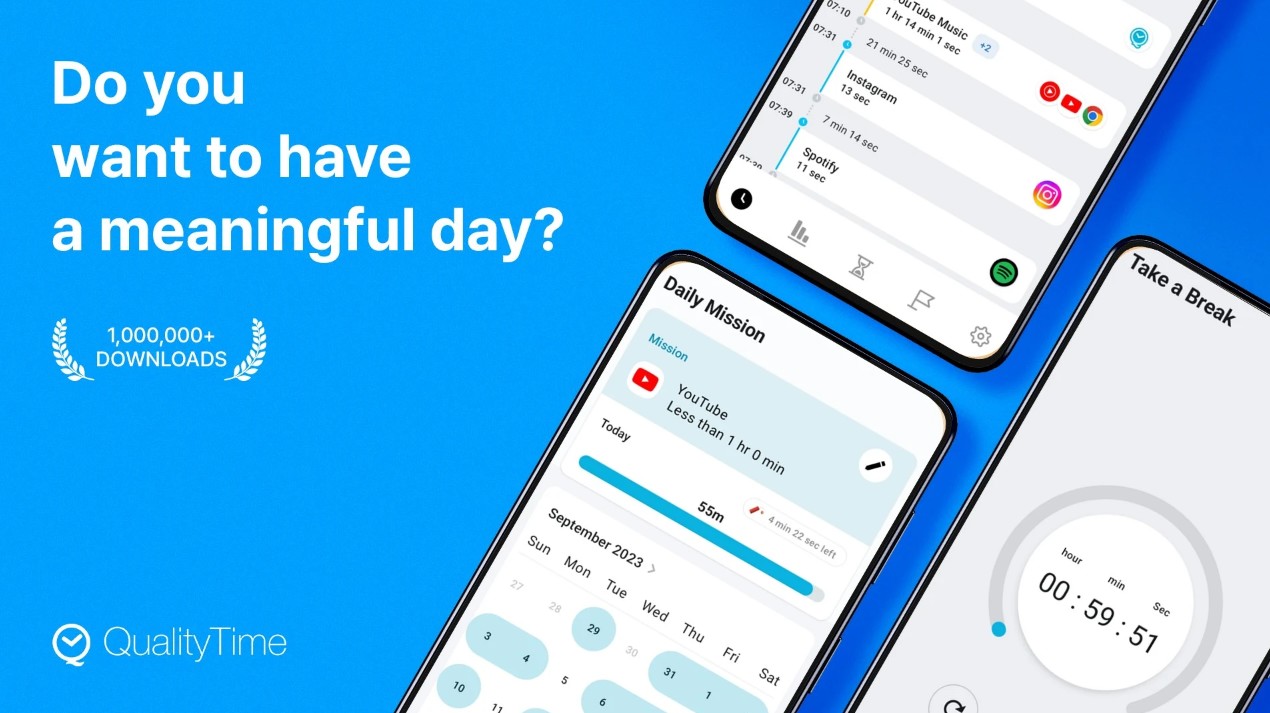 App Off Timer
Sometimes you need to physically distance yourself from the distractions, especially when you have not to miss a fairly important deadline.
This app is aimed at blocking the content you don't want to look at. It will probably be a social media app because most of the users find this category the most distracting.
3 basic functions will be available right after you download the application:
You control the duration of sessions. For example, if you need to write your course paper this evening, the best decision is to block YouTube and Twitter for 4 hours.

You can analyze your screen time. This will help you spend your time wisely next time.

If you want to control your child, download the app on his phone and set a password.
What is good about this app is that it is 100% free with no ads and in-app purchases.
You can get it on Google Play only.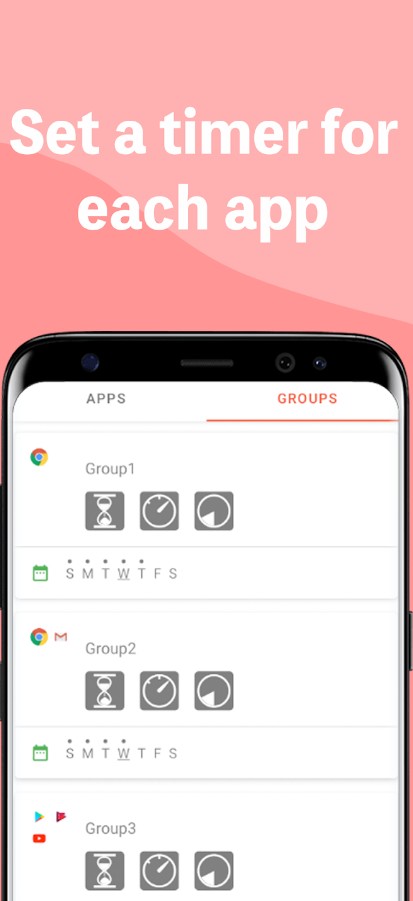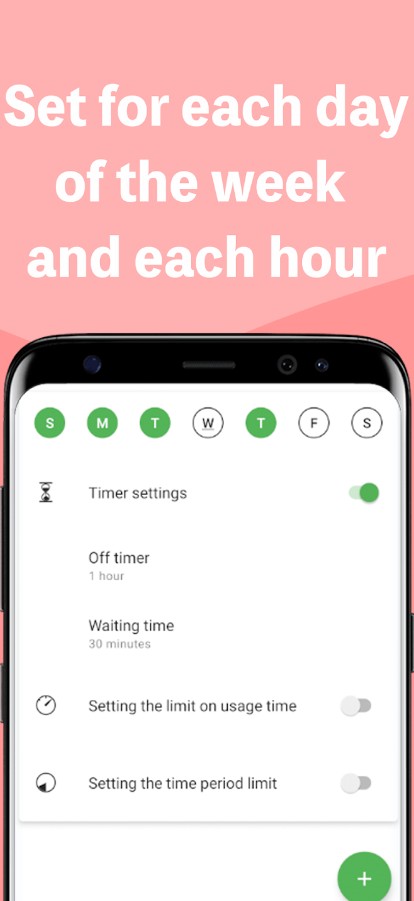 You can also check: 11 Best Ad blocker apps for Android & iOS
AntiSocial: phone addiction
This is another digital tool that aims to address the widespread problem of phone addiction that many people face. Its main purpose is to monitor your phone usage and assist you in limiting your screen time.
In terms of flexibility, it has a few customization options, namely, three blocking modes to help you control your app usage and block whatever is consuming your time. The app starts working by tracking your app usage for two weeks, comparing it to users around the world, and delivering a concise and actionable report. You get a personal score, and then you can rely on it to develop your own anti-distraction policy.
I quite like the minimalistic layout and the dark colour scheme. Unfortunately, the app's reliability is not that great. It's not that it's lagging, but rather that it's too lax: I discovered that some of the apps that should have been clocked have been running in the background.
The positive feature of the app is that it's available for free to download and use, plus there are no ads at all. At just 6 MB, it certainly won't slow down your device.
Finally, the app treats your privacy with respect. It doesn't track your location or read any of the contents on your phone.