Why do we need a separate timer and stopwatch application in a smartphone? The question is fair since in all mobile devices today there is a similar pre-installed functionality. However, specially trained applications can do much more: they can become an indispensable tool for working in the office and at home, in the kitchen and for playing sports.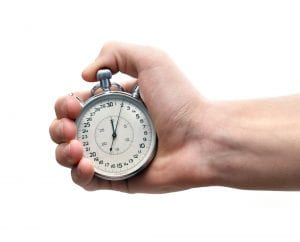 Timer and stopwatch application today cannot only count down seconds. Quality tools have wide capabilities: beautiful widgets and a simple interface, launching several times simultaneously, memorizing circles and tasks, etc.
For example, for independent sports activities, you do not always need specialized sports mobile applications. Sometimes for training, you do not need anything except a timer, as the program is composed by the trainer and written in seconds. In this case, it is worth using sports timers, in which there is nothing superfluous.
In this post, we offer the top 11 most interesting interval timers for Android and iPhone devices.
Runtastic Timer
Catch the moment with the Runtastic Timer app! Now on your phone, there is a simple and convenient interval timer with voice notification!
Runtastic Timer is much cooler than a normal stopwatch or interval timer. The application is ideal for all fans of interval, tobacco, circular, power and traditional training. You will be able to create an unlimited number of personal timers, keep individual interval settings on your Phone and run the necessary timer at the right time. You can also choose the duration and order of the stopwatch intervals (working phase, rest phase, sets, repetitions) and create your ideal interval training!
OPPORTUNITIES AND BENEFITS:
Create a timer with an ideal set of intervals:
– Working phase
– The phase of rest
– Repetitions
– Sets;
Voice guidance: you no longer need to look at the display to effectively change the training phases;
 Create an unlimited number of interval timers, save in memory and use them again and again;
Adjust the number of high and low-intensity intervals, as well as the number of common sets;
Display of total and remaining time.
You can use the application for traditional and interval training in the gym, power and tobacco training, cardio, exercises and other types of activity! The Runtastic Timer is also ideal for effective CrossFit and army workouts. Set the Runtastic Timer app on your device and let the time work for you!
back to menu ↑
Interval Timer
It is a sports timer designed for scheduling workouts. The application is useful if you want to make your workouts more intense. This interval timer is also ideal for both home exercising and training in the gym for example.
MAIN FUNCTIONS
Customizable approaches for high and low-intensity training, as well as adjusting the rest intervals between them;
Support for multitasking;
The app continues to work in the locked screen mode;
It can play music from the playlist you have selected;
Ability to publish workouts on Facebook and Twitter;
Save your training settings as templates.
Also check:
Save my time – Time tracker review
back to menu ↑
Seconds
It can be said that you have found the perfect interval timer for sports training in the market. The number of downloads of Seconds exceeded 3 million, five-star ratings – over 8,000. This interval timer differs from others by its high quality, functionality, and simplicity.
The app has a clear interface with color identities. The timer screen is large and time is clearly displayed, it is easily to seen from a long distance.  The current and subsequent intervals are displayed to prepare for the next step. The background takes the color of the current interval, so you can not even read the name. Thanks to the synthesis of voice, the program can voice the names of intervals and even warn about them in advance. In addition, you can use the built-in signals, such as simple whistles, pneumatic sirens, gong for boxing, various types of calmer bells and gongs.
Seconds supports heart rate sensors via Bluetooth and allows you to display the current pulse on the screen and the expected caloric intake during training.
MAIN FUNCTIONS
Templates for high-intensity interval training, a circular training and many others;
The ability to independently configure timers to create any conceivable intervals;
Support heartbeat sensor (via Bluetooth);
Adjust the sound signals (loud or quiet);
Synchronize music with intervals;
Works on all devices;
Support for external display and AirPlay Mirroring;
Works in the background;
Ability to share results on Facebook and Twitter.
Seconds works with all screen resolutions. The program can be started in the active or background mode. In the first case, you can disable auto-blocking, in the second – only work with signals and notifications about the completion of intervals.
back to menu ↑
Tabata Stopwatch Pro
Training on the method of Tabata – this is interval training with large cardio loads. And the Tabata Stopwatch Pro timer will help you when doing Tabata training.
Despite the name, Tabata Stopwatch is a timer that, like the above applications, is suitable for any interval training: running, functional training, high-intensity interval training and so on.
MAIN FUNCTIONS
The app already includes the set of classic training of Tabata;
Manual time setting for warm-up;
It adjusts the periods of work, rest, recovery and time between workouts;
Adjust the number of approaches and sets;
Ability to switch between sets during a workout or take a pause if there is such a need;
You can work in a screen lock mode;
Adjustment of sound signals and vibration;
Voice accompaniment;
The choice of music tracks for training.
Also check:
back to menu ↑
Timewinder
The Timewinder application is a task manager and a sports timer. The limit of the free version is 35 intervals as templates. If you decide to use it only for sports, this will be more than enough.
MAIN FUNCTIONS
You can manually adjust the desired intervals;
Support for Apple Watch;
Save intervals (maximum 35 in the free version);
Ability to add images and text to each workout;
Built-in voice recorder and the function of recording your voice comments for training;
Can work in a screen lock mode;
You can make pauses during forced stops during training.
back to menu ↑
Interval Timer Free
This is the simplest timer for interval training, running on mobile devices running Android. While most of the competitors in Google Play try to implement a maximum of functions in their programs, this utility is only engaged in its work, that is, the countdown. And this is its undoubted advantage. Here, you do not have to keep a diary of training, send your data to social networks or view advertising inserts – everything is very simple, visually and functionally.
After starting the program, you are greeted by the interval setting window. Here you indicate the time of the exercise, the rest time and the number of repetitions. Here you can turn on the sound signal at the end of each interval of time. After clicking on the Start button, your workout begins. The timer clearly shows the past and the remaining time in the form of a circle with the sectors to be painted, so that even if you listen to music loudly and do not hear the sound signals, you can look at the past and the remaining time with one glance. At any time, you can pause the workout by pressing the Pause button.
The Interval Timer app is simple and functional, yet free and completely safe. In our opinion, this is one of those programs that every sportsman or amateur engaged in interval training should have on his smartphone.
back to menu ↑
Tabata Timer for HIIT
Tabata Timer for HIIT is a unique application for training, which will ease your brain load and allow you to strengthen physical. You no longer need to remember how many exercises, approaches or repetitions you have made, now this app will do it for you. It counts how much you run, and with additional gadgets, even can measure your heart rate. All this is assembled in one simple application, with a convenient and beautiful interface.
FEATURES
The ability to create a timer with different phases;
Support devices of heart rate (Bluetooth Smart);
Select individual sounds for each phase;
Choose your own music as a background during the workout;
Plan your workouts and make notes on the calendar.
back to menu ↑
Workout Timer for HIIT
This is a timer for sports for smartphones running the Android operating system. It will be useful if you need to increase the intensity of training. The essence of the idea is that you do a lot of different exercises with small rest intervals. This approach has its plus – rapid fat burning and acceleration of metabolism.
FEATURES AND BENEFITS
 A modern design;
Intuitive interface;
Huge numbers! Their size is not fixed, it depends on the screen size;
 Colored identities (preparation, work, rest, rest between the tobacco, time to calm down);
 Ability to change the orientation of the device or lock the current one;
The list of your saved tobacco with advanced settings (the amount of tobacco, rest between tobacco, time to calm down).
Workout Timer for HIIT will appeal to users who are actively involved in sports, but due to the free distribution of the application, it certainly has its drawbacks, which consists of advertising and some flaws.
back to menu ↑
Impetus Interval Timer
Impetus Interval Timer – this timer is very useful for people involved in sports. You can specify the time for the timer and certain time intervals in the application. For example, set the total training time and the time interval between exercises, during which you have the opportunity to take a breath. The difference between this application and others like it is a beautiful interface and flexible settings.
back to menu ↑
Periodic Timer
Periodic Timer is a very pretty and nice program for the iPhone with a very ordinary name. A great example of how attention to detail can make a real "candy" from a completely banal app.
Interval timer is useful in the event when you need to make regular breaks and in any activity. The simplest example is sports. Also, it can be used in the kitchen while cooking (make sure that the dishes in the oven or on the grill do not burn). Or you can use it while studying (as a laboratory timer, periodic measurement of data, for speech training, presentation timing).
The interface of the app is quite simple and understandable.
back to menu ↑
Workout Timer Free
Time is an absolutely irreplaceable resource. It can not be reversed, bought for money and, what is especially insulting, used several times. Should we be upset about this? Hardly… It is much better to learn how to control time and use it so effectively that you do not even have such negative thoughts in your head. The Workout Timer application will help you to do it.  With it, you can set the desired number of timers and sub-timers, monitor each of them separately. The application is completely free, but you can still spend money in it.
Despite the widespread opinion, the timer can be called a vital tool with confidence, because it can be useful in almost any situation in life. Examples include doing exercises in the gym, preparing a difficult meal, paying attention to cases from a large list of everyday tasks, or even rehearsing a performance.
Once the only fitness device was a mechanical pedometer that could not do anything, except how to fix the body's vibrations arising when walking or running. These simple devices were replaced by fitness trackers with fantastic functionality.
By the way, there are a lot of applications for running. To understand them, you need to spend a lot of time testing the software for different benefits. Often, the programs released are "raw", so in the process of using "various bugs emerge." So, which applications for running are proven, accurate and multifunctional? Read our article: 25 Best Running Apps for Android & iOS 2017
At present, the interval method of training, which allows achieving significant results in a relatively short time, is becoming increasingly widespread. You can train in this way at home or on a sports ground, while you can choose exercises in such a way that you will not need any simulators or sports equipment. The only thing you can not do without is a special timer that counts the time of the exercises. Try one of the offered apps that you like most of all and you will see how it is helpful!