Why would you want to get a separate timer and stopwatch app? After all, all modern smartphones have these features pre-installed. The reasons can be different – maybe you need a special sports timer with ready intervals or you use your timer so often that you want something really special that has extended functionality. No matter what your reason is, there are plenty of options that you can look at!
Timer and stopwatch applications don't just count down seconds. They have other great features such as beautiful widgets, a simple interface, multiple launching, circles, and tasks memorizing, and others.
You may also like: 11 Best Workout Timer Apps for Android & iOS
Seconds
Seconds is a perfect interval timer for sports training. The number of the app's downloads exceeds 3 million. Over 8,000 users have given the app five stars for its high quality, functionality, and simplicity.
Seconds has a clear interface with color identifiers. The timer's screen is large so the time is clearly displayed – it is easy to see even from a long distance. The current and following intervals are displayed so that you were always prepared for the next step.
The background has the color that you've chosen for the current interval so you know what to do without reading the interval's name.
The app can also voice the intervals' names and warn you about what's next in advance. For this purpose, you can also use built-in signals, such as whistles, pneumatic sirens, gongs for boxing, various types of calmer bells, and gongs.
Seconds supports heart rate sensors and displays pulse and approximate caloric intake. The app works with all screen resolutions. There are two modes – active and background.
If you want to use the active mode, you need to disable auto-blocking. In the background, you can rely only on signals and voice notifications.
Features:
Templates for high-intensity interval training, circular training, and many others;
The ability to create several timers with numerous intervals;
Support for heartbeat sensors (via Bluetooth);
The ability to adjust sound signals' volume;
Synchronizing music with intervals;
Compatibility with all devices;
Support for external display and AirPlay Mirroring;
Background mode;
The ability to share results on Facebook and Twitter.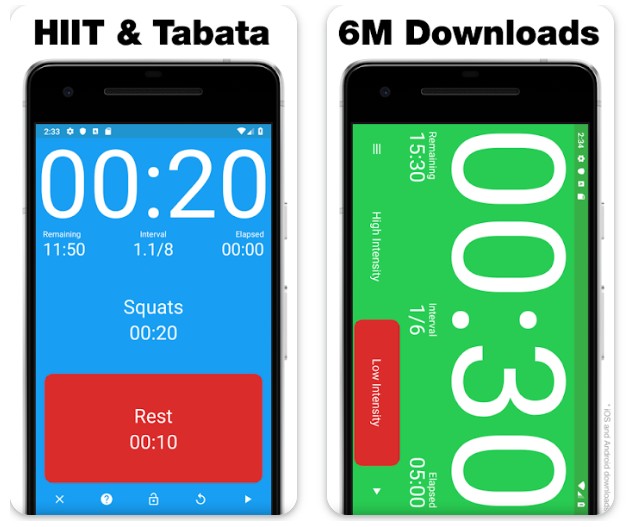 You may also like: 7 Epic countdown timer apps for Android & iOS
Interval Timer by Javier Salmona
Interval Timer is a must-have tool for all kinds of interval training workouts – e.g. Tabata, weightlifting, cycling, running, etc.
When you open this tool, you will find a large red button in the middle of the screen. So, click on the button to launch the timer – it runs even in the background mode!
The app also contains two sections top right. The first one allows users to monitor the detailed history. Here you can edit the time, add a name, delete, etc.
If you tap on the 3-dots button, you will gain access to the settings. On this page, you can customize sound parameters, adjust the screen brightness, etc.
Interval Timer is developed in a minimalistic style with a dark background.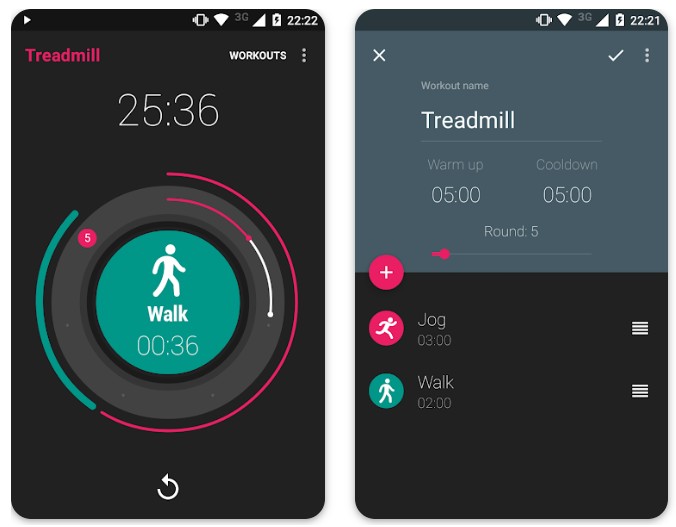 Interval Timer HIIT
Interval Timer HIIT is a mobile app that helps you keep track of your workouts. Now you will know exactly how much time to spend on each exercise.
Key features of the Interval Timer HIIT include setting custom timers for different exercises, creating and saving workout programs, and tracking progress over time.
The app also includes features for setting rest periods, setting interval timers, and displaying a countdown.
You can create multiple workouts and add different exercises to each. You can also adjust the duration and intensity of each exercise and set rest periods in between. The app provides audio and visual cues.
While Interval Timer HIIT has received mostly positive reviews, some users have reported issues with the app crashing or freezing. Others point out that the user interface can be confusing or difficult to navigate, especially for beginners.
All in all, Interval Timer HIIT can be a useful tool but not the most user-friendly option.
Application features:
Simplifies the process of training
Allows you to create your own workout settings.
Application cons:
Intermittent crashes
Inconvenient interface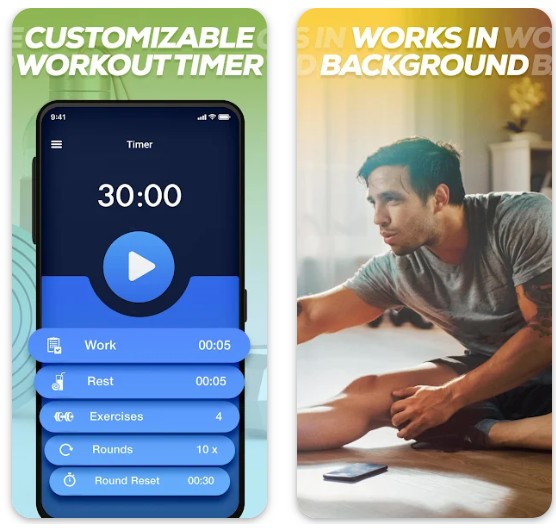 Interval Timer – HIIT Workouts
Interval Timer is one more sports timer designed for organized workouts. The application will be useful for you in case you want to make your workouts more intense. The app is ideal both for home exercising and gym training.
Features:
Customizable settings of high- and low-intensity training;
Adjustable rest intervals;
Support for multitasking;
A locked screen mode;
The app can play music from the playlist you have selected;
Ability to share workouts on Facebook or Twitter;
Ability to save your training settings as templates.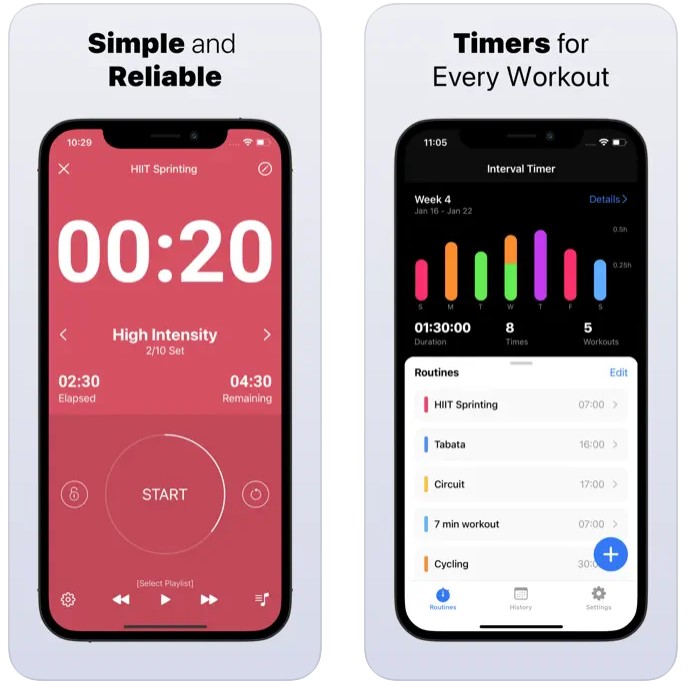 Tabata Stopwatch Pro
Tabata training is interval training with lots of cardio exercises. The Tabata Stopwatch Pro timer is what will help to organize Tabata training.
Tabata Stopwatch Pro is also suitable for other types of interval training, including running, functional training, high-intensity interval training, and so on.
Features:
The classic Tabata training pre-sets;
Manual time setting for the warm-up;
Adjustable work, rest, and recovery periods;
Adjustable number of sets;
Ability to switch between sets during a workout or take a pause if there is such a need;
Locked screen mode;
A variety of sound signals;
Voice notifications and vibration;
Ability to play music while training.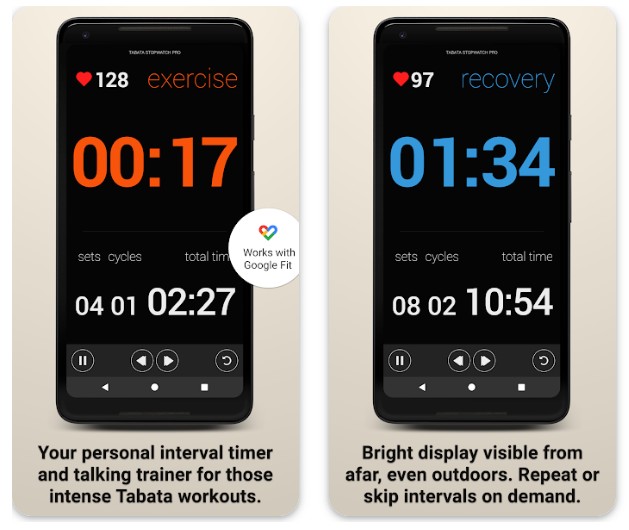 You may also like: 5 Free Apps to Repeat Timer on Android & iOS
Interval Timer by dreamspark
This is the simplest timer for interval training for Android devices. While most of the other apps on Google Play have lots of different functions, this one has only a countdown.
And this is exactly what makes it stand out from the rest. You do not get to keep a training diary or share your data on social media. What's perhaps most amazing – you don't have to view advertising. Everything is pretty simple, both functionally and visually.
After launching the app, you need to set the duration of your training and rest time and the number of sets. You can turn on the sound signals that will let you know that an interval has ended. Tap on the 'start' button and your workout will begin.
The timer clearly shows the time that has passed and the remaining time so doesn't be afraid to miss the sound signal – you can always rely on the screen. You can pause the workout at any time by pressing the 'pause' button.
The Interval Timer app is simple and functional, yet free and completely safe. Every sportsman or amateur athlete engaged in interval training should have such a program on their smartphone!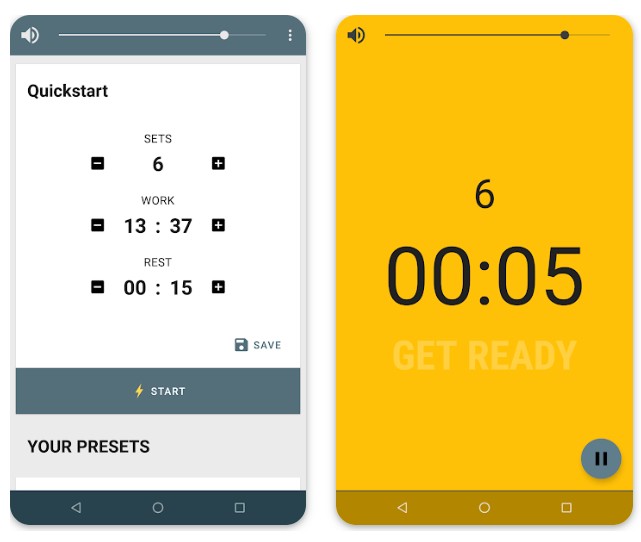 Tabata Timer for HIIT
Tabata Timer for HIIT is a unique application for training, which will help you to free your brain and strengthen your muscles. You no longer need to remember how many exercises or sets you need to do – the app will do it for you. It can count how long you run. If you can measure your heart rate with additional gadgets, it will be reflected in the app. In a nutshell, this is one more simple application with a convenient and beautiful interface.
Features:
Create a timer with different phases;
Select different sounds for each phase;
Choose your own music as a background;
Plan your workouts and make notes the calendar;
Use heart rate sensors (Bluetooth Smart).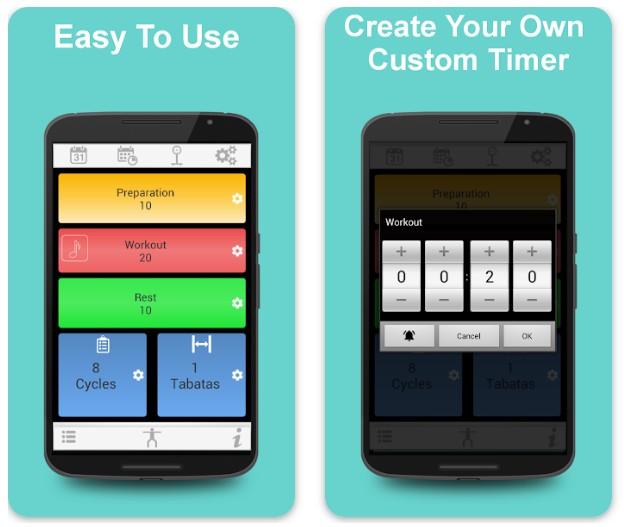 Exercise Timer
Exercise Timer is an adjustable interval timer developed for interval workouts.
When you first open the app, it will provide you with simple guides. Next, you can sign in or log in with Facebook and start using the app.
Click on the + button to add a new workout or a new training plan. Thereafter, you can select a preferable exercise interval and laps.
If you want, you can also add time data for an exercise, group, or break.
As for the additional options, the app provides detailed exercise plans in the Suggested section. Plus, users can always keep track of their workout history.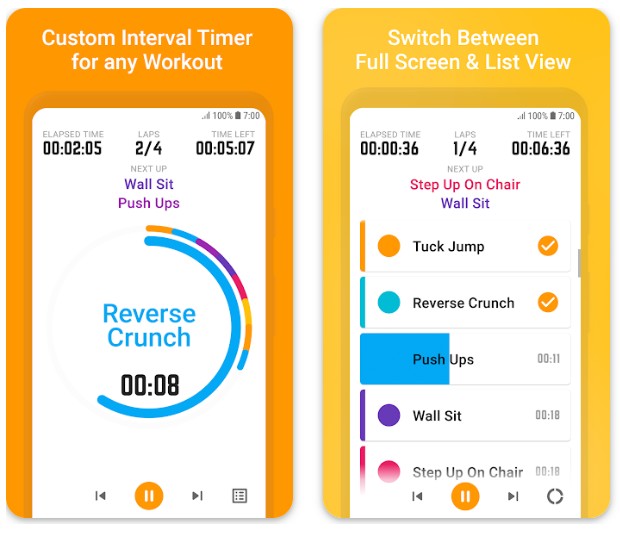 SmartWOD Timer
This app is very cool because of its two features – it has an extra stylish interface design and it is simple in usage. It always works correctly and all these factors are firing a perfect interval timing app. Moreover, there is a bunch of additional features if you want to make your workout more fun.
For example, you can add cheering sounds during the timing. There are various types of timers for each type of training and there is a button to count how many circles/attempts have you already made.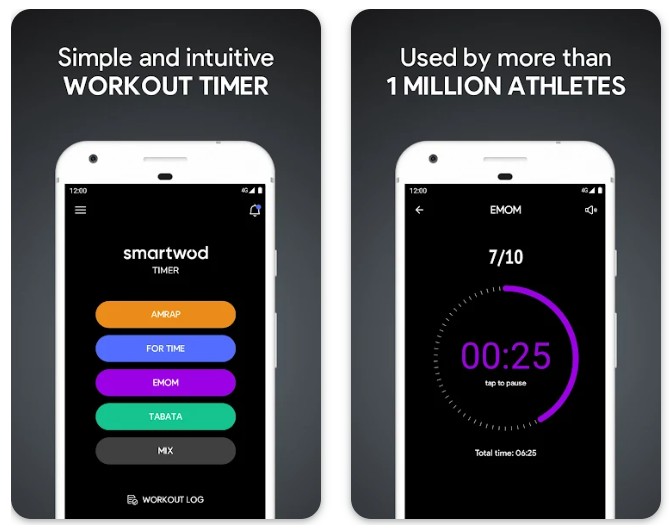 Periodic Timer
Periodic Timer is a very pretty app, this time for iPhone users. The app has an ordinary name but the content of it is quite impressive.
Interval timer is useful in any activity that requires you to take regular breaks. It can be used in sports, cooking, studying (as a laboratory timer, speech training, presentation timing), and more.
The interface of the app is simple and clear.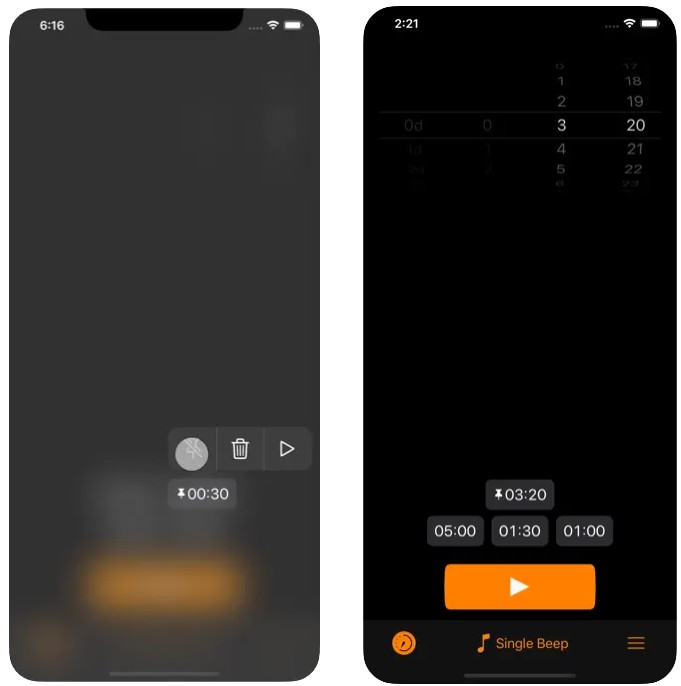 You may also like: 25 Best Running Apps for Android & iOS
Sworkit
Sworkit is a handy fitness and workout timer. The app offers a variety of exercises to help users achieve their fitness goals, including strength training, yoga, cardio, and stretching.
Sworkit provides you with personalized workout plans based on fitness level, available time, and preferred exercise type. The app also offers the ability to create custom workouts and track progress over time.
One of the key features of Sworkit is the video demonstration of each exercise, providing you with the correct form and technique. The app also includes audio cues to help you stay on track during your workout.
Sworkit has received positive reviews for its user-friendly interface and extensive workout options, but some users have reported crashes or technical issues with the app.
Also, the app requires a subscription to access all of its features, which may be a disadvantage for some users.
Application features:
Wide range of workouts
Ability to create your own sports plan
Convenient interface.
Application cons:
To get access to all the functions of the application you will have to buy a subscription