Do you feel like it's almost become obligatory that your Insta feed should look aesthetically? And frankly, no one likes weird, messy and ugly profiles anymore. Everyone got a chance to make their profile look elegantly and eye-catching without even paying too much effort. Why? Because there are brilliant apps for creating aesthetic pics for your Insta!
And for those who want to create aesthetic pictures not only for themselves but to gain more popularity on social media, we recommend checking the article about the Best Social Media Content Creator Apps – with those you're never going o run out of ideas of what to post next!
VSCO
Probably the most roaring visual editor on mobile devices and one of the pioneers of the industry that made aesthetic pictures a trend of the Instagram world.
What is more, VSCO has the tightest connection to Instagram – in the Instagram + VSCO bundle, it is usually used for color correction. VSCO has ready-made presets of color settings, and in addition, you can buy extra presets, as well as creating your own. The app itself is free on the market, but some other professional and aesthetic filters are going to cost something.
When you sign in, you must provide an email address so that a free version of it is available. The service offers numerous filters. The VSCO filters emulate classic and modern analog films with a soft, slightly washed-out look and the strength of the filters can be adjusted to match your photo. As an outcome, you get a detail customized picture according to your preferences.
After downloading several collections, you can see that VSCO presents a wides choice of filters that will make any pic look elegant. Adjust the filter's intensity, and only then start further processing. There are a lot of tools for fine-tuning the picture here: exposure regulation, perspective, contrast and vignetting, working with light and dark areas.
It is also a social network where there are no likes and comments – like an opposite to Instagram. Here you also have a feed that you can watch, and tag your personal favorites, get inspired by other aesthetic pics, and get new ideas by other artists.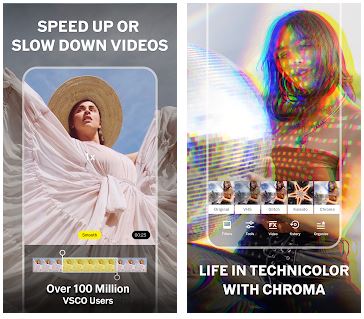 You may also like: 11 Best Photo Retouching Apps for Android & iOS
Adobe Photoshop Lightroom
Adobe Lightroom is also a widely known app for professionals and nonprofessionals. However, this one is going to be more "pro" than VSCO, since it's originated from Adobe Photoshop. Lightroom, in fact, is a set of runners with which you create these very filters yourself. Lightroom makes it possible not only to process photos but also to use the interactive guides of other authors.
There are settings for brightness, contrast, shady and light, individual colors. We won't exaggerate if saying that Lightroom can make a masterpiece out of any photo.
This is the creative side of Lightroom. There is also a practical side – of your photo turned out to be broken in terms of light and color selection, with the help of Lightroom these shortcomings can be corrected, and do not rush to run and re-shoot the photo.
The application provides cloud-based storage, so you can access your images from any device (this is especially convenient when you are buying a new phone). This allows you to easily continue editing on your computer or vice versa – on a smartphone or tablet.
In addition, you can access Lightroom using a browser, so you can even not install the application on your PC. Even on the screenshots below you can see the vivid example of how the Lightroom can turn any photo into an aesthetic treasure.
One significant disadvantage of it though is that after a while of usage, it occupies an enormous amount of space in your phone's memory.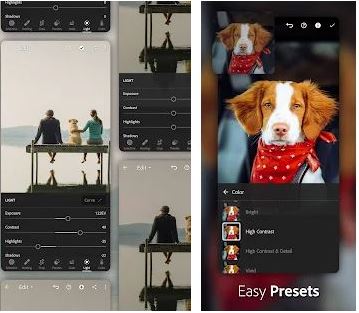 Adobe Photoshop Express
Here we have another app by Adobe. Yeah, don't be cautious, but the classic apps are the best ones when it comes to aesthetic pics for Instagram.
The application interface is well established and user-friendly in general, compared to Lightroom. The ideology of the interface consists in the step-by-step execution of all operations. When you're done with editing, you can always choose to see the original, auto-improve, cancel the action and repeat the action.
At the same time, take into consideration that all functions are available only by subscription. This mainly applies to certain styles, profiles but also to some specific tools.
At the bottom is a ruler of pictograms indicating nine sections. Each section groups different tools that modify the image.
The first section is responsible for color correction. When you select an effect, you can adjust its intensity with a slider that appears a little higher. All effects are also divided into small subgroups, and premium effects are indicated by a white star on a blue circle in the corner of the effect pictogram.
The second section is responsible for overlaying the stylistic layer, the transparency of which can be controlled by the slider. The range is impressive (more than 50 options).
Another virtue here is that Photoshop Express has pre-configured formats for all popular social networks. Therefore, the app allows maximizing the quality of a pic when posting on social media without unexpected black stripes on top or on the sides or other cringes. You can customize your resolution if desired.
Another prominent feature here is that you can create aesthetic titles, text messages, and captions. This is an excellent option for creating your memes and writing quotes. You have a rich selection of template phrases that differ in fonts, sizes, and colors. There is so much to say about Photoshop, but you just have to try it on your own.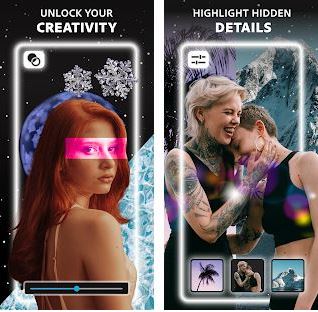 Unfold
Unfold is a mobile graphic editor for stories from the creators of Squarespace, which received awards from numerous companies, media, and so on, even though it's not that widely spread as, for instance, the previous apps on our list.  Unfold makes it easier for SMM managers to work with content design and allows you to easily organize the branding of stories simply on your phone.
Try this app and you'll immediately see why it can create genius aesthetic pics. With this tool, users decorate their photos and videos with unusual frames. Concise and stylish templates in the editor's catalog allow you to embody the wildest ideas of content makers.
The editor is partially free. To use some effects, you'll need to make a built-in purchase. The application gives users free access to 25 design templates. If you pay for your Unfold subscription, the full version will open another 100 additional templates.
What Unfold stands out for:
Unfold allows you to design photos in an authentic style, adding white frames and beautiful text
Editor templates are ideal for creating aesthetic presentations
The application provides stylish minimalist effects (dots, thin lines), which are a trend in 2021
The program functionality allows you to make unusual collages and place images in a non-standard way
Here is one trend that can be embodied in Unfold – this is the placement of photos on the original backstory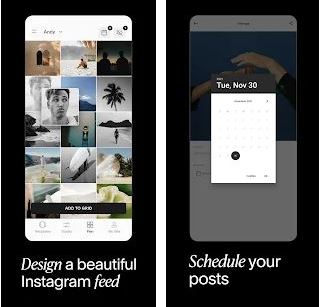 Paintation – Photo Art Effects
This app is a true innovation in the field of photo editing because for the first time it cooperates with each other the possibility of using neural styles and TensorFlow Lite technology for detailed assessment.
The program supports a huge number of styles to bring any photo to the ideal.
Through the use of this technology, you can take an aesthetic photo for Instagram in just four simple steps:
preparatory (rotation, smoothing, brightness, background, contrast, and other functions of primary image processing)
stylization stage (selection of art style for the image, for example, Baroque, Realism, or Academism)
filtering (using color filters to saturate the photo with colors, for example, cold, sepia, or bright burgundy)
the final stage of adjustment (possibility of more detailed achievement of the final result with the help of additional tools)
Thus, this app will appeal to both beginner and experienced users.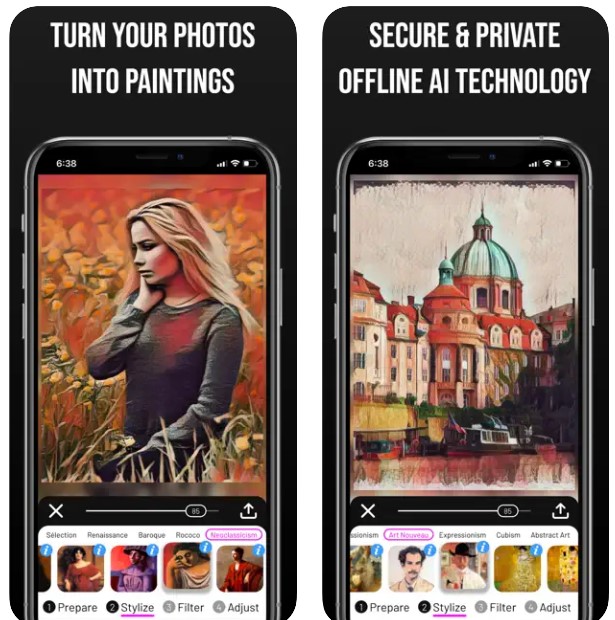 Snapseed
This photo editor is notable because it combines extensive functionality with a friendly interface. In case you don't have the latest gadget, you can look forward to this app – it seems to be working even on last decade models. This has been bred due to excellent optimization.
In many aspects, Snapseed reminds a more grounded version of Lightroom. Using Snapseed is fairly easy. Styles are a set of filters that can be applied to your snapshot, including the aesthetic ones. You can't manually configure styles in Snapseed, unfortunately. But they can be created from scratch. Simply edit the image and select Save Settings.
If you want to share your style, use the QR code. Editing snapshots when absolutely any action can be canceled at any stage of work is rare not only in applications but also in photo editors for the desktop. Especially, free applications.
Snapseed has everything you need for basic snapshot correction: framing, image rotation, double exposure, adding text, and much more. Each tool has its own parameters. To adjust the image, for example, in the Adjustments tool, scroll horizontally and change brightness, contrast, light balance, and highlights.
If you want to correct a step, use the Edit Filter Set button in the upper right corner. Many Snapseed tools have ready-made filters that already have their own auto settings.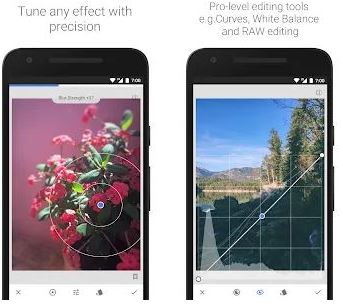 You may also like: 11 Free Live Photo Filters Apps for Android & iOS
Enlight Pixaloop
This might be not the most famous app on our list, but we are more than confident about its work.
Here you will get the classic scheme of the combination of a free app and built-in purchases for some tools and filters.
With Enlight Pixaloop, the user is to be able to provide his own images with small animations in order to bring movement into the photo.
If you saw on Instagram attractive looking live photos with running water, running clouds, developing hair, with swirling smoke, then almost certainly they are processed in the Pixaloop program. You can use this app in combination with another one just to add those cloud effects to your aesthetic picture.
For this purpose, the app provides some tools to facilitate the individual editing steps for the user. The speed and direction of movement can be defined by means of an anchor function, and there is also the possibility of setting stapling purposes in order to further limit the speed. If you want to exclude certain areas of the image from the movement, you can mask them with a digital brush.
Camera effects such as tilt, zoom, and dolly effects are also present in Enlight Pixaloop, and different repetition modes can be set for the animations.
Here is a brief list of the app's capabilities:
animate selected photo areas
add different moving objects such as birds, clouds, snow
control of speed and direction of moving sections in the photo
photo correction (trimming, color correction, filters)
When using a free version, finished videos are saved with a quality of no more than 1080p, which is generally enough for publication on social networks. The gif creation function is paid.
Along with that, the app also brings some cons:
Paid basic photo color editing functions (contrast, saturation, temperature, etc.).
A small selection of free animation effects. For example, only one free sky animation is available.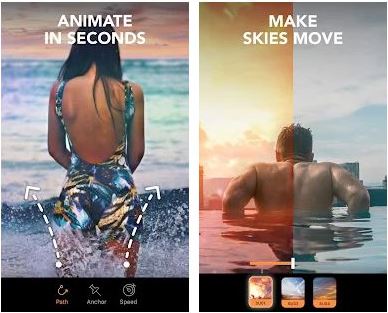 Canva
Canva is a top-runner when it comes to making aesthetic postcards, buckets, gift cards, greeting cards, CVs, and many more.
You can take eye-catching photos effortlessly with Canva's image editor – integrate them into a gift card! Canva is a graphic editor in which users can edit images, create covers, videos, and presentations.
Another virtue here is that you can always call the designer who helps to model materials according to the brand design and maintain an account in a single style – this option is paid.
The Canva editor supports the creation of drawings, layouts, a portfolio, and photo editing. Thanks to the functions of the graphic editor, Canva is also used for easy editing of images, but don't expect something superfluous here.
The editor is suitable for creating illustrations when promoting on social networks. Templates adjust images to the formats of popular networks and illustrations do not have to be cropped manually.
In the online designer, it is convenient to create presentations using ready-made layouts. They are divided into sections into the goals and topics of the presentation. The main sections are business, educational content, marketing product views. You can insert graphics, charts, and graphs into presentations.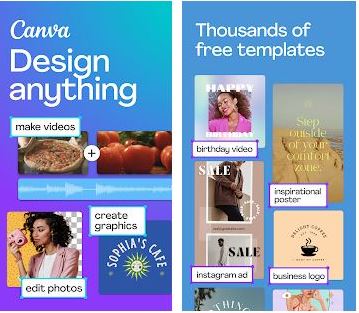 Picsart
PicsArt provides you with everything you need for great image editing, artistic camera shoots, photo collages, and creating digital drawings. There are so many features that sometimes it's more a flaw than an advantage. Just kidding!
Here you have everything to create a beautiful photo. You can cut objects and paste them into other photos. Many different stickers, on different topics. For example, in winter photos you can add snow to the pics.
Key Features: a global community of creatives, hundreds of image editing tools, customizable filters and effects, text, stickers, and image overlays, drawing and painting tools with layers. You can, hence, explore it and get inspired by some ideas, but it's not the strongest side of this software.
Before using the PicsArt, it is better to register with the system. This will open access to the social life of users of the photo editor. The software has several excellent photo retouching tools, such as shadows, highlights, temperature, contrast, sharpness, curves, clarity and composition settings, cut-out, resizing, perspective, rotation, stretching, selection, free cut-out, etc.
These tools are often used by professional photographers and this app allows even the people who are not part of the industry to manage them at ease. Some features will be tricky to use from smartphones, though, better go for a tablet.
You can draw on an empty page or image. There are different brushes and the ability to use layers, as in Photoshop. You can save the project in PicsArt format to finish editing later. You can also record and share slow-motion shooting of the drawing process.
The program supports the camera function and has many effects that can be used as live filters. PicsArt has not only simple but also creative filters, that can add a punk or grunge vibe to your pic.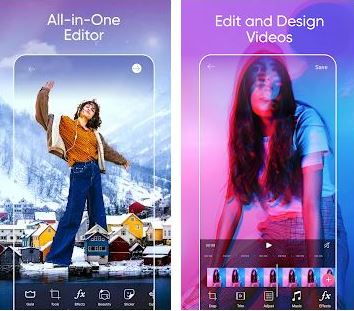 Afterlight
The photo app Afterlight is best suited for universal photo editing with additional creative options.
Here is the short list of what is capable of: exposure, color and sharpness settings, advanced tools such as curves, selective color, gradients, and blending modes, dust, and light leakage superposition, free filter packages from renowned mobile photographers, double exposure tool for mixing images, layers tool for adding text and graphics
The toolset is similar to the one that PicsArt has. The app offers typical editing tools such as color, exposure, sharpness, and trimming tools. It also has a number of advanced tools, such as curves and selective color corrections. These allow you to optimize the colors and tones of your photos to get the most out of your images.
The filters and overlays in Afterlight are great for improving or changing the mood in your photos. The photo app comes with a basic set of filters, which you can add to other collections at any time – and this is the reason why we put Afterlight so low on our list – other apps provide a bigger amount of filters.
Perhaps you are still pursuing a somewhat "traditional" approach to photo editing. You may rely solely on the tools of Instagram and sometimes use the "Improve" function on your smartphone. Then it's time to try something new: Afterlight. The tool is kept quite simple but has all the features you need for a basic edit of your photos.
Sometimes the best functions of the app are available for the post-processing of brightness and shadow. For some images, reducing shadows and increasing brightness results in a cleaner look. You can also completely reverse brightness and shadow to create a completely different mood. The so-called double exposure is also popular: This allows them to combine several images and create unique compositions.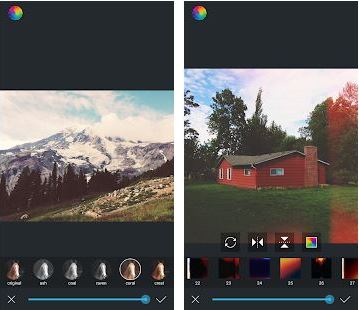 You may also like: 10 Free Selfie Filter Apps for Android & iOS
Foodie
We couldn't pass by this one great app that will allow you to make aesthetic pics of your… You guessed it! Meals!
It is intended for those who like to take pictures of what they have on their plate today. For Insta stories, this is a cool match.
There are 30 live filters for photos as well as numerous possibilities for videos to dip the food in the right light.
The Foodie app, fully dedicated to photographing food, is designed to create cool, bright, and "juicy" pictures of meals. We know that nowadays cameras have this feature built-in in their cameras, but still, maybe this app will help you to take your game to the next level.
Still, 27 filters just for food is something.
The name of each filter refers the user to epithets, which are usually used to describe delicious and appetizing dishes. For example: "Yum," "Chewy," "Crispy," "Fresh." The application will also help the user choose the best camera angles for the photo.
It's not really great to edit all the other kinds of pictures, but if you're a food blogger, you should check this app out one hundred percent.