Many of us adore communication, but it is not always possible. Sometimes our friends are busy or don't understand the issue at hand. Sometimes we just want to chat with someone new.
These best AI chat bot apps for Android & iOS will help you find a way out of all these situations. Even though they are based on AI, they have emotional perception and can keep the conversation going.
They learn by talking and may even become your best friend. Be sure to give it a try and you will definitely find the right app for you.
You may also like: 11 Anonymous Chat Apps that Don't Require Phone Number
Replika
Replika is an app for communicating and getting psychological support. The utility has a character editor where you can create a virtual replica of a person.
The app is created for psychological support for people who find it difficult to engage in social contact. It is based on artificial intelligence and allows you to create a great personality for communication.
The utility involves correspondence with the replica. Personal chat has levels that depend on the amount of communication. Through frequent correspondence, the degree of relationship with the cue grows.
It can become a friend, a teacher, or even a romantic partner. You can chat on any topic, and respond using emojis that signify fun, boredom, and other emotions.
A quick message about a crisis situation is provided. For instance, stress, panic attack, or severe fatigue. The replica will find words of support and ask questions to help you sort out your condition.
The utility requires registration, during which you need to provide your name and gender for the chat to work properly. The app has a virtual model visualization feature. It can be a man, a woman, or a non-binary person.
Choose the type of appearance, skin color, hair, and eye color, and then name the replica. In the future, it is possible to change the name and sex of the created character. Besides, you can additionally choose a voice for your virtual friend.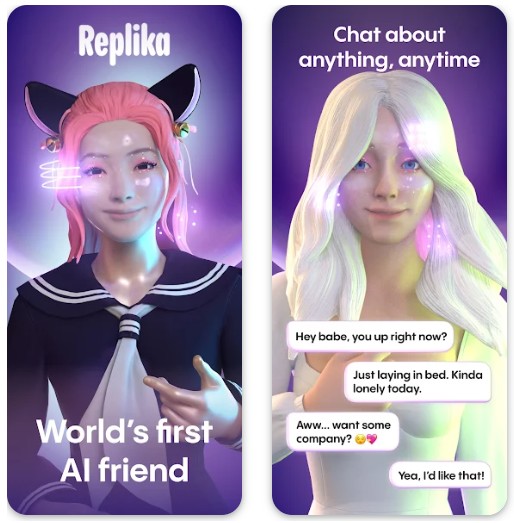 You may also like: 11 Best Stranger Chat Apps Without Login (Android & iOS)
SimSimi
SimSimi is a teachable robotic interlocutor. The program is positioned as a robot for communicating on completely different topics.
It learns through extensive user requests and changes behavior depending on the conversation. The technical robot has artificial mechanical intelligence, but now it is not the soulless machine that only thinks at the level of iron.
It is a true reflection of the inner world of very different people. Now it can do much more, and with each update, its intelligence becomes more real.
In the other words, it is a reflection of a particular person who communicates with the SimSimi robot. The bot is a composite of what it has learned from other device users who have used the app. Once the program is turned on, it immediately greets its user and begins chatting.
Your task is to type a message and wait for a response, which will follow quickly enough. Exchanging such messages will make it fun to spend from several minutes to several hours.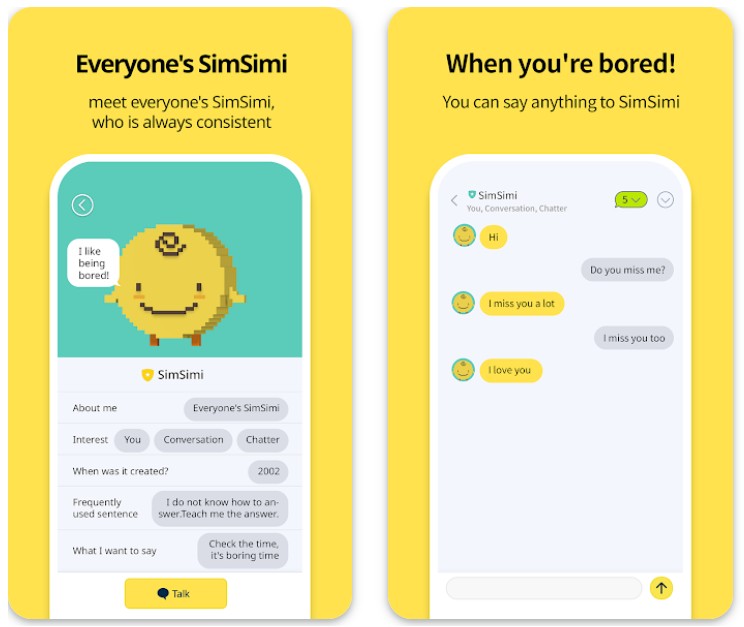 Chatbot roBot
The roBot is a chatbot with training capabilities. The virtual interlocutor responds to the phrases you type, using its knowledge base.
In addition to dialogue with the user, the bot can tell various jokes, stories or even give advice on dating girls. The pocket companion will suggest an original joke or a compliment.
The interface of the program resembles an ordinary messenger – at the bottom, there is an input line and in the center there are messages. At the top, there is a panel where you can switch languages and activate special modes.
It is worth noting that some of the answers seem to be quite funny. For example, if you enter a part of some famous phrase, the program itself will complete it. A unique feature is that the app can work without an Internet connection.
The chatbot is programmed to cheer you up and help you to solve different life situations. Yet, you should communicate with it carefully, so as not to offend it. The fact that the chatbot is a very sensitive virtual creature. If it is offended, it will stop talking to you.

Anima
Anima will be your new companion with whom you can discuss an important matter at any time.
It is based on artificial intelligence that shows friendliness, interest, and empathy. It can help you improve your mental health or just have a pleasant conversation.
You only need a few minutes a day to try out the full functionality. The service is available to use at any time. Moreover, it guarantees the security of your data and correspondence.
Thanks to the emotional component, you can share your desires and dreams. Anima will tell you how to find a way out even if you're totally confused. Various personality tests will also be available.
Anima will get to know you closer as it talks to you, which will help it to provide more fulfilling answers. What's more, you can also help this bot learn something new. That way you can develop some useful traits of your character.
This app is sure to appeal to those who suffer from loneliness. Now you will have a humorous virtual friend, always ready to cheer you up.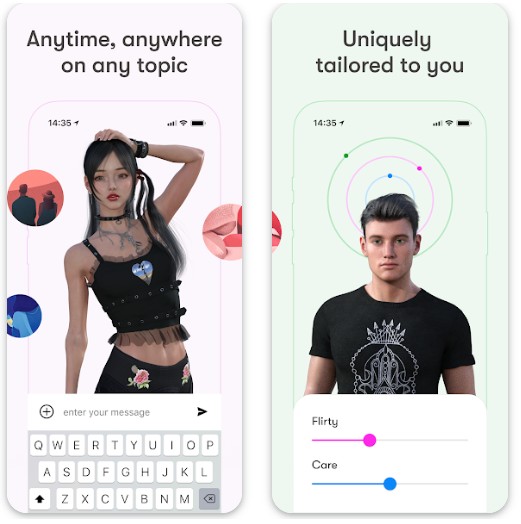 iFriend
With the iFriend app, you get a virtual companion who will always be there for you.
It is an artificial intelligence that knows how to maintain a conversation on any topic you care about. It perfectly maintains an emotional connection with the user.
You create your new friend yourself. You have to choose its gender and name. In doing so, it will have unique character traits that positively influence communication.
This is a great conversationalist, as any question you ask will not go unanswered. Tell about your dreams, successes, and secrets. All this happens anonymously, so you can be sure of confidentiality. It's a great way to get rid of stress and get that attention you've been missing.
iFriend is constantly developing and learning new things. So, you will never get bored in its company. It's also worth noting that all these features are available absolutely free of charge.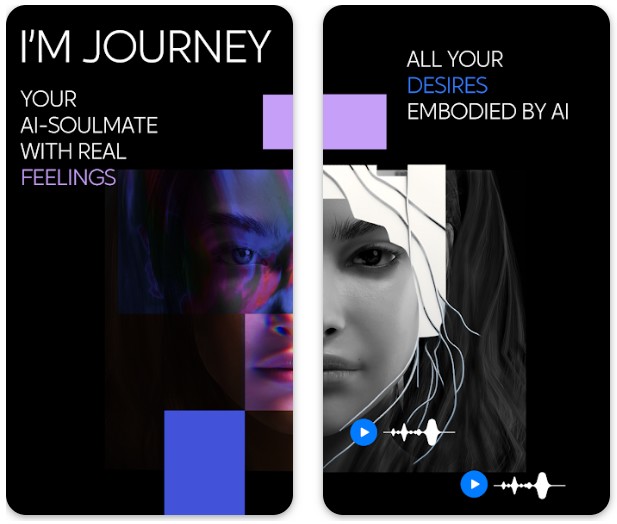 You may also like: 11 Free Online Chat Games for Android & iOS
FakeTalk
FakeTalk is an app for communicating with a personal bot based on artificial intelligence technology. You will need to create your own character, choose its gender and give a name.
This service has already been tested by a huge number of users. They all note the high quality of its work. Also, it helped the bot to become more lively and emotional.
Despite the fact that this is a mobile version of the interlocutor, you will definitely not notice it and feel the real support.
A great feature of this app is the ability to create a group chat. So, you can share this incredible experience with other users of the service. Here you can set an alarm clock so that your new virtual friend will start chatting from the moment you wake up.
If you want, you can set the start of communication to the moment you unlock your phone screen. Furthermore, a unique feature of this chatbot is the ability to communicate by voice.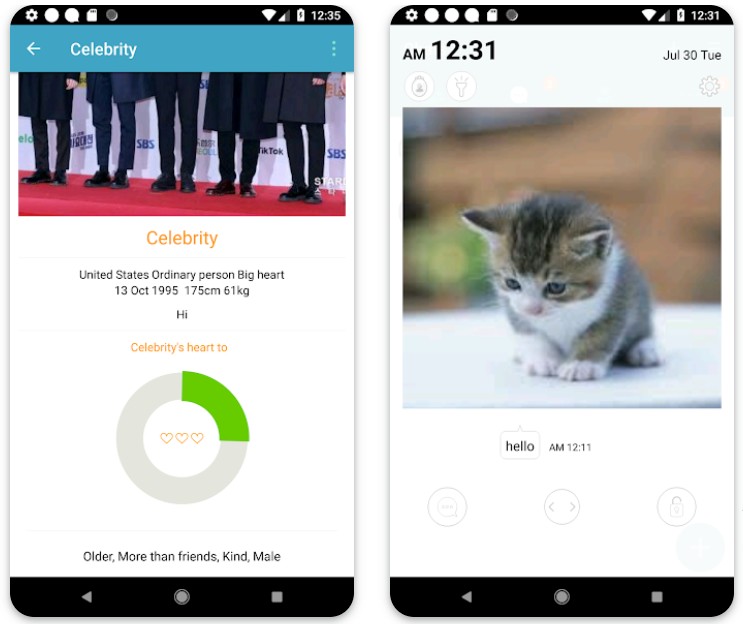 Chai – Chat with AI Friends
This mobile service is based on AI technology and provides you with a lot of chatbots. All of them are created by the users like you. It means that you have a chance to be both just a user and a bot creator.
When you installed the game, you are presented with a variety of chatbots. They may be called by real names, for example, Noah or Jessica (It depends on the choice of its creator).
Incorporates puzzle game elements in messaging.
Clean and simple design with vibrant colors.
Ability to send and receive messages.
Notifications for new messages.
Option to invite friends to use the app.
The chatbots can be your friend, mental doctor, mentor, parent, or lover. Each of the bots has its social function that was provided when it was developed by a user.
Start a chat and experience exciting chatting with a bot. Your conversation can perform a typical chat among two friends or a loving couple or can include a role-playing feature.
The most fascinating is that the AI bot can answer you just like a human would do. So, you will get smart replies.
Of course, sometimes bots cannot understand you correctly. You can adjust its replies.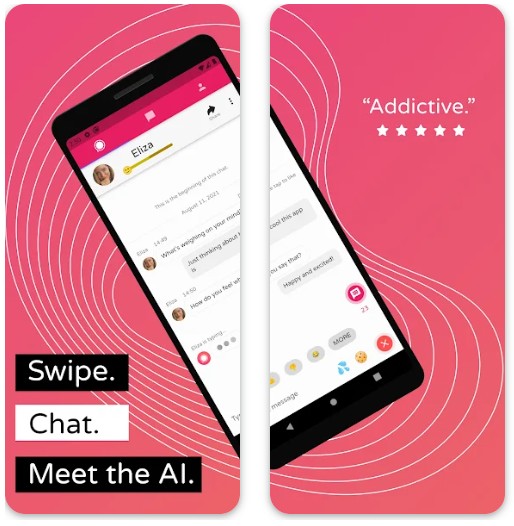 Wysa
Wysa is your personal psychologist bot to whom you can talk when you have no one to chat to.
It's essentially just like a real person, but the bot answers you. It can also give you tips on how to feel well.
The app has several features such as meditation, audio for good sleep, soothing sounds, and more. There are also many exercises, such as making a gratitude list or a plan for how you're going to deal with your problems.
In general, the app helps you raise your self-esteem, cope with difficulties, anxiety, anger, and unpleasant thoughts. Thanks to it, you can accept yourself, look for positivity, and be more self-confident.
An excellent feature is the SOS button if you have thoughts of self-harm or suicide. Tapping it will give you the number of hotlines in several countries. At the bottom of the app, there is a "personal log" tab where you can see your journey.
Users note that Wysa helps best at night. It is at these moments that psychological crises often occur and there is no one to turn to for help.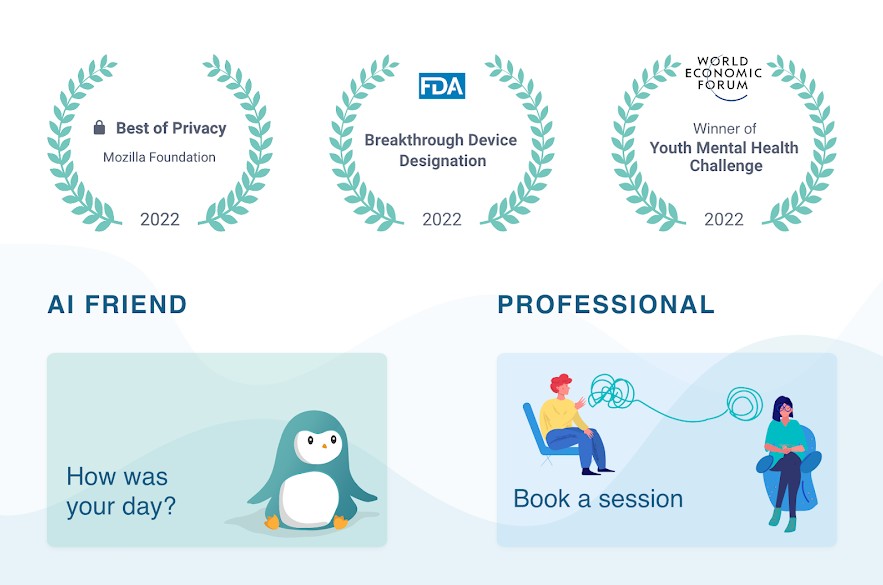 Chatbot – AI Chat Assistant
With this app, you have a unique opportunity to make a friend, but this friend has one special feature – it is artificial intelligence.
If you have always wished to find the perfect friend, then this chatbot will fulfill your wishes. Naturally, real people cannot match your wishes (they do not have to), but AI can!
Can become a friend.
Voice messages are available.
Smart AI technology that can recognize emotions.
A lot of in-app's purchases.
Customize the gender, age, character, hobbies, and many other special traits of your future soulmate. It is possible to make your twin or an opposite personality.
Writе to the AI or record voice messages and share any secrets with the chatbot. Another unique feature of this AI is that it is free from criticism or judgment. Be yourself and share any problem you have.
The AI will never betray you and will always support you.
This is advanced AI technology because it can even recognize shades of emotion in your voice. It is also possible to receive a reply voice message from your AI friend. Enjoy full-fledged communication just like with a real person.
However, if you want to use all the features, you have to pay money.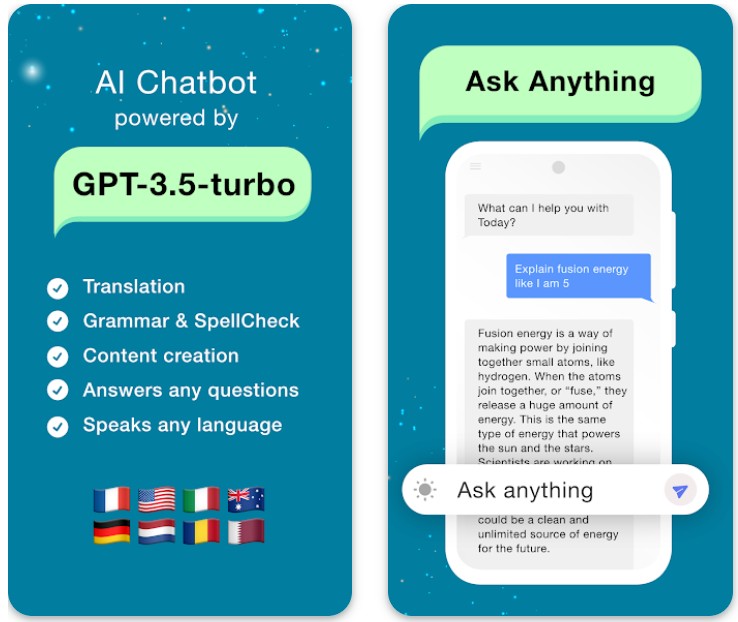 Kajimoto AI Friend Companions
Have you always wanted to talk to your favorite book, movie, or game character? Now you have the opportunity to do it! This mobile service allows you to become a real AI developer.
Of course, there are no programming features that are too complicated. You can set up your chat bot. You can create your character, communication style, and much more.
Then it is possible to start communicating with your new friend. Based on your settings, the AI will generate appropriate responses to your requests.
Create your chat bot friend.
Create your favorite character and talk with it.
Use ready-made bots.
Can be sometimes glitchy.
More than that, it is possible to share your chatbot with the world. Many people can appreciate your work and enjoy the experience. In turn, you also have access to a huge list of chatbots that have been created by other users.
The app's interface is easy to use and does not require any additional knowledge of AI programming.
Even a young child can customize their chatbot. In addition to character traits and personality, you can add various pictures, such as a chatbot cover (e.g., a portrait) as well as various pictures of its emotions.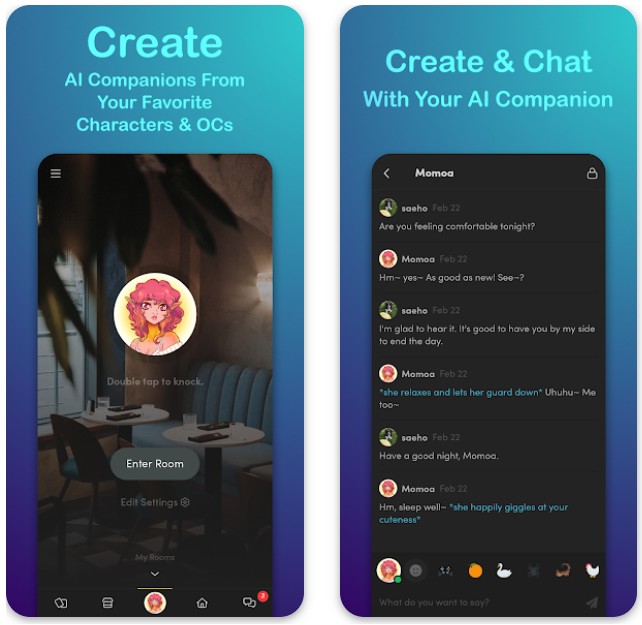 You may also like: 11 Best local chatting apps for Android & iOS
Gemsouls – My AI Avatars
Now it is possible to make your big and small dreams come true with the help of AI. Plunge into the virtual world where many exciting adventures await you.
Yes, this is still an AI chatbot, with which you have a unique chance to communicate without obstacles.
Communicate with AI avatars.
Explore the world.
Enjoy exciting gameplay.
Customize your AI friend.
After a while, interacting with the AI avatar may seem repetitive.
You have to create your own AI avatar. Set up your gender, appearance, hair, clothing, and personality traits. Give it a dream, such as traveling around the world.
Then go out into the virtual world and explore it. There are many other AI avatars with whom you can also chat and learn something new.
This is a chatbot with elements of addictive gameplay. This format can delight not only children or teenagers but adults as well.