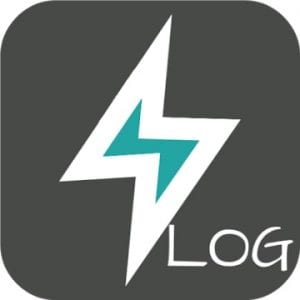 Journal Log Companion is your new way to connect your analog and digital logs together. Here you can add not only your own logs but also various notes and pages if you don't have access to your laptop.
The application has a simple user interface that's intuitive for any user. You won't have any problems using it.
Notes
There are no restrictions for writing text notes. You can write your to-do list and even your shopping lists. Besides, this mode has many useful and convenient features.
For example, you can change the bullet type by clicking on the icons. Add tasks, notes, and events by clicking on the event button. Use long click on logs to edit them.
Interface
There is a quick bar at the bottom of the screen. You can use it to quickly access any function you want. For example, add a new note, edit an existing note, or reply to a to-do list as completed.
This app is completely confidential. Your photos or personal data are not stored here. All that these app stores are your daily thoughts and to-do lists.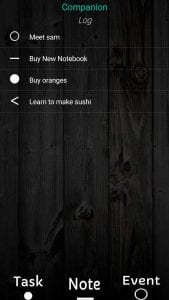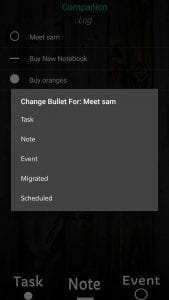 All in all, the Journal Log Companion is a free and fairly new app that helps you keep all your information in one place. Gather all your oils together and keep them with you at all times.
You may also like: 10 Best bullet journal apps for Android & iOS