There are various situations when you might need the laughing sound effect. But in most cases, you might need it when editing videos. We suggest you not browse the Internet searching for those sounds, but download one of the apps from the article down below.
By the way, did you know there is a lot of similar apps out there that can help you with various specific sounds? For example, we can draw your attention to the article about Free Annoying Sounds Apps for Android & iOS – find the most unbearable sound there and prank your friends!
Funny Sounds & SFX
Let's start our rating list with a top-grade tool called Funny Sounds & SFX. The application is valid for most Android devices and adapts to all screen sizes. And it's probably the most popular app in this category.
The developer handpicked over 40 funny sounds and ringtones and put them in this app. Plus, all the options are available free of charge.
Funny Sounds & SFX works fast and simple. So, once you have opened the app, you will have to pass a quick loading process. Then, click on the Continue button to initiate the app.
In a few seconds, you will get to the homepage. The bottom toolbar consists of three sections: Ringtones, Favorites, and Information.
In the first section, you will find a comprehensive list of funny ringtones. Along with laughing sounds, you can also try lots of others – e.g. angry cat, carton music, applause, sneeze, etc.
On the top of the screen, you can notice a built-in slider that allows users to set up the volume. Click on the desired ringtone to play or stop sounds.
Next, you can always generate a collection of favorites. Opposite each ringtone, click on the "heart" icon to relocate it to the favorites list.
In case you want to attune the sound like a (contact) ringtone, alarm tone, SMS, or even notification, then tap on the "arrow" button next to the favorites button.
The last section consists of detailed guides on how to use this app. You can also look into how to set a ringtone, alarm, etc. We have to admit that all the tutorials are plainly stated.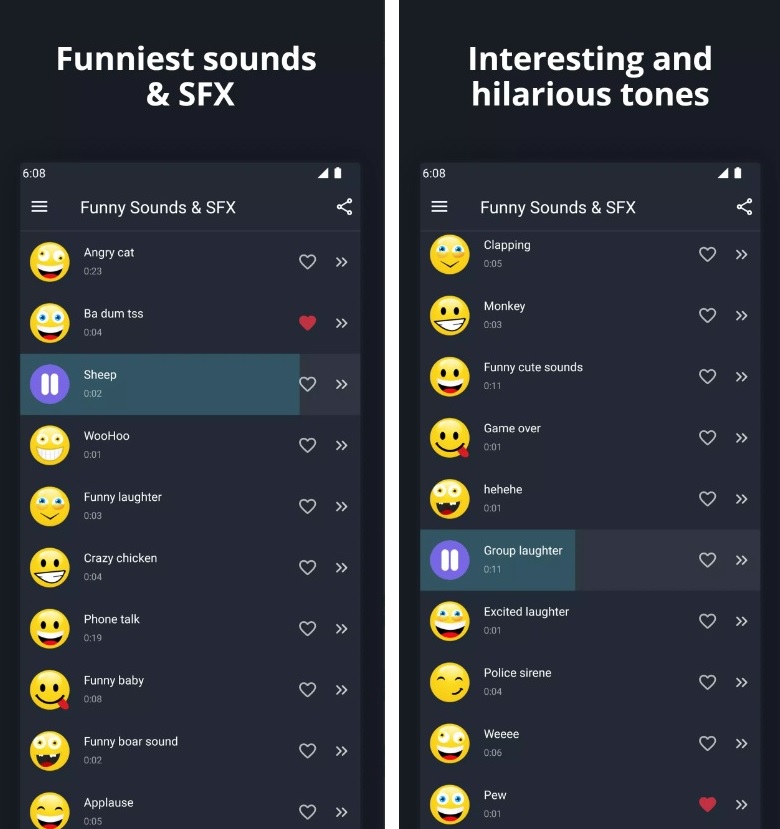 You may also like: 11 Free Fake Text Message Apps for Android & iOS
Sound Effects
Sound Effects is an application that contains a collection of over 3000 sound effects that you can use in various scenarios such as music creation, video production and multimedia projects.
It allows you to browse, search and preview sound effects before downloading them. It also allows you to create your own soundbar by choosing your favorite sounds that can be quickly accessed in the future.
It has many sound categories including animals, weapons, vehicles, human sounds, laughter in different categories and more. You can download sound effects in MP3 or WAV format, depending on your needs. It is updated regularly, often adding new sound effects and features.
One of its main drawbacks is the limited free version, which only offers a small selection of sound effects. You must purchase the full version to access the entire collection. Some have also complained about the price of the app, which they feel is too high compared to similar apps.
Despite its shortcomings, Sound Effects has many advantages, including a wide selection of sound effects, regular updates, and a user-friendly interface. Users appreciate the quality of sound effects and the ability to customize the application according to their preferences.
Sound Effects is a valuable tool for anyone who needs to use sound effects in their projects and provides a convenient and affordable way to access a large collection of high quality sounds.
Large selection of sounds from different categories
High sound quality
Ability to download sounds
Unfortunately, not all applications are free, so some of the functions are limited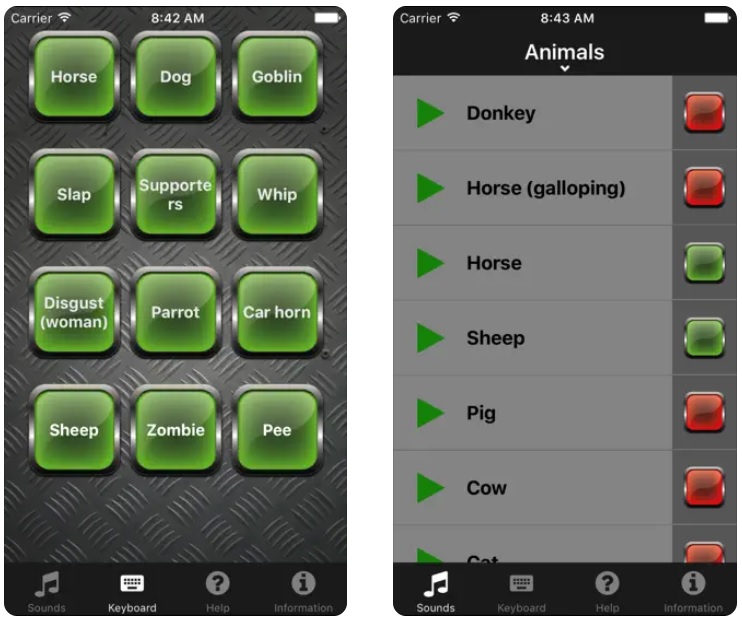 Baby Laugh Sounds
Do you like toddlers? If you reply "yes", then the baby's laugh sounds will definitely drive you crazy!
So, Baby Laugh Sounds app is developed by Sound Jabber. The app comprises over 15 baby sounds, including funny baby chuckles and laughs. All the soundtracks are presented in high quality without any rustling.
In the beginning, a charming screensaver will appear in front of your eyes. Just touch the screen to trigger the application.
Then, you will get to several sections on the homepage. Scroll through the screen to monitor all of them. In the first Baby Laugh Sound section, you will acquire an extensive list of soundtracks.
The application is designed in nude tones. The interface is very straightforward, as all the tools are located next to each other. Plus, you can even attune the sound speed via special button bottom left.
One of the best parts there – it can run in the background and it does not ask for a regular internet connection. Moreover, it is extremely lightweight!
As for the additional options there, you can set up a timer, and establish any sound as a ringtone, alarm tone, or even notification.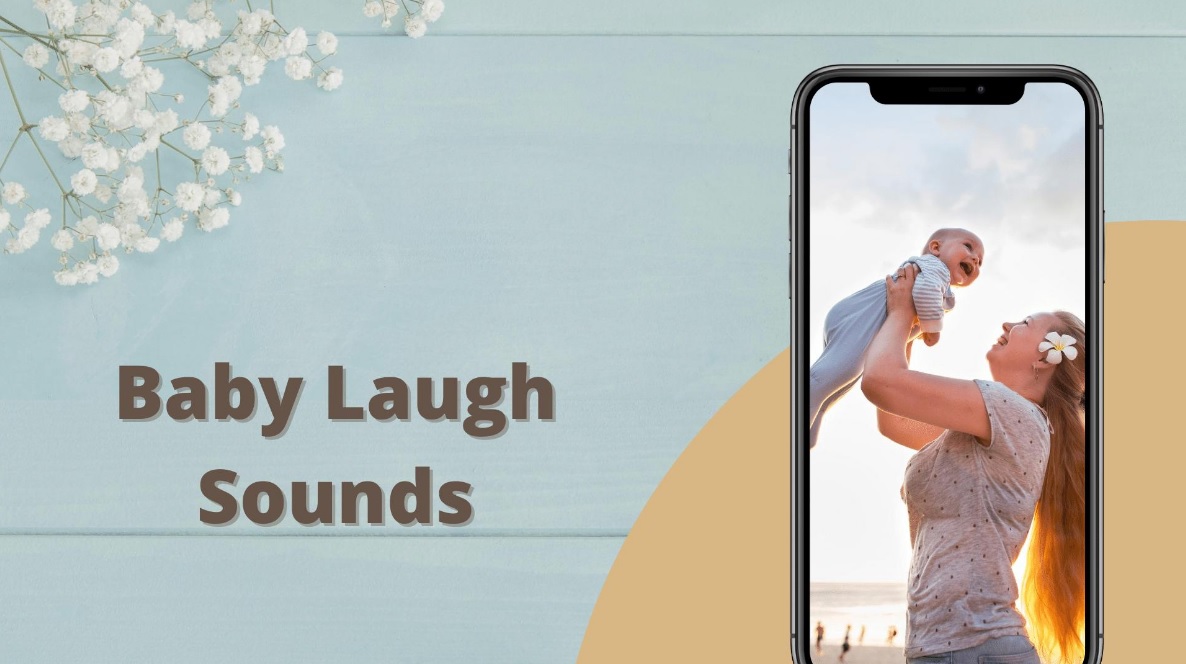 You may also like: 5 Best Voice Changer Apps During the Call (Android & iOS)
Laughing & Funny Ringtones – Entertainment Sounds
Laughing & Funny Ringtones is another full-featured application that will be apt for most parties and gatherings with friends or any other occasion.
So, when you first open the app, you will get to the collection of various sounds straight away. There is nothing complicated in the app, as it contains only this page with a fabulous design. We also need to add that among all the apps listed here, this one probably has the best design of all.
Opposite each soundtrack, you will find a setting icon. Just select a most-liked one and click on the icon to set it as a ringtone, alarm, or notification. Furthermore, the developer provides you with a tutorial video on how to set a custom or contact ringtone.
In addition to the laughing sounds, the application is loaded with other entertainment sounds. For example, you can listen to the sniff, squeak, and baby's giggle. Or, you can also imagine like you are visiting the theatre or festival – akin sounds are provided!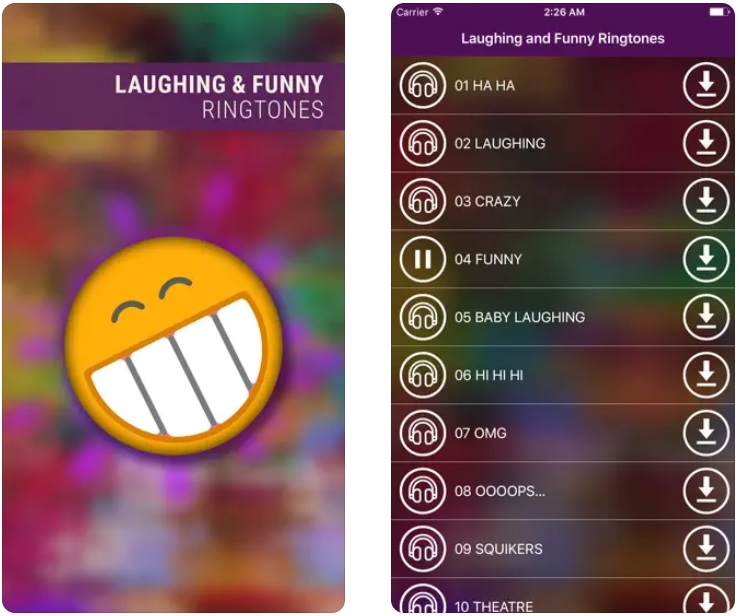 Laugh Out Loud
Laugh Out Loud is a free comedy app that you can download to your mobile device. It was developed by Kevin Hart, a popular comedian, and provides a platform for users to access a wide range of humorous content.
Lots of entertaining content
You are waiting for jokes, funny sounds and novelties from the world of humor
There are technical shortcomings that interfere with work
It has comedic content, including videos, jokes, and sketches by Kevin Hart and other popular comedians. You can also access exclusive content, behind-the-scenes footage and live events. It also has a user-friendly interface, making it easy to navigate and search for certain types of content.
One of its main drawbacks is that it is very likely to have all sorts of failures that interfere with healthy operation, such as crashing or freezing. In addition, some have complained about the frequent display of ads in the application, which can interfere with browsing.
Despite these shortcomings, Laugh Out Loud offers many benefits, such as providing a wide range of comedy content for free. It also allows users to create their own profiles, save their favorite videos, and share content with friends on social networks.
Laugh Out Loud is an app for comedy lovers that gives you a platform to access a huge amount of fun content. You can even record some audio in it and change your voice beyond recognition. Add laughter to it or vice versa terrifying notes
While there are some technical issues and complaints about the frequency of ads, the app's user-friendly interface and the availability of exclusive content make it worth checking out.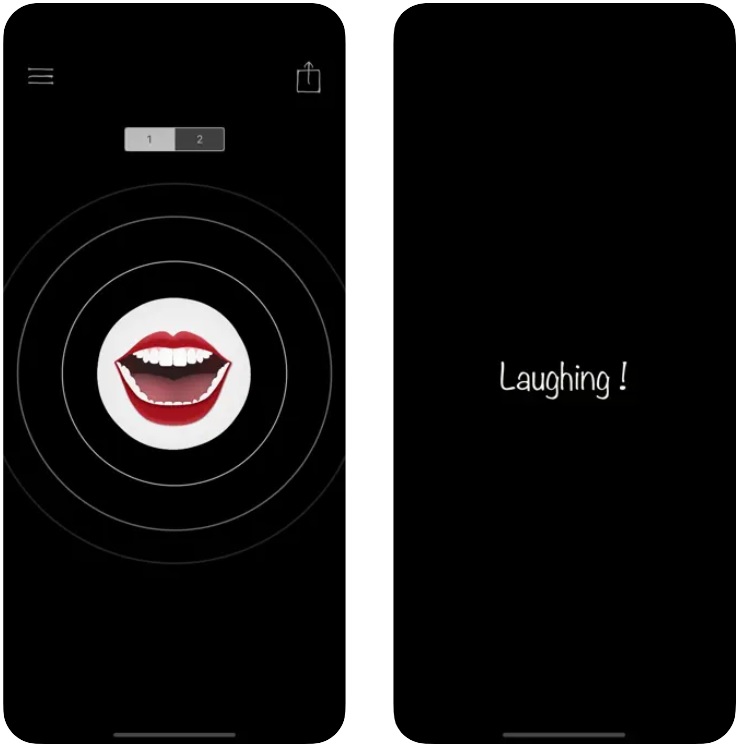 Laughing Sound Effects – Funny Laughing Noises
Have a good time and laugh with your friends with this free funny sounds app. Laughing Sound Effects incorporates plenty of the most amusing sound effects that will make you laugh.
After downloading the app, you can use it straight away. When you open the homepage, there will be two buttons – Start and More. Tap on the first one to launch the application.
Thereafter, you will be transferred to the sounds collection that combines audience, women, men, baby or children laughing sounds.
After picking a favored soundtrack, you will come across two large buttons – Start and Stop. So, if you want to suspend the sound, tap on the second button.
Laughing Sound Effects is intended to listen to laughing sounds and it does not contain any excessive features there. Speaking of drawbacks, Laughing Sound Effects has tons of irritating ads like the prior application.
All in all, Laughing Sound Effects will be a must-have humorous entertainment tool for kids and adults alike!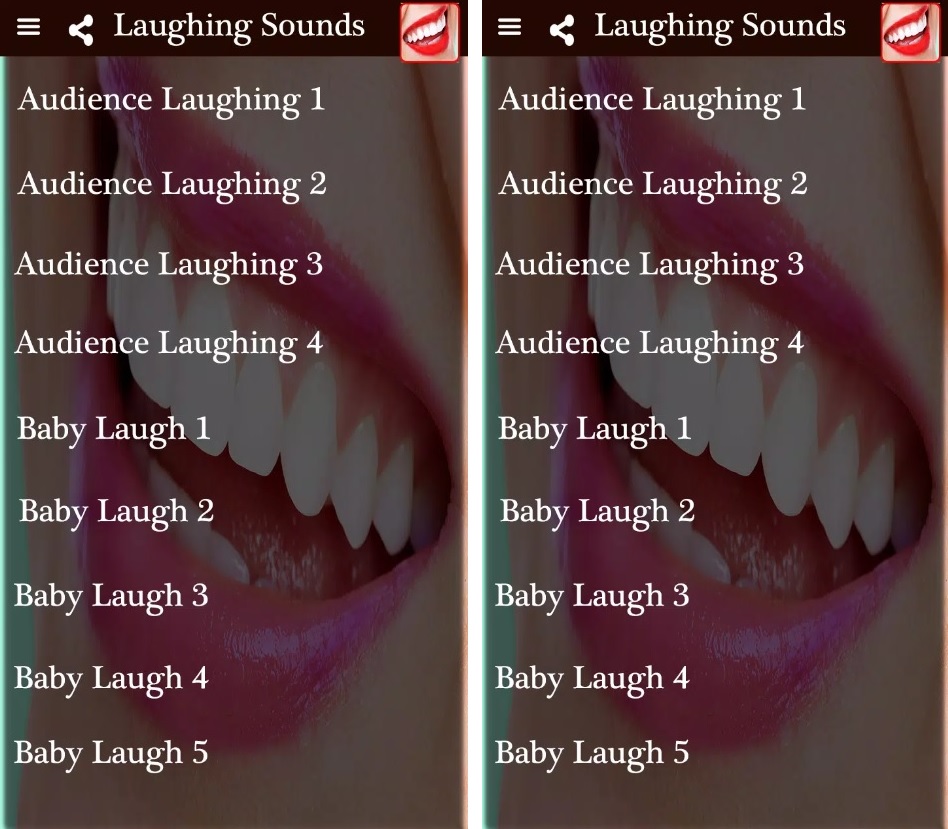 You may also like: 9 Best Male to Female Voice Changer Apps for Android & iOS
Laugh Button HD
Laugh Button HD – This application provides you with many funny sounds and noises to entertain yourself and others. It boasts a large library of high quality sound effects ranging from laughter and applause to animal sounds and silly voices.
It has a good number of features, among which is its user-friendly interface, which allows you to quickly and easily view and play various sound effects. It also includes a customizable favorites list, allowing you to save your favorite sounds and access them with just a few taps.
Despite its positive qualities, problems such as crashes and crashes, and dissatisfaction with the limited selection of sounds available in the free version cannot be ignored. Also, the app is criticized by some for its relatively high price compared to similar apps.
Despite these shortcomings, Laugh Button HD has a number of notable advantages. Its large sound library and user-friendly interface make it a fun and easy-to-use tool for creating comedic moments and spice up social gatherings.
Large selection of sounds from different categories
High sound quality
Ability to download sounds
Unfortunately, not all applications are free, so some of the functions are limited