It's so great to spend cozy evenings with friends or family, isn't it? You can spice up your evenings playing the multiplayer boggle game.
This game is familiar to everyone from childhood. It brings joy and develops the brain. Name as many words as possible until the time is up. Each letter has its own score. The less frequent the letter, the more points you get.
You can play solo, but agree, it's not that interesting. Create a multiplayer mode and have fun with your friends. You can play while sitting in one room or thousands of kilometers away. These games have no boundaries.
Check this article to find more mind and brain apps.
Create a competition and prove that you are the best. We've researched a lot of apps in Google Play and Apple Store and found the best ones for you. After reading this list, you will download something to play.
Boggle With Friends: Word Game
Get to know this app. It's first on our list because it's one of the best. The app has adapted the classic Hasbro game and added new modes. Puzzle twists and daily challenges await you. The more you play, the more you improve your skill of finding new words.
The app is the best and nominated as the most social app of 2017. Gamemode is very simple. Create a match. You can choose the solo or multiplayer mode. You need to test your opponent in 3 rounds.
Whoever finds more words and scores more points wins. You will not get bored because the app is adding new challenges daily and weekly. If you realize that you lack the skill to win in multiplayer mode, then train in solo mode.
Challenge yourself with a Coach. You will receive useful tips and advice. The app will also allow you to compete in real-time tournaments. Fight other players and take first place in the tournament.
Don't forget to get your daily prizes. This will increase your motivation to log into the app every day and develop your vocabulary.
The app is available in 9 languages. This is a great opportunity to start learning a new language or repeat words. Select the language in the app settings. You can play offline no matter where you are. Play offline 24/7.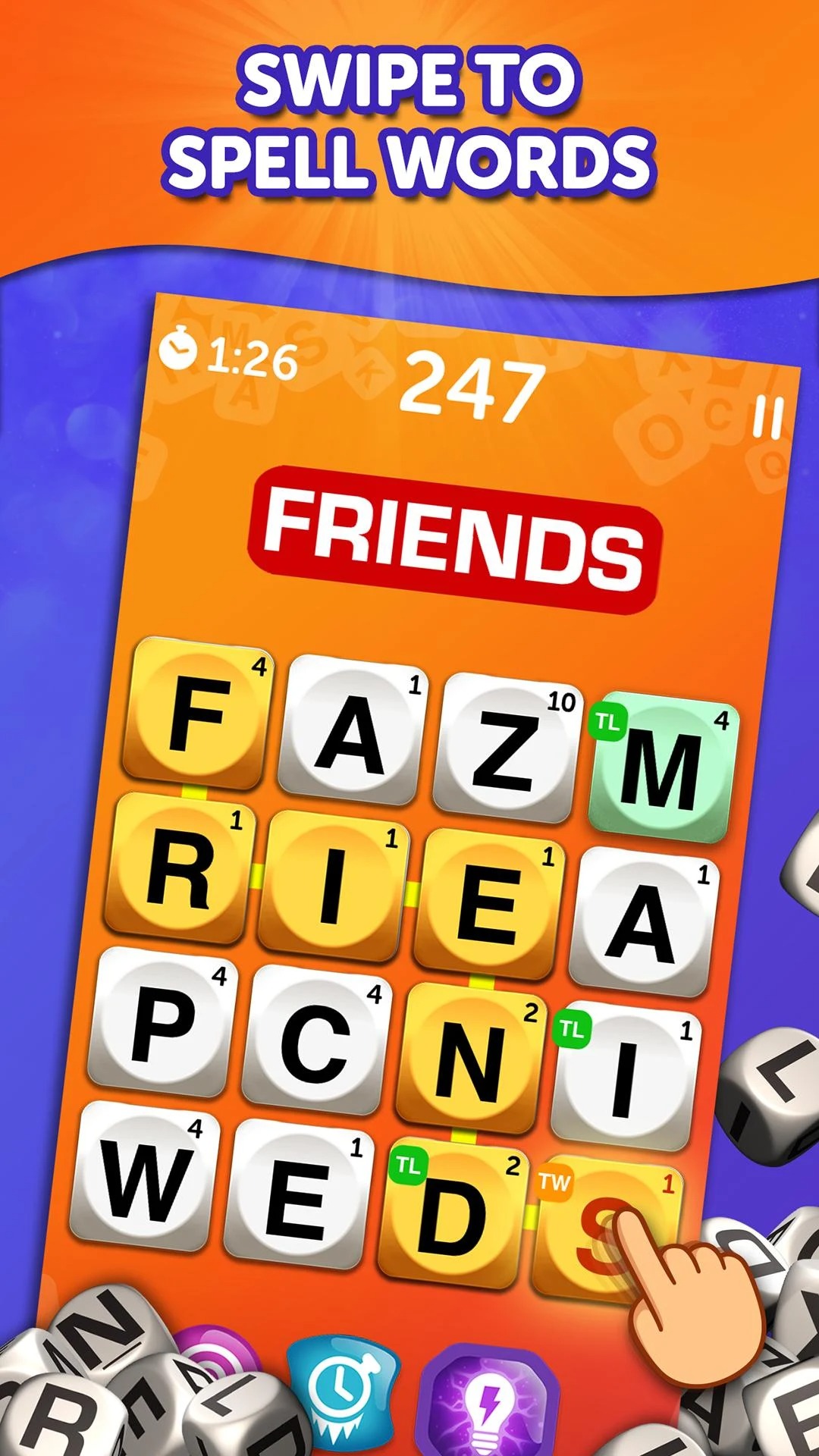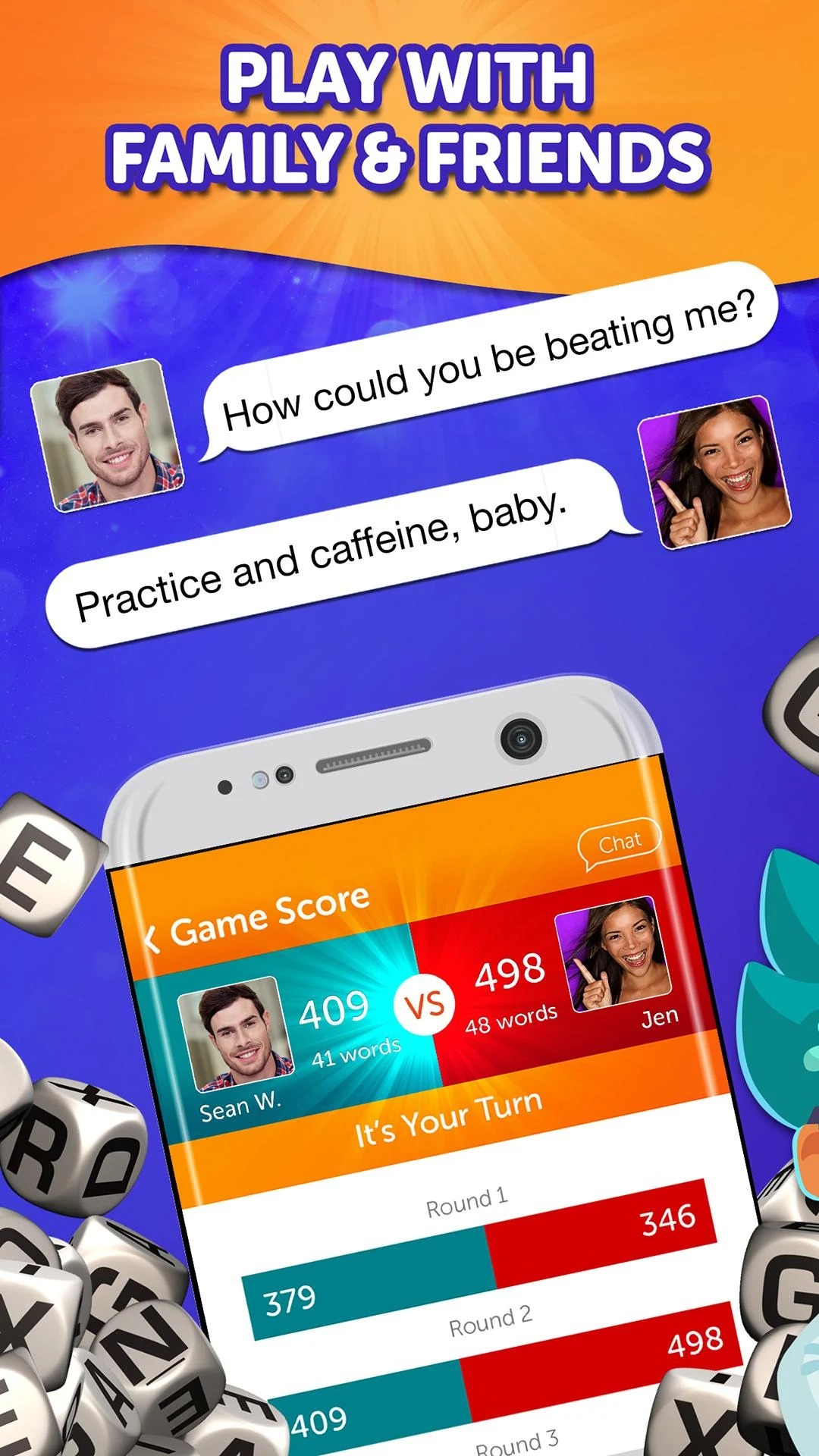 The app is free, but you can buy boosters and hints to make it easier for you to play. Create your account and add basic information with a photo. So your friends will understand who they are playing with. The app is 59MB. Try it and join a huge community of over 1 million people.


You may also like: 12 Free Scrabble Games for Android & iOS
Words with Friends Classic: Word Puzzle Challenge
This is a classic mobile word app. Create multiplayer with your friends and enjoy hours of play. Create different words. Try to use rare letters to get more points. The winner is the one with the most points.
Try to create a tournament with your friends and prove that you are the best. The app has a multi-touch function. If you feel that you are not confident and you do not have enough experience, then practice in solo mode.
An exciting game plot with interesting characters and cool adventures awaits you. Log in to the game every day to get extra rewards. You can boost your game thanks to bonuses.
The app has game currency – gold coins. You can spend them to buy boosters and bonuses. The app has a positive effect on your brain. It expands vocabulary and develops logic. You can also find new friends by playing battles with random opponents. Start a dialogue with them and maybe someone will become your new friend.
Playing with friends is always more interesting. Fight in a friendly battle and find out which of you is smarter. Create a competition if you have a large company. This app has an addictive multiplayer.
Words with Friends Classic will amaze you with its cool design and intuitive interface. The app is free, but you can make in-app purchases to boost your progress. The app is 88MB. It does not run in the background, so it does not affect battery consumption.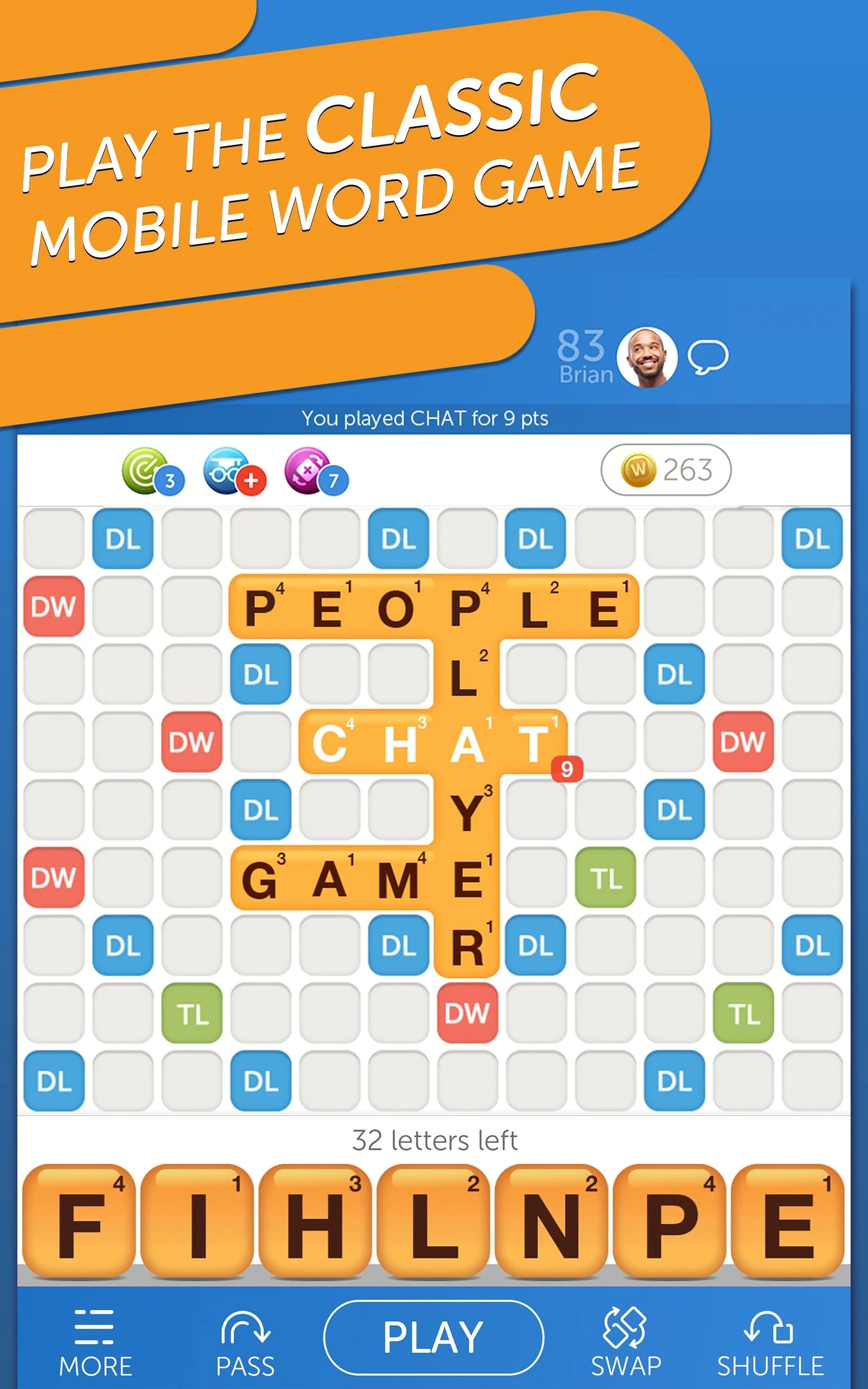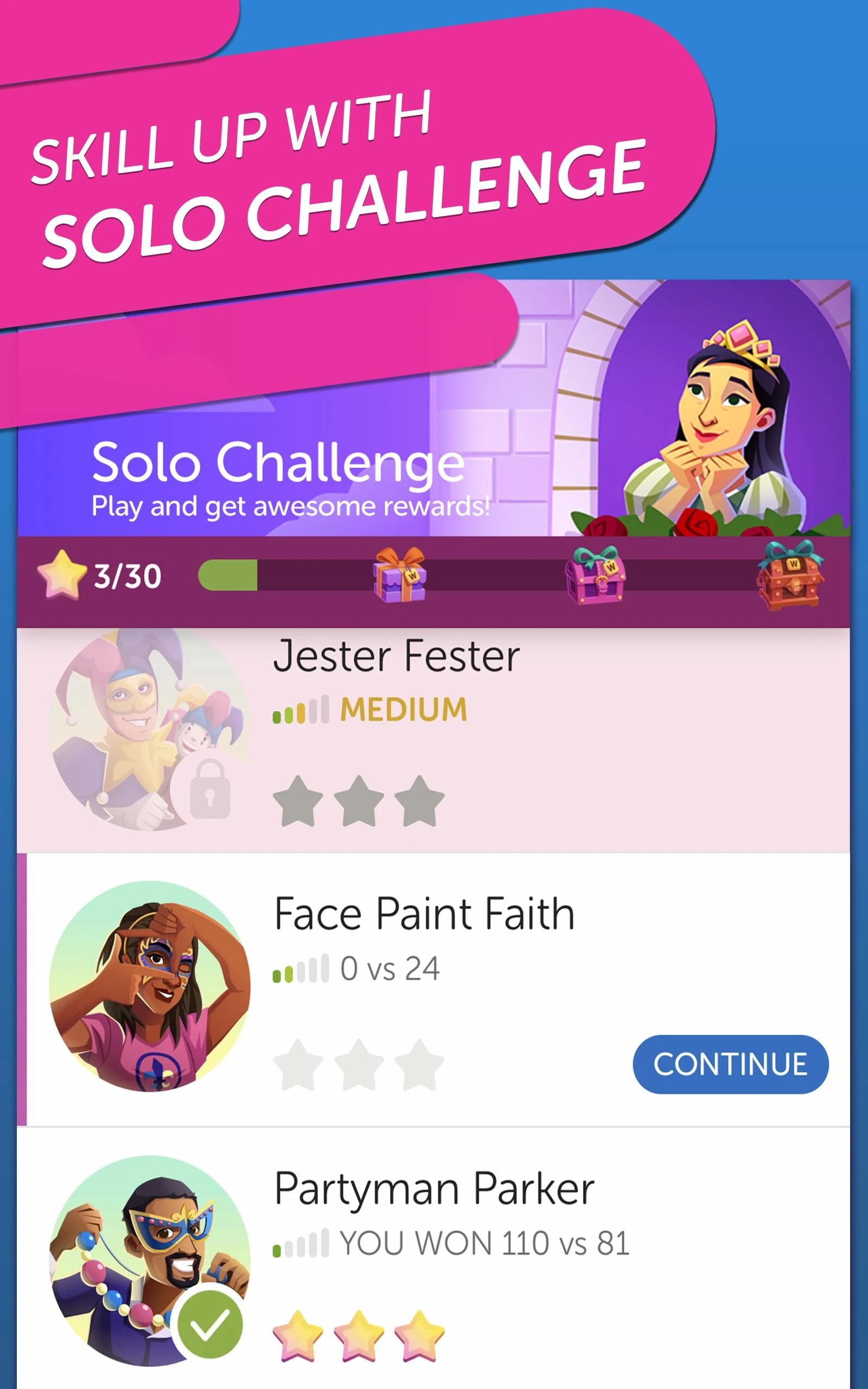 Words with Friends Classic has a huge community of over 50 million people. Join this community of intellectuals and maybe you can become the best!


Word Shaker HD Lite
Are you looking for a simple doggle game? There it is! It allows you to play solo or invite up to 3 friends. Earn achievements and progress on the leaderboard.
If you don't have a company with whom to play, the app will pick up a random opponent for you. You will be able to get to know this person. Perhaps you will become friends. Daily quests and rewards are awaiting you. Don't miss gifts and bonuses.
The app is not only adapted for the iPhone, it also supports iPad and iPod. The leaderboard is updated daily and weekly. This will set you up for new victories. Select a grid size. There are two options 4v4 and 8v8. Play against on time to add fun.
The app will give you up to 30 minutes to complete the game. Word Shaker also has a relaxing game with no time limit. Shake your smartphone to scramble letters. This makes the game more realistic. Try to rotate your smartphone to change the perspective of the game. The app will not make you bored.
The board game is generated instantly. You don't have to wait. You will receive a full report on all the words found after the game. The app has many types of statistics. Track your progress and you can see how your cognitive and intellectual abilities improve.
If you are playing on an iPad then the app will have a dictionary for checking words. Learn new words and expand your vocabulary. Do you think that opportunities are not enough for you? Buy the full version of the app for a small fee.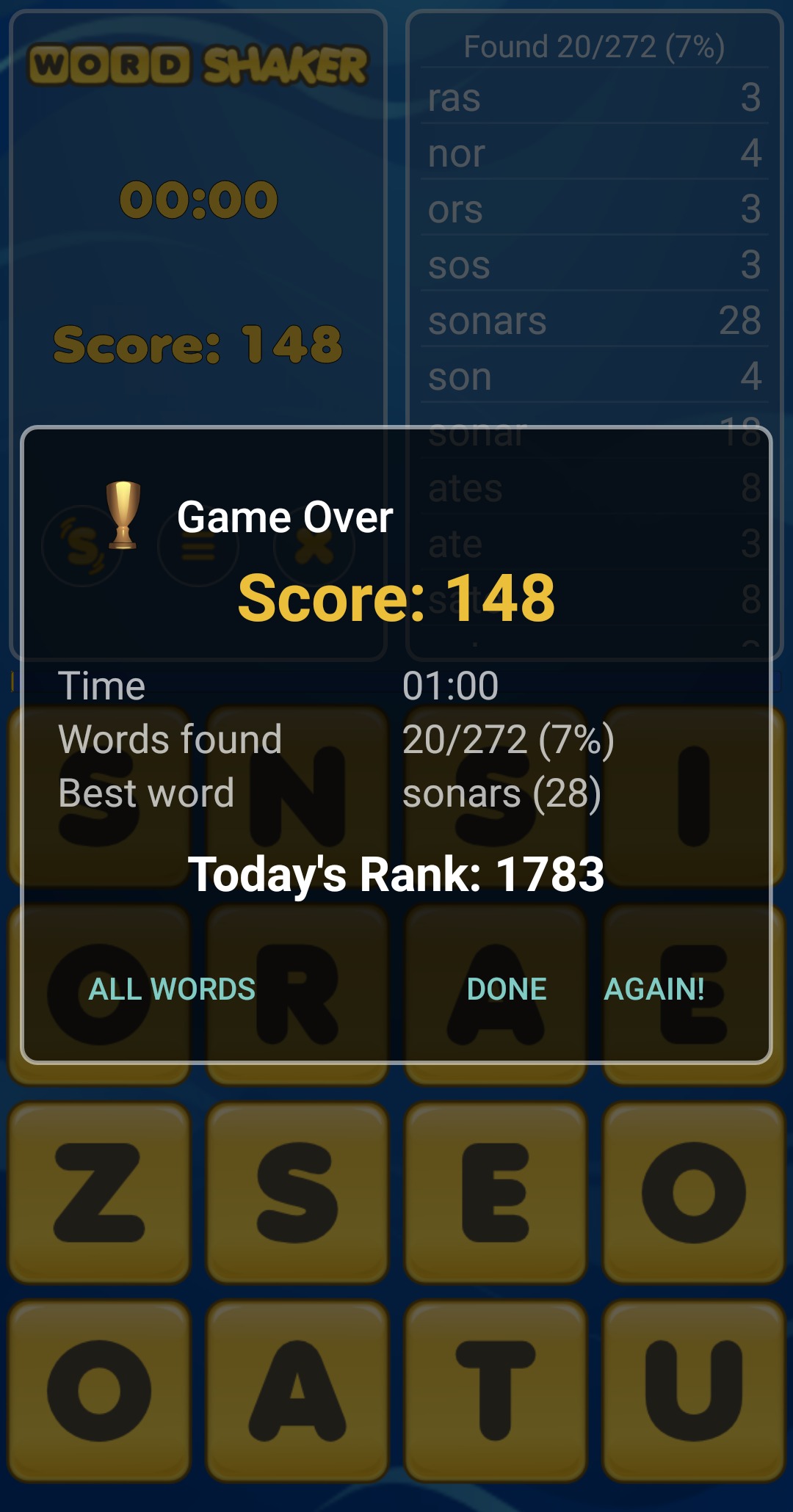 You will be able to enter the VIP club with additional bonuses and rewards. Different boards and times will keep you interested. The size of the app depends on your device. Download Word Shaker and join 1 million people who love doggle games.


Wordlebattle with friends
This is an exciting mobile game that allows you to fight a word battle with your friends. It offers users the opportunity to test their knowledge and vocabulary skills. It is designed as a puzzle game with empty lines for making words.
Participants need to make words from the available letters. Each user receives a set of random letters, from which they have to make words by filling vertical and horizontal lines. To find a word, you can press your finger on the letters or put them in the right order.
The goal of the game is the number of points the user gets for correctly composed words. The longer the word, the more rewards the player will earn. Besides, bonuses are awarded to the player for using all the provided letters in the word.
The app includes several modes. Users can practice and improve their word-building skills alone or with someone in a team. For this, a multiplayer mode allows players to invite their friends and compete with them.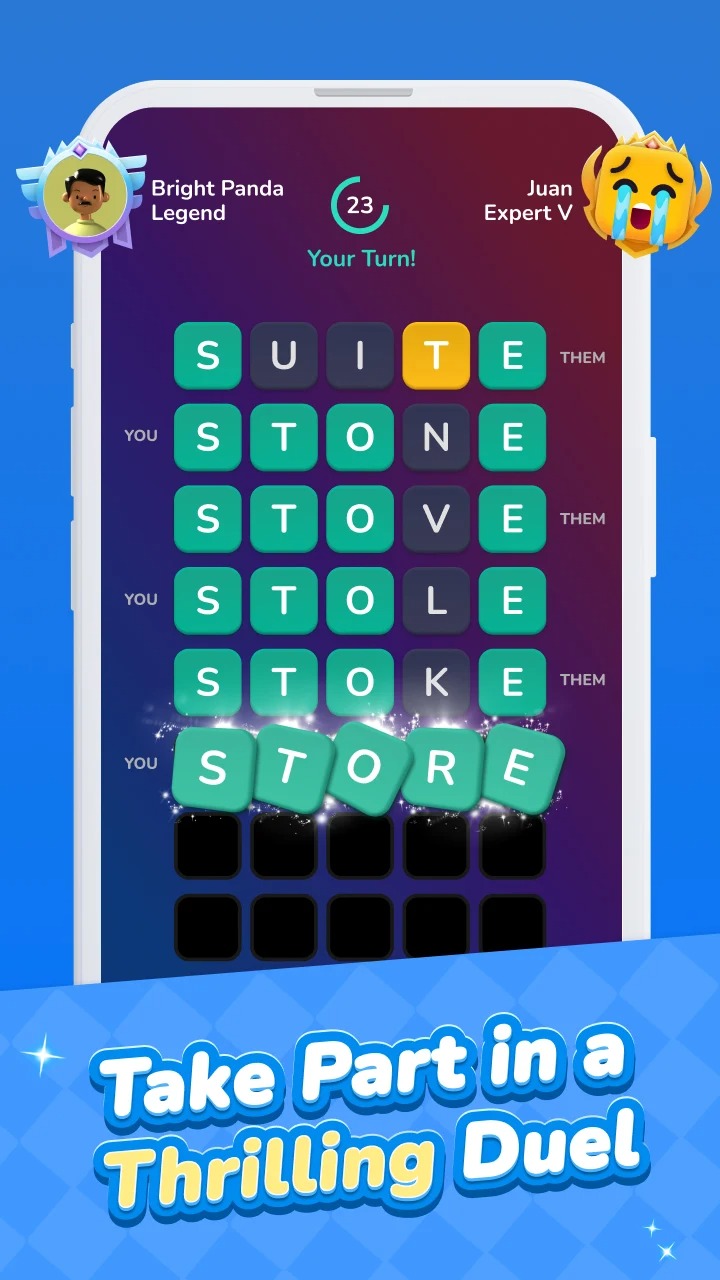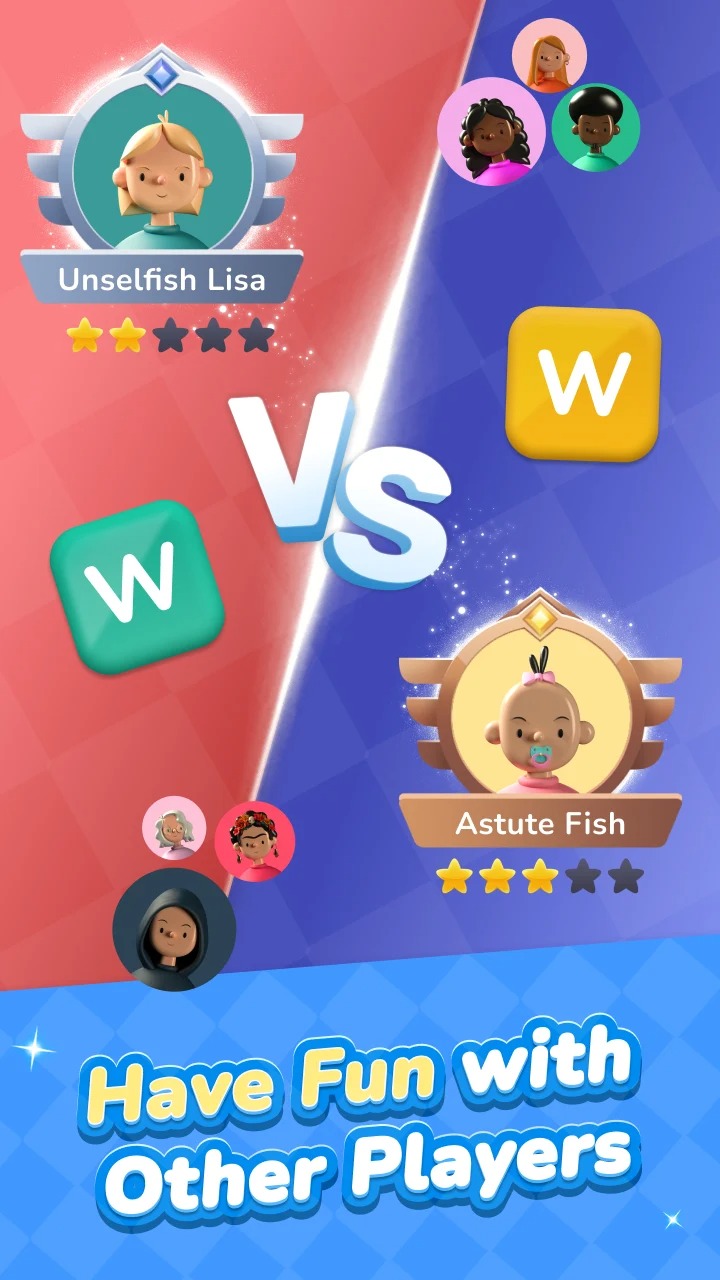 You can also enter online competitions and take part in the ranking system where you can compete with other players from all over the world.

You may also like: 11 Best Griddler puzzle games for Android & iOS
Word Seek HD: fun word search
Do you love puzzles? This app is what you need. Sharpen your mind and expand your vocabulary. This is an innovative game on the classic word game. It has ads that will sometimes get in your way.
If you want to get rid of ads, buy the full version of the app. However, the presence of ads is not a reason to refuse this wonderful word puzzle app. You can play solo or multiplayer mode.
The solo mode is suitable for those who have little experience in this puzzle game. If you consider yourself an experienced player, then create a tournament with your friends and team up for the title of the best player.
Do you think you can beat the whole game? More than 50 thousand hours of playing time are waiting for you. It's cool, isn't it? Don't think that the game is simple. You will have to rack your brains, thereby increasing your excitement and interest.
You can choose the size of the grid. Choose 4 by 4 or 5 by 5. If you miss a word, don't be discouraged. The app will show you all possible words at the end of the game. Memorize these words so you will not forget them next time.
The app has stunning HD graphics with cool video effects. The app has a large number of word game options. This is a great way to have fun with your friends.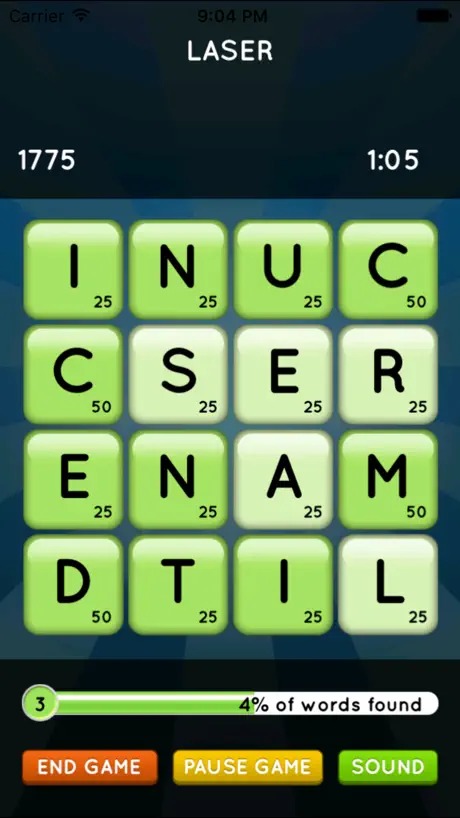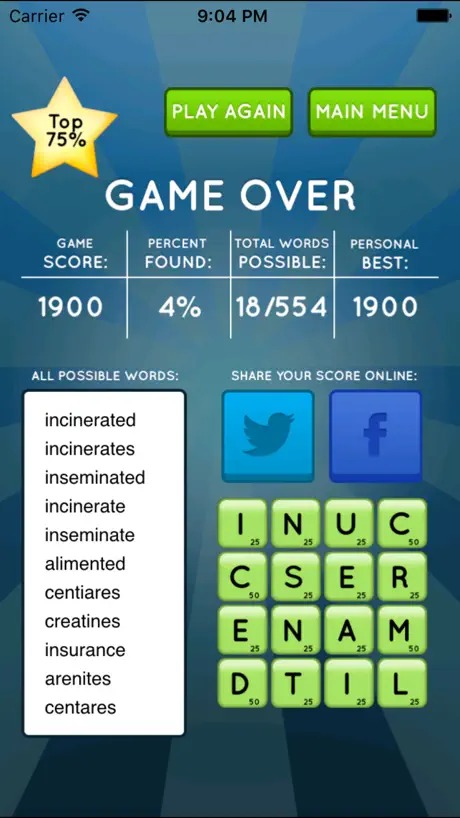 The app has an easy-to-use interface. It's a pleasure to play this game! If your friends are busy, then play with a random player. You can share your score at the end of each game. The app has a multi-touch function, so nothing will jam and slow down. Try Word Seek and you will see that the game is very addictive.

Wordbox: Boggle Word Match Game (Free and Simple)
This game has a cool authentic design. It's free and has no ads. Nothing will bother you from the process of the game. Wordbox is the original classic English board game suitable for all ages. The app will allow you to play not only alone but also with friends or family.
Create a tournament in which up to 8 people can participate! You can play at the same time or send an invitation with a fight. Your friends will play when they have time, but their play will count towards the tournament.
The app supports Cross-platform. If you don't have a permanent Internet connection, it doesn't matter! The app works offline. You will be able to enjoy the word game wherever and whenever you want.
The app keeps track of game statistics. The dice fall out randomly, do not think that someone wants to cheat you. Trust your luck. Words have a minimum length. This is for more excitement and increased difficulty. The word list is huge. Over 5000 and thousands of words are waiting for you to solve them.
The design of the app will amaze you. The retro interface theme will set you up for the game and give you calmness and confidence. The developers are actively updating the app by adding new words and fixing mistakes.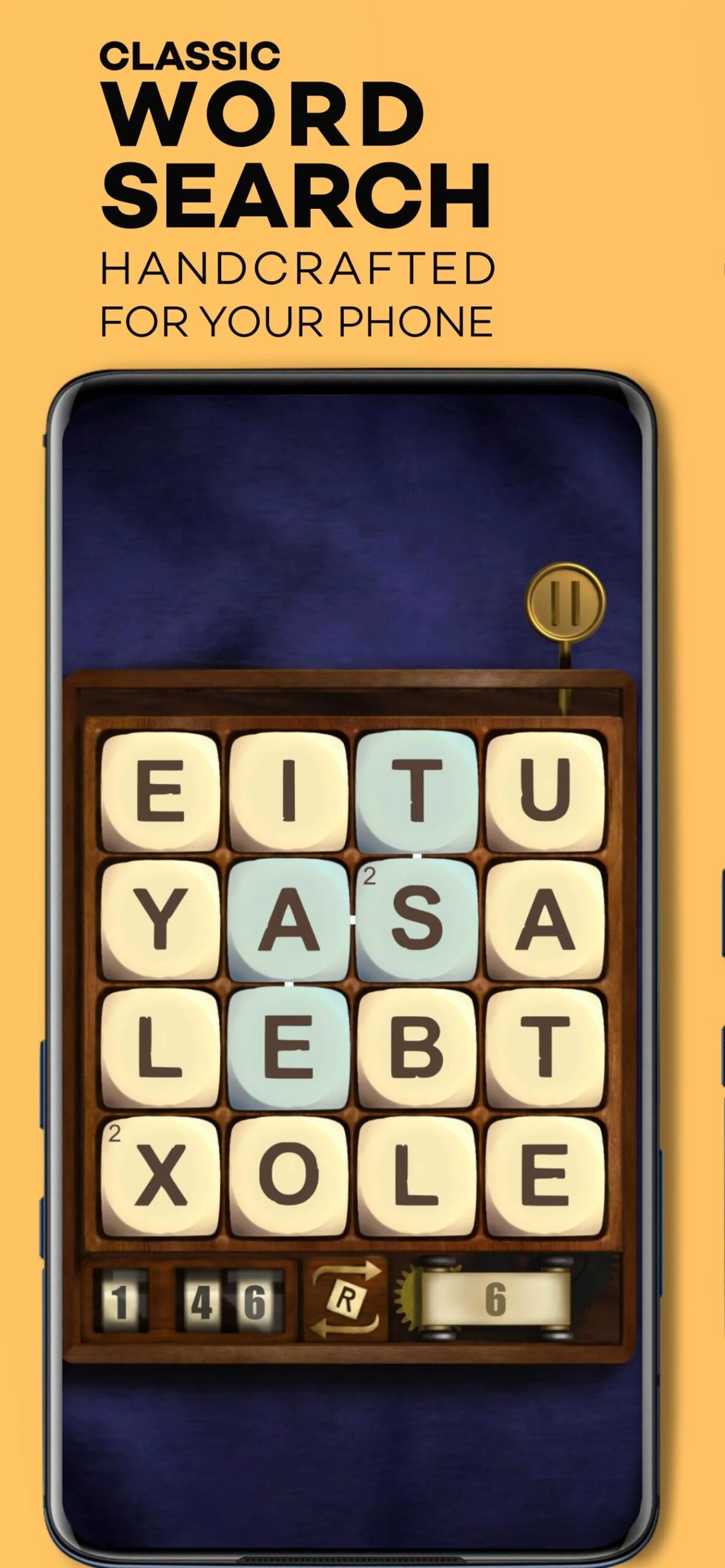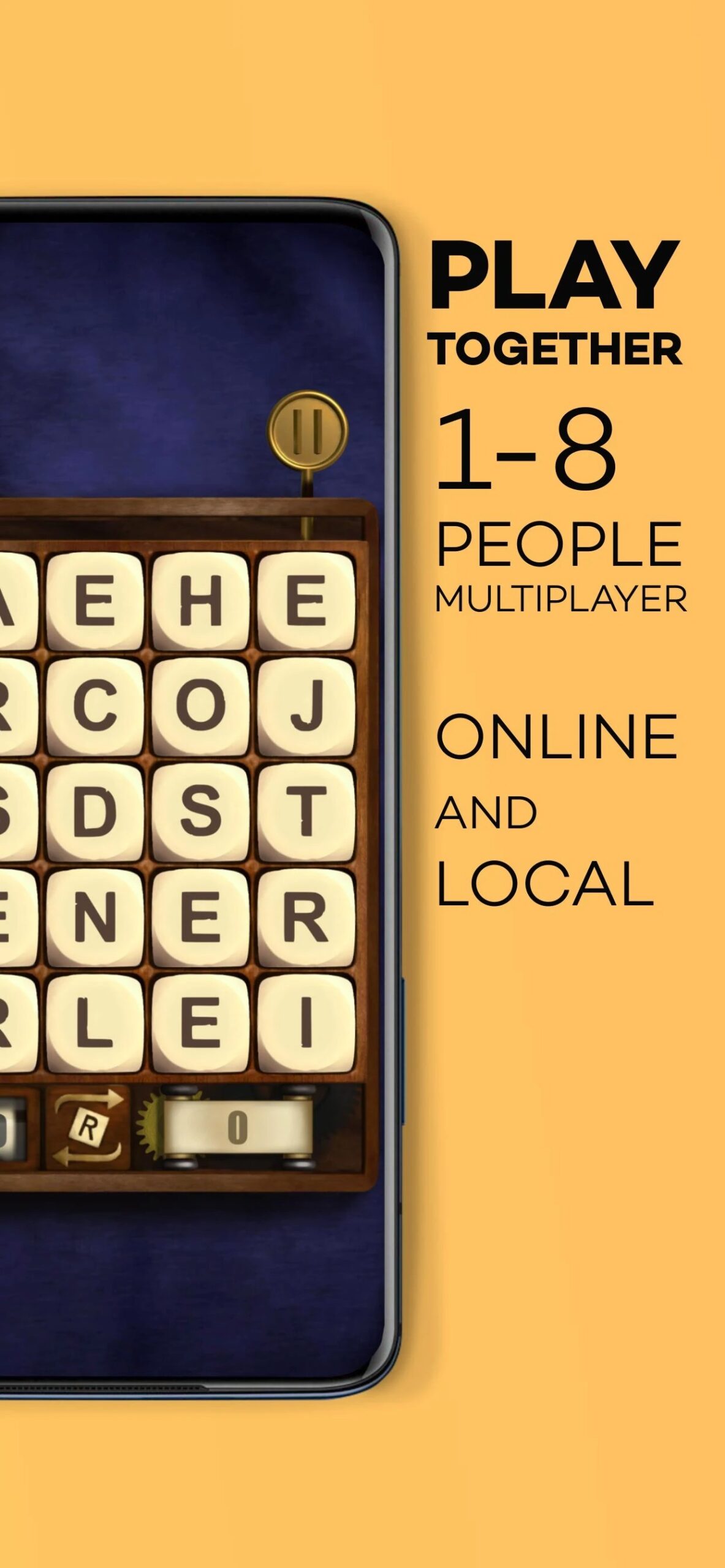 The app supports any resolution and screen size. You can play both horizontally and vertically. Download Wordbox and find all the words that the developers have hidden.

Words With Friends 2 – Board Games & Word Puzzles
This app is one of the popular word apps on Google Play. You can become better and smarter. Create words, develop your brain, and expand your vocabulary. Words With Friends 2 lets you create a multiplayer game. Invite your friends and start the tournament.
Find out who knows more words. Make the highest scoring word to increase your chances of winning. Moreover, the app has thousands of awards and goals. Collect the entire collection of rewards by completing tasks. You will be able to unlock the exclusive Rewards Pass.
The app updates the theme every 6 days, so you won't get tired of this word game. Test your spelling skills and get bonuses. You can play solo at a time. This will improve your skills and make you more experienced.
Play quick events or duels. Fight WordMasters in solo mode. You can choose the difficulty level. The lightning round mode will allow you to play with 5 players. Your task is to make the highest word score.
If you like to play against with time limit, then try the crossword puzzle mini-games. Find the right words and test your brain.
You can customize the words in the app settings. Add stickers on words to personalize them. Add a widget to the home screen of your smartphone to always be aware of the latest app events.
The app has a few ads that do not distract or interfere with the game. It takes 88MB. The app does not require permission. Words With Friends 2 has been downloaded over 10 million times. Install it and you will see the benefits of this app.

You may also like: 21 Best crossword apps (Android & iOS)
Word Wars – Word Game
Sometimes older games need to be redesigned to revive. This app showed you how to do it perfectly. Meet Word Wars is a great word board game for all your family and friends.
Can you believe the app has no ads? No? Then check it out for yourself. This is not just a goggle game. This is a unique take on the classic word board game. You can return to life and rediscover this legendary game. You will be able to play a match with your friends.
It's fun to always play together. Log in with Facebook to play with friends and family. The app does not use your personal data. If all your friends are busy, then the app will pick up a random opponent for you.
Participate in weekly competitions to earn points and rewards. Use power-up to boost your result. You can even chat with your friends right in the app. This is a great way to stay connected.
You will be amazed by the special effects and music of the app. You will be able to sharpen your vocabulary and improve your English. The app is great for English learners. This is a good addiction for your whole family.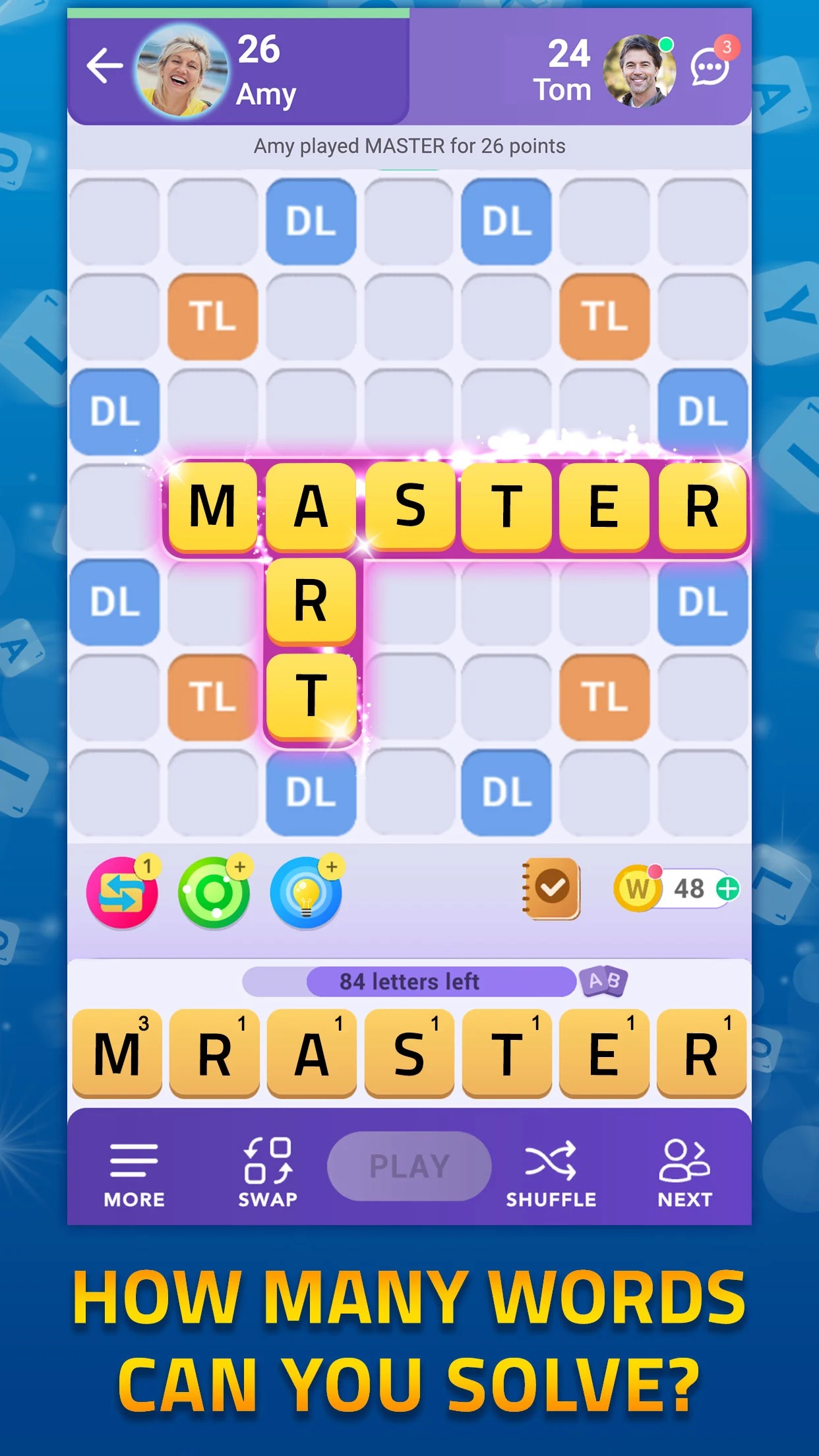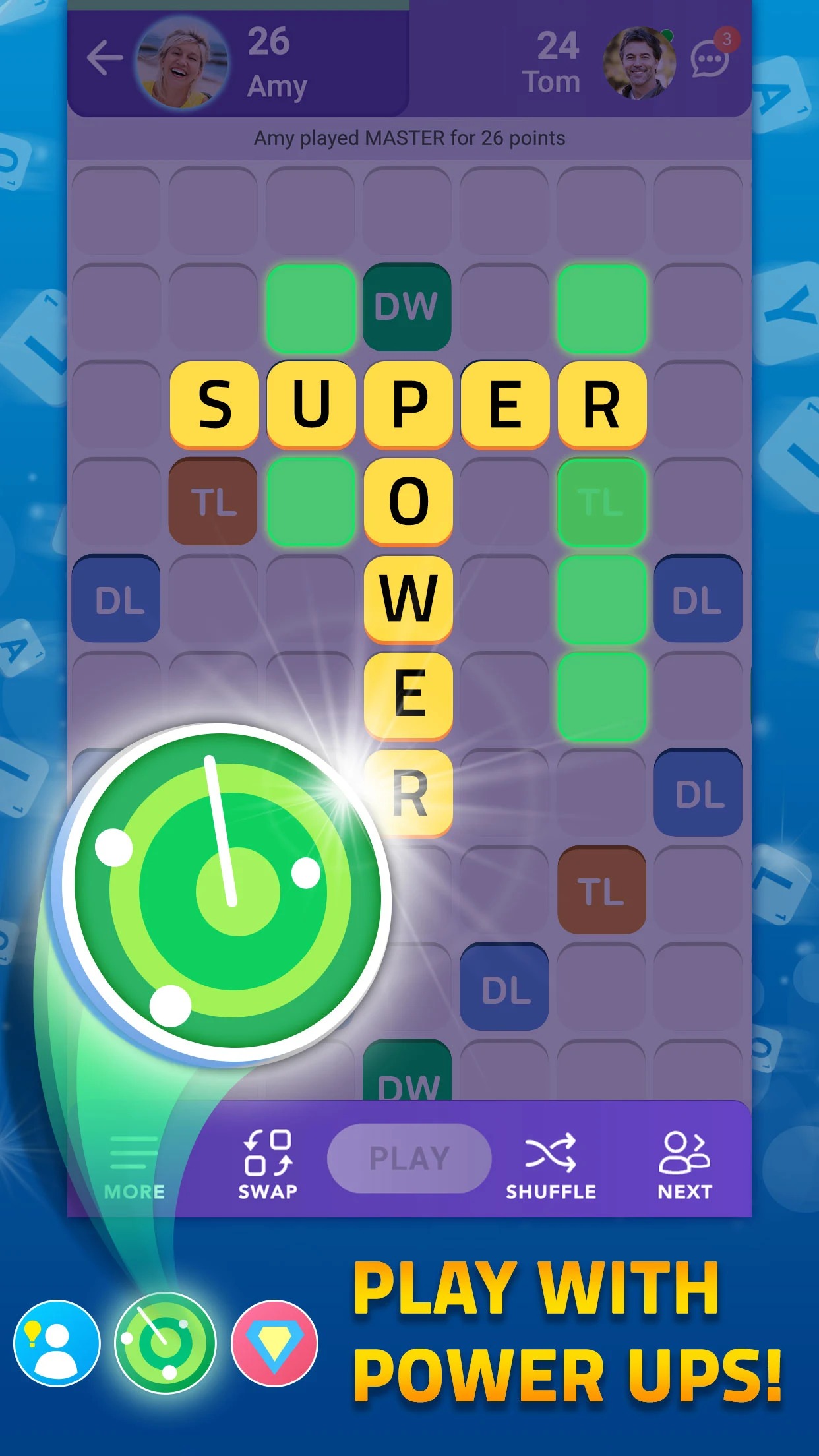 The app has been installed by over 1 million people worldwide. Download it and enjoy thousands of hours of the word of ad-free gaming.