If your favorite apps take up a lot of space in the memory of your mobile device, you can use their lighter versions. It will help you increase the speed of your phone and improve its performance.
Most popular apps have a lite-version that is available on all platforms. These apps lack some features that are not popular among users.
There may also be lower quality graphics or automatic cache removal. But it does not affect the essence and work of the applications in any way.
This review has collected the best low storage apps that will allow you to use the applications you are used to while saving space in the memory of your smartphone.
Share your social media profile in a few seconds using these free apps to create social media QR codes.
Opera Mini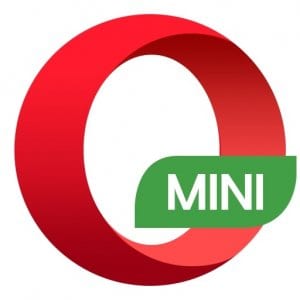 The most popular of the lightweight browsers. It attracts users with a simple interface and clear statistics on traffic saved.
Other advantages of the application include a built-in ad blocker and synchronization function. It is made for convenient use of the browser on different devices.
In previous years, the popularity of the Opera Mini mobile browser was an all-time high.
This was due to more than modest system requirements of the program. And also the ability to significantly save on incoming traffic.
But, over time, these features have ceased to be relevant, and the browser has somewhat grown in popularity. But the new version of Opera Mini is quite capable of returning the lost positions.
The first thing that catches the eye when launching the program is a completely redesigned interface. Earlier, what to hide there, it was frankly outdated and caused the rejection.
Now the program looks fresh and modern, no worse than most colleagues in the workshop. The main place on the start page is occupied by icons for quick access to your favorite sites.
Below is a recommendation panel, where the browser shows popular articles on a given topic. You can change your preferences in the settings of the home page.
Another important innovation is the presence of three options for the layout of the interface. One of them is designed for tablets, the other two – for smartphones with different screen diagonals.
To switch between them, you should go to the program settings. Here you can also activate the opening of links in the background tabs.
Change the font size by default, log into your account to synchronize bookmarks with the desktop browser, and much more. The main feature of the program was and still is the traffic compression feature. All data on the way to the user are processed on special proxy servers of the Opera company.
The text and images are compressed, and some elements of the page design are cut out. This saves 90% of incoming Internet traffic. This is significantly higher than in other browsers that use data compression technology.
To control the compression, you can open the main menu of the program, where you will see the current savings figure in a clear pie chart. Clicking on it will open a special page with more detailed data.
Another useful feature of Opera Mini is the ability to save any page for offline reading. To do this, simply click on the plus sign in the address bar and select the corresponding option.
The icon of the desired article will appear on the home page, from where you can open it and read it without access to the Internet. As for the speed of the browser, it depends on the connection you use. If you are using high-speed Wi-Fi, you may not see any speed up the download sites.
But if your bandwidth is lame, Opera Mini can show you many accelerations of surfing. Let's not forget about the opportunity to save on data transfer. If you are, for example, in roaming. To sum up, we can say that before we are a brand new Opera, but with friends, it is worthy to take the place if not the main.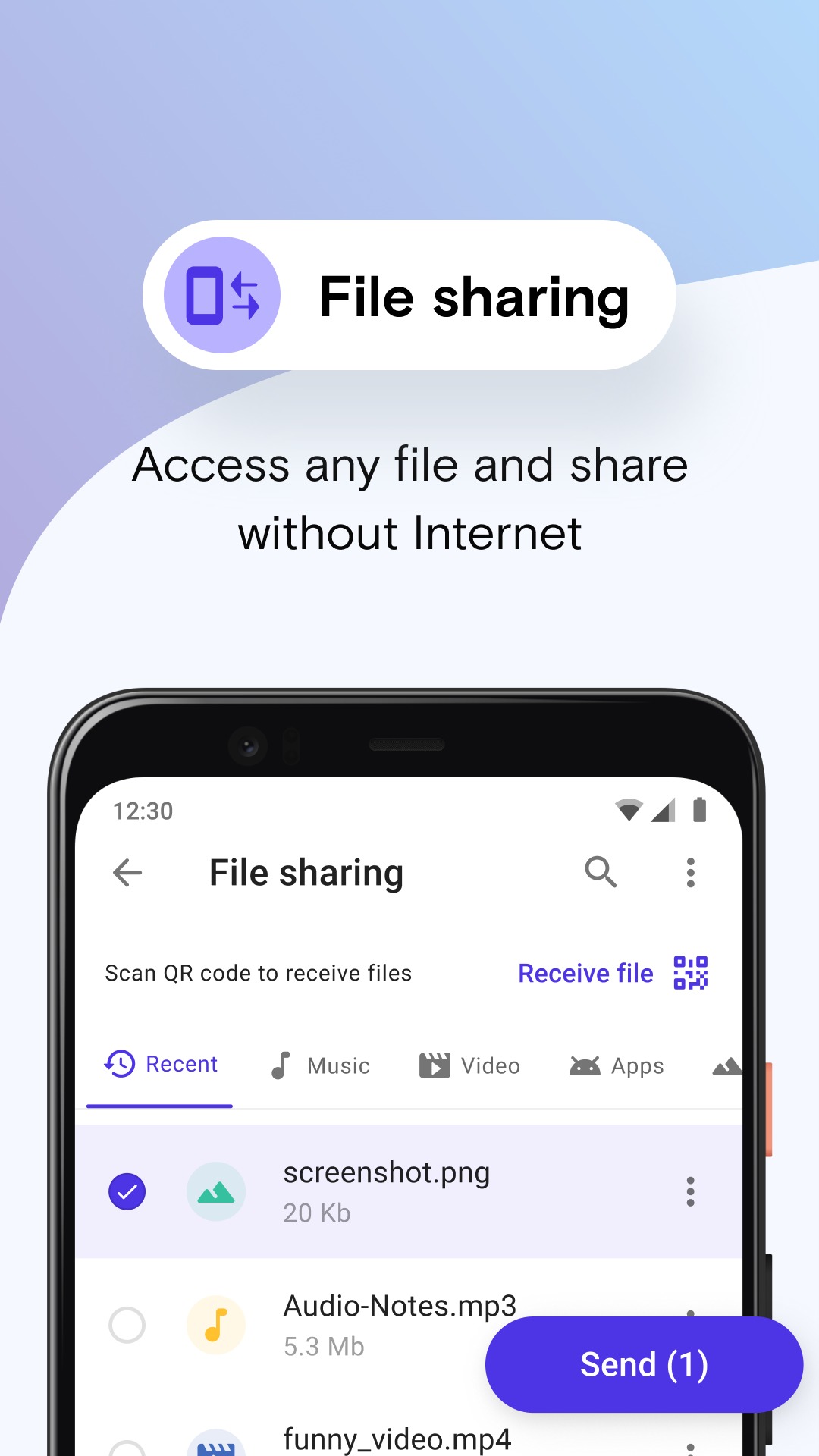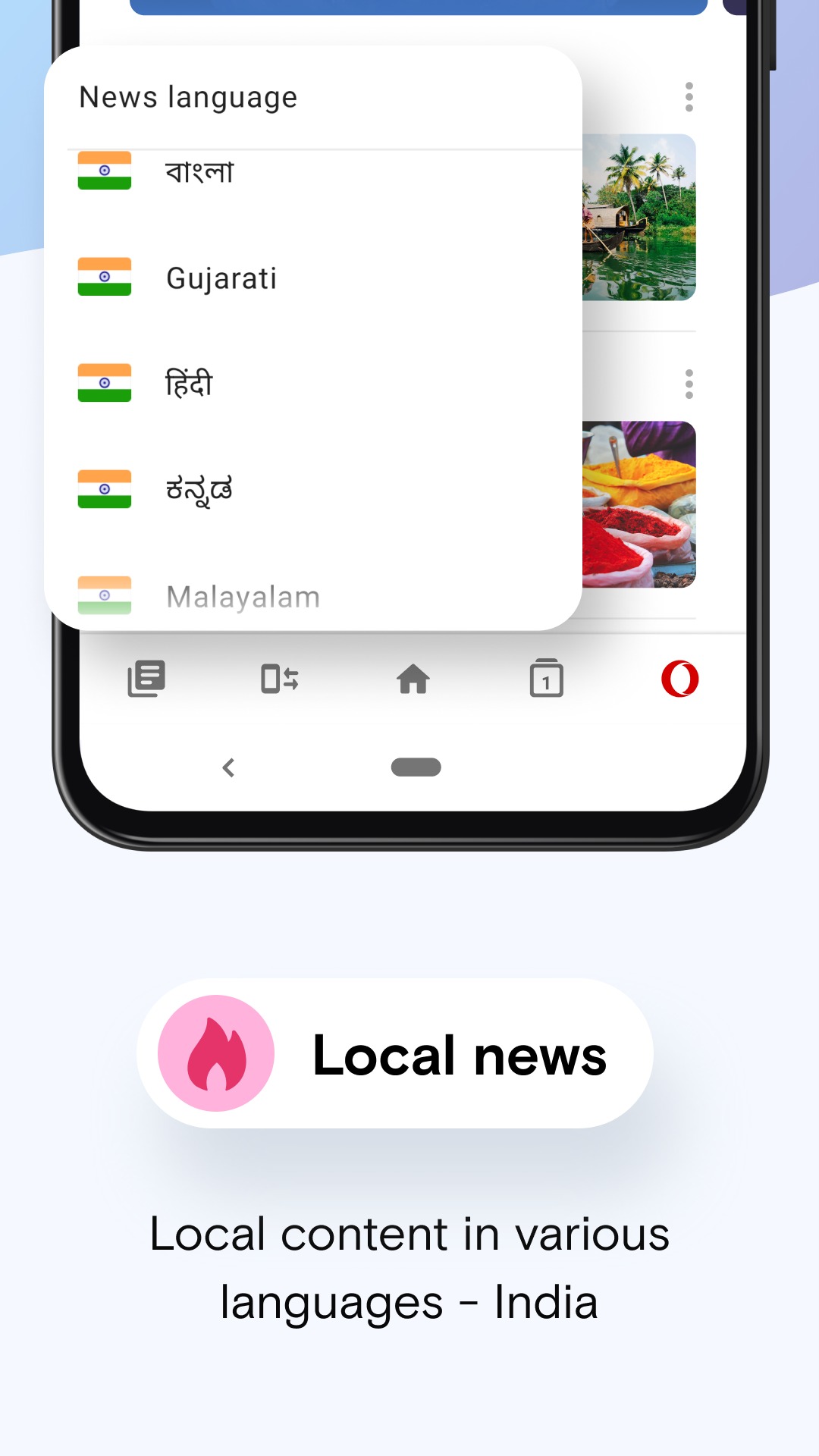 Then auxiliary observer in case you need to work through a slow Internet connection.


You may also like: 11 Best Phone Virus Cleaners for Android & iOS
Facebook Lite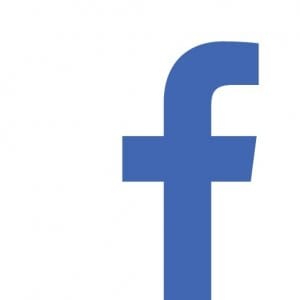 This is the fastest application to access Facebook.
Unlike the main client, it is much less demanding on device resources and mobile network speeds.
That's why it's comfortable to use on almost any Android smartphone and even on 2G networks.
Possessors of weak and medium smartphones know firsthand how slow Facebook application works.
But there is a way out! And this application, which works quickly even with a slow Internet connection, is Facebook Lite.
The Facebook app is one of the hardest and slowest applications. Even on expensive devices with very powerful stuffing, the app is far from perfect.
Most often these are smartphones in the middle and low price range. For these social network users, Facebook Lite is the right app for them.
The application really works very fast and without complaints. You can chat with your friends, view the feed, post new entries in your feed, and much more.
The functionality is almost the same as that of the "big" app. It is worth noting that you do not have the option to sort your news feed.
Facebook itself, according to its great algorithm, will sort the news for you.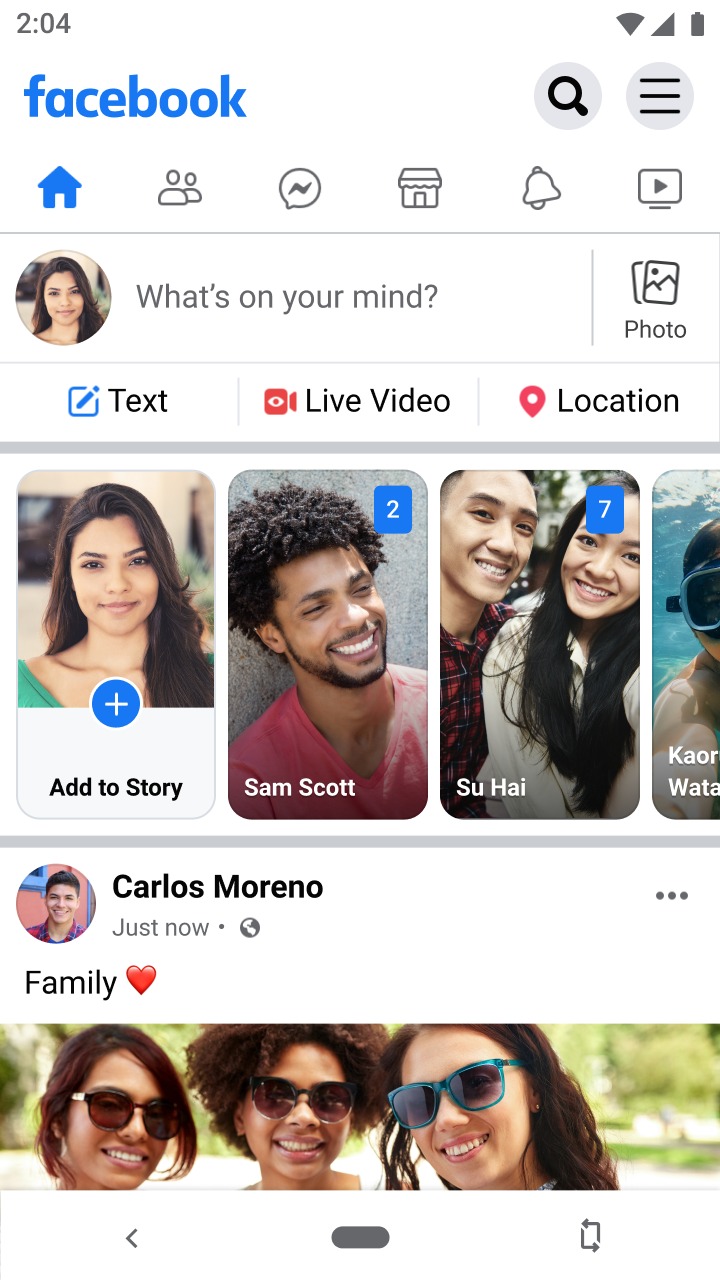 But what should you expect from a program that weighs 1 MB and works fast when you have a slow internet connection? It's up to you to decide whether you want a nice design or a fast job.

UC Browser Mini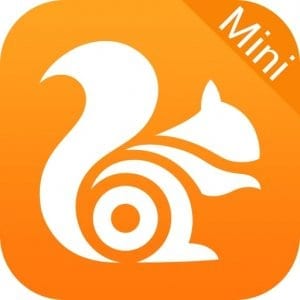 It is a very light and fast browser with the largest traffic saving and all the necessary functions.
It has a built-in download manager, incognito mode, night mode, and handy tab tools. All this when the application weighs less than 3 MB.
This browser is easy to learn, loyal to beginners, and looks like a new version of the operating system.
There are themes, everything is beautiful and so on.
Only unchangeable shortcuts on the main desktop of the browser are disappointing. But, there is a lifehack that solves this issue.
In terms of the work plan, the application showed itself very and very well, and in the browser, tests provided high results.
And it also supports Flash elements and can download the same Adobe Flash Player for yourself. But, with scroll and page scaling the case could go better. But the functions in the browser is quite a lot.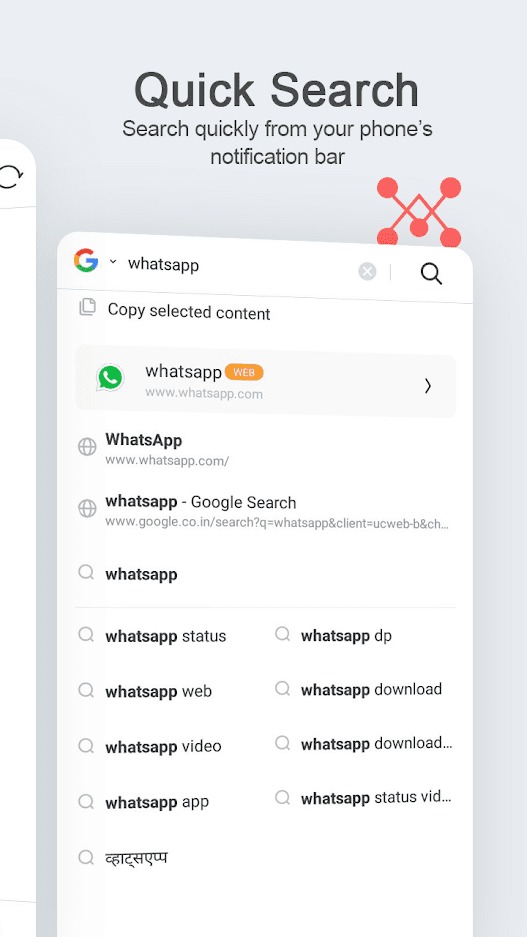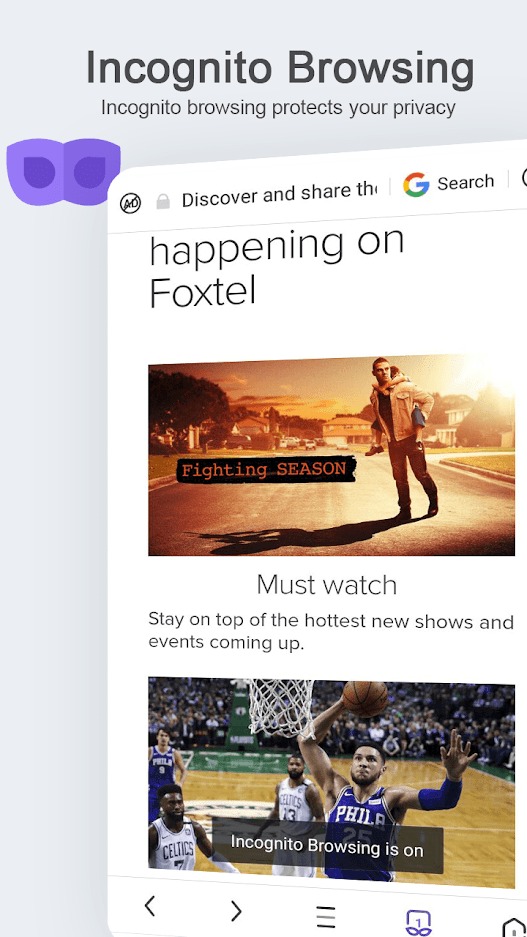 Thanks to the support of extensions, the program's capabilities are simply limitless. It only blocks advertising is worth.

Camera360 Lite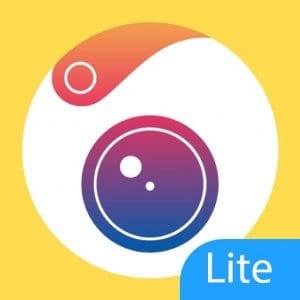 Easy service for creating spectacular selfies and photos with the main camera.
With its help, you can stylize and retouch portraits, use various effects, and apply ready-made filters.
Share your shots with friends using the built-in zoom function.
There are a lot of such "cameras" in recent years. But, in our opinion, one of the best applications is Camera 360.
The main difference between this camera and others is a large number of effects and modes for photo processing.
The main screen of the application has only a landscape orientation and there are controls at its edges. On the left, you can see information about the mode enabled and the effect applied.
At the bottom is the zoom scale. On the right side are the main function buttons. Mode selection, auto-focus descent, and staging on/off. On the top, there are buttons to control a specific mode and settings.
Camera360 is not the best option to improve the quality of the camera. But you can compensate for this shortcoming with the help of a photo editor, even if it requires some enthusiasm.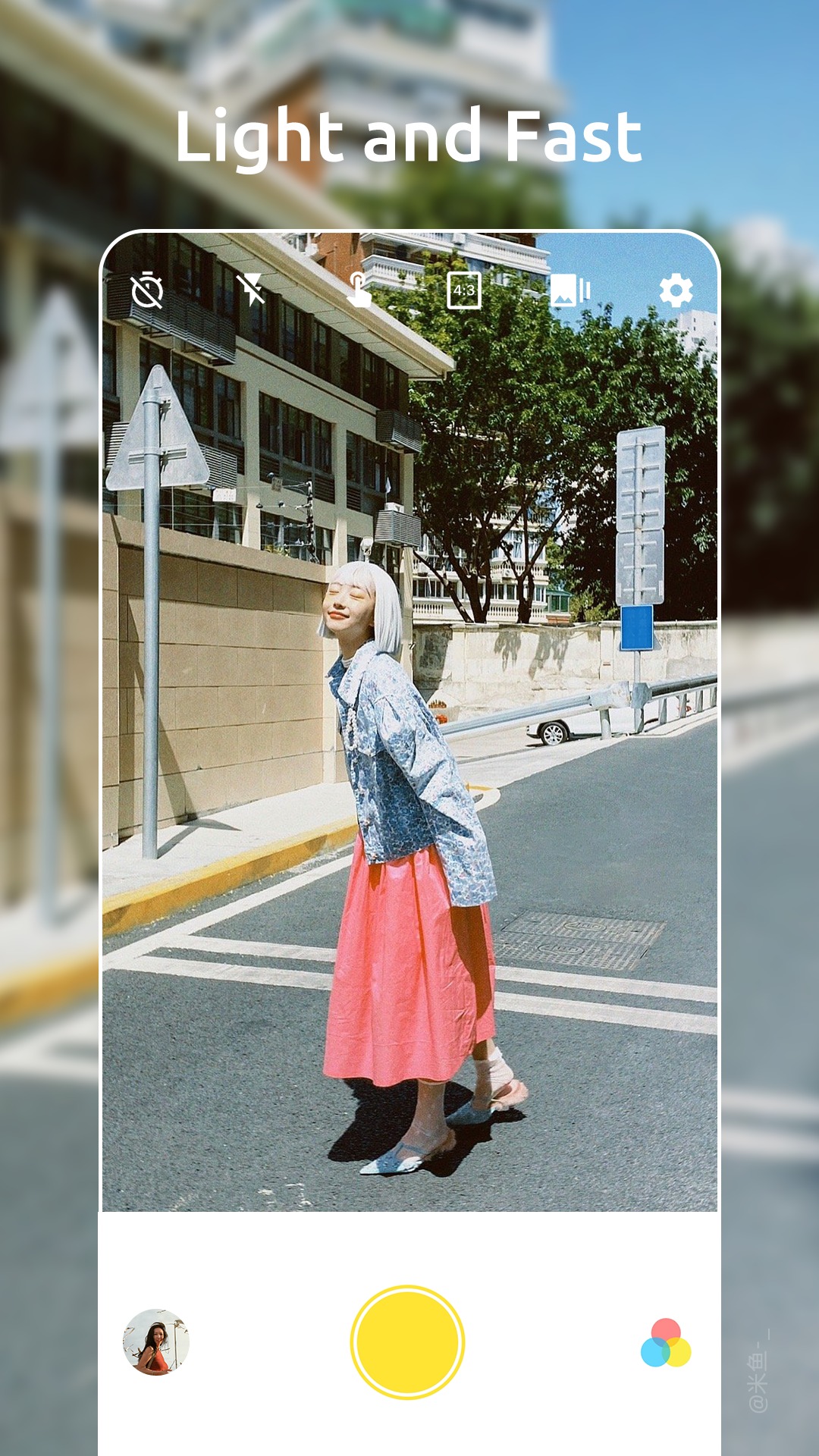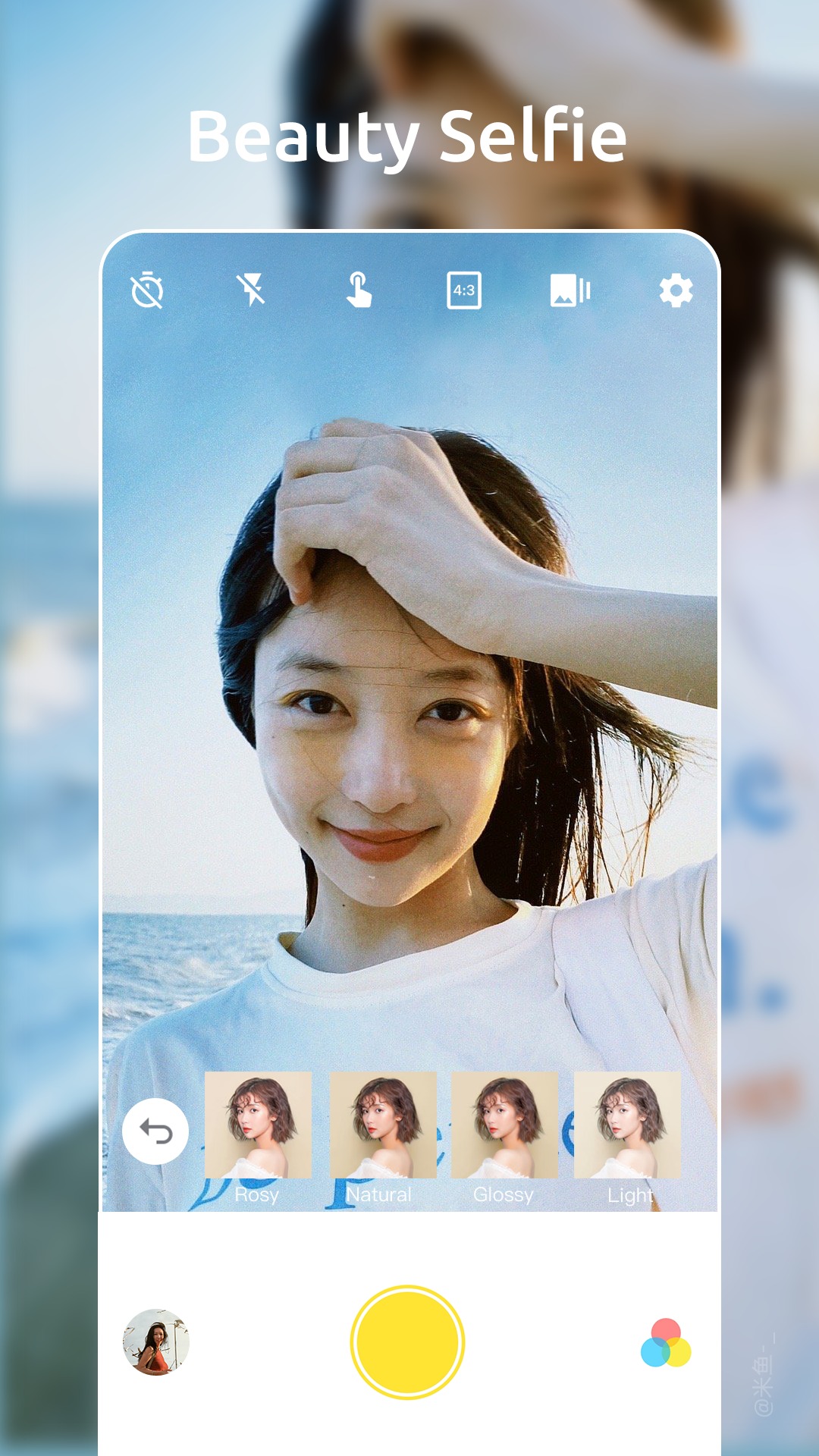 This application will definitely appeal to those who love the so-called ear banners. And do not suffer from an excess of narcissism, and consumes it within normal limits.


Clean Master Lite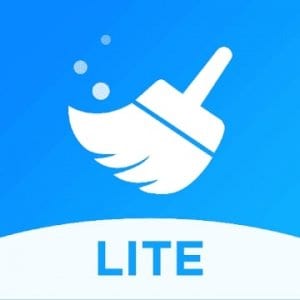 This is a simplified version of a well-known application.
It helps the device work faster by cleaning up RAM and deleting unnecessary temporary files.
You can also use this program to check your smartphone for viruses and detect the most energy-consuming applications.
This is a light version of the utility that allows you to speed up your gadget and remove unnecessary files from the RAM and flash memory.
Developers have left only the most necessary tools for every day. For example, garbage removal, speeding up work, antivirus, and saving energy.
By removing the garbage, you will clean the storage of your smartphone or tablet, as well as remove unnecessary data from RAM. The device is accelerated by forcibly stopping running processes.
It often happens that you run an application just to look at it and close it immediately. But the program may actually stay asleep and "bite off" valuable resources.
The energy-saving module first scans the memory and lists the programs that consume the most battery power.
It is up to you to decide which programs to close and which to leave running. Social network clients and news aggregators often actively consume battery power.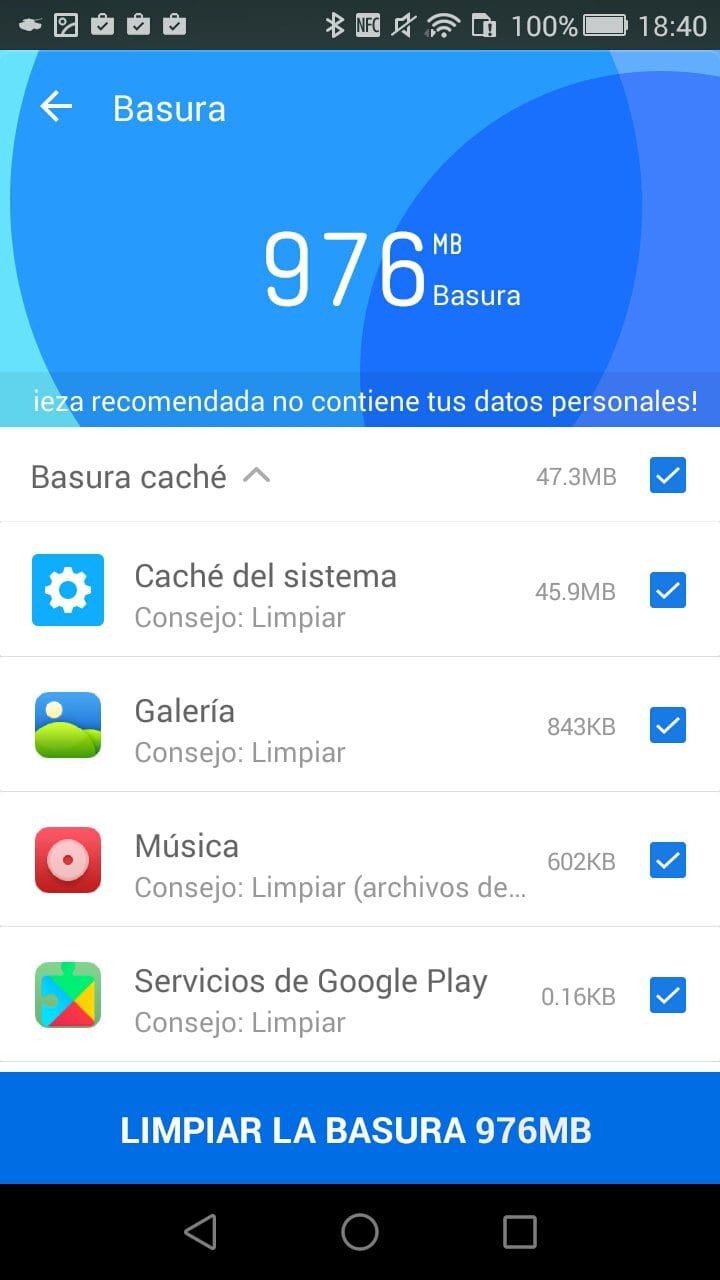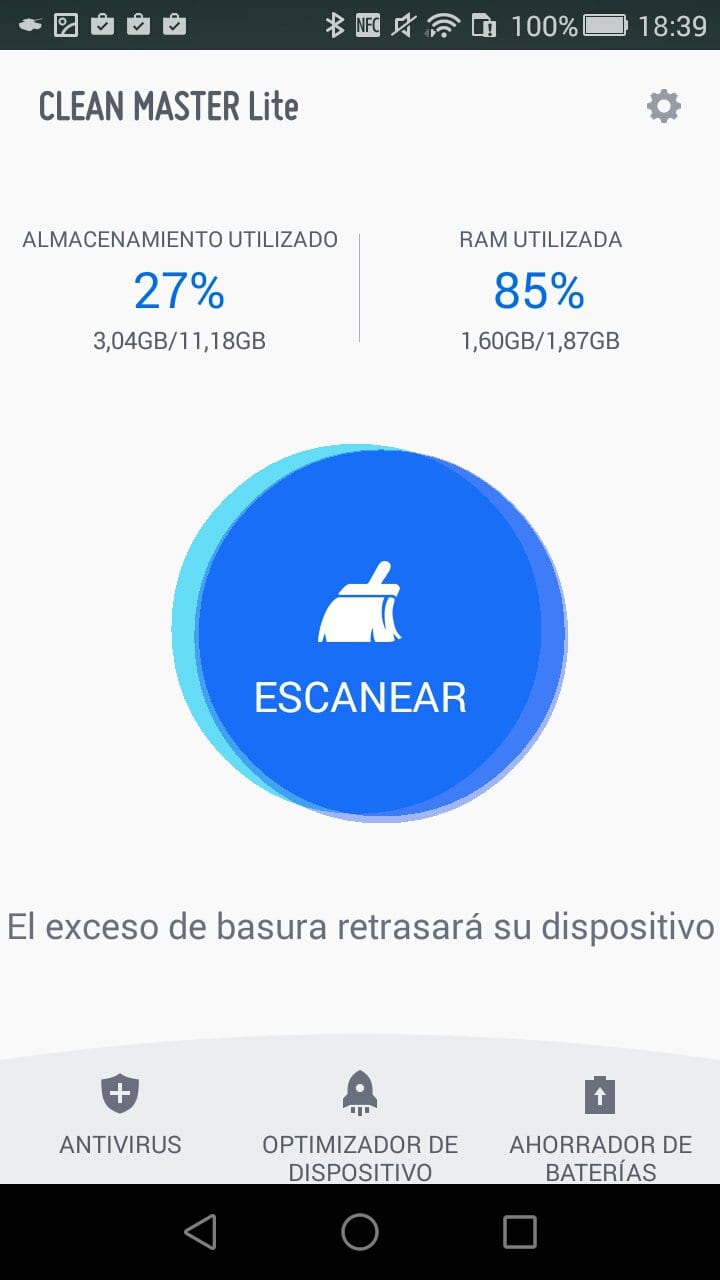 The antivirus included in Clean Master Lite allows you to check your system for malicious code.


Parallel Space Lite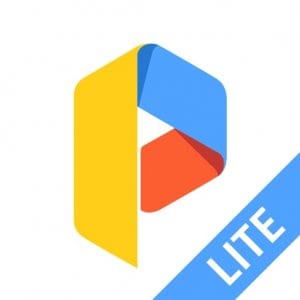 It is almost the same as Parallel Space, but without the store of those and some other secondary options.
The key functions of the original are available in full.
You can easily clone applications, quickly switch between accounts, and duplicate icons on your desktop.
Parallel Space utility can clone applications. It allows you to access Facebook, Twitter, Instagram under several accounts simultaneously.
Using many accounts on social networks is the most common thing today. It allows you to differentiate between your personal and work activities as clearly as possible.
One account is used for personal messages and photos of your pet. Another is for business contacts, website promotion, and advertising of your services.
But, none of today's branded clients of social networks offer the possibility of quick switching between accounts.
A third-party app Parallel Space that can make duplicates of installed applications comes to the aid.
This way, for example, you can create a Facebook clone and use this social network on behalf of different virtual personalities. This application can be just as useful for online gaming enthusiasts.
Using many accounts will allow them to enjoy the game twice as much. And maybe achieve better results in competition with other participants.
To create an application clone, you only need to perform two simple steps. Run Parallel Space and click on the plus button.
Then select the program you want to clone from the list of applications installed on your smartphone. After that, all you need to do is to run a copy of the program and enter new credentials.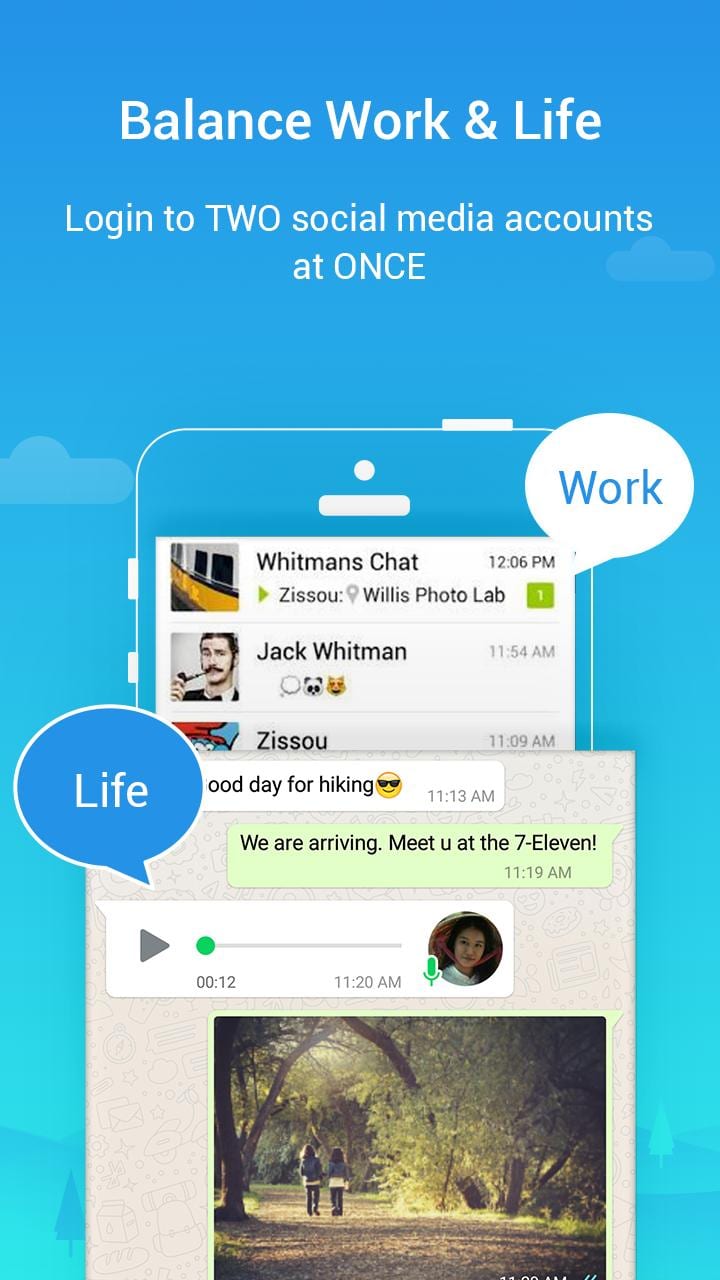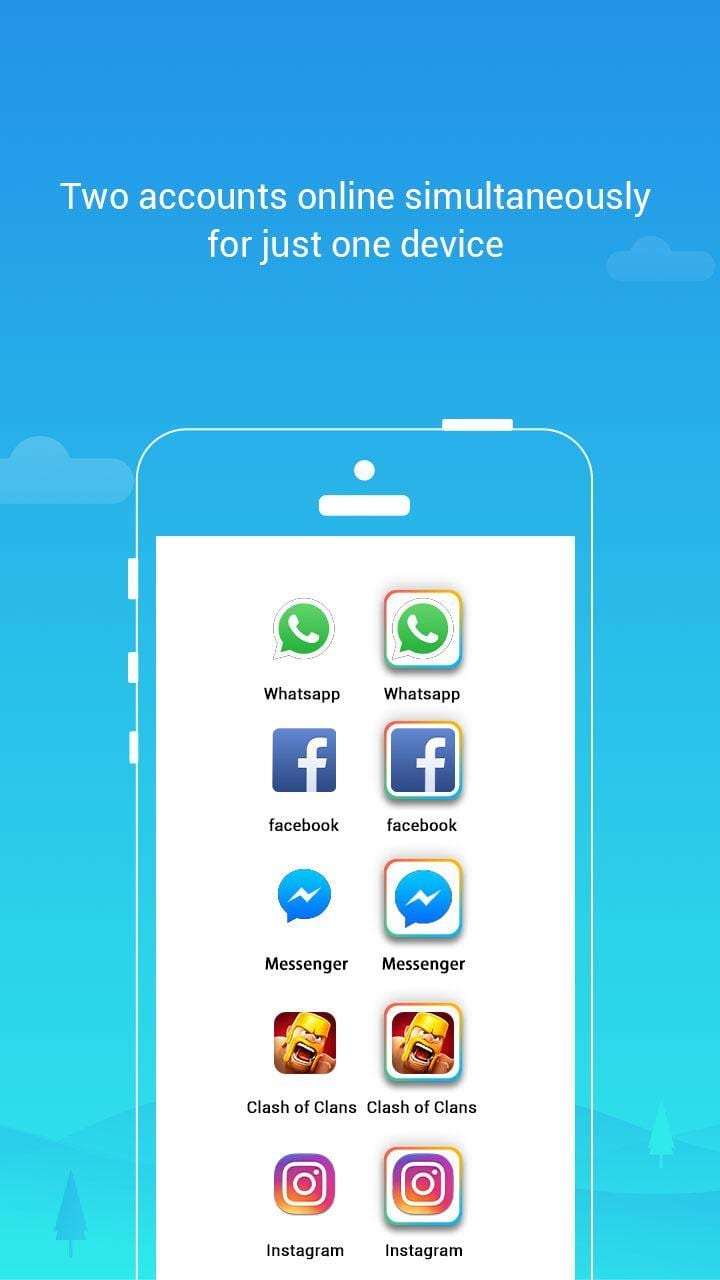 You can also color the created clone using one of the suggestions so that you don't get confused with your accounts.


You may also like: 11 Best apps to find people's social media
Google Go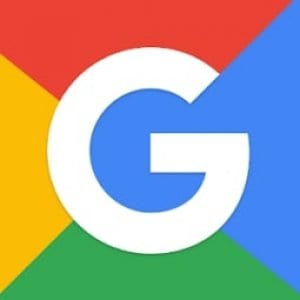 A year and a half ago, the Google Go search application was released in India and Indonesia, and now it is available worldwide.
The program is designed for weak smartphones, as well as for countries with bad or expensive Internet.
Google Go takes only about 7 MB and remembers open pages, even when the smartphone loses its connection to the web.
You can search for information through the app not only in the standard way but also by voice and camera.
With Google Go, you can scroll through the news feed, look for pictures, and browse through pages in simplified mode. You can use the application to quickly access frequently visited sites.
Google also has other Google apps that are designed for weak devices.
They include Maps Go maps, Gallery Go photo gallery, Files Go file manager, and a program for viewing and downloading YouTube Go videos.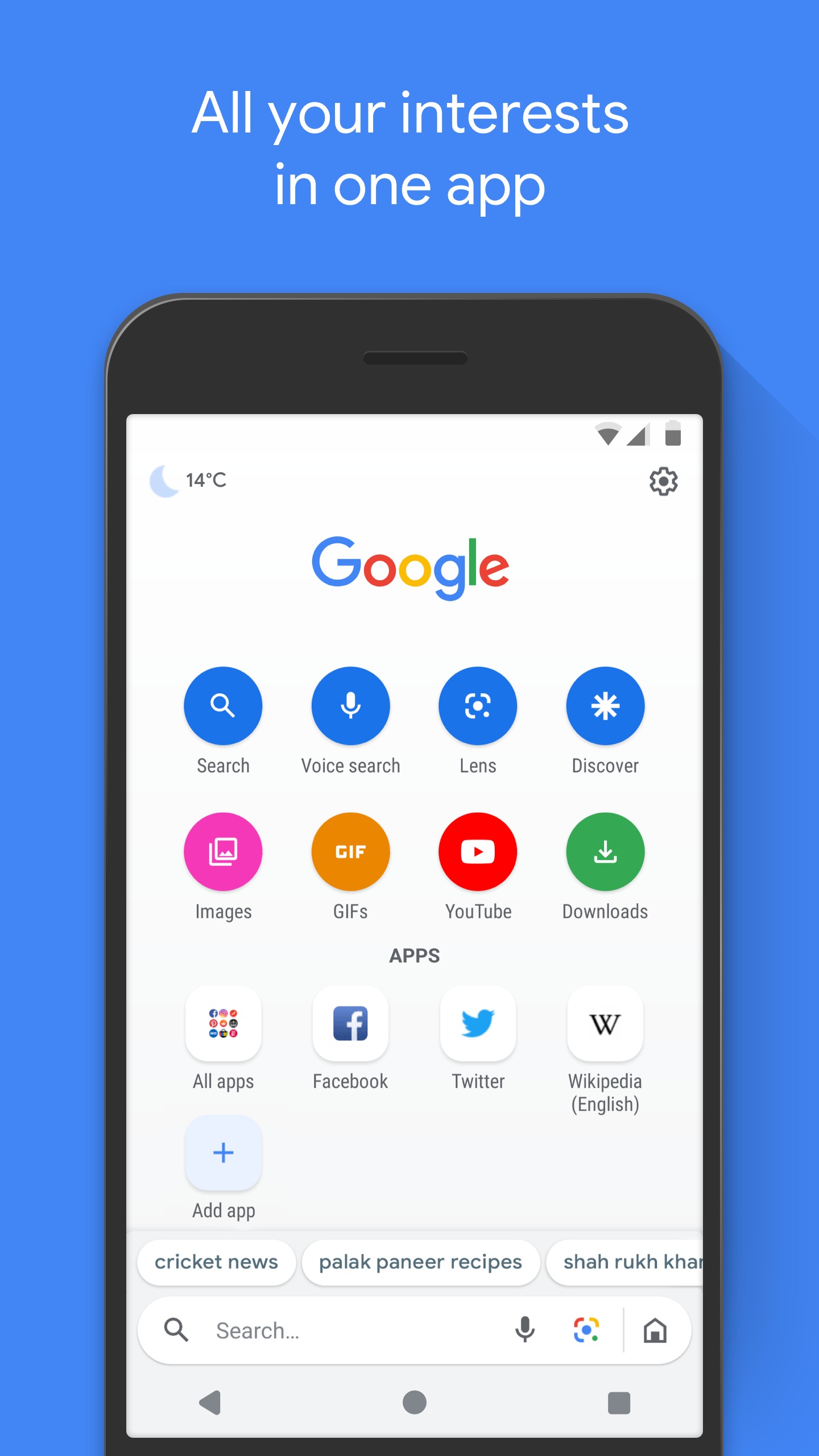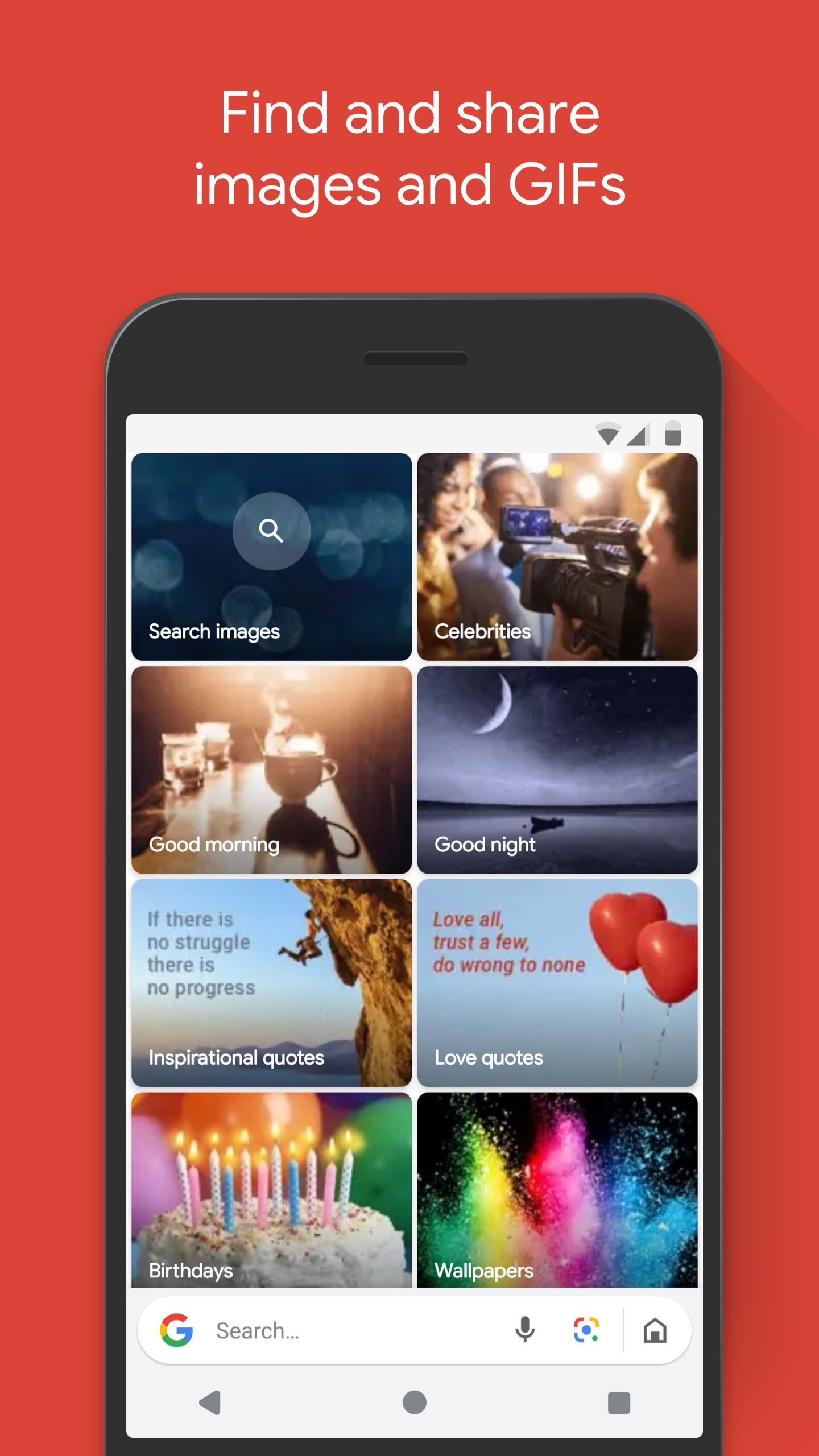 There is also Android Go, a lightweight version of the mobile operating system.

Skype Lite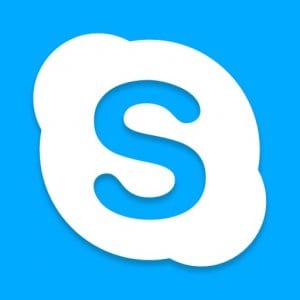 Originally this application was created especially for India, but now anyone can download it.
Unlike the original Skype client, it is lighter in weight and fully integrated with standard messaging and calling tools.
At one time, Skype was incredibly popular, but under the pressure of competitors, it went into the shadows.
The greediness and sluggishness of the program. This function prevented it from being comfortably used on mobile devices, played a part in this.
Microsoft recognized this problem and released a new lightweight version of Skype Lite. This program has a small size, modest consumption of traffic, and uses little system resources.
The main difference of the new program is the ability to exchange messages and calls not only within your network but also in the usual way.
After installation, it pulls all your contacts (ordinary and from Skype). They are displayed in one list. This makes it easy to make calls and send messages over Skype or a regular mobile network.
Skype Lite also has a common log of calls and messages, so you don't have to use standard applications for calling and texting at all.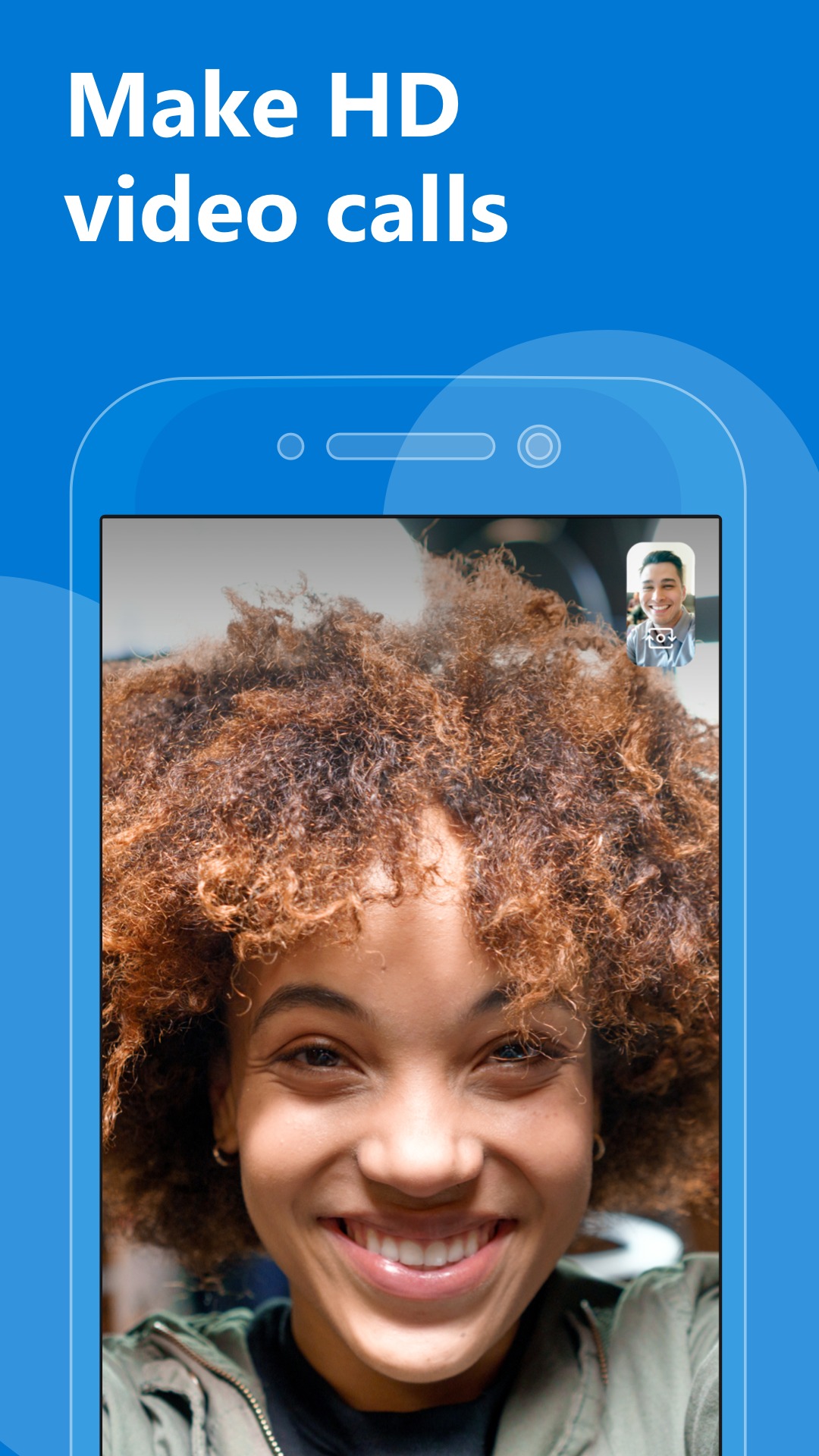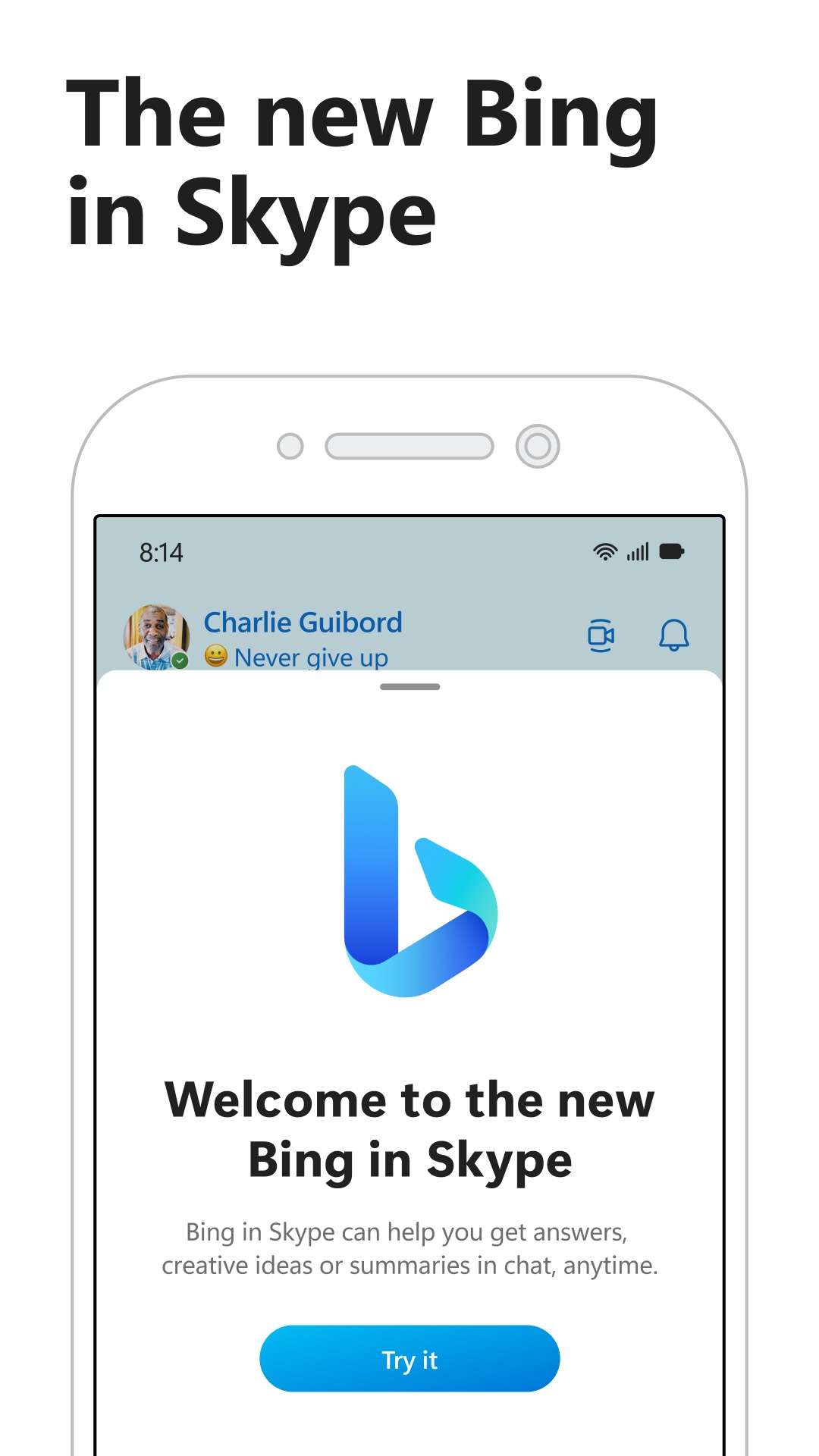 Microsoft has done exactly what users have been waiting for so long from Google. It has managed to combine all the utilities for communication in one small program.


VideoShowLite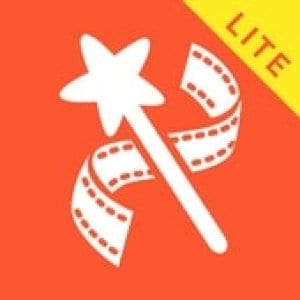 A lightweight version of the multifunction video editor, which is almost equal to its capabilities.
The main feature is that it is optimized for weak devices with the smallest amount of RAM.
VideoShow Lite is a video editor. Any smartphone has a video recording function.
And all this is great, but there is only one little problem – and where is it good to do then?
Without processing, they look rather dull, lost in the monotony of hundreds of other videos. And when the first euphoria passes, it's not always interesting even to the author himself.
So how do you fight against something like that? Of course, to make a video brighter, more colorful, and more attractive.
To have a dynamic, and watching it was a pleasure. VideoShow can be downloaded for free.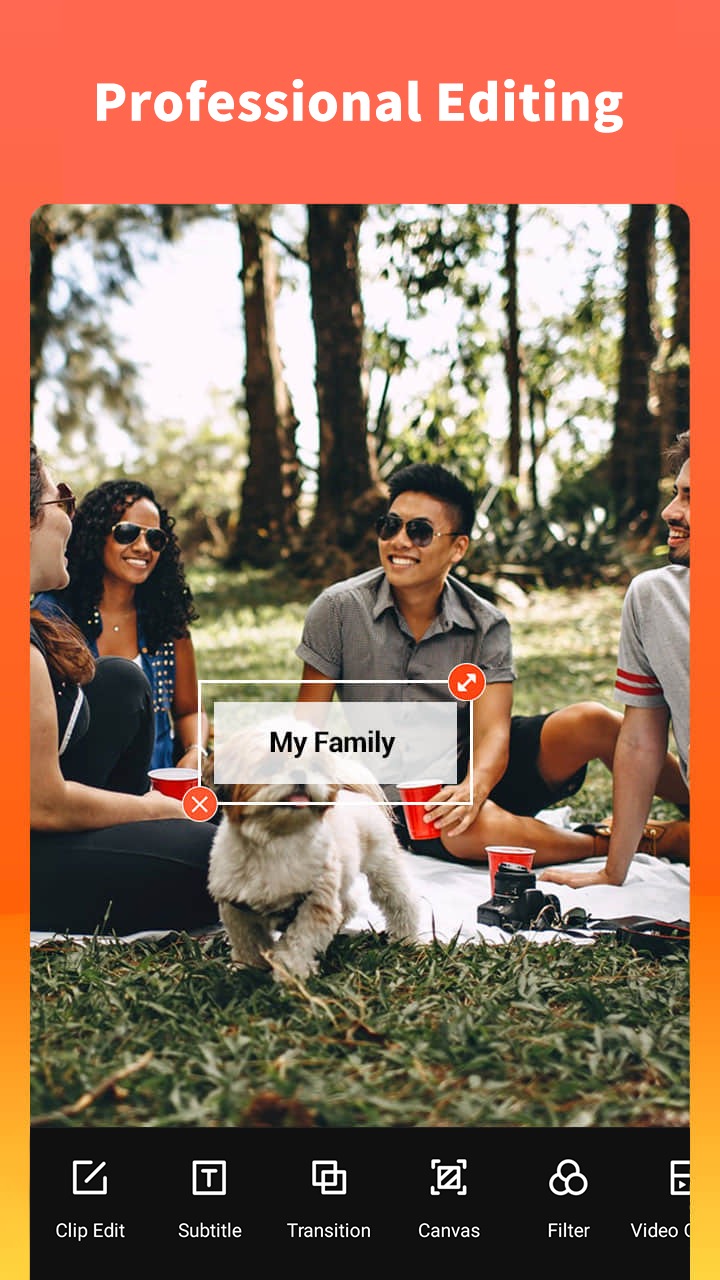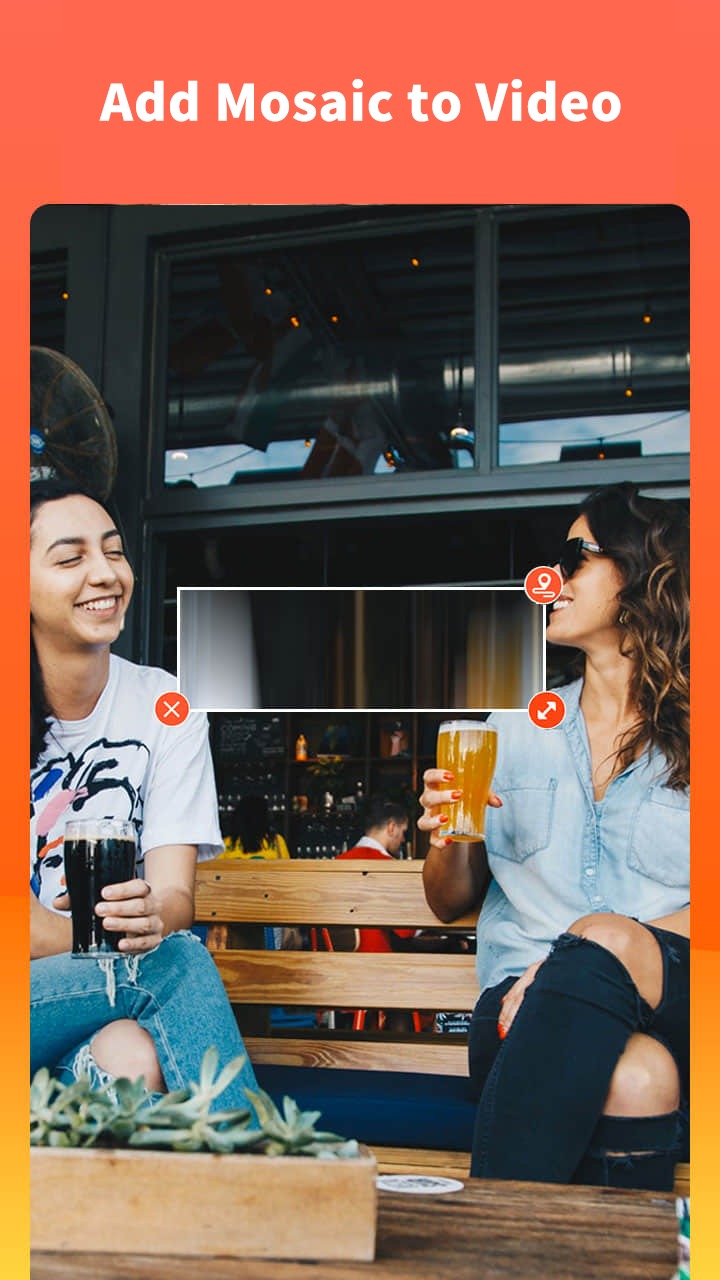 With its help, you can create a mini-masterpiece from the video that is not remarkable at first glance. Both friends are not ashamed to show and to throw in social networks.

Likee Lite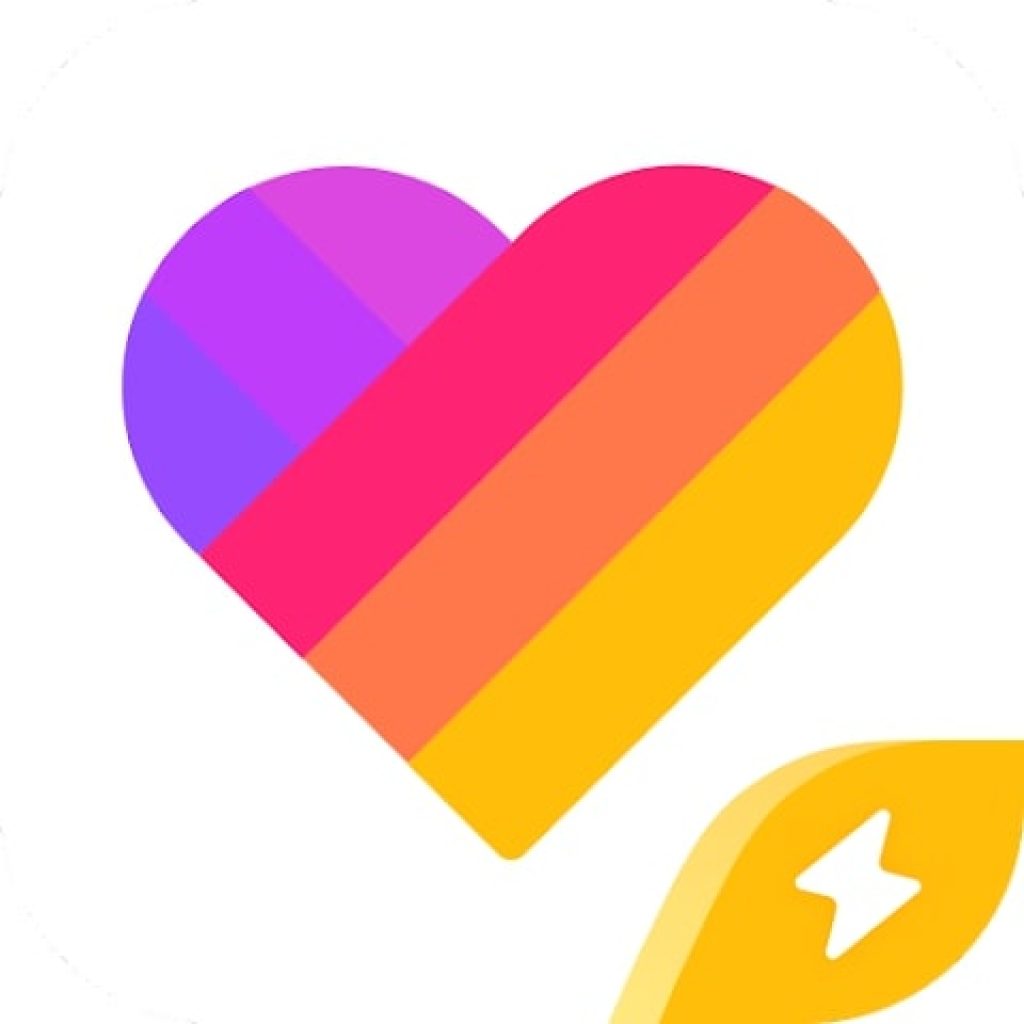 Do you want to have a few laughs and lift your spirits? The Like Lite app is an adapted version of the full Likee portal. It contains the funniest and most popular videos, which will allow you to have a great time.
The app takes up less than 15 MB and does not affect your battery power. You can use all the features of the full version of Likee. Watch videos, comment on interesting moments, and make unusual acquaintances.
The user-friendly format lets you watch videos with no delay – even on unstable internet connections. Get recommendations based on your preferences and viewing history.
The more time you spend in the app, the more accurate recommendations will be offered to you. Choose the best content on any topic: movie news, the beauty industry, or art.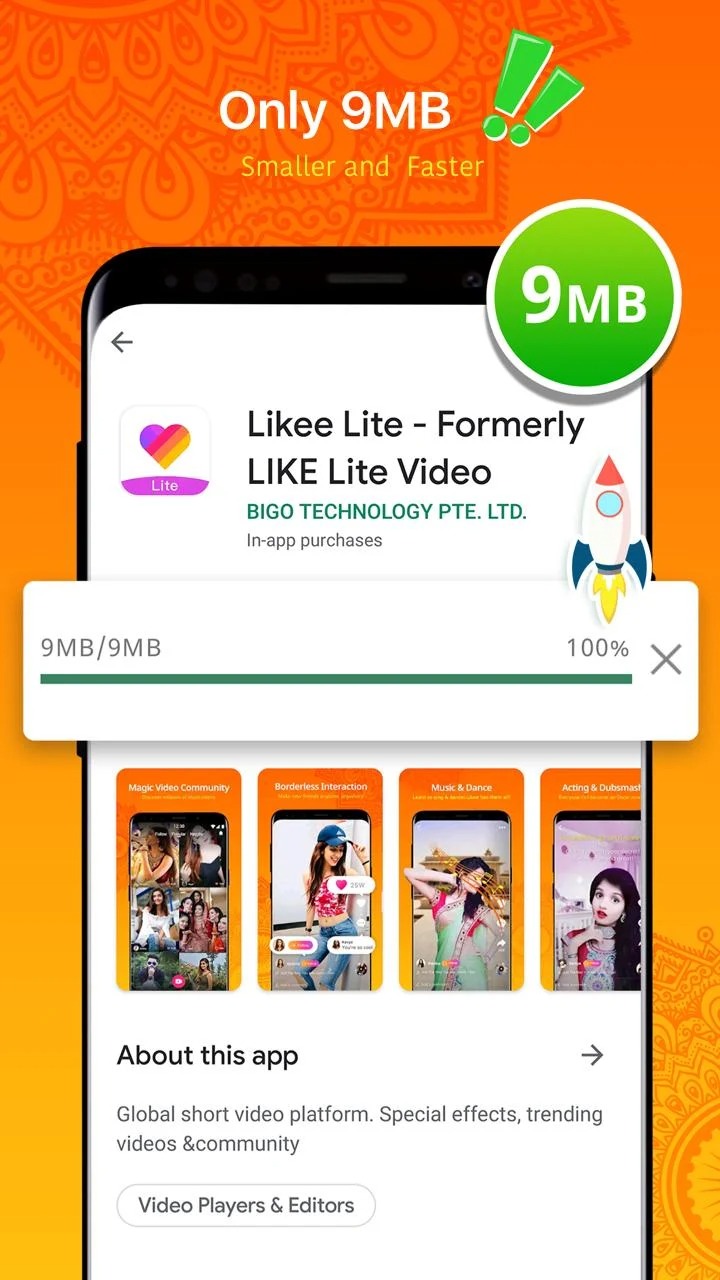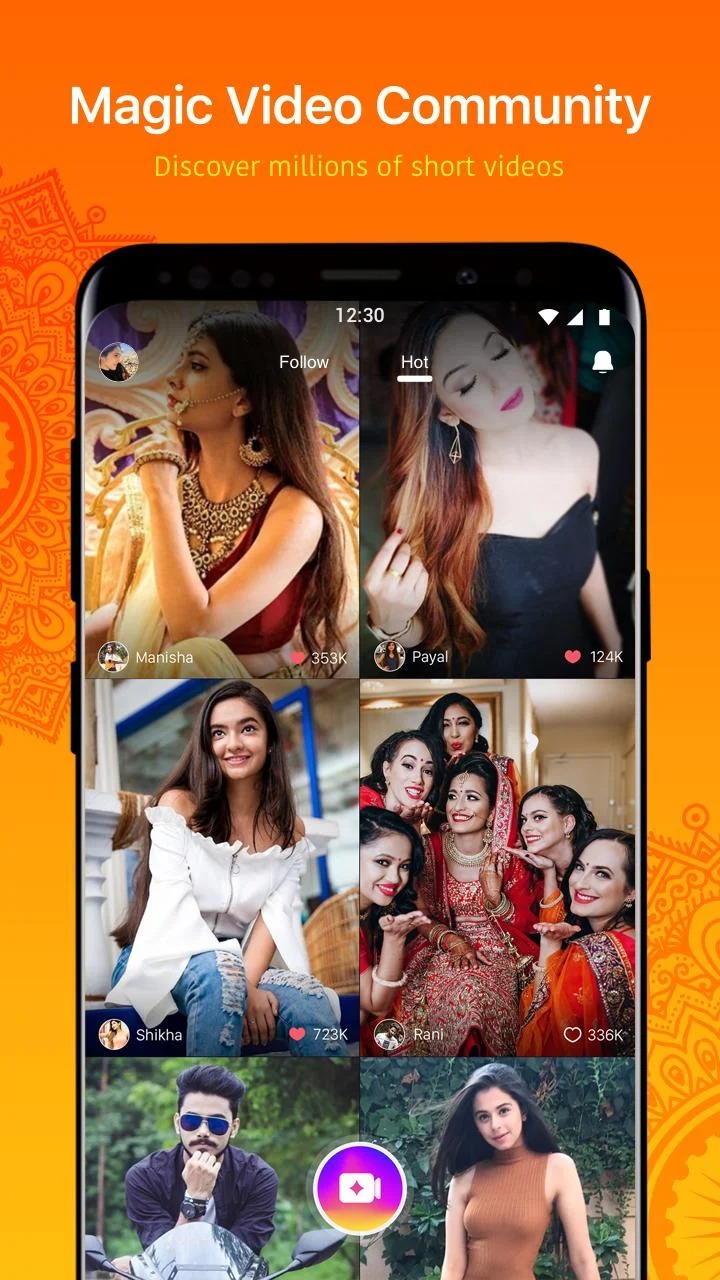 The most famous bloggers offer you new videos from their profiles. Stay up-to-date with Like Lite.

You may also like: 10 Best Social Media Content Creator Apps for Android & iOS
SHAREit Lite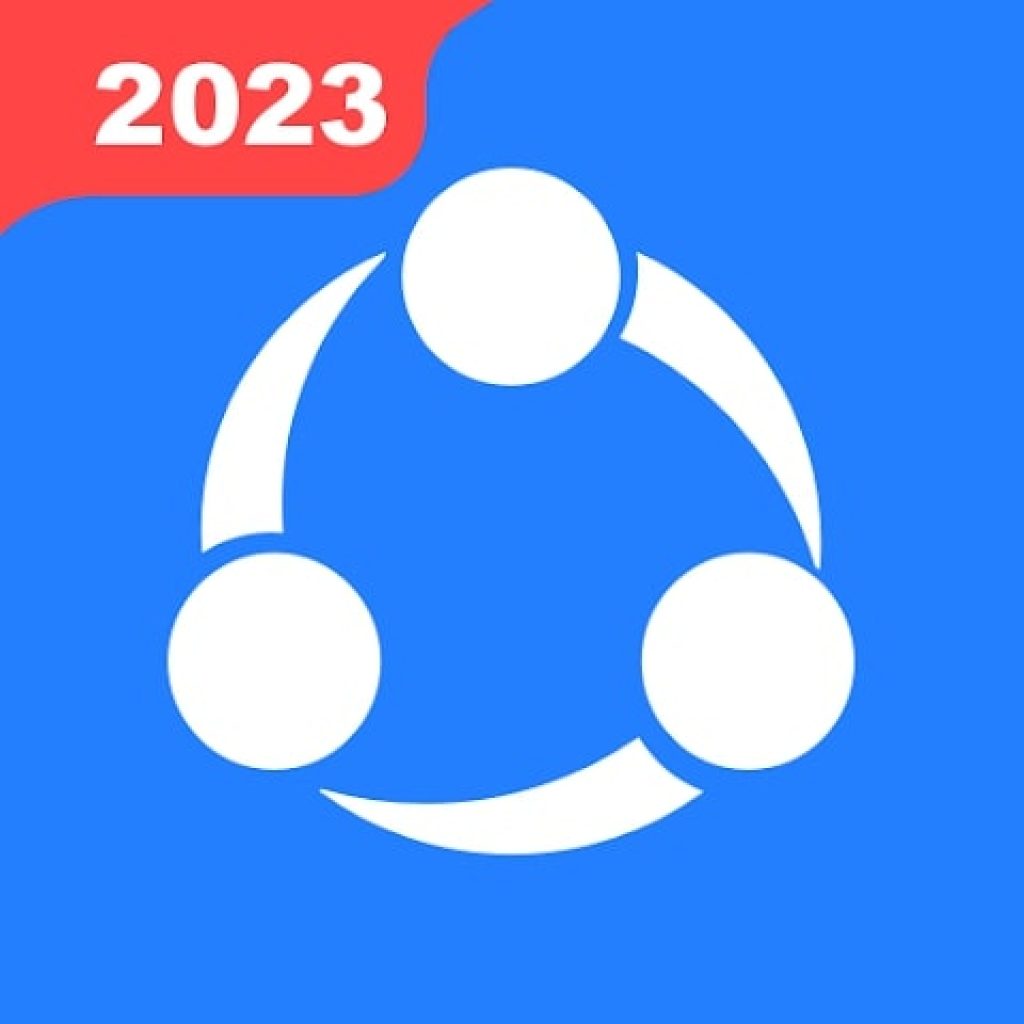 This is one of the best app for offline file sharing. SHAREit Lite is essential when you need to transfer audio, video, or photos without an internet connection.
The app requires no payment and allows you to work with files from anywhere in the world. In one session you will send almost any file to another user. Its size and format do not matter. The connection speed is close to 48 m/sec.
The app is easy to use and weighs only 27 MB. It is compatible with most electronic devices. You can send confidential information because the app protects your files from unauthorized people.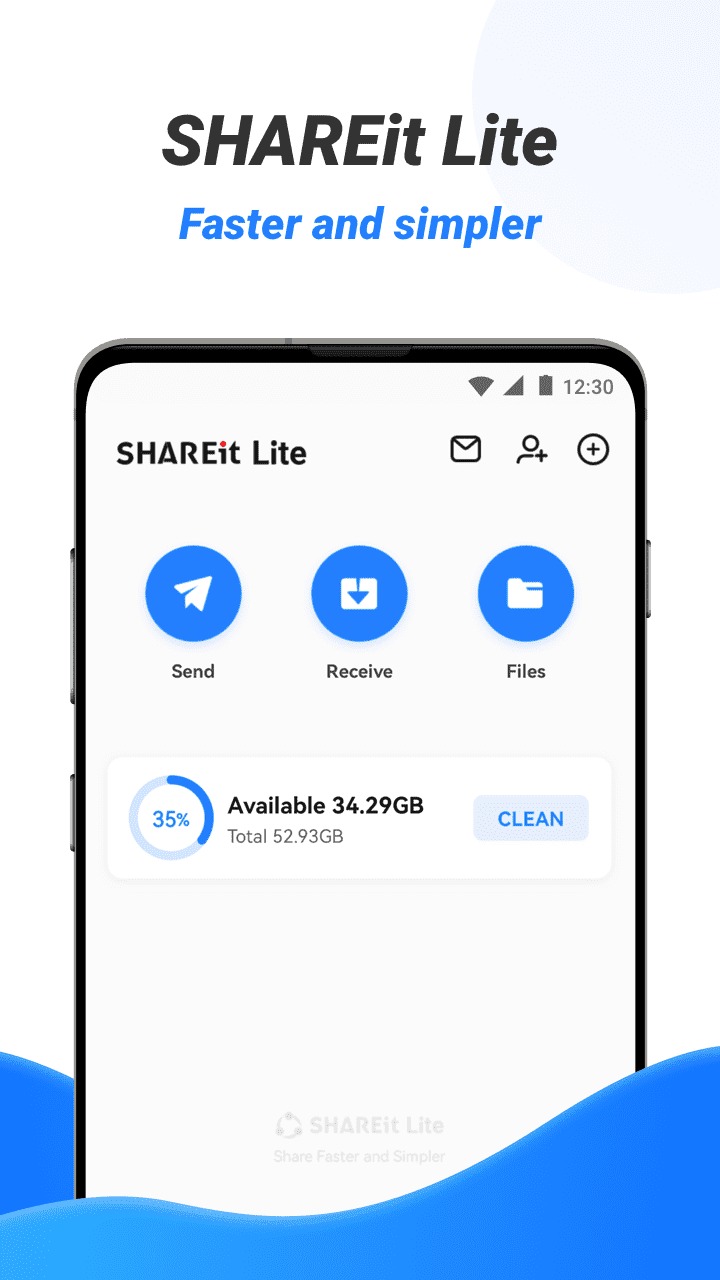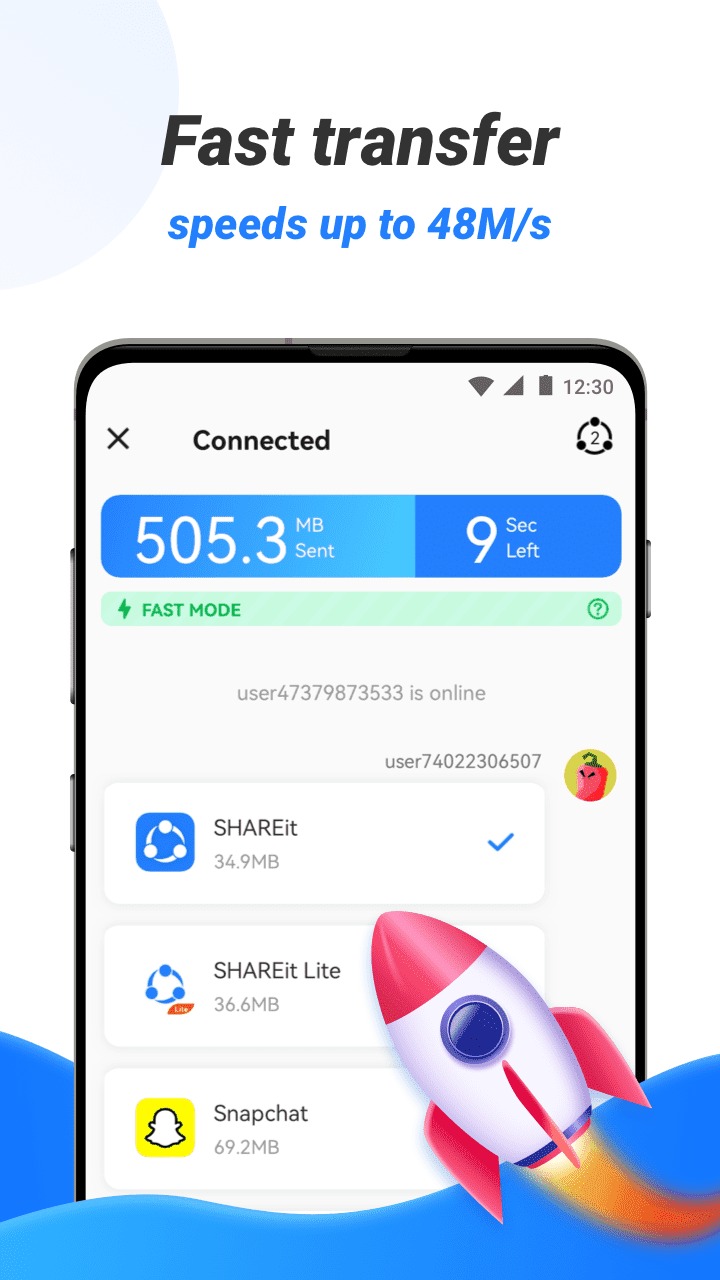 No restrictions: send compressed files, oversized videos, and entire folders of text documents. Before using SHAREit Lite, make sure the recipient's phone also has this app.