Sometimes you might need to know light intensity but you can't measure it without any special device. However, it's not too wise to buy a complicated technical device for one measurement.
That's why it might be better to use a good application instead. We have collected the best options for iOS, as well as Android users.
By the way, if you need to know if your house is good enough for a healthy lifestyle, read 7 Best Apps to Measure Humidity in House (Android & iOS).
Most of them are free of charge or they have at least a free trial period. Download them and enjoy precise measurements.
LUX Light Meter Free
Here is a pretty cool application for light measurements. It is famous for its simple and intuitive interface. It can also see and tell you the level of light in your room, outside your house, in your office, or your favorite photographs.
The app is 100% free. To enjoy all the functions provided by the app, you will have to put up with ads that can't be removed or skipped.
You can also measure the level of light when you are taking a photo from your smartphone. The LUX Meter will show you the value right on the screen. You can also correct the space that will be analyzed.
LUX Meter used to have a few bugs but the developers promise to fix them as soon as possible. However, we can't guarantee that it will be done because the application isn't being updated regularly.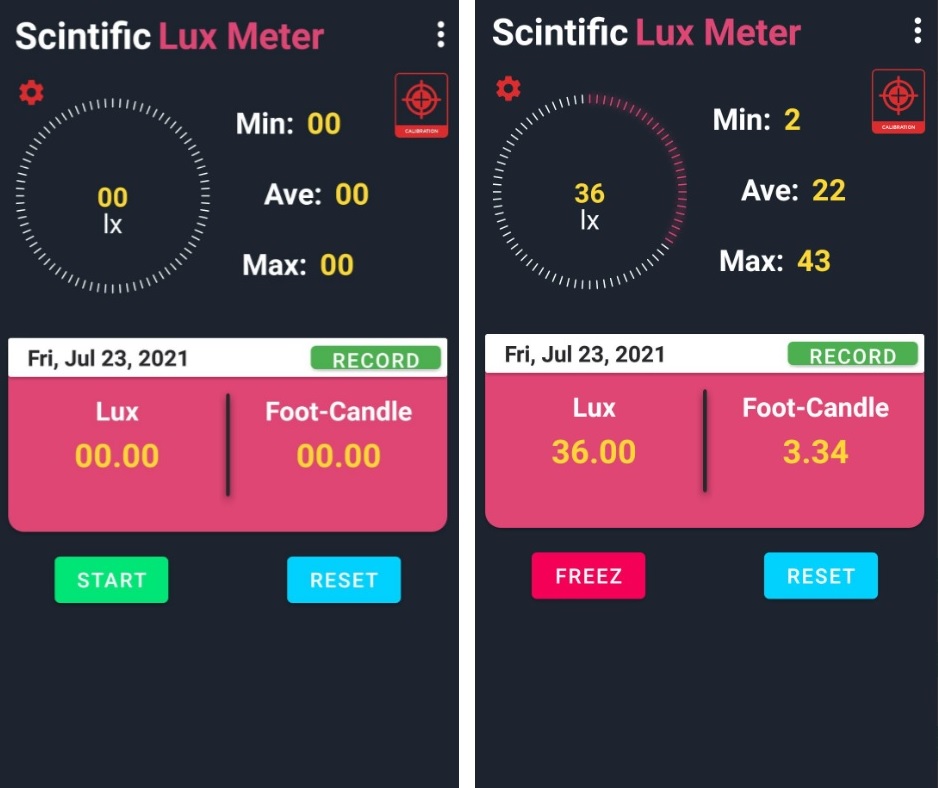 You can also like: 11 Best Apps to Measure Air Pollution (Android & iOS)
Lux Light Meter Pro
Are you looking for an app that will be effective and easy at the same time? If yes, Lux Meter Pro is the best solution for you.
What can the app give you? Well, first of all, it will help you measure and compare light levels both on the street and at home.
Let's look at the best features that Lux Light Meter can provide you with:
Fast measurements

. Once you download the lux meter, you can open it and view the light. It will analyze it and give you the result in a few seconds.

The app can

give you average and maximum values

of light levels so that you could compare and analyze them.

You can

use any of your cameras

, including the front one.
Please don't forget that we can't recommend the results of measurements will be 100% accurate. That's why it can't serve instead of professional equipment.
The developer collects data about you, such as your location, usage info, contacts, and many other details. However, the app won't link this data to you so it's safe.
But it is worth it if you want to measure light easily and fast.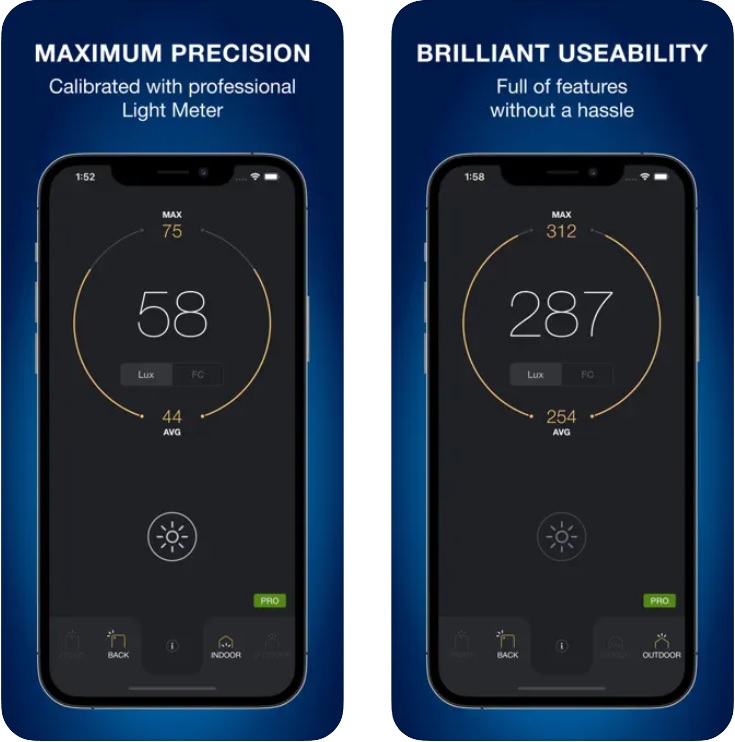 Lumu Light Meter
Do you often work with images? If yes, you can't do without Lumu Light because it has a big toolset for working with color and light. You can use it in many different ways.
First of all, you can open a photo or an image in Lumu Light and see the detailed info about its colors and light value. Secondly, you can try using the app when making a photo.
The most striking function is that you can measure the light in videos. This is the only application in this list that can boast of such an option.
What is more, you can enjoy a huge number of cool filters. In this case, the app can serve as a photo and video editor.
You can also try notes. When you work with a photo, you can write some important details about it, such as its location or the time when it was snapped. Tap on the note to read it and tap again to hide the text.
We have mentioned about 30% of all the functions available for free. Download the app and explore all the opportunities it has.
Remember about it if your device is running out of memory.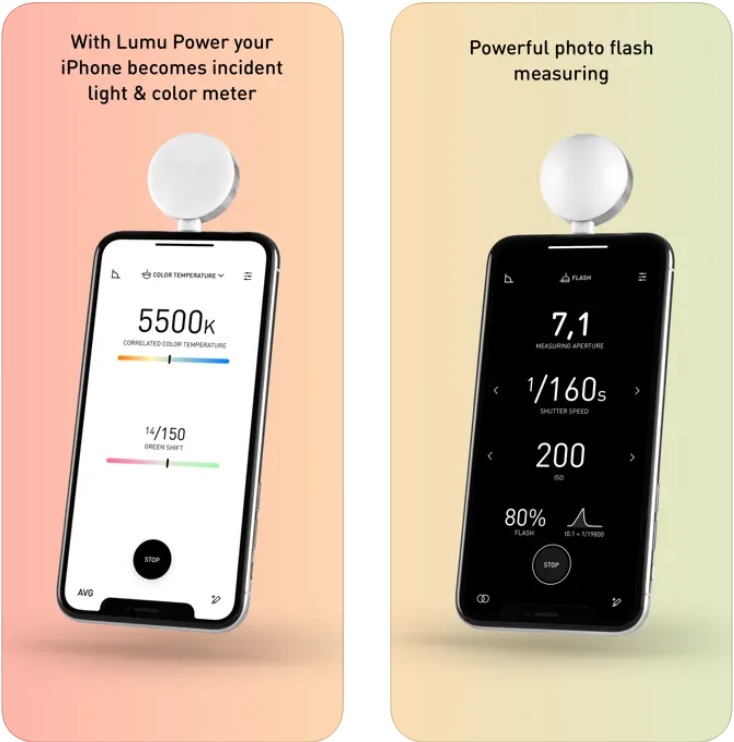 Lux Light Meter Free
Here is another good and accurate lux meter that can measure different levels of light. What is especially great about the application is that it's completely free with all of its functions. There are some ads that keep the content free for you.
Now let's take a look at the most striking options you can enjoy:
The measurement is accurate

. Even though it can't replace professional equipment, the measurements will be more or less precise.

If you want to

store the data

about your measurements, you can easily do it. To enable such a function, go to the settings.

Once you finish measurements, you can

export the data

and send it to other people via email and messengers.

View the history

when you feel like analyzing your previous measurements. You can also export this type of data.

The app has

a simple and intuitive interface

. You won't need any guides or instructions to understand how the service works.
By the way, if you have a garden and you need to know the height of your trees, check 7 Best Measure Tree Height Apps for Android & iOS.
Its high rating is proven by a big number of positive reviews.
You can get it for free and start measuring the level of light.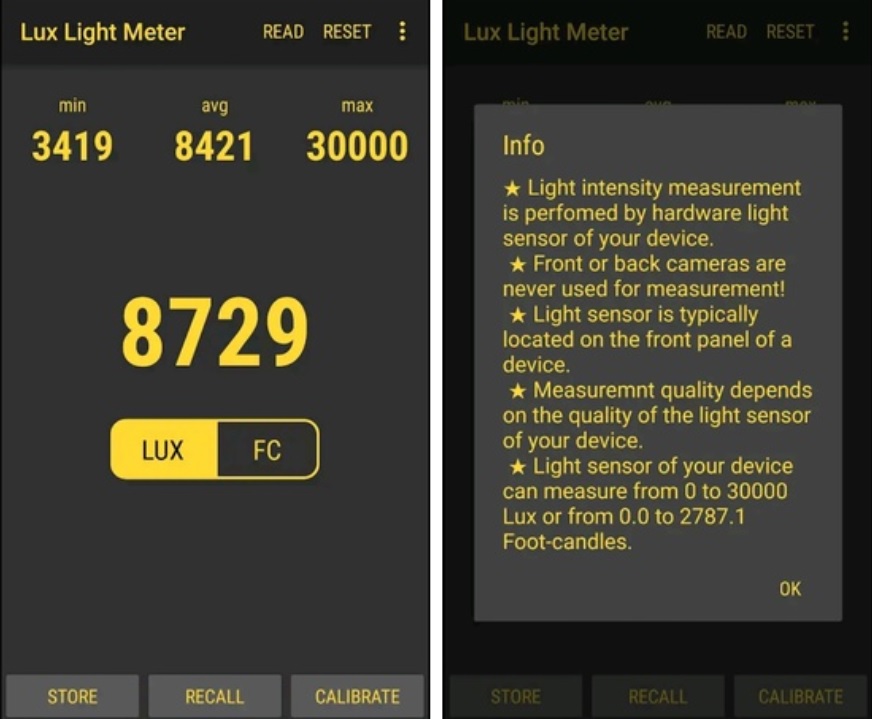 Lumen – Lux Meter Light Meter
Are you looking for a nice application that can tell you if there is enough light? If yes, Lumen will be a perfect solution for you!
Why you should try Lumen? Well, its main feature is that it's elegant. You will need less than 3 MB to install it on your device. Sounds like a great option for a user who has to save phone memory.
What is especially good is that the app is completely free of charge. You can easily enjoy all of the features at no cost.
Here are the best options provided by Lumen:
It will

show you the current level of light

. It can also display minimum and maximum.

If you want your

sensor data to be saved

, you can do it. The app won't ask for any special permissions.

Enjoy

an elegant interface

and simple buttons. The interface will be clear at the first glance.

When you feel like analyzing data,

feel free to view the history

. You will find all the detailed info about your previous measurements.
There are no in-app purchases – all the stuff is available once you download the application. The only downside is that you can't remove the ads even if they irritate you.
Unfortunately, only Android users can enjoy Lumen Lux Meter.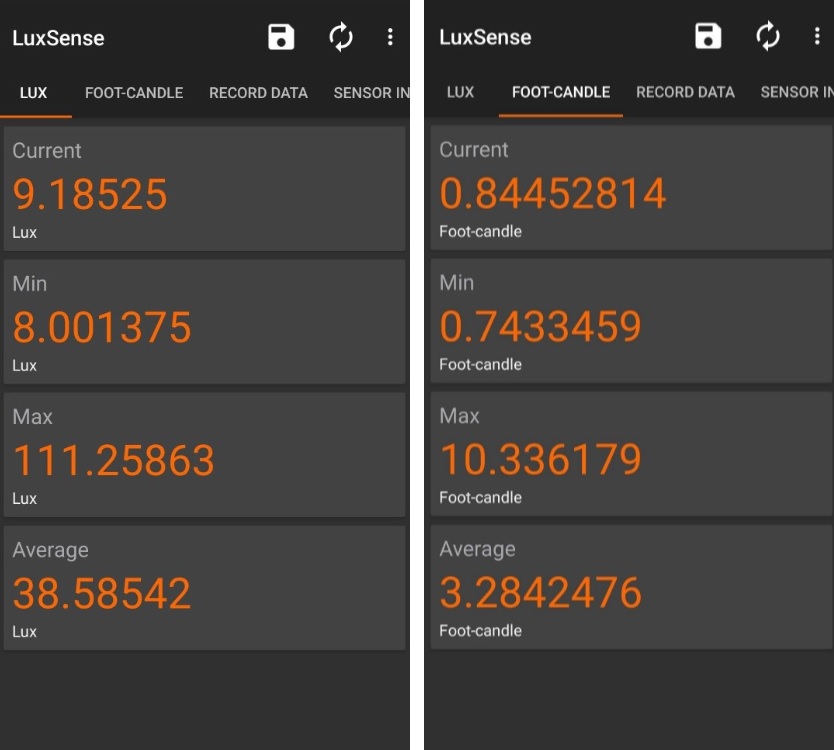 Lux Meter
If you need to measure the level of light, you can't do without the app called Lux Meter. What is especially cool about the app is that it's completely free of charge. There will be some ads, though. Unfortunately, there is no way to remove them forever.
This is the best way to find out if one room is brighter than the other one. You can also check the level of light in your office, in your garden, or outside.
How does the application work? It's pretty simple. The application will analyze the sensor output and then convert it into the lux level. It is very cool that the design looks like a real professional device for measuring the light.
We need to warn you that the accuracy of measurements will depend on your device's technical characteristics. That's why we can't guarantee the measurements will be very precise.
The app's support works perfectly well. Should you find any technical bugs or problems, feel free to contact support. They are usually quite fast to respond.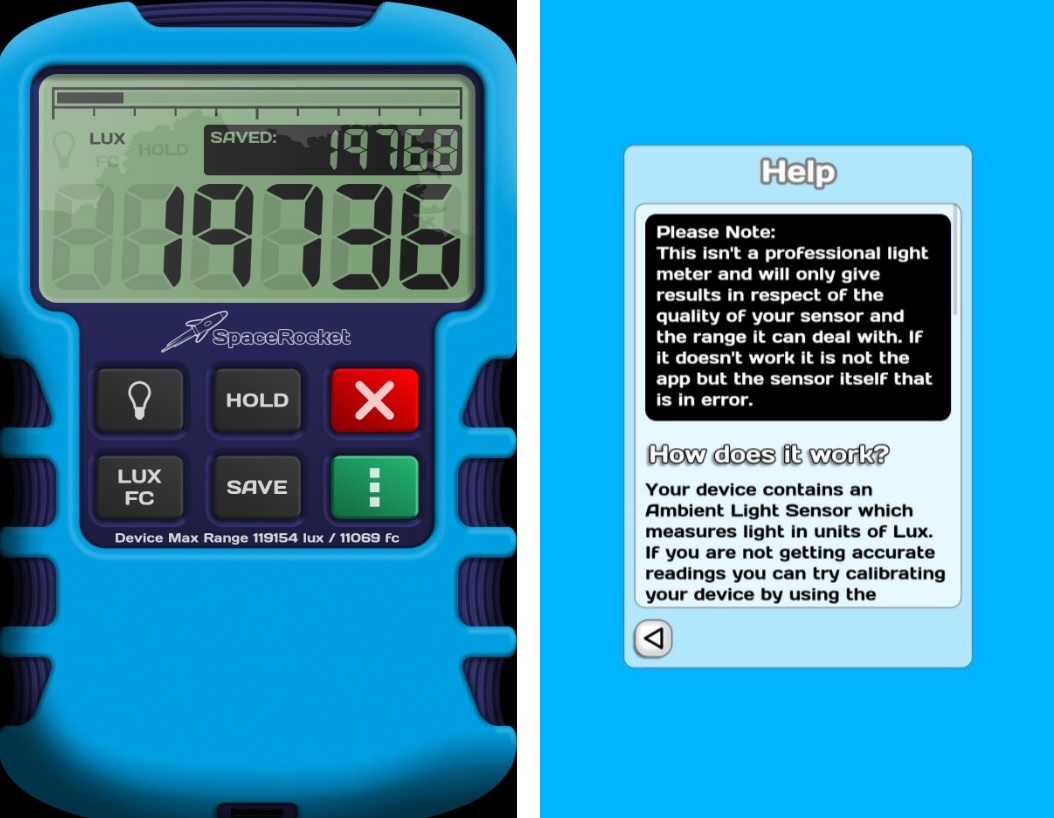 Light Meter
This option might be a great solution for you if you don't have a reliable device but need to measure the light right now.
Light Meter is a simple and powerful service that can measure the lux levels in different places at the click of a button.
Why Light Meter is worth trying? It can provide you with a great number of functions, some of them are free:
A reliable

system of light measurement

. The developer claims that the app works pretty well, measuring light levels very accurately.

The app can

work with photos or right from the camera

. The set of functions will remain the same.

Check Color Temperature

. This option will come in handy if you want to edit photos and you need their color characteristics.
However, the application isn't free.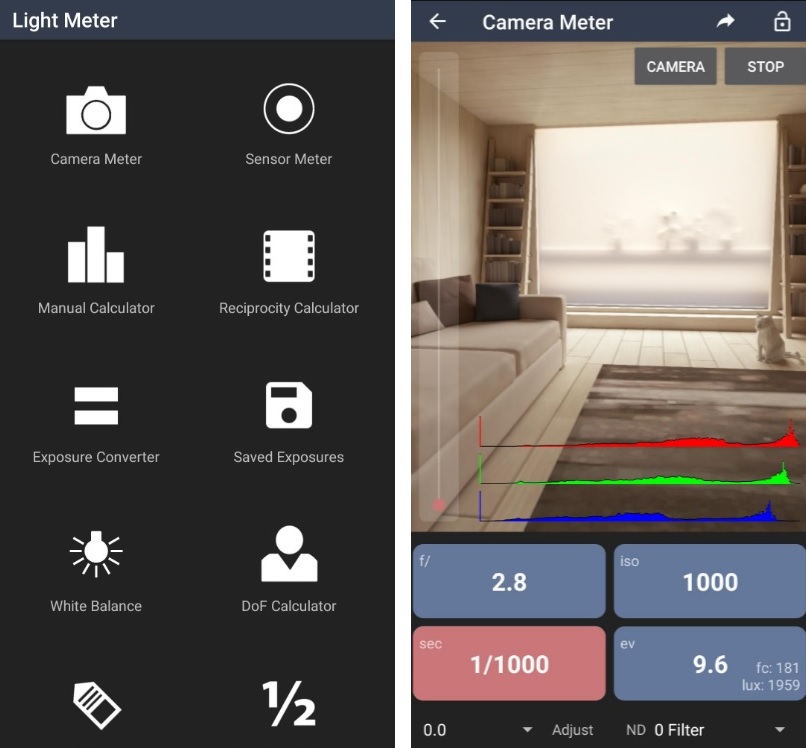 Light Meter: Lux Meter: Kelvin
This app claims to provide an accurate measurement of light intensity and color temperature using the phone's camera.
Users can select between different measurement units, such as lux, foot candles, or candela per square meter, depending on their preferences.
Advantages:
Measures light intensity and color temperature accurately.
User-friendly interface.
Multiple measurement units.
Built-in flashlight.
Drawbacks:
Reports of accuracy issues and frequent crashes.
There is a modern minimalistic design with a dark theme that allows users to read the measurements. The app also has a built-in flashlight feature that helps users take measurements in low-light conditions.
However, some users have reported issues with the app's accuracy, with some measurements being significantly different from other light meters.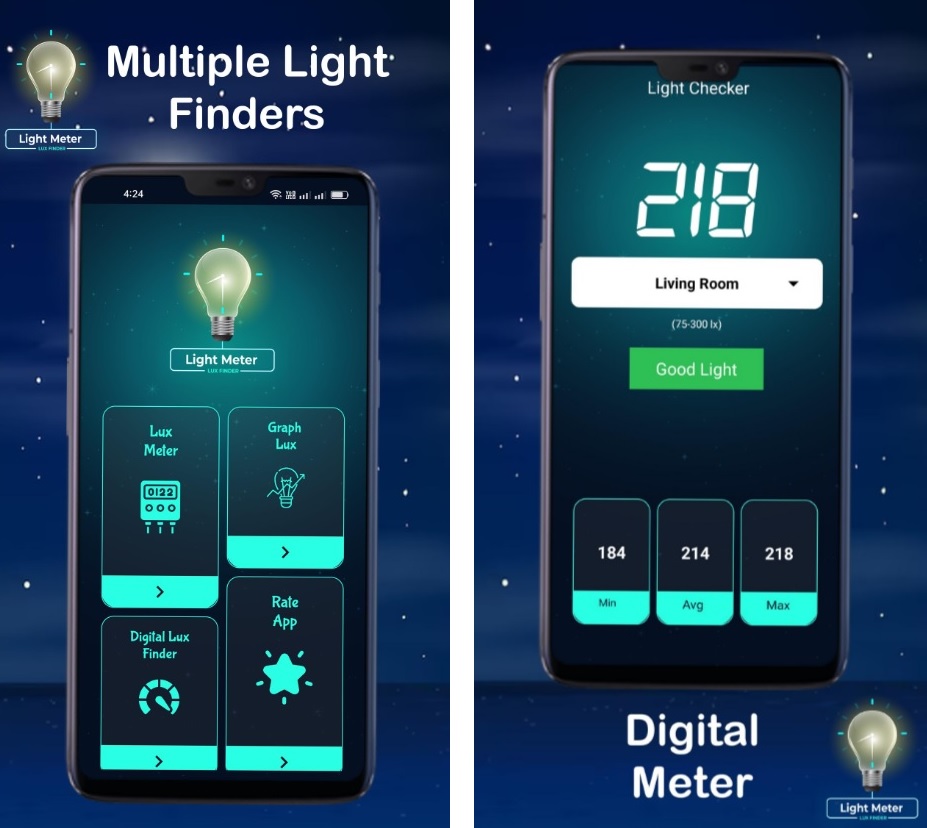 You may also like: 11 Free Apps to Measure Body Temperature (Android & iOS)
Light Meter LM-3000
This app is designed to help photographers and videographers measure light accurately.
No matter you are a professional or not, the interface is simple and lets any person use the app without difficulties. This app provides an accurate reading of the light in the surroundings.
What is more, the software's functions are quite useful and allow users to measure light in various conditions, including low-light and bright-light environments.
Advantages:
Accurate light measurements.
User-friendly interface.
Versatile functionality.
Modern graphics.
Drawbacks:
Expensive in-app purchases.
Some device compatibility issues.
The graphics of the Light Meter LM-3000 app are sleek and modern. You are sure to enjoy the app.
However, some users have complained about the in-app purchases being too expensive, which can be frustrating for those who want to access all of the app's features.
Some users have also expressed disappointment that the app does not work on all devices, which can limit its accessibility.
Anyway, the developers are actively working to resolve these issues, and they have been responsive to user feedback and have released updates regularly to address any concerns.
Finally, if you're looking for a reliable and easy-to-use light meter app, the Light Meter LM-3000 is worth considering.
With its sleek design and accurate readings, it has become a popular choice among photographers and videographers.