Have you ever had difficulties reading a tiny print on prescription bottles or household appliance manuals? Magnifying glass apps for Android and iOS devices have been created to help you read a book or any other source in case you can not find your glasses.
Turn your phone camera into a handy advanced loupe with an ability to zoom and freeze an image to view a small text. For this, we have collected a decent collection of the best magnifying glass applications that can help you choose the most convenient app.
These best binoculars apps will help you to see an object in a far distance.
Magnifying Glass + Flashlight
Magnifying Glass+Flashlight app is considered to be the best Android&iOS application of 2019. And there is no doubt that it's the most useful magnifying glass app you can find.
We regularly face situations when it's impossible to read the important information, which is written in the tiniest print. Not many of us carry a real magnifying glass in a pocket. This app can help you in such moments. It can be launched with one click and will start to magnify immediately.
The app main features:
magnifying zoom from 1.0X to 5.0 X

A Flashlight button to light up the required area

capture the photo
The application will surprise you with its magnifying effect. You will be able to see a piece of dust on the table. This app makes it quite amusing to explore everything around. Besides, the app can help you read the information about ingredients on packs of products in a supermarket or a prescribed medication leaflet at a pharmacy.
You can switch on and off the flashlight when it's necessary. For smaller details, you will need to leave the flashlight on. The app has gained enormous popularity and been downloaded for more than forty thousand times.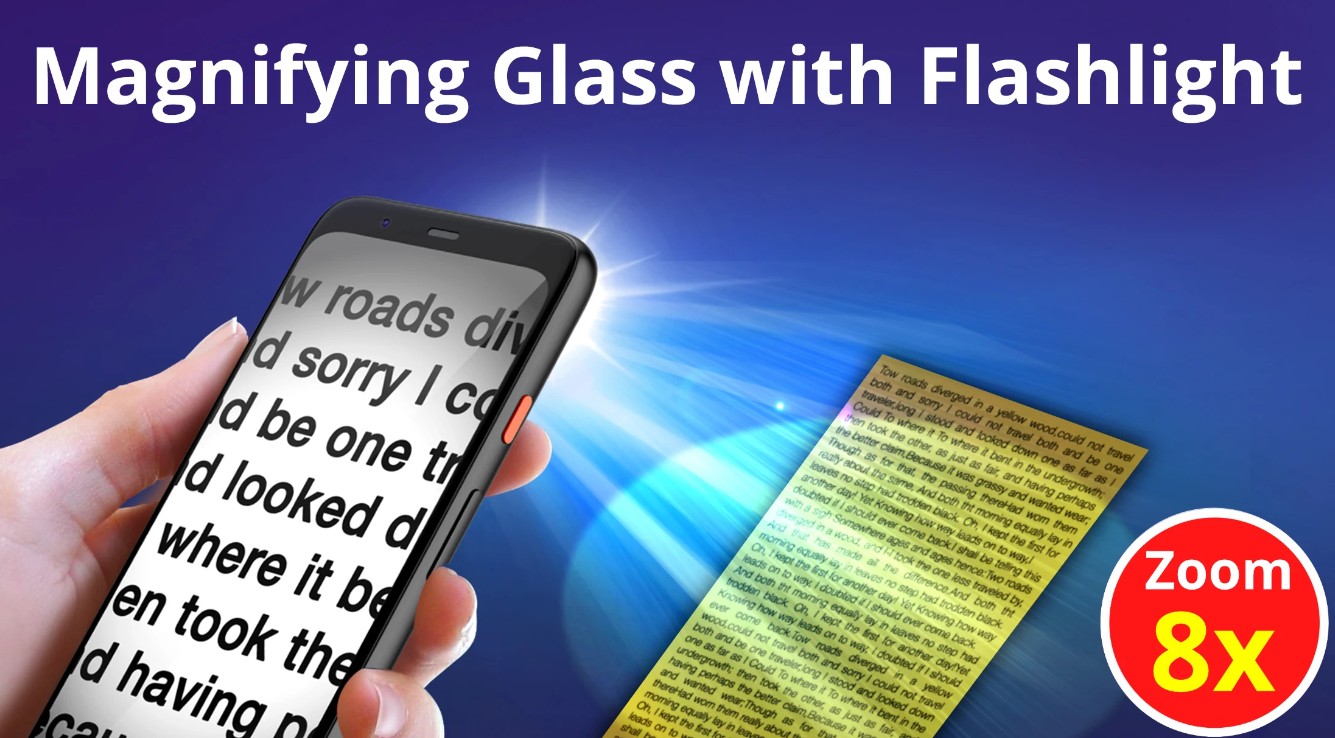 You may also like: 9 Best Apps to Check Glasses / Sunglasses (Android & iOS)
SuperVision+ Magnifier
The magnifying glass is a synonym of detective stories in our head, for some reason, there is a stereotype that investigators like Sherlock Holmes always walk with a magnifier. The real magnifier is fun to play with, and apart from its ability to zoom in objects, it can also set up a fire if you put it under the sunlight.
Considering the last feature, it will be an impossible task to do while using a phone, however, it makes the digital magnifier safer to use for little kids. All the buttons in the app are large and easily visible, so it will be comfortable to use this app even for people with low vision.
This app is a classical magnifier version that you can use to read the tiny text on various surfaces. There are several levels of zooming in the app and you can adjust it to the level you feel comfortable with.
If you double-tap on the screen the app will zoom the image to the maximum. On the contrary, you will need to double-tap again in order to come back to the previous position. For better convenience, you can freeze images in any resolution and it is easy to use the app either with one or two hands.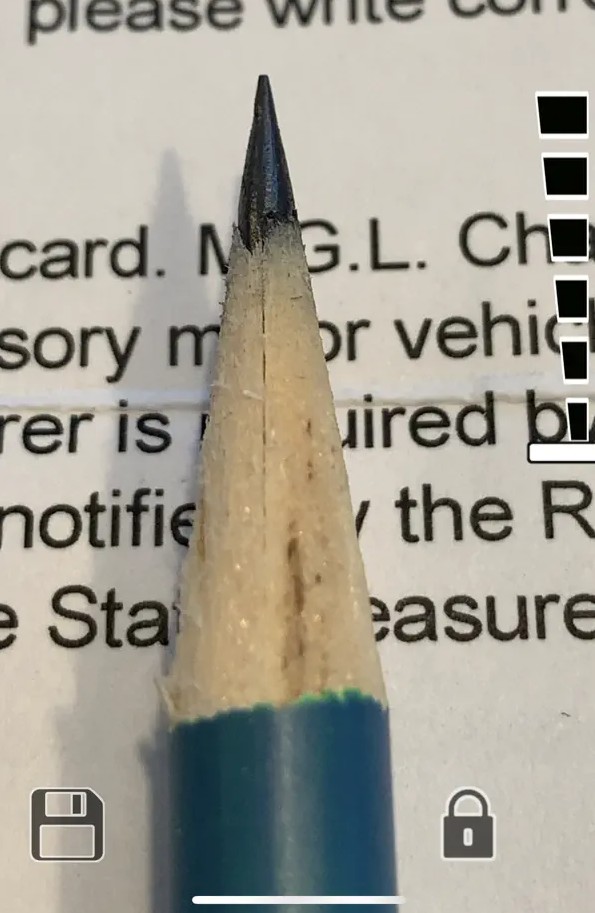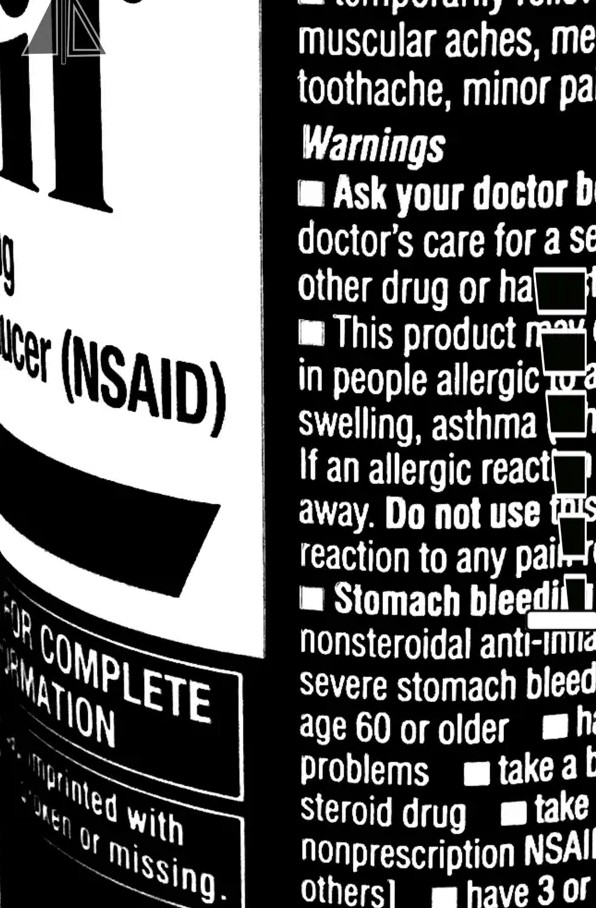 Best Magnifier
It might be truly the best magnifier for both Android and iPhone. This easy to use application will enlarge objects to help you see them in details.
If you have never thought that your smartphone can be so multifunctional, download the Best Magnifier and get a magnifying glass in your pocket. If you are long-sighted the app will save you from many related discomforts. The app will help you if you struggle to read a tiny written text or numbers.
Possible uses of this magnifying glass:
Magnifying prescription or medication leaflets;

Codes and numbers of electronic appliances;

Official documents with a small print;

Information on food products.
If you are in a hurry you can freeze the image and read the information later. The app will allow you to zoom in the image to see more details. The flashlight will help you lighten up an important fragment. Download the app and use it whenever you need without feeling stressed about searching a real magnifying glass.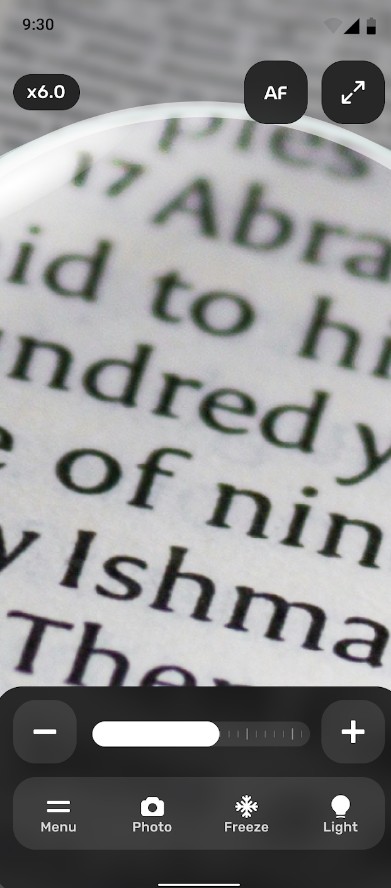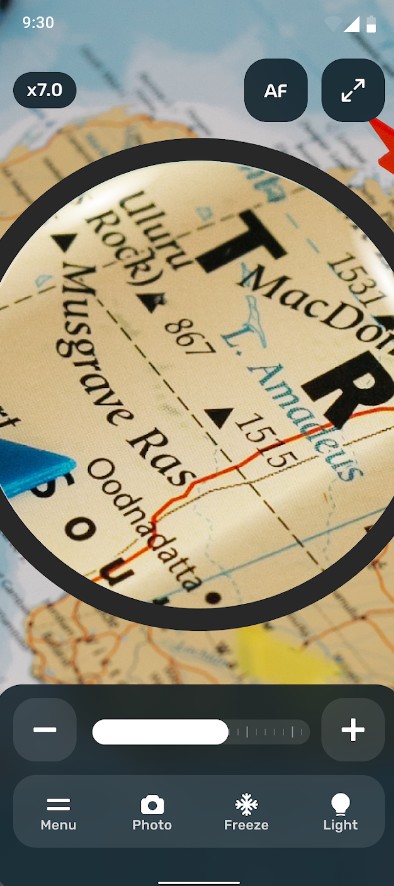 Magnifying Glass by Pony Mobile
For those who expect the magnifying glass in their phones will be actually looking like a high-end multi-functional app, and not how the traditional magnifying glass with the ancient interface – this is exactly what you're looking for. The only drawback of this app is that it is available only for Android.
Here you are able to watch through the camera of the app like through the lens of a magnifying glass with all the settings and buttons places at the bottom of the screen. You can easily zoom in the picture up tot the levels you need and the clock on the "freeze" function to save it like this.
There is also a flashlight and photo feature in the app. Moreover, for those who have poor vision or general problems with their eyes, there are special filters in the app that helps to neutralize the damage that all the magnet rays coming from the device may cause. Thus, you can easily read with this app as well.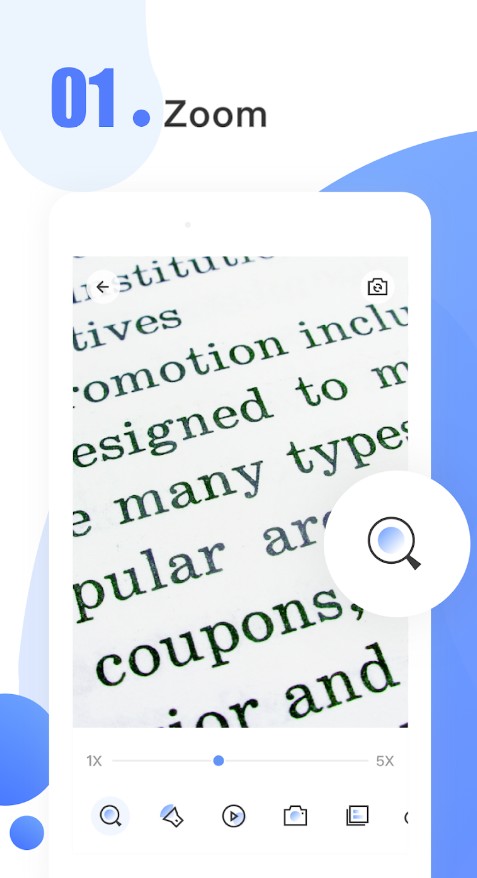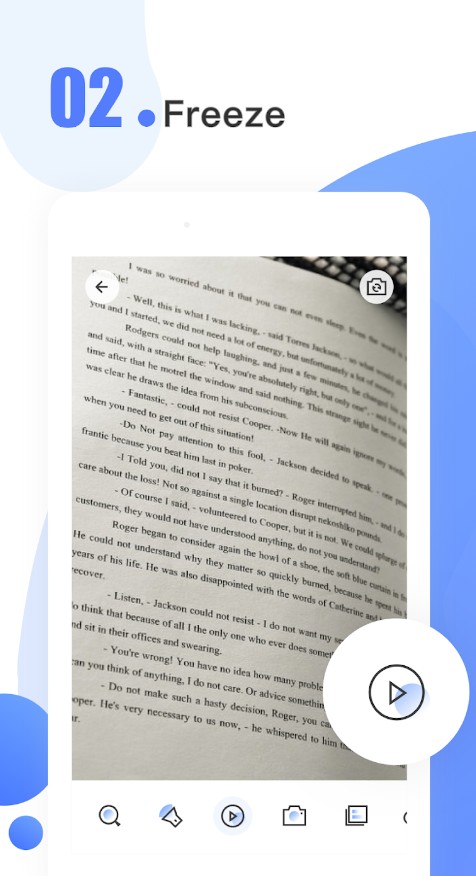 Magnifier + Flashlight
Magnifier + Flashlight – is another popular magnifier for Android devices. It is also being constantly updated. It is an amazing application with a magnifying effect and many features to assist with this task. The interface is very simple and well detailed. It has nice colorful pictures instead of ordinary icons.
But what could make the app so popular?
Let's reveal the most significant features of this app. First of all, it is the app's main function, to magnify everything you point your camera at. Next, it allows you to freeze the image and make a snapshot. Pinch the attractive snowflake and freeze the image to see details.
Definitely, you can zoom in and out to see the tiniest elements. And finally, having captured the image you can share it with anyone via social networks or even create a story on Instagram or Facebook.
The switched-on flashlight will sufficiently enhance a magnifying effect. Another good thing about is that it can also be activated through the app.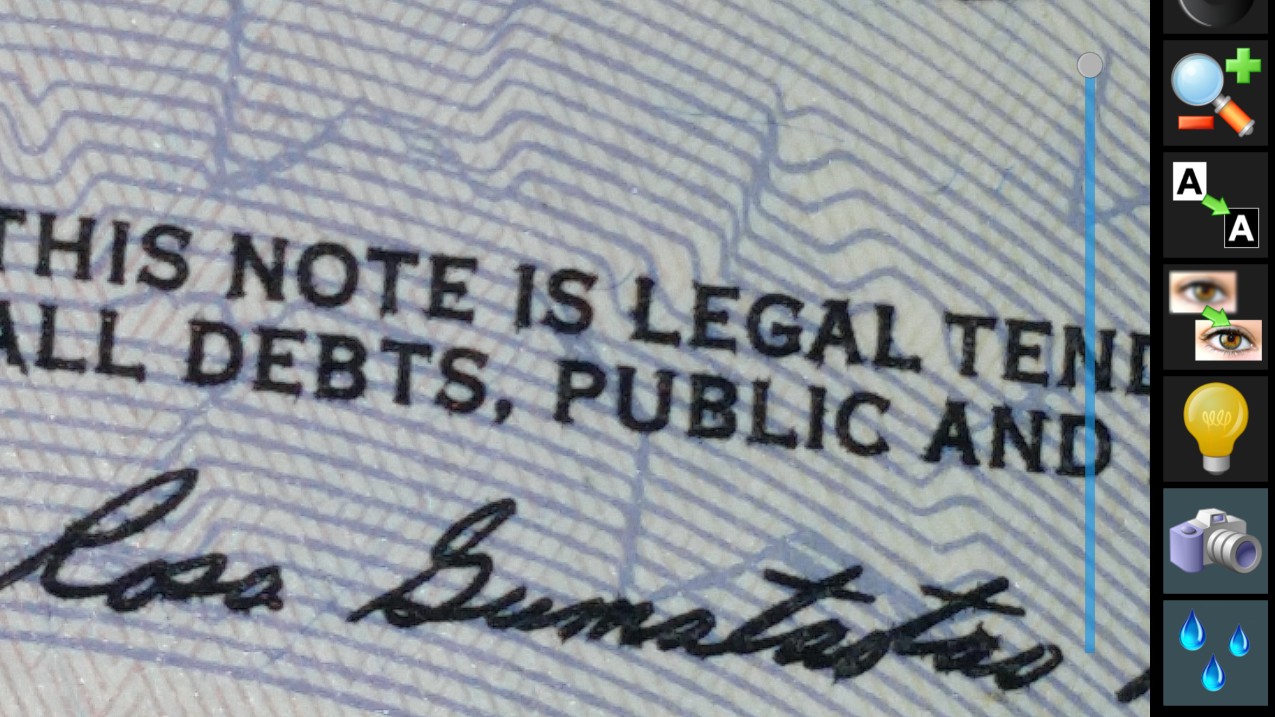 Magnifier & Microscope
If you are looking for an unusual application with unique characteristics, then the Magnifier & Microscope app is for you. Its developers claim that it's a magnifier with microscope functions. There are lots of features that will make seeing a tiny print or detail into a very simple task.
Magnifying glass effect. The app will become your magnifying glass or replace the one you have. Effective zoom will help you see a small microchip;

Various picture effects. Convert the image into a negative mode or sepia;

Freezing. To have a stable image press on to freeze button;

Microscope mode will provide a more fine picture for very little elements;

Flashlight. Control the flashlight with a volume down button.
As most of the magnifying glass apps, it doesn't require login or registration but you will be asked to give permission to upload it.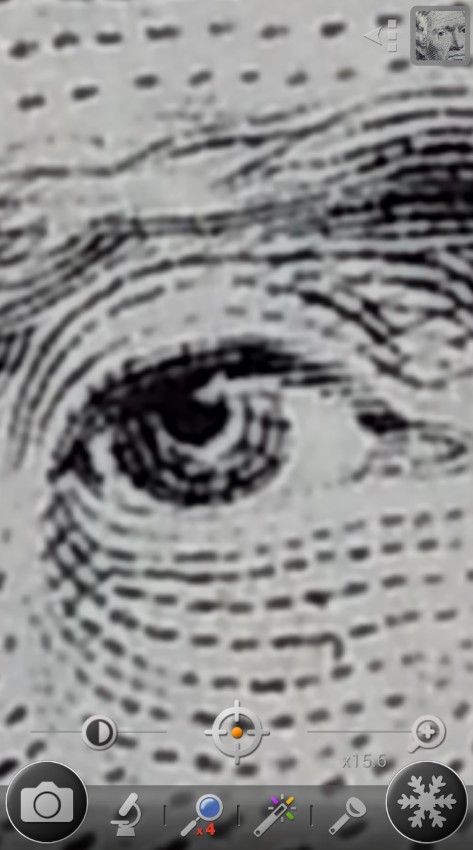 You may also like: 17 Best photo zoom apps for Android & iOS
Magnifying Glass With Light
Magnifying Glass With Light – is a well-built and simple magnifying glass app for iOS devices. The app is free, although it contains advertisements, which are a small price to pay for using the program for free. At the same time, the app will provide you with an option to purchase a pro version with some extra features. So let's take a look at its main free features:
Image capture;

Zoom in and out;

Support portrait and landscape orientation;

Front camera support;

Flashlight.
It is the only magnifying glass app that supports both horizontal and vertical orientations. Additionally, it has an outstanding function distinguishing this app from all others. You can shake a device to hide all control buttons. Shake it again to get them back. This function allows this app to be one of the trendiest apps in this genre.
Simply turn your iPhone or iPad into a magnifying glass that also lights up. It will help you read the restaurant menu, newspapers, and medication bottles.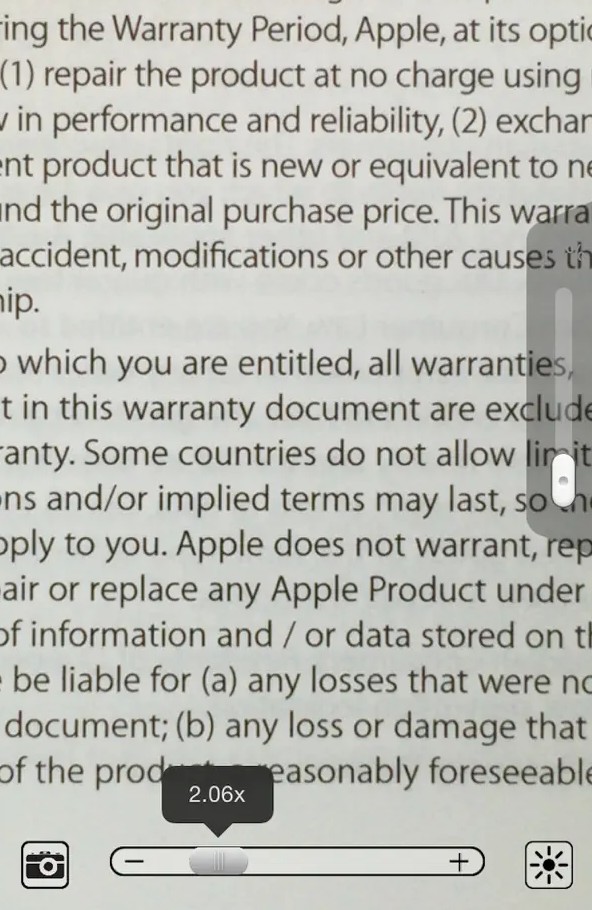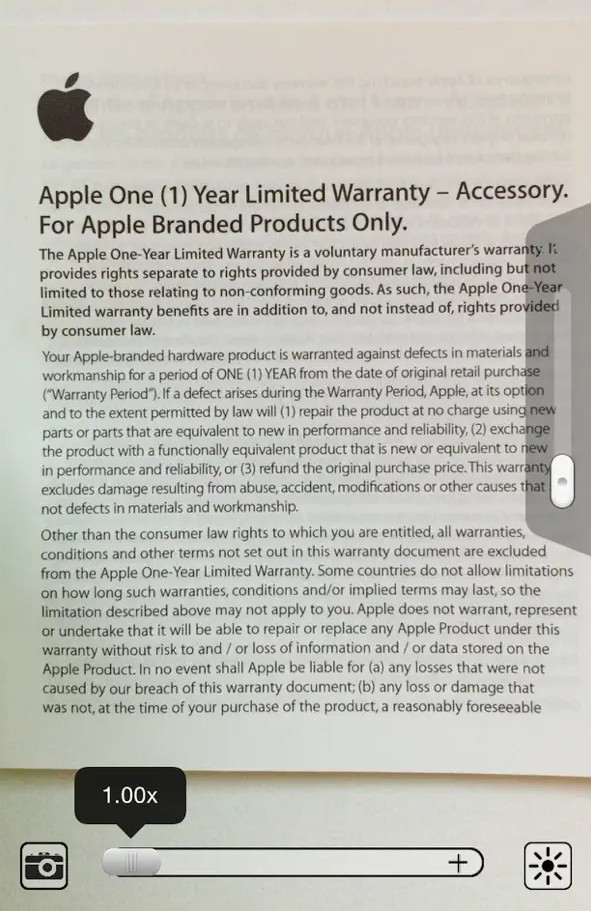 Pro Magnifier
Pro Magnifier is an advanced magnifying glass app for Android devices that don't have a built-in zoom. It is equipped with all the necessary features that will be useful in many situations:
Read and capture a tiny text on documents or appliance warranties;

Explore the world of insects or other tiny objects;

Replace a magnifying glass for people with

farsightedness, nearsightedness or elderly;

Work with tiny electronic parts of complicated devices;

Detect fake currency.
The Pro magnifier will replace your loupe and simplify your life as it is always in your pocket. It can be a very entertaining app for children while helping them to explore everything around in detail. The app has multi-window support which can help to type while reading a tiny text.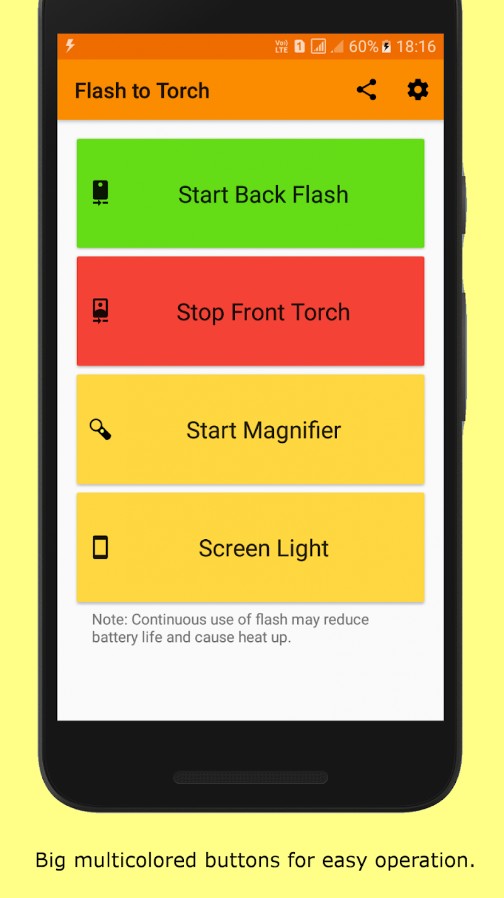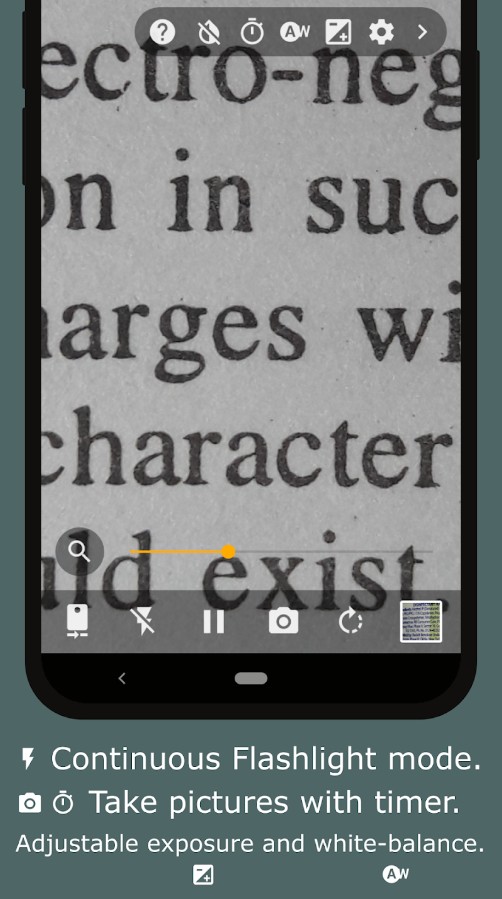 Magnifier
Magnifier is another simple and light magnifying glass app that will function as a loupe on your phone. The image will surprise you with its clarity especially if you use a flashlight to illuminate the area.
The app includes all-important for digital magnifiers features. You can zoom images in and out, freeze them, take a photo or rotate images 90 or 180 degrees. The app supports 10x zoom that will allow you to use your phone as a microscope. Just don't forget to switch on the flashlight for better visibility.
The app will ask permission to have access to your camera and the file storage on your device. There is no way to use a magnifier without such permission. The app is absolutely free and launches in a split second.
All in all, I find it a decent app that will help you to see more details.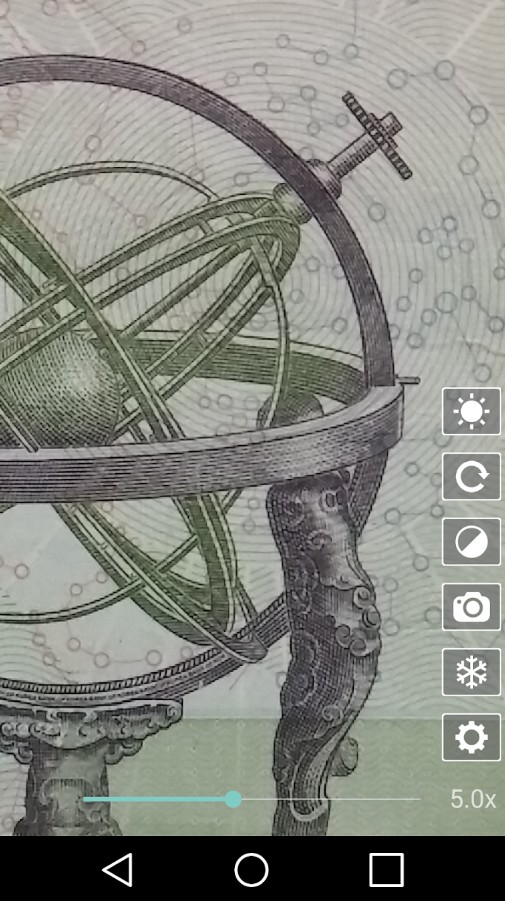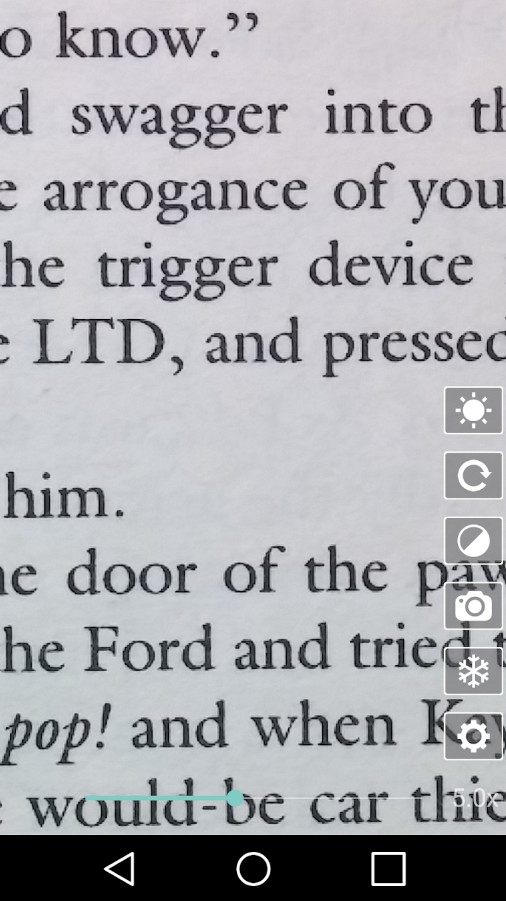 Magnifying Glass – Magnifier
This magnifier with a flashlight has been created specifically for iPhone users. Sometimes people may forget the glasses that they could use to read a small text on the menu. Other times it can be such a tiny print that even people with good vision are unable to read it. The Magnifier Glass app can come to their rescue in such situations.
The app magnifies an image up to 4 times automatically or by pressing the zoom button. It also can capture and save the image into your smartphone storage. The developers frequently update the app to fix minor bugs and add new functions.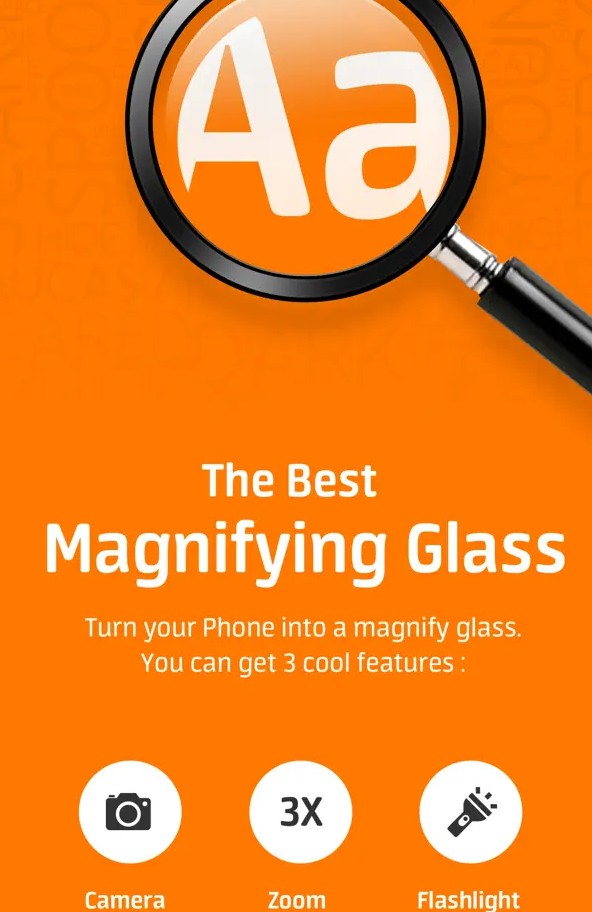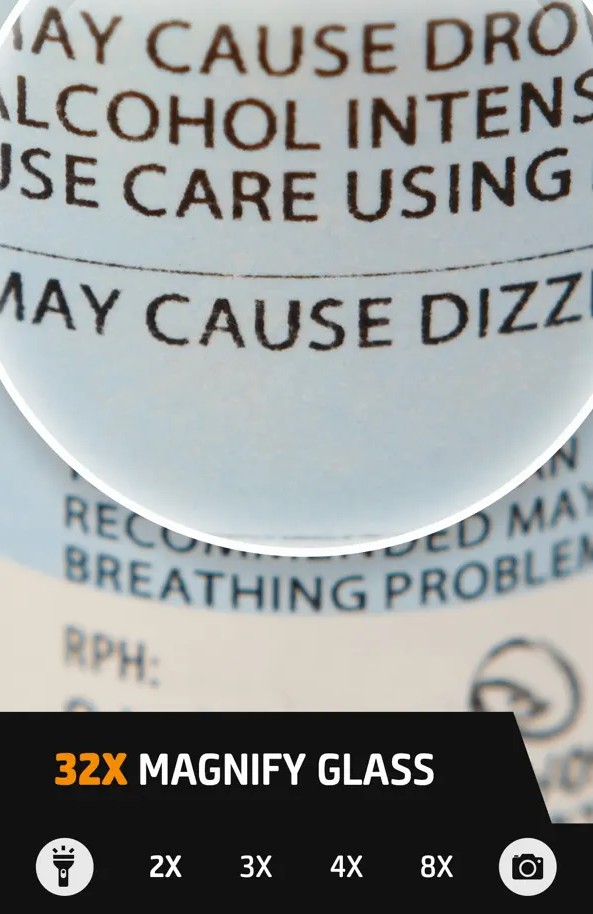 Magnifier Plus with Flashlight
Designed to make everyday tasks more manageable, this app serves as a reliable magnifying glass right on your smartphone.
Rhe Magnifier Plus app is suitable for anyone who could benefit from a little visual enhancement. Elderly individuals with diminishing eyesight, students poring over tiny text, or professionals needing a closer look at intricate work can all find value in this app.
But it's not just a basic magnifier – the app comes with interesting functions that make your experience even more convenient. The built-in flashlight ensures that you have the ideal lighting conditions for your magnified view, allowing you to read in dimly lit environments.
It eliminates the need to carry a separate magnifying glass and flashlight, as both functions are seamlessly integrated into your smartphone.
So, I think that It's a space-saving solution that's accessible whenever you need it, making tasks like reading menus, labels, or fine print hassle-free.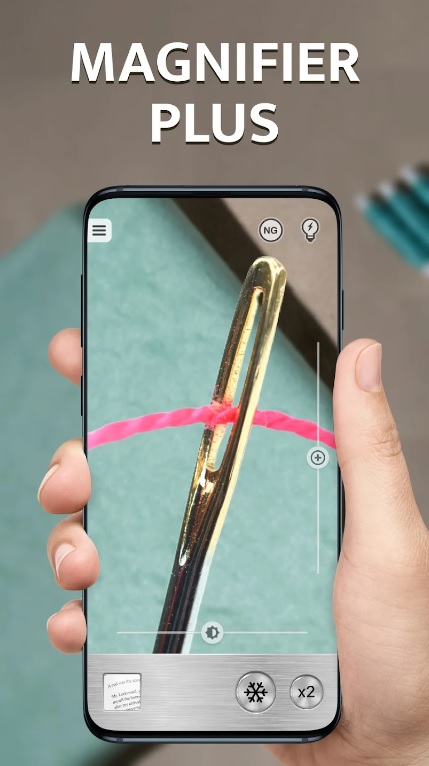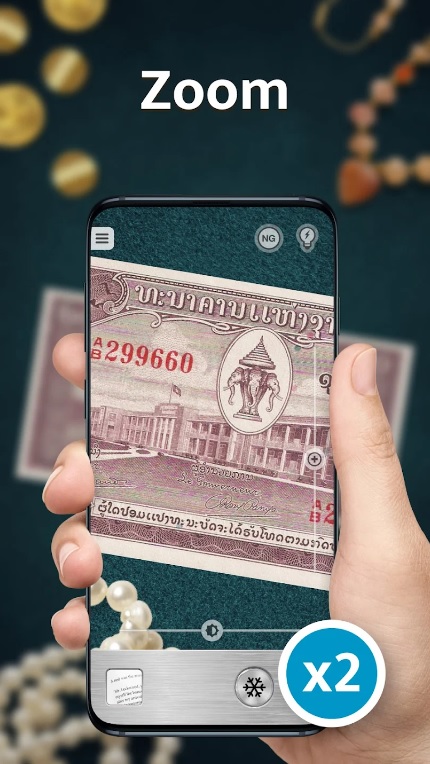 Magnifier
The Magnifier app is perfect for a diverse range of situations, catering to individuals of all ages who find themselves straining to read or examine small objects. Whether you're reading a restaurant menu, analyzing intricate artwork, or deciphering tiny labels, this app can be your trusted aid.
What sets the Magnifier app apart are its interesting functions that elevate your magnification experience. With a simple pinch-to-zoom gesture, you can easily adjust the level of magnification, giving you control over the details you want to focus on.
It eliminates the need for carrying a physical magnifying glass and ensures that you're always prepared to magnify when necessary. This app leverages the power of your smartphone's camera and display to bring you closer to the world around you.
Incorporating convenience, versatility, and simplicity, the Magnifier app is a tool that can make everyday tasks more accessible. Say goodbye to squinting at small text and struggling to discern details – the Magnifier app is here to provide you with a clear and enhanced view wherever you go.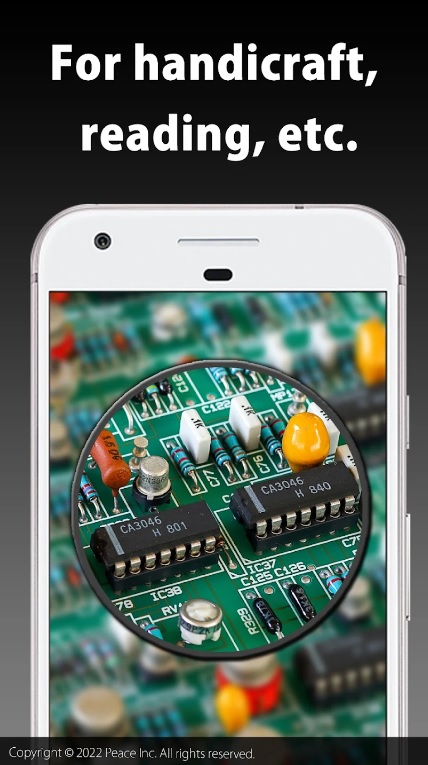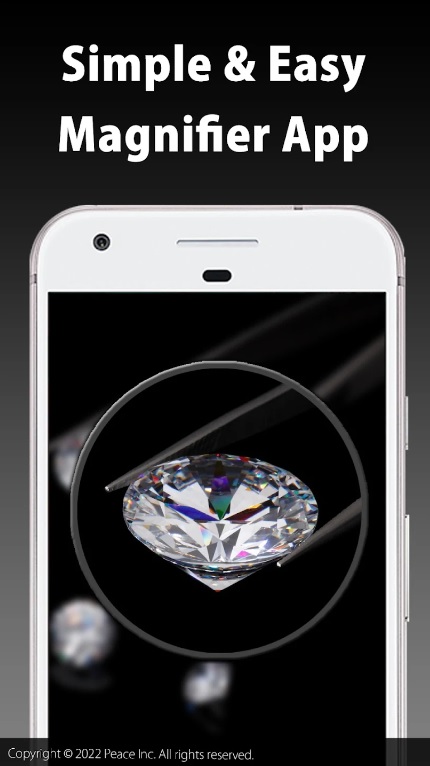 BigMagnify Free
BigMagnify Free is a handy advanced application for iPhone and iPad with great reviews and high ratings. This app is a good option for people with poor vision and those who work with tiny details as jewelers. It's a multifunctional app that includes all the qualities of a modern loupe.
This app allows you to use the screen of your device as one big magnifying glass. This way you can turn your iPad into a huge loupe. You can then enlarge the image with a double pinch of the zoom feature. Low light situations will no longer be a problem with a built-in function that lets you use the flashlight directly in the app.
Its developers have added a new function. Now you can freeze a magnified image and share it with others. The application is free with some ads that can be removed after purchasing a pro version.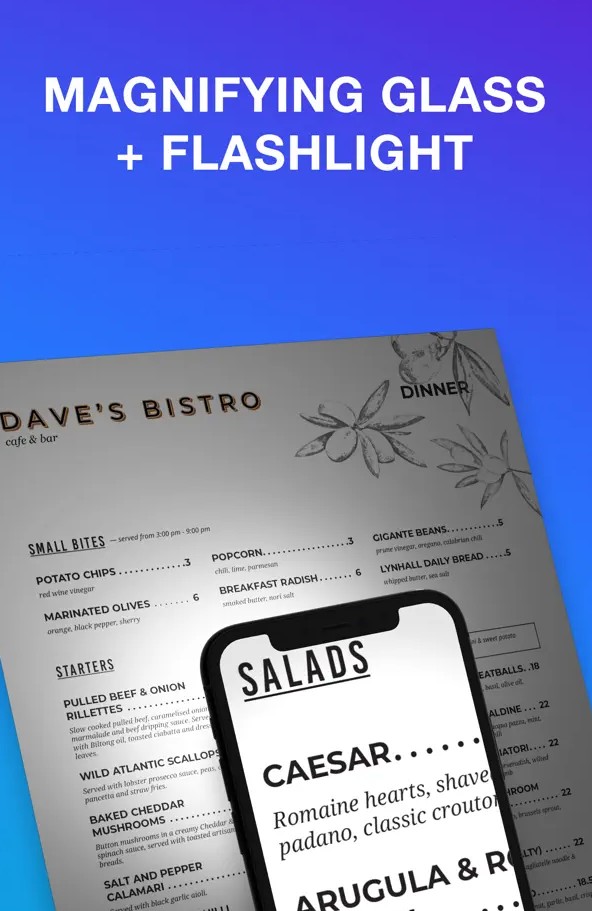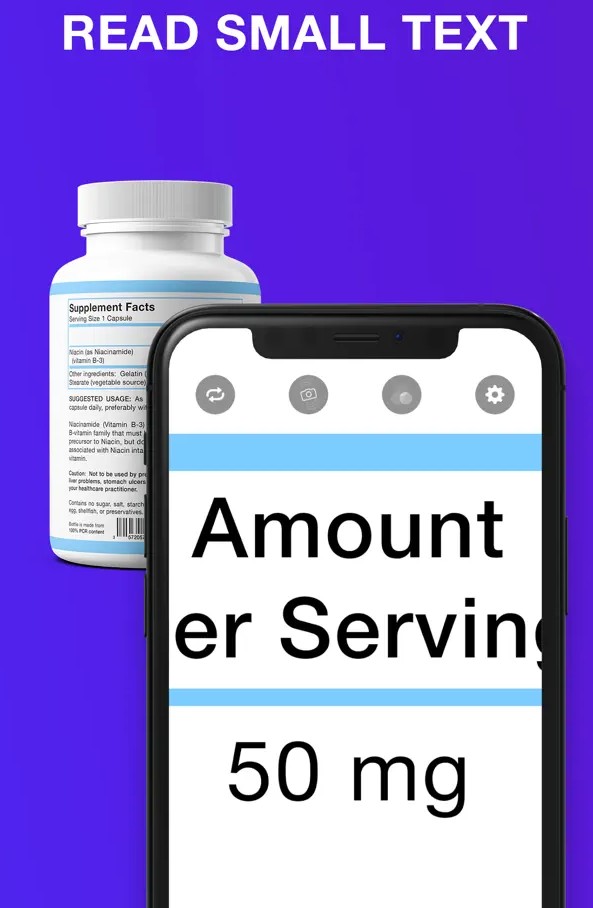 You can also check: 11 Best Eye Exercise Apps (Android & iOS)
Pocket Magnifier with LED
This app might be having a little bit vague images but don't be fooled by the mistake of its marketers because it is actually a good magnifier app. The name says it quite accurately – it is a simple and practical app that you can pull out quickly of your pocket and use for any purposes.
It has an interesting option of viewing things in a negative color. Not really sure, what is that needed for, but this is a remarkable feature here. Apart from that, the app has autofocus which is extremely convenient to have when you read a tiny text, for example. What is more, you can highlight in the app parts of the text that you read.