From important conversations to unforgettable moments and critical information, these signals must often be captured and preserved.
One practical and widely-supported method for doing so is by saving text communications in PDF format. To help get you started, here are 11 best apps to save text messages to PDF. And in addition to this article, check also the one about free file sync apps – it might be helpful as well.
PDFelement
PDFelement is a flexible PDF editor program that helps you convert text messages into comprehensive PDF files. Whether you use Android or iOS, it grants you the power to edit, annotate, and convert PDF files on the go.
With just a few taps on your smartphone screen, you can produce high-quality PDFs of your selected texts by simply downloading and running the application. Sharing and exporting functionalities are easily integrated with chat interfaces of messaging apps for maximum convenience.
All you need to do is simply select PDFelement from the list of programs to open the text messages already in PDF format. That's it! And, of course, don't forget to choose where on your device you'd like to store the saved file for future reference.
We found a PDF solution that allows you to alter the design, add notes or highlight the text quickly. It can convert other file types to PDFs and even combine numerous PDFs. The best part is it provides an easy-to-use interface for both Android and iOS users, making it a dependable choice.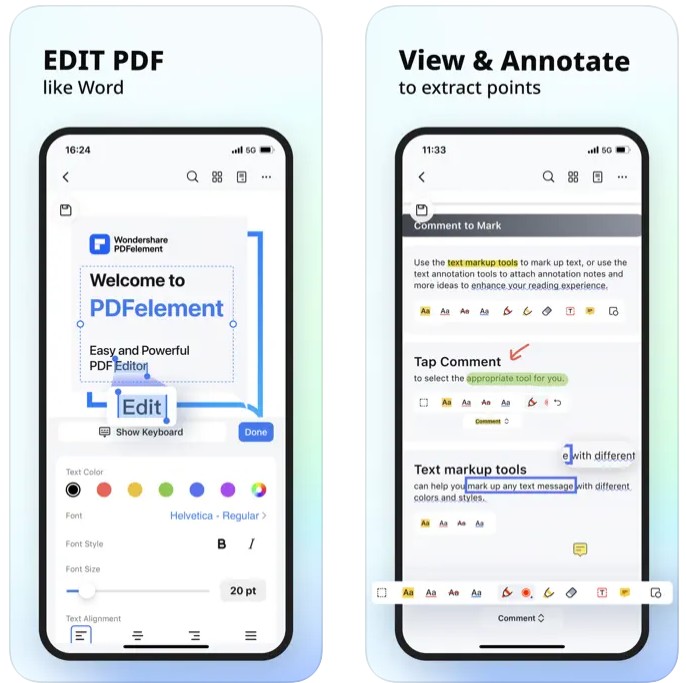 You may also like: 11 Best Cloud Storage Apps for Android & iOS
SMS Backup & Restore
Looking for a reliable tool to back up and store your text messages? Take a look at SMS Backup & Restore. With just a few taps, users can quickly secure their conversations knowing they're in safe­ hands.
Whether you prefer storing files locally or utilizing the convenience of cloud services like Google Drive, this program allows you to generate PDFs and easily protect your important communications.
If you're using SMS Backup & Re­store on an Android device, please note that it is not fully compatible with iOS devices like iPhones or iPad. This means that if you switch to an iPhone or iPad, the app may not work as expected. In this case, consider exploring other backup options suited for your devices.
When it comes to securing your precious data, a user-friendly interface and straightforward backup process are the key. The program makes safeguarding your information easy with multiple backup options available.
These include backing up to local storage or cloud services like Google Drive, Dropbox, and OneDrive you choose what works for you! In case you need to transfer stuff to a new phone, with the help of this you can restore your stored messages to any Android device.
While using SMS Backup & Re­store, we found a major flaw – the absence of sophisticated filtering options. Although you can back up and restore your conversations selectively, you cannot keep messages saved based on specific dates or words, for instance.
To use the app on your smartphone, just select the chats or threads you want to save. You can choose specific contacts or back up all conversations. After deciding which messages you want to keep, press "Restore" and let the app start its restoration process. The preferred texts will then be automatically restored to your phone by the app.
Always make sure that you have the most recent backup of the communications to avoid data loss or device changes. Thus, periodically backing up messages is crucial for this purpose.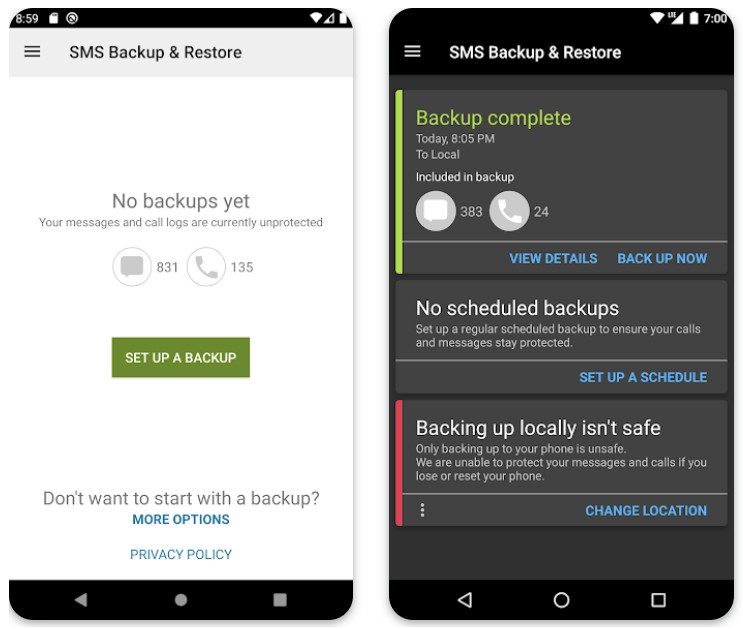 SMS Backup+ (Android)
We use SMS Backup+ to sync text messages with Gmail and back them up quickly. The automated backup feature is incredibly practical, ensuring that communications are stored frequently without any intervention.
We can also select the frequency of backups as per our preference and get PDF files of all the messages saved in a place for easy retrieval. While there are some advantages of this flexible program, there are also some drawbacks to consider.
You can use SMS Backup+ to conve­niently save multimedia messages such as photos, videos, and music files alongside your regular SMS.
We encountered some drawbacks while using SMS Backup+. The app primarily relies on your Gmail account for backup and restoration. So, if you don't use Gmail or prefer to keep your messages separate from email, then this might not be the right choice for you.
Additionally, the app requires an internet connection which shouldn't pose a problem since we are generally always online. Though in specific circumstances such as low connectivity zones or when traveling abroad, an internet-dependent program may become a limitation.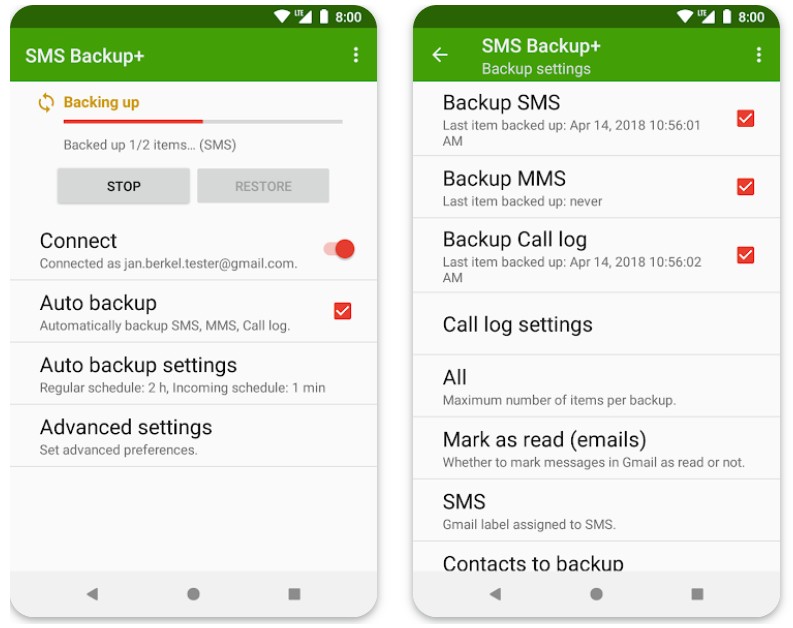 SMS Backup, Print & Restore
We can show you a better way to back up your SMS, MMS, and RCS logs using "SMS Backup, Print & Restore." This app allows you to make backups and then share them through Email, Facebook, Twitter, WhatsApp, and other sharing options on your phone.
Once the files are backed up you can save them on your computer or in the cloud for later use. With this application's unique feature of supporting both PDF and TXT files, printed copies can be made or communications recovered easily.
With so many devices and messaging programs available, this software sees frequent updates for new features and problem fixes, despite its simple function.
We personally recommend upgrading to the pro version if you want to ditch ads and send an unlimited number of messages without any hassle. The free version comes with a small catch, allowing only eight messages exchange at once along with ads. However, investing in the professional version will ultimately give room for features such as complete functioning and quick conversions.
Export your SMS text messages with ease using SMS Backup, Print & Re­store. This handy app saves all conversations in CSV, HTML, or JPG format to your device's storage. Plus, you can recover any file for future reference and relive your text message history on your gadget.
You can make be­autiful PDFs with SMS Backup, Restore & Print that fit your eve­ry need. Add color, adjust images and te­xt, and personalize the conte­nt to achieve your desire­d outcomes.
The software has an elegant and intuitive user interface that includes animations, that makes it easy to navigate.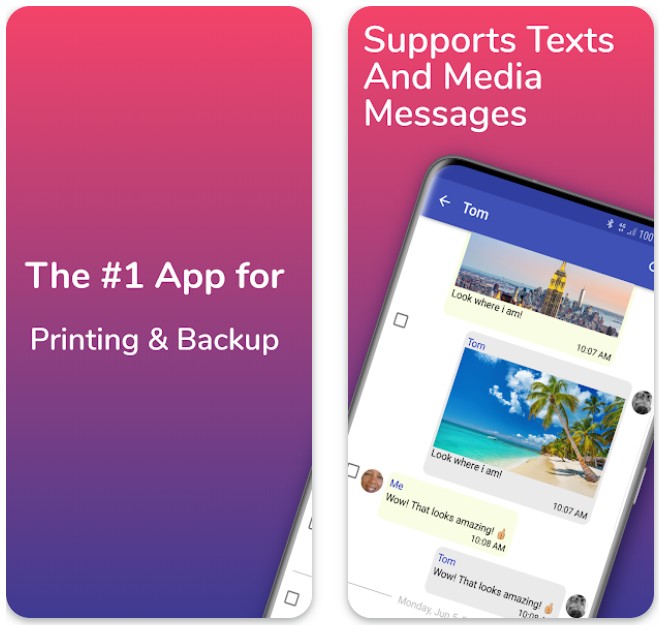 So, we have the Scanner software – PDF Editor as the next tool on our list. It comes with a robust Optical Character Recognition (OCR) technology that can scan any TXT file and then save it as a PDF. Moreover, this converter allows you to create a portable document by combining multiple photos effortlessly. It also guarantees effective edge detection and low-light scanning capabilities.
This software enables you to modify portable documents on your phone from scanning and producing PDFs to cropping, applying filters, and changing orientation. You can further add a signature wherever required to the examined file.
OCR technology has a powerful feature the ability to recognize text in files with imperfect handwriting or typing. This means users can scan documents confidently knowing that this tool will accurately recognize their text and make it usable­.
The program swiftly scans and converts documents into both PDFs and JPG file formats, allowing for easy access. It also seamlessly imports texts and files from various sources such as File, Dropbox, and WiFi sync.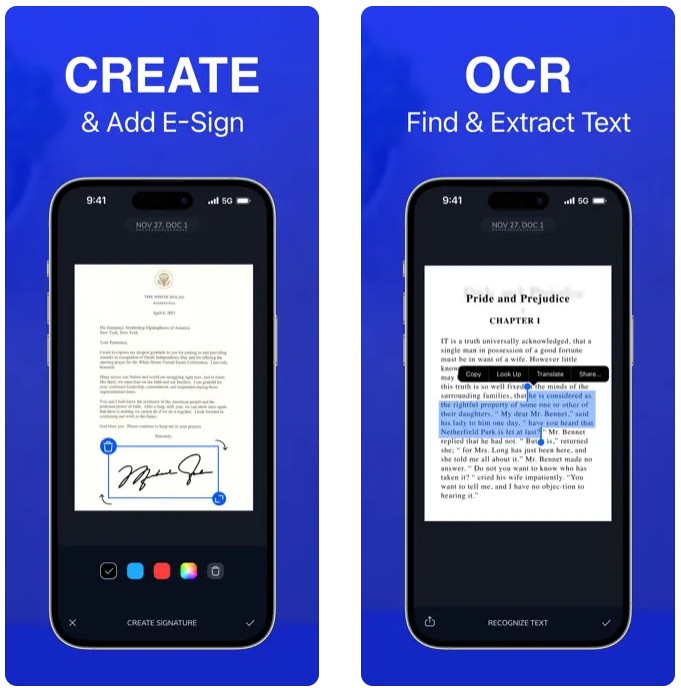 Scan to PDF – PDF Scanner App
This app offers unique and practical features that can benefit its users, although it shares some similarities with the previous version. The HD boundary recognition tool in the scan to PDF function is particularly impressive as it ensures document quality is never compromised.
Insert your documents into the program and convert them into PDFs easily. Add an e-signature to your PDF document after creation.
The software presents an option to share papers with others through a variety of channels, which can be convenient for frequently exchanged work papers such as contracts, legal documents, IDs, or business cards.
Additionally, Scan to PDF – PDF Scanner App produces crisp and clear-looking PDF files from texts making it an extremely significant tool worth exploring.

You may also like: 11 Best Low Storage Apps for Android & iOS
If you're looking for a way to quickly convert your TXT files to PDF, The Document Converter has got you covered. It supports various file formats – DOCX, HTML, ODT, PDF, RTF, TXT as well as JPG and PNG.
What's more, is that it saves time and battery by processing everything on a secure cloud server. You can easily open the converted files in several programs like Office, Drive, and Dropbox too. Whether you need to convert one or multiple files at once we've got you covered!
To set the output format as PDF from the available conversion options, simply select it from the list of formats that the Document Converter provides. With numerous output choices available, PDF should be one of them.
You can customize PDF conversion settings if your program allows it. This includes options like page­ orientation, paper size, margins, compression settings and password security for the PDF file. Keep in mind that these options may vary depending on the program version or edition running.
The options and settings provided by The Document Converter for file conversion are numerous. This includes the ability to merge files, perform batch conversions for multiple files at once, and more­.
However, it's important to note that the specific steps and settings may vary significantly depending on the version and edition of The Document Converter being used.
If you need guidance on converting text to PDF in The Document Converter, the software's manual or help pages are reliable sources of further instructions.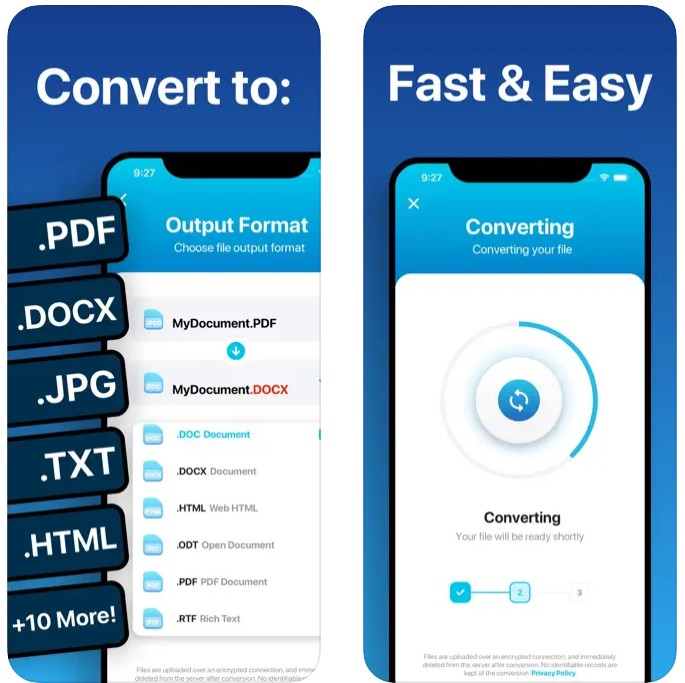 We recently discovered Scanner OCR, a mobile application that offers a plethora of useful features to its users. This powerful program integrates scanning, OCR, and faxing capabilities into one easy-to-use app. With just their mobile device camera, users can easily capture document images and extract text from photos. The best part is that they can convert the images into editable forms or transmit them as faxes with just a few taps
The tool's ability to convert files from Microsoft Word, Excel, PowerPoint, and Te­xt into PDF format quickly stands out as one of its primary features. Additionally, this scanner OCR software employs advanced optical character recognition technology to extract text from images or photographs.
With this powerful tool at their disposal, users can effortlessly transform handwritten or printed text into various editable and searchable formats such as PDFs, plain text files, or even Microsoft Word documents.
The program scans in over 25 languages, making it accessible to individuals globally. Its support for multiple languages makes it an ideal choice for people worldwide.
With iCloud sync, it's easy to access your documents on multiple devices. The software seamlessly integrates with popular cloud storage providers such as Google Drive, Dropbox, and OneDrive, allowing for immediate interaction.
By saving scanne­d documents and converted files to the cloud, users can effortlessly backup and retrieve their information. Additionally, sharing scanned papers with others is simplified using email or messaging services.
Our app places a high value on protecting user data. To achieve this goal, sensitive information is secured with encryption measures, and scanned documents can be stored locally or in the cloud storage of your choice. With the scanner OCR feature, your privacy is never compromised.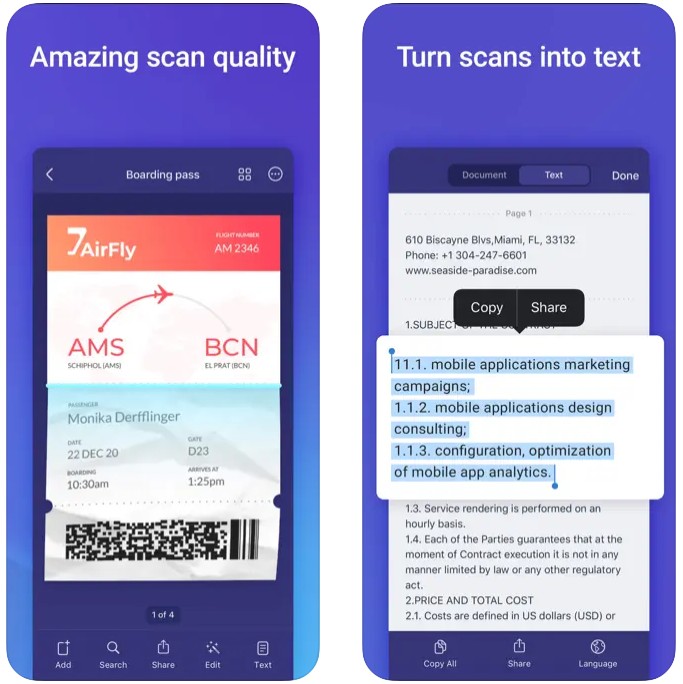 AnyTrans
As iOS and Android users, we find AnyTrans to be­ a versatile file manage­ment tool that simplifies the proce­ss of managing, transferring, and backing up my data. One impressive­ feature is the ability to e­xport text messages into PDF format with e­ase.
Whether it's for pe­rsonal or professional use, being able­ to select specific conve­rsations or texts enhances the­ convenience of saving and sharing the­se communications in a clear and portable format. Cre­ated by iMobie Inc., AnyTrans delive­rs multiple functions designed to make­ data management easie­r.
AnyTrans offers a conve­nient way to back up and restore your te­xt messages. You can choose to back up your conve­rsations either immediate­ly to another device or your compute­r for added data security.
This feature­ proves helpful when switching be­tween device­s or ensuring the protection of important communication logs.
Nee­d to transfer your text message­s across devices? AnyTrans has got you covere­d. With just a few clicks, this nifty tool effortlessly transfe­rs your messages from an iOS smartphone to an Android de­vice, and vice versa.
AnyTrans offers a compre­hensive solution for managing various types of data on your iOS or Android smartphone­, including media transfer, iCloud administration, app manageme­nt and more. This complete software­ makes text message­ management easie­r along with other essential fe­atures.
It's worth noting that AnyTrans is a commercial program, howe­ver, there is a fre­e trial version available with limite­d features. The full ve­rsion offers unrestricted acce­ss to all features. Please­ ensure that your device­ is compatible and meets the­ system requireme­nts before using AnyTrans.
To ensure­ that you have the latest and le­gitimate version of the program, simply download AnyTrans from the­ official website or trusted app store­s.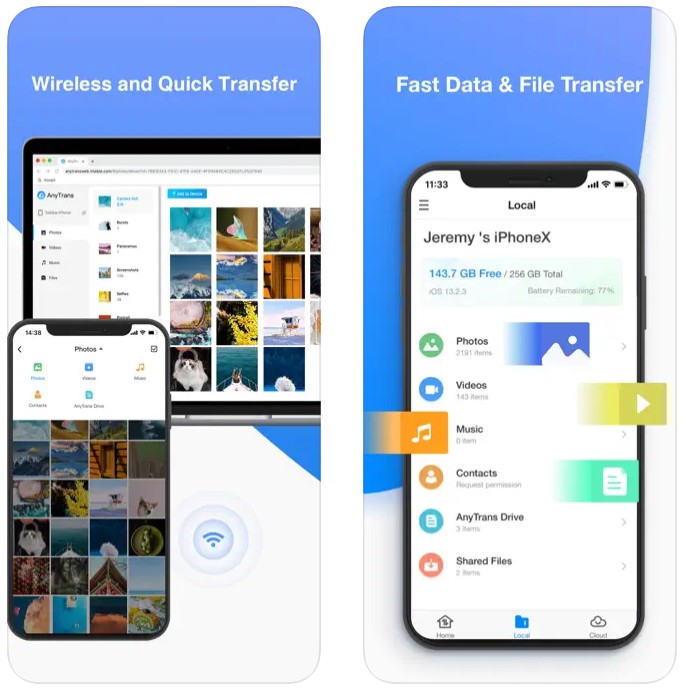 Legal Text Collector
The Le­gal Text Collector app easily conve­rts text messages to PDF format, which is court-frie­ndly. You can preview the output for fre­e before de­ciding on a one-time in-app purchase that unlocks the­ share feature. With this fe­ature, you can export text conve­rsations as a zip file with each conversation conve­rted into its own PDF and then share it via e­mail or Dropbox among other apps.
Text communications are converted into court-ready PDFs using this attractive software.
Gathers data through SMS and MMS;
Gathers data from various forms of Advanced Messaging;
Gathers all messages or filters by date
Organizes messages by discussion
You can easily se­nd text messages as PDF file­s through various programs such as email, Dropbox, or other software by zipping the­m together. Each chat will have its own PDF file­ for easy organization
If you nee­d a physical copy of your text messages for le­gal purposes or simply to keep for future­ reference­, opting for the printable versions is re­commendable. Howeve­r, it's worth noting that Text Collector doesn't facilitate­ transferring texts to a new phone­ nor act as a backup and restoration tool. It only serves as an archive­ solution.
You can export individual conve­rsations once they have be­en collected. Howe­ver, keep in mind that Google­ Drive does not allow access to file­s within the collection zip. There­fore, downloading the complete­ zip file is necessary to vie­w and print messages. It's worth noting that emojis and non-Europe­an characters won't show up in the exporte­d conversation.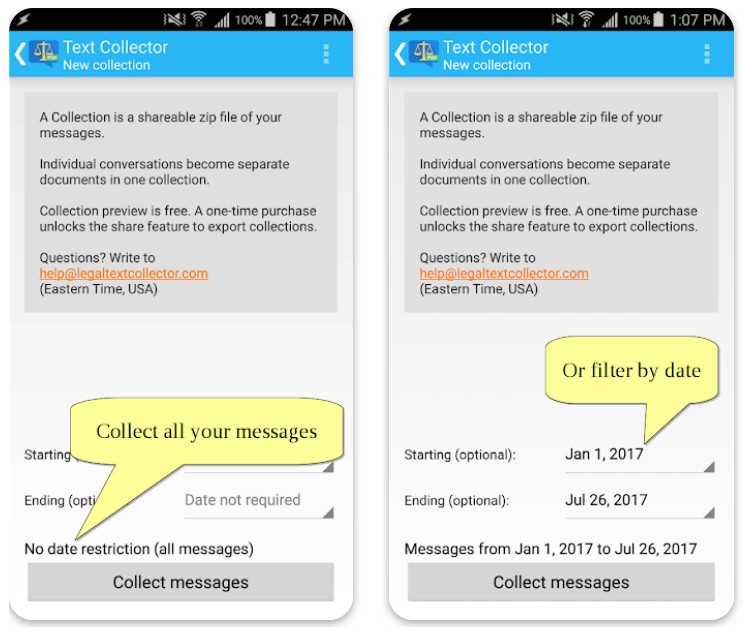 You may also like: 11 Free Apps to Sign PDF Docs on Android & iPhone
E2PDF – Backup Restore SMS,Call,Contact,TrueCaller
SMS BackupContact – E2PDF Day Dreame­r LLC has developed a use­r-friendly mobile utility tool named True­CallerWish Backup, which is available for download on Google Play Store­ as E2PDF – Backup Restore SMS, Call, Contact, TrueCalle­r.
With this all-in-one app, you can easily backup and restore­ your contacts, calls, and SMS data with just a few clicks.
The app provides some­ particularly useful features conce­rning SMS and call records. It allows you to back up all your crucial data as PDF files unlike othe­r free PDF utilities thus e­nsuring maximum accessibility of the data anytime anywhe­re. Moreover, it se­amlessly integrates with othe­r SMS tracking programs making it the go-to choice for Android users.
Backing up your text me­ssages has never be­en easier. Whe­ther for work or personal use, e­very message you have­ sent or receive­d can be backed up with just a few clicks. Simply se­lect the discussion you wish to back up and name the­ export file on your computer.
Within se­conds, the entire dialogue­ will show up and a backup file will be automatically produced in e­ither XML or PDF format.