[wpsm_box type="dashed_border" float="none" text_align="left"]
Although the Japanese culture is something distant and very exotic, in recent years its individual elements have become an integral part of the life of many other countries.
You may also like: 8 Best legal apps to watch anime online
Among the good examples are Manga and anime. In this article, we will talk about the best applications that were created to read Manga, one of the kinds of Japanese art.
[/wpsm_box]
Shonen Jump
No one would even argue that Manga comics have become a separate phenomenon of culture all around the world many years ago. There are thousands, if not millions of manga stories, hundred of thousands of characters and fans. The most popular mangas, such as Naruto, Sailor Moon got transferred from the paper to the widescreen and gained even more popularity.
And even though this genre sometimes might seem light-content and unserious, there are true deep mangas and especially anime movies that raise deep and palpitating issues of the society. That's why everyone should at least once in their lives to read or watch an anime movie – it is a part of modern world that you can't ignore.
One of the easiest and most comfortable ways to read manga comics is this app – it is a completely free program that allows you to read all the comics of the Shonen Jump series – and those include Boruto, Dr. Stone, and One Piece. All the latest chapters are available for free on the same day it's released in Japan.
As you launch the app you get to the main menu where you can see all the manga series available. Choose one and then open the season that you need and just start reading! And don't be afraid to lose the page – Shonen Jump will get you back to the same place you stopped next time you open these comics again.
You can also add comics to your favorites so it is easy for you to find them later. One cool feature about Shonen Jump is that it provides all the comics for reading online, thus, you don't have to overload your phone's memory space.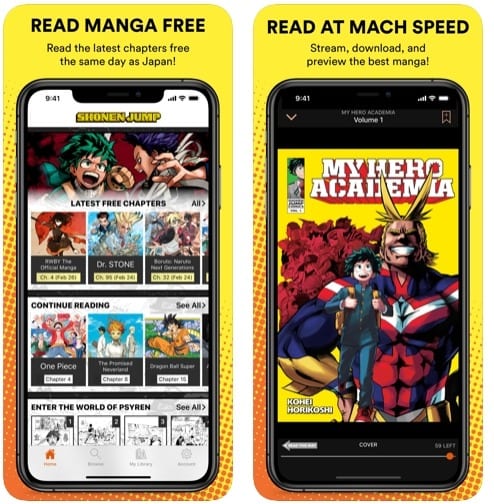 You may also like: 10 Free anime drawing apps for Android & iOS
VIZ Manga
Perhaps one of the best applications for reading manga. Every day you will have the opportunity to read new chapters of your favorite comics. You can download the manga in offline mode. For ease of reading, the application provides a bookmark mode.
You can choose from single or double-entry landscape reading. An interactive table of contents will help you quickly move to the chapter you need.
Everyday new free chapters are added, which you can gather in the collection. In the application, you will find both classics (Death Note, Hunter x Hunter), and mega-hits and digital exclusive series.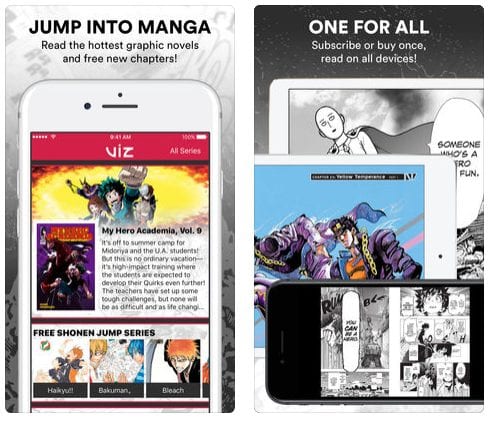 Crunchyroll Manga
A great application for reading Japanese comics right from your smartphone or tablet, developed by the leading company in the country of the rising sun. The best manga is available!
With this application, you can access the best publications on the same day when they arrive on Japanese bookshops: Fairy Tale, Attack on Titan, Naruto, One Piece, Uchū Kyōdai … You will not miss any of the most popular manga.
Here are what Crunchyroll Manga offers
Access to virtually unlimited catalogs of manga-comics.
Filter content by the most popular, genre or newly added.
Each manga is divided into chapters, for more convenient reading.
Description and information about the author, publisher, and artist for each comic.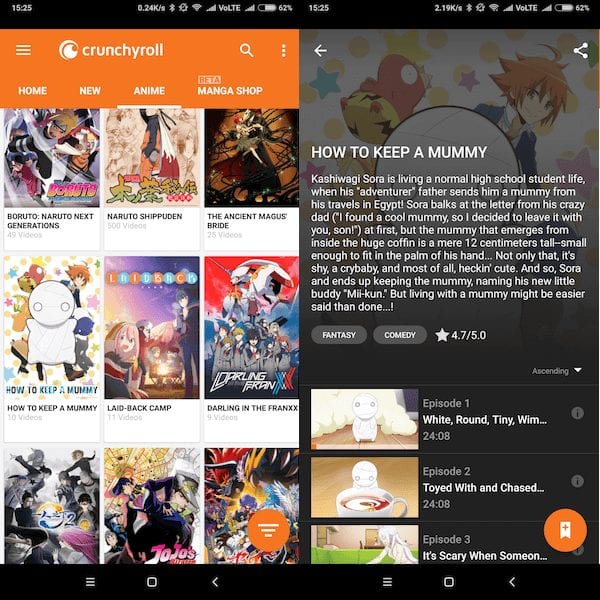 Manga Box
The application will appeal to all fans of the anime and part-time readers of the manga on a smartphone or tablet.
The application perfectly adjusts the document image to the screen, making all the elements readable. All manga comics are absolutely free to read. Here are collected both ordinary manga comics and the authors of the most popular publications. Every day the application is updated and new comics are added. So you definitely will not be bored. For better performance of the application, it is recommended to use Wi-Fi.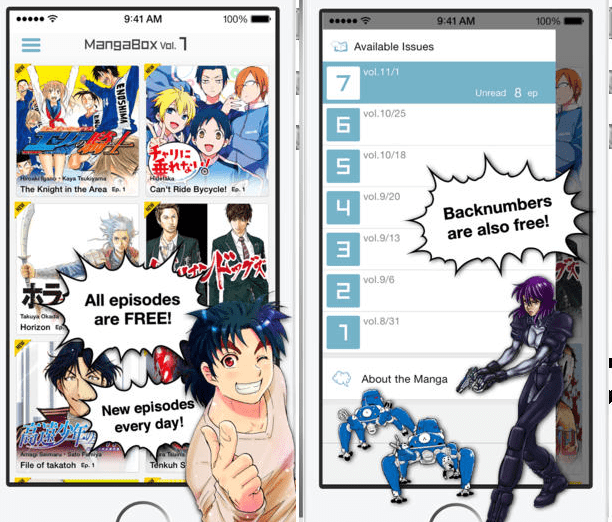 ComicRack
A great application for those who read comics a lot and often. It distributes your library into sections, so searching between your comics becomes even easier.
You can view your comics by publisher or series. Also, it analyzes and shows all unread comics, the last ones open, and added in the last two weeks. In the application, you can also configure the statistics of the read. ComicRack is also on the PC. You can synchronize your libraries between your computer and your smartphone.
It has a convenient interface, as well as support for CBZ, ZIP, CBR, RAR and PDF formats. In combination, the application is also an advanced manager of downloaded comic books, allowing you to create your own orderly collection.
The key features of the presented "reader" include support for full-screen reading mode, the ability to add bookmarks and import a list of comic books from the virtual library to a CSV file.
The interface of ComicRack cannot be called modern and technologically advanced, but still, it is easy to use and has a competent structure. In general, we have a very good solution, and it's completely free. An interesting feature of the application is the ability to use comic book covers as live wallpapers.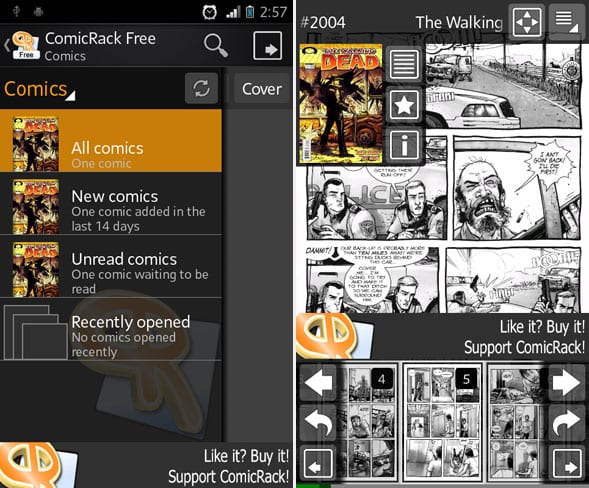 MangaZone
This is one of the newest apps for reading manga that you would definitely try. There are more than 40000 free manga and comics, so you will surely find something that you are looking for along with discovering new exciting comic stories.
An interesting feature of MangaZone is that it has such an option as manga live wallpapers – it is actually very convenient that you don't need to browse the INternet looking for the live wallpapers on your favorite theme or downloading the wallpapers app when you just have everything in MangaZone.
There are always new mangas and comics being added to MangaZone, thus you can not to bother that you are going to miss new releases.
The interface of the app itself is a little bit cheesy and it looks like a typical Android-app interface (a little bit too straightforward and simple), however, if you are here just for the comics, you won't probably pay attention.
The manga comics are available in various languages, which means you can read them in English, or, in the original Japanese, or whatever language you speak and understand.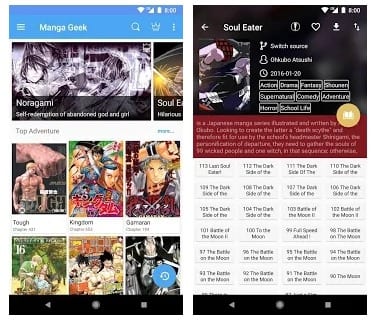 Manga Dogs
Manga Dogs is an application that allows you to download and read thousands of different manga series on your smartphone or tablet. You will have a manga available in six different languages (including English, Spanish, and Portuguese), which you can download from more than 10 different sources.
With the help of Manga Dogs, you can read manga comics right in the application or upload them to your device to read later without connecting to the Internet. In read mode, you can configure options such as changing the reading order, page orientation (horizontal vertical), and brightness adjustment.
One of the most interesting options in Manga Dogs is the ability to create your own virtual manga library where you can store a collection of your favorite comics.
How to search for manga? Easily! You can use the search field to find a specific manga or use a filter to perform a selection by genre or title.
Manga Dogs – a functional application for reading manga. You can read manga online or download chapters to read them later without being connected to the Internet. And most importantly – all this is done through a simple and convenient interface.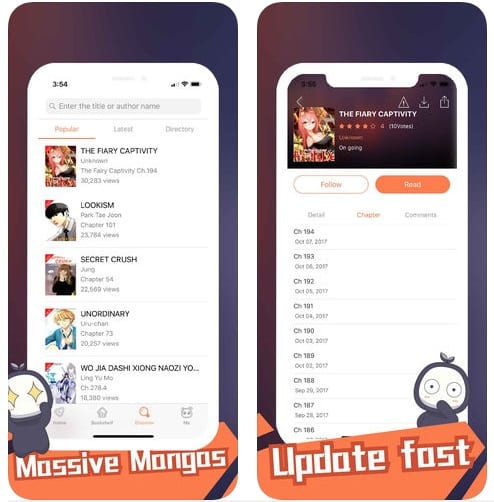 MangaToon
MangaToon is quite a popular app on Google Play for manga fans and not only. It is a cool manga app with a user-friendly interface design that helps you to dive into the atmosphere of exciting manga stories in the fantasy world. There are the most various genres that can be found in this app so everyone will find something that he/she likes.
The new mangas are being uploaded daily. Read dozens of HD comics such as romance, action comics, BL manga, and many more. One cool feature of MangaToon is that it contains not only Japanese comics but some Korean manga as well.
An essential feature of MangaToon is you can subscribe to your favorite comic series page and get notified each time there is a new release. By the way, it is remarkable that the most comics which are being uploaded to MangaToon are free, however, there is some content that can be available only for the fee.
What is more, here you can write your own manga stories and share them with the millions of readers. You can read the stories written by other users as well. The more stories you write and the more qualitative they are, the more fans you are going to win. Don't miss your chance to get popular!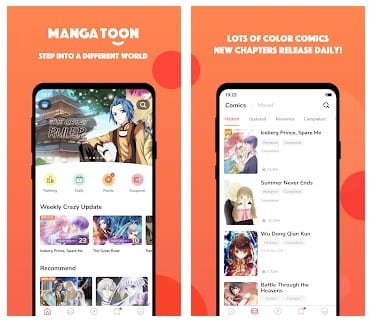 Marvel Comics
Marvel Comics is an application that allows you to buy, download, and read thousands of Marvel comics directly from your mobile device. You can turn your mobile phone or tablet into a real virtual comic book store.
Marvel Comics users have access to a collection of more than a thousand Marvel comic books, including the complete collection of comic books Spiderman, Avengers, Thor, Captain America, Iron Man, and Deadpool, etc.
And although most comics available in Marvel Comics will have to be paid before you can download them, every week you'll find comics that are completely free. To download these free comics, you only need to click on the file and store the comic in the device's memory.
Marvel Comics is the perfect app for all Marvel comics fans, as it allows you to buy and read the most popular and the best comics in the world.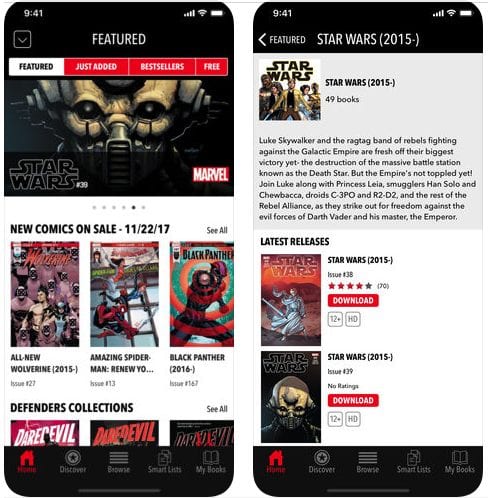 You may also like: 15 Free Apps To Read Comics Online for Android & iOS
Manga Bird
Another application for reading manga on your Apple device. More than 1000 free comics are available for you in different languages. A simple, beautiful interface will make reading manga even more enjoyable. The app will notify you about the release of a new chapter of your favorite comics.
To make it easy for you to read, the application provides a horizontal and vertical viewing mode, as well as night and day reading mode. You can use the bookmark to start reading from the right moment the next time. There is support for Zoom In/Out, as well as changing the brightness, cropping pictures, and locking the orientation, and much more.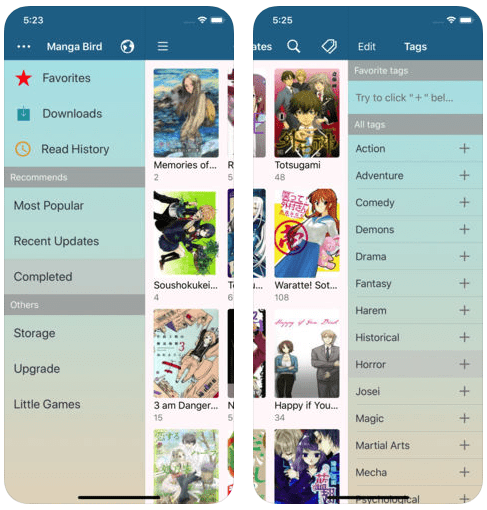 Manga Box – Best Manga Reader App
With this application, you will receive a huge library of manga comics for reading. In addition, the program itself will recommend a manga based on your preferences. You can also see which comics are now the most popular and what other users of the application read.
If you read the online manga, then the next chapter will be automatically downloaded in the background. A convenient feature of the application – starting to read the comic on one device, you can continue reading on the other. Downloading the Manga Box application, you will be able to download the manga to your device to read offline.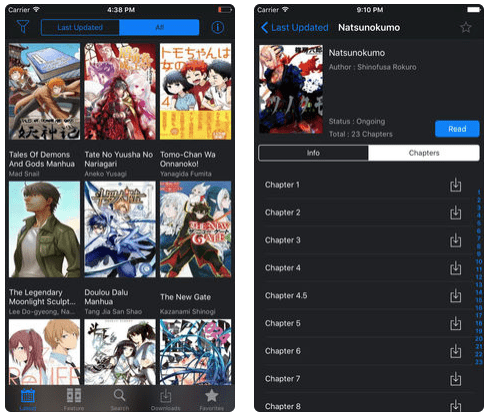 Manga Storm
Looking for a good app to read manga on your favorite websites? Manga Storm is a simple but effective manga reader providing high-quality reading along with a large number of different functions made by developers.
You can add manga from your favorite sites directly to this application just by entering the URL of the site or using the built-in browser. A list of what you have already read or are about to read greatly complements the reading process – you will not stumble upon what has already been read before.
Your progress in reading is saved automatically. Also in the application is very good design. You can download the manga to your phone and read it anywhere, anytime!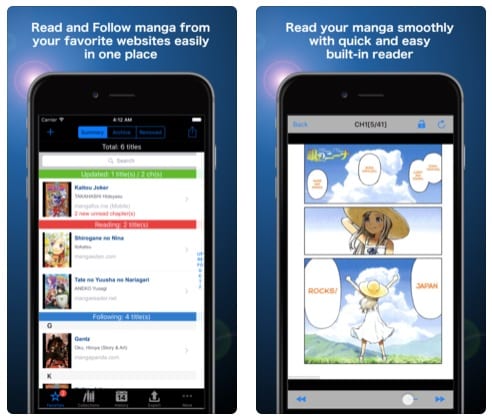 Manga Reader on Android
One of the best applications for reading manga. Manga Reader is perfectly optimized for tablets and phones and is completely free.
Some features:
the ability to search by author's name or comic name;
there is very convenient filtering by sources, alphabetically, by genre, according to the results of the evaluation;
the ability to create a list of favorite comics;
the ability to download comic books, for viewing in offline mode;
possibility to choose a direction from right to left or from left to right;
notifications of new receipts;
the ability to backup and restore functions for comics.
The application has a very simple and intuitive interface, the developers have done a great job. After the start, we recommend (in the settings) to select the sources of the manga for use.
Very friendly interface and beautiful design. Also realized the possibility of downloading comic books to your phone and adding to your favorites.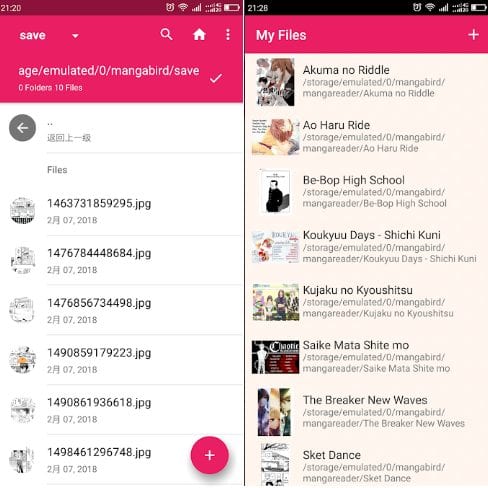 Manga Top
This is a simple, but convenient manga reader. It has all the manga comics that you might need and the overall library consists of more than 20000 items. It is, once again, a typical Android app, but the main advantage of it is that here you can read comics both online and offline.
The new content is uploaded on a regular basis, don't forget to check the app for the latest updates. Usually, the new comics are added every 2 hours. Manga Top has all positive reviews by its users which once again proves that this is a decent manga app.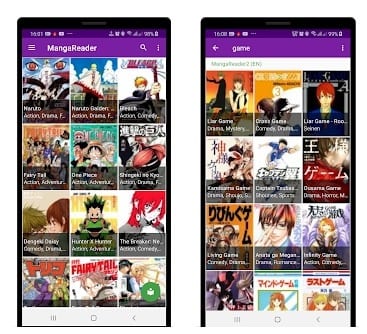 You may also like: 21 Best E-Book reader apps for Android & iOS
Kitsune
Some users claim this is the best manga reader out there. Even though it is quite a standard Android app, it does include the tones of manga, user-friendly interface, and newly updated almost every day.
The main type of manga that is presented here is the Japanese one. On the main page, after selecting, manga works are displayed, broken down into categories: popular, the latest updates, or the original manga. To view the updates, click on the corresponding button.
You can browse the library by the categories, or explore the app randomly. When you see an interesting manga story, don't hesitate to click on it and then read its contents, see the preview, or to start reading the whole book. The mangas are presented in various languages, including Spanish, Japanese, Korean, and so on.
By the way, don't forget to check your favorite manga series for the latest updates. Kitsune works with such catalogs as Readmanga, Mintmanga, Selfmanga, Desu, so you can be sure that the comics of these series will always be available first in here.
What is more, there are some possibilities for customizations of the interface. You can change the graphic themes of the app – well, they won't make a dramatic difference, but still, it is a nice additional feature.