Yoga promotes deep relaxation and better health, which is why this kind of practice is quite popular all over the world.
Even if you have never done it, you can easily get started with these free yoga apps for beginners in 2023. All instructions in these programs are accompanied by animations or video tutorials. Also, some of them have extra tools that you will definitely enjoy.
Add some pleasant supplements to your yoga classes using these free guided meditation apps.
Yoga for Beginners Weight Loss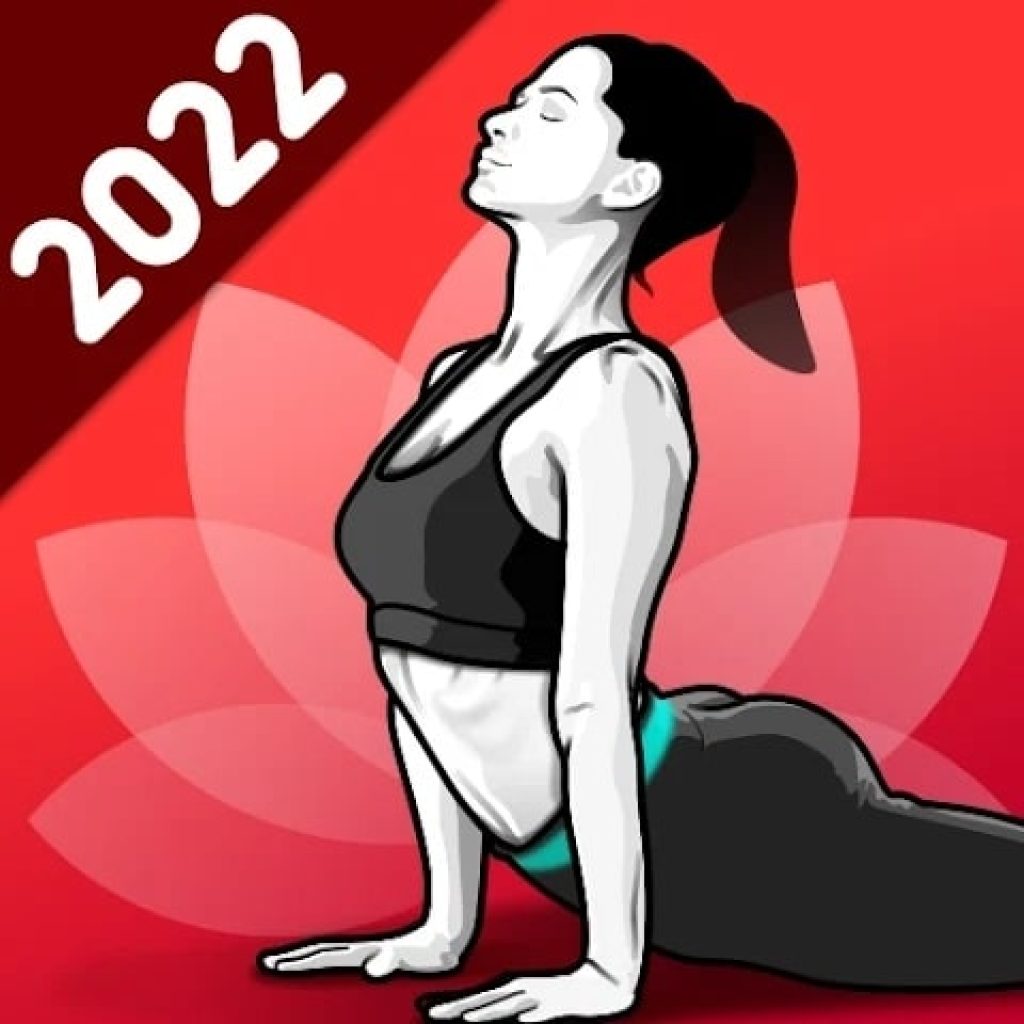 This app is specially designed for those who are just starting to practice yoga. With its help, you will be able to tighten your body and improve your emotional state.
The app will allow you to choose from three levels of difficulty from beginner to professional. All of the presented exercises can be performed at any time convenient for you.
You do not need to go to the gym, you can exercise at home. No equipment is needed, you work only with the weight of your body. You will get a daily reminder, so you will not forget about your workout.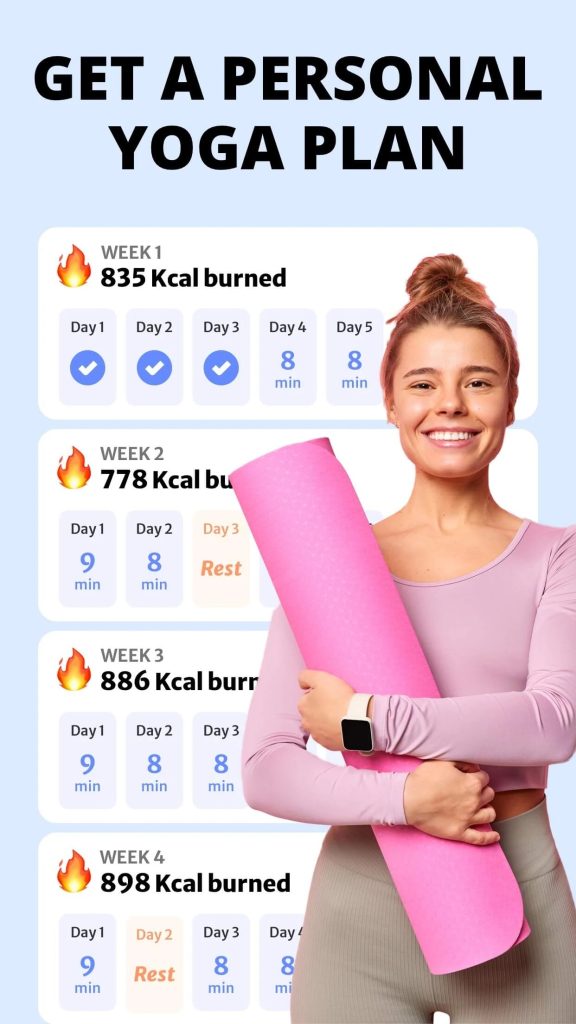 The app automatically counts calories burned. Simple yoga poses are available that even a beginner can do. The app also has 30-day workout plans developed by experts and fitness trainers.

You may also like: 9 Best Height Increase Workout Apps For Android & iOS
Asana Rebel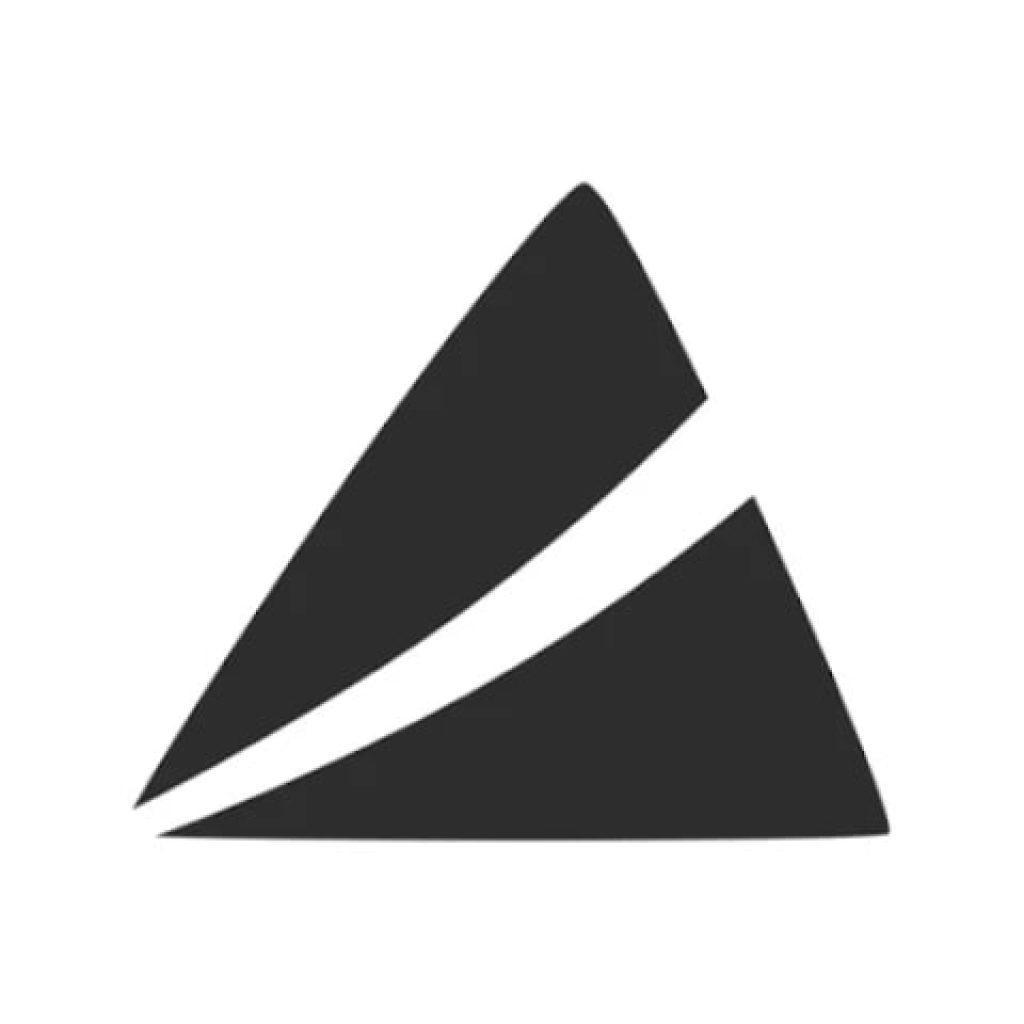 With the Asana Rebel app, you can practice yoga and fitness from the comfort of your own home.
No matter how old you are, what gender you are, or where you live, the app is suitable for absolutely everyone. You can easily lose weight, get slimmer, strengthen your muscles, and cope with stress more easily.
In the strength training section, you will be able to strengthen all your muscles from head to toe. Stretching exercises will allow you to release tension.
What's more, find inner peace through yoga classes. The app will give you access to more than 100 workouts from experts. Get personalized workouts tailored to your needs for specific muscle groups.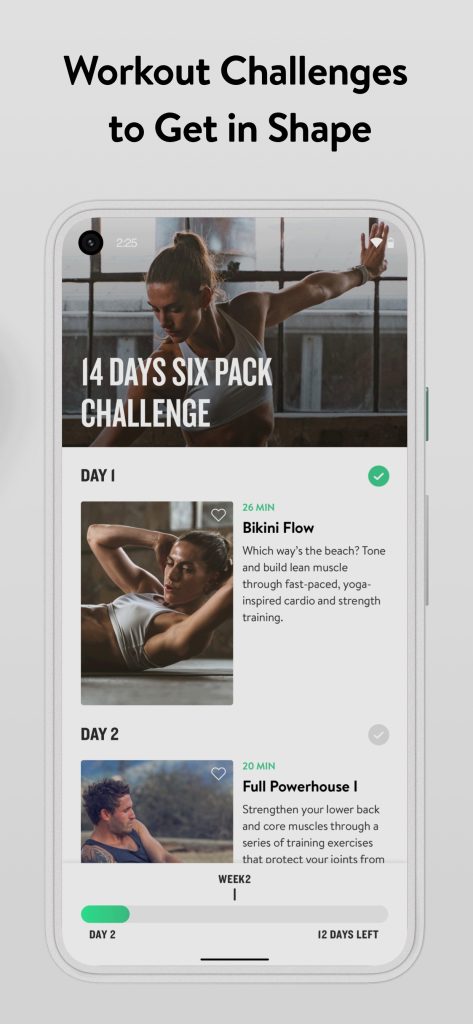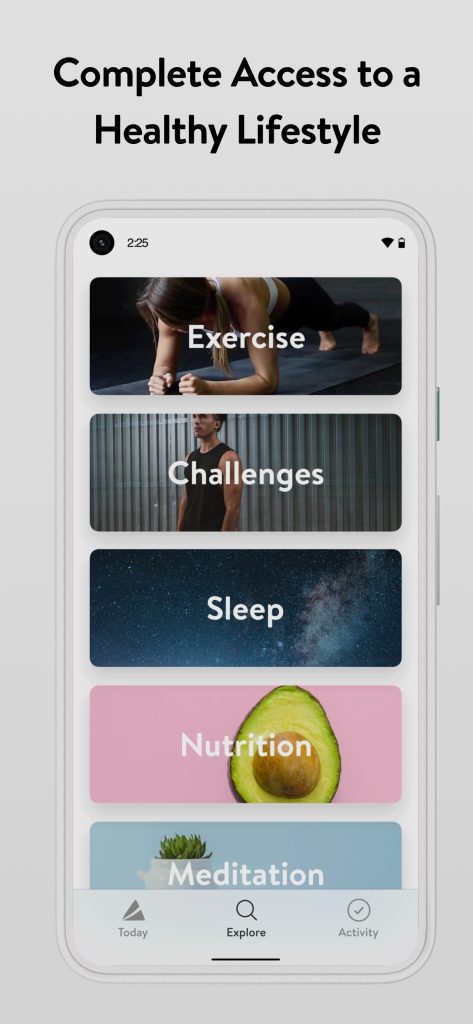 Track your progress and results. Update your workouts all the time. Share your success with other users and get support.


Simply Yoga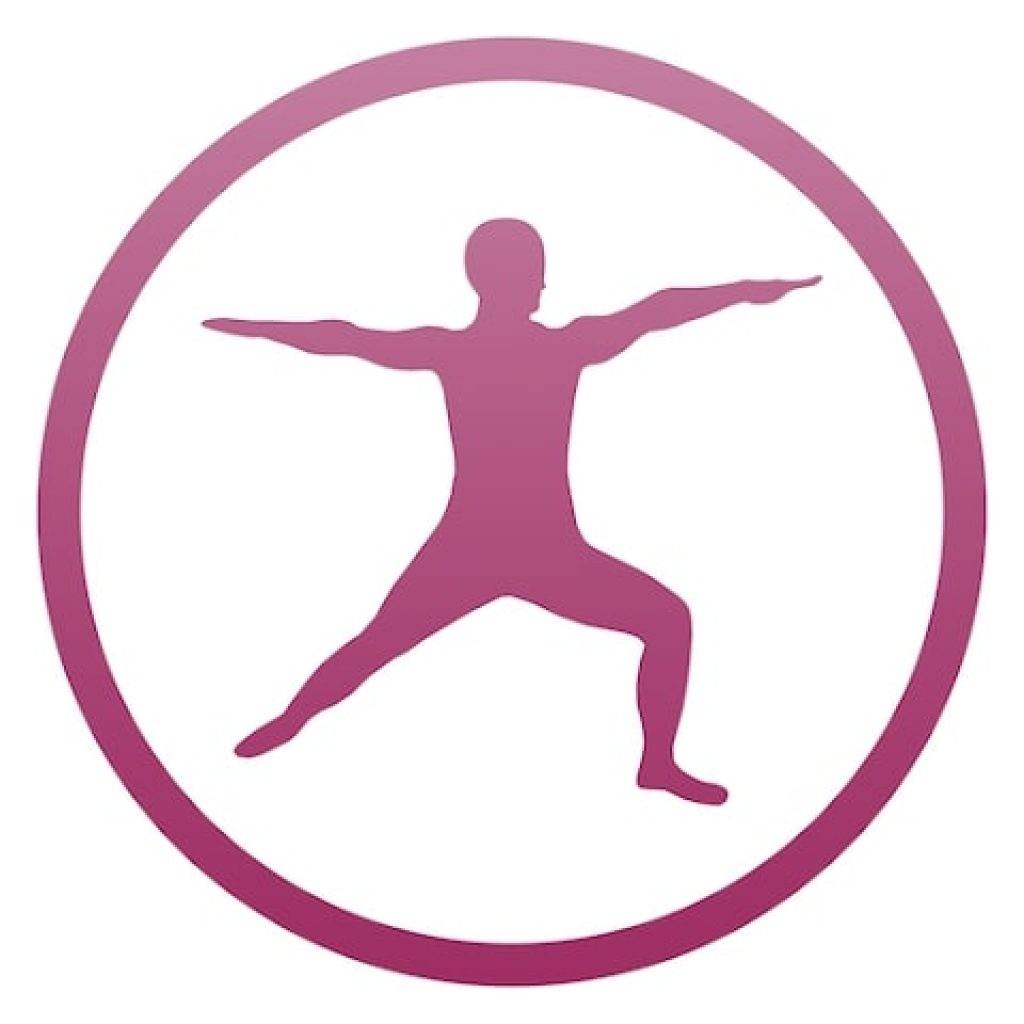 Simply Yoga is an app that allows you to exercise from the comfort of your own home.
If you've always wanted to practice yoga but don't have time to go to the gym, download this app and practice at home. It's designed specifically for yoga beginners.
It will give you 6 first-level workouts from 20 to 60 minutes. If you've done yoga before, you can check out the full version, which includes the second-level workouts, for free. There are also no ads in the full version of the app.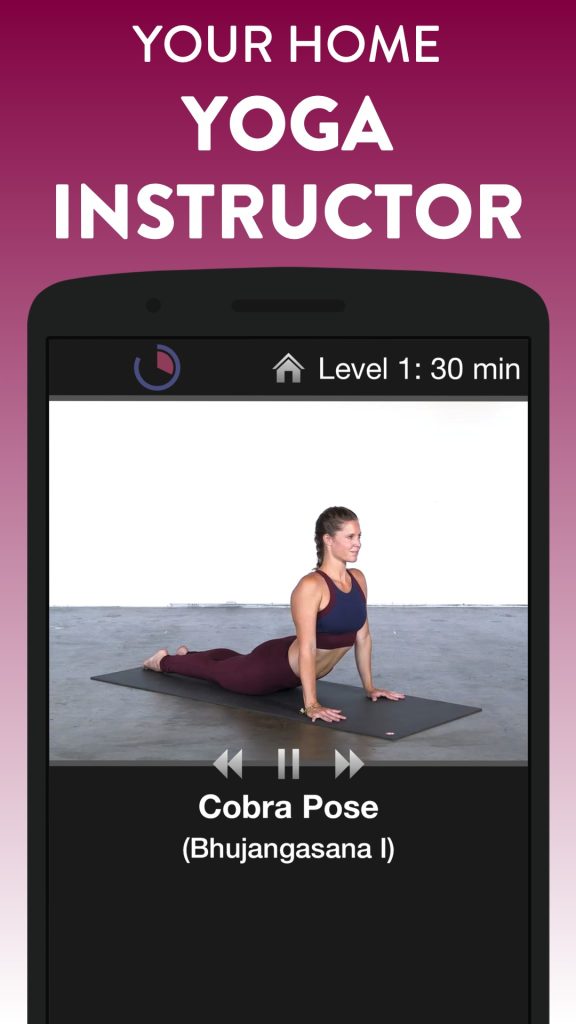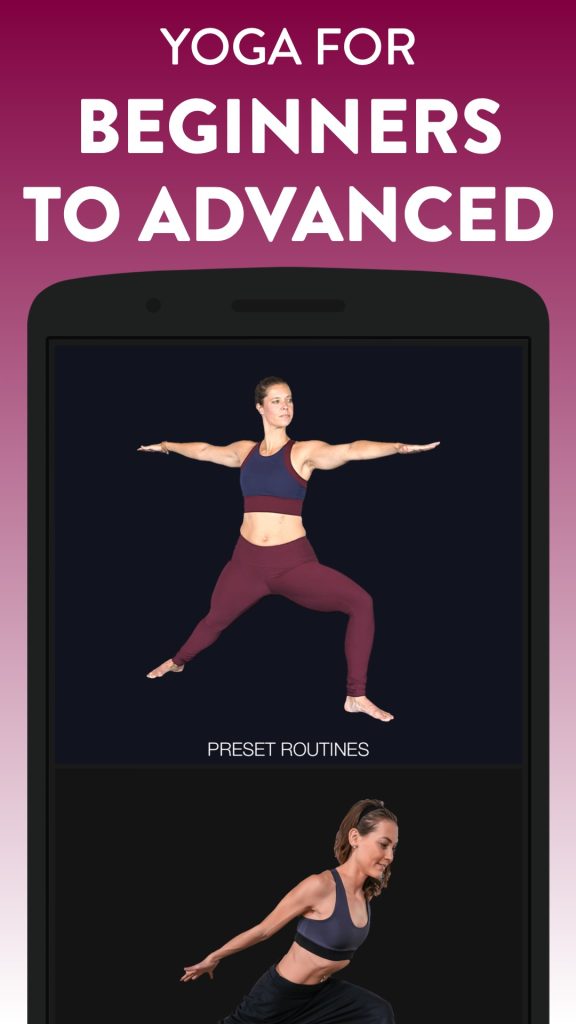 All workouts are recorded by professional trainers, and there are video and audio instructions for all workouts. Together with Simply Yoga, you can try more than 35 yoga poses.


5 Minute Yoga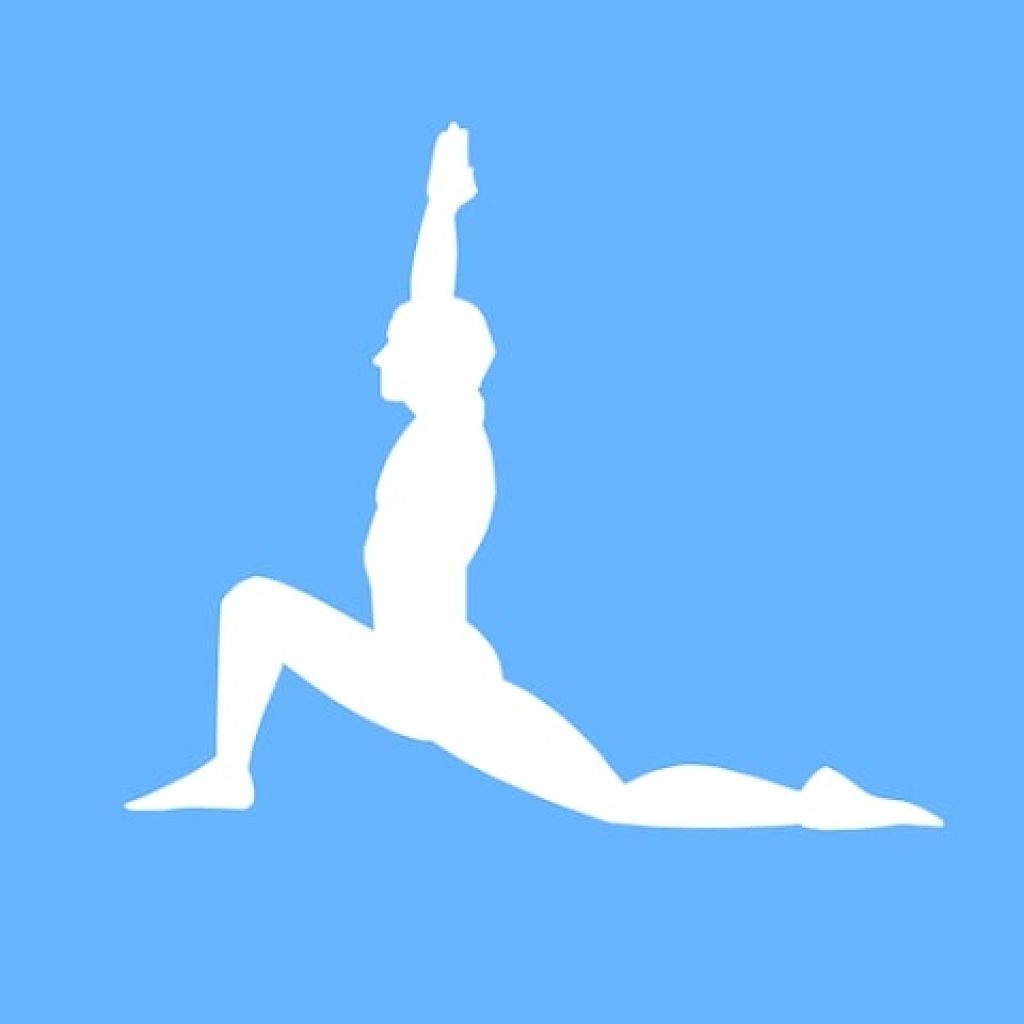 This app contains yoga classes, each of which lasts no more than 5 minutes.
You can do them at any time, in the morning right after waking up, at work to relieve stress, or in the evening before going to bed to fall asleep faster.
Each class is a set of simple yoga poses. Each pose contains detailed instructions on how to perform, so you will definitely be able to do them correctly.
The app has a timer function, so your workout won't take longer than 5 minutes. The program is great for beginners because, despite the effectiveness of each pose, they are all simple and accessible for beginners.
Daily yoga practice will help you achieve great results. You will be able to lose weight, improve flexibility and posture, and strengthen your muscles.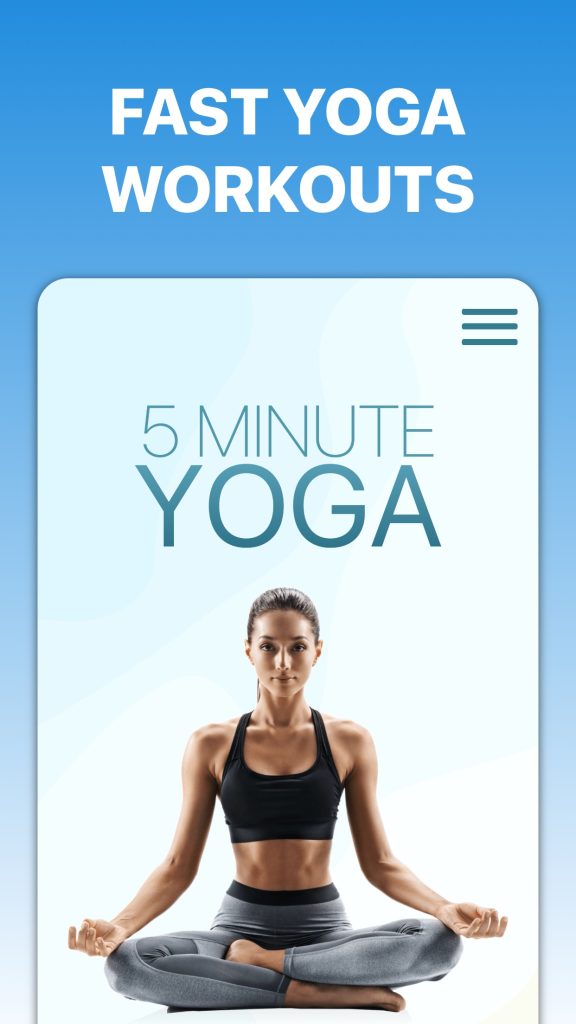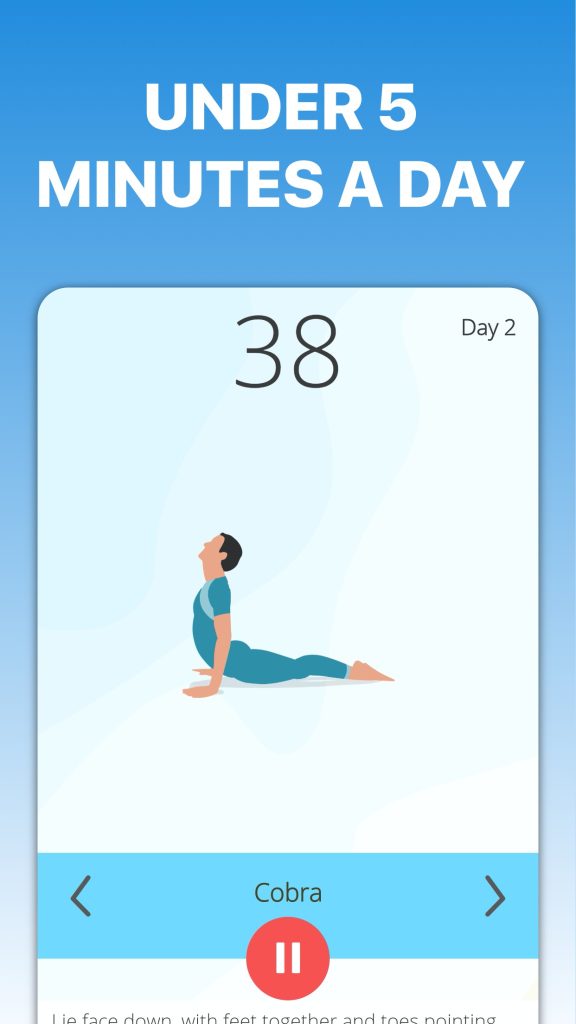 The app works for free. Download it now and you'll be surprised what results in you can achieve with just 5 minutes a day.


Yoga – Track Yoga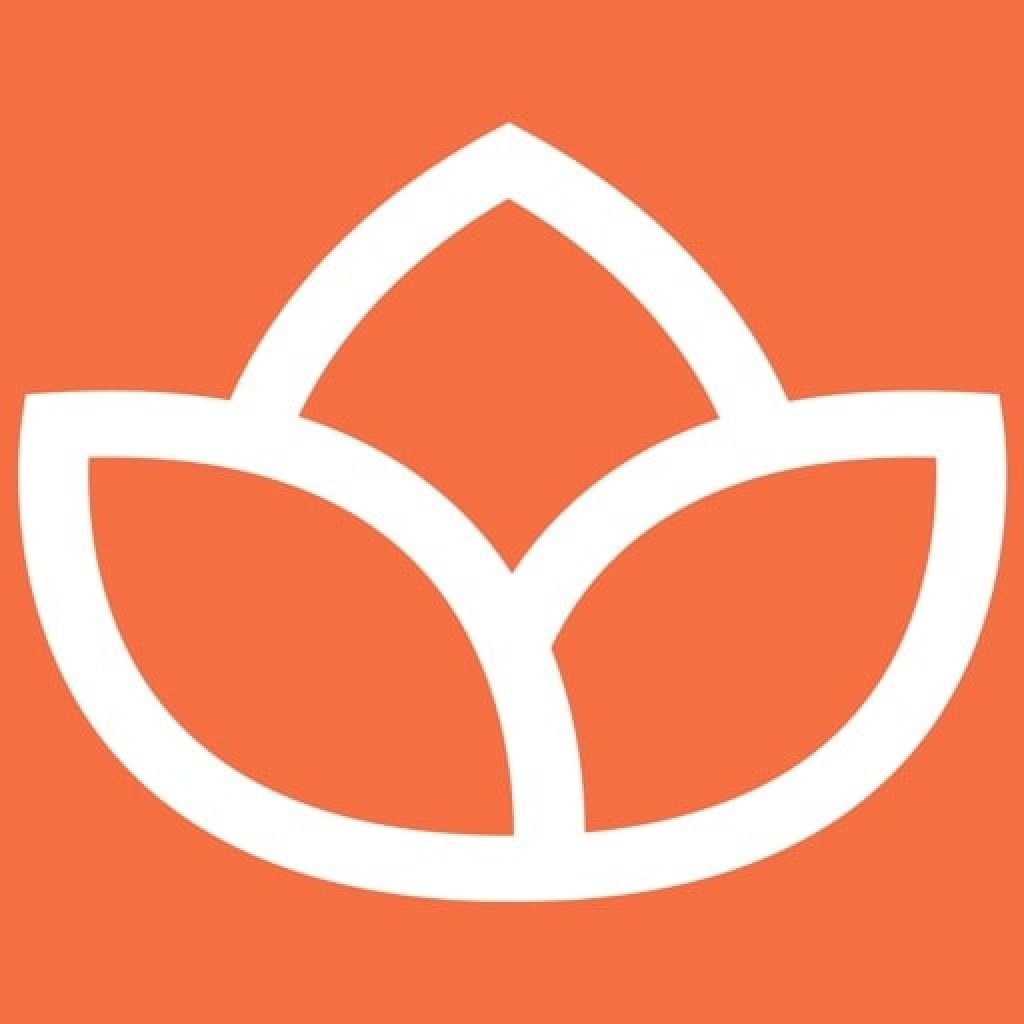 With this app, you can practice yoga wherever and whenever you want. Even if you have never practiced yoga before, with this app you will not have any difficulty mastering this art.
There are some really important features in the app. You'll be able to set weekly goals and track your progress. Collect badges for motivation while doing your workouts.
You'll get notifications so you don't forget your goal. You can earn points for each workout, which will help you unlock the premium version. There are 3 levels in the app, for beginners and professionals.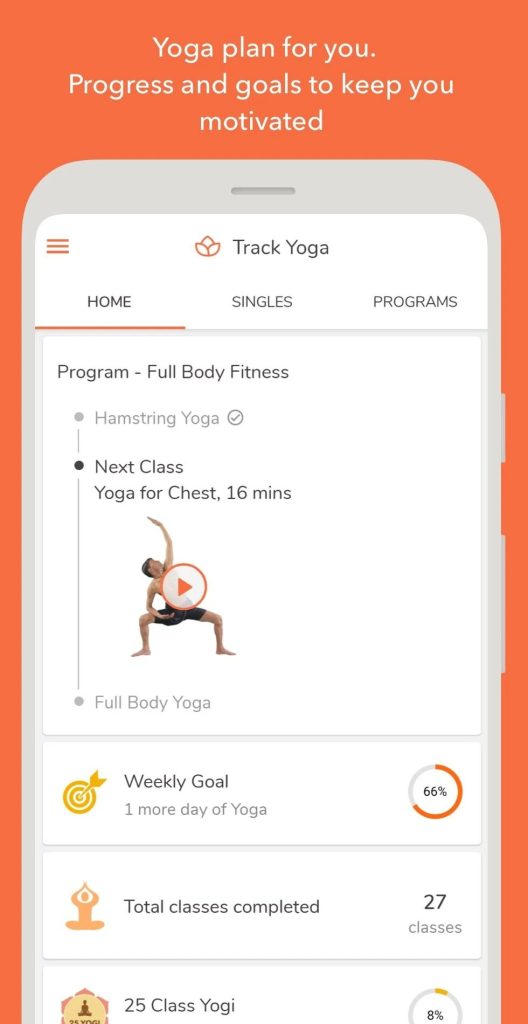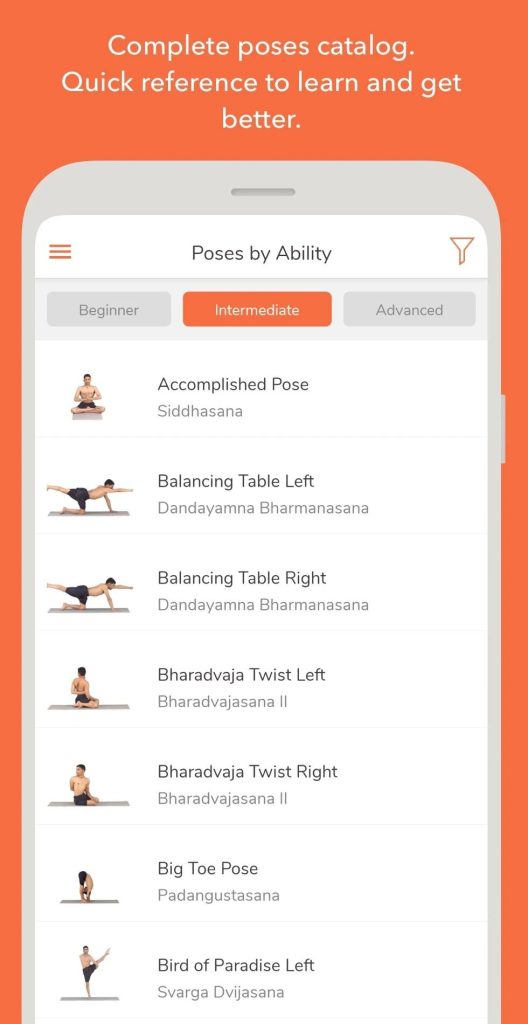 There are also different workout programs, for the whole body and for individual muscle groups. You will have access to yoga for stress relief, travel, balance, work, before bed, back pain, and many other workouts. You are to choose what you need.


Yoga Studio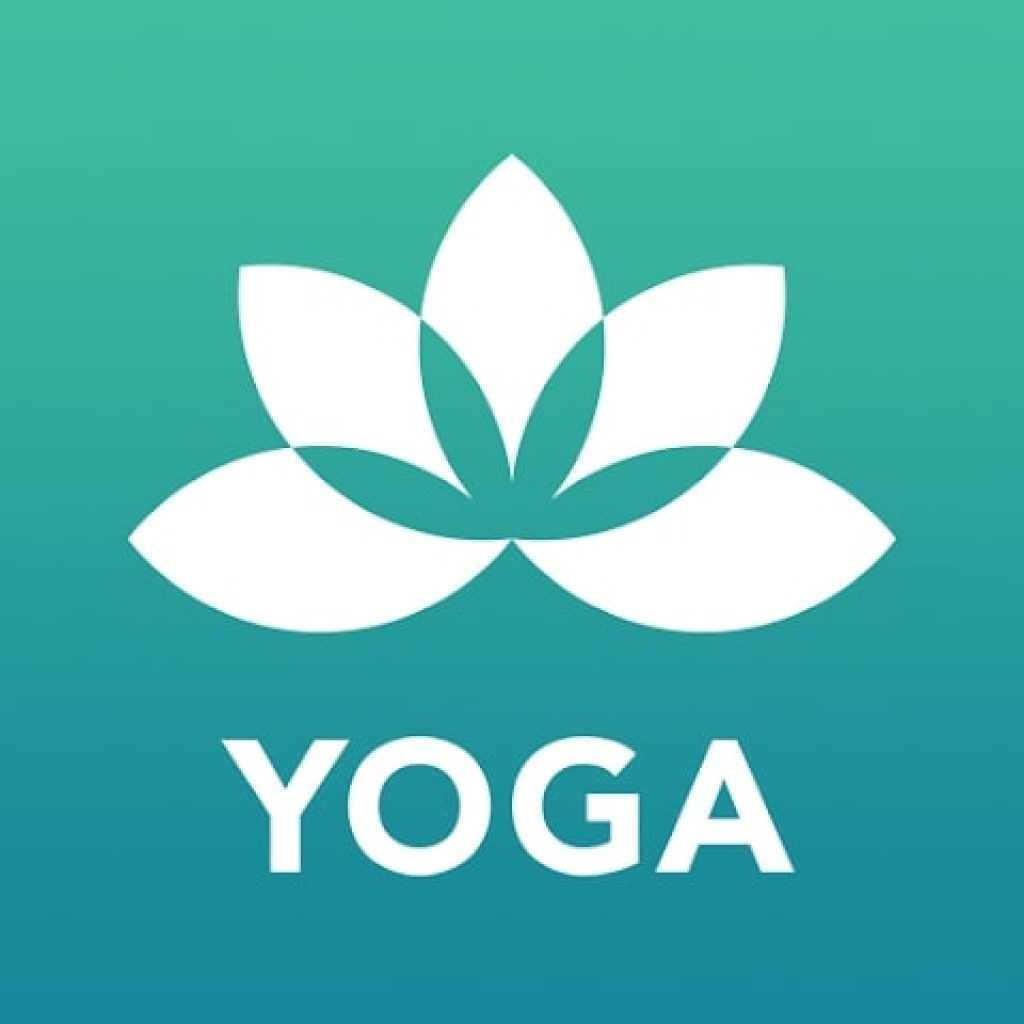 Yoga Studio is an app that helps you practice yoga at home. All you have to do is turn on the HD video on your phone and start practicing.
At your convenience, at home or in the park, alone or with friends, you can practice yoga. The app has over 100 ready-made yoga and meditation classes. You will also have the opportunity to create your own flow.
To do this, you need to choose the sequence and duration of the poses you want to do in the workout. Keep track of your results in your daily and weekly schedule.
If you want to learn more about a particular pose, you can open the library guide, which contains more than 280 poses with tips and instructions.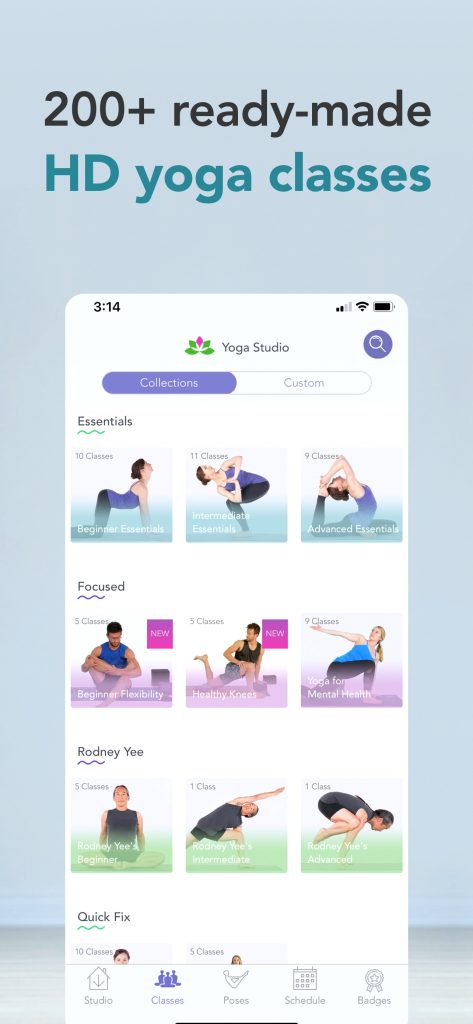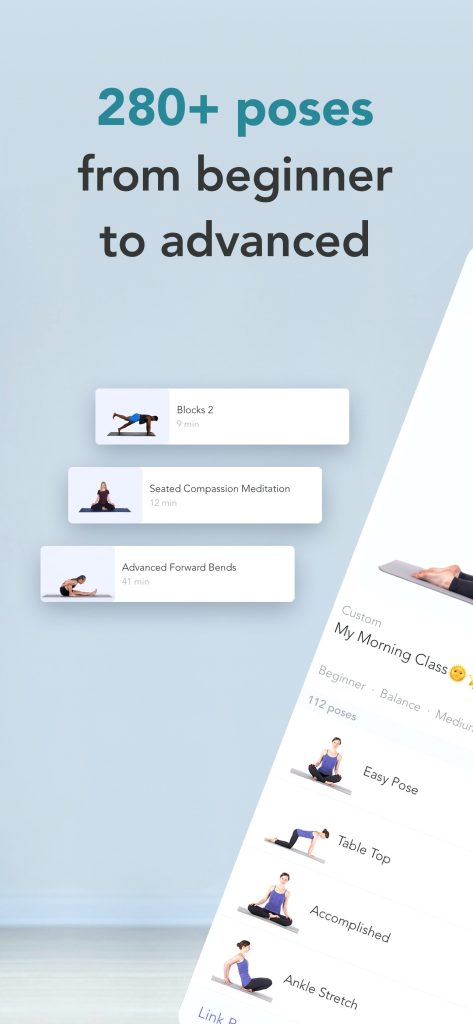 The app is suitable for beginners and professionals. Choose workouts from 5 to 60 minutes. Focus on developing strength, flexibility, relaxation, balance, or develop all 4 qualities. Choose background music, training levels, and more.


Yoga Workout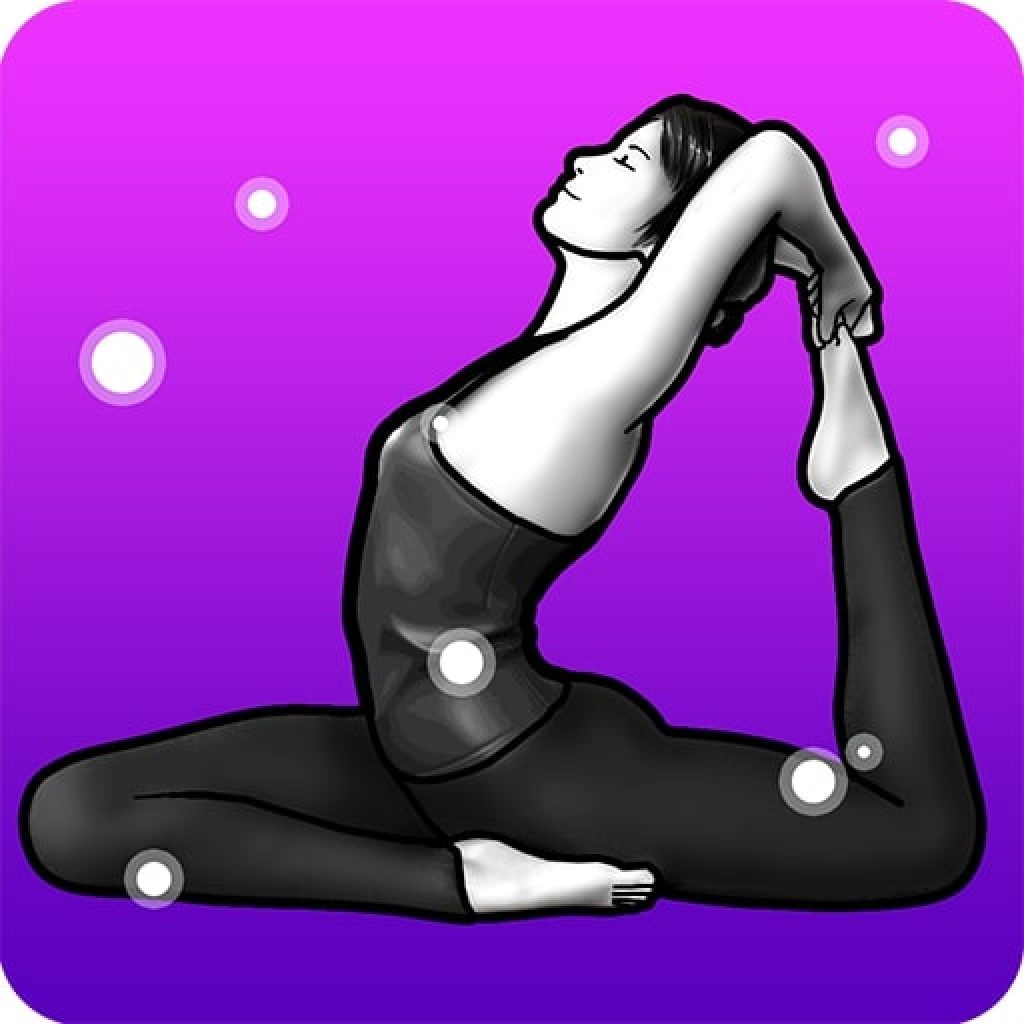 If you've never been to a studio for group yoga training and are afraid you can't practice at home on your own, this app is designed especially for you.
It is designed for beginners and includes free classes with basic practices – asanas, postures, and meditations.
Whether your goal is to lose weight or get in tune with yourself, a daily yoga class will benefit everyone. You do not need equipment, all work will be done with the weight of your own body.
You can practice at any convenient time and place, such as at home or in the park. All the videos presented in the app are recorded by a professional trainer. Every day you will receive a workout reminder.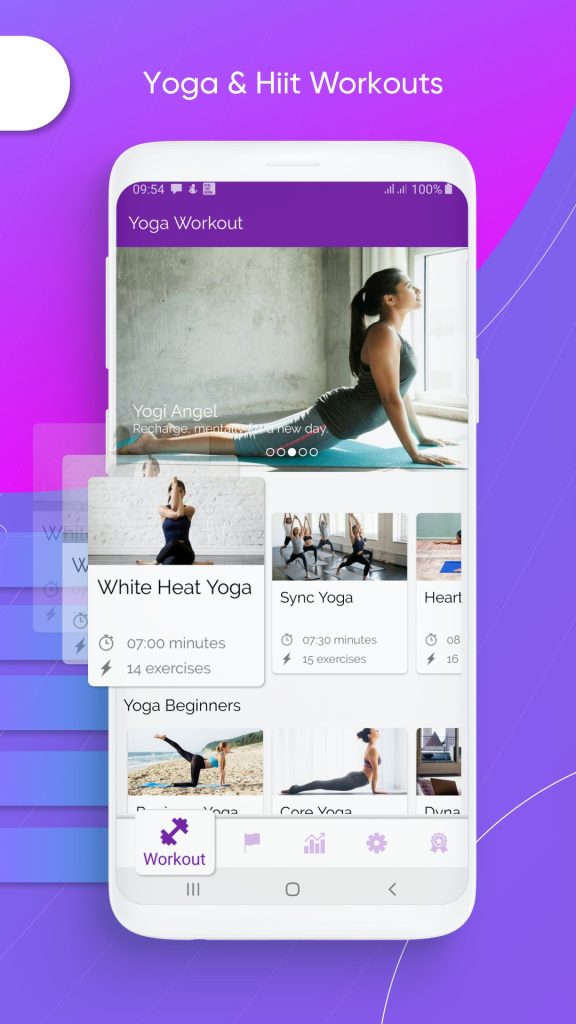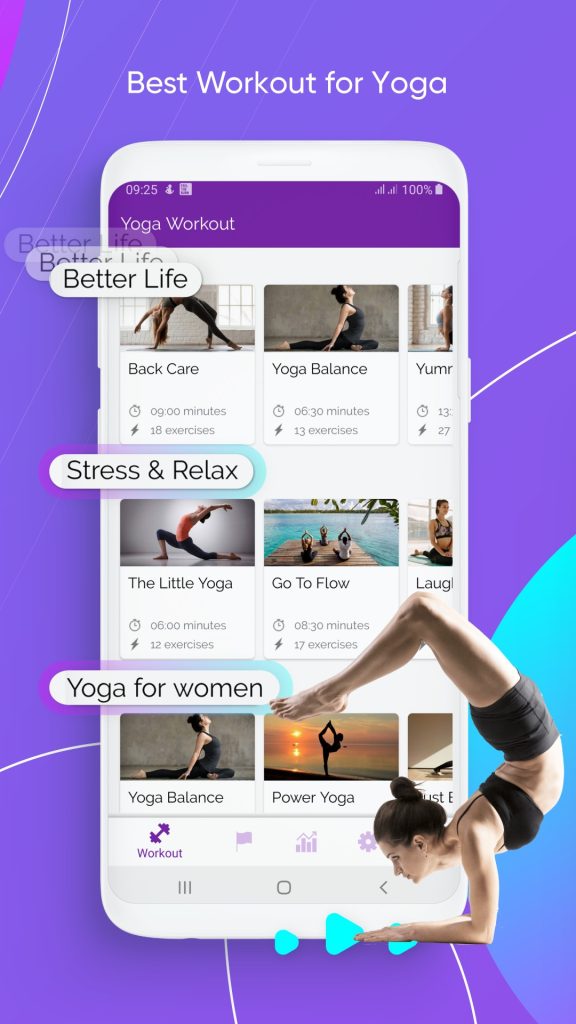 The app is suitable for everyone, regardless of gender or age. You will be able to create your own workout plan depending on your goal and stick to it.

Yoga for Beginners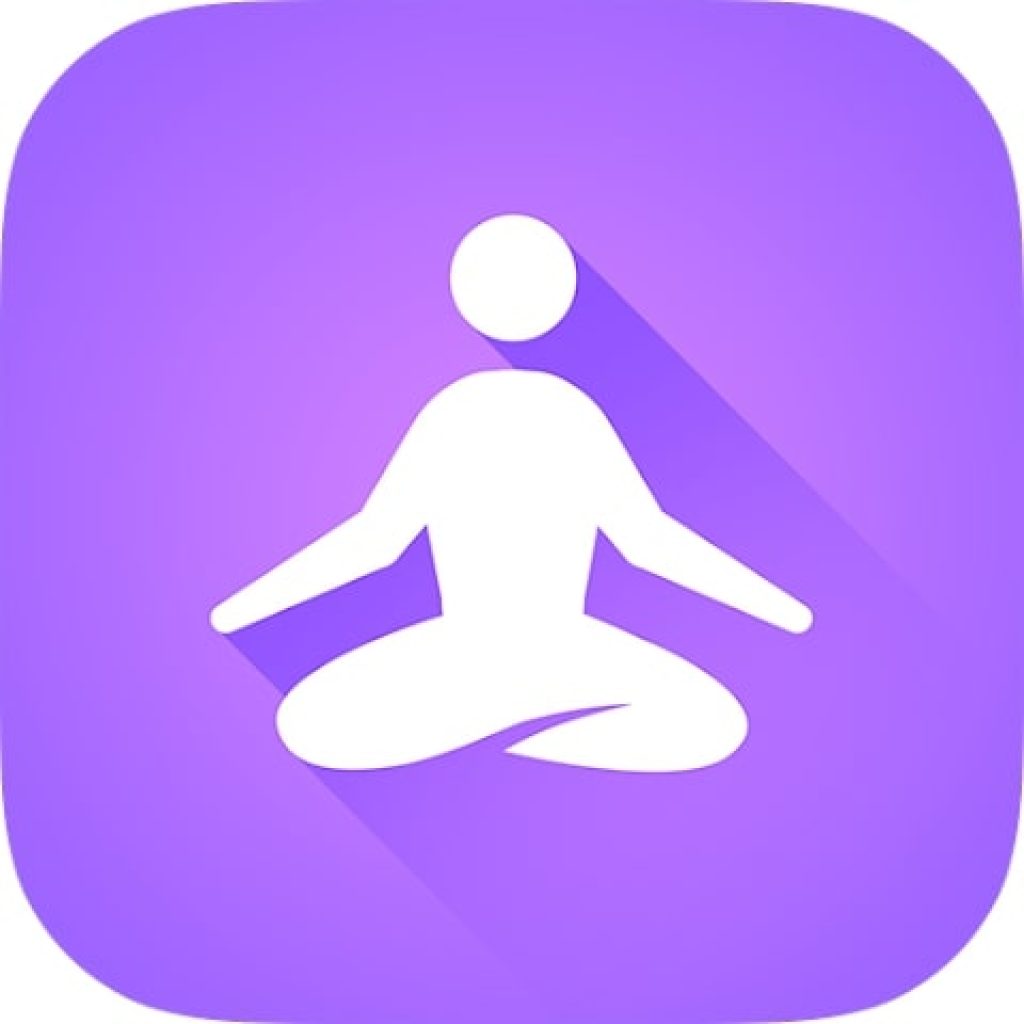 If you want to practice yoga at home instead of going to a studio, you can do it with this app.
It is suitable for women and men of any age, for beginners and professionals. What do you get after installation? A set of workouts that will help you understand what yoga is all about.
Voice prompts to help you remove unnecessary thoughts from your head. The ability to practice anywhere and anytime.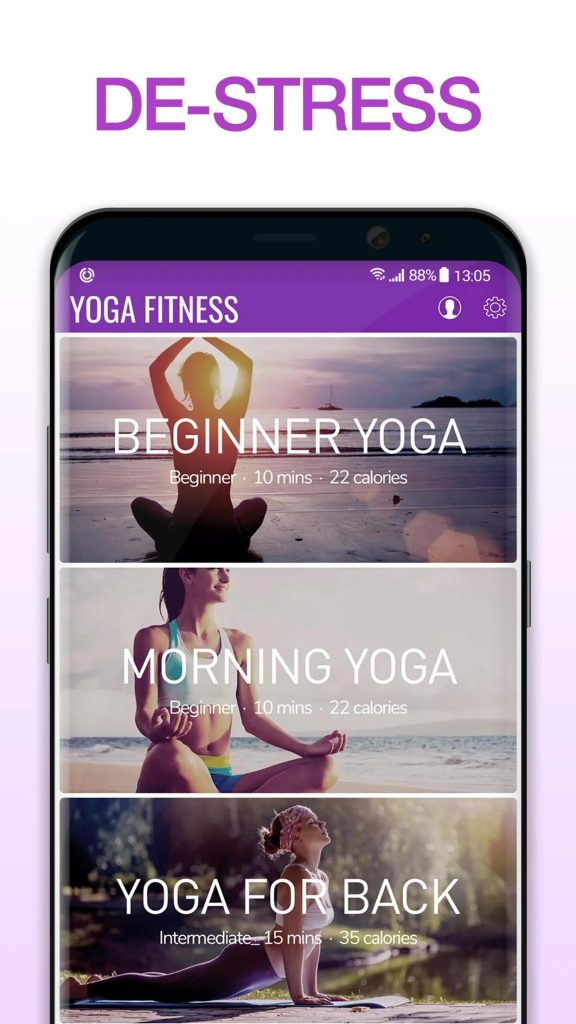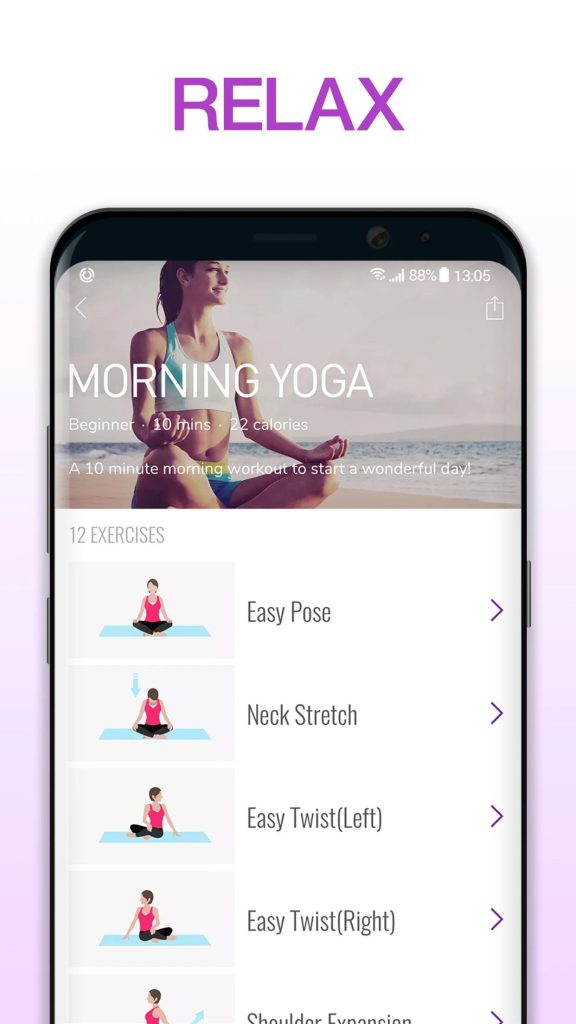 Take care of your physical and spiritual health with this app. Practice yoga for free at your convenience and you will see how your mind and body will transform.

You may also like: 9 Best Apps to Create Your Own Workout on Android & iOS
Alo Moves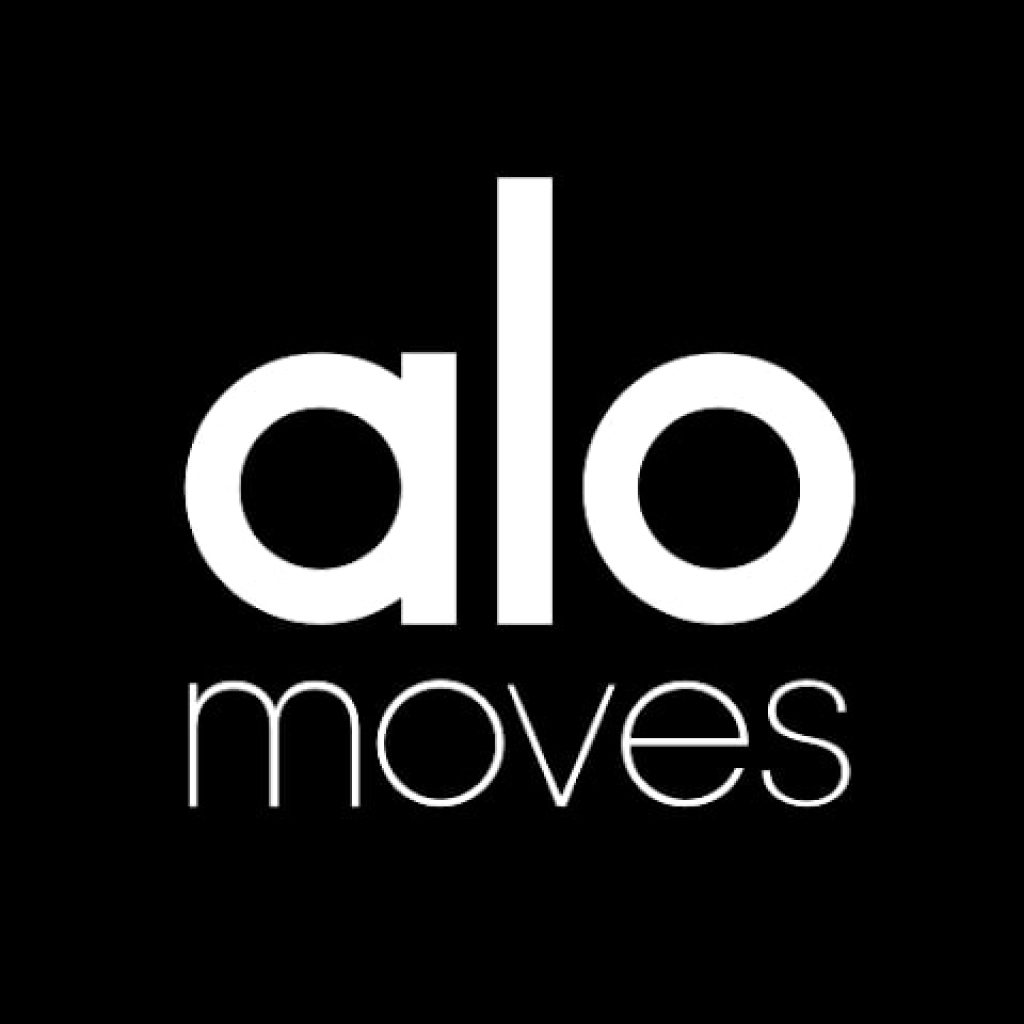 Alo Moves is an app with over 2,500 yoga workouts from the best trainers in the world.
All video workouts are recorded by professional yoga instructors. They explain in detail and precisely how to perform your chosen exercise, so you can definitely do it right.
Every week the collection of workouts is updated, so you can constantly try something new. Whether you're a beginner or a professional, you'll be able to find the right workout for you.
Download videos to your device and watch them later without an internet connection. The app helps you track your progress, as well as track your workout time and the number of calories burned.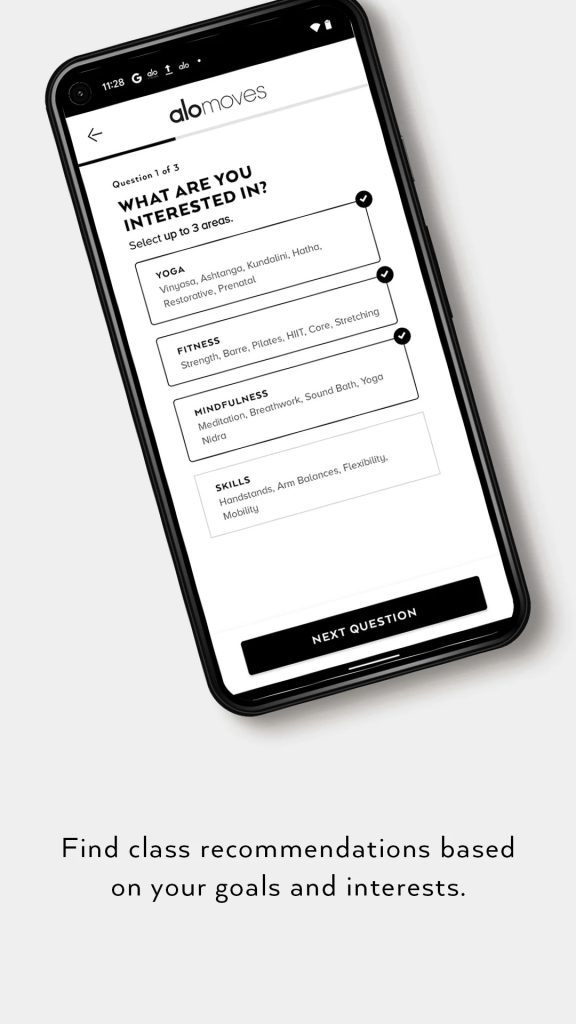 You can choose exercises that focus on weight loss, body shaping, and wellness. Daily tips and tricks will help you increase the effectiveness of your exercises.


Glo Yoga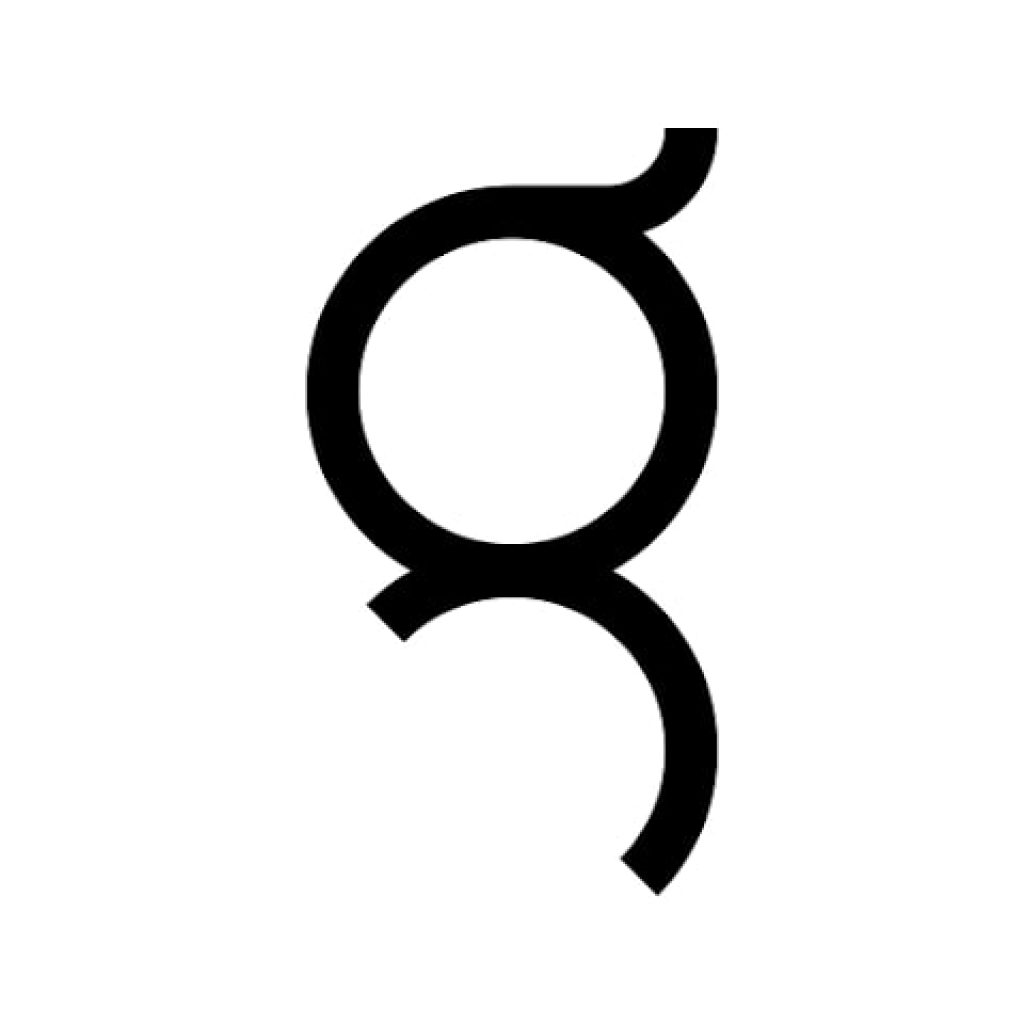 This is an app that is designed specifically for those who do not have time to go to the gym.
Install this program on your smartphone and practice whenever and wherever you want. It doesn't matter if you've done yoga before or want to try something new.
This app has a workout for everyone. What's in store for you? You'll find guidelines for the classes so you can be sure you're doing them right.
Join your favorite practices from anywhere in the world in live classes. Try a beginner's class where instructors explain all the basics in detail. Use the search to quickly find the class you want.
All classes are accompanied by music to create a pleasant atmosphere. Classes are taught by the best teachers – these people are true professionals who know their business.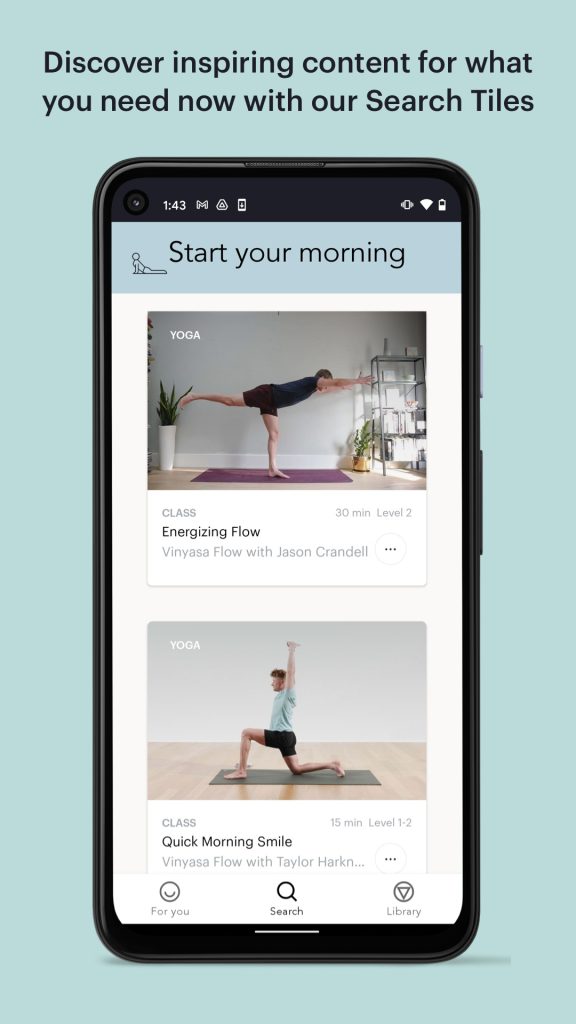 Meditate to sleep better and wake up easier. Download classes and study without an internet connection.


Yoga: Workout, Weight Loss app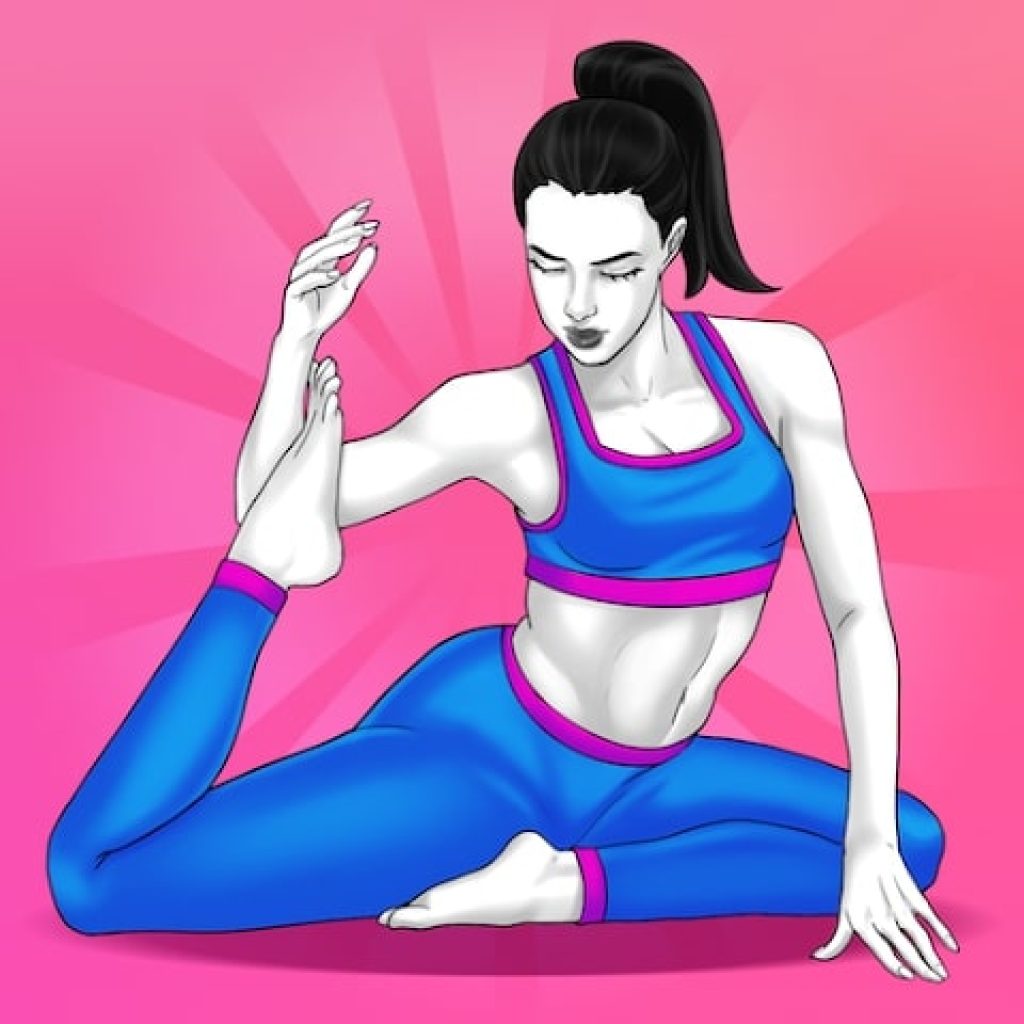 With this app, you can practice yoga for weight loss at home at your convenience. Even if you have never practiced yoga, you can be sure that you will succeed.
The app is designed specifically for newcomers. In this app, 30 days of yoga training for beginners await you. This includes yoga for weight loss and fat burning.
There are also stretching classes to develop flexibility. Yoga for the face – make your face look beautiful and toned.
Do meditations to music that will help you relax and forget about your problems. Choose workouts that target the whole body or specific muscle groups.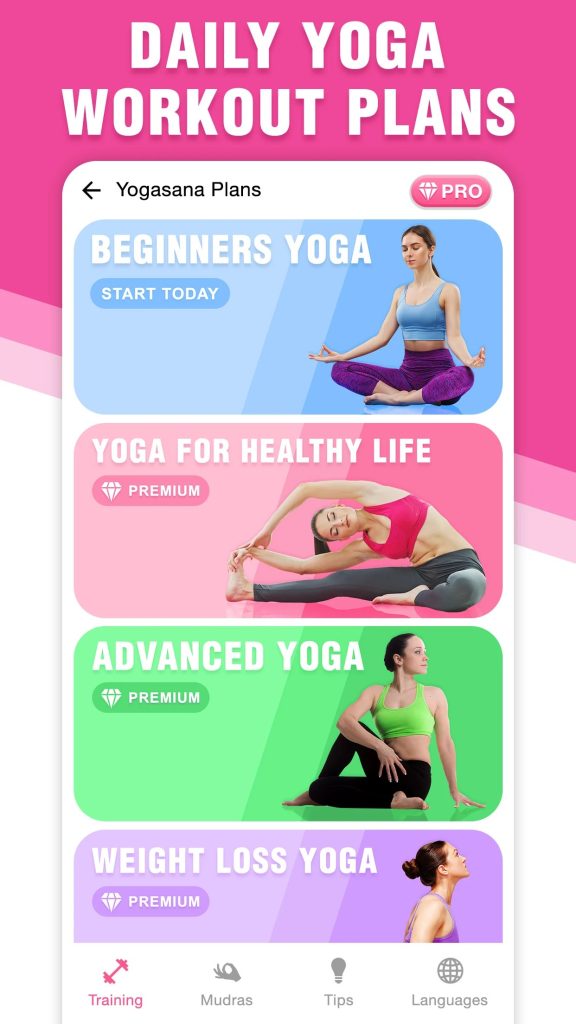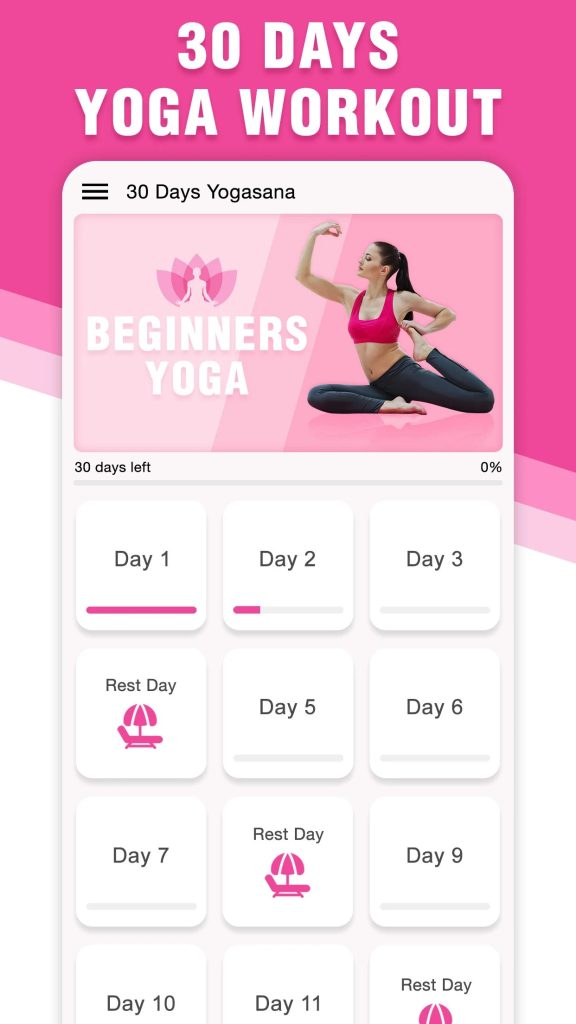 You can get in shape in the comfort of your own home. Take care of your health with this program.

Yoga – Poses & Classes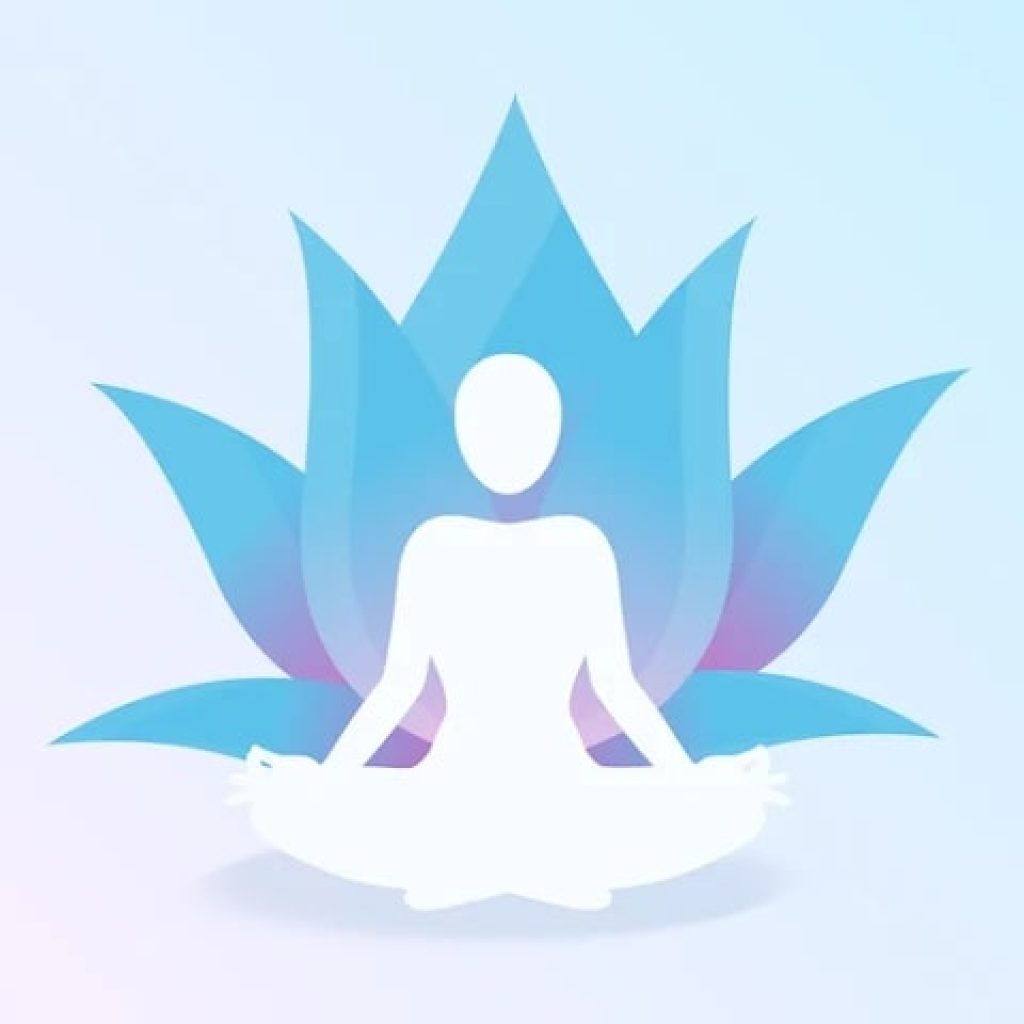 This is an app that will make your body beautiful and trim right at your home. This app is designed for those who want to practice yoga at home at a convenient time.
The app is designed for men and women. What do you get? Over 100 poses that are easy to perform one by one.
There are over 20 workouts from professional coaches and the opportunity to get your body in shape. A variety of workouts are waiting for you – morning yoga, options for abs, training for runners, and more.
You will be able to choose your own music for the class to create a pleasant atmosphere. What's more, learn about the foods and meals you should eat to lose weight even faster.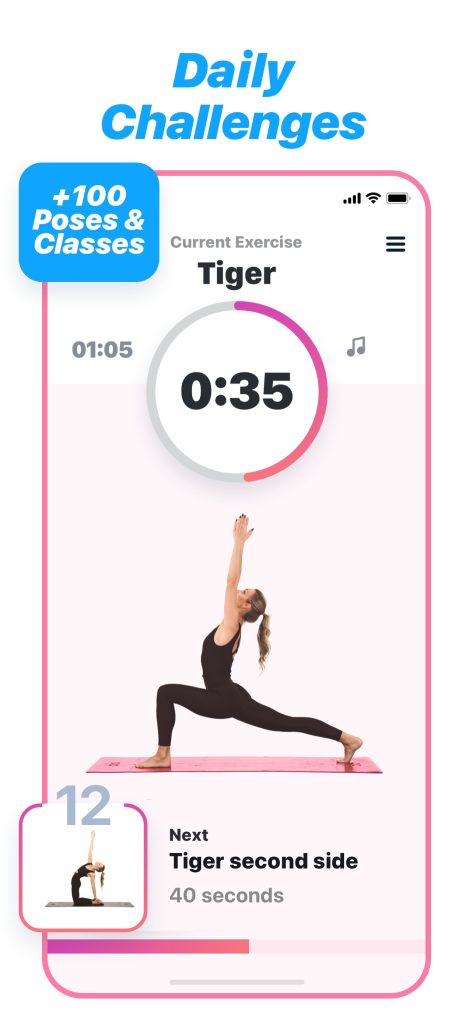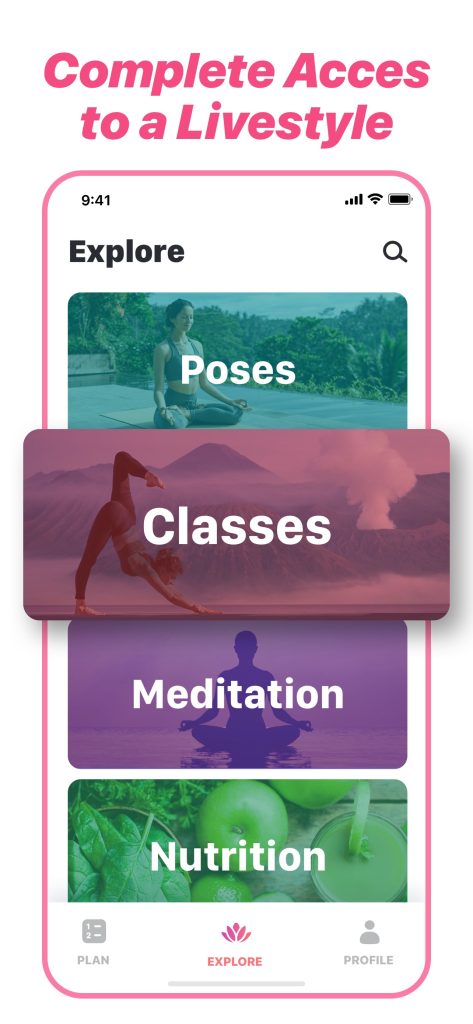 Energize yourself and improve your physical fitness with Yoga – Poses & Classes.


Yoga-Go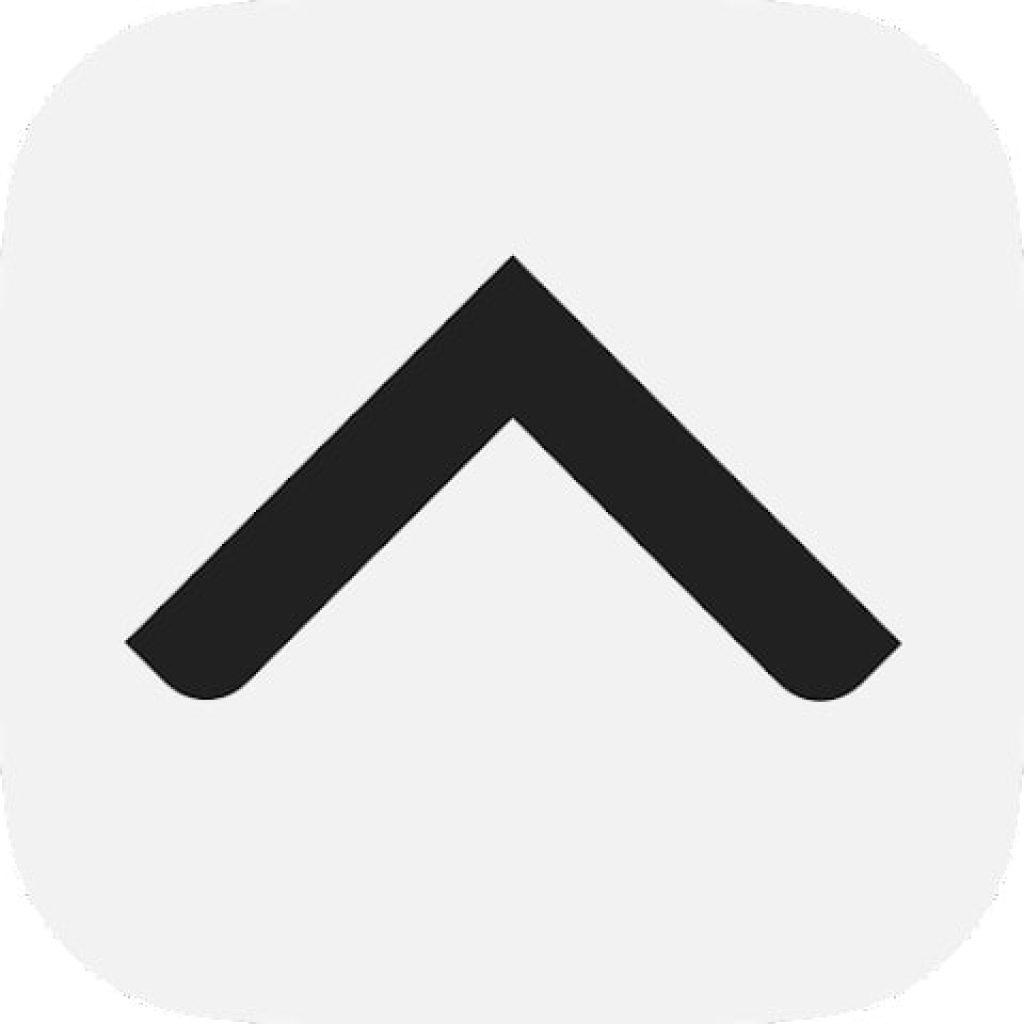 The Yoga-Go app is designed for practicing yoga at home. You can use it to choose exercises aimed at working out your problem areas, as well as to control your nutrition.
After installing the app, you will be prompted to take a small test to determine your physical abilities and set goals.
You should specify your current and desired weight, height in centimeters or inches, problem areas, and fitness level. After analyzing, the app will form an individual workout schedule and calculate the time needed to reach your goal.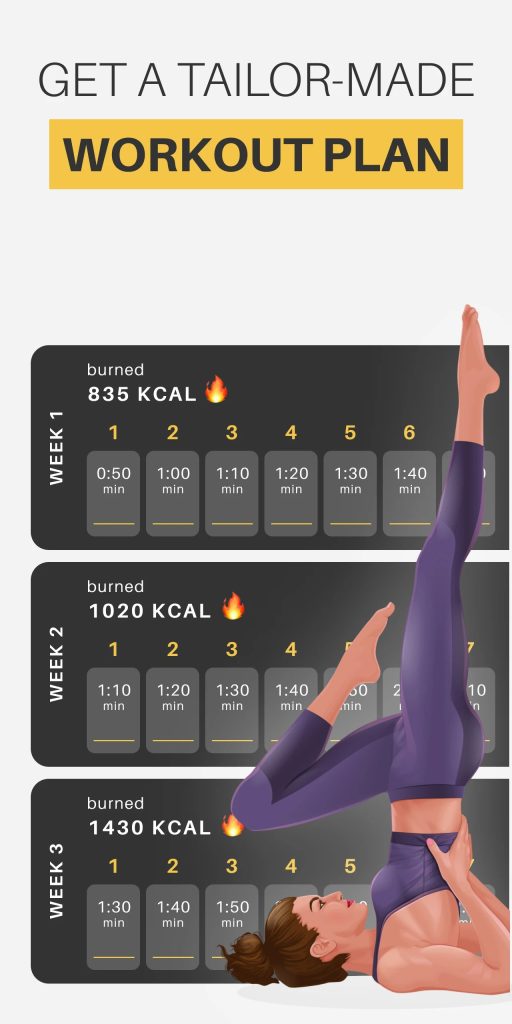 Besides, this app helps you keep your diet. For this purpose, it has a nutrition control service. It is possible to enter data about the food eaten for calorie counting. Recipes for preparing healthy meals are also available.


Yoga | Down Dog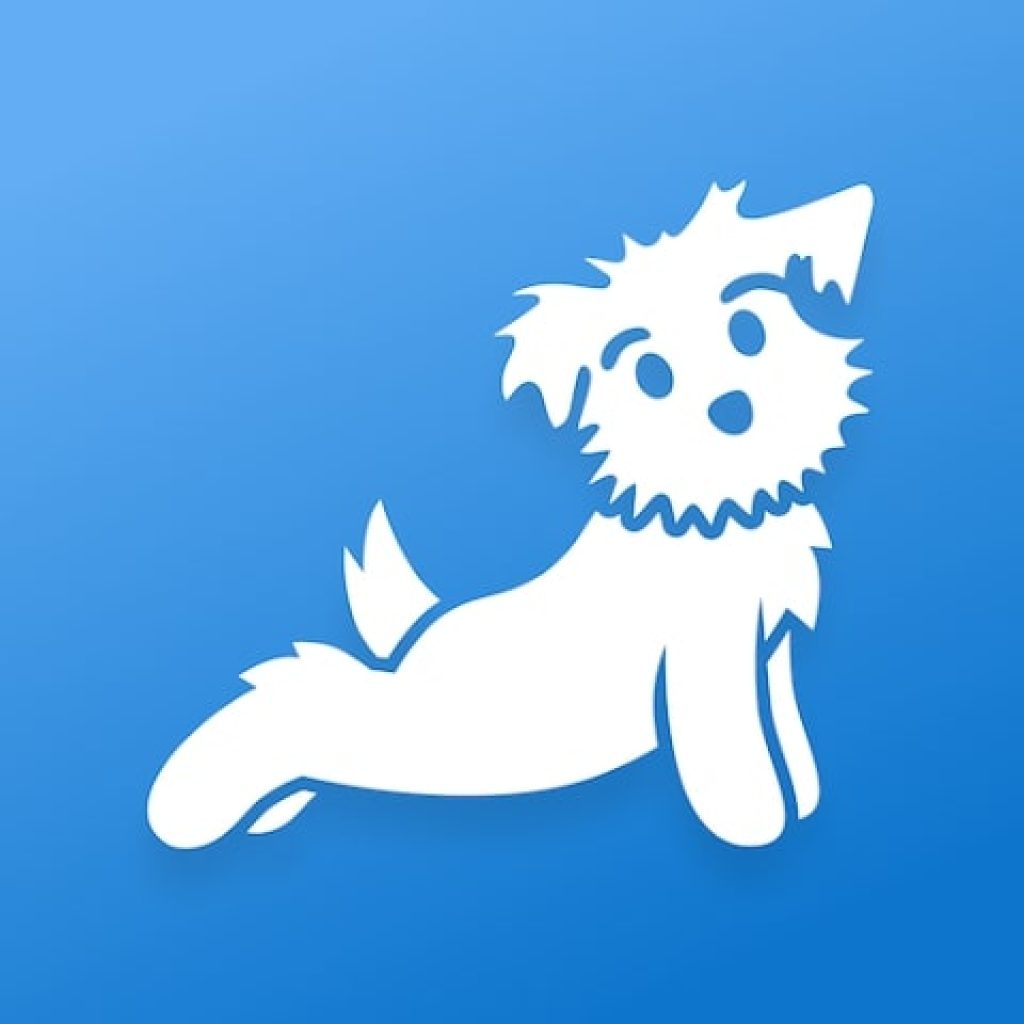 The Down Dog app is designed for yoga classes with lots of configurations to compose workouts and a simple interface. There are up to 6 different voices for the teacher and customize the music to your liking.
You'll need to create a personal account in the app to get started for the first time, and registration via Google and Facebook is available.
Down Dog allows yoga beginners to start with the 3-day Introduction to Yoga series. There is no need to visit a gym for the class. You just need to find a pleasant place in your home, prepare comfortable clothes for the class, and tune in.
The app allows you to select the voice of the teacher from 6 available options, as well as customize the language to play. During the training, there is an opportunity to choose the appropriate music for your taste.
Down Dog downloads materials from the web, so the user will need an internet connection to start practicing. If you don't have an internet connection, it allows you to download individual workouts for offline viewing.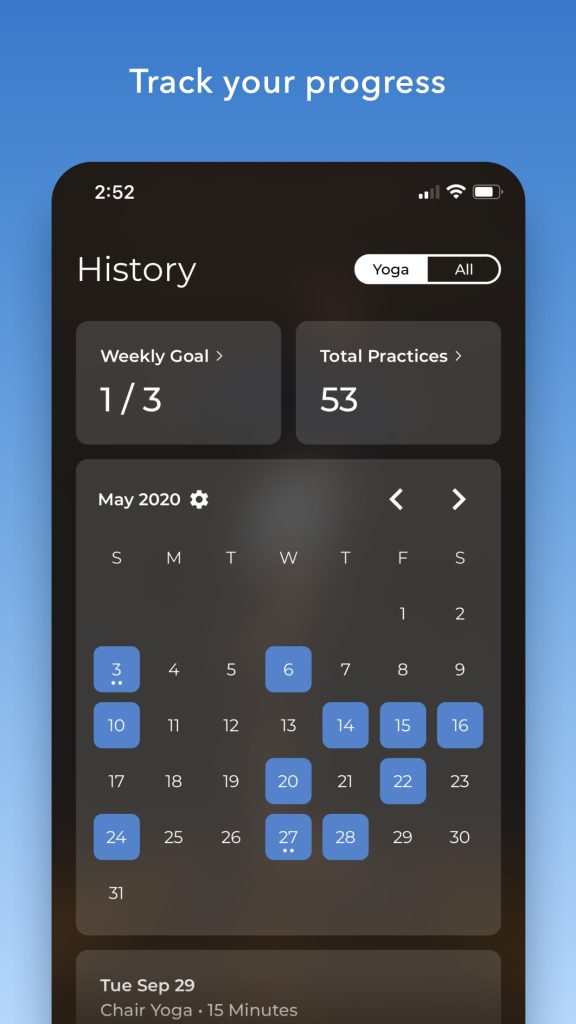 The app also automatically syncs with all of your devices when you connect to the network. Down Dog has an intuitive interface and beautiful design.


You may also like: 11 Best Calisthenics Apps for Android & iOS
Daily Yoga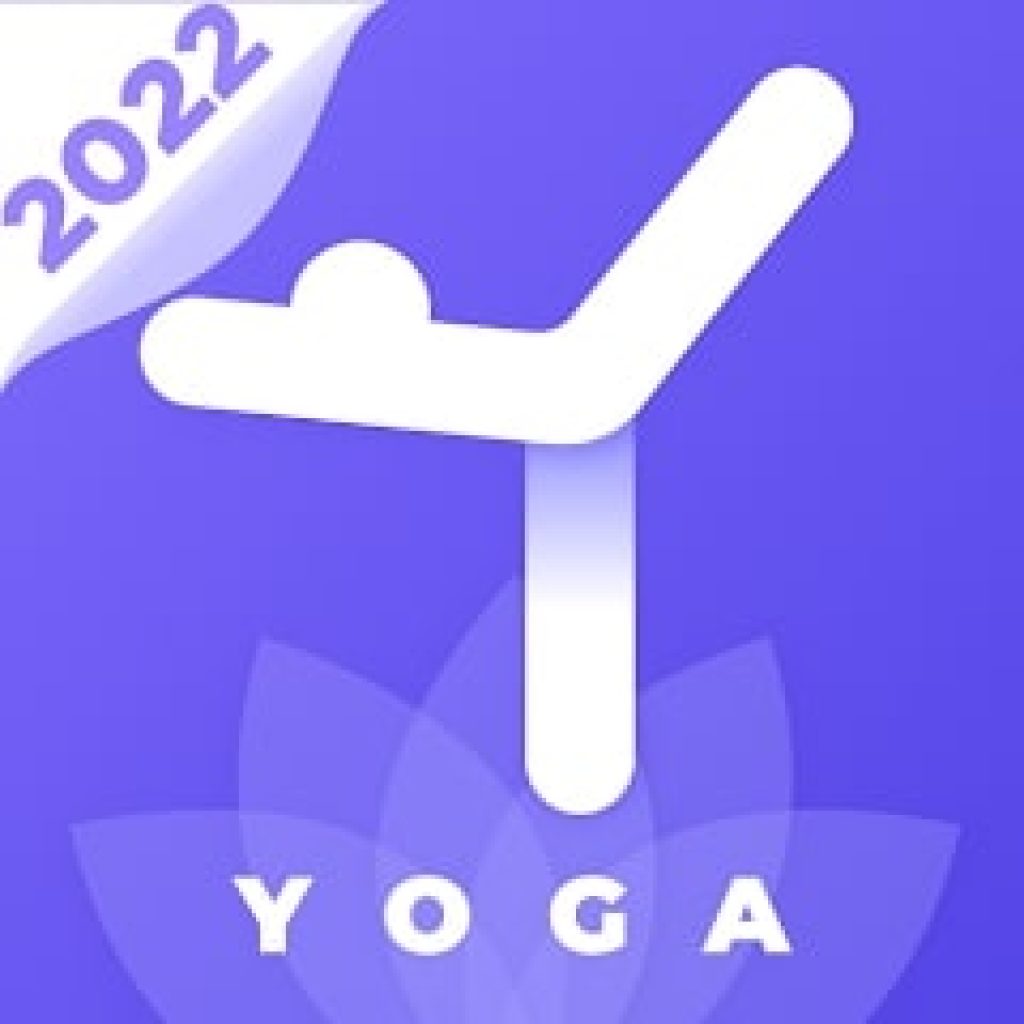 Daily Yoga is a workout system in the form of a mobile app. It provides exercises for all levels of fitness and a variety of features for convenient training.
The first time you launch the app, it prompts you to register to create a user profile. This can be done through a Google or Facebook account, or by creating a Daily Yoga profile.
The app will then prompt the user to select a workout goal – initial mastery, weight loss, stress relief, and so on. Based on this selection, the user will be offered the appropriate workouts.
When selecting any course, you will get a detailed description of the workout. Its duration, physical fitness requirements, and goals.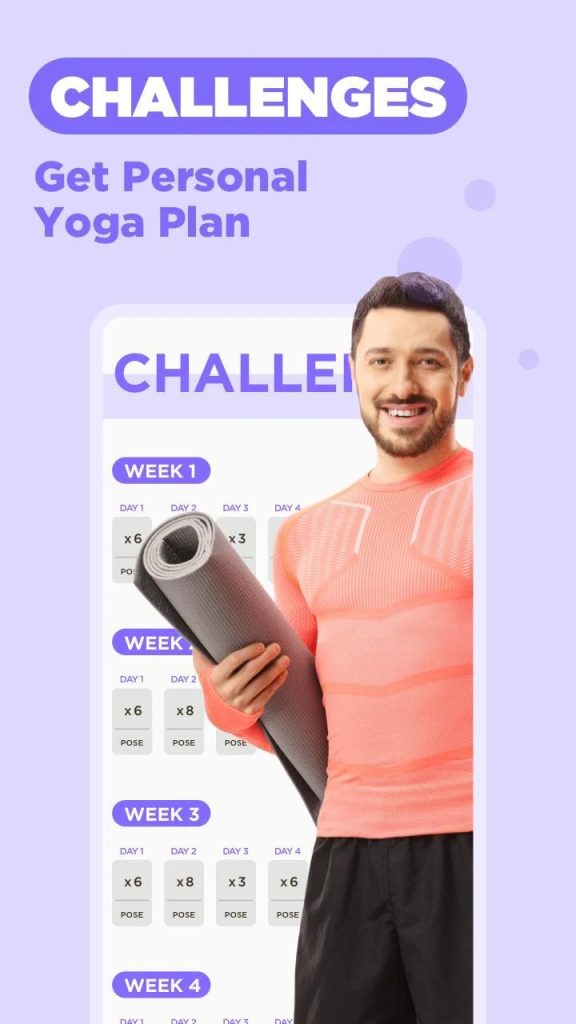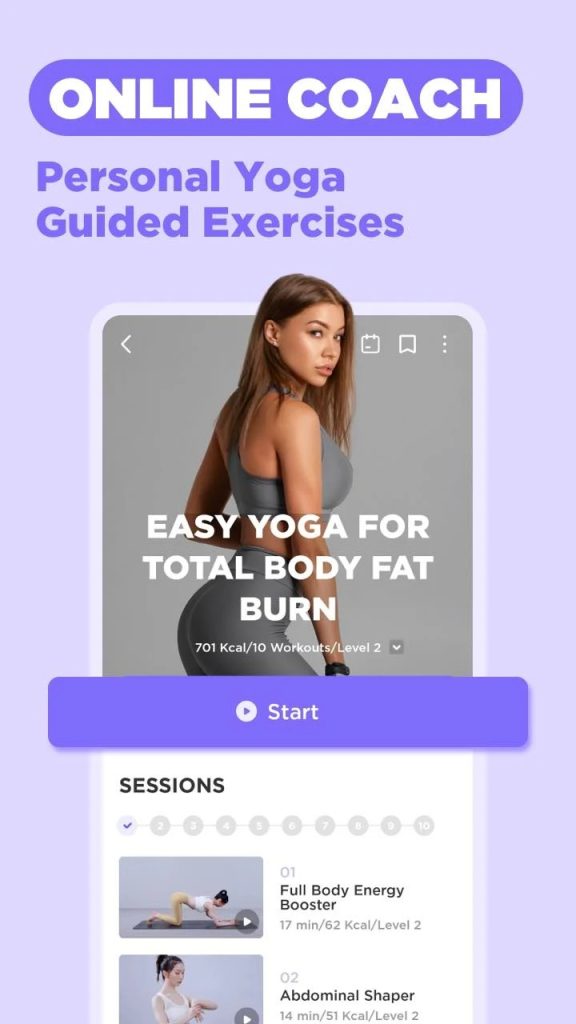 After starting a course, you can either select the recommended workout pace or set your own schedule.