Modern medicine is developing every day for the better. We have a huge variety of medicines and vitamins that help us improve our health. But, their presence is not the only success factor.
The regularity with which these drugs must be taken is also important. As the body gets used to the food at a certain time, it must also get used to drugs. Otherwise, you may not see the effect.
But how not to miss the time of taking the right medication? To do this, in pharmacies you can find various trackers that have marks by day or time. Are they comfortable? Practice shows that no.
But we can also argue that the phone is by far the best assistant for a modern person. Then why not take advantage of all its possibilities? All modern smartphones have a reminder feature.
So, enthusiastic people decided to combine business with pleasure and created medication trackers. Thus, you can correctly undergo a course of treatment that will bring its results. This list contains the best of similar applications.
Manage your own medical records using these best medical ID apps.
MyTherapy: Medication Reminder
Surely every person was faced with the need for regular use of drugs, taking pills. And with confidence, we can say that almost everyone forgot to do it on time.
Naturally, an alarm clock installed on the phone can help with forgetfulness. But why is it needed if there is a convenient MyTherapy: Medication Reminder application? There are special reminders and tablet trackers here. The melody can be selected from the proposed list. So, you will be reminded that he needs to take important medicine.
You can enter personal data on your weight, height, pressure, and blood sugar in your profile. There is also the opportunity to schedule a medication. If necessary, it is printed and discussed with a specialist.
MyTherapy: Medication Reminder will make taking medications much easier. It is enough to enter the name and notification of admission. Take medication and diagnose your health. The application will record all this data.
You can see your weekly story. You can also add your doctors to the app. This will allow you to create reports so that you can then send them by email. Besides, the app MyTherapy: Medication Reminder will remind you of the necessary medical procedure. This may be taking medication, measuring health indicators, or doing exercise.
You can also add family members or friends to the application. Entrust the closest people to take care of you during treatment. It's not scary if you forgot to take the medicine. Your invited family members and friends will remind you to follow the treatment schedule.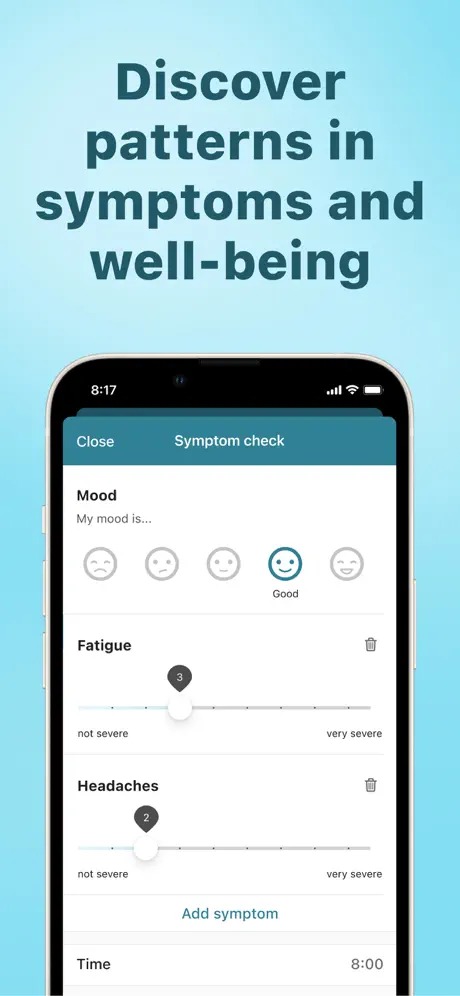 You can also check: 9 Best Online Medicine Shopping Apps for Android & iOS
Mr. Pillster
The Mr. Pillster app will remind you on time to take your medicine. It works just fine. The application is easy to use and easy to configure. You can add the shape and color of the pill, and get a reminder at the right time. You can even postpone the reminder an hour later if you cannot take your pills exactly at the time of the reminder.
The application allows you to add your relatives and friends and their dosage. Thus, if your relatives forget to take the medicine on time, create a profile for them, and add their schedule.
You can even install this program on your phone and link both applications. So you can set up alerts, while notifications will appear on both phones.
The application Mr. Pillster is designed to help people in the timely intake of drugs and vitamins. You can also control the entire process of drug treatment. The program makes it easy to fill out a list of your medications and match them with the right amount of reminders.
Moreover, the application has a wide range of sound signals and options for its use. Repeat signals after a certain time. A long signal until you hear and turn it off, taking into account time zones when traveling and so on.
You can create a medication schedule for a day, week, or month. Set the largest number of doses per day to avoid an overdose. The application Mr. Pillster tracks when you sleep or when a course of treatment begins / ends.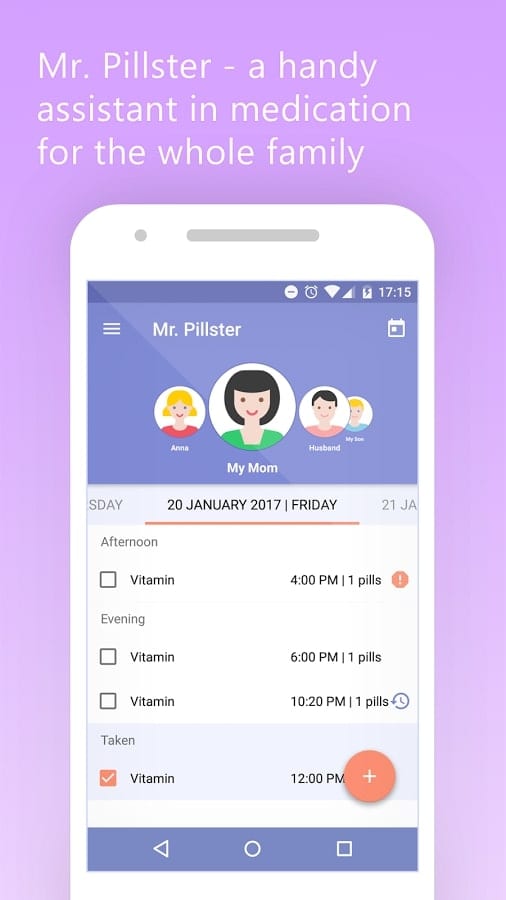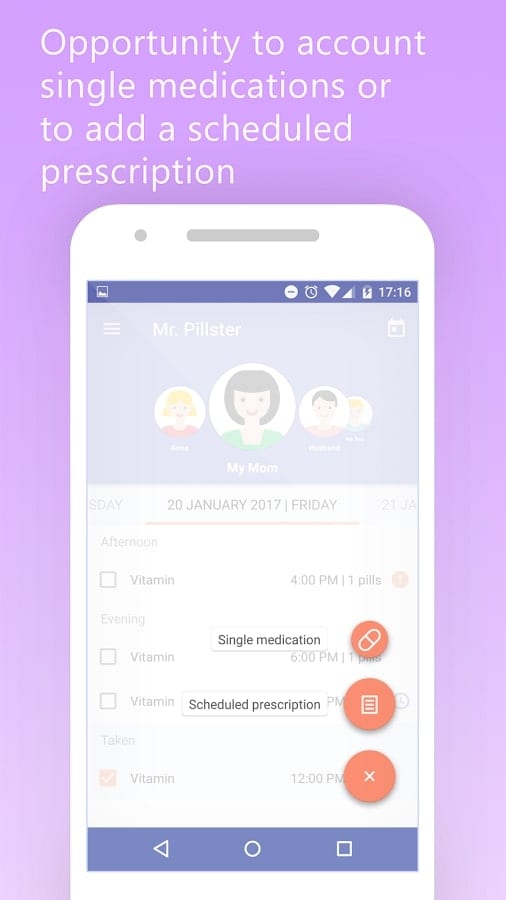 TakeYourPills Pill Reminder
With this app it is impossible to skip taking medication because it will always be at hand and at the right time will remind about the need to take a pill. It can be used by everyone, without any restrictions, as the service is available absolutely free of charge.
The app not only helps you to remember about the missing medication, but also allows you to track the course of your treatment. In the history you can enter all the pills and medications that were taken. This way, you can check the log at any time and verify with the required number of pills per day.
Everyone will be able to set up reminders about medication intake individually, mentioning the dosage or amount of medication. Besides, the service allows you to create multiple folders for the whole family to use.
The app also has an overdose protection feature, which activates and gives a signal to the user's smartphone. Thanks to the app, you won't forget to take your pill and definitely won't drink too much.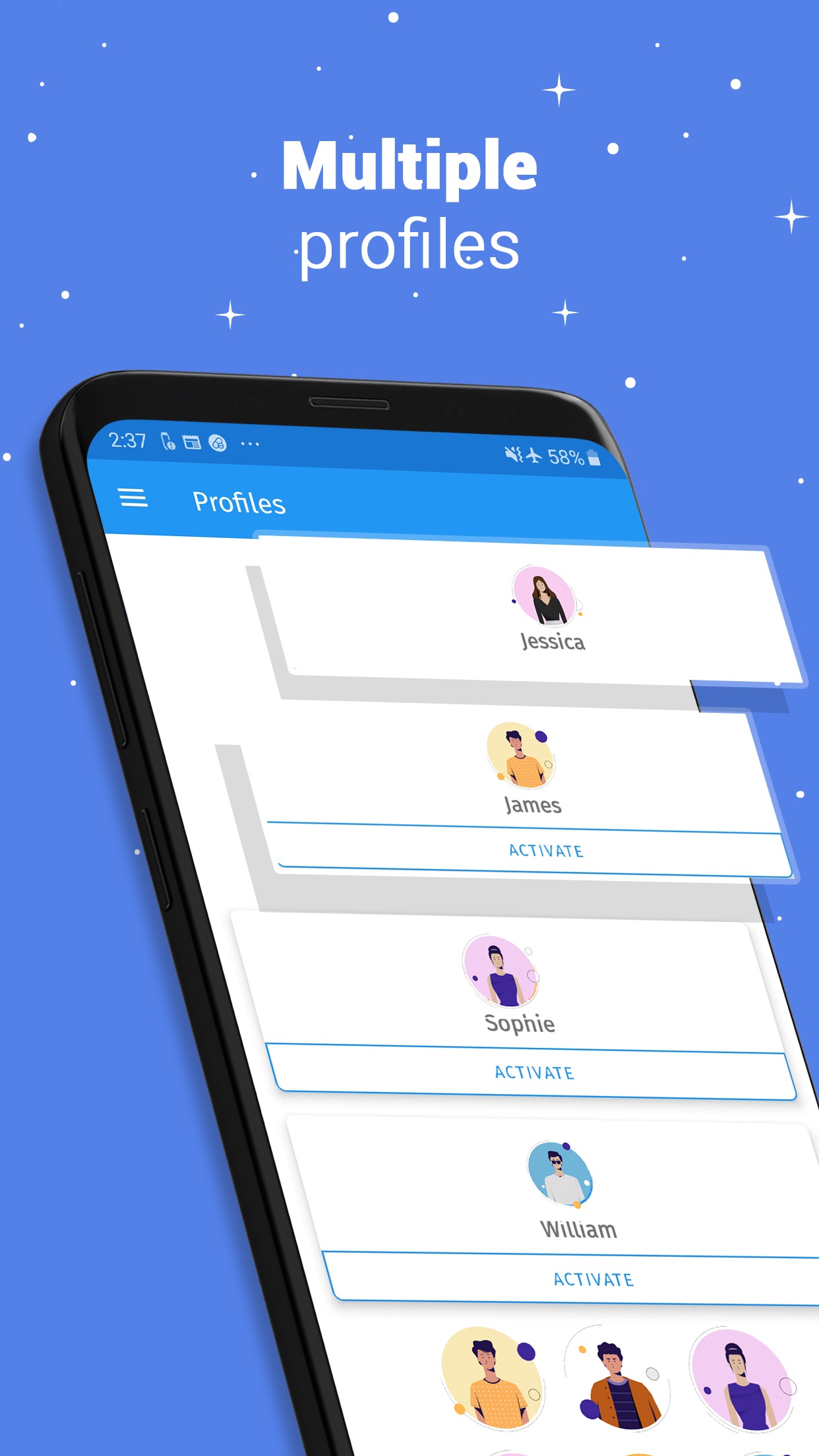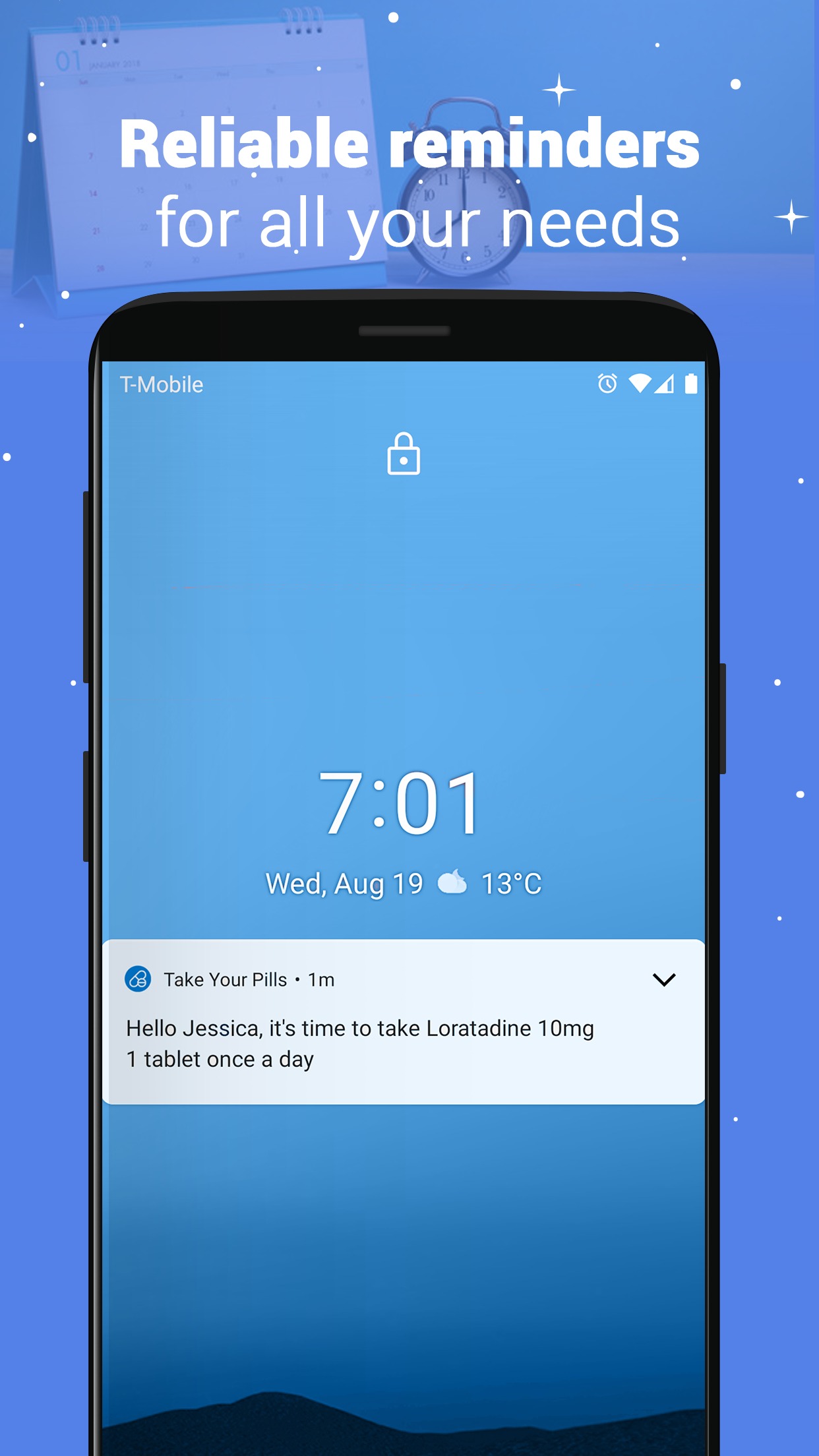 Medisafe Medication Management
Medisafe Medication Management is a simple and convenient reminder program. It helps you remember to take your medication. Arrange your appointments on the right days and set reminders. At the right time, they will appear on the screen of your mobile device.
Don't you like it when technology makes your life easier? If you have a pill that you cannot identify, you no longer need to go to the pharmacy. Just point your phone's camera at it.
Medisafe Medication Management will live up to all your expectations. You need to put the tablet on an empty surface and take a picture using the application.
It will give you the possible names of your medicine. A smart application detects the shape, color, and print of a tablet and compares it with a database. You will not always get a 100% match, but you can narrow your search, which is already good.
This is one of the easiest ways to identify different types of drugs. After installing the application, you will see a diagram that shows the tablets you need to take. If you press the plus sign in, then you can add the first medicine.
Here you can specify the name of the drug, its color, shape, as well as choose the frequency of medication. You can also add your friends, family members, or a doctor to the application. Setting this parameter, your relatives will receive an alert if you miss a medication.
Your health is your own business. Thus, the application of Medisafe Medication Management does not save your personal data. To use the application does not need registration of an account.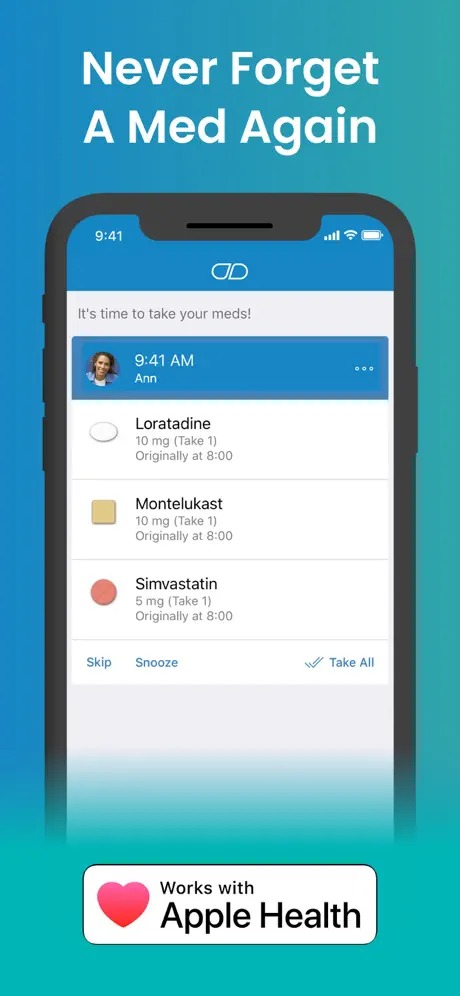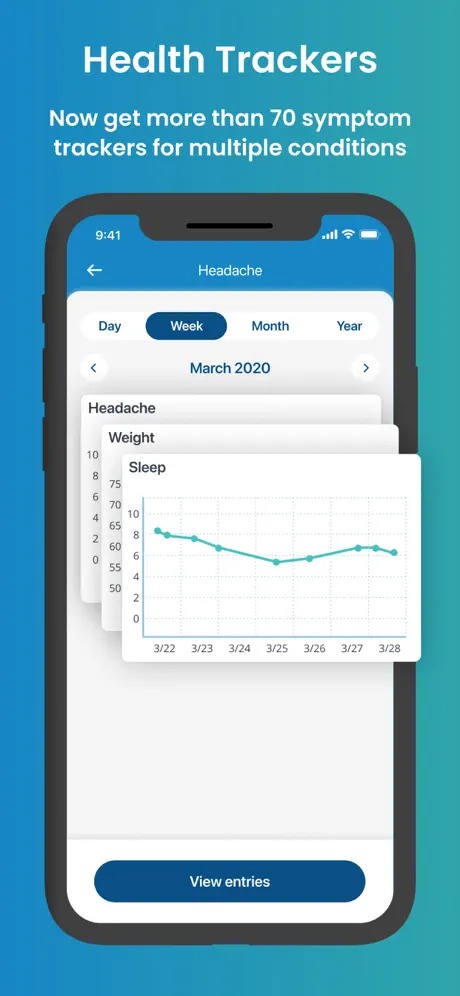 Dosecast
Dosecast is a convenient free application. It will help you always take medicines on time according to the instructions of your doctor. Do not expose yourself to the risk of skipping medication or taking more than necessary.
In this application, a report function is available. You can see how much you take drugs and how much you miss. Besides, there is a special tab. With it, you can make all your preparations and descriptions for them. It is really convenient. There is no need to store information on leaflets that are lost all the time.
By the way, all this information will be available not only to you but also to other family members, if you want to. Here you can also enter plans for visiting a doctor and data from analyzes and measurements.
Besides, this is the only tracker that allows you to fully set the course of treatment. The duration of the course is from 1 day to a year or a regular intake.
The application Dosecast has an indicator of progress. Completed courses are automatically transferred to the archive. You will always have at your fingertips all your prescription drugs. The course can be paused.
This is a convenient application for the daily use of medicines, tablets, and vitamins. It will help you take medication on time and keep track of your schedule.
Application Dosecast Features:
Flexible setting of the schedule for taking medication.
Appointment Reminders.
View past and future appointments on the calendar.
Manage reception from notification (accept, skip, reschedule).
View the nearest takings in the widget.
If necessary, the application Dosecast is synchronized with the server. This means that all the information that you specify will be available even after buying a new phone. All you need is to download this application again and enter the username with a password.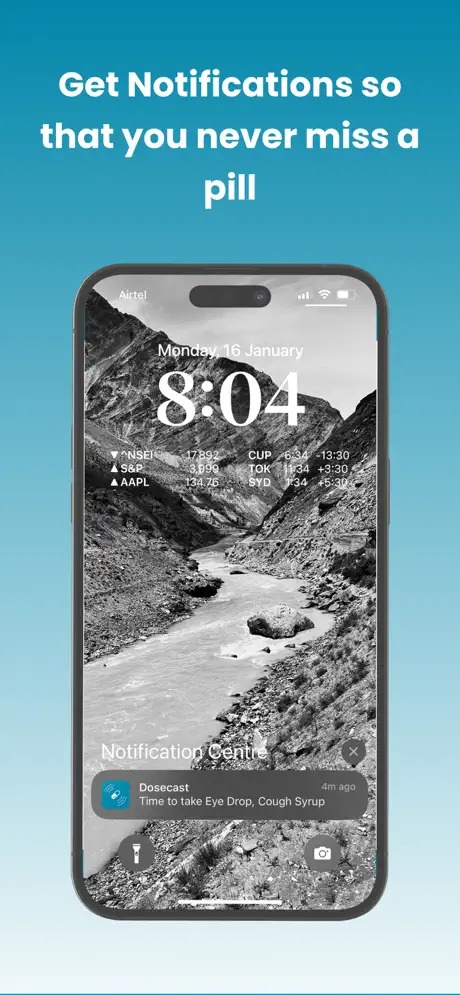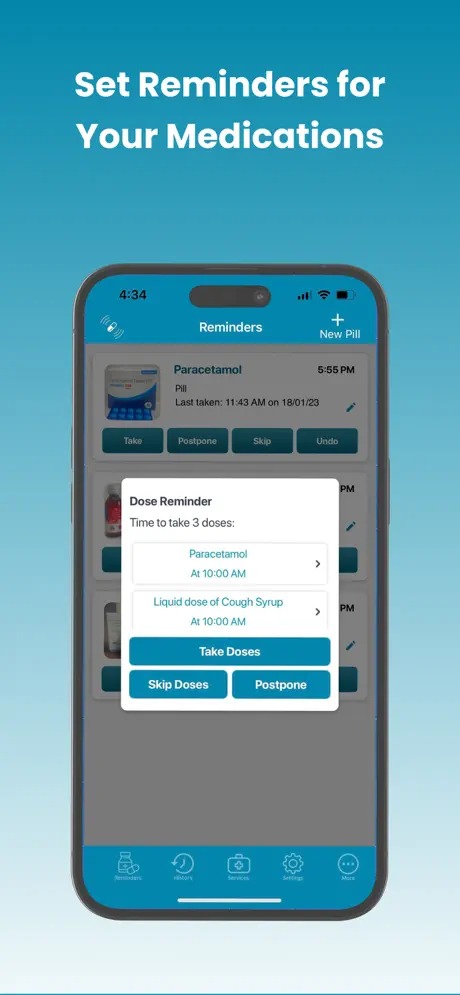 Medicine Scheduler and Tracker, MST
Medicine Scheduler and Tracker, MST is an application that helps you keep track of the timely intake of medications. This is an excellent assistant for those who always forget to take medicine on schedule.
There are two reminder items in the settings – "Active" and "Completed". Click on the item "Completed" in this window all the completed tasks will be completed by you.
You can uncheck any reminder and it will resume.
To delete a reminder, press and hold it until the menu appears.
In the menu that appears, you can
Edit an old reminder.
Delete reminder.
Just close.
The functionality of this application is quite limited. It allows you to set reminders on time. But the medications can be divided into categories, picking a specific color for each of them.
The application of Medicine Scheduler and Tracker, MST is designed to work with a huge number of drugs. This is a powerful organizer that helps you conveniently organize your important schedule.
For the convenience of the user, the application has a special widget. It informs the user about today's medicines. The program will show the time of reception with a sound signal. If you cannot complete the planned action right now, it will remind you of it in a minute, three, or five.
The functionality of the application is to complete the task of reminders. After filling out the form, the application sorts all entries by date. These reminders can be repeated every hour, day, month, or even minute.
The application of Medicine Scheduler and Tracker, MST is simple and understandable. It is distributed free of charge, has no annoying ads, and does not even need any registration.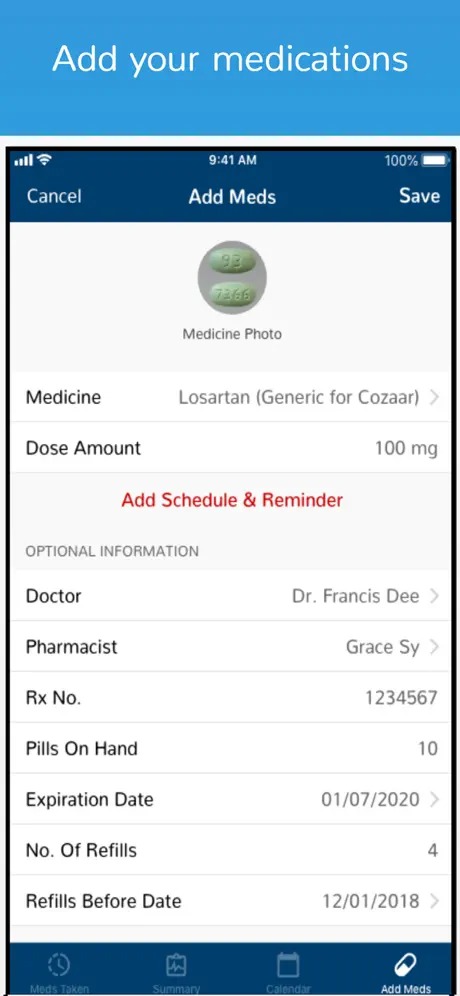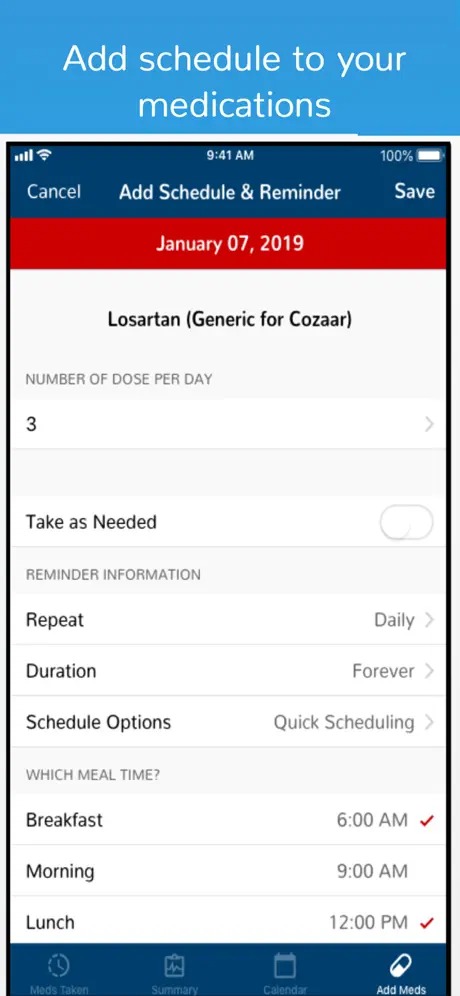 Pill Reminder & Med Tracker
This app is great for those who are constantly taking medication. It lets you create multiple folders for different people, including their photos and individual pill logs. This way, you can keep track of the amount of medication you take and don't take by looking at your log.
If you're worried about missing a pill, you can set a timer in the app. When it goes off, you will receive an audible notification on your smartphone. If you don't set an alarm and you miss your appointment, you will receive a message in your email.
Also, the app supports a function to protect you from overdosing on pills. An overdose warning will let you know with a beep.
With this service, it's also handy to keep track of how many pills you have left so you don't forget to buy them. Make a list, and it will automatically be saved in the service's database. Even if the app is deleted, all the information can be recovered by logging into your account.

You may also like: 15 Free Nursing Apps for Android & iOS
Pill Identifier and Drug list
The Pill Identifier and Drug list app will help you remember to take your medications. This is a simple assistant for taking medications. It tracks your progress and health changes.
This program has collected a large amount of information about almost all drugs. So, you can add some medicine. The application will show you how they interact with each other.
Also, this feature will help you protect yourself from the use of low-quality drugs. You will receive all available information about the medicine. For example, the permissible dosage and number of applications.
This app compiles a course report. You can send this to your doctor. It is very convenient. You can also synchronize many devices. You will be able to follow the medication of your family members. If you see that someone forgot to take the medicine, then you can remind.
You can enter and save such parameters as:
arterial pressure
blood glucose level
pulse
body temperature
weight
medicines
For each marked medication, you get points. Collected points can be spent on coupons in the pharmacy. But, this feature does not work in all regions.
Medication reminders will appear on your phone, even if it's locked. Also, the application Pill Identifier and Drug list are adapted for all time zones. So, wherever you are, you will always receive a reminder on time.
Enter the information about the number of drugs you have. The application will notify you of the need to replenish the number of drugs when they run out.
If you do not know the purpose of the pill, then you can add its parameters. Add information about the color, shape, and photo of the drug to the application. Pill Identifier and Drug list will tell you the name of the pill and its purpose.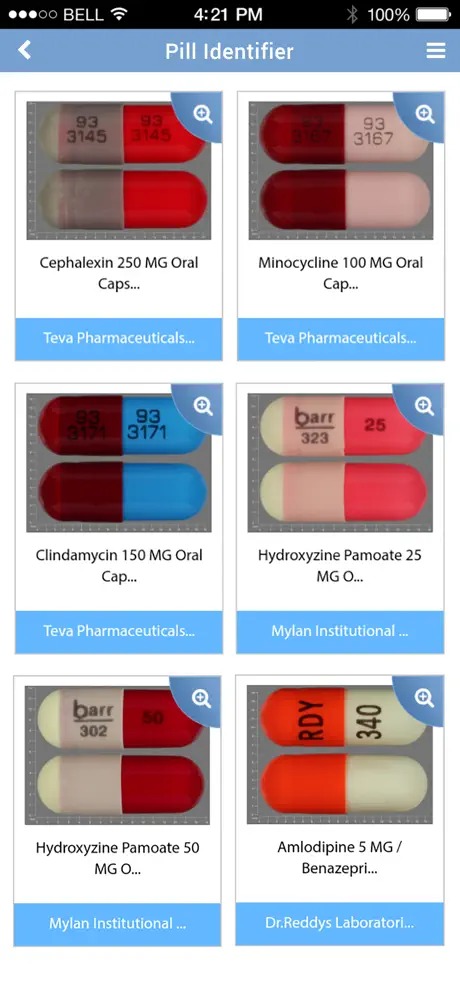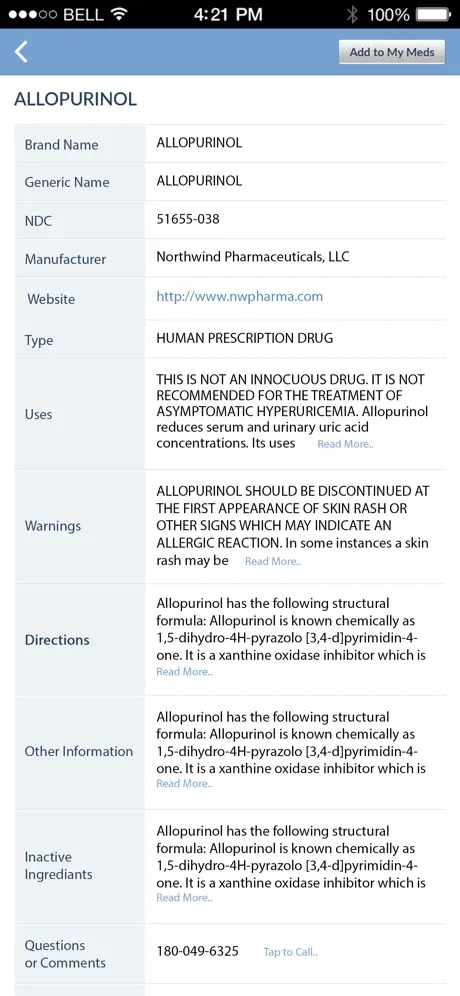 ListMeds
ListMeds is a mobile assistant for taking medications at the same time. In today's world, most people are busy with their own affairs. Sometimes it makes us forget about taking medication. Besides, this pace forces our body to take more vitamins. Thus, drug trackers are an integral part of any person's life.
Your mobile device is always with you. This means that you will always be aware of the need for medication. To start using all the functions, you need to enter information about your medicines. You also need to enter the dosage and time of taking pills or vitamins.
This program keeps track of accepted and missed medications. If you miss a medication, it will be added to the missed list. If for some reason you cannot take the medicine at the indicated time, then you can postpone it to a later date.
State the number of days and how many times a day you need to take the medicine. The application calculates the required number of tablets and the time of admission.
You can also specify specific days for taking medication. The application will create your personal schedule. The application ListMeds has a separate section for contraceptives. It will calculate for you the schedule of taking cyclic drugs.
Add your family members to the app. So you will always be aware of whether the person has taken the medicine. This is a free app that helps you complete the course without interruption.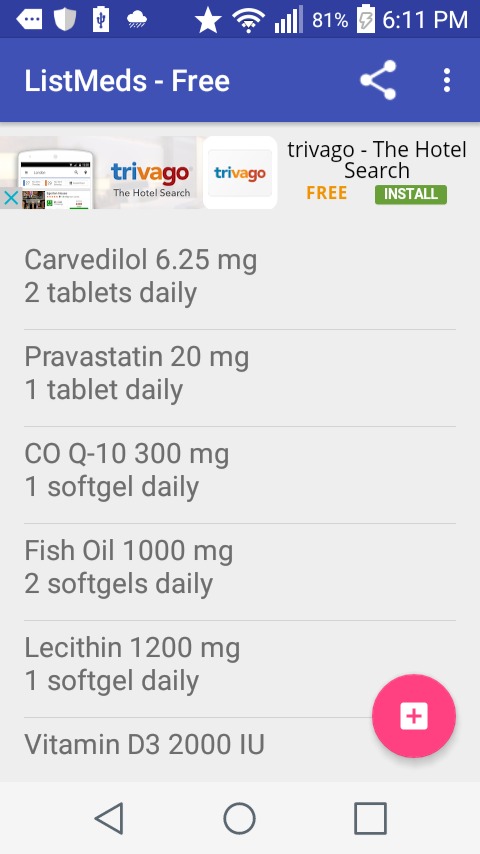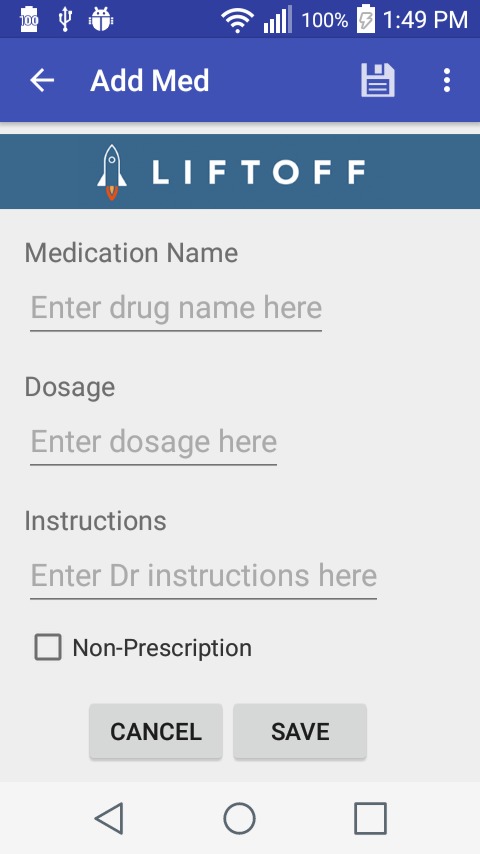 Drugs.com Medication Guide
Drugs.com Medication Guide is an application for taking medicines on time according to the instructions. Do not expose yourself to the risk of skipping medication or taking more than prescribed.
Millions of people use this application to receive reminders about taking medications. Check weight, pressure, blood glucose, and other health indicators.
The application is suitable for people with diabetes, heart, and cancer. It is also a convenient way to remind you to take vitamins and birth control pills. With a few simple steps, you can add medication and get reminders for taking pills. See the dynamics of your treatment.
Application Drugs.com Medication Guide benefits:
Intuitive and extremely easy to use application
Ability to add measurements of your health – pressure, blood glucose, weight and much more
Large selection of ringtones for medication reminders
Drug replenishment reminders
The ability to add medicine "as needed", which must be taken on well-being and without a schedule
Medication reports in PDF format that you can send to yourself or your doctor
A reliable application that will remind you of taking medications, even if the phone is in sleep mode
Automatic backup and storage of drug history on secure and secure servers
Contacts are used if you want to add a doctor or a medical friend. The application Drugs.com Medication Guide never stores information from your address book. It does not have access to the address book until you give permission.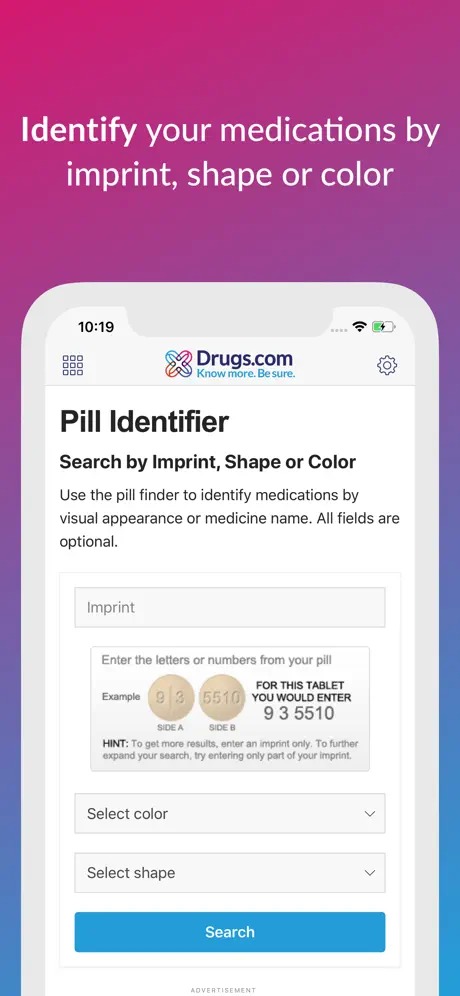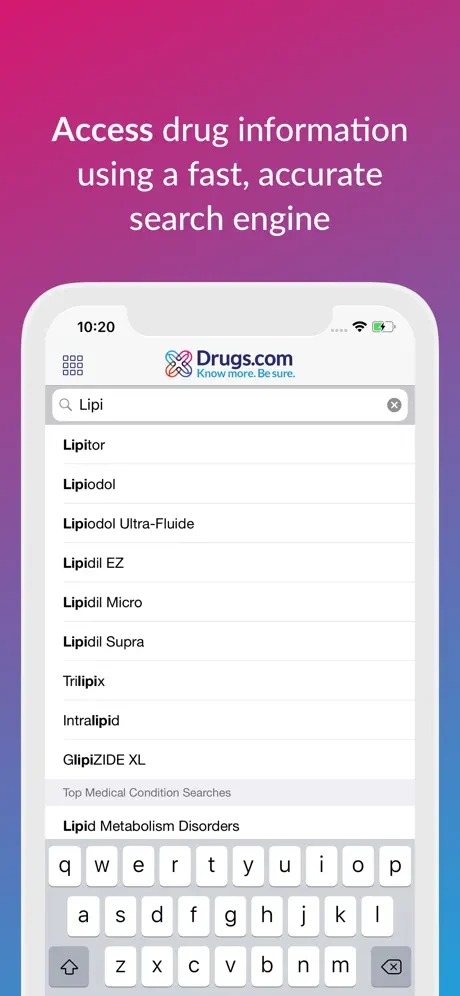 Check this: 11 Best prescription discount apps (Android & iOS)
CareClinic
In order to fully monitor the state of your health, you can install this app and put all your medical records here. This software is also a good medication tracker app – it will always remind you about the pills that you need to take or about the medical check-in that you need to do.
And we talk about the app with truly lots of features, CareClinic is one of the best examples. It includes all the aspects that concern your health. First of all, here you can make the daily records about your current state. After a while, the app will compile the statistics, and it builds the graph of your state that you will even be able to demonstrate to a doctor.
Considering the medicine and supplements everything works easily – you just need to install a reminder about the pills that you must intake and the app will remind you about everything according to the schedule. You can also keep track of the medicine that you intake along with graphs and history.
Another useful section of this app is the symptoms. You don't need to google your symptoms anymore reading that you are probably going to die soon. The app will give you the objective and fair information about what do those symptoms that you have mean – because it is made with the help of professionals.