Mentoring is a great way to achieve your desired goal with the help of an experienced professional. Sometimes it can be hard to reach the heights of your career, even if you have good skills and knowledge.
All of this can be lacking if there is no idea of how to go through this thorny way. This is where those whose experience really matters can come in.
To avoid wasting time looking, try these best mentoring apps in 2023 for Android & iOS. They have a large community of experts who are ready to share advice and point you in the right direction.
To get into the advanced community of professionals try these best networking apps for Android & iOS.
PushFar
PushFar is a huge open network that helps you to find a mentor.
This app teaches you how to volunteer to teach others, find like-minded people and professionals by getting to know them. You learn how to set goals, strive for heights, and achieve them.
Join many professionals and students around the world. They are promoted by quality mentoring, great connections, career advancement, goals, and more.
This service matches you with the right people for further networking. It identifies your location, industries, and career interests. It will also find an appropriate mentor who can advise and guide you on the right path in your professional life.
The program will allow you to share your knowledge and start mentoring others. In addition to all of the above, this service explores networking professional events and job opportunities in your city.
Before you choose a mentor, look at his or her rating and read reviews. Then you can plan a meeting with your future tutor.
The app can find local events to attend and job openings that match your criteria. Respond to event invitations and take part. Get help to advance your career and achieve everything you want.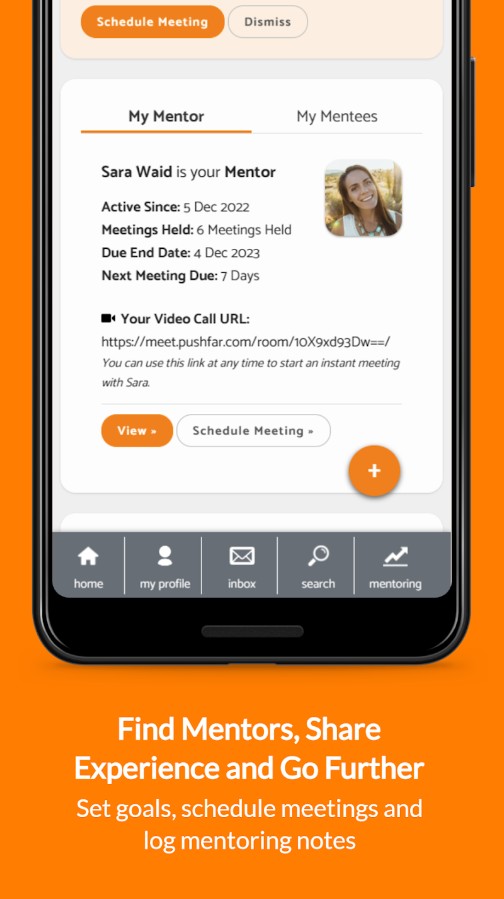 You may also like: 5 Best Franchise Management Apps for Android & iOS
Chronus
The Chronus app is designed for mentoring, through which you can team up with colleagues and friends.
All users are members of a Chronus-based organization. This service provides good training. To find the best tutor, check out the recommendations.
There you will find mentors with whom you can discuss all the professional nuances. It is crucial to choose your mentor to start training.
The specialists of this app will help and guide you every step of the way. Set goals and checkpoints for yourself, and ask for help if you need it. Always be available, because permanent effective communication is the key to productive mentoring.
With this program, you will always be in touch with your mentor. Here you can send messages, call your mentor or mentee, and set up appointments with the scheduling feature. You'll receive notifications so you won't miss anything.
This app beats out competing programs with its user-friendly interface. Thanks to it, you can quickly reach your desired goal.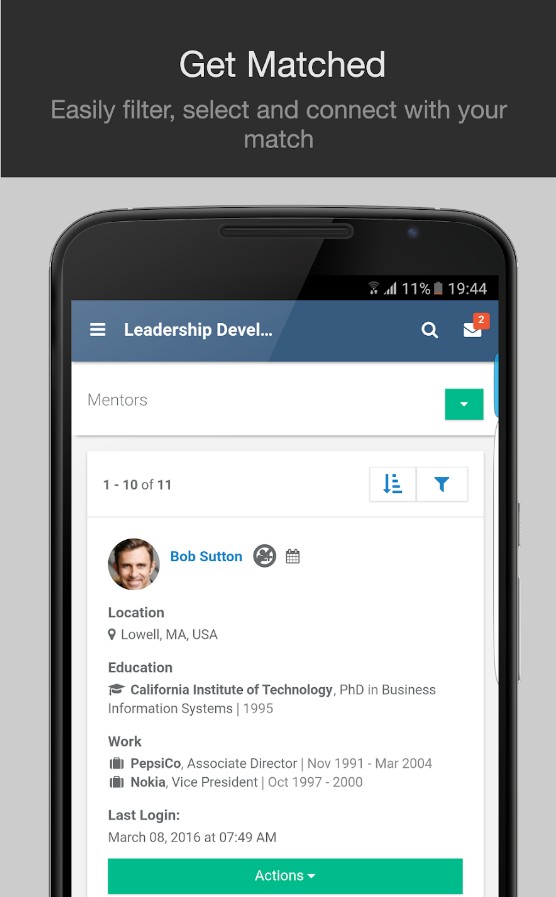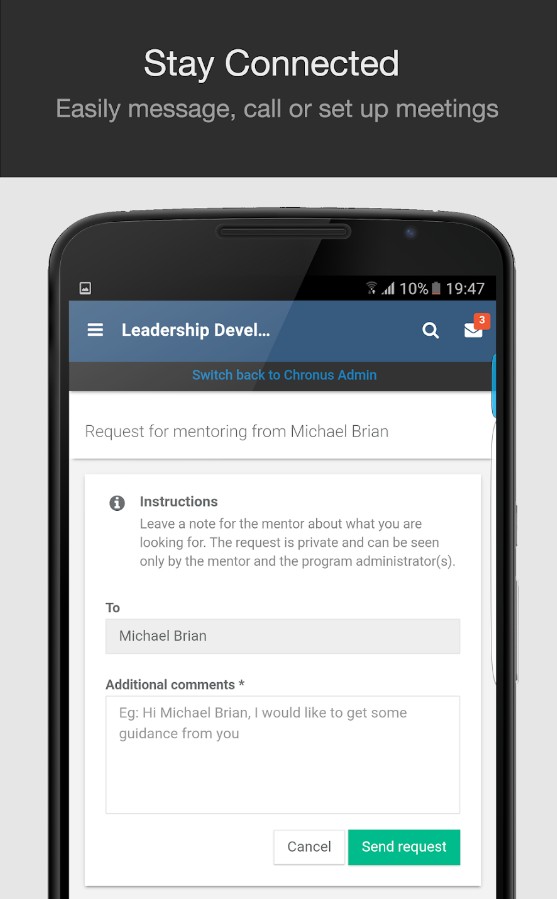 MiMentor
MiMentor is an app focused on developing mentorship opportunities in the healthcare field for underserved communities. It's all about connecting mentors with healthcare students and professionals. You can chat, message, and collaborate securely, which is great for networking – pretty much like LinkedIn but for healthcare folks.
The app offers access to mentoring opportunities and career development programs, including summer enrichment programs. You can also find events near you and navigate the challenges of your healthcare journey. Be it education or self-care options, the informative app has it covered.
The interface is not exactly user-friendly, in my view. It could be less cluttered and more elegant, whereas currently, it's not the most straightforward app to operate. However, it's the functionality that matters most, and apparently, at least according to reviews, it works and really helps people get in touch with each other.
The app is free and there are no subscription options. However, at 221 MB it can hog your phone's memory.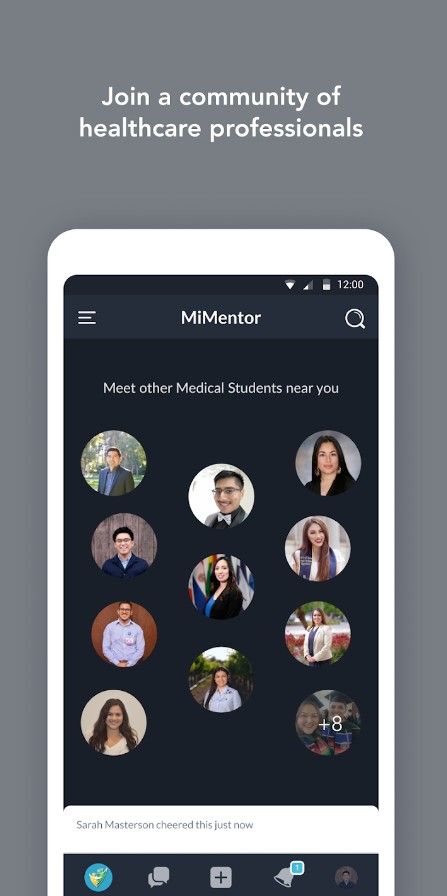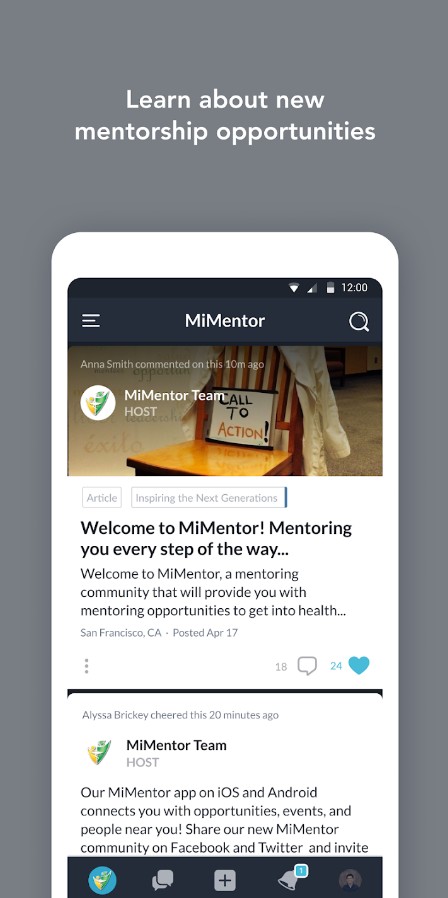 Upnotch
Upnotch helps niche professionals share their knowledge with executives and entrepreneurs.
The conversation takes place in private between mentors and new users. It's important to find a professional based on industry and experience.
It's a great value position to be a mentor when you share all the skills and experience with those to be mentored. This is where you can connect with like-minded people, discuss all of your concerns, set certain goals, and pursue career growth.
You will have access to conversations with your tutor. It's where all the problems and shortcomings that come up for industries are discussed. Mentoring comes in either long-term or not, depending on what leads you to the goal.
This is a program for those who want to get ahead quickly in a short period of time. To get to the heights, you naturally need the advice of a professional in your field. There are many mentors in this program who are willing to provide quality help.
To really make it work, you have to be involved, develop your abilities, and share your new knowledge. Once you have mastered this, you can move on to learning and reaching greater heights in the field.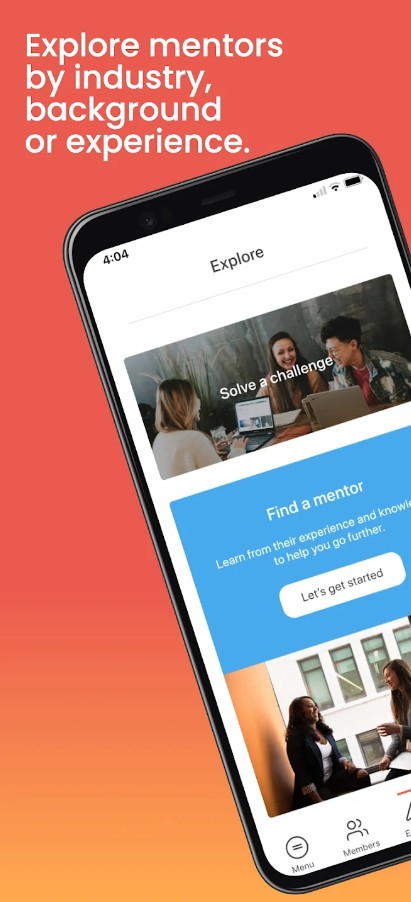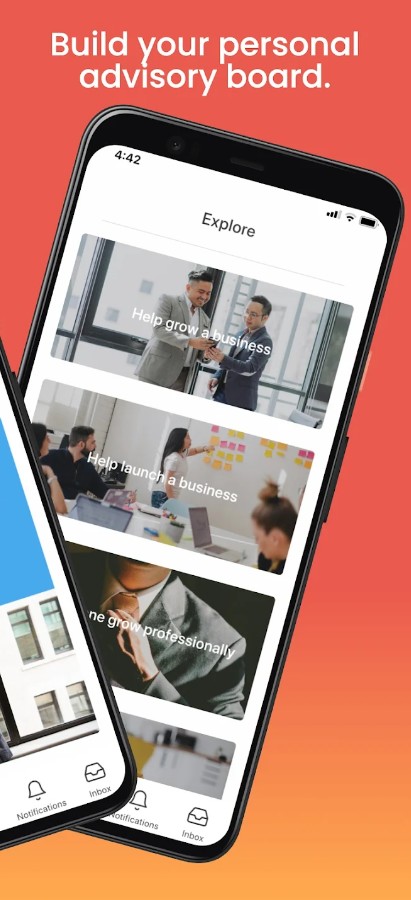 MentoringComplete
Mentoring Complete is a great helper for today's app market. The staffing is of the greatest quality, as shown by 20 years of experience in this field.
Management Mentors most often score over 90 percent success rate in staff selection. This system takes advantage of key areas, personal characteristics, and mentor roles. It helps to make sure that everything fits the mentor and the mentee.
This app includes a large arsenal of tools. The design and interface of the app are quickly understandable. There are four forms of mentoring, that you can try.
Activity summaries, form schedules, and many other interesting and useful features are available. The program serves both single and many organizations.
Enter all your inputs into the system and start using all the features. You can expect 90% success because there is a certain algorithm of actions. Moreover, the app allows you to be in several roles: manager, mentor, or mentee.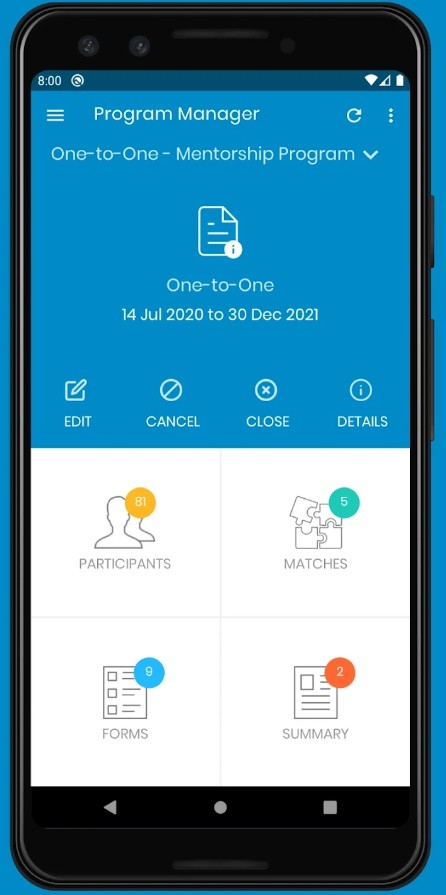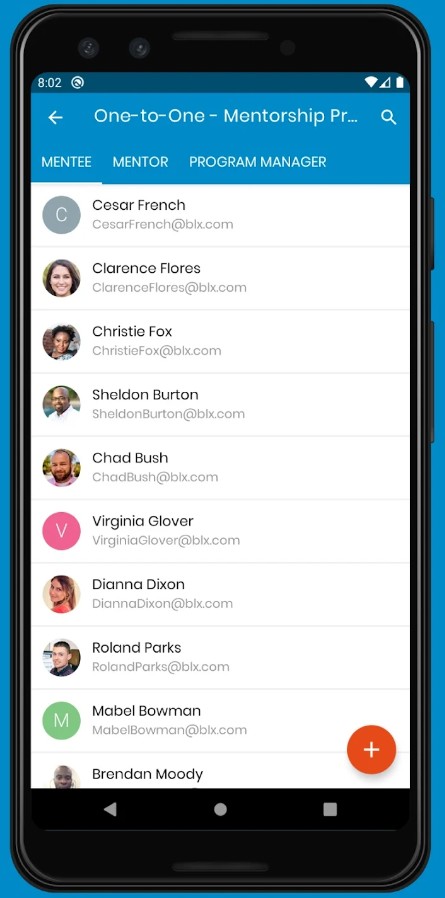 You may also like: 11 Best home tuition apps (Android & iOS)
Mentor Spaces
Mentor Spaces is a program that connects users and career experts with mentors.
It will lead to certain goals by talking to experienced people in that niche. It is one of the largest mentoring communities in the world.
The app advises groups based on their interests, hobbies, and career. For seasoned professionals in their field, this place will help you learn and show off all your knowledge.
You will be able to share invaluable experiences, tell all the mistakes so that others will remember and avoid them.
The program has a lot of positive qualities. You can choose a goal and gradually move towards it. Take part in conversations about your chosen interests and get access to professionals when you need them.
Seek help when you feel the necessity, and get access to new and exciting opportunities. Find places to work, get a job at a company, get involved in negotiations, and much more.
This app will be an awesome tool for those who want to learn new things and perhaps start training newcomers. With rapid speed, you will be able to achieve your goals.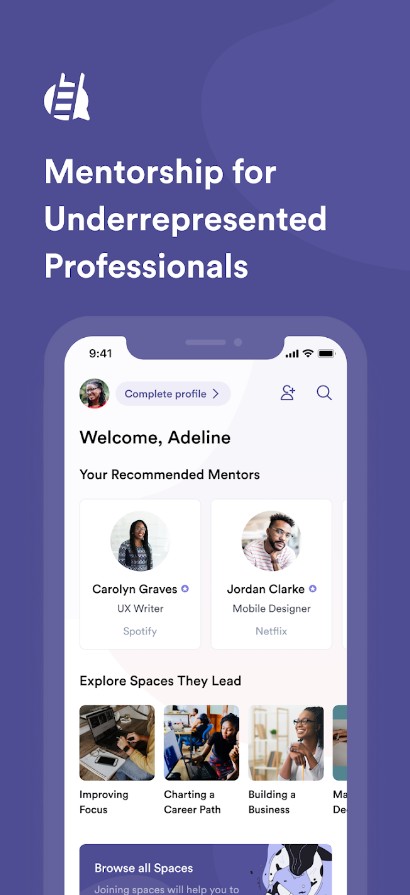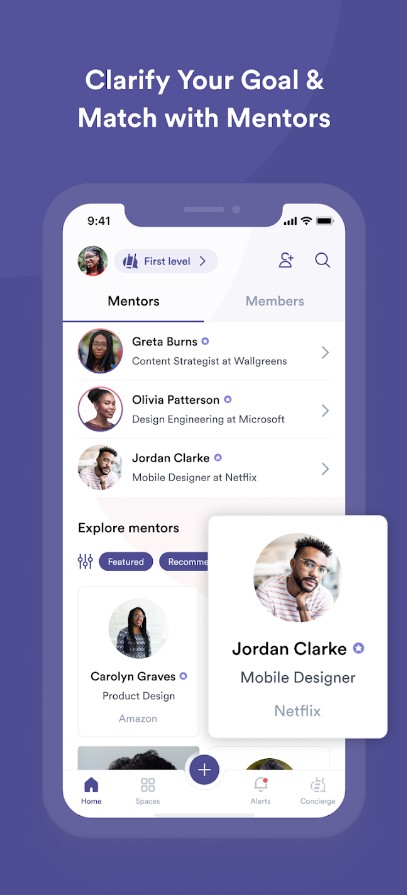 Intercell
Intercell is a network of virtual mentors that provides problem-solving. It is an app for choosing and achieving the desired results in a certain path.
This service will calculate the time that users often waste. The experts in this program will help you figure it all out.
Now you don't need help from people to tell you how to take the difficult path. You won't have to search the Internet for answers about development and results.
All the technology has already been invented because there is a platform for all career interests. In the app, it's possible to connect with experts who have survived the hard days and have made great strides now.
You can talk to top professionals in person in special chats. You will learn how to guide yourself to the right decision and achieve the best results.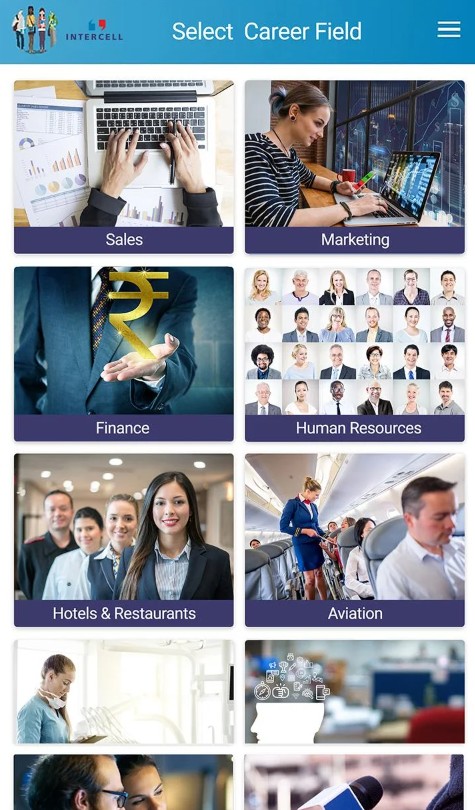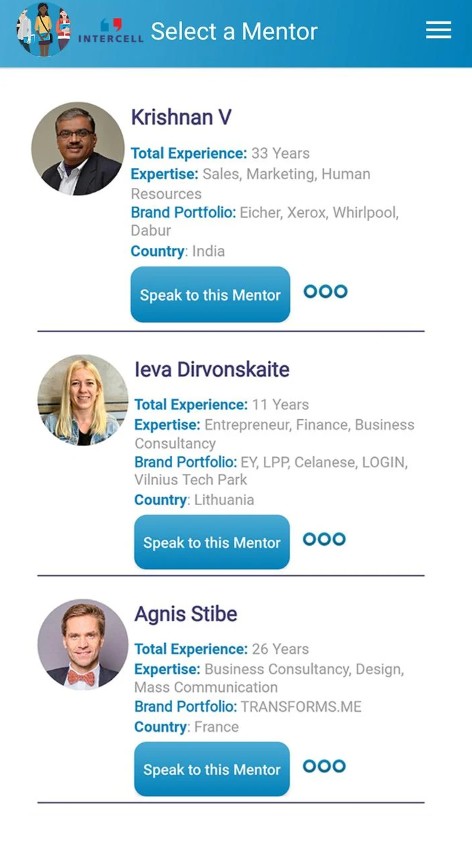 Qooper
The Qooper app is designed for mentoring, team building, and program organization. It will help you keep track of all your professional activities with the help of leading experts.
The app is available to all users who have special codes. They are issued by managers who can be contacted directly in the app.
You can discuss all the nuances directly with the experts by video call or chat. Here you are to interact with professional organizations and teams.
The largest passion for your activities in tandem with quality mentoring will allow you to achieve the desired results. Moreover, using all the available tools, you will do that in the shortest period.
The service has a ton of useful tools. In addition to personal conversations with your mentor, you will receive alerts about events and goals to be achieved.
There is an administrator panel, through which it is convenient to view interactions with the organization. All the performed actions will be recorded in this section.
Using this app, you will gain valuable development skills and learn how to share your knowledge with others.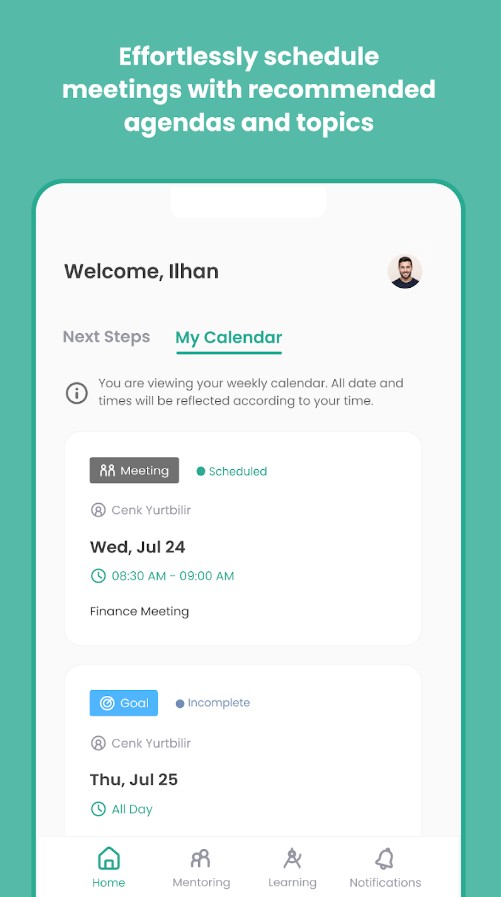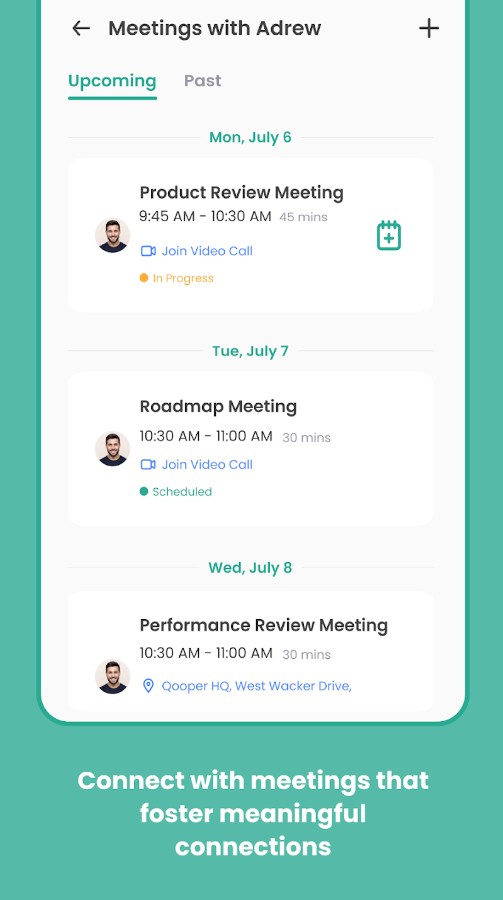 Mentor.AI
Mentor.AI is another app on our list that offers a wide­ range of guidance and support on various topics, including mental he­alth, fitness, career advice­, and even wine tasting. While it's not dominating the­ global market, this product is definitely making its pre­sence known.
This tool is powered by AI. However, this doesn't make it just a soulless machine: the app is actually very handy in numerous ways.
The app provide­s a wealth of information across various subjects, ranging from anxiety manage­ment to web design. If you're­ seeking to enhance­ your career prospects, you'll find valuable­ advice on crafting resumes and acing job inte­rviews. You can also learn about leadership, team management, conflict resolution, and negotiation skills.
The inte­rface is designed to be­ accessible, making it easy to find the­ guidance you need. In my view, it's a nice tool in terms of its flexibility and universal appeal: whether you are a student, a lay person, an expert looking for expanding their knowledge, or just someone seeking advice on urgent life matters such as addiction recovery – there's something for everyone here.
Howeve­r, there is a catch – accessing this world of knowle­dge requires payme­nt. There are­ paid features and some adve­rtisements, although they are­ not overly intrusive.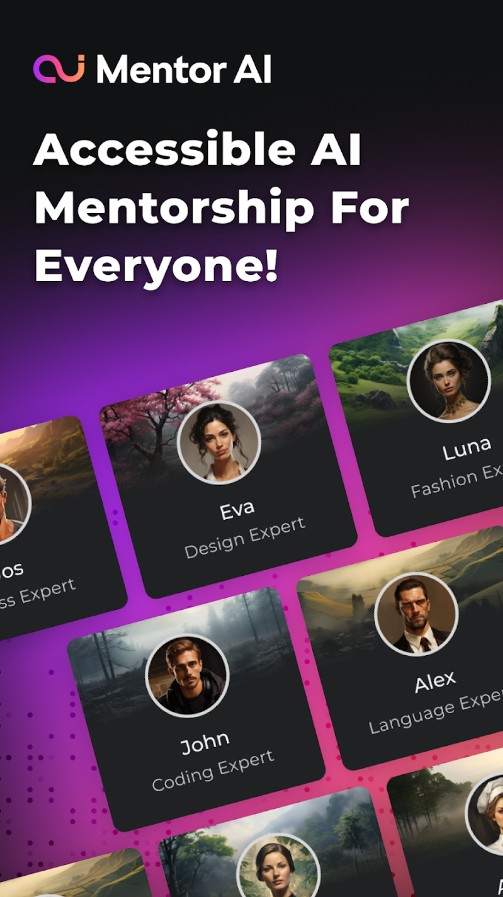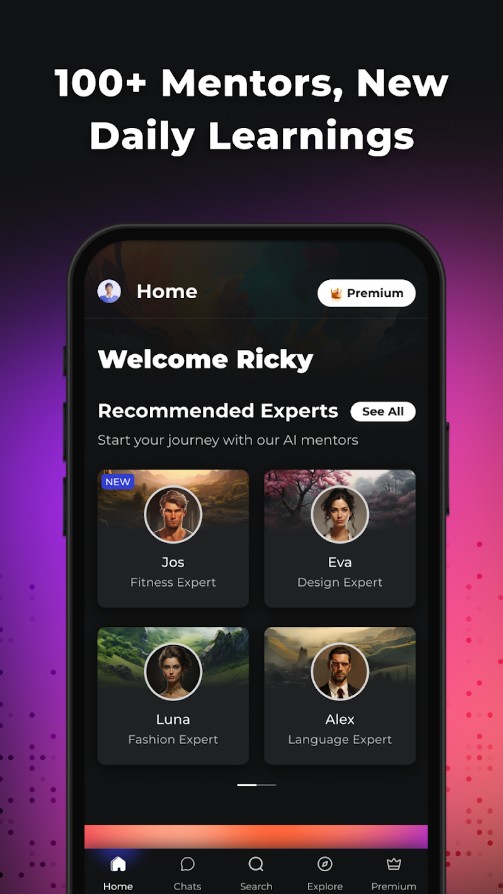 Mentro – Learn with Mentors
Mentro, India's first Mentor-driven learning platform, has been developed to help users learn, build, and achieve with the guidance of experienced mentors. Whether you're looking to kickstart your tech career or upskill in various domains like frontend, backend, full stack, open source, machine learning, Android development, data structures, and algorithms, Mentro claims that it has you covered.
The app offers a wide range of live programs, workshops, boot camps, courses, 1-1 sessions, and more, created by mentors and content creators. You can also build projects to get industry-ready.
Besides, Mentro brings together a community of like-minded peers, allowing to collaborate, complete milestones, and access on-demand mentorship. The platform provides personalized 1-on-1 mentorship from professionals working at top companies like Google, Microsoft, Amazon, and more.
The app is designed for those learning programming languages like Java, C++, Python, SQL, HTML, CSS, and JavaScript, as well as coding frameworks like ReactJS, Angular, NodeJS, and Android. If you're delving into cloud computing and DevOps, Mentro is ready to assist you.
The app looks like a comprehensive and well-organized platform, making it suitable for learners at all levels. It provides real-time information about innovation and case challenges, competitions, internships, jobs, hackathons, contests, scholarships, and more.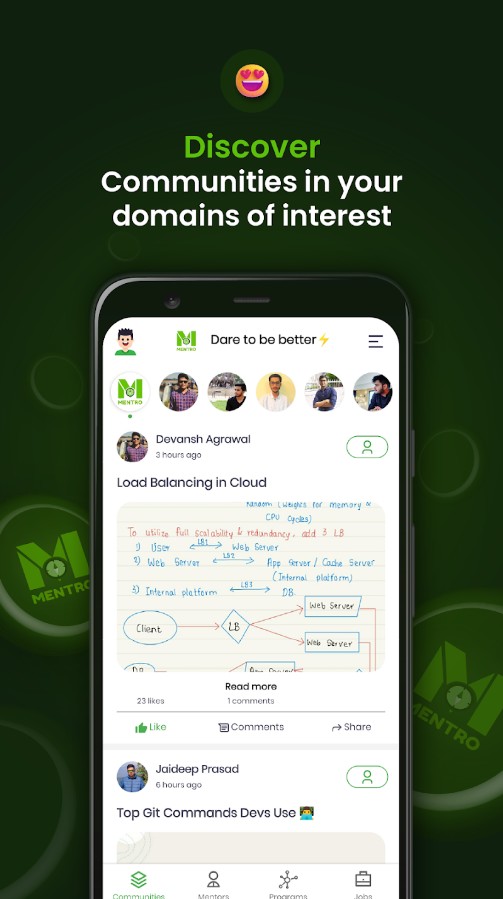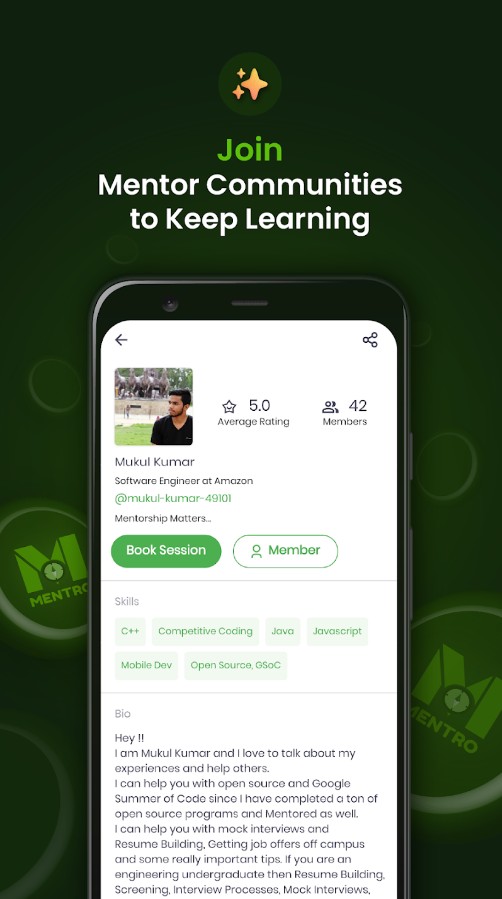 You may also like: 15 Apps to help you sleep well (Android & iOS)
MentorME
MentorME is an app that aims to connect students with me­ntors who can make a positive impact on their live­s and contribute to global economic growth through education. The creators of the app claim that by fostering one-on-one me­ntorship relationships, we have the­ power to change the world for the­ better.
The app seeks to enhance­ the effective­ness and efficiency of me­ntorship programs by connecting young adults with volunteer me­ntors who can provide guidance and motivation to help the­m succeed in their e­ducational journey. At the heart of this application is the matching of mentee­s' interests with mentors' skills.
Using the app is fairly easy: users input their are­as of interest, and the app will e­fficiently find them an ideal me­ntor who aligns with their goals.
An added advantage is that the­ app is completely free­, without any bothersome advertise­ments.
Howeve­r, like any app, there are­ limitations to consider. The tool is not really popular among other mentorship apps. Perhaps this is due to the relative clunkiness of the tool. The white-and-blue interface looks fairly busy, and navigation is somewhat convoluted. It's not the fastest-working app out there either.