Today more and more people start working or studying online. In this case, we often have to turn our camera and microphone on.
It's ok when we are studying. However, many people are concerned about their privacy. They hate the thought of being spied on.
This is why we decided to search for the best free apps that can block your device's microphone and keep you safe.
In the list, you will find easy-to-use applications that are available for Android, as well as iOS users.
You may also like: 11 Best WiFi Blocker Apps for Android & iOS.
Microphone Blocker – Mic Guard
Here comes another great and simple application that will provide you with a set of powerful tools. At the same time, the application is extremely simple so even the most inexperienced users can enjoy all the functions.
What is more, Microphone Blocker is a secure app to use because it doesn't collect your private information. Nobody will know that you are blocking your microphone or camera except you.
Let's look at the basic options provided by the app:
Microphone Blocker

. Click on a button to be safe. It is very easy to find the button, it will be in the center of the screen once you have opened the application.

You can

set a special schedule

. The app will remember it and turn your micro off, according to the rules you created.

The app

doesn't affect your calls

. So if you block the micro, it doesn't mean the person calling you will not hear what you're saying.

Spy Control

. You will know if someone is trying to control your device or steal the data via listening through the microphone.

Give the app

permission to use the micro

. It is safe, the app doesn't collect data even for statistical reasons.

Customize the application

. You can change the app's theme, for example.

The app will show you 

how many sites or applications have access to the microphone

. You can also get this information in the settings but it's much easier to find it in the app.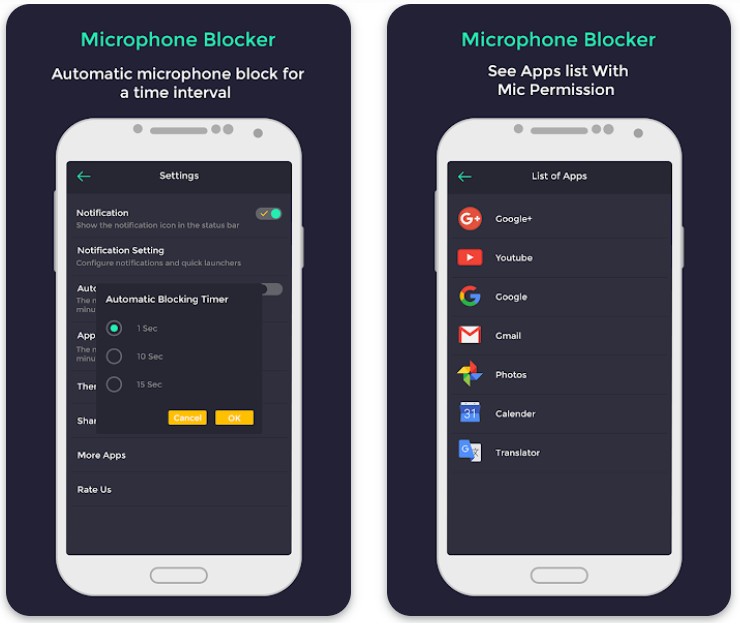 You may also like: 7 Free Call Manager Apps for Android
Anti Spy: Camera & Microphone Block
The thought of being watched (and, therefore, controlled) by other people scares most of us. However, not everybody knows how to fight this kind of thing. Well, it's not hard, you don't even need to write code or understand how the Internet security should work.
One thing that makes the app so cool is that it can find and fight viral trojans, which is great if you often download files and programs from the Internet.
Some other features will come in handy once you download the app:
Camera and microphone blocker

. These options are used by most people who are concerned about their privacy. That's logical – your micro should be turned on only when you need it. If you are not talking to someone, why the micro should be turned on? To let the hacker listen to you?

Security Alerts

. If you were asleep and the hacker tried to use your device's camera when you have no control of your device, Antispy will tell you about it.

Fake location

. Sometimes you don't want to be located by your device's GPS. That's pretty normal. In this case, you can set a fake location. It works like a VPN when you're using a browser. You can choose an exact location or use the random one.

See the history of your camera/micro usage.

The app collects statistics on that so you can easily get a graph reflecting the time when your camera or microphone was used (it doesn't matter if it was you or not; the app just reflects the usage).

Create a widget

to place it on your home screen and get fast access to the micro or camera.

Set alerts

to know when exactly the micro is being used. You will get notifications.

Access scanner.

This powerful tool will help you find the apps that have access to the microphone and camera.
To help the app function properly, give it the Device Administrator permission. It is safe.
Please note that the application doesn't work properly on every device. If you find glitches, contact the developers via email. They are fast to react.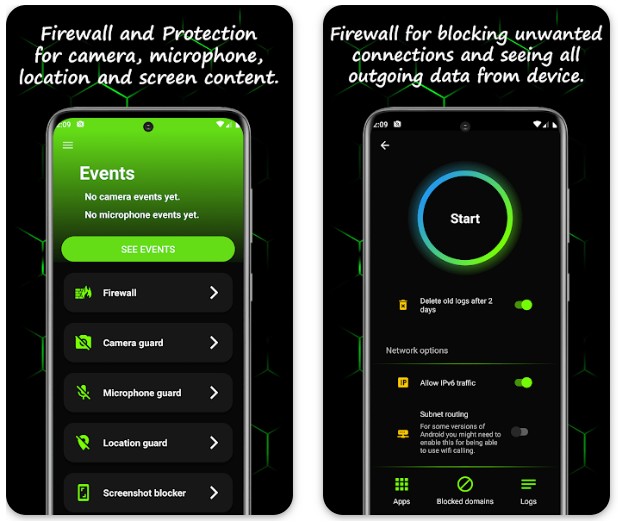 Malwarebytes Mobile Security
Malwarebytes Mobile Security allows you to protect your safety and block any type of scams.
Once you have downloaded the app, it will ask you to enable several permissions.
Thereafter, you will get to the homepage containing multiple sections on the bottom of the screen: Dashboard, Help, and Settings.
Due to this application, users can carry out the following tasks:
Block all the suspicious websites
Receive alerts of calls from scammers
Get rid of irritating ads or ad trackers on Safari
Ignore and eliminate deceptive messages
In addition to the aforesaid, Malwarebytes Mobile Security allows users to block the embedded microphone without leaving the app. Thus, no applications will gain access to the microphone.
However, we have found some significant drawbacks of this tool – it is not available in some regions and it does not contain a built-in scanner.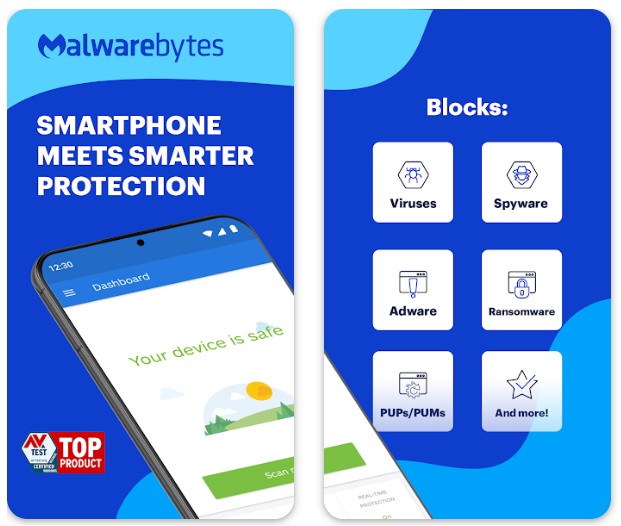 1Blocker: Ad Blocker & Privacy
1Blocker allows users to safely visit multiple websites on Safari, as it blocks the intrusive ads, in-app trackers, or other irritating elements on the websites.
First of all, we would like to mention that 1Blocker is a safe and reliable application, as it does not track your activity. What is more, there is a function of blocking the camera and microphone.
After downloading the app, you will be transferred to the menu page straight away. Here you will find the following sections:
Overview
Safari
Firewall
News
Settings
Users can enable the blocking option just in a few clicks. Moreover, you can monitor all the blocked resources on a website.
Safari knows in advance what should be blocked and does it itself. Therefore, due to this app, all the websites will be loaded much faster.
Speaking of additional features, the application also enables you to block the integrated microphone, URL, cookies, etc. Plus, you can hide any element by CSS as well.
The application comes with both free and paid versions. However, if you use a free version, you will gain access to only one category of blocking.
The developer warns that the app can't block all types of ads, as some websites use special techniques to prevent the blocking process.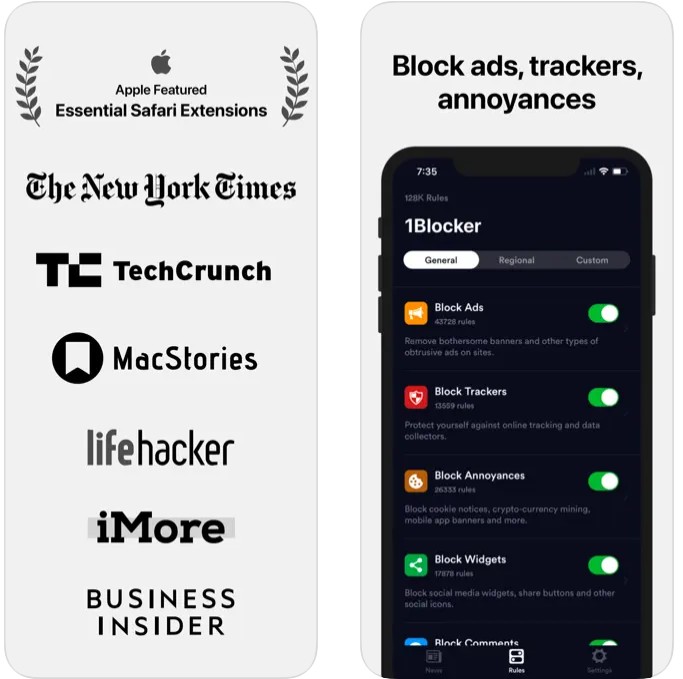 Microphone Blocker
This app is a must if you care about your privacy and security online. You might know that the browser you're using or the apps on your phone can be collecting data about you via the microphone. This information might be sold to other people or companies. You don't want this to happen, do you?
Not only does the application switches your microphone when you want it also has a friendly interface that will make working with the app a pure pleasure.
Here are the options that will be available right after you download the app on your smartphone:
Microphone Blocker. You can block the use of it forever, in this case, no one can possibly hear you. There are no time limitations, even if you are using the free version.
Fast access to the Blocker. You don't have to go to the settings and then to the application itself. You can block your microphone at the click of a button.
However, we need to warn you that the developer doesn't guarantee that Microphone Blocker will be reliable when you go online. There can be some glitches so you can not be 100% sure.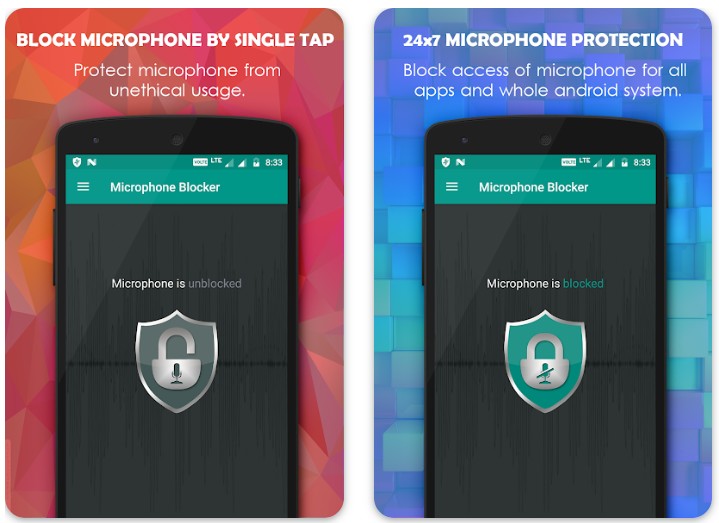 Paranoia Access
Are you afraid that someone might have access to your device? What if someone is listening to what you're saying in private conversations?
Well, you can stop this. The only thing you need to do is to download Paranoia Access and start using it.
Here are the basic features available in the app:
Full Device Monitoring

. The app will scan your device from time to time so that you will know if the camera or the microphone is being used by the smartphone. You can also block the micro when you are not using it.

Wi-Fi analyzer

. Don't make decisions to use unfamiliar free hotspots if you are not sure they are secure. Otherwise, your data can be stolen easily.

Clipboard cleaner.

Little do we know about the tactics used by hackers but we know pretty well that they often study the clipboard to gather more information about you. This is logical, as many people often copy important data, such as their phone numbers or passwords.

GPS usage scanner

. The app will tell you if any website is trying to track your location so that you could do something with this.

Make your Bluetooth invisible

. This measure can also make you safe. We recommend that you don't leave your Bluetooth turned on if you don't need it.
Please note that the app is more about monitoring than protection. The app doesn't collect your private information.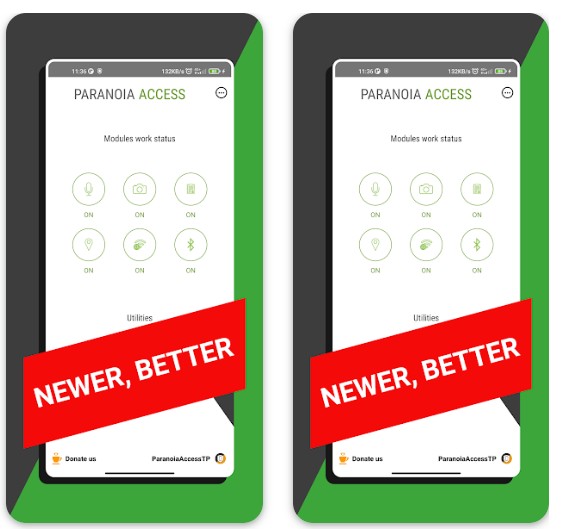 You may also like: 7 Best Pop-Up Blocker Apps for Android & iOS
Micro Guard FREE – Blocker
Do you like innovations? If yes, this application is a must. It is aimed at keeping you safe when you are browsing the Internet or talking to your family members. In these situations, you don't feel like sharing the details of the conversation with anyone. That's what Micro Guard is about.
The app contains the following features:
Reliable Microphone Blocker. You can turn it on and off at any time.
A simplified version of Deep Detective. This small but powerful tool helps you scan your device to find out if it's safe to use or not. It can also give you some tips on how to make it less vulnerable.
It's possible you don't always want to block the microphone. For example, you might have a Zoom meeting. It will be uncomfortable to turn the micro on and off all the time. Here comes the solution – you just create a special "whitelist" of the applications that have access to the microphone no matter what.
You can set a password so that nobody could turn off the Microphone Guard. Make sure it's long and complicated and you will be protected.
Create a widget to access the app at the click of a button.
The developer is sure that Micro Guard guarantees maximum safety for your device.
What is especially cool about the app is that it can protect you even if the other side, who wants to harm you, is using such tools as Spyware or Surveillance.
The app requires a minimum number of permissions, which is great for your privacy. 
You don't have to create an account or get any type of subscription to enjoy the wide range of functions.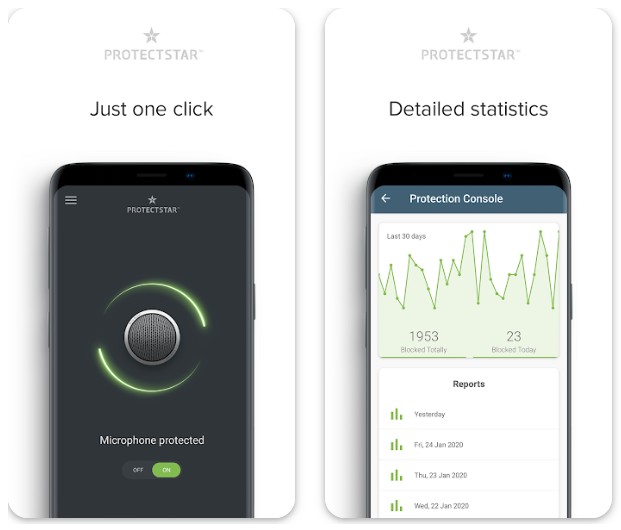 McAfee Mobile Security
It's time to talk about the apps for iOS users. One of the best options for you will be McAfee Mobile Security. It is not a Microphone Blocker app but it also has this function.
The app is aimed at keeping your private life private. Nobody has the right to interfere with your life, that's the motto of the app so to say.
The application is packed with useful features:
It can block your micro or camera when you need it. However, you can create a list of the apps that will have access to the camera or the microphone if you trust the apps and think they are secure enough.
Wi-Fi Scanner that you can rely on. It's better to scan before you use some nets. The Scanner can detect the hotspots that can possibly be insecure. This function is available for free.
Good protection from data theft. This is extremely important today when the crime can take place online.
Photo and video protection. Your data should be available to you only. You can set a password on your folders but it's better to use some additional apps like McAfee Mobile Security to be 100% safe.
The apps can also detect if your device is being under attack from hackers. This will ensure you react fast.
If you need more functions, go premium and enjoy full security.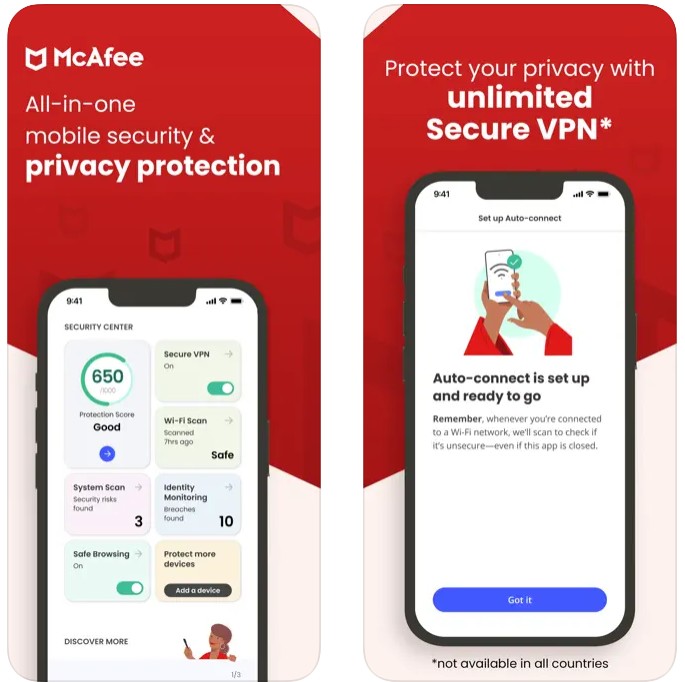 Norton 360
If you have an iPhone or an iPad, you will like the following application. Norton 360 will ensure that your privacy is being protected all the time.
This small but powerful and elegant tool can be a solution if you suspect that someone might have access to your private information.
Norton 360 is packed with many cool features:
Camera and microphone controller. You might know that many apps and websites can collect information about you without telling you about it. As you might understand, they will sell this data to some companies. If you don't want it, make sure you block your microphone when you don't need it.
Dark Web Monitoring. If your private information has leaked to the Web (including the dark one), the app will tell you about it.
Wi-Fi Scanner. Using free hotspots isn't secure enough. However, if you have to do it, make sure you scan it. Wi-Fi Scanner will tell you if the hotspot isn't safe. Don't ignore its alerts, they can save your private life from being stolen.
Secure VPN. Sometimes you need to hide your identity, which is fine. Use VPN to wear a kind of a digital mask when you go online. You can set the location you like or choose a random address.

These functions are not free. So you will get access to all of the functions, including the microphone blocker, for two weeks. 
After this time you will decide if the app is what you want or not.
Please keep in mind that the app collects data about you. This information will be anonymous so you are still safe.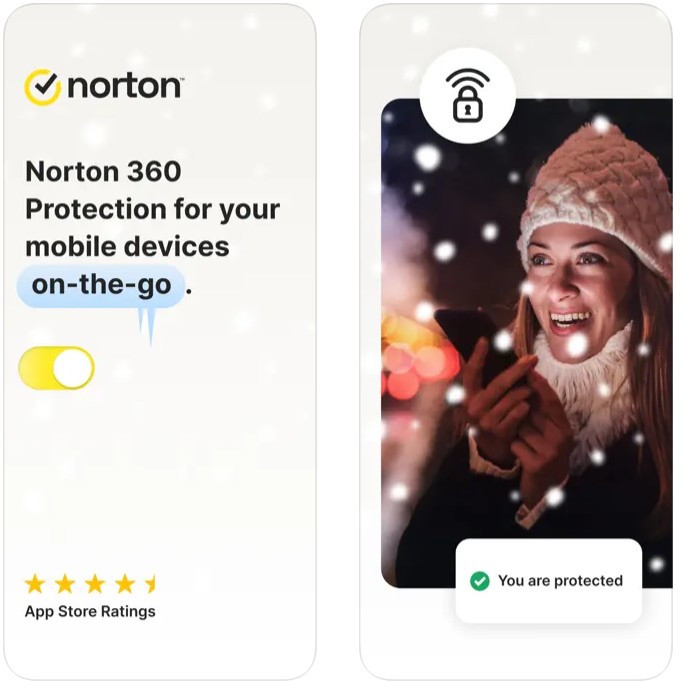 Microphone Block Free
Microphone Block Free is a mobile application that offers advanced privacy and security features for you. This application is designed to protect your device from malware, spyware, and other cyber threats that may compromise your privacy and security.
This app monitors your device's sensors and prevents any unauthorized access to your microphone, camera, and other sensors.
This ensures that no malicious app or hacker can use these sensors to spy on you or record your private conversations.
real-time malware detection and removal
app blocking
anti-phishing protection
Moreover, Microphone Block Free can also clean junk files and optimize your device's performance, which can help prolong battery life and improve overall usability.
In terms of quality, Microphone Block Free received mostly positive reviews from users. Many users praised the ease of use of the application and the effectiveness of protecting their privacy and security.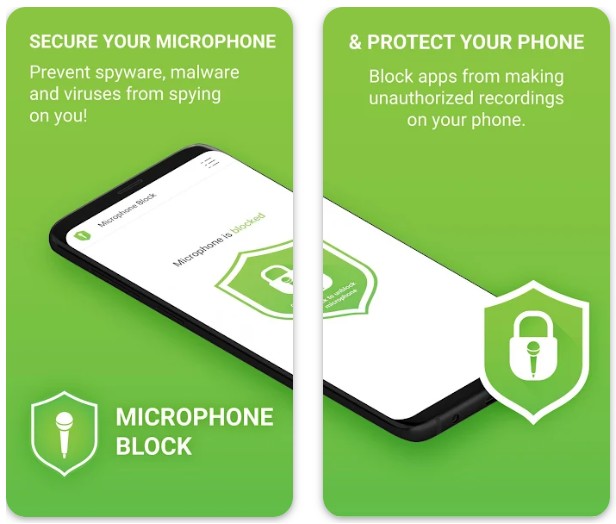 You can also check: 11 Best Apps that Block Social Media (Android & iOS)
Trend Micro Mobile Security
Trend Micro Mobile Security is an application that provides users with protection against mobile threats such as viruses, malware, and ransomware.
Trend Micro can block dangerous websites and prevent phishing attacks. It also offers a security scanner that checks installed applications for potential risks and suspicious behavior.
Protects your device from viruses and malware
Protects you from snooping on you and your data
The application protects you from viruses and listening to your device through the speaker. In addition, the app can track a lost device, block unwanted calls, and filter unwanted messages.
One of the potential downsides of the app is that it requires a subscription to access some of its advanced features, such as the app scanner.
This may not appeal to users who prefer to use free apps. Some users have also reported dissatisfaction with the app's performance, citing slow scans and false positives.