A moving picture is a very unusual and interesting way to diversify your ribbon on social networks. It will also be a great option when you have already exhausted all the ideas for photos and videos.
GIFs are becoming more and more popular among users. Static photos and memes are losing their popularity and losing to more dynamic content.
You have probably already seen such pictures among your friends' accounts, strangers' accounts, or just somewhere on social networks. You can see objects and body parts moving in photos.
The funniest version is when the person's mouth moves in the photo and the rest of the face is static. You can also frame the mouth of another person or creature! Also, if you want to create more extraordinary content, then try these best fake magazine cover apps.
We've found the best apps for you that will make your mouth a completely independent organ because only the mouth will move!
Face Changer Video by Scoompa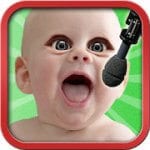 Face Changer Video is a great way to get your picture to talk. Ever thought you could animate a static face, put moving objects on top of an image or make yourself talk? In that case, Face Changer Video will do all the work for you.
People in your photos can acquire the ability to talk and move, even if they were just smiling and doing nothing when the picture was taken. Face Changer Video gives you a whole catalog of animated objects – body parts and objects – that you can use when editing.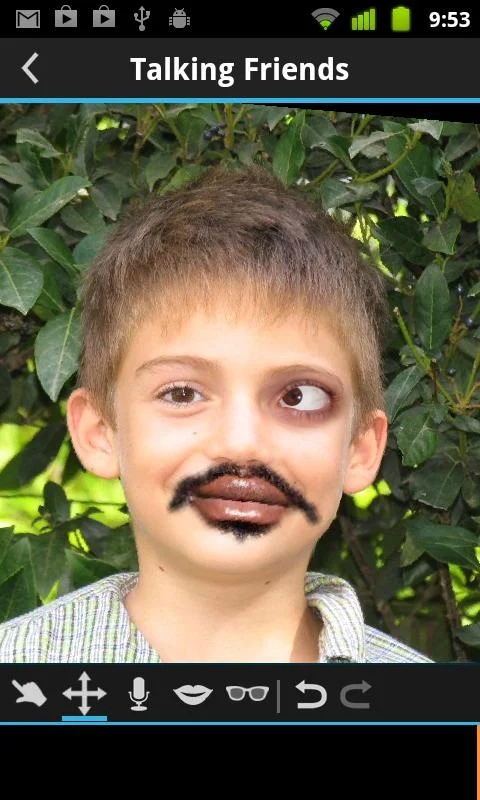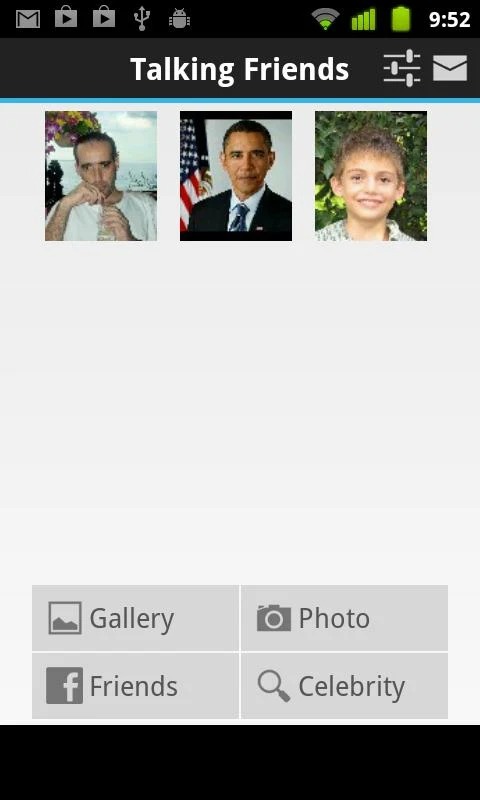 You can change the photo itself a little bit – for example, to make a person fat or vice versa, incredibly thin. All of the animations can even create a single story – like someone being hammered by a hammer and then started to talk!

You may also like: 11 Best Deepfake Apps (Android & iOS)
Photo that talks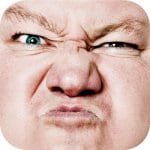 If you don't care about morality at all, or if you like to joke around a little, we've found a funny app for you. The photo that talks are a service that allows you to make fun of other people – or rather, their photos.
Are you tired of your boss or is your colleague bothering you with his stupid stories? Well, it's time to get even, and you can do it in Photo that talks.
You'll need a picture of this man. Here you can spank them, make them say stupid things and shoot the whole process on video. Of course, it's unethical, but it can be fun and even enjoyable.
You can edit the photo itself or make it a caricature – changing facial features or adding new details and accessories. By the way, you can also change the voice – for example, make it squeaky or nasty.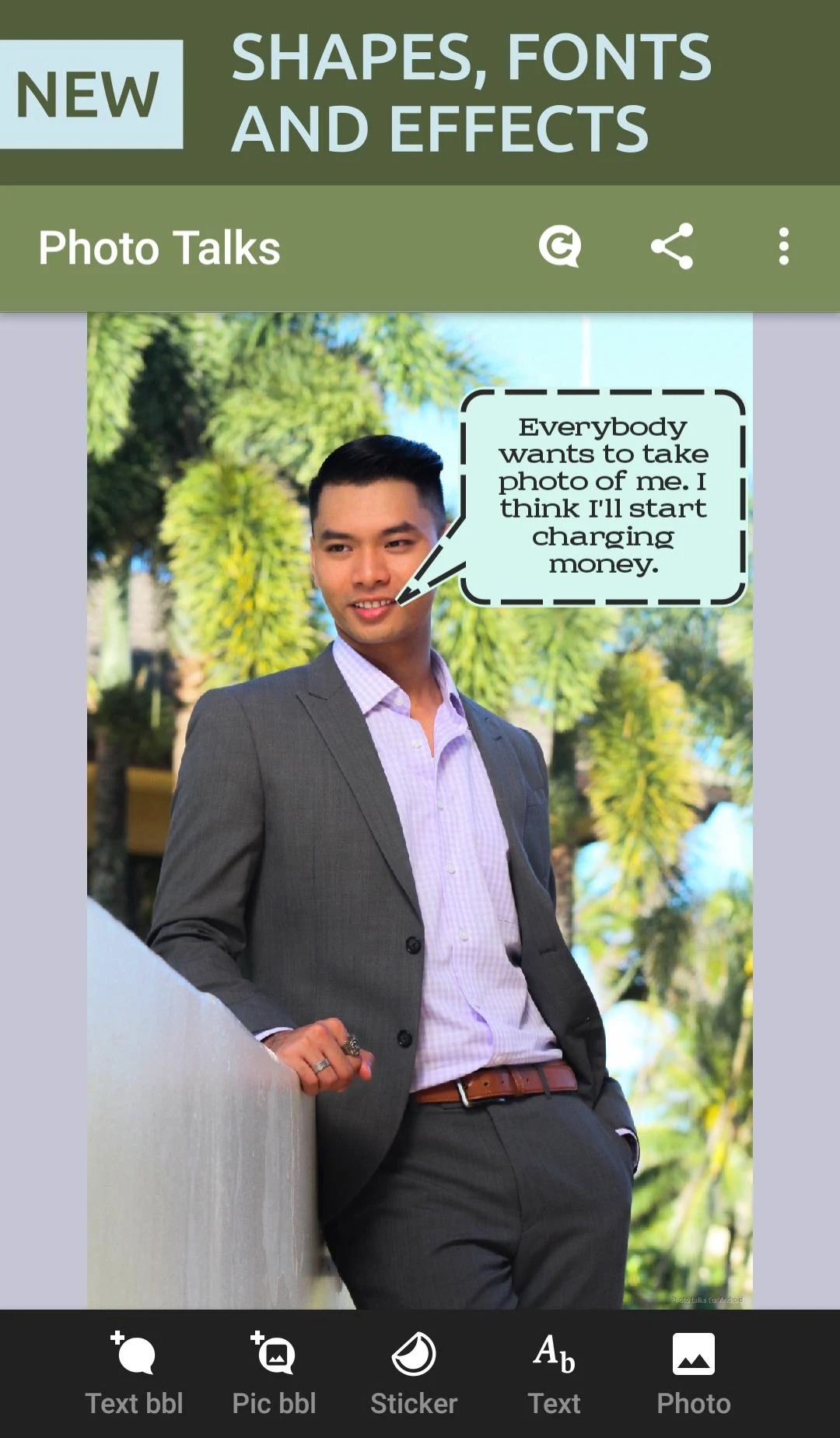 Whenever you virtually hit a dummy in the photo it will get new bruises and abrasions, as well as talk about his regret. If you have a strong hatred for someone, you can throw it out in Photo that talks.

Lipsmash – Make Photos Talk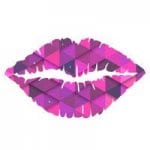 This app perfectly duplicates your voice and overlays it on the picture you want to take. Making a new video is very easy and fast, the whole process takes only a few seconds. It only takes a few simple steps to get a fun result.
First, you will need to choose a picture with your lips flat. Lipsmash will automatically detect their contour, but you only need to align it. Then you will need to record your audio for this photo.
Turn on your imagination and come up with something really original! Let the person in the photo look funny and entertaining, and your friends will be laughing at it.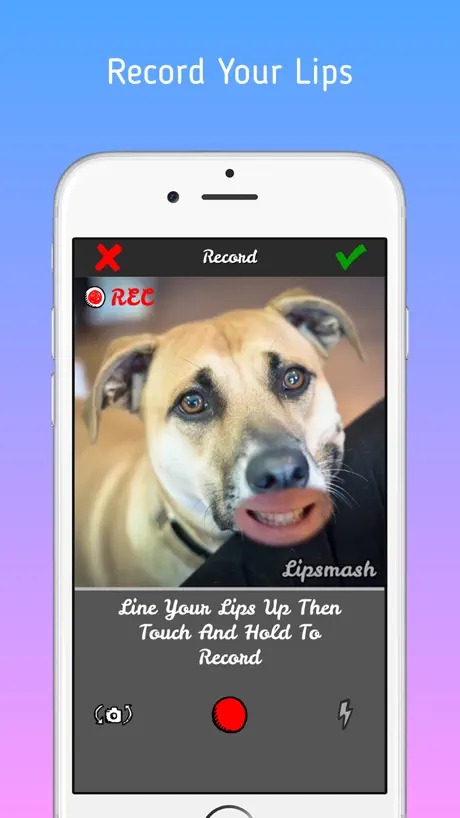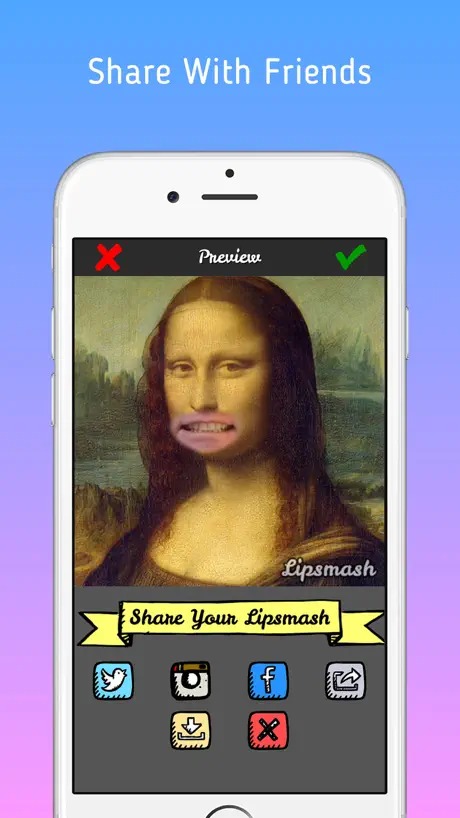 Lipsmash will put audio on this photo and create a full-length video for you. You can even congratulate your friends – let their favorite celebrity wish them a happy birthday.

Funny Movie Maker – FMM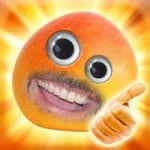 A lot of movie actors and characters have their own catchphrases. However, they can be presented so that even the most serious statement will look ridiculous or even absurd.
In the Funny Movie Maker application, you can choose any person – celebrities, great personalities, your friends, or even your own – and make them a real meme. Come up with the phrase that will make you laugh the most and start editing.
Even your pets or toys can speak. You can even use pictures from the Internet, and don't bother editing them – Funny Movie Maker even has special funny face templates.
In order to make your result even funnier and hilarious, you can change the pitch of your voice or even its pronunciation. By saving faces in the app's gallery, you can use them in your other movies later.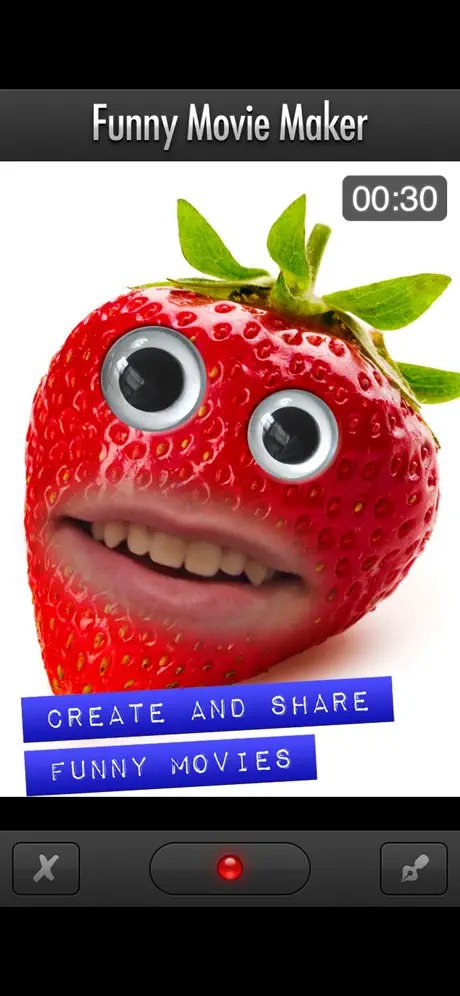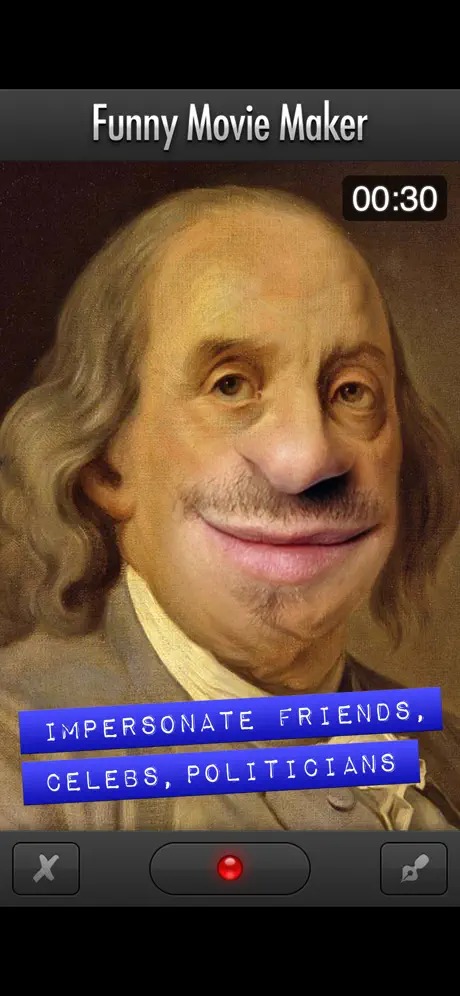 Record your movies and share them everywhere, so not only you but also your subscribers can laugh.

SpeakPic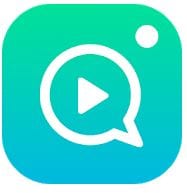 This app was created to animate the faces on pictures. Using SpeakPic, you can make any face come alive, maybe layer on some cool music or speech and share this funny video with the whole world!
The app is mainly remarkable for its beautiful interface which is a pleasant bonus since the developers of this category of apps don't put much effort into it.
On the main page, you will see several options: you can add a face, select the voice, add an effect or share the video on your social media and messengers. What is more, there are tons of various voices are available and in tons of languages which is awesome!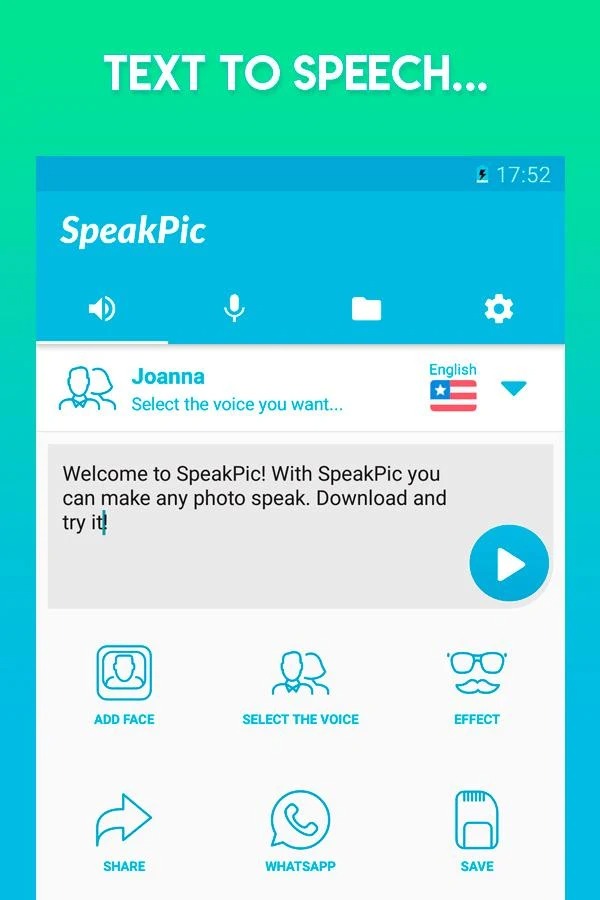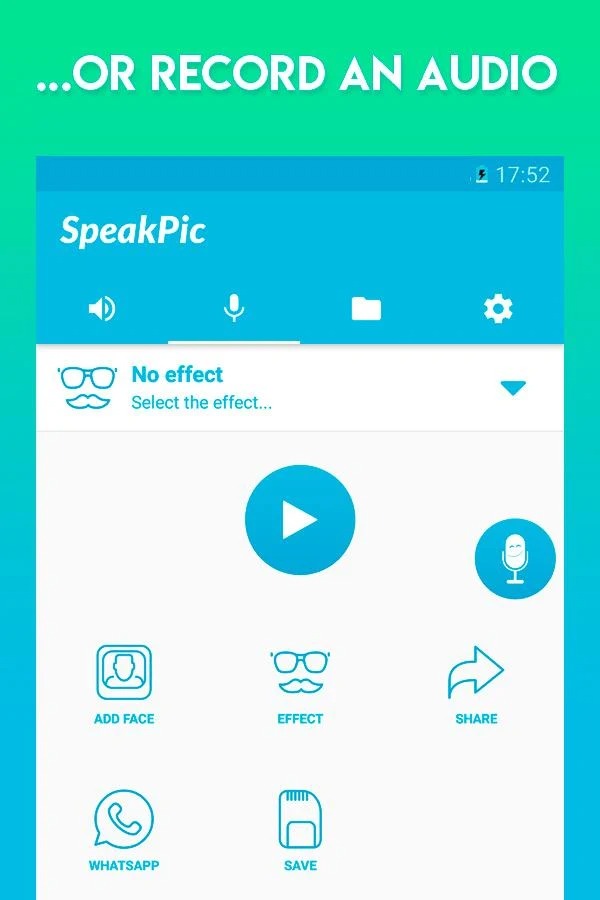 You just need to type the text and the AI in the app will recreate a monologue. The only possible drawback of this app is that it crashes often on some kinds of devices. Plus, some users complain they can't remove a watermark from pictures.

iFunFace – Talking Photos, eCards and Funny Videos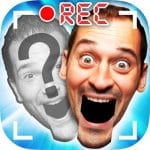 Technology has gone too far and you can transform any content into something unique. To create a video from a regular photo, you only need to use one application.
iFunFace is perfect for you. With this app, you won't need to learn any special skills or learn how to process your photos. Everyone will do it for you!
To generate the right mouth movement, you'll need to create an audio recording. iFunFace automatically creates animation using a special technology. You, your friends, and many others will be able to participate in fun new movies.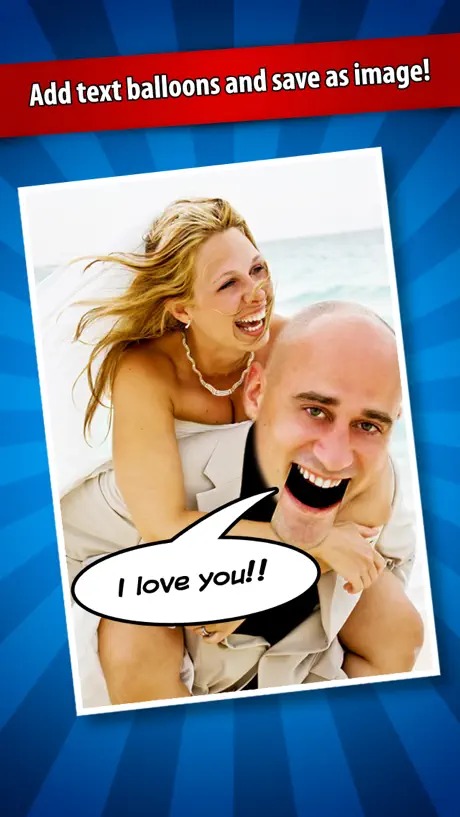 You can even choose from funny voice filters that make all your phrases even more unique. Add new accessories like hats and mustaches to match your friends' style. Share with friends as soon as you finish your project – sure they'll appreciate it.

Prankster Mouth Off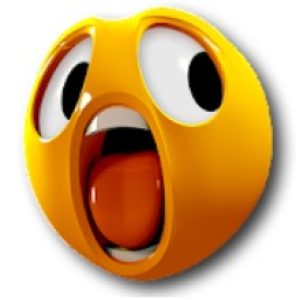 Have you ever been alone with your children? They become really restless and noisy creatures who want to play and have fun. We know how you can entertain them or at least just get their attention – with Prankster Mouth Off!
It is very easy to use, but despite its simplicity, it effectively attracts the attention of many people in a large room.
You will need to bring your phone directly to your mouth – so that the screen is turned to the viewer and covers your lips. This way, you will be able to say something, sing, laugh and Prankster Mouth Off will generate lip movements in a new format.
Maybe you'll get the mouth of some scary monster! In total there are 16 kinds of mouths in Prankster Mouth Off collection from which you can choose.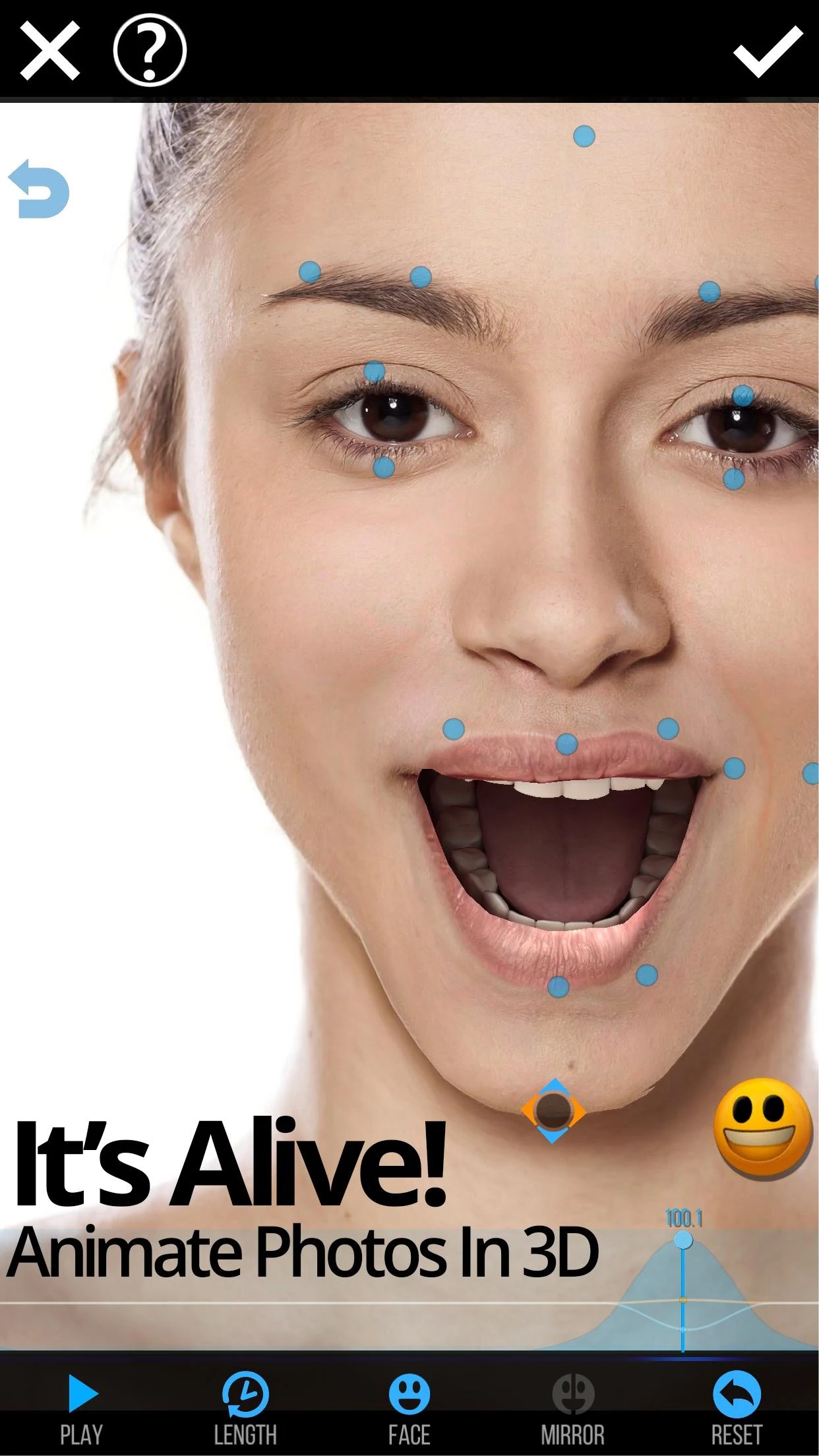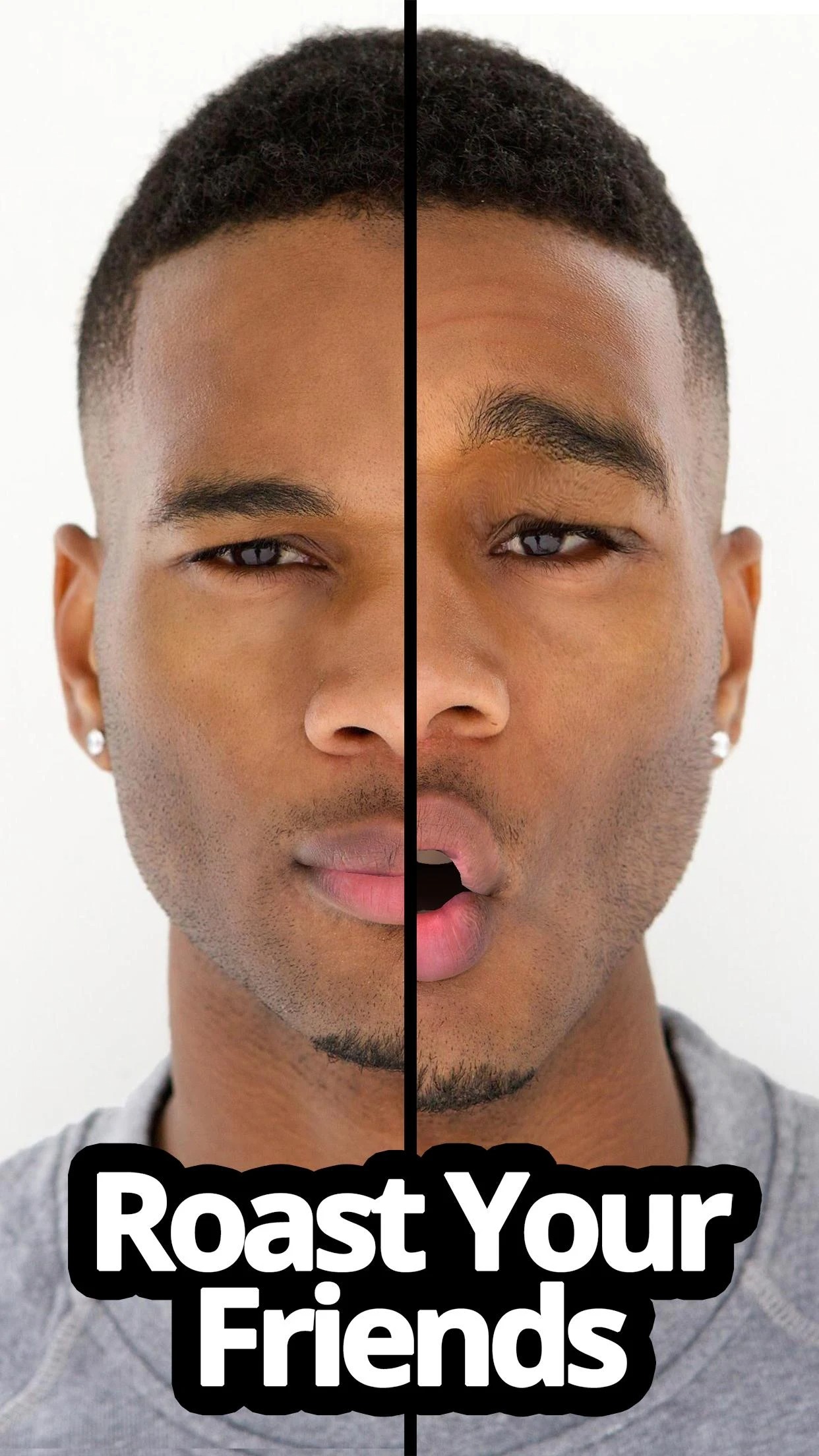 Make fun of the kids and take advantage of the moment to make such a prankster Mouth Off happen unexpectedly. Now your mouth will be a monster!

You may also like: 9 Best face shape apps for Android & iOS
Talking Face Bot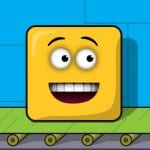 You don't have to move the person's mouth itself in the picture. You can simply add a mouth or other body parts to the pictures!
This way, in the Talking Face Bot application you can not only make people talk but even bring completely inanimate objects to life. For example, you can easily have a banana talking or an orange staring at you.
As we said, Talking Face Bot has animated stickers. Mostly it's the eyes and mouth that you put on the picture yourself. Eyes are easy to control – they will keep a keen eye on the movement of your fingers on the screen, and all you have to do is make the necessary manipulations.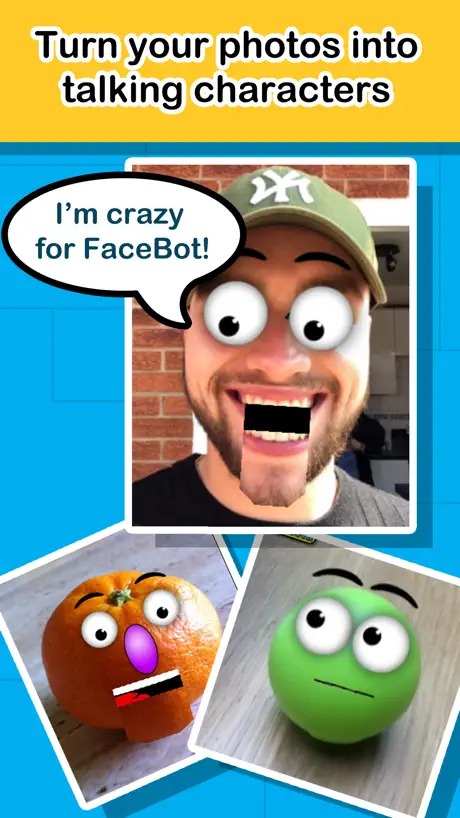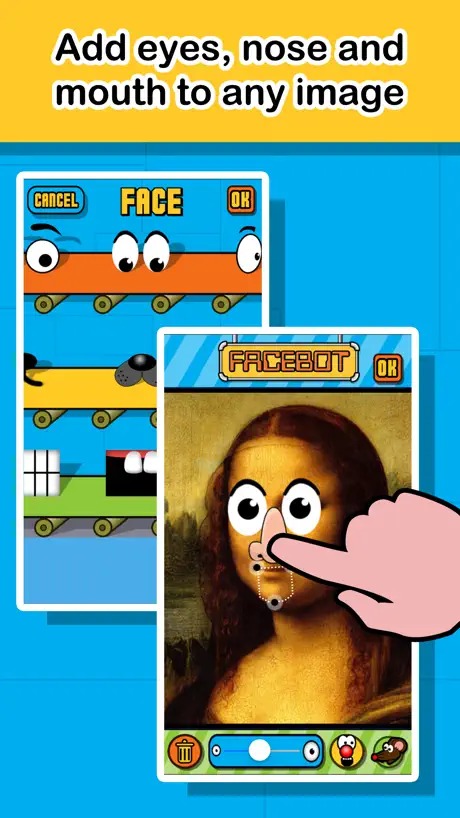 Your own videos can be sent to social media or emailed to make it easier for you. Don't just bring your friends' photos to life, but also the things that are around you – like a talking laptop?

My Talking Pet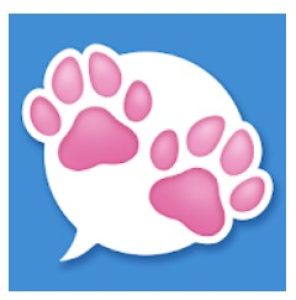 My Talking Pet is a cool app to make your pets talk in pictures. The app is distinguished for its advanced technology of analyzing the animal's faces and placing the fake month in the right spot.
First, you need to upload a picture of your pet to the app, and then the window with the editing tools will be opened.
You need to place the spots on the animal's face where you want the mouth to start and end. Then the app will suggest you choose one of the speeches for your pet.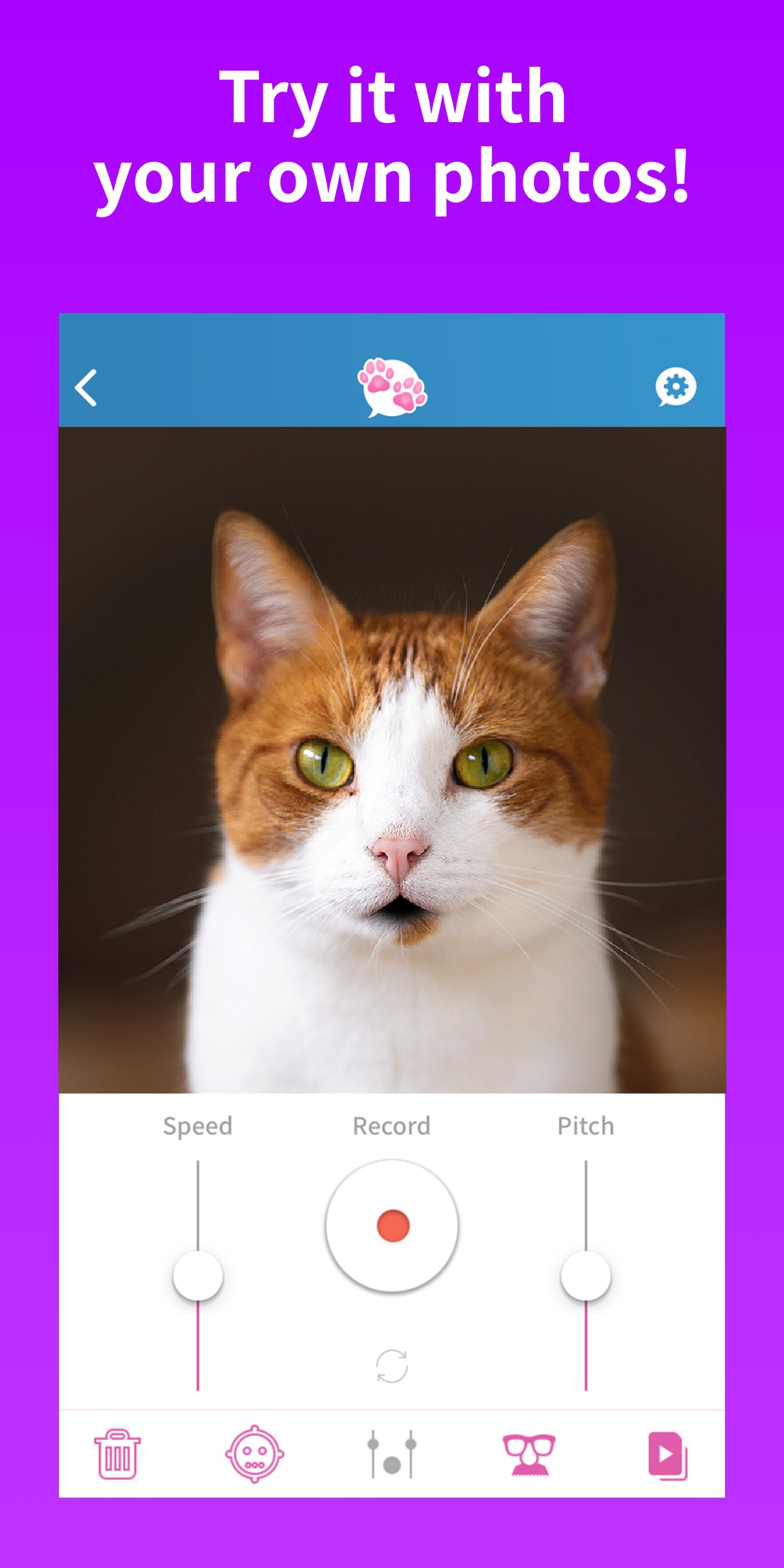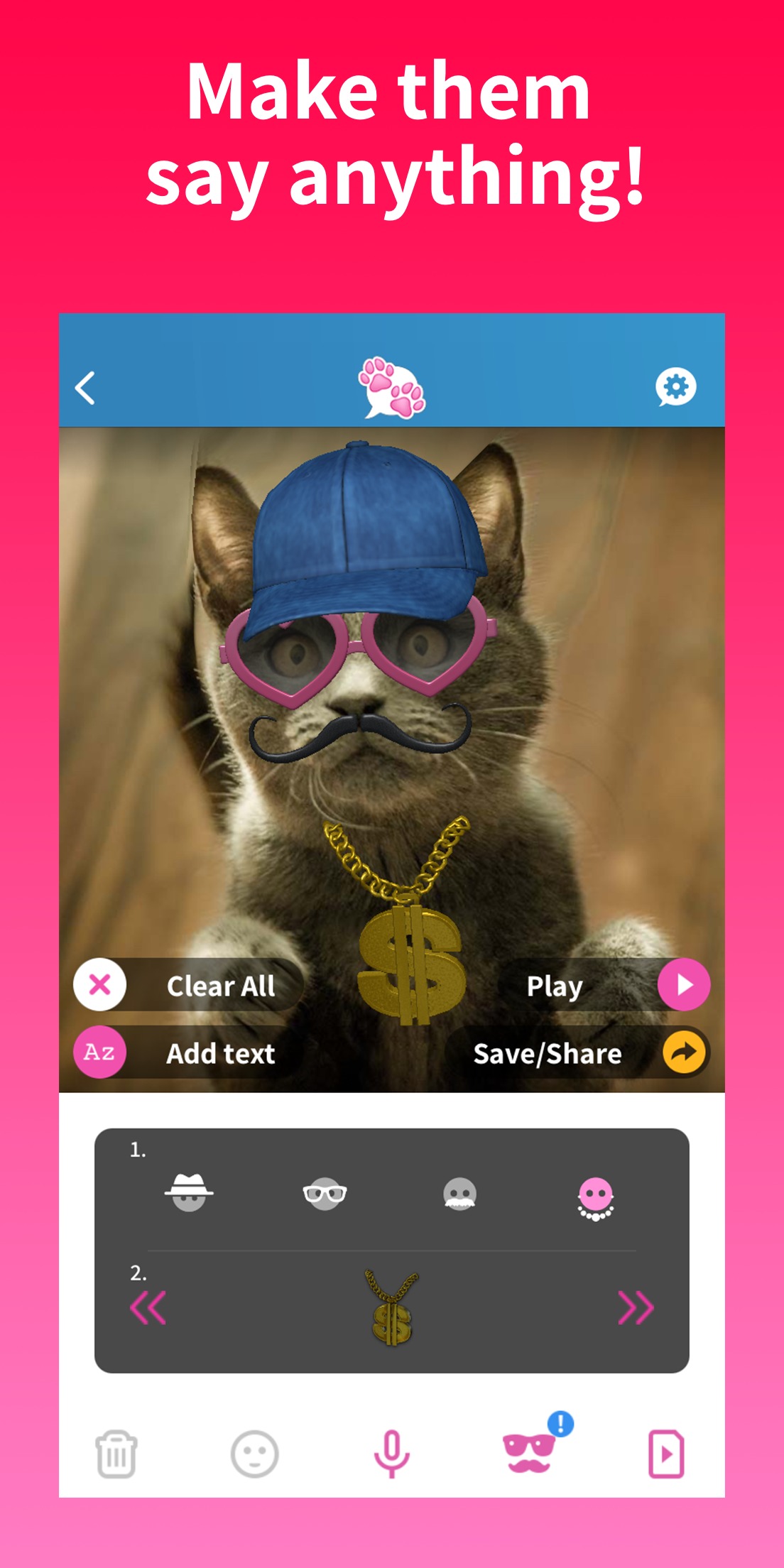 All of them are in English. Apart from that, you can also add stickers to the picture to make it more fun. Plus, you can regulate the volume of the speech and record your own. After you're done, you can save this picture as a video to your phone's gallery and share it on social media.

Anyface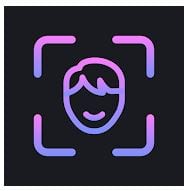 Another app that allows you to make animated pictures and therefore, create the pics with a talking mouth.
What you need to do is to upload a picture to the app, then choose the effect (in our case it's going to be a talking mouth), and then place the spot where you want to apply the effect.
You can also add various filters to the face and stickers – in case you want to add more personality to your vids and pics.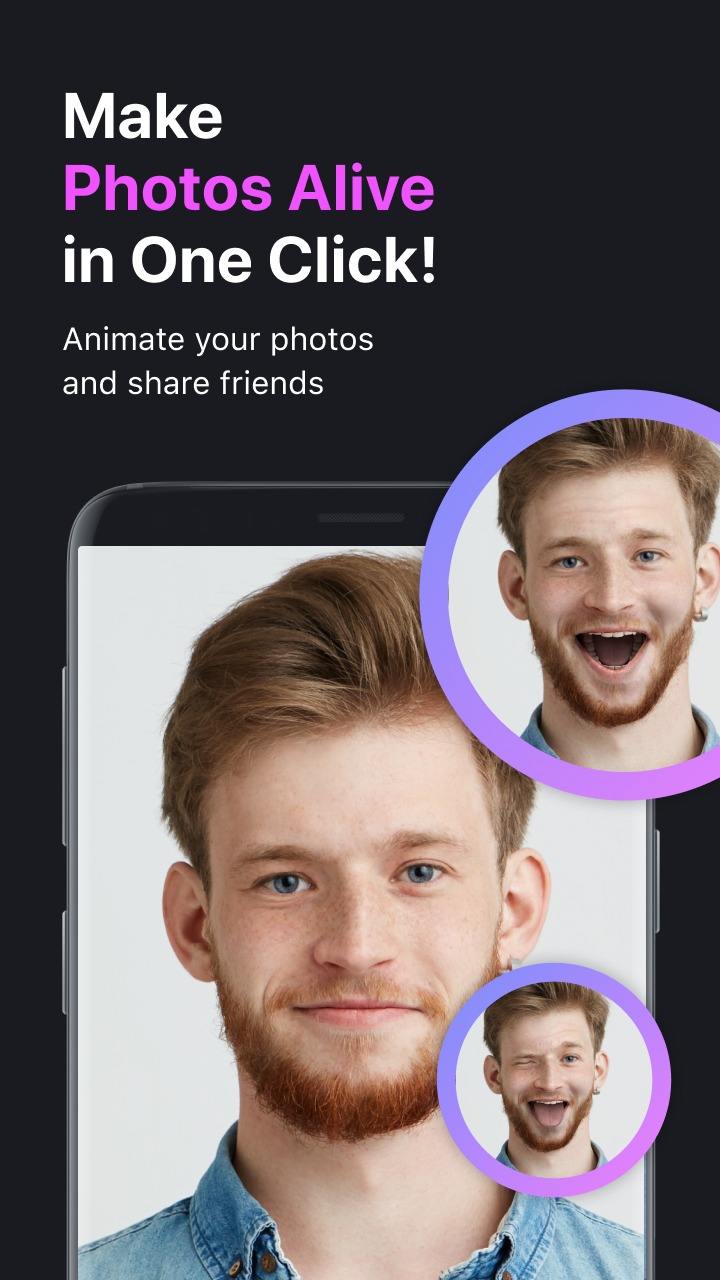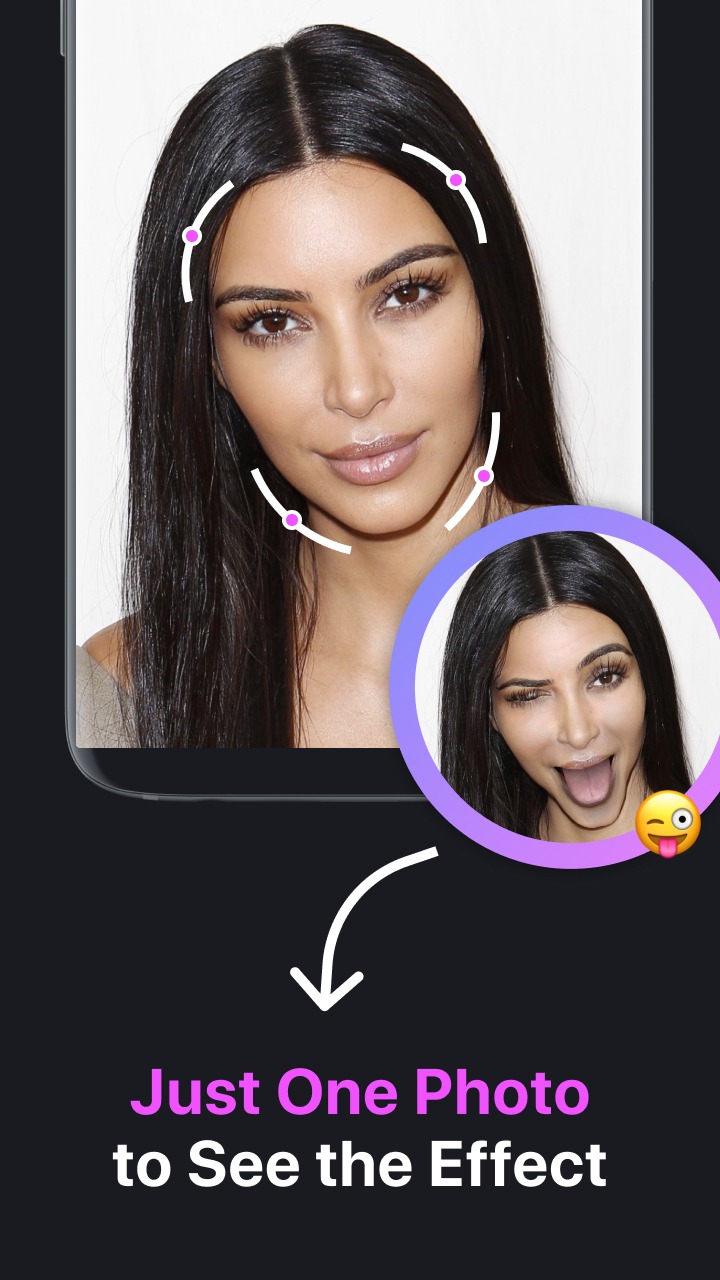 However, the interface of the app is a little difficult to handle, because the app crashes quite often. You can solve that problem by connecting the support service, usually, they reply quickly.

POSE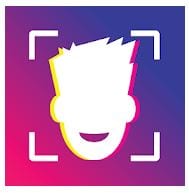 This is basically an analog of the previous app and it's only up to you to choose which one you want to utilize. What is more, they almost have the same interface. The scheme is pretty classic – you upload the picture to the app and then can edit it – make its brows frown or mouth talk.
If you want to create a GIF or a video with a talking mouth you need to choose a special section in the app and then click on "create" and choose the pattern of movement of a mouth. By the way, we noticed that POSE recognizes facial features quite well, therefore, making the editing handier.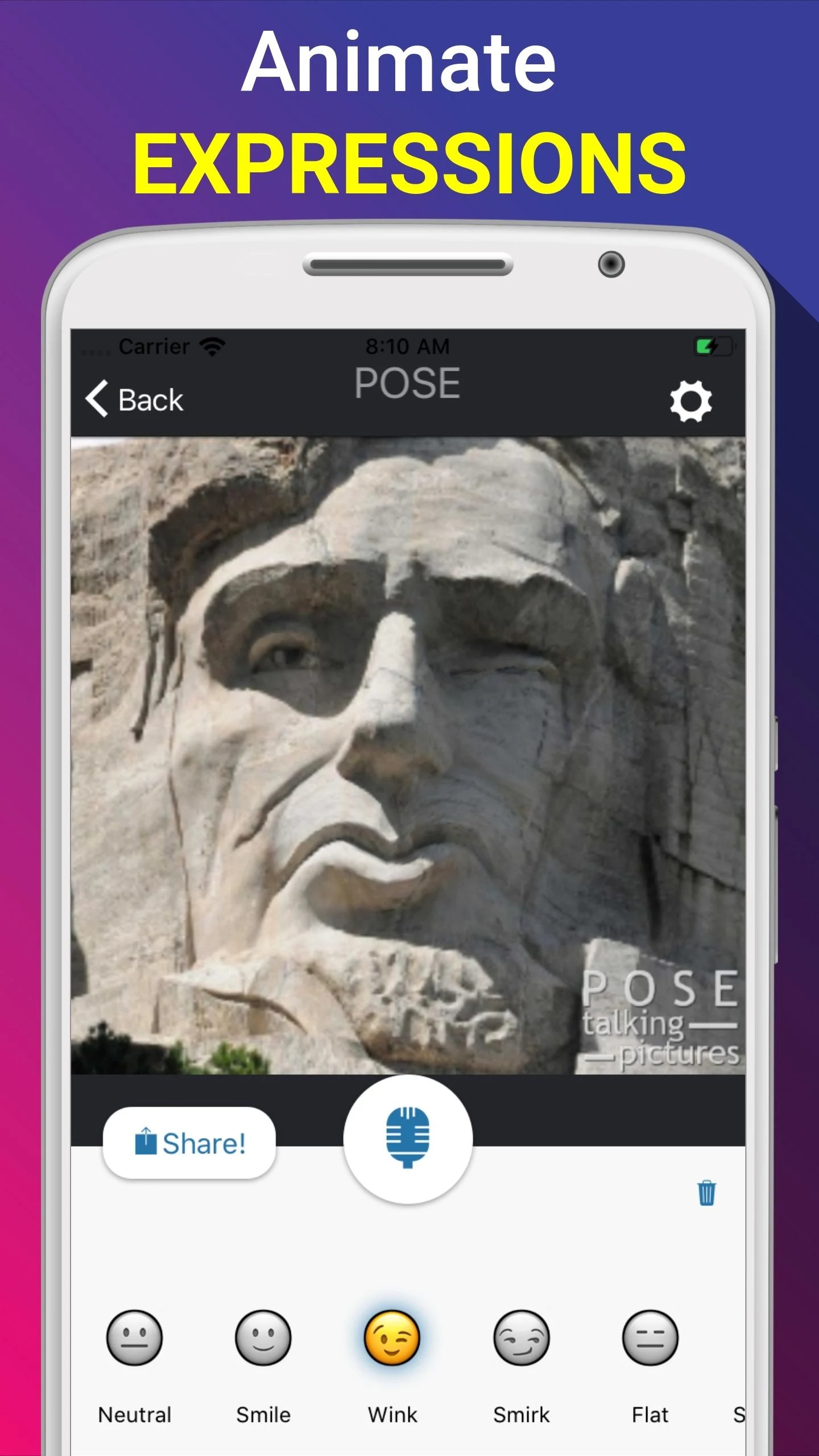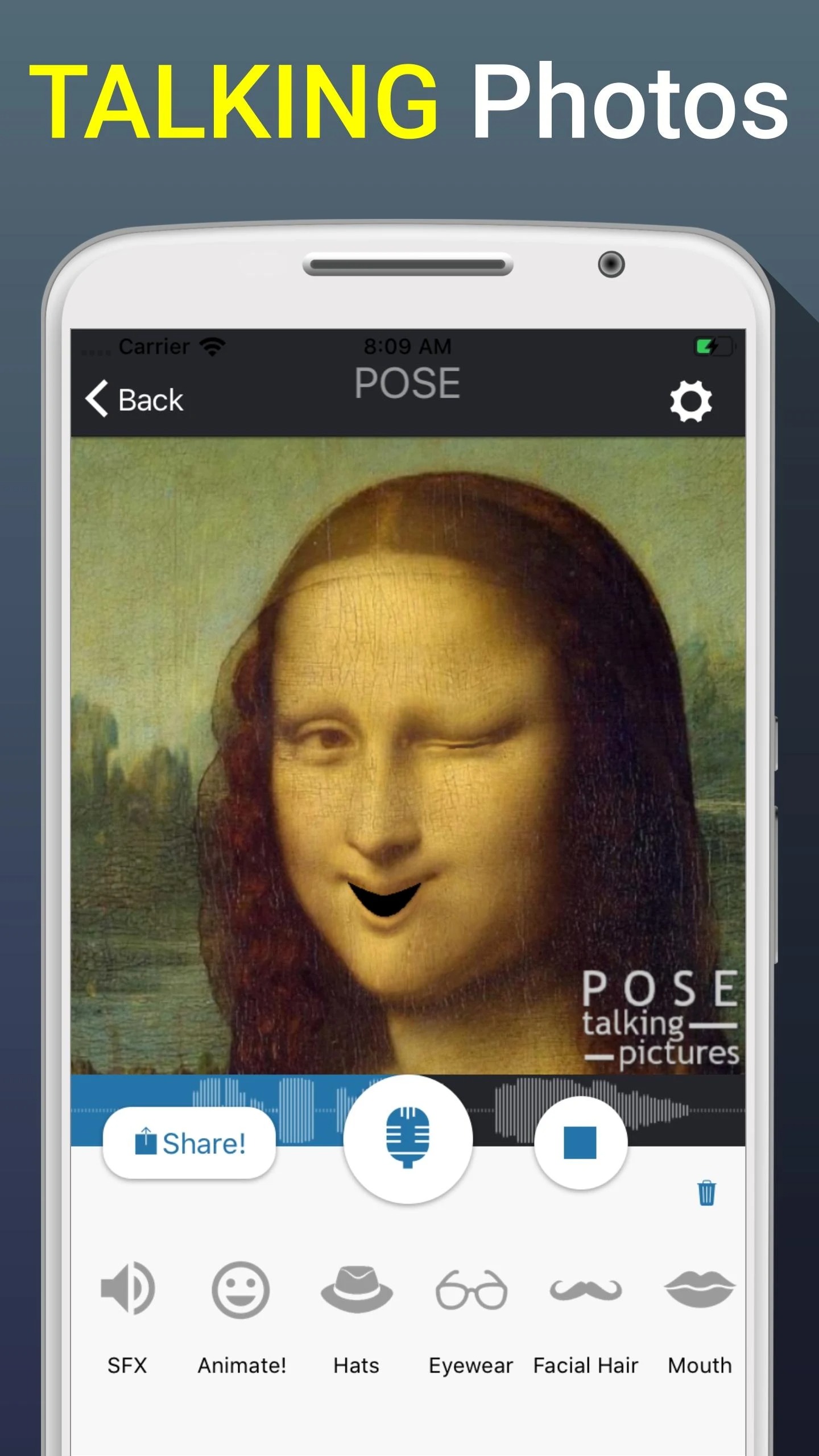 What is more, you can add various stickers and text to the pictures. The only drawback is that the full range of options will be only available in the Pro version. Without it, you can save all your vids and pics with watermarks only.

Talking Mouth – Funny Mouth
Talking Mouth is a fun photo editor for all occasions. Cheer up your friends with a cute special effect on any photo. Add huge lips to your photo and make them talk. There are 4 types of lips and a huge selection of lipstick palettes at your disposal.
Make any photo unforgettable. Make the funny mouth say a pre-selected phrase. This app is perfect for chats with friends and fun pranks with your family. It's a great option to ask for forgiveness or apologize, and even ask out on a date.
It's not hard to get such an unusual picture. Just choose a suitable photo and upload it in the app. Next, pick a mouth, lip color, and a phrase that will be written next to it in an air bubble.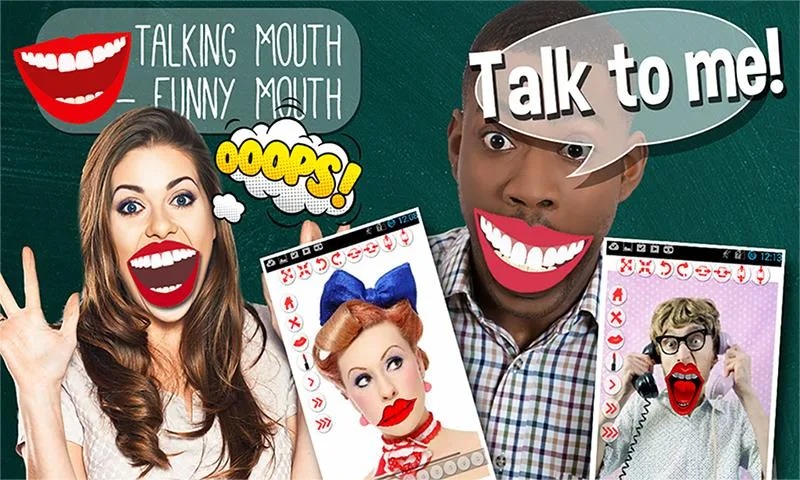 To place the mouth in the right place, point your finger at the screen and correct its position using the settings. You can use your own photo or an image downloaded from the Internet to work in the app.

You may also like: 11 Best Monster Effect Photo Apps for Android & iOS
Revive AI: Face Photo Animator
Revive is a photo editor that allows you turn any picture in an animation in seconds. This technique is often used in communication via messengers and for posts on social networks. In TikTok, such animation has long been a leader.
Your selfies can be animated literally before your eyes. You can make a photo of your friend and sing a funny song. Or talk to your coworker, who is usually silent and not very friendly. A great idea for a cute prank.
Revive works automatically and does not require users to have experience with real image editors. All you need to do is select a photo with a clear image of a face. The number of faces in one photo can be any number of faces.
Next, mark the song that suits your idea. Click "Animate" and raise the mood of everyone around you.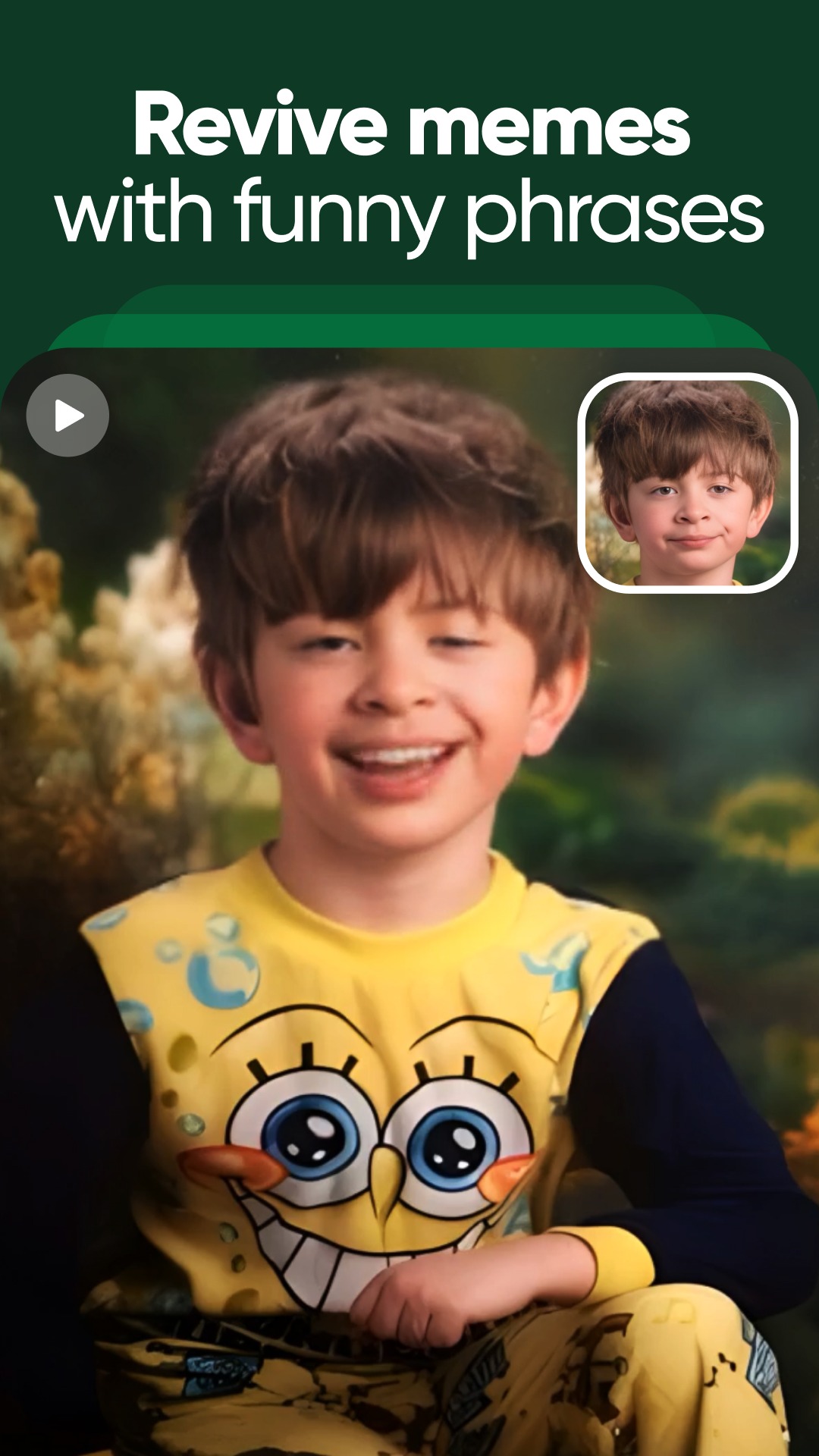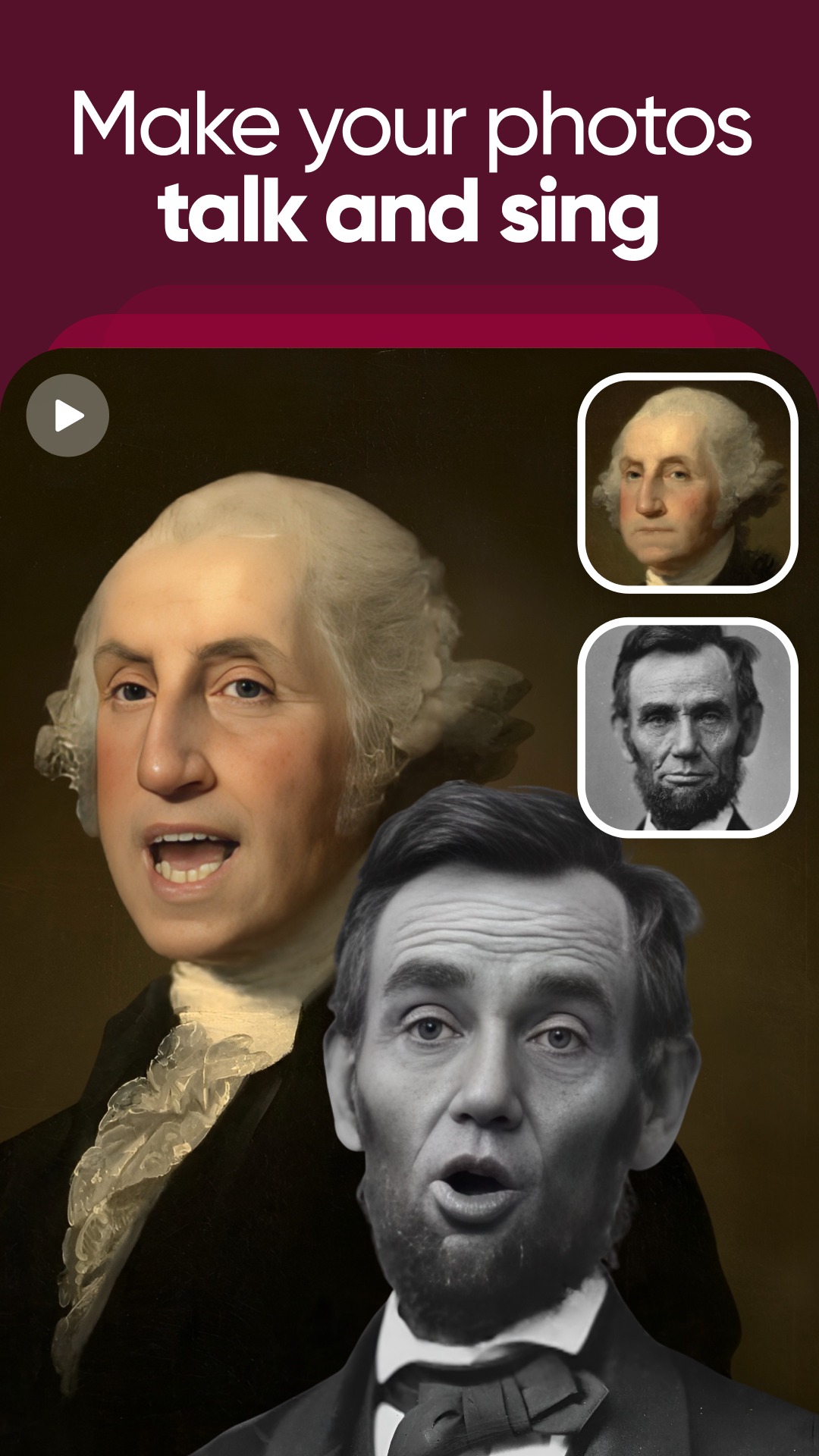 Funny animations can be shared via WhatsApp, Telegram, Instagram, and Facebook. Tell your friends about Revive to compete to create the best animation.


What is more, you can even create a mini-video by choosing a soundtrack from the available ones that you will find in the app.
Of course, it's quite difficult to understand this topic. For each type of modification, there are separate applications, functions, and much more. We were able to present for you only 11 versions of such applications that will move your mouth or "attach" to the face of new lips.
All you have to do is figure out what you want to do with your photos and videos. Some of these apps can be used as games and entertainment in the company, and that's what we recommend you do.