Statistical data shows that more than 80% of people are transferring money at least twice a month. In fact, all the payments are online now, and even if you need simply to return a debt to a friend that lives nearby it will be easier to do that online.
But what to do if your family lives abroad? How to deal with all these complicated procedures, exchange rates, and fees which are so uncertain? In addition to that, you want your money to be transferred on time and without any difficulties.
You may also like: 7 Best Money Counter Apps for Android & iOS
You don't feel like you want to learn all these difficult financial aspects which your banks are offering you before transferring money but still, you have to share your income with your family? Check out these 15 money transfer apps and you will see, that you can transfer any sum of money to any part of the world easily, quickly, and securely.
TransferWise
Thank God, transferring money today is easy as never. Probably, if you are one of those who were born before the 2000s, you remember how it used to be – you need to go to the right bank office which has a money transferring system, however, that system might not be working for you… Ugh, now everything is solvable in a single click.
Well, in several clicks. But with an app like TransferWise, which has proven itself like one of the best in this industry, you will be saved from all the hassle. The costs of transferring are as low as possible, more than 28 world currencies are available. And no fraudulence with the exchange rate – you always get the real one.
We all know how hard it is for ex-pats foreign students, businesses, freelancers, and people living international lives to send, receive, and spend money – so TransferWise tries to make it as easy as possible. The process of money operation is always secure, convenient, and at a low cost.
What is more, sending money via TransferWise can be to 8 times cheaper than high street banks – and that's not even all its advantages. You can get a free multi-currency account and hold your money in several currencies at the same time. If you love traveling then this app is irreplaceable for you – you can get a TransferWise debit Mastercard.
Well, the last but not least reason to trust TransferWise – is that millions of people are already using this app safely and securely. Now you can send money abroad to your family, pay bills abroad, send your money to friends and get paid in multiple currencies.
Here are some currencies that are in the app: GBP (British Pound), EUR (Euro), USD (US Dollar), CHF (Swiss Franc), CZK (Czech Koruna), HKD (Hong Kong Dollar), PLN (Polish Zloty), SEK (Swedish Krona), SGD (Singapore Dollar) and many more.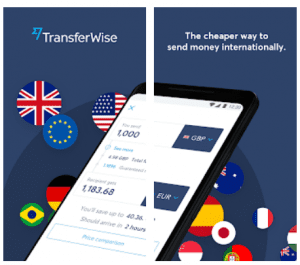 You may also like: 11 Best apps like Ibotta to save money (Android & iOS)
WorldRemit Money Transfer
Even if you are traveling to a 3rd world country and you got robbed (but let's be honest, it can happen to you in 1st world country as well), but you still got your phone – then your family or friends can send you material support quickly! In general, this app allows you to transfer money to any country in the world.
WorldRemit has appeared on the market quite recently, but it has already been acclaimed as one of the best money apps. This is, first of all, the software that allows you to transfer money – fast and securely. You can send more from more than 50 countries to more than 150 countries worldwide in seconds, including the most distant corners of the world.
When your transfer is complete you will receive an SMS or an email. The exchange rates are updated every day and if you want you can also set the notifications about them. Maybe you are sending money to someone on a regular basis? Then add them to the recipient list – and send them money in one tap.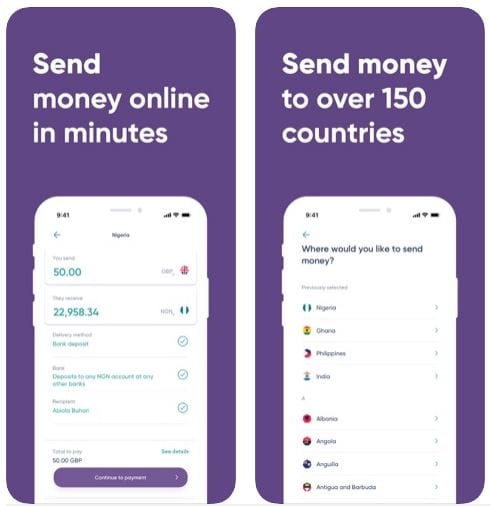 ACE Money Transfer
According to the statistics, more than 600 billion USD was sent in 2019 by money transfers. Such countries as Brazil, China, and Mexico are experiencing cash inflows, and countries like the USA, Canada, or Russia have cash outflows.
It probably has something to do with the ex-pats sending money to their families in developing countries. However, France experiences more cash inflows. And Switzerland confirms this theory – more than 26 billion of dollars are sent abroad from there.
So as you see, one way or another, having a money transfer on your phone is a necessity. ACE Money Transfer does its best to meet its customers' expectations. Now its networks are expanded to Europe, Africa, Asia, Latin America as we can see, it is highly demanded.
Unlike many other money transferring apps, the interface of this one will be easy to use and understandable for any kind of user, who is not used to dealing with money operations. Now 278 thousand locations around the globe are connected via ACE.
ACE has decent exchange rates and low transferring costs (especially for developing countries). Customer support is available 24/7 so you can text or call with your problems any time you need.
Use your debit or credit cards to affect the payment. Online banking is a good option as well. In general, for those who prefer a more simple interface, this app will be a great discovery.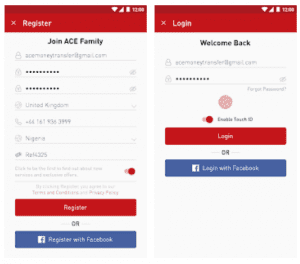 OrbitRemit Money
What do you know about money in general? Did you know that money is produced at factories called mints? And two-thirds of all US$100 bills are held outside of the US today?
And the US dollar may be known to everybody, but not everyone is aware there's an eagle printed on every dollar. The currency of this country was acclaimed in 1785, not long after the Wealth of Nations by Adam Smith.
So do you see how much we don't know about the money yet? If you want to get closer to the money world (sure everyone does) then get a money transferring app for better foreign stock trades, for example. OrbitRemit offers a fast, safe, secure, and cost-effective way to transfer money abroad.
Of course, exchange rates, transfer fees, and security are the most important components in here – so you can be sure they are at the top service in here. In fact, transferring money with this app is 80-90% cheaper than the banks – can you believe it?
Another advantage comparing to the banks is that the latter cannot provide you a 24-hour working service, but this app can.
For those who had an unpleasant experience with transfer fees in the past – here you will face no surprises – all of them are fixed and low – no hidden aspects. You will never again need to find a physical money transfer outlet or set foot in a bank branch.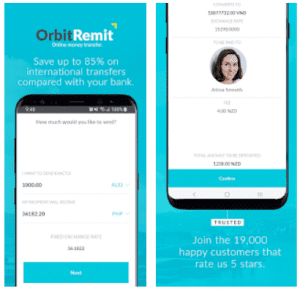 Small World
When transferring money you should keep in mind that it can take days to accomplish a transfer to the destination. By the way, speaking of how the money is transferred, for example, in the UK – more than 40% of Brits who are sending money have no actual clue about money transferring and sent it according to the preferences of the receivers.
Well, don't let this happen to you! Don't choose an ordinary money transfer company, choose something you can benefit from. Small World has great options for those sending money abroad (and receiving them). There is always a support team on the phone and you can turn to them any time you need help.
All your transactions are thoroughly procured and always stay updated. In addition, there are promotional codes that give you a great chance to get a bargain from using this app. What is more, security protocols, password coding, and our IT, Compliance, and Anti-Fraud teams are coping together to make your transfers as safe as possible.
The app already has more than 500 thousand clients and you can become one of them. By the way, the app was developed by a money transferring company with more than 20 years of experience – sounds reliable, right? Another cool bonus is that your first transaction in this app will be free, which means no fees!
In total, it takes you 3 simple steps to affect the transaction. You can use the bank deposit delivery method for sending money directly to the bank account of your beneficiary. Check the app to find the nearest location where you can collect cash.
Another curious option here is that you can send physical money straight to the home address of someone. So send money to more than 190 destination countries, with the largest payout network in the market.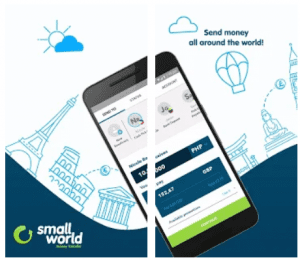 Supersonicz
Luxemburg used to be the richest state in the world, however, now it let Qatar take its place. Singapore keeps its positions (which is not surprising because of its powerful economics), and Brunei is rich as well (Middle-East countries are known for their oil storages).
Have you ever lived in one of these countries? Nowadays, when globalization is taking over many people learn languages and then become ex-pats. Companies become global. As a consequence, a greater demand for money transferring apps occurs.
This is a great service to use which guarantees you secure and fast money transfers. Supersonicz is a trademark that is currently operating in 56 countries. What is especially great for European Union countries you can send money even on public holidays.
If you are not sure, how to use the app – it contains video tutorials. The app is also accessible in several languages, so if you're an ex-pat yourself, you can download the app at the local market and then choose your native language. Before transfer, you can preview today's rates to see if it's beneficial to send assets today or not.
The app will save the history of all your transactions. There is customer support available any time so in case you got a problem you can call or text the specialists. As always you can find a pick-up location and collect cash there. Use your credit and debit accounts to transfer the money.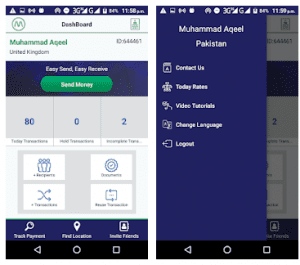 Altras
We all know that money problems never come in time, they always occur at the worst possible moment. Then you need to take actions fast without any distracting aspects. Unfortunately, a lot of banks require a number of procedures and paperwork before you transfer money.
But you can always use an app money transfer. With Altras you can send money to your friends, family (or they can send money to you) fast and at any time you need. An advantage here is that you can calculate the cost of transaction before actually sending money to see if it's beneficial for you to send this sum or you should choose the other way,
Depending on the pay-out agents, a transfer can take up to a day. A disadvantage of this app is that it is made mostly for Europeans – the available currencies are GBP and EUR. Limits of the amount of money that can be sent are established by the country of a receiver.
The app is also showing you a current exchange rate. All the transactions are encrypted and secured. What is more, this app has an extended profile for its users, so you can edit details about yourself and have your own letterbox. When you send money to someone, you have to choose between two options on how they are going to collect it: will it be cash or a bank card? It's up to you to decide.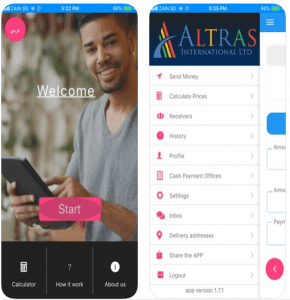 Remitr
They say money it doesn't matter how much money you got, it is never enough. Do you agree? Or money is not the ultimate measurement of happiness?
Well, some people are known for borrowing money and never giving it back. For sure you also have such people in your circle. That's why it is safer to transfer the money via transfer apps since they save the records about transactions and you can at least prove something at the end.
Remitr is another convenient app that allows you to send money to your friends, family, colleagues, charities – whenever you want – and at any time you want. You will experience no hidden charges, all the additional fees will be shown to you before the transaction.
First, you need to link your bank account to the account in the app. Then you need to choose the amount of money you want to transfer. Don't forget to provide all the details of the recipient, fill everything carefully, if needed check it twice. After all, when you are ready to send your money, tap on the transfer button.
Remitr will make sure that the recipient will receive the exact amount of money you are sending to him/her. By the way, do you find it annoying when you need to fill the gaps when transferring the money to the same person each time you're repeating the transfer? Well, now you can forget about it.
The app will save the information about the recipient and next time you will put their name in, it will automatically fill all the gaps.
The app is currently functioning in more than 50 countries. It is a very convenient way to pay the bills in your domestic country. The app is focusing more on Middle-East and Asian countries. All the transfer you're making inside the app are encoded and secure.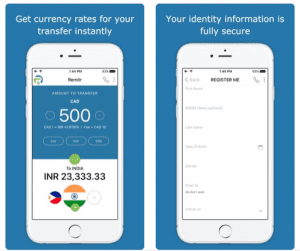 USEND
Technologies are truly transforming our world. Now everything is going digital, starting from airplane check-in and ending the money transfers. And that all happened just in a couple of decades! Can you imagine what will happen next? Many experts claim that cryptocurrencies will take over since they are bank-independent and ultra-secure.
This app doesn't deal with the cryptocurrencies but it allows you to send the regular money to the people you love, in regular currencies.
It gives you the chance to pay bills in several countries abroad and keep an eye on all transactions that you make. If you noticed you are making the same transaction frequently, you can make it your favorite one – it will be automatic next time.
More than 48 countries are in the list where you can send your money to. When you are transferring money to another country with another currency you can see how much will be the difference.
And what is more, you can reload pre-paid cell-phones. About all the transaction which are happening you will receive SMS-notification or an email.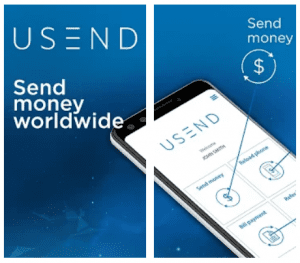 You may also like: 11 Best Investment Apps 2020 (Android & iOS)
Money Transfer Agent
It, not a secret that the monetary policy of different countries is always changing. It creates a lot of inconvenience for those people, who have families living abroad. Or the amount of money transferred can vary even because of other political events.
A recent example is Trump with his anti-migration policy and trying to keep migrants away from coming to the United States. However, this country is one of the most popular countries in the world for immigrants, and billions of transactions in and out are accomplished each year.
And here is the app, which occurred as a response to the digitalization of the banking system. Working from 2017, it provides excellent online-services for manipulations with money. You can send money fast and safely, for any purposes – personal or for your business.
The parent technology of the company is Appsserve Solution Limited, which now presents a groundbreaking and innovative solution for the years of research and development. MoneyTransferAgent.com specializes in reviewing, rating, and comparing overseas money transfer services, so you can find a deal that offers any competitive features you may need.
Here you get a chance to compare the transfer rates of different companies and pick up the best one. It is extremely useful for people who run their own business since usually they need to transfer considerable sums of money and bargain plays not the last role here.
The app also provides a comparison for Bitcoins and eWallets. With this analytics platform, you can identify, which transaction is the most profitable at the moment and send your money both to the members of your family as well as to the payable accounts of your business.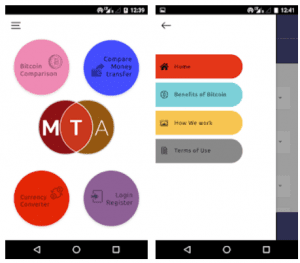 Azimo
Azimo is a great app for those who don't want the extra hassle while transferring money from one part of the world to another and don't want to have the super complicated interface in the app. What you need to do in Azimo is to simply connect your bank account to the app and then it will be able to send money to any recipient.
The advantage of Azimo is that compared to most banks it doesn't charge any commission or charge the minimum (as the developers claim themselves, it charges less to 90 percent). The delivery is usually affected within one hour in more than 80 countries. What is more, Azimo is a great tool if you need to pay your employees overseas.
In total, more than 1 million users are currently using Azimo – the proof that this money transfer app really works. The app provides global support in more than 8 languages, and there are no forms to fill in before the transfer itself.
What is more, Azimo is regulated by financial institutions in the UK and the EU and features Face ID and Touch ID security to protect your personal data.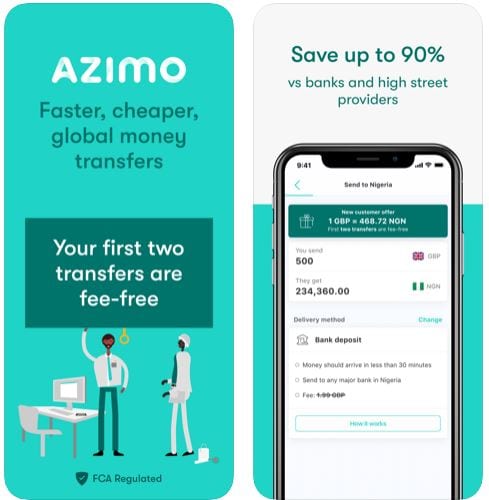 PayPal
It's fair to say that without mentioning this app this list would never be complete. Actually, PayPall has become the sign of a new digital era in the money industry, reestablishing the definition of assets exchange. Nowadays it is fairly hard to find someone not using PayPall rather than using it.
So what's so good about it? To begin with, this was one of the first apps, which suggested a whole new idea of having wallets online, With an option like this, it is super easy to make money transfers and payments.
International money transfers are possible as well with various currencies available. The history of all the actions accomplished in your account is saved. For example, it can happen that you need to return money to your friends for your journey on the weekend so if you're both are using PayPall you can easily do that.
Since PayPall is one of the leaders in the industry, all the money transfers accomplished here are sur=cure, encrypted with the latest coding technologies, and with the usage of the most powerful protective software.
The best thing about this app is that if you got it and the receiver got it – you don't need to pay any commission, no matter where you're sending money to.
Sending money around the world is as easy now as never. No speaking of that with PayPall you're staying in control of all your operations and can monitor then until they are executed. Just be aware of the fact that functions of the app can vary from country to country and sometimes not all of them are available.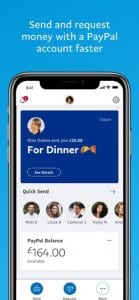 Smiles Mobile Remittance
Statistical data says that people at least transfer money twice a month, if not more often. How often do you transfer money and get a remittance?
Probably, if you are viewing this article right now, you do that more frequently than twice a year. And here it is essential to have a decent software which would be your great help while transferring considerable (and not so considerable) sums of money.
It is super cool that the app has multi-language support. It could be especially beneficial for ex-pats. The app supports English, Tagalog, Bahasa Indonesia, Vietnamese, Japanese and other languages.
No one is a big fan of transfer fees and the developers of Smiles know that. They invented a special bonus program that allows you to collect points, when transferring money in the app and exchange them to lower the transaction fees.
This app was initially developed in Japan and this country is known for its liability and responsible attitude to money. You can send money more than to 126 countries. Digital Wallet Corporation, which has a remittance service license approved by a governmental organization in Japan 'Kanto Local Financial Bureau', has developed this service.
When you first using the app you will have to fill all the requirements fields and go through all the procedures to confirm your account. There are two types of accounts – Classic and Premium. The first gives you a chance to send a smaller amount of money in one transaction, while the latter allows you to send up to 1 million in one transaction.
Smiles have another option "Smiles remit", which enables customers to send money to the Philippines with a good sending fee. What is more, if you use this app you can order for them to make a bank card for you.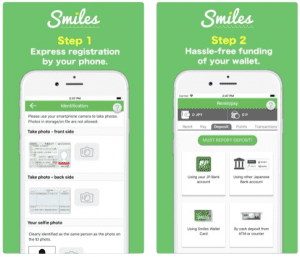 GmoneyTrans
A very frequent story: you went to a restaurant with your friends. You had a wonderful evening, great food and fine drinks. Then someone says he or she forgot her wallet at home, someone pays for them and they agree that they will transfer money on the next day.
However, the next day, it turns out, that they all have different banks and the commission is too high. That's where the trouble starts. Disputes over money, who should pay for that commission, why are money being in process for so long and etc. In worst cases, it may end the friendship. To avoid an ending like this, use this app.
Gmoney obeys all the international rules of transactions and it's authorized by the Financial Supervisory Service. Moreover, the app cooperates with international banks and services.
It's a secure, easy, fast, and affordable app. First, you need to create your account to accomplish transactions. It is extremely convenient since now you don't have to even leave your house to get a separate bank account.
If you just register a debit account to withdraw money for remittance in the app, you can easily send money in the app without a separate transfer service. Digital wallet is also available, the same as the transfers from your debit bank accounts and credit accounts. Check in the app the nearest location for the cash collection.
The transferring fees are always fixed and predictable. No hidden fees and no reasons to be upset with. All the transactions are highly secured and recorded in history. And what is more, they are affected fast.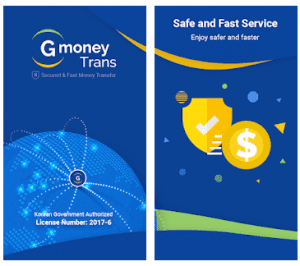 Venmo
Venmo is currently one of the most popular apps on the market. If you're not familiar with it yet you have definitely missed something.
Venmo is a money transfer app of a new generation – it allows to split bills and payments between several people. So if you and your friends must pay for something together – now you or they don't need to borrow money from someone or wait until others will pay back your borrowed money.
What is more, the app can serve as a calculator when you need to divide difficult bills between your friends after dinner. The app will deduct the necessary sum of money from all the users who have tied their accounts to this app and will transfer this money to the necessary account (via the terminal).
There is a lot of cool nice features in this app as well, for example, you can say "hello" to someone by sending them a penny. The classic money transfer here is possible as well – just find the user by email or by the username and just send the money to them.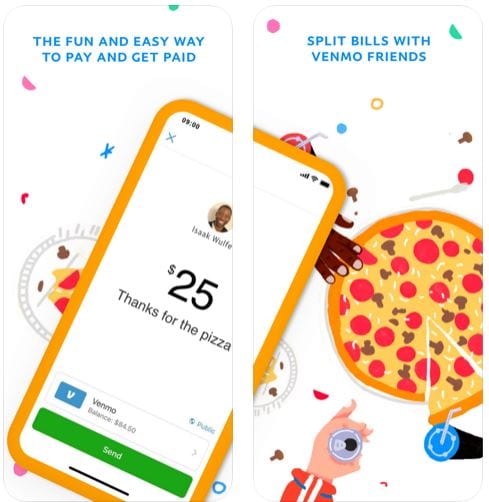 You may also like: 17 Money Saving Apps for Android & iOS
Axis Mobile
Many people consider that money is something difficult to deal with, that you are supposed to have a special kind of financial education to affect the manipulations with it. That it is a dangerous thing and you shouldn't take risks when it comes to big sums of money.
Well, it may be partially true. But everyone can learn how to effectively interact with money without any Harvard degree. In fact, almost all the prominent finalists never had even a college degree.
And this is another cool app that will let you transfer your money to your friends and family with small transaction fees and do it as quickly as possible. As you enter the app, you can see the dashboard and on the side menu, you can see all the bank accounts that you have. By the way, you can always personalize that menu by adding a picture.
What is more, besides the regular transferring functions, this app gives you an opportunity to shop for retail and business loans in one click. All the credit cards, available in the app are already approved for you. Link multiple bank accounts to the app so you all the transactions are available 24/7.
Make your own UPI QR Code. and, of course, you can always view the history of already accomplished transactions. If there is an interesting offer around you is happening – the app will send you a notification.
At the end of each month, your account will provide you with a summary of all the accomplished transactions, spending, and savings so you can plan your budget here.
You can even block your current credit cards via this app and interact with such online services as Forex. Synchronize the app with your calendar and get your payments scheduled. View your eDGE Loyalty Reward points balance and redeem from over 500 exciting reward options.