5 Best Deer Call Apps (Android & iOS)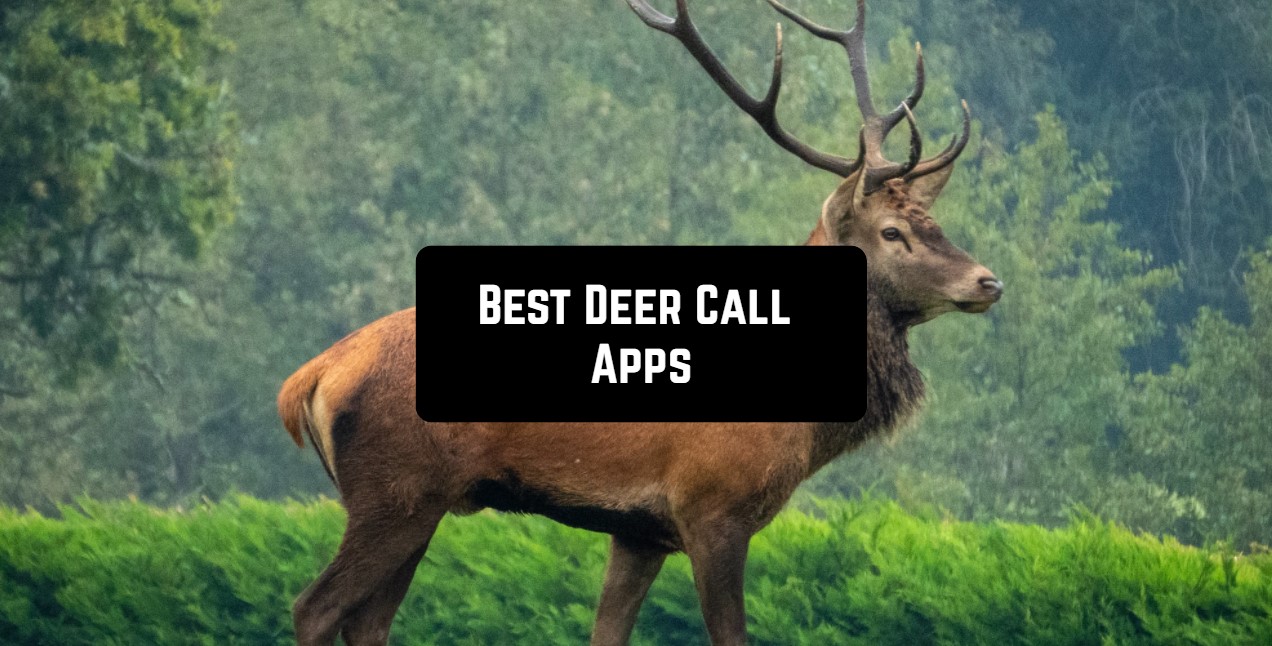 Deer hunting dates back thousands of years. Some say that it is in human blood to hunt down these animals. There are certain deer-hunting seasons that can last from September to February. In the USA different states have different laws regarding deer hunt – all the laws are based on local peculiarities and deer population size.
Today, hunting is more of a sport or recreational activity rather than means of survival. However, it is good to know that in the past meat, antlers, and velvet were essential to certain tribes. So, deer hunting is a very interesting phenomenon.
You may also like: 4 Best Animal Identification Apps for Android & iOS
To help you hunt more efficiently, businessmen have produced many products. The good news is that you don't need them! If you have a smartphone in your pocket, you've got everything you need to improve the quality of your hunt.
Below, we've collected 5 best deer call apps for Android and iOS. These apps will help you to lure the game into range and get you rid of the necessity to buy special devices. Let's begin.
Whitetail Deer Calls for Hunt
If you want to get an app with the most diverse deer sounds for your hunt, then this is a choice for you. Whitetail Deer Calls for Hunt is extremely simple, but it's what you are looking for when you are going hunting. You don't want to dig to thousands of features, right?
All the deer sounds in the app are divided into categories so you can choose the one depending on the obstacles of your hunting. Each section contains not less than 10 different sounds and they all come with an attached explanation about their purpose.
You can also combine and mix the deer calls together in the app. There is a tutorial that will show you how to do that. Whitetail Deer Calls for Hunt can be played in the background and also the app supports the timing and looping for playing the calls.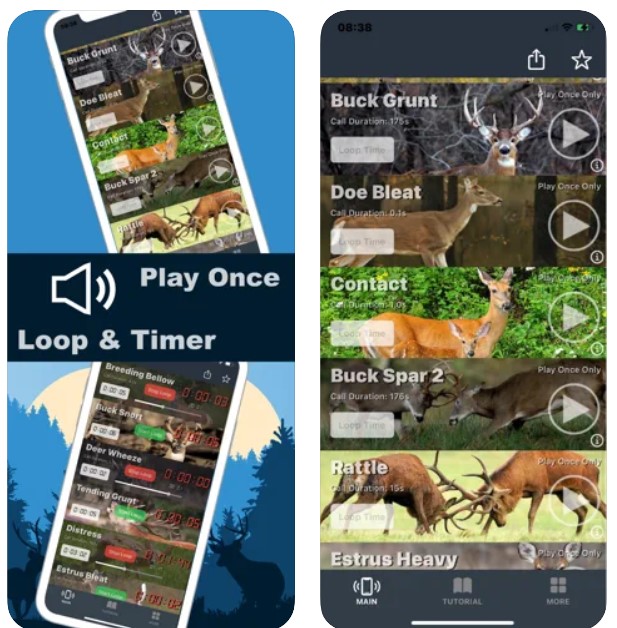 Also check: 25 Best hunting apps for Android & iOS
Whitetail Deer Calls
This is also a great app for playing the deer calls, but for Android devices. One important thing to note is that the app constantly gets updated for the latest season of hunt. Whitetail Deer Calls includes more than 20 various sounds for luring the animals.
Inside the app looks quite unpleasing, but it handles its purpose perfectly. Apart from deer callsounds, you can alsofind the infomration about the deers' behaviour in wild nature and useful tips about the hunting. In other aspects, this is nothing too speacial about this app, it just serves one purpose.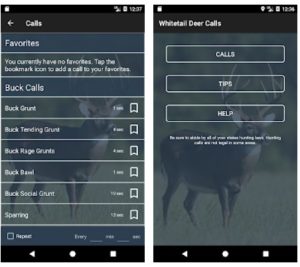 Deer Calls HD
Deer Call HD is an Android app for deer hunters. It contains both the sounds and the calling guide. The sounds are 13 true white-tailed deer calls for every occasion. The app can be used with a Bluetooth speaker to distract the animals' attention from you or your standpoint. This is a great tactic. An amplifier speaker can be used as well.
All in all, this is one more deer call app. All the sounds that can be found in the app are open source, meaning they can easily be found on the internet. However, why struggle with searching when somebody else has collected everything that you need in one place? Get the app and enjoy your hunt.
You may also like: 11 Best Animal Apps for Android & iOS
iSolunar™ Hunting & Fishing Times
iSolunar app is obviously for iOS. The app is not about calling – it is about choosing the right time and area to hunt or fish. Solunar calendars will help you avoid inappropriate hunting time and choose the best hunting season. This app also includes weather forecasts, range finder, and trophy room. All of that encourages you to hunt smarter and get better results.
There are some features that concern just deer. That's why this app is here. After all, it is not only about calling – it is about being smarter with what methods you use to hunt.
Also check: 20 Best fishing apps for Android & iPhone
onX Hunt: #1 GPS Hunting Map
Now actually this is also not a deer call app, but since you're here you'll probably be interested to know what other apps for deer hunters can be found in your app store. The good news is that there are plenty of them! The most common type is maps and forums.
After all, two heads are better than one. onX Hunt is the app that will facilitate your hunting by showing deer habitats. Sometimes, in a certain season, you won't even have to use a deer call – all you'll have to do is look at the map and go to the most densely populated area.
This app provides you with tracking and guiding features. It is used by millions of hunters and hikers and can work even without an internet connection. So if you are into smart ways of doing things, this app is for you. After all, nowadays it is crazy to go to faraway places without a proper map app. This is a proper map app!
---
To wrap up, hunting can be made easier by using the right apps. So, choose the right apps and become more efficient in whatever you do!