Deer hunting dates back thousands of years. Some say that it is in human blood to hunt down these animals. There are certain deer-hunting seasons that can last from September to February. In the USA different states have different laws regarding deer hunts – all the laws are based on local peculiarities and deer population size.
Today, hunting is more of a sport or recreational activity rather than means of survival. However, it is good to know that in the past meat, antlers, and velvet were essential to certain tribes. So, deer hunting is a very interesting phenomenon.
You may also like: 4 Best Animal Identification Apps for Android & iOS
To help you hunt more efficiently, businessmen have produced many products. The good news is that you don't need them! If you have a smartphone in your pocket, you've got everything you need to improve the quality of your hunt.
Below, we've collected 5 best deer call apps for Android and iOS. These apps will help you to lure the game into range and get you rid of the necessity to buy special devices. Let's begin.
Whitetail Deer Calls for Hunt
If you want to get an app with the most diverse deer sounds for your hunt, then this is a choice for you. Whitetail Deer Calls for Hunt is extremely simple, but it's what you are looking for when you are going hunting. You don't want to dig to thousands of features, right?
All the deer sounds in the app are divided into categories so you can choose the one depending on the obstacles of your hunting. Each section contains not less than 10 different sounds and they all come with an attached explanation about their purpose.
You can also combine and mix the deer calls together in the app. There is a tutorial that will show you how to do that. Whitetail Deer Calls for Hunt can be played in the background and also the app supports the timing and looping for playing the calls.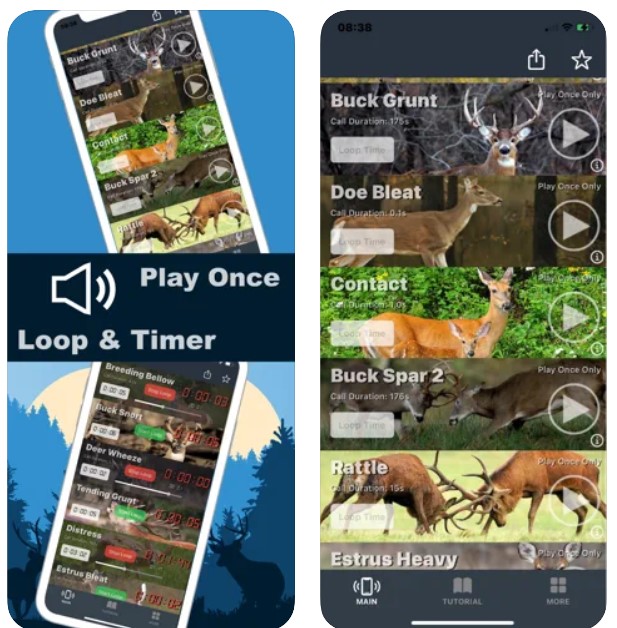 Also check: 25 Best hunting apps for Android & iOS
Whitetail Deer Calls
This is also a great app for playing the deer calls, but for Android devices. One important thing to note is that the app constantly gets updated for the latest season of the hunt. Whitetail Deer Calls include more than 20 various sounds for luring animals.
Inside the app looks quite unpleasing, but it handles its purpose perfectly. Apart from deer call sounds, you can also find information about the deer's behavior in wild nature and useful tips about hunting. In other aspects, this is nothing too special about this app, it just serves one purpose.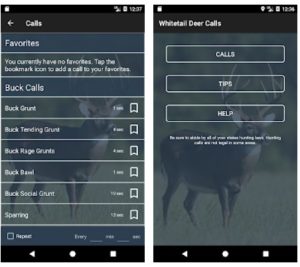 Deer Calls HD
Deer Call HD is an Android app for deer hunters. It contains both the sounds and the calling guide. The sounds are 13 true white-tailed deer calls for every occasion. The app can be used with a Bluetooth speaker to distract the animals' attention from you or your standpoint. This is a great tactic. An amplifier speaker can be used as well.
All in all, this is one more deer call app. All the sounds that can be found in the app are open source, meaning they can easily be found on the internet. However, why struggle with searching when somebody else has collected everything that you need in one place? Get the app and enjoy your hunt.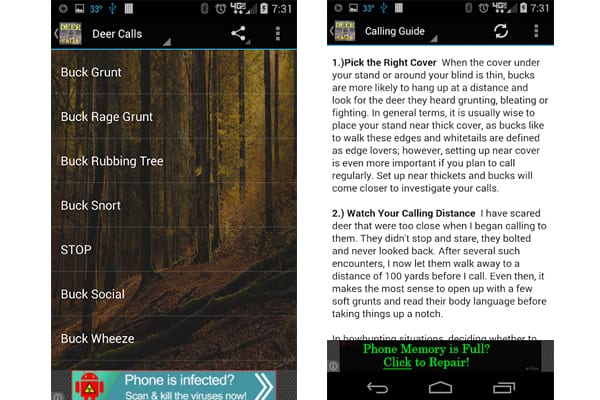 You may also like: 11 Best Animal Apps for Android & iOS
Deer Calls & Hunting Sounds
This is another extremely simple but at the same time useful deer call app for iOS users. All the sounds are presented in HD quality and it ramps up their efficiency. In total, you will find the 19 deer call sound bytes and 10 mixed deer sounds.
One advantage of Deer Calls & Hunting Sounds is that it runs on the low energy consumption mode. The sound repeat frequency is customizable and you can set it up specifically for your style of hunting. The app received appraisal from numerous users and has excellent reviews.
But before using an app like this you should consult your local authorities if the hunt with digital devices is allowed in your region.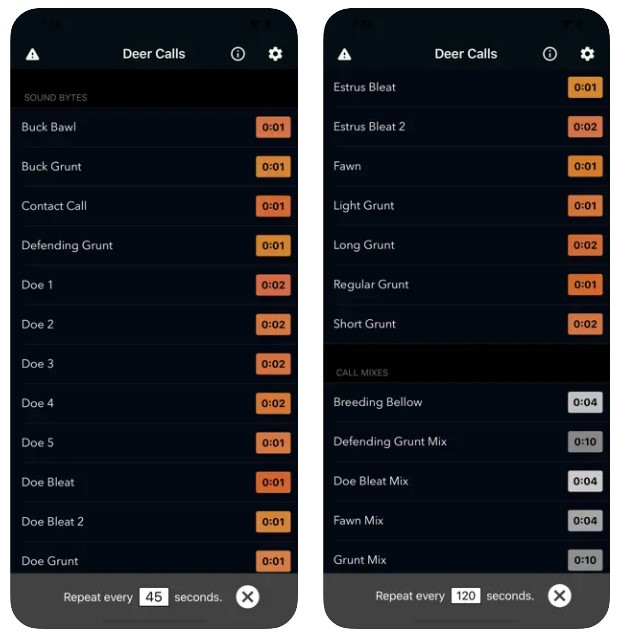 iHunt Calls: 600 hunting calls
If you are determined to hunt down a deer this app will become your reliable buddy. In fact, here you can find the sounds not just for deer but for other wild animals as well, for example, coyotes. But let's start with the basics first.
In total, there is a selection of 47 various types of animals. Just find the deer section and explore which sounds it has. All the sounds are presented in decent quality without the background noises and so on. You can also set up the frequency of repetitions.
The only thing is this app has quite an obsolete design. We and the users would like to have an app that doesn't look like it was released 15 years ago. However, its simplicity of it is its advantage for hunters.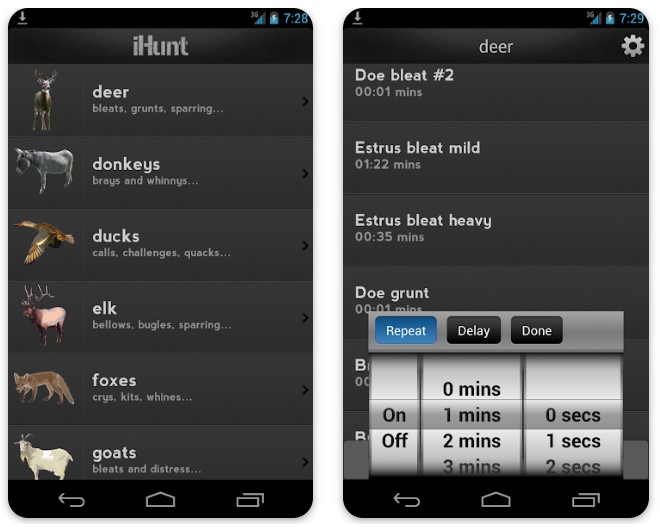 iSolunar™ Hunting & Fishing Times
iSolunar app is obviously for iOS. The app is not about calling – it is about choosing the right time and area to hunt or fish. Solunar calendars will help you avoid inappropriate hunting times and choose the best hunting season. This app also includes weather forecasts, a range finder, and a trophy room. All of that encourages you to hunt smarter and get better results.
There are some features that concern just deer. That's why this app is here. After all, it is not only about calling – it is about being smarter with what methods you use to hunt.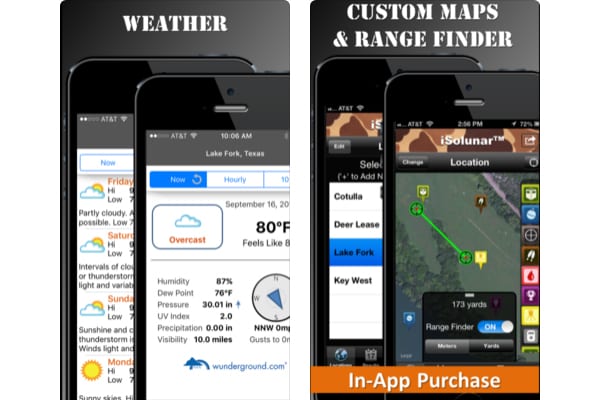 Deer Hunting Calls Soundboard
An extremely simple app for the deer hunt where you can find the basic collection of deer sounds. On the other hand, the app is remarkable for its low energy consumption and simplicity. Moreover, it will run on every Android device.
It's been on the market for many years already and its interface design is extremely obsolete. Another disadvantage is that the app comes with ads and in order to get rid of it you need to upgrade to the premium account.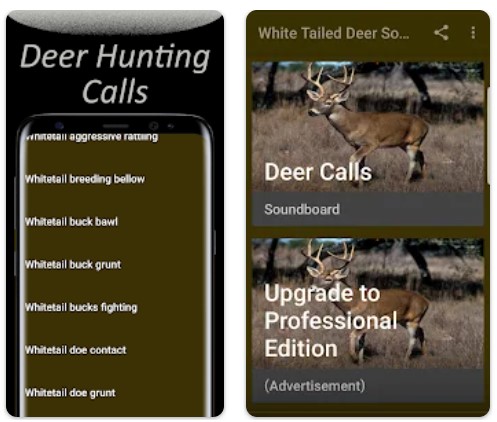 Deer Sounds by eBook Apps
This app is even more simple. Just like the previous one, it is a one-page collection of deer sounds apps, that you can only play once. There are approximately 30 sounds, and they don't have any particular names. You can go through all of them in 10 minutes. The quality is mediocre.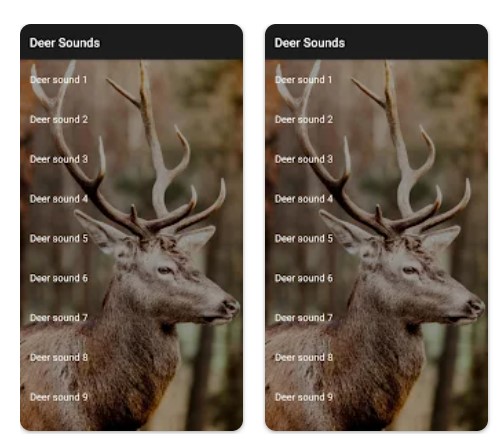 Deer Sounds
This app is a little bit more interesting because it includes a wider collection of deer sounds and they are kind of divided into groups. You can explore them all in the main menu, for example, there is breeding bellow, and buck bawl sounds.
And for some reason, those sounds cannot be played only in the app, but you have to actually download them to your phone and the app even offers you to set them as your ringtone. The app will be suitable for older Android devices and it's also full of ads.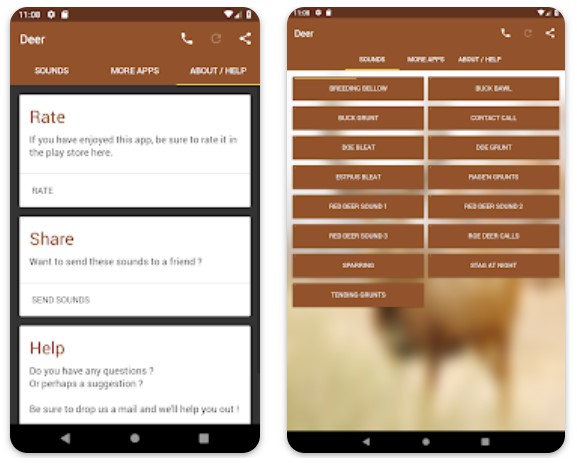 Also check: 20 Best fishing apps for Android & iPhone
onX Hunt: #1 GPS Hunting Map
Now actually this is also not a deer call app, but since you're here you'll probably be interested to know what other apps for deer hunters can be found in your app store. The good news is that there are plenty of them! The most common type is maps and forums.
After all, two heads are better than one. onX Hunt is the app that will facilitate your hunting by showing deer habitats. Sometimes, in a certain season, you won't even have to use a deer call – all you'll have to do is look at the map and go to the most densely populated area.
This app provides you with tracking and guiding features. It is used by millions of hunters and hikers and can work even without an internet connection. So if you are into smart ways of doing things, this app is for you. After all, nowadays it is crazy to go to faraway places without a proper map app. This is a proper map app!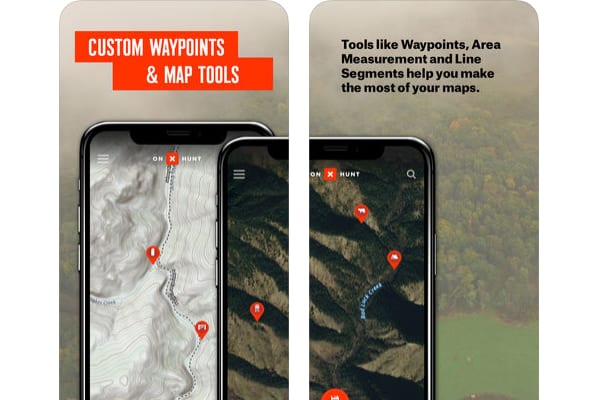 ---
To wrap up, hunting can be made easier by using the right apps. So, choose the right apps and become more efficient in whatever you do!