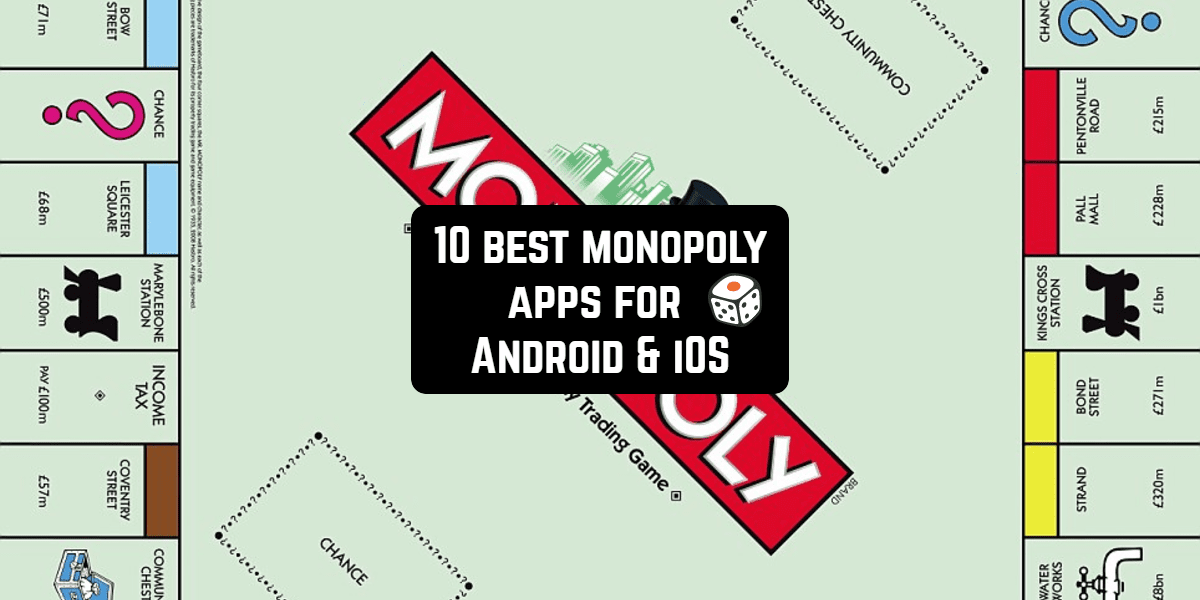 How often do you just want to play good old board games, but haven't got enough time to invite friends, explain the rules and all this stuff? One of the classic board games is "Monopoly". Typically it's 2 hours long game with lots of small details. Good news is that we've gathered 10 best monopoly game apps for Android and iOS, so now all you need to do to play monopoly is choose and download one of these wonderful monopoly apps!
MONOPOLY Bingo!
Monopoly Bingo! is another version of the classic monopoly game application, which is loved and known by everyone. Just combine classic monopoly with bingo rules and you get Monopoly Bingo! In this type of game, you can use numerous bingo cards – more than in any other game.
This game has already been downloaded by more than 5 million users. Take a glimpse at real bingo halls with people playing the monopoly game. Walkthrough your favorite locations, wait until the bingo ball shows your combination of numbers and BINGO! You're lucky! Soon, you will start to earn money and build houses and hotels, just like you did before.
You can play several Bingo games at the same time. If you want to have more bingo cards than in any other game, try your luck and play 8 free online-games simultaneously. It is really feasible to switch through them! Open more bingo cards by collecting the rewards in Monopoly!
You can also compete with your friends in free battles in this Monopoly game. Play for free with your friends and find out who is the best one. In spite of the special game settings, you can see unreleased Bingo numbers, get free drawings and bonus spaces at bingo maps – in this way, your victory becomes even more real. If you run out of bingo maps, you can always use the money you have won to buy the new ones.
While playing the Monopoly game, collect special Monopoly cards to get money, bingo tickets and a lot of other bonuses. Build houses and hotels, travel the world in this online Monopoly game.
Also, keep in mind that even though this game is free, you can make purchases at different prices in the app. This is optional and you can stop using the items anytime you want.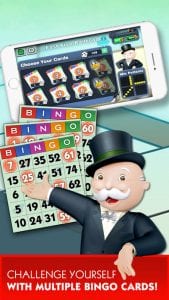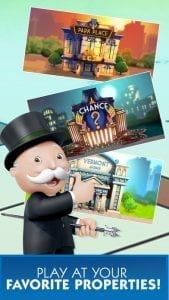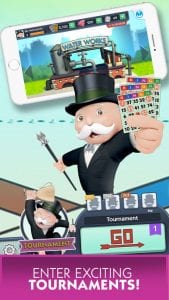 back to menu ↑
MONOPOLY Bingo!: World Edition
Didn't you know? There are a lot of versions of monopoly for every taste and type. Try to get rich by going for the map full of rewards in Monopoly Bingo World Edition. Each game opens new rewards and each new reward is the next step to your amazing property. For instance, magic Mexico city! Play with your friends and collect unique bonuses to get special marks, extra coins and a lot of other things! No Bingo game has this many cards. Switch between them and shout Bingo! every time you win.
You can travel to unique places – Mexico City, London, Hong Kong, and many others! Visit the famous objects such as Mediterranean, Connecticut, and New York Avenue! Organize the competitions with your friends to find out who can win more cards. You can win with the help of the multi-level bonuses – they give a lot of extra marks, open numbers or add space to your cards! Collect chests of the community in order to get exellent rewards: more coins, rewards, tickets, etc. Collect the coolest Monopoly collection in each chamber to win even more!
This game is a winner of numerous international awards.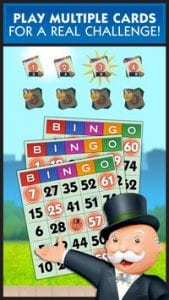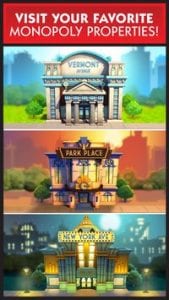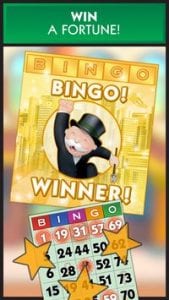 back to menu ↑
Europoly
Join a captivating race – roll the dice, move your pawn, buy properties, make deals, acquire monopolies, build houses and force your opponents into bankruptcy. This monopoly offers you everything you can imagine. Up to 4 players can play at the same time. Everyone has a chance to go across Europe. If a pawn lands on an unowned property, it can buy it or auction it. In case the property is already owned by another player, it has to pay the rent. Obviously, the main goal of this game is to maintain your financial stability and force your opponents into bunkruptcy.
The board has a special design adjusted to your device. You will find European cities and airports, motorways, ferries, casino cards, lottery cards, and a jail. The rules are classic – a player with the floor throws two dice and moves around the board clockwise. If you land on or pass the Start square, you get $5000. If a player rolls doubles, they can roll in their turn. After three sequacious sets of doubles, a player has to go to the jail.
Cities are placed in groups of different colors. A player who got the whole city of a group is a monopolist and can build houses and lift the renting prices. Even though the transport squares cannot be improved, a player who owns more than 2 of them can also increase the rent payment.
If a player needs money, he or she can make deals with other players – sell properties, for instance. If a player cannot pay his or her debt, he is going to go bankrupt. As usual, the last player who remains in the game becomes the winner.
You and your friends can play together using the same device. If you want, you can compete with Intelligence Bots which have 3 different levels of difficulty. Choose the level you feel confident to play on – at the highest level the game gets really serious. If you are new to this game, you can choose the lowest level to practice.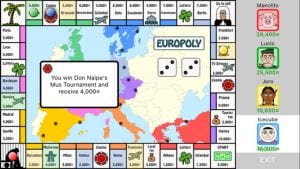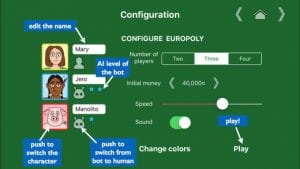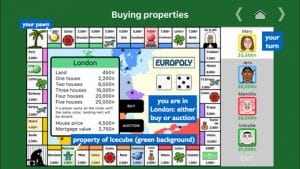 back to menu ↑
MonopolyCards by Shuffle
This is a card Monopoly game. In no time you will learn its rules and start to play brisk and smart. You do not need a lot of readings to learn how to lend, fight, or trade.
This classic Monopoly card game will take your breath away and give you incredible emotions in less than 20 minutes. Collect 3 objects of property and win. All the instructions are listed pretty clearly and as you launch the app you can see the menu and its basic settings. After you've understood all the instructions, you can choose a desk where you are going to play. The task and points change as you open new cards.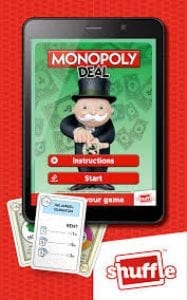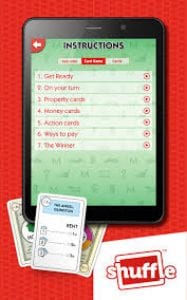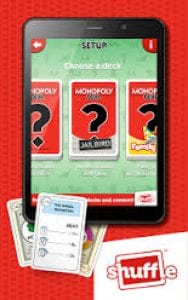 back to menu ↑
Boardwalk Bingo: A MONOPOLY Adventure
Here we go, this is a new way to play a combination of Boardway and Bingo in the Monopoly game. Let Mr. Monopoly guide you as you walk through the game, winning and unlocking awesome prizes and exploring all your favorite properties of Monopoly.
Play with friends as you take a summertime stroll down the Boardwalk – accompany them when hanging on at the beach, in amusement parks, at your exquisite properties, such as houses or hotels. If you are good at it, you can become a Bingo champion with epic boosts like instant bingo, free parking daubs, and mystery blocks. You can choose to play with up to 12 cards (it is more than any other monopoly game). Do not hesitate to switch between cards to daub numbers and call Bingo lightning-fast!
In this version of the game, you have a precious chance to visit famous Monopoly places such as Boardwalk, Chance, and Marvin Gardens. Compete with your friends to make the whole process more exciting and you will find out who is the best of the best. Also, there is a chance to use unique multi-level boosts to gain an explosion of free daubs, reveal upcoming numbers and add bonus spaces to your cards. In exchange for community chests, you will get tickets and play even more.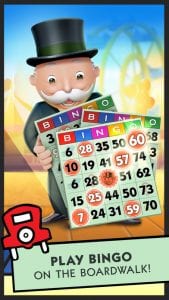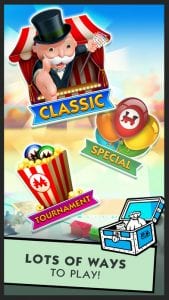 back to menu ↑
Arctopia: Monopoly Power
In this game, you have your own Monopoly Coffee Empire in the town of Arctopia. Make a plan which will allow you to maximize your profit from everything you let and rent. In order to do this, you have to have advanced knowledge of your market and the situation in the town so you can apply it right. Stay aware of the consumers' happiness and satisfaction with your product. Keep in mind that when you disappoint your consumers, it will have a negative impact on your town and, which is even worse, on your business.
Create your account and start to play! You will get short instructions on your further actions, so your game process will be easier. You can always observe the statistics in the settings and improve or fix your financial situation.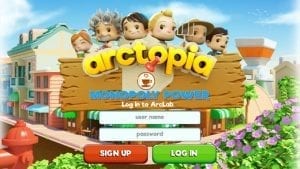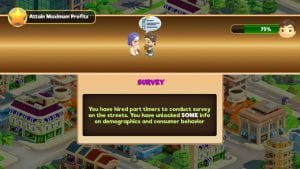 back to menu ↑
MONOPOLY HERE & NOW
This is a new updated version of the famous monopoly app. Now you can enjoy the game with new upgrades and collect the stamps from all around the globe.
Now, living in the 21st century, we do not have to unpack board games boxes like it was before. You have everything you need in your pocket, on the screen of your gadget and you can launch this monopoly app whenever you want to compete with your friends from all around the world. You can enjoy this new monopoly in 3D, call all your friends and family and come together to play!
In this game, you will find steps, options, and prizes similar to those that the real board game has. You can find sights and things that are famous all around the globe. After you launch the app, you need to enter your passport to collect your property stamps. Then, in the process of the game, you can travel around the world and visit significant places and attractions. Earn as much money as you can to acquire cities and tokens on your way. Then you can enjoy all of your achievements in the animated mode.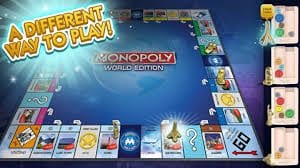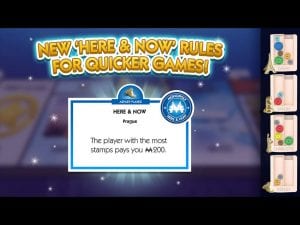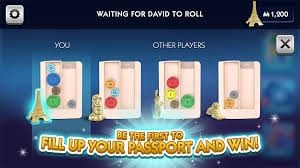 Currently unavailable
back to menu ↑
MONOPOLY Game
Thanks to thousands of Monopoly fans on Facebook from 185 countries, now the classic monopoly can be played in online mode! In this version, you can find all the classic features of your favorite game – you can buy, sell and trade famous properties, from Marvin Gardens and Water Works to Park Place and all the other well-known holdings on the Monopoly board.
You can see everything you own in 3D and by shaking your device you can roll your picture. Touch the screen to manage your properties. You are also able to choose your level and look.
You've got 3 levels of difficulty and the possibility to save your game in progress. Also, if you want, you can regulate the number of players, the rules of the game and even its environment. Invite your friends and challenge them via local Wi-Fi or Bluetooth connection. If your friends also have a Monopoly game installed on their devices, you can all play together in the multiplayer mode.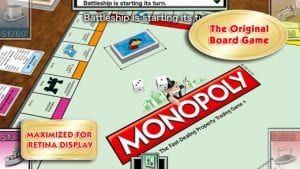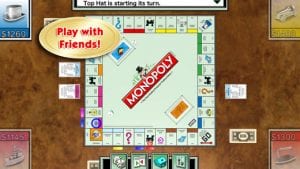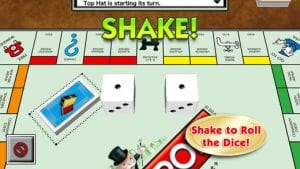 Currently unavailable
back to menu ↑
My Monopoly
In this app, you can not only enjoy playing your favorite game but also decorate the game space with your favorite photos. Create an account, press "push", "stick" and "play".
First of all, choose and edit your photos from social networks, your device or other sources. Print them on the paper sticks and stick them on. Create your own version of Monopoly and then start playing it. In this app, some of the settings are also not free, so be careful while playing – watch for the choices you make. You can create a countless number of different pictures and stickers.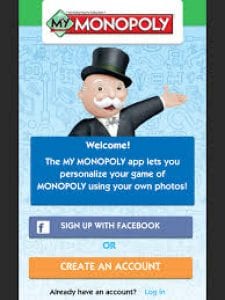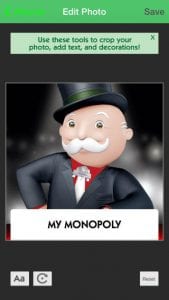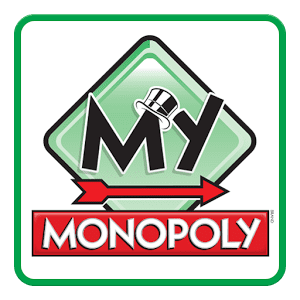 Currently unavailable
back to menu ↑
Monopolist Businessman
This game has a new multiplayer mode, cool 3D graphics, and impressive sound effects so you could feel like a real businessman dealing with world-scale problems. Play alone or with your friends from all around the world, buy countries, trade shares, win auctions, catch your chance, build houses and hotels, get the rent and rule the world.
The main goal of the game is as always to become the richest player of all, to buy the largest amount of property. You earn money every time the rivals step onto your territory. When you hold the shares of a certain type, you have a chance to build hotels and houses. In this case, the rent goes up significantly.
Good luck and try not to get in jail! Build your empire, rule the world and be wise enough in order not to become bankrupt.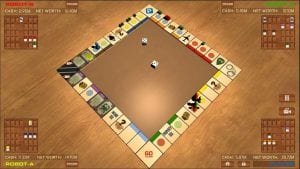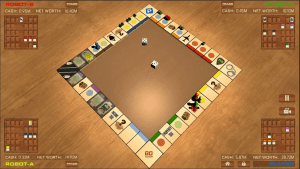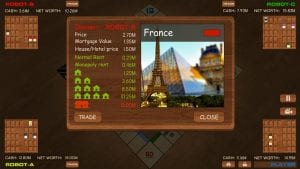 Currently unavailable