How often do you just want to play good old board games, but haven't got enough time to invite friends, explain the rules and all this stuff?
One of the classic board games is "Monopoly". Typically it's 2 hours long game with lots of small details. The good news is that we've gathered 10 best monopoly game apps for Android and iOS, so now all you need to do to play monopoly is choose and download one of these wonderful monopoly apps!
Find more games like Monopoly among these best board game apps.
MONOPOLY Bingo!
Monopoly Bingo! is another version of the classic monopoly game application, which is loved and known by everyone. Just combine classic monopoly with bingo rules and you get Monopoly Bingo! In this type of game, you can use numerous bingo cards – more than in any other game.
This game has already been downloaded by more than 5 million users. Take a glimpse at real bingo halls with people playing the monopoly game.
Walkthrough your favorite locations, wait until the bingo ball shows your combination of numbers and BINGO! You're lucky! Soon, you will start to earn money and build houses and hotels, just like you did before.
You can play several Bingo games at the same time. If you want to have more bingo cards than in any other game, try your luck and play 8 free online-games simultaneously. It is really feasible to switch through them! Open more bingo cards by collecting the rewards in Monopoly!
You can also compete with your friends in free battles in this Monopoly game. Play for free with your friends and find out who is the best one.
In spite of the special game settings, you can see unreleased Bingo numbers, get free drawings and bonus spaces at bingo maps – in this way, your victory becomes even more real. If you run out of bingo maps, you can always use the money you have won to buy the new ones.
While playing the Monopoly game, collect special Monopoly cards to get money, bingo tickets, and a lot of other bonuses. Build houses and hotels to travel the world in this online Monopoly game.
Also, keep in mind that even though this game is free, you can make purchases at different prices in the app. This is optional and you can stop using the items anytime you want.


You may also like: 15 best Sudoku apps for Android & iOS
MONOPOLY Slots – Casino Games
The game is a combination of the famous game and slot machines. Users can rebuild an entire city thanks to the coins they earn from slot machines. The game has a pleasant graphics.
Before the first launch of the game, users undergo a short training briefing. Next, you can choose a figure with which you will walk around the playing field. In addition to the standard set of figures, you can choose a dinosaur, a cat or a rubber duck.
After reaching the second level, tasks become available to players. In the tasks section, you can choose which tasks to complete. Win some amount of money or play the slot machine several times.
For completing tasks, monopoly tickets are given, which can later be spent on completing quests. With each level, the maximum bet increases. Spins are not limited.
During the game, you can win the Tycoon Bonus. When he wins, the usual monopoly card will open and you can randomly choose the streets on which the player's houses will be placed.
Each new building generates coins. The main thing is not to forget to collect profits.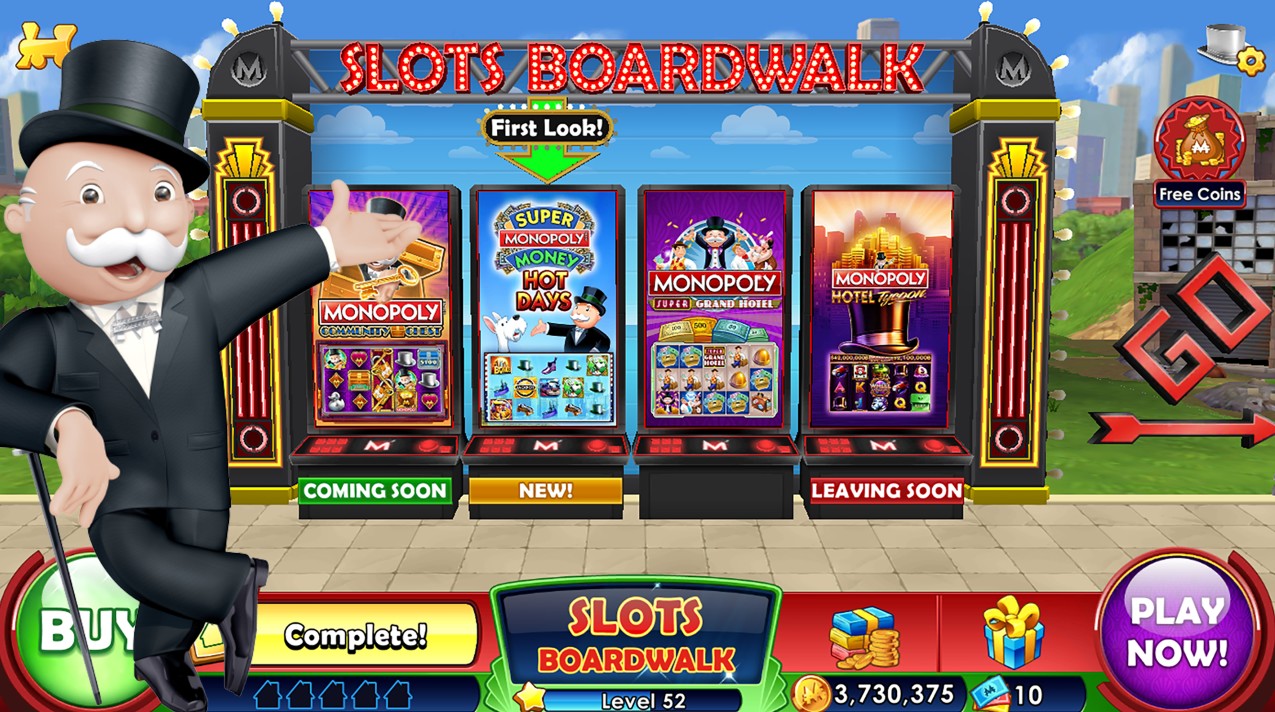 Europoly
Join a captivating race – roll the dice, move your pawn, buy properties, make deals, acquire monopolies, build houses, and force your opponents into bankruptcy. This monopoly offers you everything you can imagine. Up to 4 players can play at the same time.
Everyone has a chance to go across Europe. If a pawn lands on an unowned property, it can buy it or auction it. In case the property is already owned by another player, it has to pay the rent. Obviously, the main goal of this game is to maintain your financial stability and force your opponents into bankruptcy.
The board has a special design adjusted to your device. You will find European cities and airports, motorways, ferries, casino cards, lottery cards, and a jail. The rules are classic – a player with the floor throws two dice and moves around the board clockwise.
If you land on or pass the Start square, you get $5000. If a player rolls doubles, they can roll in their turn. After three sequacious sets of doubles, a player has to go to jail.
Cities are placed in groups of different colors. A player who got the whole city of a group is a monopolist and can build houses and lift the renting prices. Even though the transport squares cannot be improved, a player who owns more than 2 of them can also increase the rent payment.
If a player needs money, he or she can make deals with other players – sell properties, for instance. If a player cannot pay his or her debt, he is going to go bankrupt. As usual, the last player who remains in the game becomes the winner.
You and your friends can play together using the same device. If you want, you can compete with Intelligence Bots which have 3 different levels of difficulty. Choose the level you feel confident to play on – at the highest level the game gets really serious. If you are new to this game, you can choose the lowest level to practice.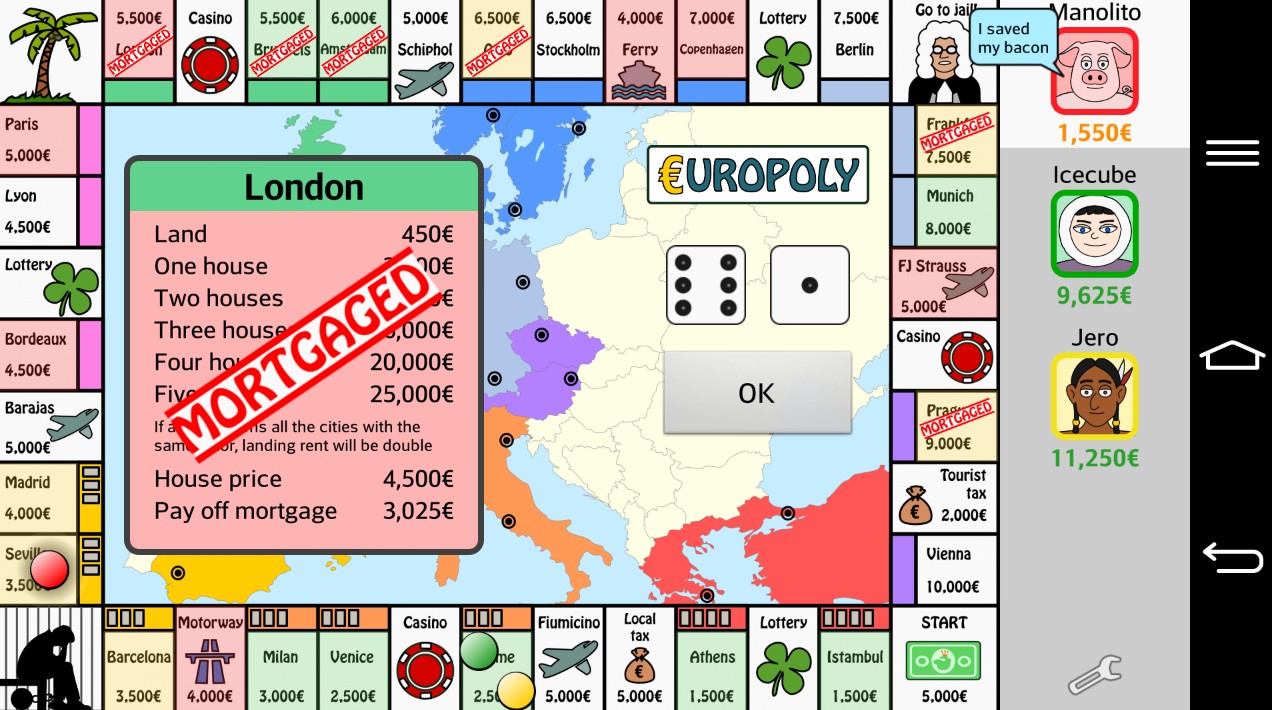 Quadropoly 3D – Business Board
Quadropoly 3D is a unique monopoly game with many unusual features that help make the game even more exciting. In this game, users will be able to enjoy 3D graphics both online and offline. One of the interesting features of this game is that here artificial intelligence is trained on games with real people.
This allows the game to become more advanced and challenging for players. To make the game easier, the player will be offered hints at the beginning. Thanks to them, the user will be able to:
choose the best tactics
evaluate trading offers
competently manage their capital.
This will help the user to make smart investments and get benefits. The game has 8 difficulty levels and the user can choose the most suitable one for himself or herself.
The number of points a player receives per game directly depends on the skill of the player and the number of tactics he or she uses. The first two difficulty levels do not use Machine Learning, as these are the easiest levels. In the last 4 levels, the difficulty increases and more and more tactics are used.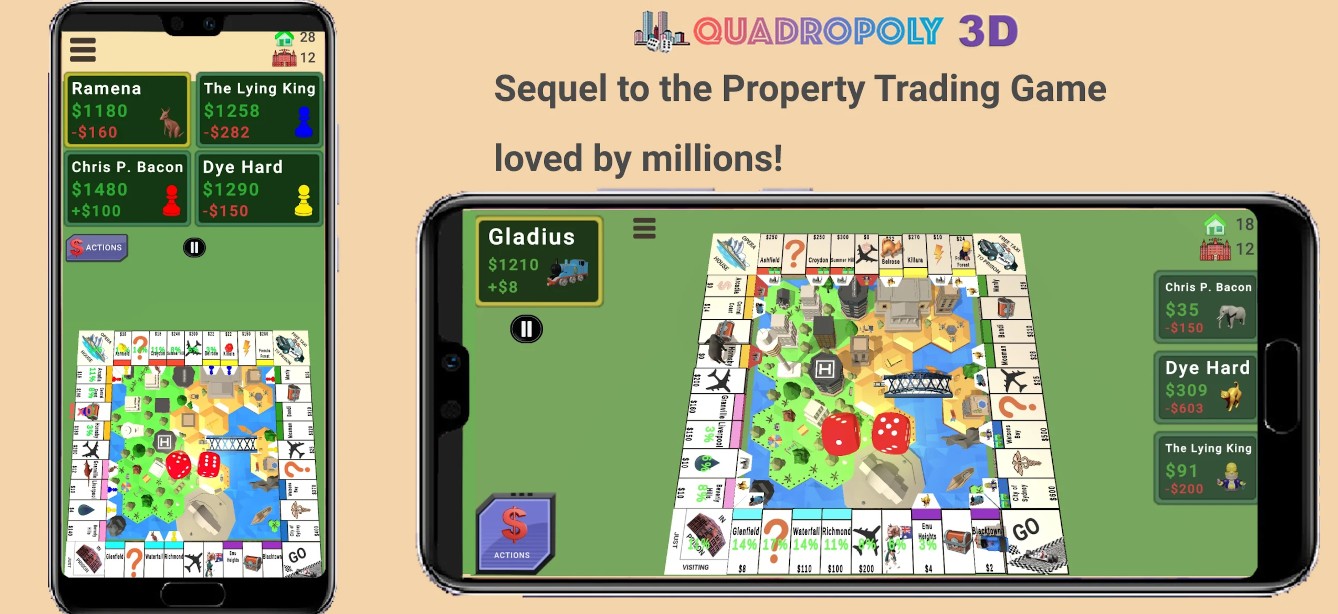 Business Game
This board business game will brighten up any boring evening. The storyline revolves around buying and selling property. You need to develop as much land, buildings, and railroads as possible. Suitable for fun with family and friends.
To be a winner, you need to remain the only player with cash capital. Place bets and accumulate resources. Quarters are available for purchases, which will then become an entire empire. The main thing is not to accumulate debt. It is better to have a financial cushion to pay more rent.
The optimal number of players is two to six. Players roll two dice to make moves, buy and sell properties, and build new facilities. Players collect fees from opponents to bankrupt them. Money can also be earned by using special cards.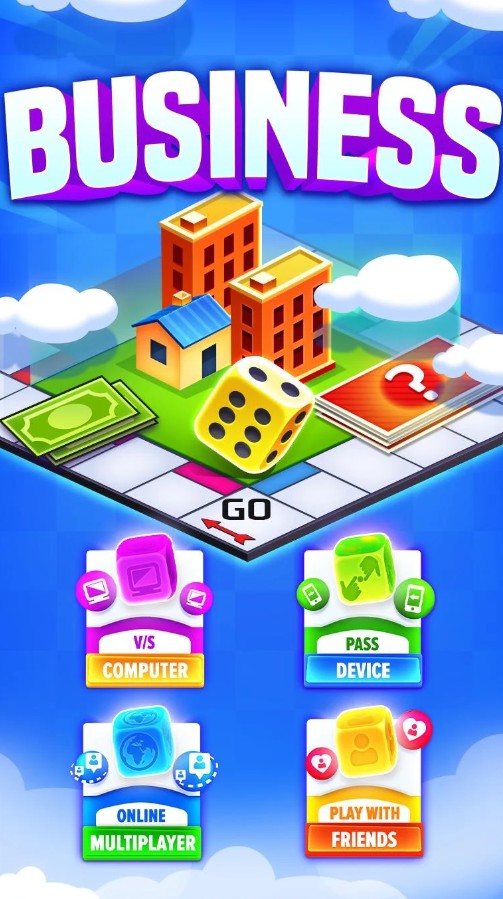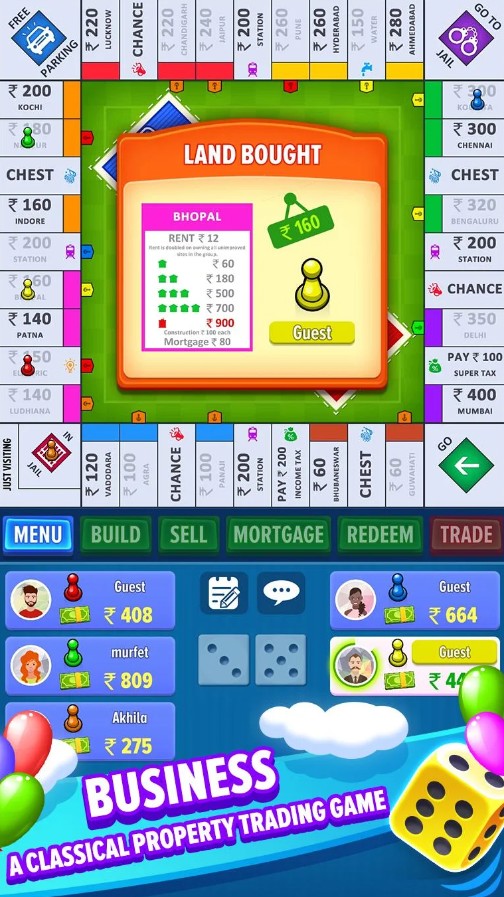 You may also like: 8 Best Multiplayer Chess Apps for Android & iOS
Arctopia: Monopoly Power
In this game, you have your own Monopoly Coffee Empire in the town of Arctopia. Make a plan which will allow you to maximize your profit from everything you let and rent. In order to do this, you have to have advanced knowledge of your market and the situation in the town so you can apply it right.
Stay aware of the consumers' happiness and satisfaction with your product. Keep in mind that when you disappoint your consumers, it will have a negative impact on your town and, which is even worse, on your business.
Create your account and start to play! You will get short instructions on your further actions, so your game process will be easier. You can always observe the statistics in the settings and improve or fix your financial situation.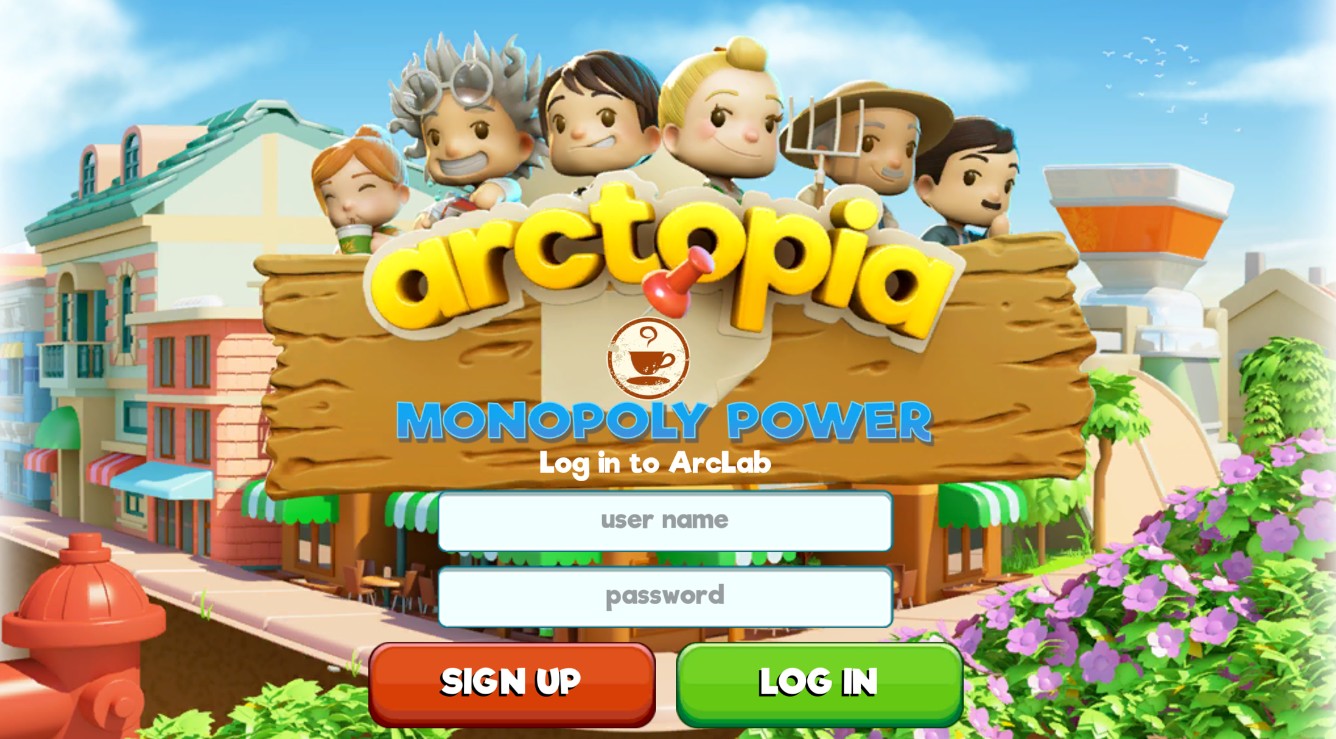 MONOPOLY GO!
This game is perfect for those who have a passion for business but prefer not to manage one in reality.
In MONOPOLY GO!, you can embark on a virtual adventure that takes you through iconic MONOPOLY locations in a delightful 3D environment.
The app offers a modern take on the traditional board game, allowing you to buy, sell, and trade properties to become the wealthiest and most successful tycoon in town.
Along the way, you'll encounter various mini-games that add a thrilling element to the gameplay. Test your luck, strategy, and negotiation skills as you engage in these fun challenges and aim to outwit your opponents.
The mini-games bring a refreshing spin to the classic MONOPOLY experience, keeping you entertained and motivated to conquer each level.
As you navigate through the game, you'll exercise your decision-making abilities, financial planning skills, and resource management, all while having a blast.
So, gather your friends, roll the dice, and get ready for hours of joy and excitement as you build your virtual empire in MONOPOLY GO!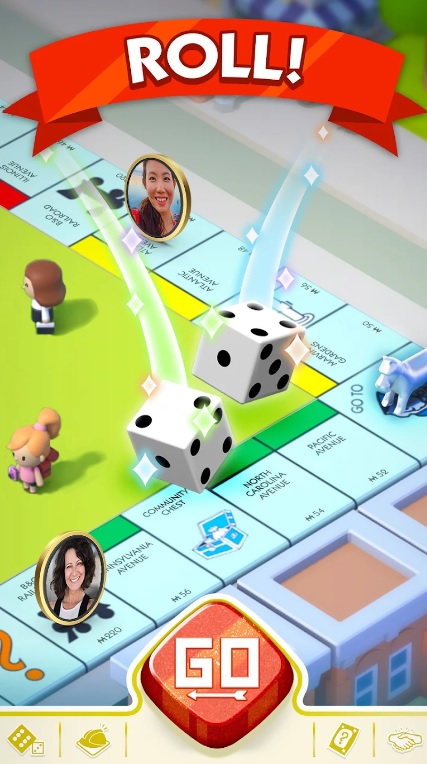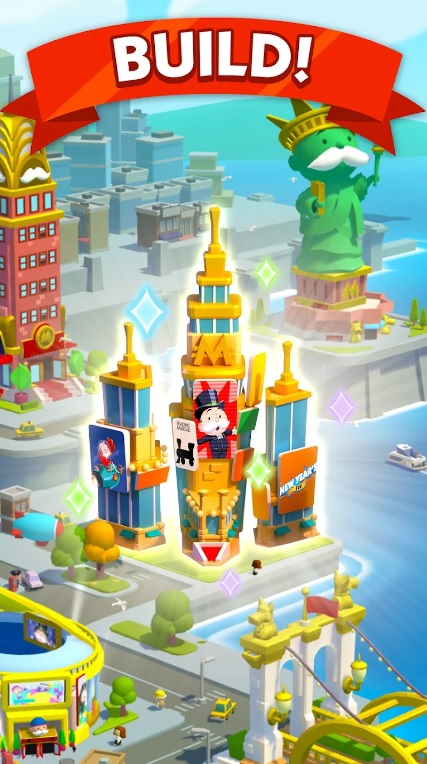 Rento
Rento is a classic revision of the traditional dice board game, with an exception that now you got it on your smartphone. Another feature that distinguishes it from other apps is the wheel of fortune that will help you significantly to make the progress in the game.
Some might think here that this app is not really related to monopoly, however, it is – the ultimate goal of it is also buying the property, plants, defeating competitors, and earning as much money as possible. It is just another version of the game wherein order to make the next move you need to roll the dice.
One more advantage of the game is that it has the multiplayer mode – now you can play with people all around the world, any time. There is a list of the best players in the main menu. The interface of the game is a little bit obsolete, but in this case, it gives the app an unusual feature that helps it to stand out among other ones.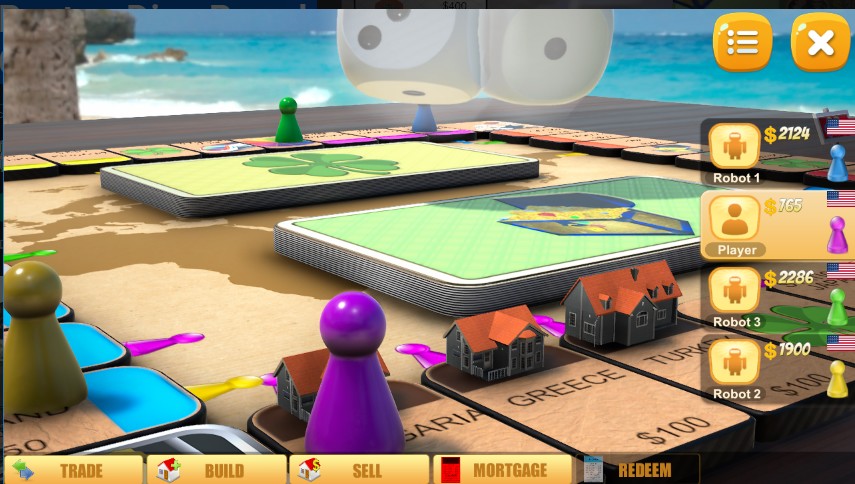 MONOPOLY Tycoon
In MONOPOLY Tycoon, you can buy, manage, and upgrade properties, all while strategizing to maximize your profits and become the ultimate tycoon. The game offers an engaging and immersive gameplay experience, allowing you to build and expand your business at your own pace.
As you progress through the game, you'll encounter a variety of exciting mini-games that add an extra layer of excitement and challenge. These mini-games test your business acumen, decision-making skills, and resource management, providing a refreshing break from the main gameplay.
Playing MONOPOLY Tycoon offers benefits that go beyond mere entertainment. The game offers a fantastic opportunity to enhance your strategic thinking, financial planning, and problem-solving abilities.
So, if you're a fan of making money, MONOPOLY Tycoon is a great game to play – even if it's just virtual.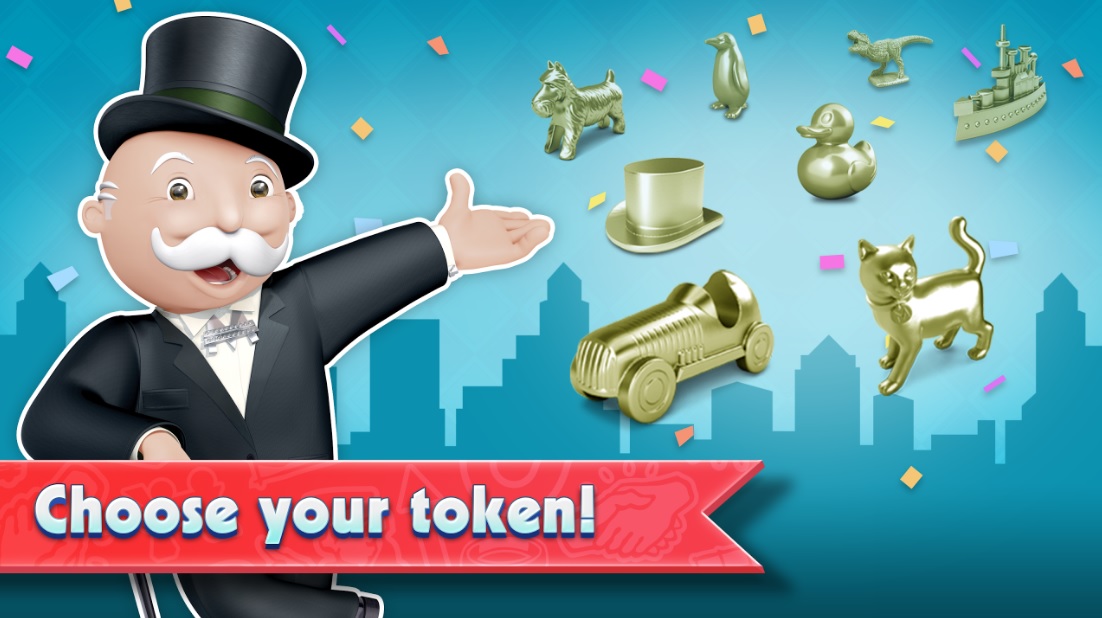 Board Kings – Fun Board Games
An interactive version of the board game. Before starting, it's proposed to choose a figure. And the move is made with the help of cubes. Each new circle is earnings for the player.
During the game, there is a chance to build buildings. After building the station, other players will appear on your playing field who can take possession of your buildings.
You have to get into the fields occupied by other players in order to take possession of them again. But if the player himself finds himself on the field with the station, he can go to visit another player and make moves there until he returns to the field with the station again. Away players can also go to jail.
During the game, you can modify the playing field. New fields are added, buildings are being built. Also in the game you can be a thief. Bunny helpers will steal other players' money for you from the chests you select.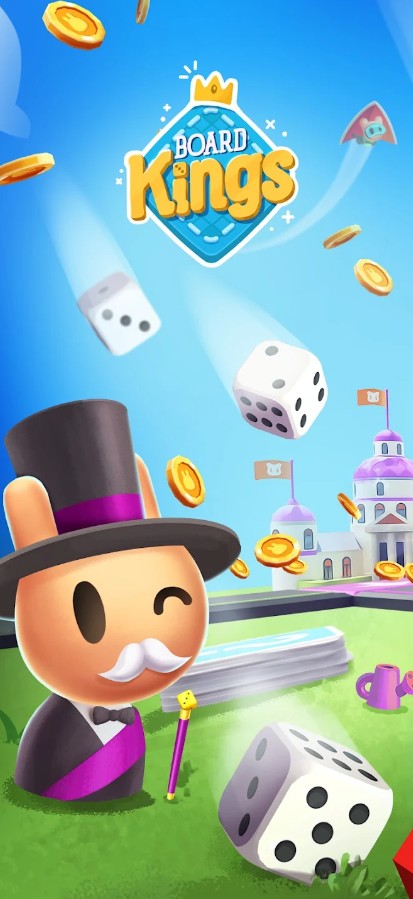 CrazyPoly
Another alternative for a Monopoly game that is basically the same idea. Buy businesses, build your empire, and get your competitors bankrupt. This game is an economic strategy that allows you to buy the businesses, rob the banks, get rich, build a monopoly, and many other things.
It has a little bit different interface than a classical monopoly and might seem quite complicated for those who play it for the first time, however, there are many more options than in the classic version of the game. The app itself reminds of the typical table game but in the digital version.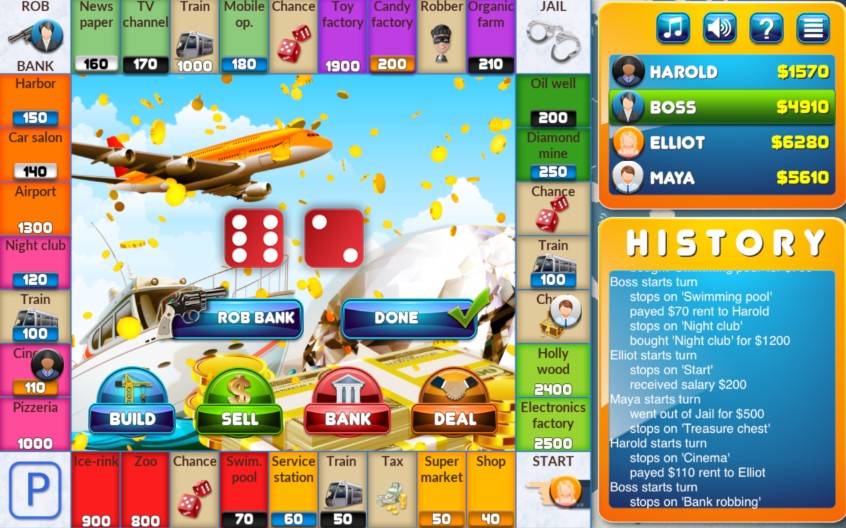 You may also like: 15 Best Free Chess Game Apps for iOS & Android
Landlord Tycoon
This game isn't called a traditional monopoly, but it is still the type. Here you will also be playing for a businessman who is trying to conquer the whole world and get super-rich. Moreover, one of the first aspects of this game worth noticing is that it is the game closest to reality in the whole list.
You will be trading shares, buy companies, watch the fund markets. It's a cash deal management game where you can buy, sell and trade digital properties, and with GPS and geolocation, you play the game in their actual locations. You start your journey with the capital of $50000.
Start building your empire from the ground, be witty and sly, get rich fast. After you start acquiring property, you will be able to re-rent it to others and earn even more money. Don't forget to upgrade your estates to earn more profit. Moreover, this is a multiplayer game so you will be competing with other players on the market.