Have you ever been curious if you and your certain someone is meant to be? Well, now you can find out for sure!
We've gathered together the 7 best love percentage apps for Android & iOS to test your romantic compatibility in different ways. All these apps are based on different techs — some scan your fingertips, the others use your names, pics, or make you take love tests. Besides, the majority of apps come with some extra features such as horoscopes, advice pages, love cards, and more.
In case you're into horoscopes, make sure to check this article: 11 Best love horoscope apps for Android & iOS
Fingerprint Love Test Scanner Prank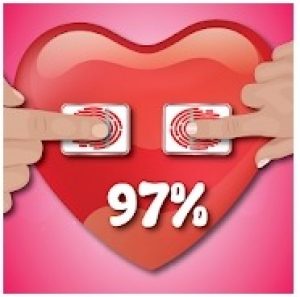 Did you know you can test your love compatibility via fingerprint scan? Well, now you do and this app will help you with that.
The concept of this app is — you scan your fingertips along with your partner, mate, or whoever else and find out if you are love compatible or not. According to the instructions, you should also look intensely in each other eyes while scanning to get the most accurate result.
The results vary from 0 to 100% and you'll get the name for the style of your relationships such as soulmates, friends, and more. The scanning takes a few secs and you get your result in percentage right away. Herewith, it needs to be said that this app doesn't have any scientific base or smth — it's just a prank to have fun with (it can be incredibly fun to do it at parties).
However, your results won't be saved so make sure to screenshot or remember them on your own. The controls of this app are simple and it will guide you through the whole process step by step. As for the UI — it's decent-looking but a bit old-school still. The app doesn't have any paid features so you get an unlimited amount of scans for free.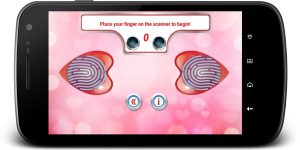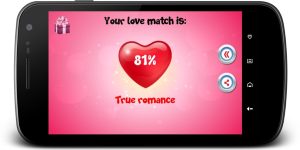 You may also like: 11 Best Love Message Apps for Android & iOS
Love Test Calculator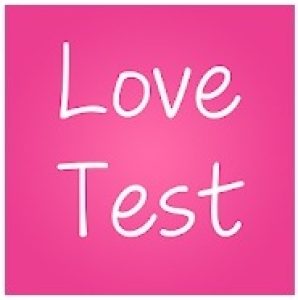 Next, we have a love calculator that will predict the success of your relationship.
Apart from the previous one, this app doesn't ask you to scan anything — it runs on so-called love quizzes. For now, there are over 15 quizzes for you to take and more are on the way. All of them intend to find out your love compatibility rating with your current partner, a potential one, your friend, or whoever else comes to your mind.
You start by entering both of your names regardless of gender. Once you're done you can take any quiz for free — none of them are paid and there are no ads which are nice. Along with the classic love percent test, there are lots of other interesting options you can try. For instance, you can find out if you're actually in love with someone if you don't know for sure.
Besides, there's a quiz to see if a person you're interested in is interested in you in return. Herewith, you need to keep in mind that this app is made for entertainment purposes only so don't fully rely on the results. You can use the app offline so you can have fun wherever you go.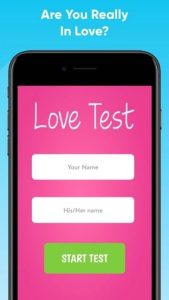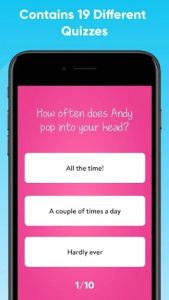 Love Test Compatibility Rating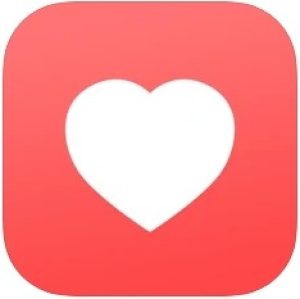 If you're looking for a simple app for testing love matches — you can't go wrong with this one.
It needs to be said, this app is quite minimal — it is based on one testing algorithm only. To be more accurate — the app aims to determine how compatible two people are according to their names. Yeah, it's that simple. All you need to do is to enter your name and the name of certain someone you're interested in.
The testing takes a couple of secs and gives you a percentage result. Plus, there's an info section where you get to view the detail of your match — there's not too much info tho but it can be useful still. In case you're not quite happy with the result you can always retest to see if smth will change. Herewith, the compatibility test word regardless of the gender so you can test with whoever you want.
You can even try it on a celeb's name for fun and then share your result on SM (don't forget to mark the celeb's name on your post or IG story). Beyond that, the app covers over a hundred iMessage stickers related to romance and all that. It also comes with a Valentine's Day countdown that you can put on your lock screen if needed.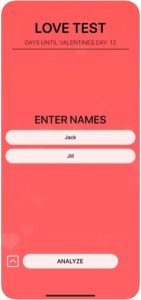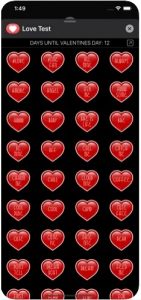 love test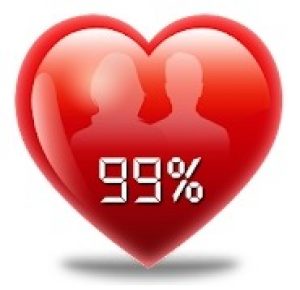 Wanna put your love to the test? This app has you covered!
This is an ultimate love matching app that lets you view how compatible you are. This app runs on a time-proven algorithm that calculates your compatibility based upon your name or a zodiac sign. The testing takes a few secs and you get quite accurate results and not just some random percent.
As for the mechanics, the zodiac calculator requires you to enter your and another person's birth dates while the name one needs nothing but your names (obviously). Each result once with some extra detailed info that describes your relationship and all that. You can also take love quizzes to find out more info.
Beyond that, the app covers over 100 pre-made love-related SMS you can send to your significant other. There's also a compilation of romance quotes, stickers, fonts, and even cards to send on holidays. The app also provides you with a daily love horoscope and small advice to improve your romantic life. Plus, the app is multilingual and covers over 60 languages in total.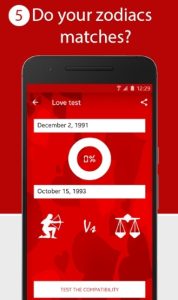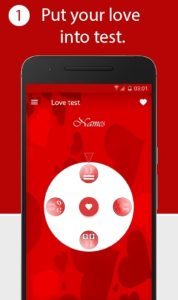 Check also: 8 Best Personality Test Apps for Android & iOS
Numerology. Real Love Test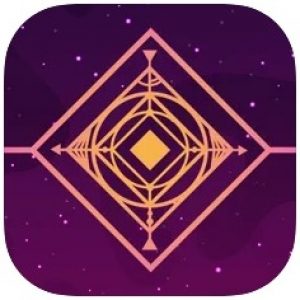 Do you believe in numerology? If the answer is yes — this app is definitely for you.
As you might've guessed, this app calculates your love compatibility based on numerology. In case you're not familiar with numerology, it runs on the thought that the lies of all people are connected to certain numbers. Herewith, some numbers are more important than others and that can change during your life.
As for the love test part, this app can ell how your relationships will be developed. All you need t do here is to enter two names and birth dates. Herewith, the info of birth data should be precise and accurate — the app even asks you to enter the birth date. However, if you don't own this info you can mark it as an unknown.
Along with that, you can test the biorhythms' compatibility. It's the mere complex concept that requires your birthday and asks you to select the rhythms you're interested in. There are such rhythms as intellectual, spiritual, aesthetic, and more. It needs to be said, the app has a sub pack but it's for the year ahead so it's not that cheap.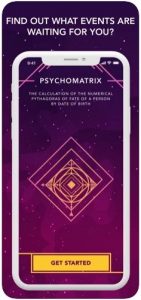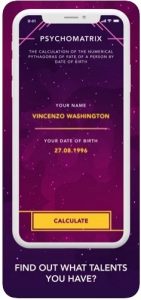 Love Tester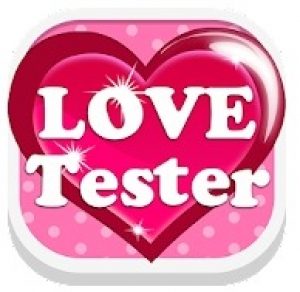 This is a love meter app that will give you a relationship forecast.
It's a fun love tester app that doesn't claim to be scientifically based or accurate. It's made for entertainment purposes only so make sure not to take the results too seriously (especially the bad ones). As for the mechanics, this app tests our love percent based upon two names — yours and the person you're into.
Herewith, the app doesn't have any genre limit so you can easily view the compatibility of two girls or two boys. There's even an option for people involved in a love triangle or even a love square. If that's your situation — just enter your name and add as many people you wanna test compatibility with as needed.
Once the test is done you'll see who's the best option for you. And if you have a crush on a celeb you can calculate your chances as well. Beyond that, you can share the results on your SM and even mark the person you've tested with. The app runs offline so you can use it wherever you are.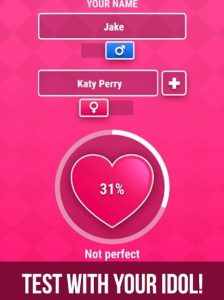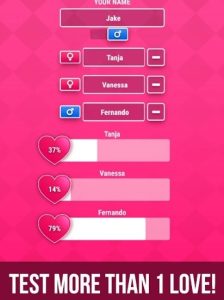 You may also check: 11 Best long distance relationship apps (Android & iOS)
The Love Test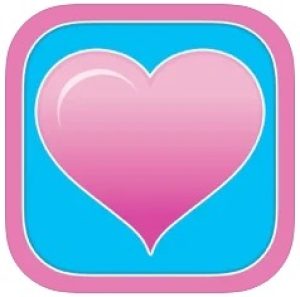 And lastly, we have a love calculator that lets you know if you're meant to be with someone (well, kind of).
In the first place, the concept of this app is quite unique. It tests your love controls based upon your pics. Yeah, that's right — all you need is the pic of yourself and a person you're interested in. There are no gender limits so you can test with whoever you want. Herewith, you may rather load the pic from the gallery or take a snap right away.
The testing doesn't take long and once it's done you'll get a short description of your relationships. Needless to say, this app is made only for fun and it doesn't use any smart analyzing techs. It needs to be said, the app doesn't save your results so make sure to screenshot them if needed.
The app has simple controls and intuitive UI that will lead you through the whole testing process. As for the design- it's quite cute but nothing is outstanding. The app runs without a web connection but if you wanna share your results in SM you'll need the internet anyway.