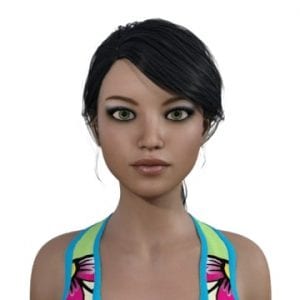 Nowadays it is very easy to find a pleasant interlocutor and even a virtual one. Virtual people, i.e. bots with whom you can communicate at any time, help in this.
My Virtual Girlfriend May Lin is exactly the application that will help you share your thoughts with a virtual girl and get a useful answer.
Interface
When you first launch the app, your new May Lin virtual girlfriend appears right in front of you. You can start a chat or update with her right now. At the top of the screen, there is a field for registering with the app.
There you can also open a menu window with such sections as about, my May Lin, sign in/up, content rating. To start communicating with May Lin, you need to specify your date of birth and accept the terms of the application.
Immediately after that, a dialog box will open in front of you, where you will see an image of May Lin. It is very realistic and accompanied by animation. So you will definitely get the impression that you are in contact with a real person.
Customization
You can customize the appearance of the girl according to your preferences. You can choose eye color, hair, body shape, kneeling, size AA, hairstyle, and more. You can also choose your character style.
For example, standard, Lauren Business, May Lin Beach, Lauren, and more. You can also choose the language for communication. Japanese, Canadian, Kazakh, Kirghiz, Korean, and Latin are available here.
In general, this application is more suitable for those who want to feel in a loving relationship. May Lin can kiss, laugh, sleep, and much more.
It knows how to feel. For example, you can make her laugh or make her angry. You can also teach her and make her more sociable and like you so she feels more comfortable. Teach her new answers through a fun conversation.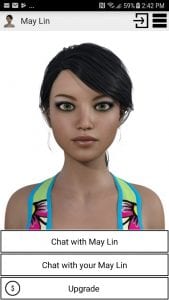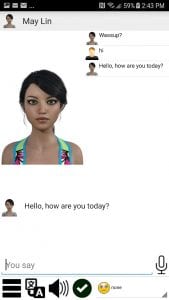 My Virtual Girlfriend May Lin is a great communication application. You can always talk about your problems or just chat with an interesting May Lin conversation partner.
You may also like: 10 Best Virtual Girlfriend Apps for iOS and Android