Many people around the world are dissatisfied with their appearance. Some people dislike their physique, others worry about the color of their eyes or size of the nose – in general, people always try to find flaws in themselves.
Plastic surgery is constantly improving, finding new ways to do surgery. People are only happy to change something in their face or body – after all, in their opinion, they only get better and more beautiful.
In fact, not everyone is ready to go under the knife of a surgeon. Any operation has risks and possible negative consequences – and you should consider it if you are still determined to cosmetic changes.
One of the popular operations is rhinoplasty. However, if it does not bring you any real discomfort, the more reasonable way would not visit the clinic.
For a perfect view of the photos, you can use special photo editors, which will help you create the perfect shape and size of the nose. We have collected the 9 best nose editing applications for Android & iOS.
You may also like: 9 Best Witchy Photo Editing Apps For Android & iOS
Face Warp – Plastic Surgery
Face Warp is an easy to use application that can be used even by people who have no idea how to edit photos. It has an automatic editing mode, which will fix the obvious flaws itself or will work according to a template.
The base of the photo is your face, and you become a virtual plastic surgeon. With Face Warp, you can fix anything you don't like about your photos.
With the app, your face can change beyond recognition. It should be noted that in Face Warp you can edit group photos as well – human faces are automatically detected.
Nose, mouth, eyes, and any other part of your face can be made bigger or smaller, as well as it is possible to move individual points of your face by performing a "lift".
As we mentioned before, Face Warp has separate templates that will automatically fix your face. If the program does not detect your face, you can mark the main points manually.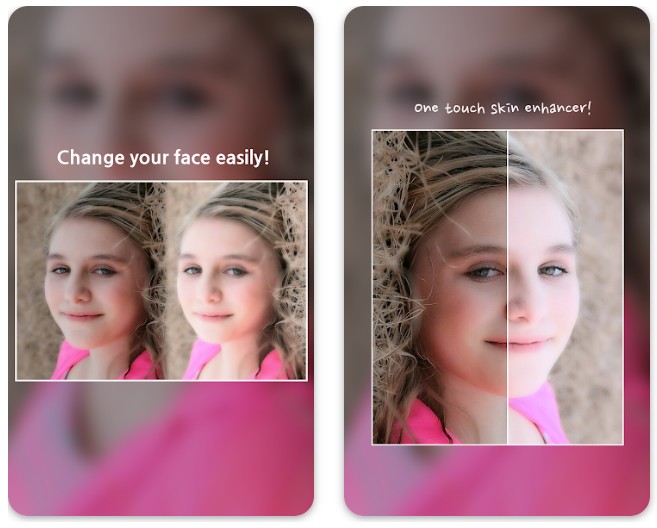 You may also like: 11 Best virtual tattoo photo apps for Android & iOS
Pixl – Face Retouch & Blemish Remover Photo Editor
We don't always look perfect in pictures. It can be a bad angle, a funny expression, or even just a tired look. All factors affect your self-esteem, and they can also further enhance your complexes.
Pixl will help you remove all the imperfections, as well as allow you to look beautiful in any photo. Even if you previously thought you were unphotogenic, the app will fix it.
The feature that interests us at Pixl at the moment is Photoshop. Here you have several tools with which you can change the shape or size of your nose in photos from any angle.
You can complete the editing process with the general automatic photo correction – face cleaning, color correction and even removing the red-eye effect. In Pixl, not only will you change your face flaw, but you will also make the photo a real professional's work.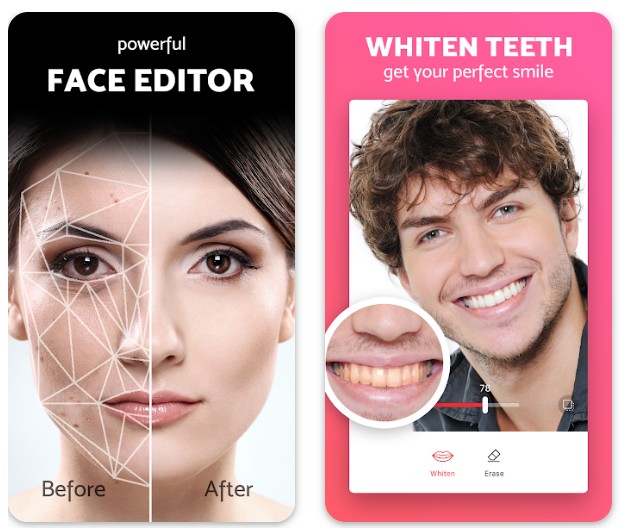 Perfect Me – Body Retouch&Face Editor&Selfie Tune
Abs, new tattoos, face, and body features editing can all be added to or removed on your smartphone in the Perfect Me app. Here you will find almost the full functionality of professional photographers who constantly edit different pictures.
You'll get the shape and face you've been dreaming of without having to see a plastic surgeon. You can change any area of the photo.
In Perfect Me, face and body work are done separately. This way you can smooth the skin on your face, remove acne or black dots, as well as change the color of your skin! Add a little shine your skin, so the pictures will look even more glossy.
Facial features are easy to adjust and you only need to guide them properly. Face Editor will allow you to change your nose, lift the corners of your eyes and lips, as well as give your cheekbones a perfect shape. Perfect Me will help intensify your pictures and improve your appearance.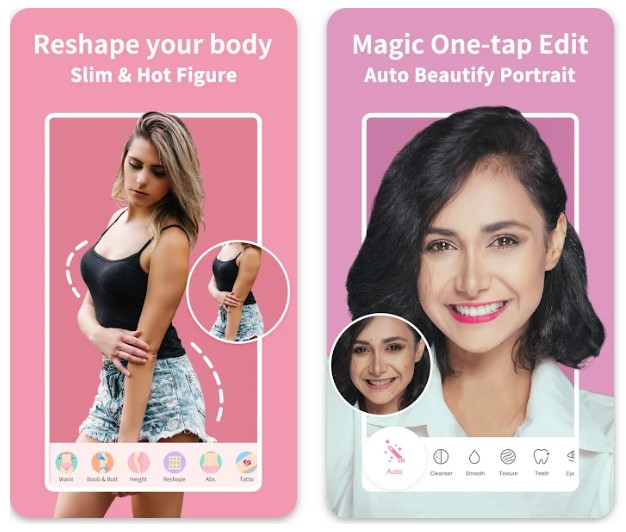 Facetune2 – Selfie Editor, Beauty & Makeover App
We think all people who use photo editors have heard about Facetune. Facetune2 is another easy-to-use photo editor that helps hundreds of people fix various flaws in their photos every day.
Meanwhile, your photos won't look like decorative dolls or painted – all the beauty looks natural and complete. Your beauty is unchangeable – it can just get heightened.
Since Facetune2 is a fairly advanced photo editor, you can change facial features or add additional effects. In total, there are dozens of free filters in the app that give your picture a style.
In order to keep track of all your changes, you can switch between "before" and "after" photos. The special Shape tool allows you to change or highlight certain features of your face, as well as resize – for example, the nose or lips. The picture will be perfect, as you will remove any imperfections and correct what you do not like.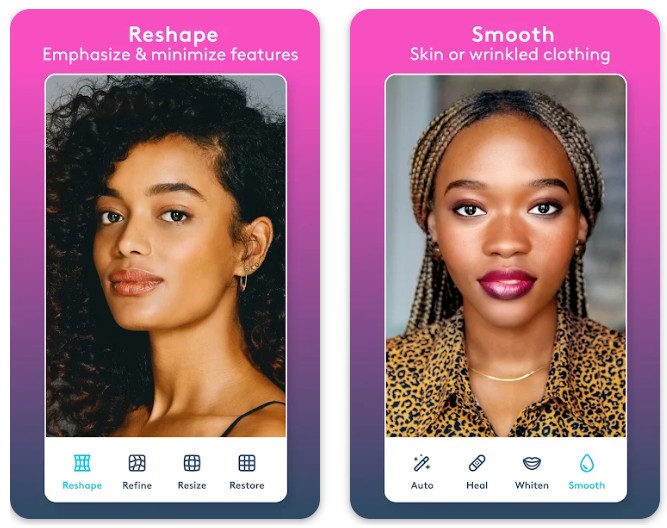 Fotogenic
The name of the application already speaks for itself – with its use, your pictures will be absolutely beautiful. Fotogenic allows you to make each person as beautiful as possible, and you can fix all the imperfections or emphasize the advantages.
Every person who takes pictures of himself or his friends can work with the application. To make it easier for you to navigate in functionality, Fotogenic has interactive help and hints.
Even if Fotogenic becomes your first photo editing application, you will quickly find out what to do. There are many different tools in the app that add details to your photos or change something you don't like.
Your beauty is guaranteed to be breathtaking as you get perfect skin and proportions. All the functionality is very intuitive, and a user-friendly interface lets you quickly get to the right tool and get instructions on how to use it. For advanced users, there is a paid subscription feature.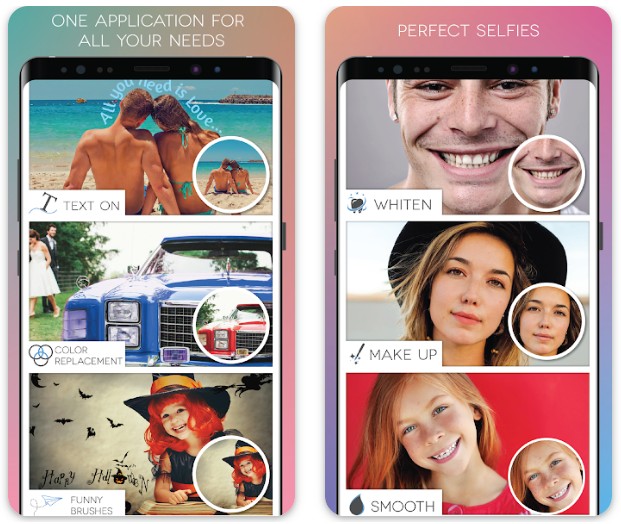 Mint – Selfie Face & Snap Filters, Photo Editor
Selfie is the most common type of photo taken in our time. It is really hard to find someone who doesn't have pictures of their face in their smartphone gallery.
However, sometimes it happens that your nose seems too big in the picture – for this reason, you may not be able to post the picture or send it to anyone. Still, there is a solution – with the Mint photo editor you can easily turn a failed frame into a beautiful photo.
Mint has a variety of beauty tools to help you improve your photo. These can be either light and color correction in the picture or a real virtual surgeon's tool. The most important thing is that after all the editing, you'll still look natural without the highlights of Photoshop.
Mint allows you to enlarge your eyes or shorten your nose so that the viewer will not notice any changes. Experiment with filters, processing, and use several options at once for better results.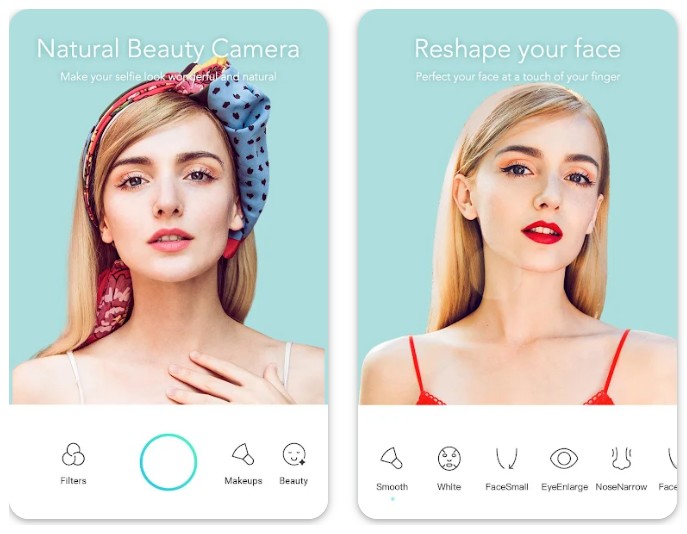 You may also like: 13 Best passport photo apps for Android & iOS
AirBrush
AirBrush is one of the applications that has become popular around the world as a professional photo editor. Feedback left by users is almost all positive and it is really hard to find the disadvantages in the service.
Here you will find the easiest but most convenient tools for photo editing. All of them are designed so that you can achieve a perfect result in processing.
You'll be able to shine in your photos even without the highlighter – your skin will be clean, without a single pimple or wrinkle. In the same way, you can fix absolutely everything on your face – lips, eyes, and of course the nose.
You can stretch or reduce any detail on your face – to work carefully, it's better to zoom into the area you're working with. AirBrush professional tools and photo effects make even the worst shot a great Instagram post. All you have to do is post the perfect result to your social networks.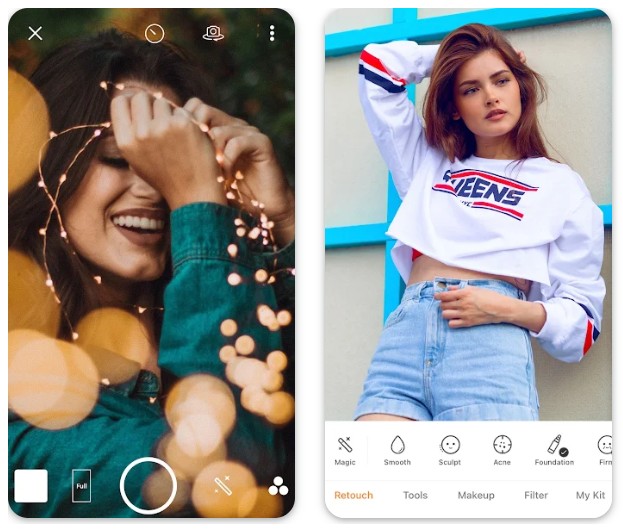 Photo Editor Pro
Anything you want to change can be edited in Photo Editor Pro. Here you'll find stylish effects to process your photo, add vivid patterns, change outlines, and even draw something.
You can send photos to friends or social networks right away from Photo Editor Pro. For this reason, the app can also automatically crop photos for other services.
To start editing, you'll need to import a photo from the gallery or take it with the app. Built-in features can automatically make your body look thinner, add abs or something else.
If you want to edit your face (particularly your nose), you'd better do it yourself and manually. In this way, you will definitely get exactly the result you expect.
By the way, Photo Editor Pro doesn't leave watermarks in your photos – so no one will know that you've changed anything.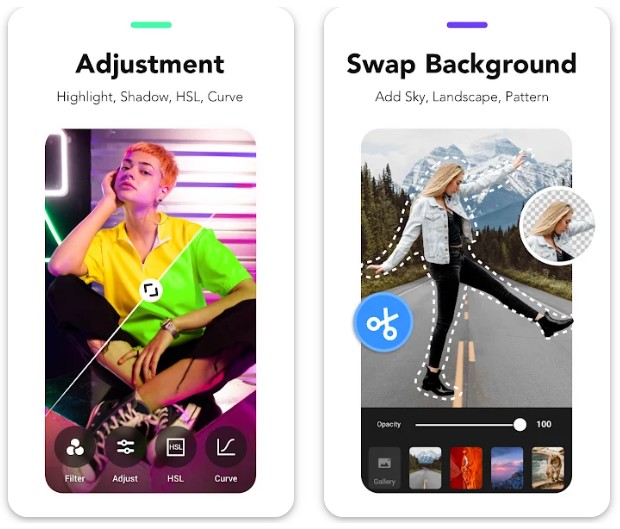 You may also like: 7 Best double exposure photo apps (Android & iOS)
Adobe Photoshop Express
Of course, we could not ignore the main application – Adobe Photoshop. For quick changes and editing of photos, developers offer you to use Adobe Photoshop Express application, where everything will happen in minutes.
Professional editing is available to you right in your smartphone, and the application provides a full range of professional tools.
Here you can fix the angle of your photos, remove unnecessary details or reduce the grain – so the picture will look "clean". The Quick Fix function automatically adjusts all the details of color and lighting to make you look your best.
Of course, Adobe Photoshop Express also has separate tools for imaginary plastics. With their help, you can make a spot correction of your face so that no one notices the intervention. Download the pocket version of Photoshop in your smartphone!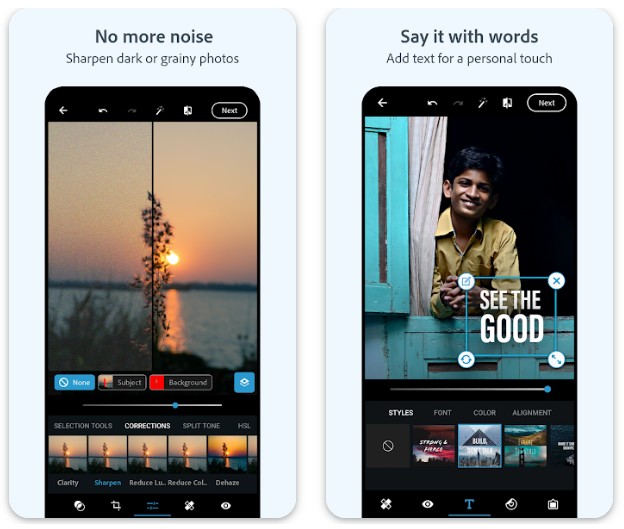 Soda
If you are looking for an app that can help you edit your nose and make it look more attractive, then Soda is the app for you. The app is highly effective in this regard and can make a huge difference in the way you look.
One of the most unique features of Soda is its ability to edit the nose of the user. This feature is highly innovative and can make a huge difference in the way a person's face looks.
What's more, there are vast collections of filters and special tools to change photos and make them much better.
The app is also highly responsive, and users can edit their selfies in real time, which makes the entire process much more efficient.
However, some of the editing tools are not as effective as they should be, and users have reported that certain features can make their selfies look unnatural.
Advantages:
User-friendly interface.
Innovative nose editing feature.
Clean and modern graphics.
Drawbacks:
Occasional crashes were reported.
Some editing tools are not as effective.
Some features can make selfies look unnatural.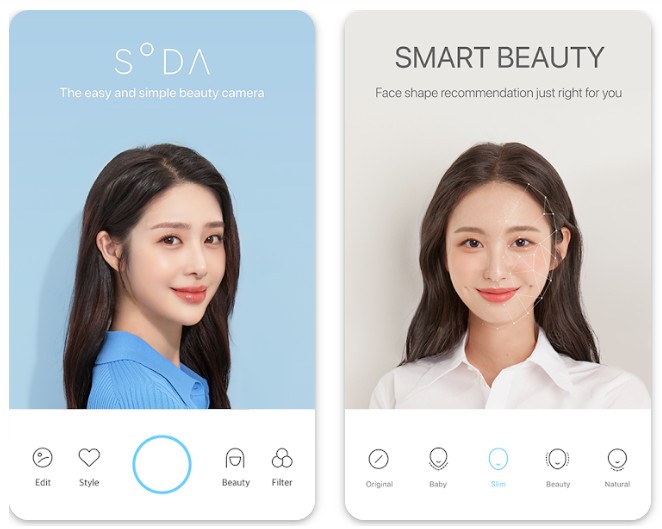 You may also like: 11 Best Scary Face Changing Apps for Android & iOS
Snow
This is a popular app that offers a unique way to edit photos and videos, specifically by enhancing the appearance of one's face with makeup and other beauty effects.
In addition, the app features a variety of filters and stickers that users can apply to their photos and videos, making it a great choice for those who enjoy experimenting with different looks.
Do you want to edit your nose in the photo? It is extremely simple, just select the appropriate feature in the filter menu and then the magic will happen.
Though, some users have noted that the app's nose editing feature can be somewhat hit or miss, with some edits appearing unnatural or overly exaggerated.
Snow is still a great app to use for those who are looking to enhance their appearance in photos and videos.
The app's range of features and ease of use make it a great choice for anyone who wants to experiment with different makeup looks, and the high-quality graphics make it a pleasure to use.
Advantages:
Easy to use interface.
Wide range of features.
Real-time camera feature.
High-quality graphics.
Drawbacks:
Can be slow to load.
The nose editing feature can be hit or miss.