For all those grown-ups and kids keen on cooking, there is a large number of free cooking games available for Android and iOS.
Run your own restaurant and become a professional chef preparing different meals such as burgers, pizza, tacos, donuts and etc. Check the list for the best cooking games that don't require an internet connection all the time.
You may also like: 11 Best Free Restaurant Finder Apps for iPhone & Android
See what you like more: serving guests, growing your restaurant business, or making dishes following step by step instructions.
Cooking Mama Let's Cook!
The Cooking Mama app is the successor of a Nintendo game that was popular a long time ago. Now it became available for smartphones and other devices. A modern version of the game is available for both Android & iOS platforms.
Let's see what can you do in this game:
Learn how to cook step by step making simple but important actions. For example, peel and chop the onion with a knife on the cooking board. The process looks so real and natural. If you have never chopped the onion before you definitely will learn it.

Harvest from your own farm. You can raise animals on the farm, grow plants on the field, care for an orchard with fruits, and make fishing in the lake or river.

Run your restaurant. After preparing a lot of meals you will be able to launch a restaurant as a business.
The game is considered as the most popular cooking game all over the world. Many people of different ages are immersed in it.
The Cooking Mama game has extra benefits:
More than 30 recipes are available to cook for free.

More than 20 other in-apps games to play except cooking.

Some recipes go with realistic cooking videos.

Over 30 languages are available including Arabic and Chinese.
The game is free to play from any device but a lot of offers and promotions will be suggested to you in order to purchase extra items for a game.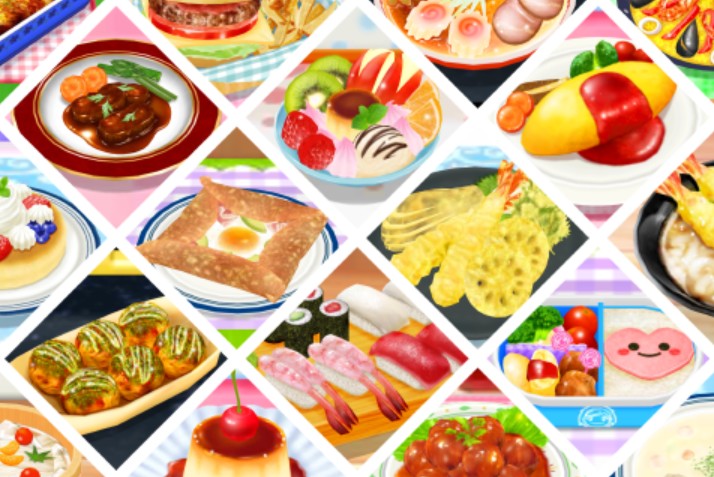 You can also check: 11 Free Cooking Apps for Beginners (Android & iOS)
Toca Kitchen 2
Toca Kitchen 2 is a quite unusual cooking game where you can improvise recipes and dishes. Boil strawberry or tomato, fry banana, and make fruit burger. Surprise guests by making them unique and new food combinations and watch their reaction.
The game is good for young children because it will help them to be creative and develop their imagination. It's amusing to watch guests' reactions when they are trying food they don't like.
Features:
Preparing meals using the food you have.

Feeding to one of three chosen characters.

Easy access to food. Tap on the fridge on the left hand.

Tool Shelf. You will have a cutting board, a juicer to mix food, frying pan, deep fryer, etc.

Seasoning and

sauces

to play with food taste.
The game is free for Android users. Unfortunately for iOS users, the game isn't free, though it costs only 3.99$ without additional in-app purchases.


Airplane Chefs
In Airplane Chefs, you'll whip up a wide range of delectable dishes, from breakfast delights to mouthwatering main courses and scrumptious desserts.
Put your culinary skills to the test as you race against the clock to prepare and serve orders, ensuring each passenger's satisfaction with your culinary creations.
Main Features:
Engaging gameplay that combines cooking and time management
A variety of airplanes and unique challenges to conquer
Exciting power-ups to boost your efficiency
Vibrant graphics and intuitive controls for a seamless gaming experience
Airplane Chefs is your chance to turn mealtime into an adventure! Serve up happiness and make passengers' flights truly unforgettable. Soar through the skies, satisfy appetites, and spread the joy of food with this delightful game.
Finally, this game is not ideal but it is still able to entertain you when you do not have access to the Internet.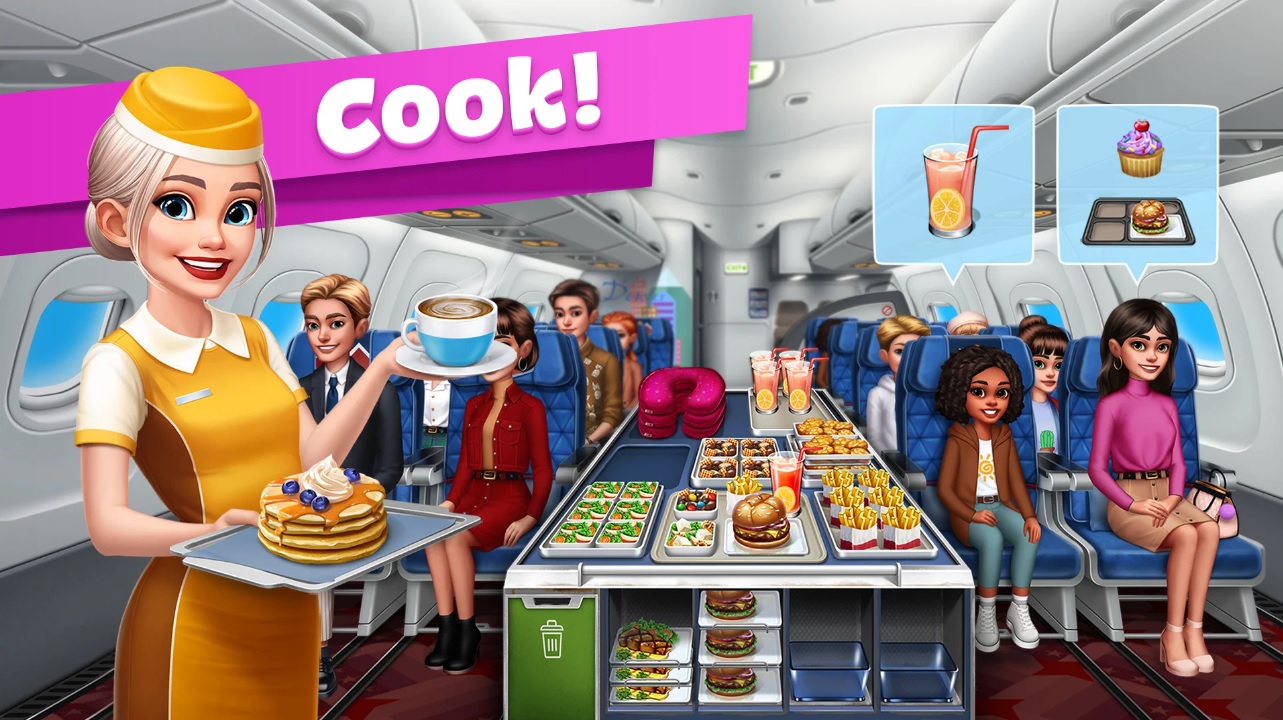 World Chef
World Chef is one of the most popular cooking games available for Android and iOS. The game is free to play without an internet connection. Despite this, you will receive suggestions to proceed with in-app purchases if you need to speed up your game success.
The main idea of the game is to open a restaurant and develop your business while increasing the profit, increasing the size of the restaurant, and preparing more new meals. You will find meals from different countries and cultures: Italian, American, Mexican, Japanese to name a few.
Features:
Run a restaurant, decorate it to your liking, and make it successful.

Buy new food ingredients and create new delicious dishes.

Different countries' cousins are available to cook.

Grow plants in your garden and sell them to have a higher profit.

Develop your restaurant business expanding the size of the place, changing decoration, and buying new equipment.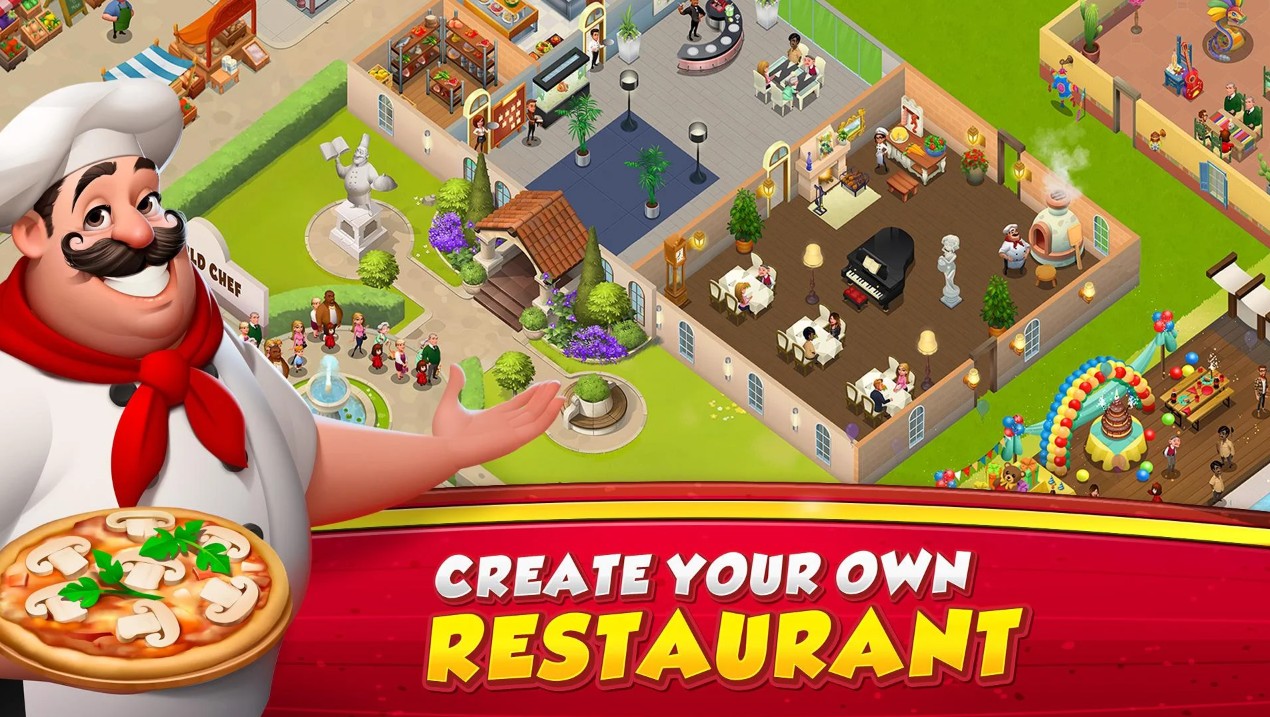 Cooking Diary
Cooking Diary is yet another popular cooking game where you will run your restaurant or cafe. It's available for free both iOS and Android platforms. The app is resource hungry so free space on your device memory.
Choose a chef character, boy or girl, start a restaurant and begin to cook. There are many different characters in the game that can play the role of hero chef. You can customize the chef's look by changing his/her clothes.
Main features:
Inherit a restaurant, manage it. Be fast serving as customers are waiting and their unsatisfying can play a bad role for you.

Change your restaurant's decoration.

You will be able to create a character from scratch choosing a color of the skin, hair, sie of lips and nose.

There are more than 300 items of clothing to try on your character.

The game`s design is stunning and includes videos and stories.
The game is fun to play and you will want to move up through levels.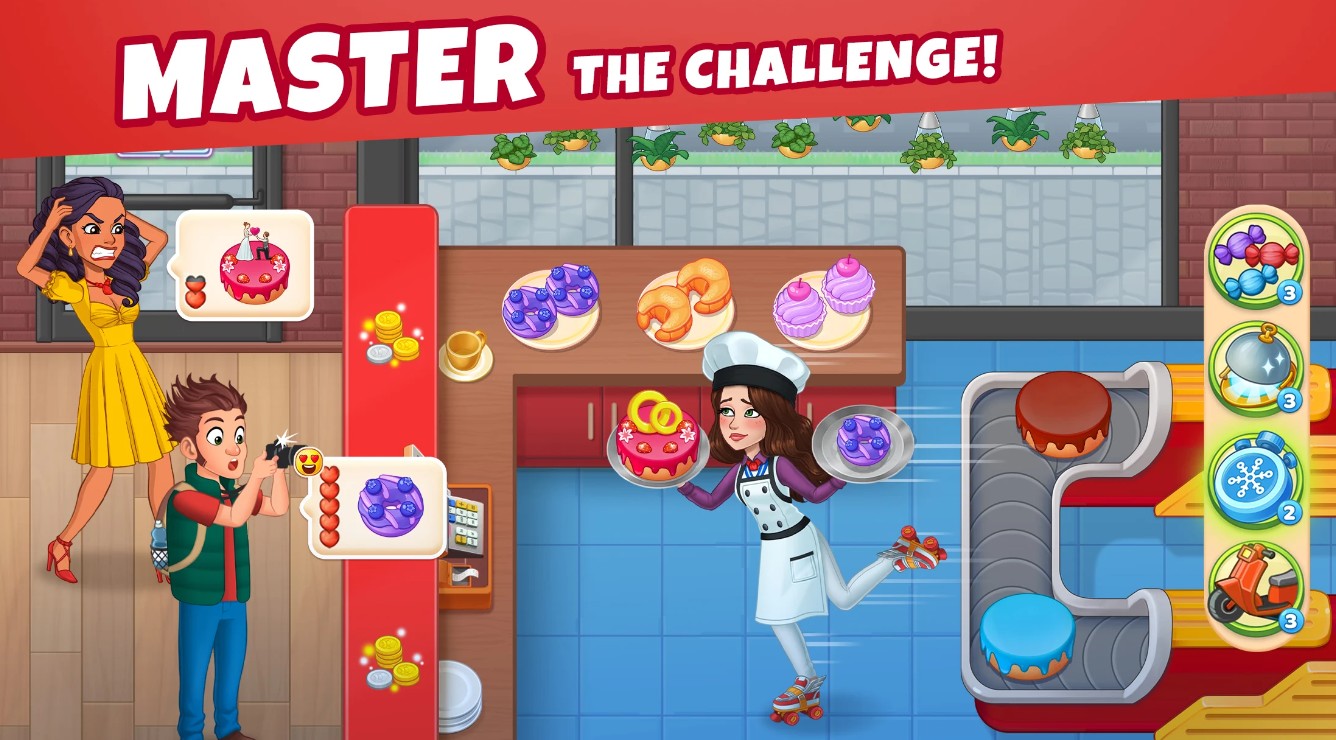 You can also check: 25 Free offline Android games
Cooking Fever
Cooking Fever is an extremely captivating game that combines the elements of RPG and action game. The main plot is that you own your restaurant and you need to take care of it so it would prosper. When the game starts you can choose which kind of restaurant and what kind of cuisine you would like to have there.
In order to attract more clients, you need to decorate your restaurant, decorate your food, and constantly explore new recipes. Make your own freebies, such as cookies or cupcakes, to make your customers' experience more personal and memorable.
You are standing behind and counter and constantly receive new orders. Your task is to make these orders as fast as possible. And don't mess up any ingredients because it will ruin the customer's experience of the dish. As you pass the levels, the game gets more difficult. In total, there are more than 100 levels to pass!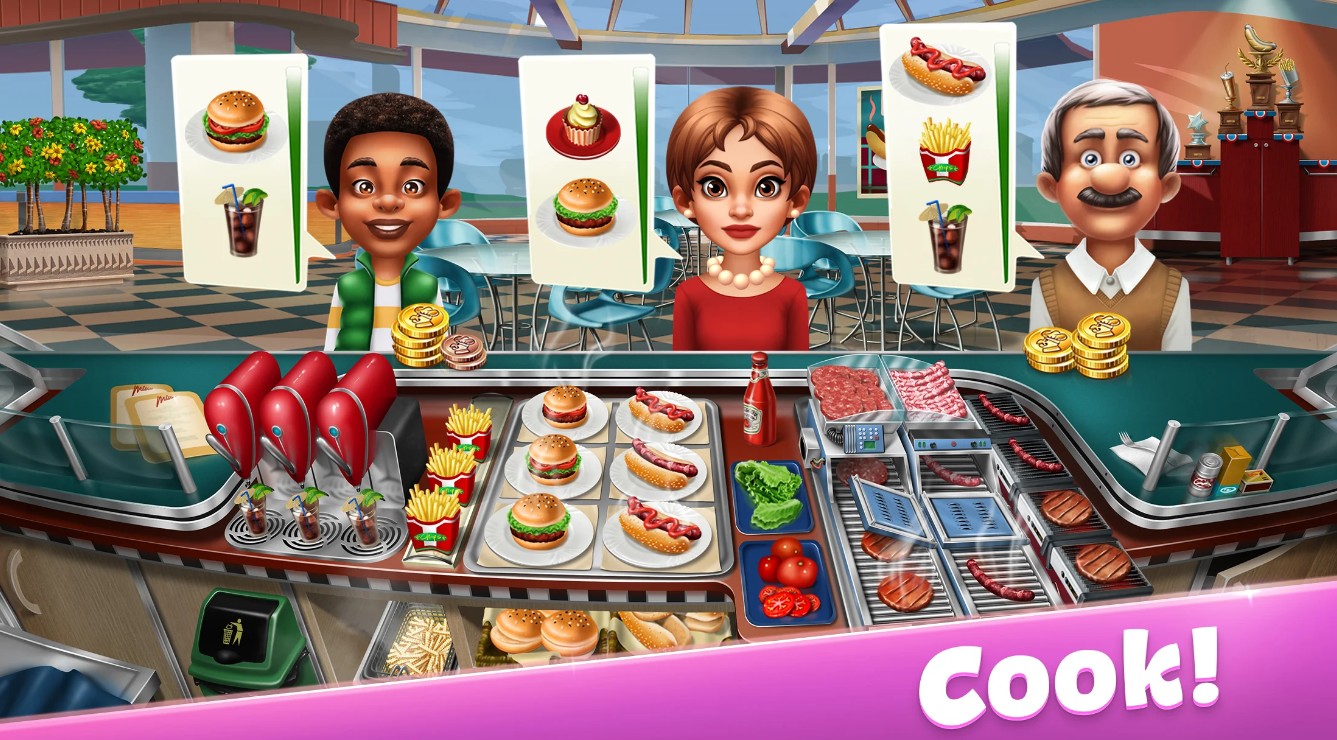 Good Pizza, Great Pizza
You won't find someone who doesn't love pizza. Some of us like even to prepare it. Good Pizza, Great Pizza is a free simple popular game that lets you bake a pizza without getting dirty. In this game, you have an important duty- to run and manage your pizza cafe serving customers.
Probably if you have never tried to make a real pizza on your own the app will teach you that. Learn the main steps in making a perfect pizza: spread the dough, add sauces and cheese as main ingredients. Remember that ingredients cost money. Be wise and don't overdo your pizza.
Follow a step by step instruction to make pizza. Swipe the screen from left to the right going from the cooking board to the oven and then to the cutting table to complete a customer's order.
Earn more money, get a profit, boost your popularity without much effort, and little stress. The Good Pizza, Great Pizza is a simple fun game that will entertain you in your time break.
The game was designed by a person who worked in a pizza kitchen for years. That's why maybe it looks like a real pizza restaurant. The app supports a big number of languages including Chinese and Indonesian.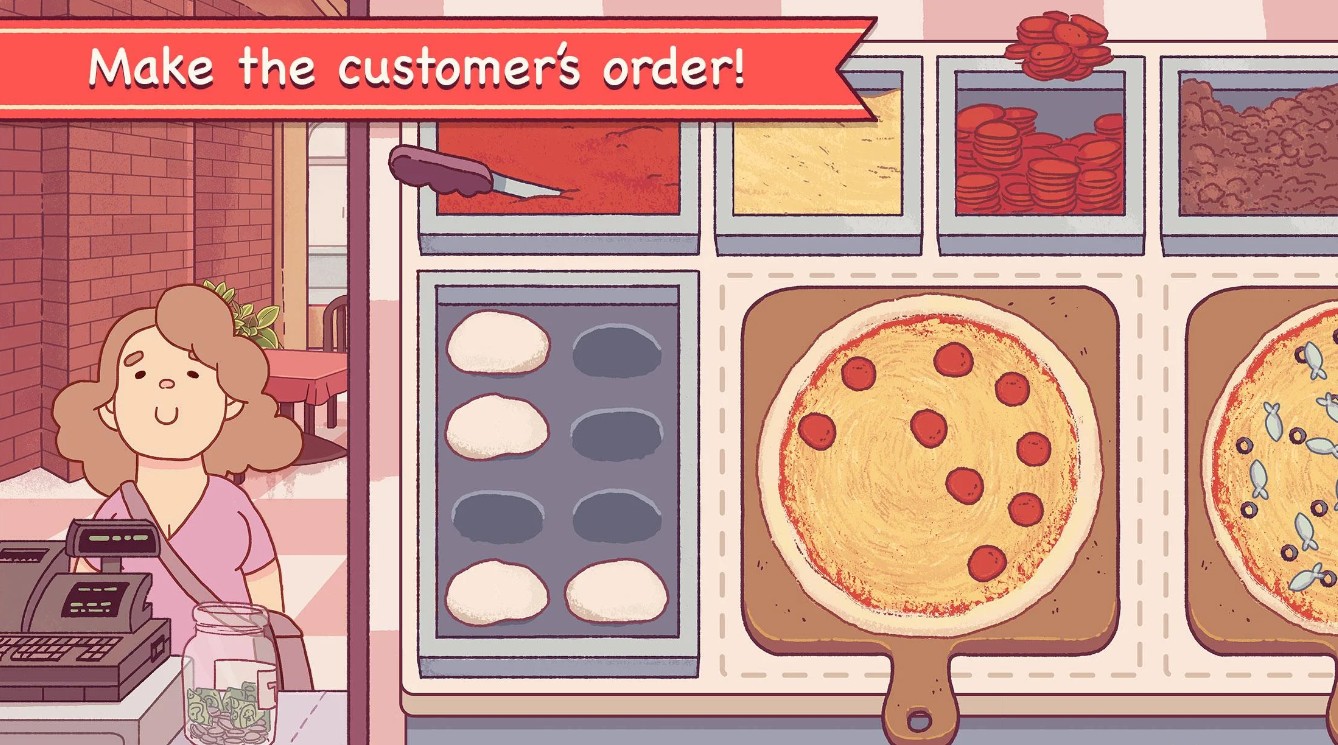 Cooking Madness
In this addictive cooking game, you'll embark on a journey to become a master chef, whipping up delicious dishes from around the world and serving them to hungry customers.
Cooking Madness offers a diverse and extensive menu of dishes to prepare, from mouthwatering burgers and sizzling steaks to delectable desserts and exotic cuisines.
As you progress through the game, you'll unlock new ingredients, kitchen tools, and upgrades, enhancing your cooking abilities and expanding your culinary repertoire.
Main Features:
Exciting cooking challenges with a wide range of dishes to prepare
Upgrade your kitchen and cooking equipment to become a top chef
Time management skills put to the test in fast-paced gameplay
Travel to different locations and experience unique culinary cultures
Complete daily tasks and earn rewards to level up your chef career
Cooking Madness can be played offline, ensuring that the cooking fun never stops even without an internet connection.
All in all, this game can become your favorite one as it provides you with fun and offline mode.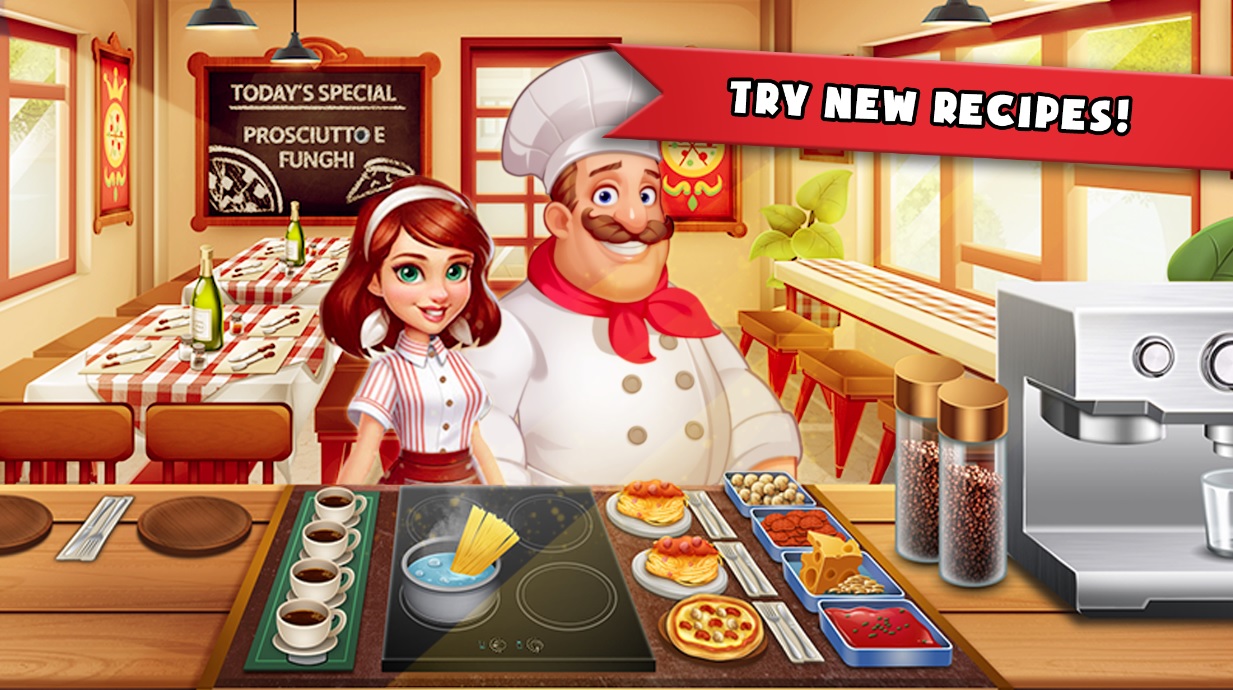 Cafeland
Cafeland game will leave you with a big smile on your face! In this fun and addictive game, you'll have the chance to build and run your very own dream cafe, serving delicious dishes and desserts to your customers.
You can cook a wide variety of dishes, including burgers, pizzas, pasta, sushi, cakes, and much more. Show off your cooking skills and creativity as you design your menu and prepare mouthwatering meals to satisfy the taste buds of your hungry patrons.
As you progress in the game, you can customize and decorate your cafe to create a unique and cozy dining atmosphere. Interact with customers, fulfill their orders, and earn coins and rewards to expand and improve your cafe.
Main Features:
A vast selection of dishes to cook, from appetizers to desserts
Customize and decorate your cafe to make it a charming and welcoming place
Complete food truck orders and earn special rewards
Interact with customers and build relationships with them for more bonuses
The best part is that Cafeland can be played offline, allowing you to continue managing your cafe and cooking up a storm even without an internet connection.
In conclusion, this game allows you to put on your chef hat, get creative in the kitchen, and let the cooking madness begin in Cafeland!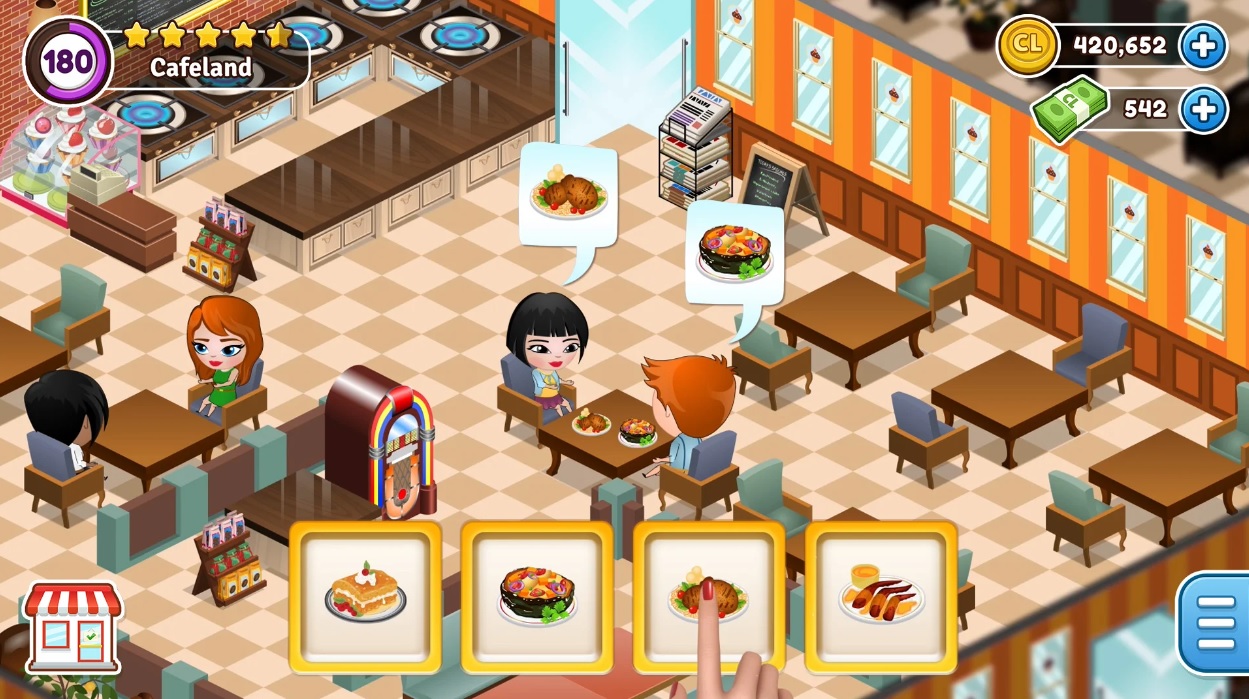 Cooking in the Kitchen
Cooking in the Kitchen is a simple cooking game suitable for children under 8. The main idea is to follow up on the instructions and maintain the process of preparing a meal. There is no need to run a restaurant and complete the tasks to reach the next level.
You will find around 25 different recipes from spaghetti to donuts. All that you need is to take some ingredients, boil them or fry in the pan, add some veggies and spices and prepare a nice meal.
Examples of dishes to prepare in the game:
Fries, hamburgers, and hot dogs as a favorite fast food.

Bake cupcakes with wuffles and season them with ice cream and toppings as a desert.

French croissants or pancakes with fruits and syrups for breakfast.

Mexican Taco`s or sushi with favorite ingredients.
The number of dishes is constantly growing so you won't get bored. The game is free with some additional in-app purchases. The game has a fine and neat design. All of these make the game popular among Android users.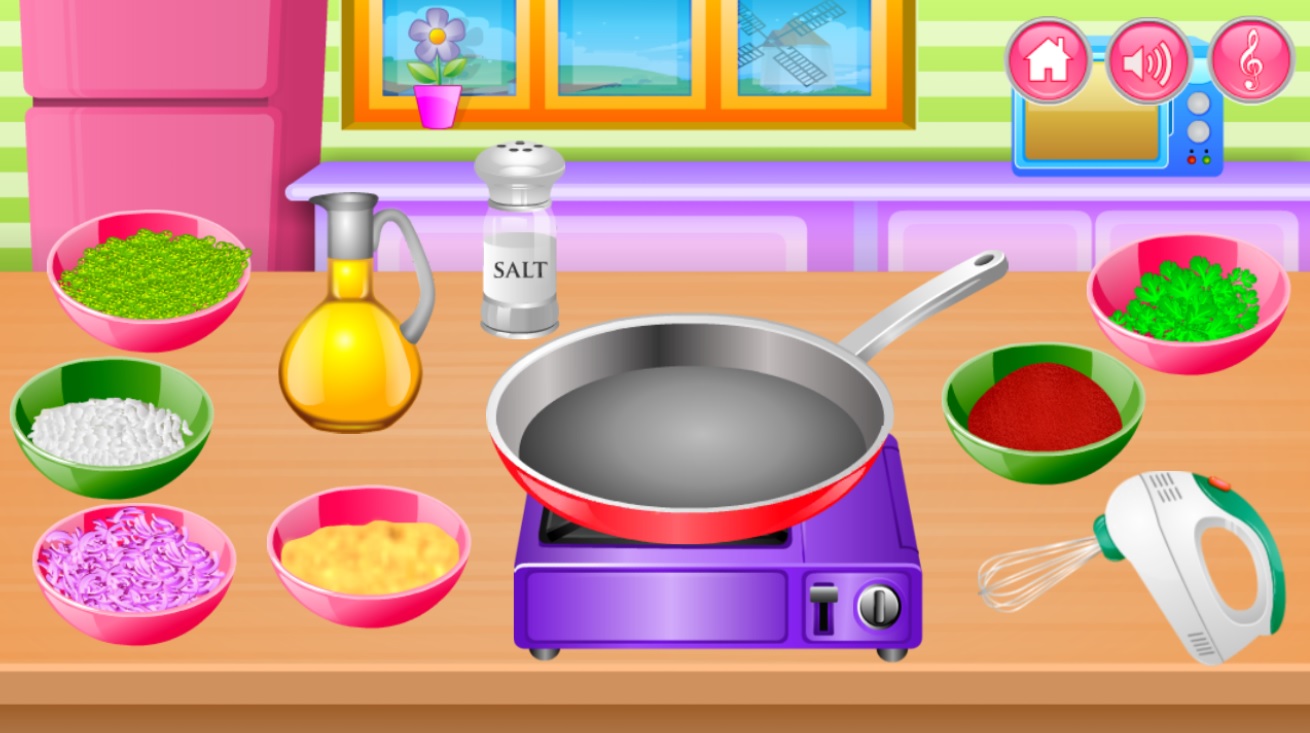 Cooking Craze: Get Cooking and Get Moving
Run your fast food restaurant with the Cooking craze app game making donuts burgers and hotdogs. This very accurately designed game with the colorful interface will make you crave for food you have prepared on your own. The game involves you in managing a restaurant, serving customers, and fulfilling their needs.
Features of Cooking Craze:
Cook, bake, and grill following step by step instructions.

Time management. Don't be slow so that you won't make customers angry.

Learn to be a good entrepreneur and restaurateur – start-up new restaurants in different cities.

Earn money and points to achieve the next level.
Be that crazy chef that cooks fast delicious meals and grab the money in no time gaining more game points. Users can play the game offline after downloading some content. So prepare an extra memory space on your device.
The game is supported by Android and iOS.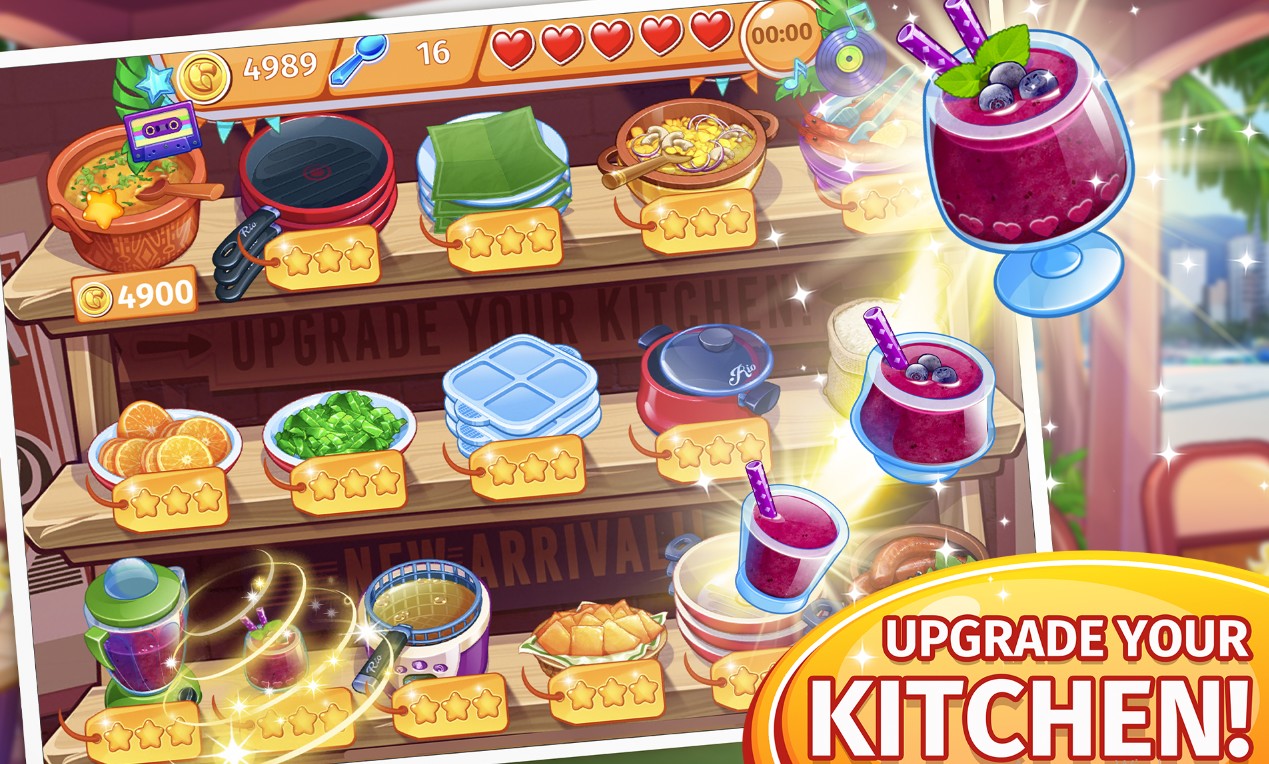 Food Truck Chef™
One of the most popular games on the market. If you are a fan of fast food and you would like to get your virtual truck where you could cook chicken, noodles, tacos, pies, pancakes, bagels, pretzels, bacon, and many other delicious things – you should check this app out.
The idea of the game is pretty classy – you are standing behind the counter and you need to cook the orders by customers as quickly as possible. You can be creative and decorate the food in your own style.
An interesting feature of this game is you can travel with your truck around the world and the type of cuisine that you cook changes depending on the location where you are at. The only drawback of this game it doesn't have the graphics the same good as the other apps.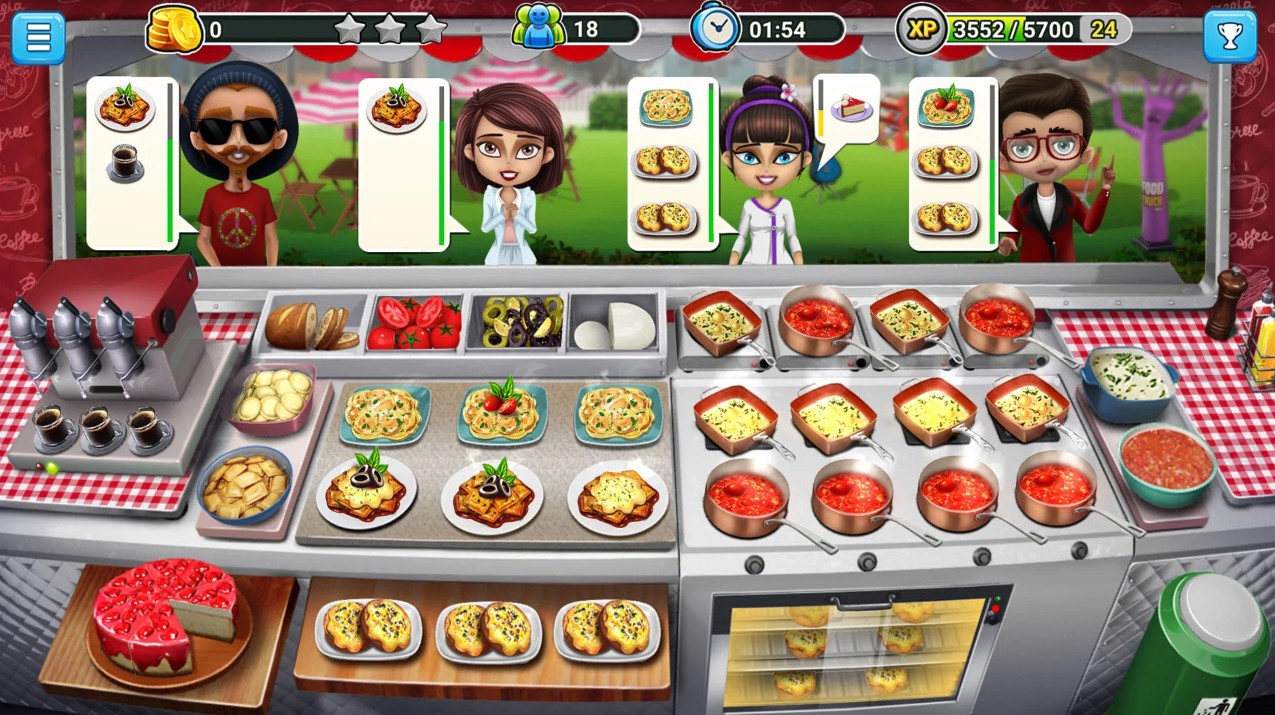 You may also like: 17 Best Crockpot recipe apps for Android & iOS
Cooking Dash™
This game has more simple graphics however, it is interesting to play. This is just one of the games in this "dash" series and you can explore other cooking game apps that can be found on this list. Here you are going to play for the main protagonist of the game, Flo.
Her task is to become a cooking star on TV – and your task is to lead her to the top! Practice and practice, so her cooking skills are getting better. There is a ton of small interesting features in this game that you might explore in the process – for example, collect points and upgrade your equipment and your kitchen.