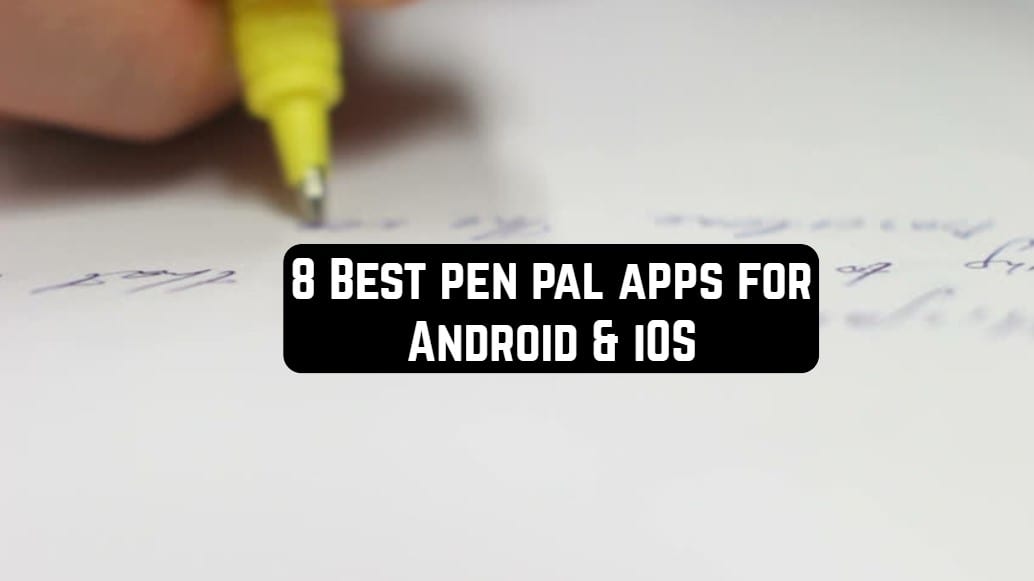 Penpal friendship can be very interesting and useful, because you can find someone who will be your friend for life. Fortunately, with the advent of the Internet, it became much easier to search for pen-pals, because a lot of communication sites and apps appeared. Especially for you, we have selected the best pen pal apps that will help you find an interlocutor from abroad for pleasant communication and practice of speaking in almost any language.
Pen Pals
This is a great application to find a pen pal anywhere in the world. With this program, you can easily make new friends, be able to correspond with people who have never met before, exchange instant messages.
Learn the culture of your new companion, recognize people from other countries – the UK, Germany, Canada, China, etc.
back to menu ↑
Hello Pal
Hello Pal is a free and very progressive social service, thanks to which users from all over the world can communicate with each other, thereby improving their language skills. The application is suitable for users who are already fluent in foreign languages, as well as beginners, who possess only minimal knowledge.
According to the developers of the program, their goal is to unite people with the same interests from different parts of the world despite the language barrier. Hello Pal boasts a nice interface and extensive functionality.
Communication with other users takes place in a special chat room equipped with an integrated online translator and a phrase book, with which you can add ready-made phrases to the chat from various subject headings. In addition, the application not only displays phrases on the screen but also knows how to voice them at a normal and slow pace, thereby allowing the user to hone pronunciation. Moreover, the program after recording allows you to listen to the phrase, and if necessary, record it again.
There are downloadable language packs (currently available only for eleven languages), a game test to test knowledge, search for the most appropriate interlocutors by filtering by various parameters, including the languages being studied, gender and age.
The main features of Hello Pal:
More than 100,000 interlocutors from around the world.
Filtering potential interlocutors by native and studied language, nationality, territorial location, and so on.
Integrated Phrasebooks in any language.
The ability to listen to a professional audio recording and repeat it for the speaker.
Built-in phrase builder (more than 2000 phrases combined into 14 categories and more than 100 subsections).
Phrases and dictionaries in the phrasebook are also complemented by a literal translation and commentary.
Own translators to learn new words without interrupting communication.
back to menu ↑
HelloTalk
The application can be used even without the knowledge of languages, just to chat with different people around the world. The service offers special transliteration and translation functions.
You can record voice messages in any language, and the application system will translate the phrase into the interlocutor's native language. The same in reverse.
There is a text chat with the possibility of mutual adjustment.
The function of checking and translating messages before sending to the other party.
All messages that are sent by a native speaker can be translated into Russian automatically.
Separate phrases from the chat can be saved and listened to.
For additional practice, open discussion topics to chat with native speakers in the comments.
back to menu ↑
Tandem
Tandem mobile application will introduce people from different countries who will help you to understand foreign speech well and speak fluently yourself. This app helps you find a real foreign interlocutor, a pen pal, with whom you can practice in the language you are learning. Currently, more than 3 million users are registered in the application, so finding a character that is suitable in terms of age and interests is not at all difficult.
In the application, you can join the discussion of one of the topics or create your own. There is also an opportunity to choose your interlocutor and start a live communication with him. For this, you can use audio and video calls, as well as text chat.
When selecting a companion, it is better to choose those who study your language so that you can establish a mutually beneficial exchange of knowledge. In this case, interest in classes will be on both sides.
back to menu ↑
Anygram : Make Global Friends
Not the most famous, but also quite a useful service, in which the interlocutor can be found by interests, be it music, movies or computer games. After all, it is much more entertaining to learn the language, talking about their hobbies. This is a convenient service, thanks to which you can find pan pal friends from abroad, can get to know them and improve your knowledge in a foreign language.
Engage in language exchange in different ways, allow yourself and others to learn a new language. Even if you do not know the language, you can still communicate with your interlocutor – thanks to the built-in translator in the chat.
This service also highlights the function of ignoring people with bad manners in communication. The level of goodwill of each potential interlocutor varies depending on his behavior in the chat and is taken into account in the selection.
Learn the culture of your interlocutor, communicate, learn languages and just have a good time by correspondence.
back to menu ↑
Speaky
Chatting with native speakers has become even easier. A convenient application for Speaky – Language Exchange allows you to hone foreign language skills at any convenient time, find a pen pal friend, meet new people, get knowledge online and help others learn the subtleties of their native language. Studying the features of conversational dialects will make you more confident in yourself and when applying for a job, and while traveling.
Speaky – Language exchange gives you the opportunity to choose a suitable interlocutor and do without a teacher or other intermediary. The interface of the free application is similar in appearance to the Skype program environment, but in "Speaky" there is no need to search for a carrier for a long time, willing to help you with foreign language practice for free. For peculiar lessons to be fun, organize a conference, gathering the most interesting people for you.
The application for linguistic exchange groups like-minded users provides access to personal chat and has the function of video conferencing. The built-in error analyzer will help to correct the grammar and will tell you how to build sentences correctly. Advertising fully compensates the costs of developers, making Speaky – Language exchange free for all comers.
Those who want to help foreigners to learn a language can try themselves as teachers. Help those who wish to practice your language or simply find a pen-friend, learn new and useful things every day.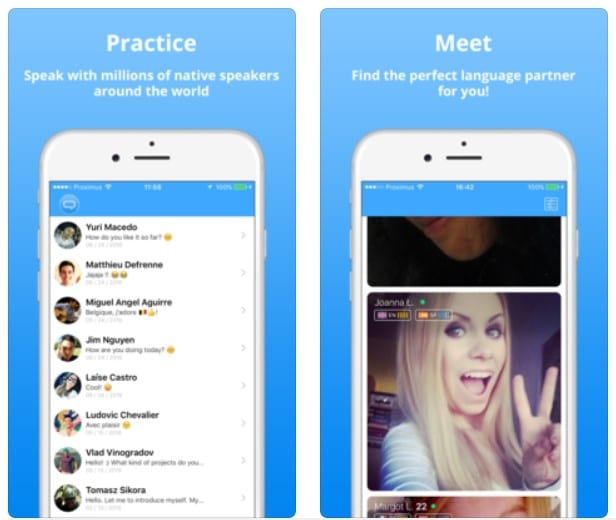 back to menu ↑
HiNative
If you are not yet ready for direct conversation and correspondence, then HiNative service will be the best choice for communication with native speakers. It offers a less stressful for someone format "question-answer". You can immediately ask a dozen other users who know the language you need.
Questions can be formed using ready-made templates if necessary supplementing them with images or audio recordings. The latter will evaluate your pronunciation and correct it, if necessary.
back to menu ↑
Hit Me Up!
Hit me up is a very interesting chat that connects you with people from all over the world. And if you are looking for an opportunity to meet new people with your smartphone, without revealing your phone number, then this application is ideal for you.
In Hit me up, you can create a profile that reflects your character and encourages other people with similar interests to communicate with you. You can add your photo with a brief description, indicating your age, country of residence, and gender.
Hit me up works very simple. The application is designed to communicate with a variety of people. The first tab is a list of all people online at the moment or recently existed online and you can start to communicate with them. In the second tab will be all your chats. If you do not want to communicate with someone, you can block such a user.
Contacting other users is easy, just start chatting with them. And also, if you find it difficult to decide who to talk to, you can automatically send a short greeting to ten people. Find new friends!