Mystic creatures and dragons, magic adventures, and courageous knights… The legends about dragons have always been filled up with action. As a consequence, there are plenty of offline dragon games that you can play with no internet signal.
And for all dragon game fans, we also have to offer an article about the best dungeons and dragons apps.
Dragons: Rise of Berk
Probably we all know the famous movie "How to Train Your Dragon" and there is no surprise we put the game based on its idea the opposition of our list.
Among games about dragons that also can work offline, this one, probably, is the most popular one with more than 50 million downloads.
This is an RPG game where you have to grow your kingdom by building objects, acquiring dragons, training dragons, and winning battles. One of the most prominent features of the game is that it contains so many pieces of dragons! Literally, all the kinds – large and small, chubby and skinny, red, white, blue, purple…
The graphics of the game is a mix of 2D and 3D world. When you are reviewing the location there is so much going on so it can be difficult to navigate at first. Lots of details and colors – a scheme like this repeats the style of a cartoon.
In total, the game contains 60 various islands that you are about to explore. Going through the missions, you are unlocking new lands and new friends!
Moreover, one of your main tasks is to feed dragons so they stay healthy and happy and can win battles. Your success in those depends on the overall health of creatures, their training, and their breed. The gameplay is quite standard during the battle mode – just click one by one.
And for those who want to have access to all the possibilities and goodies that Dragons: Rise of Berk offers – you have to prepare your money since a number of items in the game are paid and it's a major inconvenience.
Briefly about the game:
Based on "How to Train Your Dragon"
RPG game
Lots of colors
Detailed locations
More than 60 levels
More than 70 breeds of dragons
Epic battles
The mix of 2D and 3D graphics
Lots of paid content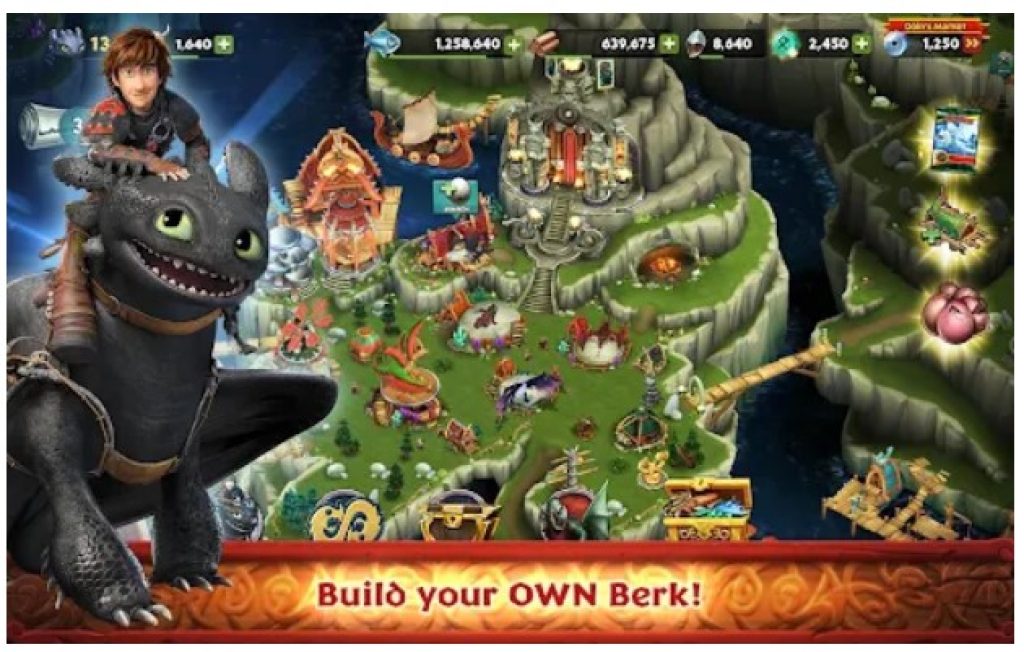 You may also like: 11 Best Offline War Games for Android
Hungry Dragon
This is a 3D game where you have to – you guessed it – help the dragon to find food! Indeed, there are plenty of creatures in each location that this dragon can swallow, your task is just to eat as much as you can in the limited amount of time.
The distinctive feature of Hungry Dragon is how many details this game contains. The first hallmark of the game is that it is made in 3D graphics, unlike most offline dragon games. What is more, the size of each location is quite impressive.
Throughout the game, your task will be not only to feed the dragons but to gather your own collection of them. With each new reward, you unlock a new dragon.
It seemed like the fact that the game is more elaborate in the sense of graphics and ideas was supposed to make the gameplay more complicated. However, the developers managed to keep the controls more or less flexible, so you can move the dragon by tapping on it.
Moreover, Hungry Dragon is all about destruction. If you like the games where you have to demolish and destroy everything on your way, this is the game for you.
Briefly about the game:
Feed the dragon as fast as possible
Wonderful 3D graphics
Destruction game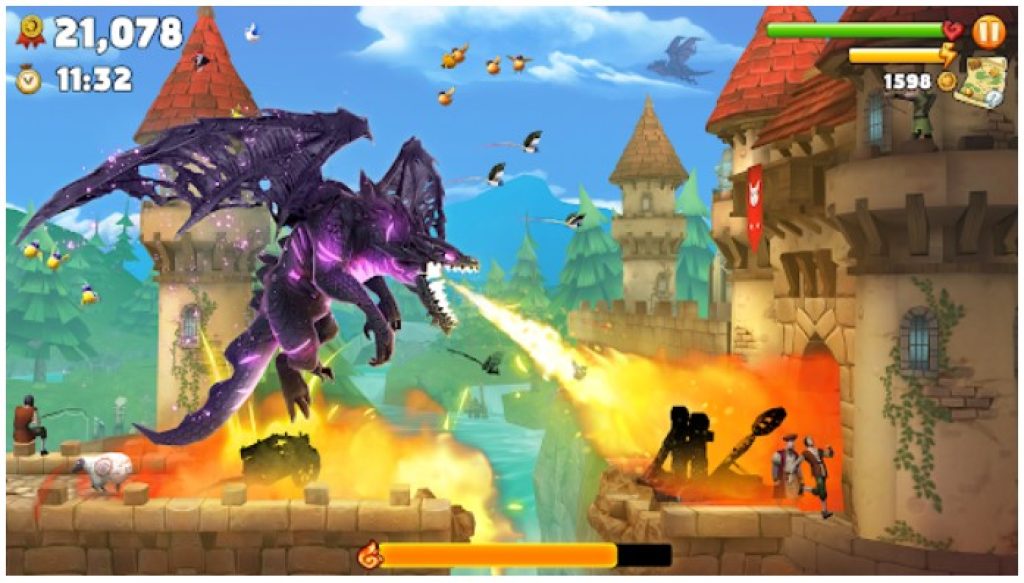 Dragon Hills 2
Its predecessor, Dragon Hills, was a cool and exciting arcade game, but the sequel is even more fun! More breathtaking locations, more gems, more enemies to eat, more obstacles, and finally more levels!
Dragon Hills is a simple game where a girl is riding the dragon – you can control the dragon with the swipe of your finger while going through the level. On its way, the dragon faces various things and obstacles and you need to either avoid them or destroy them.
What is more, in comparison to the first part of this game, the developers definitely added more details to the locations so they look extremely eye-catching and allow you to dive into the atmosphere of adventure.
And unlike in the first game, in Dragon Hills 2 you are able to move not only on the ground but also under the ground and above!
Even those who downloaded this game just for casual playing from time to time will discover themselves playing Dragon Hills 2 for hours – we tested it so we know for sure. However, this might be also its slight disadvantage – sometimes it gets a little bit too difficult to relax.
Shortly about the game:
Colorful locations
Easy gameplay
Variety of mobility options
More levels added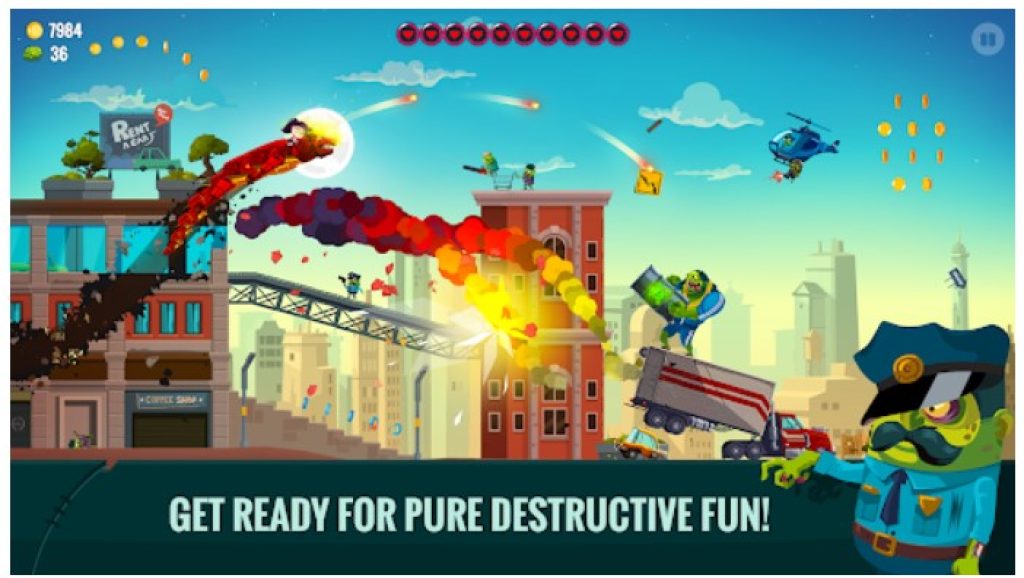 Dragon Mania Legends
It's another game about dragons on our list and probably the cutest one. However, you should keep in mind that lots of possibilities of this app will be unavailable in the offline mode.
First, you get an egg and a cute little dragon breaks out of it. You need to take care of it and raise it. When the dragon has grown, it can take part in battles and breed further. Thus, you can breed your own team of dragons!
In total, there are about 100 species of dragons that you can collect.
At first sight, it might seem like dragon mania is an RPG game, but in fact, this is more a collection of mini-games, and each of those offers you a different variation. For example, there are battle games, raise your dragon games and even AR games which are especially funny.
And what's really cool is there are almost no major drawbacks. Of course, on various devices, the game might have lagged, but it happens quite rarely.
Briefly about the game:
Super cute dragons
Variations of mission and mini-games
Cool 2D graphics
Lots of built-in purchases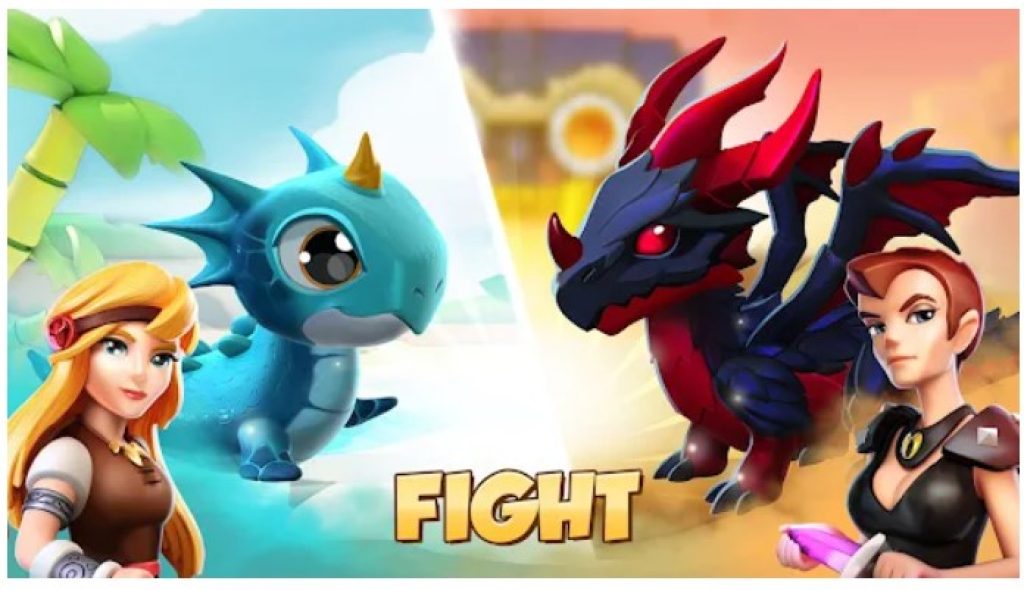 Dragon Hills
The game loved by everyone. It is quite simple in its nature, but its idea and overall atmosphere have something catching that make Dragon Hills addictive. Once again, you got a girl riding the dragon and you need to pass levels by overcoming obstacles on your way.
It might seem from the beginning that the graphics are 2D but in fact, it is rather a hybrid of cartoon and 3D image.
One aspect of Dragon Hills that distinguishes it from the others is the diversity of locations at one level, you see the cold winter, and on another level, you are already in the African desert. But all of those locations have their unique details and charm which says that the developers really put their effort into it.
The game is easily played and the complexity of the game raises as you pass more and more levels. This is not a full-action game, but rather something lightweight that you want to go back to the time from time.
The one drawback of Dragon Hills is that it has only about 10 levels.
Briefly about the game:
Diversity of locations
Dynamic game
Beautiful idea
Short game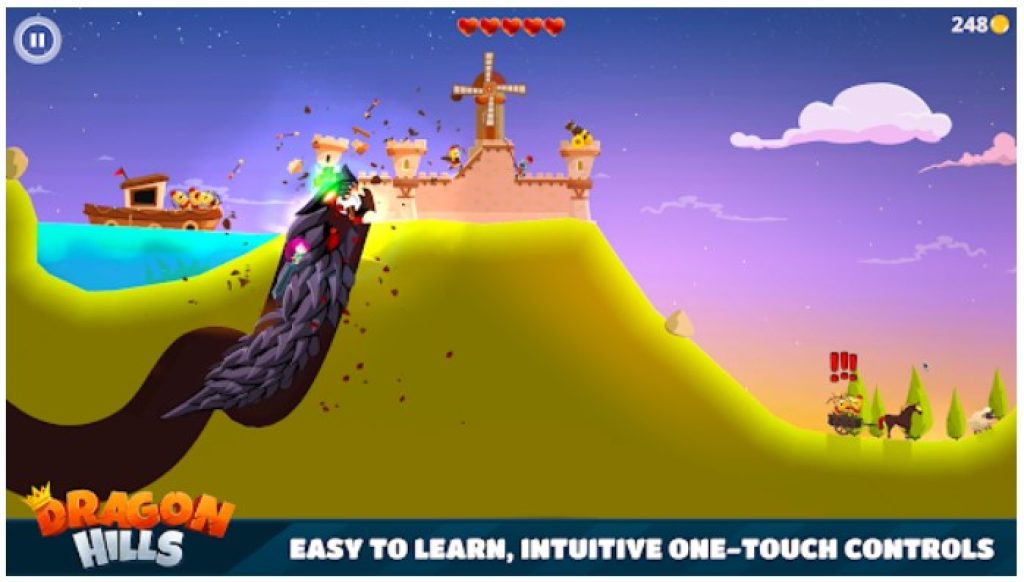 You may also like: You may also like: 15 Best Star Wars apps for Android & iOS
Drag'n'Boom
Another coolest and one of the most popular games about dragons. What is more, it even has the mark "editor's choice" on Google Play! The game is made in 2D graphics, but it doesn't make it less exciting than any other game of this genre.
You're going to play for a little red dragon and your mission is to pass the track and to survive, destroying all the obstacles, barriers, and enemies on your way. This red ball is full of fury!
Now let's move on to the gameplay aspect. The controls are really easy you just need to swipe your finger on the screen. During the game, you're going to collect various coins and gems, traveling through the wavy tracks. The more gold you pick up, the more powerful you are!
Among other advantages of the app that we liked, we would like to note the harmonic color scheme of Drag'n'Boom. Overall, it contains about 50 levels and works in offline mode. A perfect game for kids and grown-ups to reduce their daily stress and have fun.
Shortly about the game:
Easy and dynamic to play for every age
2D cartoon style
Amount of ads is limited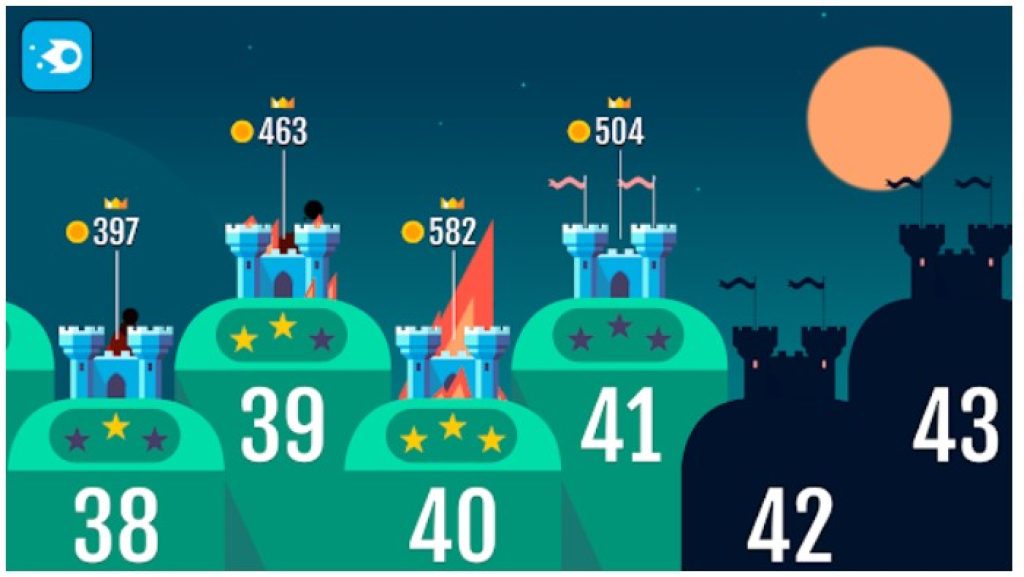 Dragon Castle
Look, it's one of the most popular games about dragons! And you can be sure it works offline. This is a cute kind of game about dragons that will fit the preferences of kids and adults.
Dragon Castle is extremely simple. You got your battlefield where you and your rival are standing. You are attacking each other one by one. Sometimes those rivalries are going in the team mode where you have a bunch of your dragons fighting against another team.
Apart from that, you need not only take part in the battles but also take care of your dragons and take after the environment where they live. It will fill them up with powers and you're going to win more battles! Winning more battles means gaining more lands – expanding your kingdom.
And as we were progressing in the game we bumped into the popping ads about a thousand times and it was more than annoying.
Overall, this game belongs to the category "casual" so don't expect something extraordinary.
Shortly about the game:
Easy for children and adults
3D graphics with a mix of cartoon style
Gems are the currency in the game
Well-developed characters (dragons) with their unique powers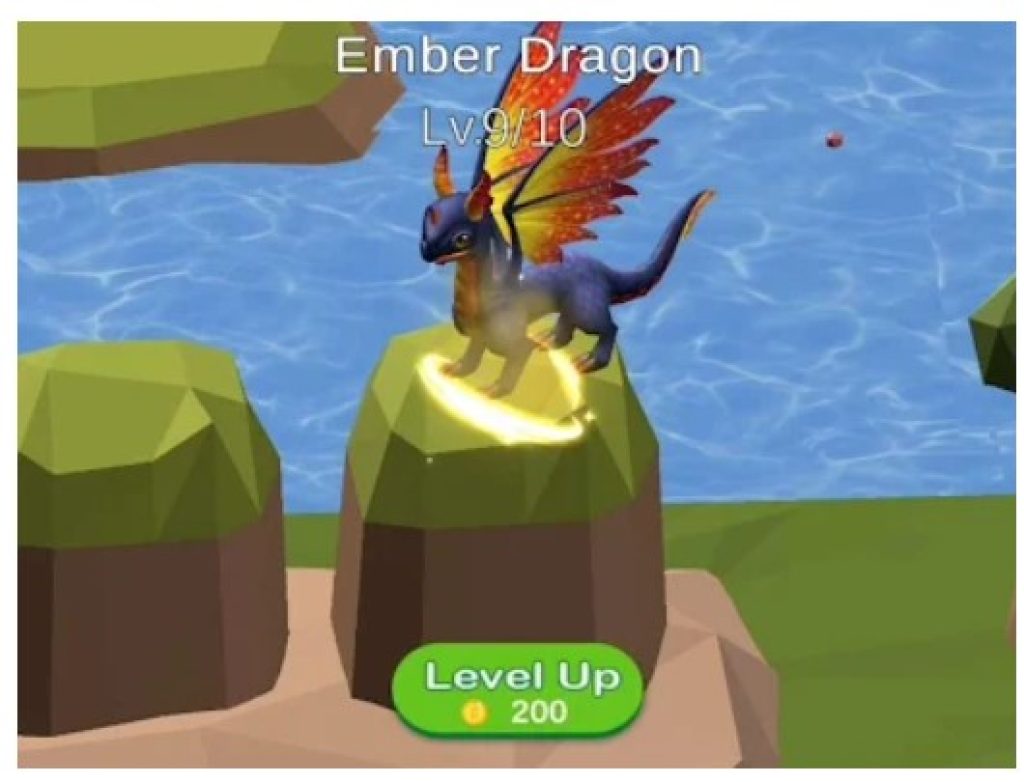 Dragon Battle
This game is very similar to the Dragon Legends game, but it's more simple. It's an RPG game where your main task is to take part in battles and win them.
Logically, before taking part in any battle, you must first raise your dragon, or, being more precise, a klan of them. Take care of your baby dragons, feed them, make them feel loved, train them and you will get powerful and strong warriors. You will also need to take care of the land that you obtain at your disposal.
The graphics are in 2D and this makes this game suitable both for children and adults. Dragon Battle is quite simple since except for raising dragons and sending them to the battles you basically need nothing else to do. But, watch out for the fact that lots of options aren't available here in the offline mode.
Shortly about the game:
Cute 2D graphics
RPG game
Lots of battles
Simple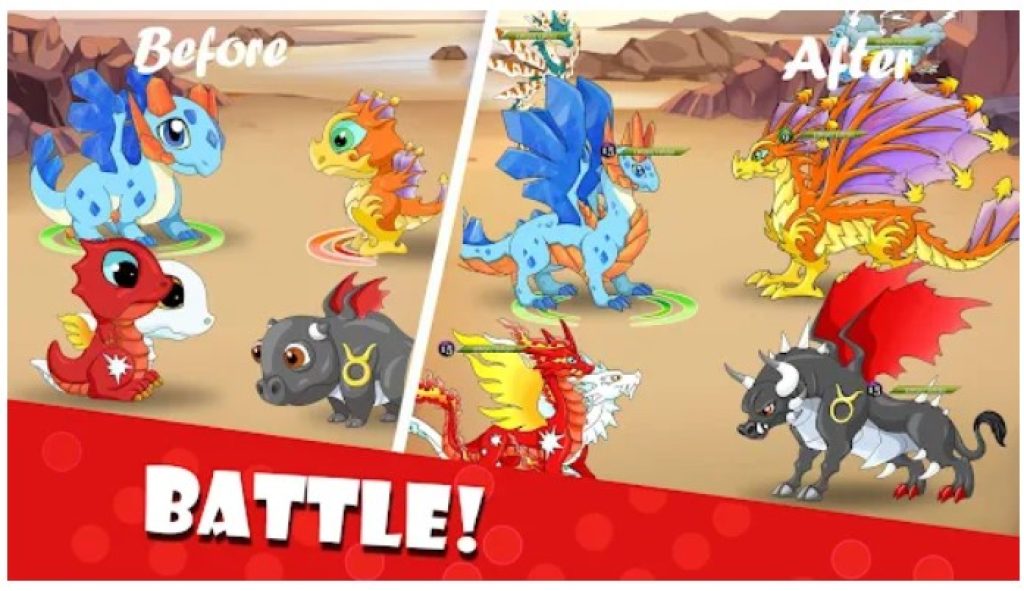 DragonVale
This is probably the first game on our list that we would say is more for children rather than adults. It is an extremely beautiful game in 2D with the astonishingly beautiful dragons
In this simulator, you are playing on the land that reminds us of a dragon farm and your task is to take care of dragons and breed new species – no battles are involved.
In fact, here you participate not in battles, but in dragon races.
And even though the dragons are the masterpiece themselves, the overall image of a farm (land) is quite mundane and looks cheap. It is even hard to distinguish one object from another since the scale isn't convenient for an eye.
Briefly about the game:
No battles
Dragon farm simulator
Built-in purchases that won't work offline
Beautiful dragons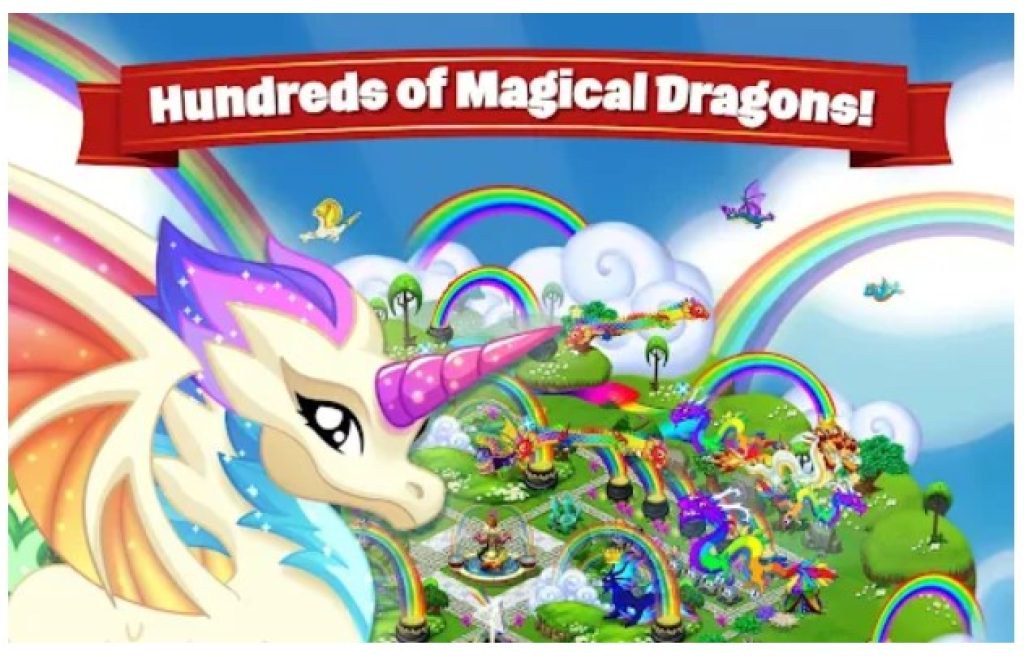 War Dragons
Unlike the previous app, here the main goal is to win as many dragon battles as possible. What is more, in comparison to the previous app, here almost all features are available in the offline mode.
This is a strategy 3D game so be ready that it will require more powerful hardware than the other games on this list. You get to select between more than 100 species of dragons – and each of them has its unique qualities and powers.
One of the tasks of the game is to build and protect your fortress and your lands. And, invade the lands of enemies and burn everything on your way.
This game is a nice choice if you want to play something more serious than all those cartoon-alike dragon games. Moreover, here the lands and the dragons are made in 3D graphics and they look more than decent despite the fact that it is a mobile game.
Briefly about the game:
Decent 3D graphics
Variety of dragon species
Epic battles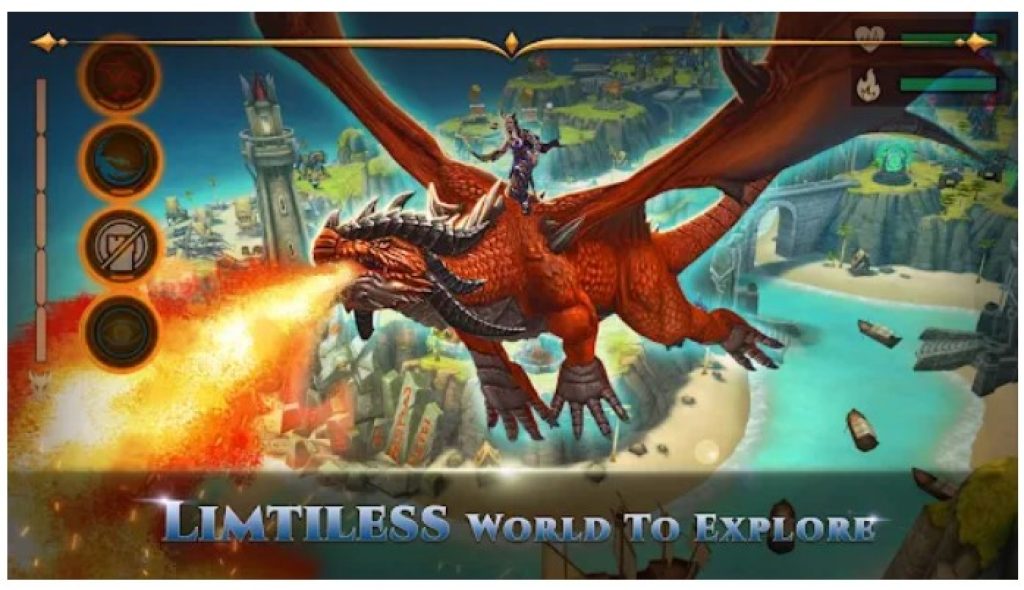 You can also check: 21 Best cross-platform PC/Android/iOS games
Summon Dragons
If you would like to explore one more PRG about dragons then here you go. Summon Dragon includes the features of an anime game, though it doesn't belong to this genre.
Moreover, in this app, you will find the merge of 3D and cartoon graphics. In our opinion, it looks quite cringy – but it's a matter of taste, of course.
Once again, your main tasks in Summon Dragons are to build and develop your land, breed dragons, and win battles. What is more, in this game one of your tasks will be to possess the treasures, guarded y the boss enemies.
Shortly about the game:
Anime-style
RPG game
Wide choice of dragons