The human brain has the feature of developing mental abilities throughout life. The greatest contribution to the development of this feature is made by logical tasks like "puzzle," making the brain work in voltage. This article will feature 15 best block puzzle games in the current year.
And for all puzzle game enthusiasts we can also recommend exploring our article about the free hexagon puzzle games. This kind of puzzle games is really captivating as well!
Threes!
Threes! is an uncomplicated game and a fascinating puzzle in one bottle. The rules of the game are simple to the limit: you will need to match the numbers with each other in such a way that their sum forms a larger number. The simplicity of the gameplay guarantees you pleasure for a long time.

Several of the most important characteristics of the utility according to the statements of the developers:
adequately implemented gameplay, consisting in essence of endless circles and repetitions numerous of simple actions
simple and easy-to-use interface, as well as a catchy design made in a minimalist style
organically selected music in the program, which will add positive emotions and can create the effect of complete immersion in the game
lack of additional download files in the app, which allows you to start the gameplay literally immediately and saves the user time
the presence of a mark for elaborate design at the Independent Games Festival in the genre of indie games, which emphasizes the high level of creation of developers
To summarize, the game is really worth your attention thanks to its sophisticated features. By downloading this app, you can take your own time with positive emotions, as well as unload your brain after a difficult working day. Train your brain and spend time usefully with Threes.

You may also like: 9 Free Box Puzzle Games for Android & iOS
Chess Light
If you ever wanted to combine chess and an indie game, then this app will suit you best. Pyrosphere's Chess Light is the best option to improve your understanding of logic and strategy. The utility has various prompts that greatly facilitate the game.

Functions of the program, which worth a separate attention from the user:
more than two hundred different puzzles made by real professionals, which will take more than one hour of your time to solve
variability in choosing the level of difficulty from a beginner who only comprehends the basics of the game, to a competent expert and strategist who thinks over each move in advance
a unique system of different game chips and interesting prompts that allow you to quickly go through a particular level
a one-time focus of simplicity and complexity in the very essence of the game, namely, in a competent system of moves of figures to fill the entire area at the level
solid design of the program, made in a minimalistic style and directly inviting the user to test the utility in full
To sum up, we can conclude that Chess Light will make you an excellent assistant in a good time. Having downloaded this app, you will definitely not be mistaken in your choice because not every utility can boast of such sophisticated functionality. So, what are you waiting for? Download faster!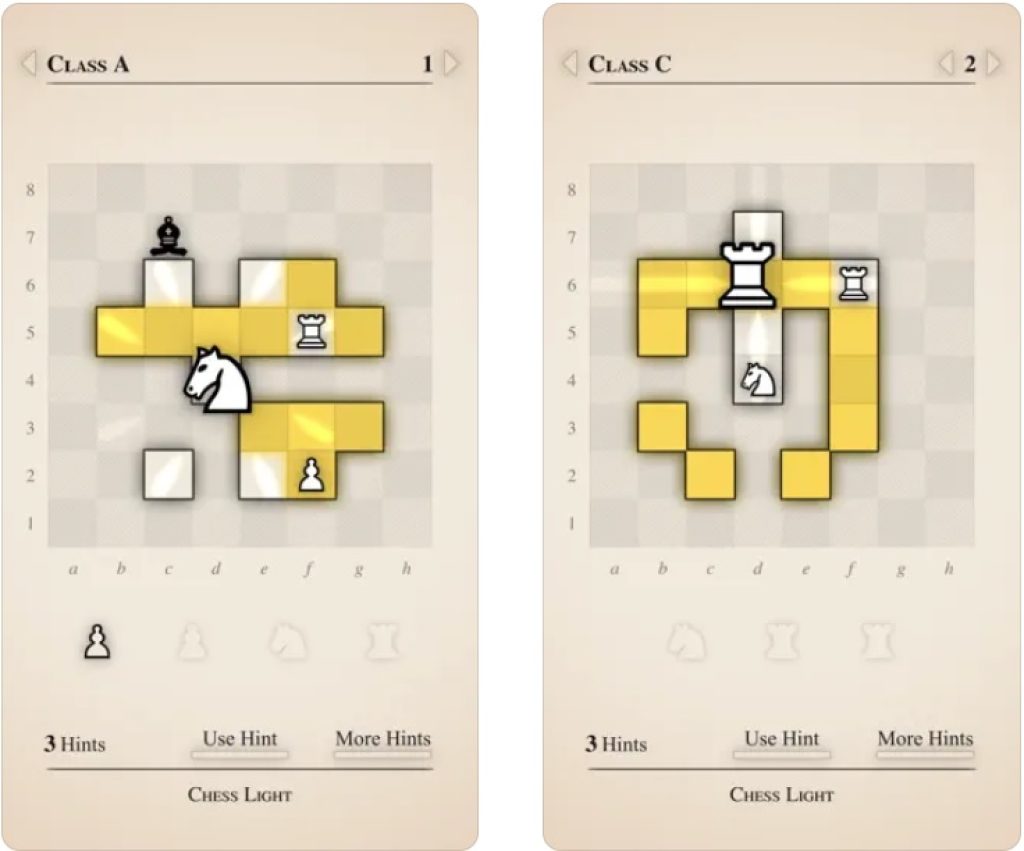 Block Puzzle
Block Puzzle is considered to be one of the favorites in the indie game genre, which is not surprising, given the entire level of elaboration of the utility. The essence of the game is banal: move blocks to fill the space without spaces. When you create a line from blocks of the same color, the line is destroyed.

Detailed and well-developed characteristics of the utility:
ease of control and gameplay, in addition, each of the levels of the program is not limited in time
dazzlingly developed graphic component of the app with organically complementary licensed audio recordings from well-known artists
rank system of levels, varying from the simplest and most uncomplicated to complex and impassable obstacles
a suitable game for a user who wants to keep his brains in good shape, as well as have fun with receiving positive emotions
the ability to bring the game to infinite mode thanks to the unique function "mode without borders"
So, Block Puzzle is a good option for keeping all brain cells in proper condition. In addition, this game is one of the few that does not have ads, which is an additional advantage. Developers listen to all user reviews in order to constantly improve the game.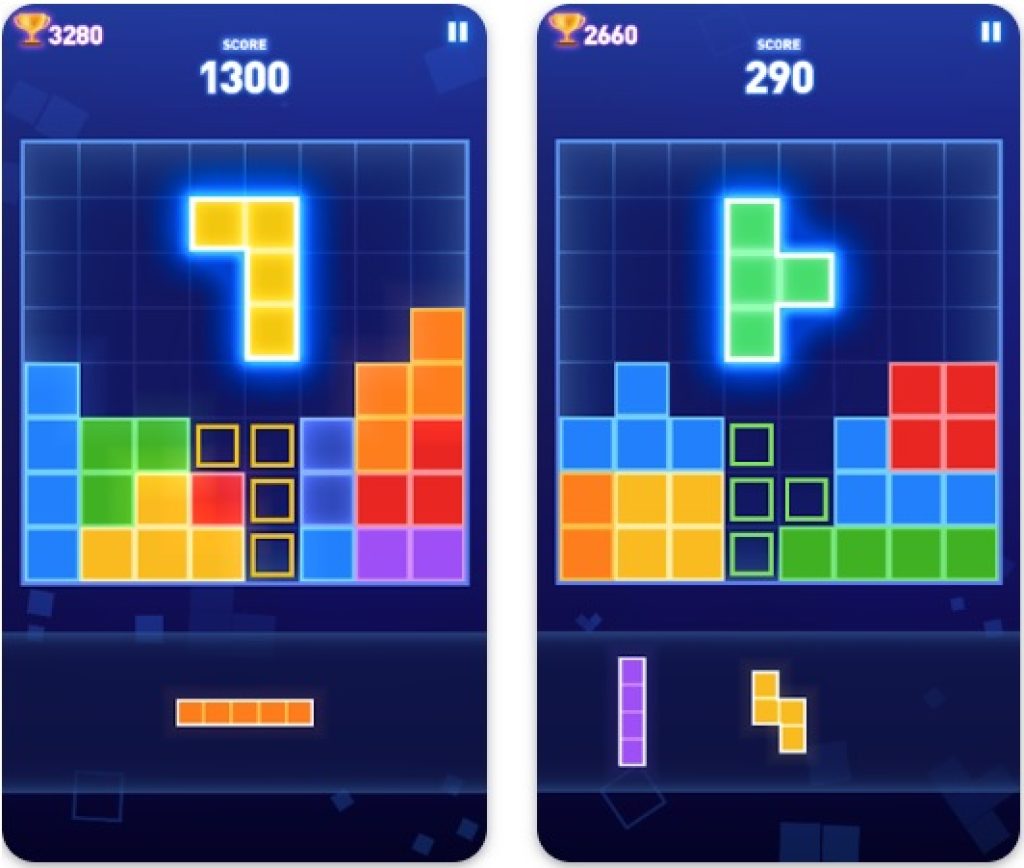 Block Puzzle – Gem Elimination
This app will help you develop your brain and have a relaxed time. Gem Elimination is a collection of ordinary indie game with elements of strategy and an exciting puzzle that will not leave you indifferent. A well-developed utility interface and entertaining levels will help you make sure of this.

Options on which developers make a special emphasis:
the easiest control to use among all programs of this type, allowing you to quickly and clearly achieve the necessary movements
no time limit or other filter, as well as screen placeholder, which in many games was a hindrance than a design element
a level rating system that increases complexity as the rating grows and encourages the user to take a higher place in the top
the presence of various in-game bonuses and chips of the "block exchange" type, which make it easier to complete a level if it is too complex
If we summarize the results, one simple conclusion can be drawn – this program is extremely addictive. This is not surprising because the developers have done a tremendous amount of work so that users can enjoy the game to the fullest. Well, the lack of advertising only complements the overall picture.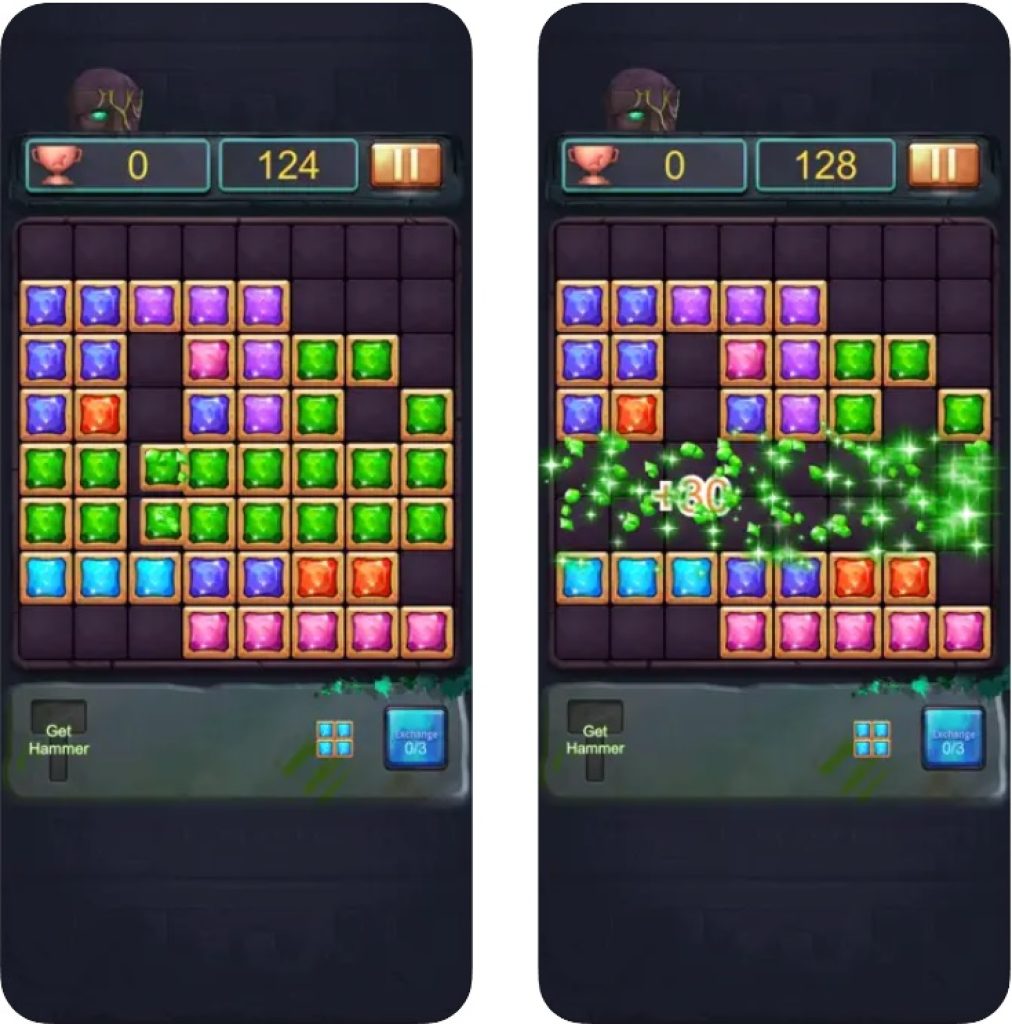 Blockudoku – block-puzzle
Blockudoku can be called the only app of its kind because it combines two different disciplines – Sudoku and indie game with blocks. This program is characterized by its simplicity, which plunges the user into this world. The essence of the game is simple – connecting blocks to create lines and squares.

Some entertaining features of Blockudoku:
the presence of blocks of various shapes, allowing to develop logical and tactical skills at the same time because the space for filling must be used wisely
the large size of the playing field with a total area of ​81 cells, the main goal of the entire game is to competently fill the entire indicated area
variability in choosing the color gamut of the utility according to user preferences: classics, rich or dull colors
constant tournaments and competitions, winning which you can get good prizes, some of which can be unique, such as animated postcards
unique in-game chips such as combos (destroying multiple items in a row in a single move) or series (destroying blocks in multiple moves strictly in a row)
the presence of a weekly and monthly top system in the program, stimulating users to compete, therefore, to more frequent brain training
Summing up all of the above, we can safely declare that Blockudoku is a utility worth paying attention to. All functions of the app, which, by the way, is constantly being modernized, are clearly detailed. Plus, you can play anytime and anywhere.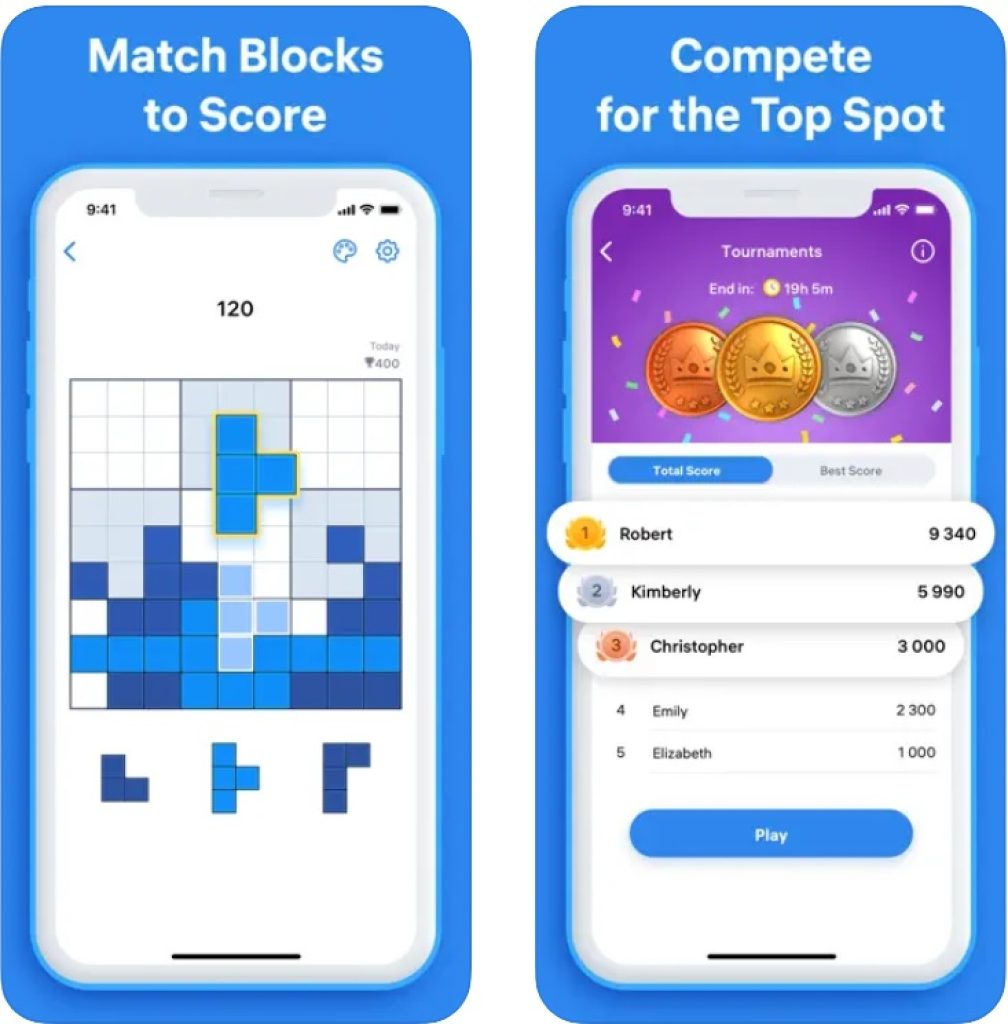 Wood Block Puzzle
This game can be very capaciously characterized by one phrase: "the unchanging classic of the genre." This program has another name – Qblock, which combines a classic puzzle with elements of logic. It is worth noting the opportunity to try a combined mode that combines two aspects at once.

The main characteristics of this utility:
no need to connect to the Internet and a temporary limit at any of the levels
eye-pleasing and user-friendly interface, as well as easy to manage short swipes and clicks on the device screen
a one-of-a-kind "periodic zone" function that creates a zone for placing temporarily unused cubes
unique musical compositions and sound effects made specifically for the game itself from the developers and their partners
a cool possibility of changing the shape of cubes, divided into a classic (simpler) and more complicated version (give a way out of your imagination)
Thus, Wood Block Puzzle is an interesting alternative to other indie games of this type. Thanks to it, you can both spend time with benefit and train your logical abilities. The presence of a rating system adds uniqueness to the utility against the background of other programs of this topic.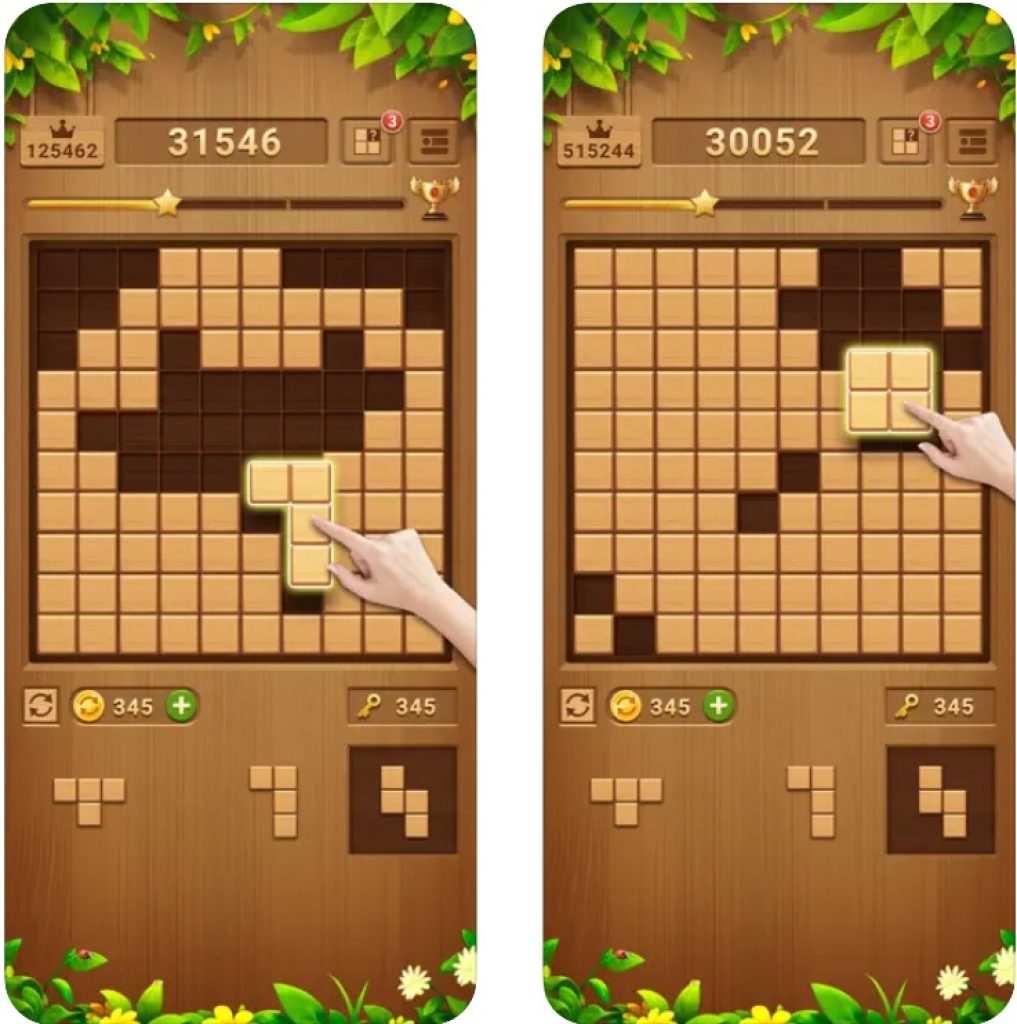 You may also like: 8 Best Logic Puzzle Apps for Android & iOS
Block Puzzle Games
Block Puzzle Games can be called not only a game, but a combination of several apps in one place. Indeed, the utility has numerous programs with a similar essence, but different options. In this app, it is noteworthy that you can choose the size of the field – from 64 to 100 cells.

A number of the most necessary options for the user:
more than a dozen different games, ranging from classic variations on type 2048 to exotic views on type tan gram or hexagon
entertaining ability to change the shape of your block depending on the user's desire and the selected game mode
the ability to feel all the available features of the game like "ten" – assemble your blocks in a row in the amount of ten pieces and swipe with your finger
five different game modes, varying in level of difficulty from simplest without time limit to complex mode for points
the ability to play with one hand, which not every app of this kind can boast of, as well as the adaptation of the program for the most fastidious users
As a result, when downloading this utility, we have a variety of versions of the same game, each of which is unique and interesting in its own way. It is important to note the fact that the utility has three of the most famous game modes: regular block puzzle, side puzzle and the new make tens.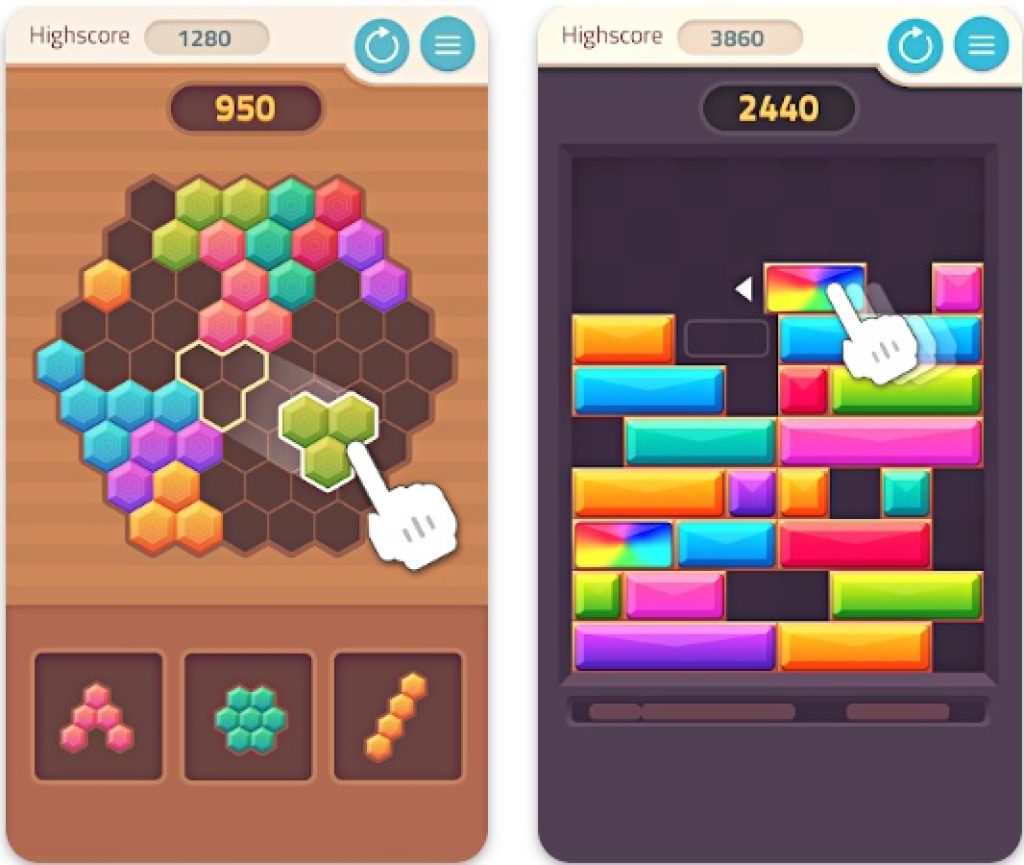 Block Matrix
Block Matrix is an exciting indie game that plays a well-known game in a more capacious format. The program is made in a futuristic style, which makes it possible to see the desire of developers to keep up with the times. In addition, using this app, you keep your brain toned.

Individual Block Matrix functions to look out for:
developed game design, made in the style of cyberpunk, allowing the user to enjoy the bright colors in the created Joymaster Studio creations
the presence of music in the background, which organically fits into the style of the utility, and also helps to relax after difficult working days
the ability to play together with friends or acquaintances through an invitation to them on social networks like Facebook
unique opportunity to increase your points by creating various combos and series from combos
a unique technique for increasing points by estimating which cells to leave empty and which ones to fill with blocks of different colors
To sum up, we can conclude that Block Matrix deserves to attract your attention due to its unique design and options. In addition, the utility has a rating that is constantly updated and creates a competitive element between users from all over the world.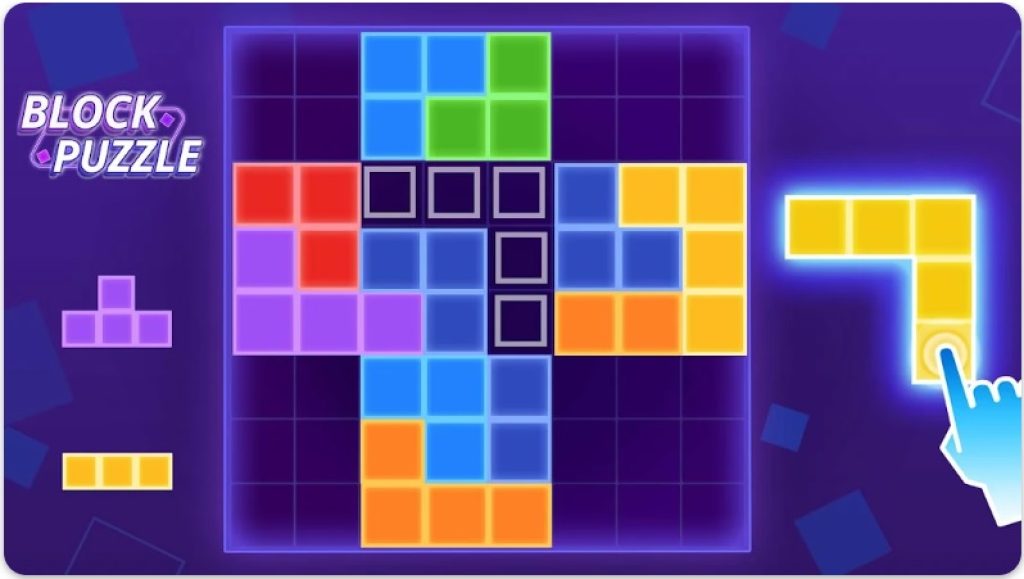 Jewel SlidingTM Puzzle Games
Jewel Sliding is an implemented version of the popular block game for the smallest users. It allows you to develop both logical and strategic abilities in children from childhood. In addition, the program has been giving positive emotions for more than several years, which symbolizes the standard of quality.

Interesting options of the app:
the presence of various game modes depending on the user's preferences such as arcade, for a while, survival, on points and many others
obtaining additional points in the general account by collecting combinations, the variability of which truly knows no boundaries
a special diamond block that has the ability to divide ordinary blocks in two and makes it possible to get out of the most difficult situation at the level
developed design of the program in the ice age genre, allowing you to enjoy the atmosphere and imbue with new positive emotions
Jewel Sliding requires both quick and competent thinking, so be careful with each move because it may be the last. It is also worth noting the fact that the utility will allow you to keep all thought processes in good shape. Download this app and take your first step towards a creative vacation.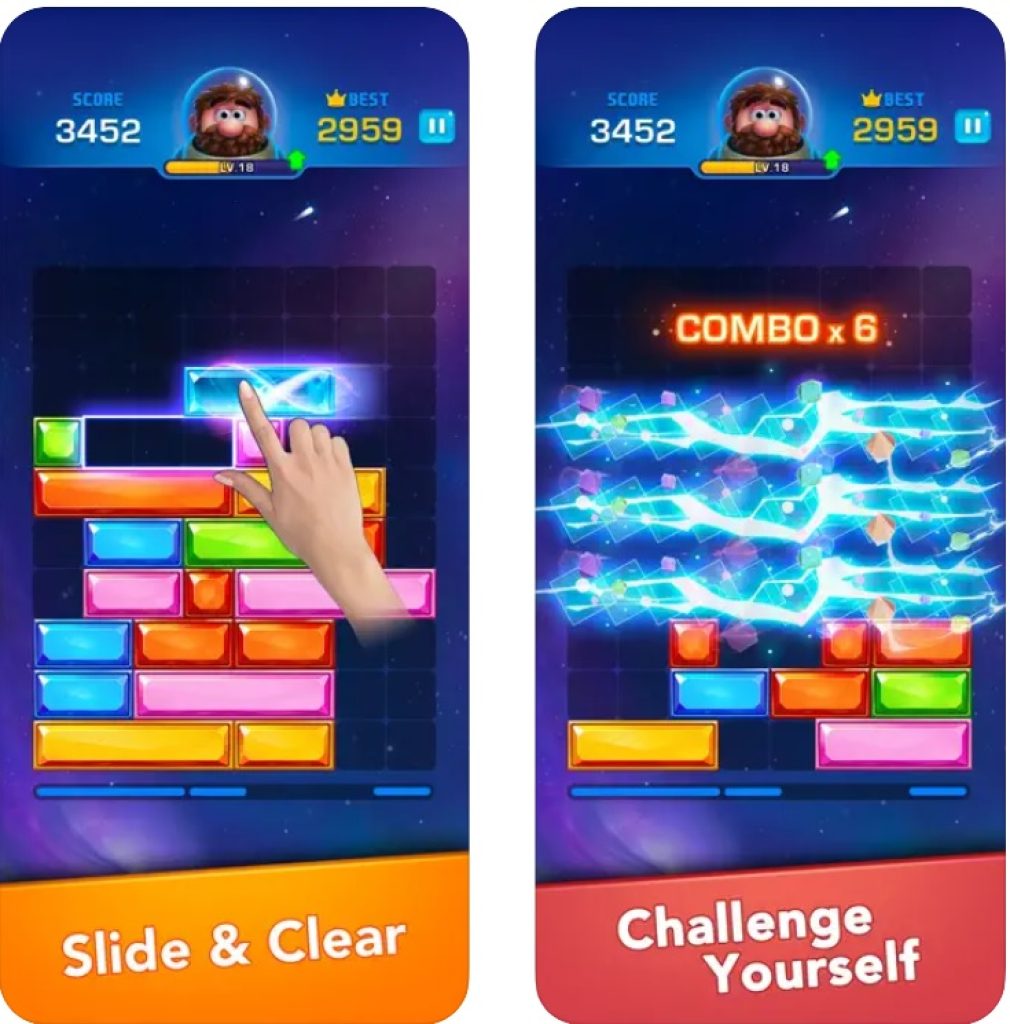 Block Puzzle Ocean 1010
Block Ocean is a classic, ocean-themed indie block game. Thanks to its sophisticated design and striking interface, you can enjoy the game. In addition, all the functions of the game are worked out at a very high level.

The program is characterized by the following options:
no need to enter any personal data to start the game and automatically save progress in the utility
no need to connect to the Internet or Wi-Fi access point, as well as a small amount of space taken up by the app on the device
perfectly designed graphic component of the game, as well as convenient and simple control using short swipes and clicks
the presence of a leadership table that allows you to get positive emotions from being at the top and compete with other participants, being in good shape
Thus, Block Ocean 010 will be able to help you both unload morally and maintain thought processes at the proper level. It is worth noting that the app has special tools and chips that allow you to go through the level much faster. If you want to score the most points, think ahead.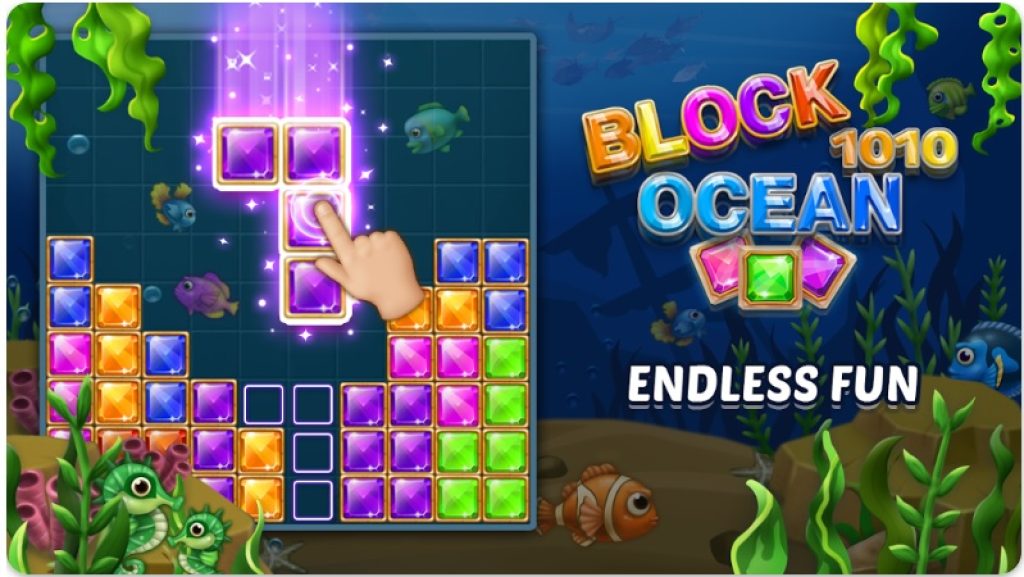 Block Puzzle – All in one
This program is one of the very few utilities that combine several games at once. It has a clear system of transitions from one level to another by gaining a certain number of points. It is worth noting that Block Puzzle – All in one will appeal to both children and adults.

Utility functions which are most favorite and emphasized by developers:
unthinkable number of levels in order to test their strength, which currently has more than two thousand and is constantly updated
the presence of a tool such as "daily rewards" to facilitate the passage of the game, and in some cases to get unique items
variability in the choice of game mode judging by the user's mood, be it ordinary, medium, complex, daytime, savvy, and abundance of others
more than several hundred different personal and joint awards, as well as ease of management and ease of placement on the screen
To summarize, we can say that the program is worthy of your attention like no other. Block Puzzle will allow you to take a new look at the indie game genre, and possibly interest new users. In addition, developers constantly check the utility for various bugs to improve the game.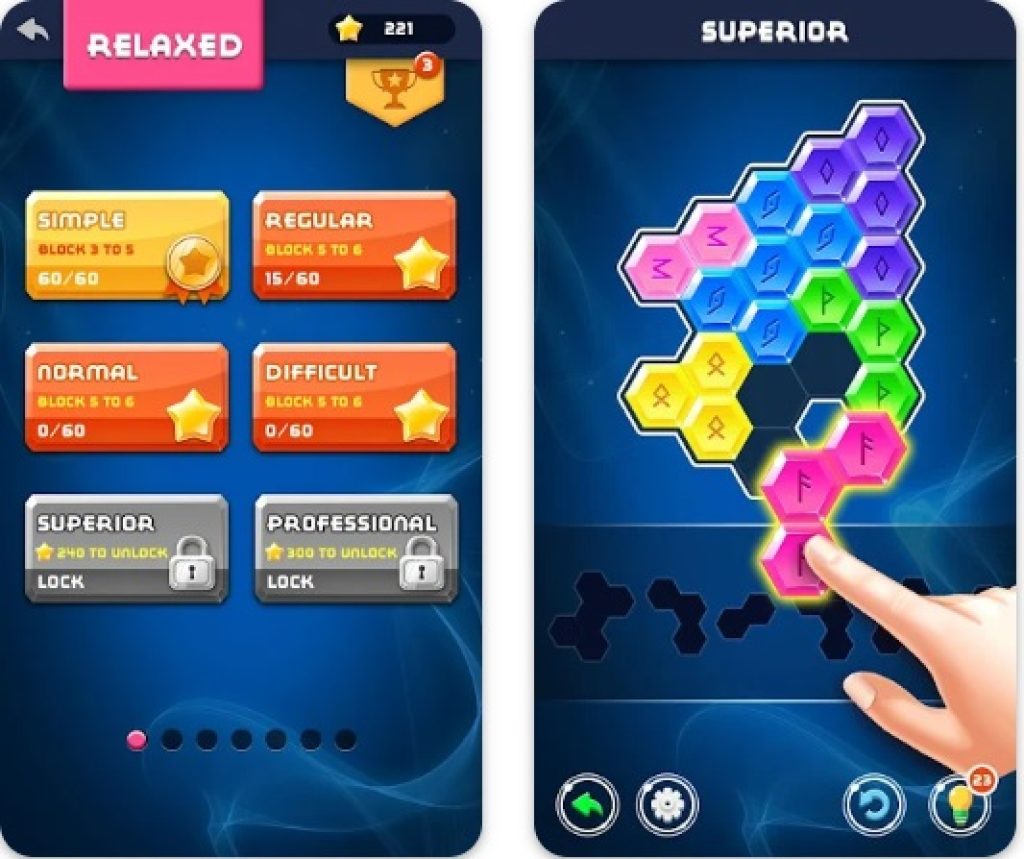 Perfect Block Puzzle
If you ever wanted to hang for a long time in the wonderful world of blocks of various shapes, then this app is perfect for you. The essence of the game is as simple as possible, as in all such utilities: blow up blocks in two different directions of space. This game will definitely drag you out for a long time.

A Perfect Block Puzzle can be characterized by the following characteristics:
the possibility of both a level upgrade for points and an endless game mode that allows you to test your strength and logic
the ability to change several themes of the game and the graphic component designed by developers in various styles that may appeal to you
a unique competitive mode consisting of several leagues, which are accessed by the level of the game and the number of points scored by the user
cool visuals and licensed audio recordings made by real craftsmen of their craft
Summing up, we conclude that the app will be able to taste even the most irritable and fussy users due to its options. It is worth adding that the utility does not require an Internet connection and has no time limits. Try to spend your time usefully with this game.

Impossible Nine: 2048 Puzzle
Ever wanted to really stick in the truly fascinating world of indie gaming? Then you came to the address! Impossible Nine will be able to help you in this matter thanks to the abundance of any time-consuming modes, as well as design.
The game seems easy, but only the most persistent can achieve success. In addition, the game involves both hemispheres of the brain, thereby developing thought and taking logic to a new level.
It is worth noting that the developers take care of your health with the help of non-eye-cutting themes and moderately effects. Download this app and try to get that very impossible nine.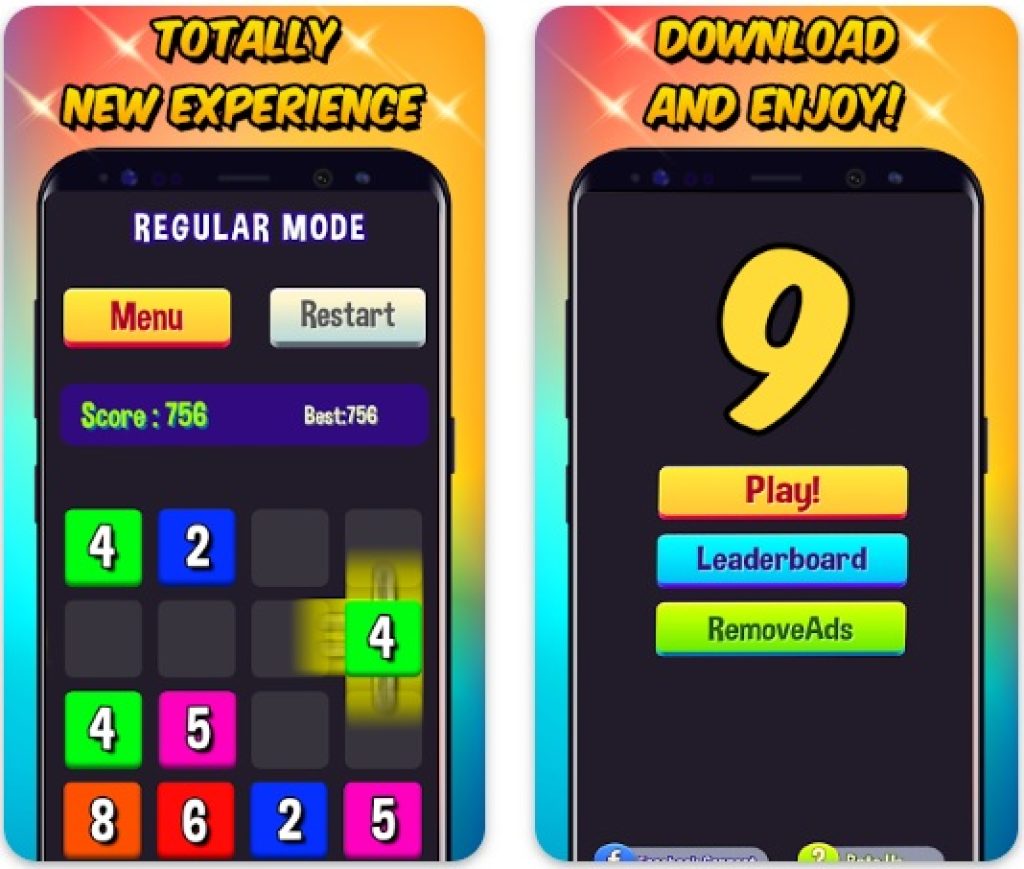 Shoot n Merge – Block Puzzle
This game can be called a real innovation in the genre of indie games because it can be considered a mixture of as many as three modes: matching numbers, correlating and shooting at blocks. This program will be able to conquer your consciousness in a short time.
It is worth noting that the game process is quite infectious and can take more than one hour of your time. In addition, the utility can to choose the design of the background, be it a night theme, a classic cellular one, or numerous others. As in all games in this area, it is possible to play with friends.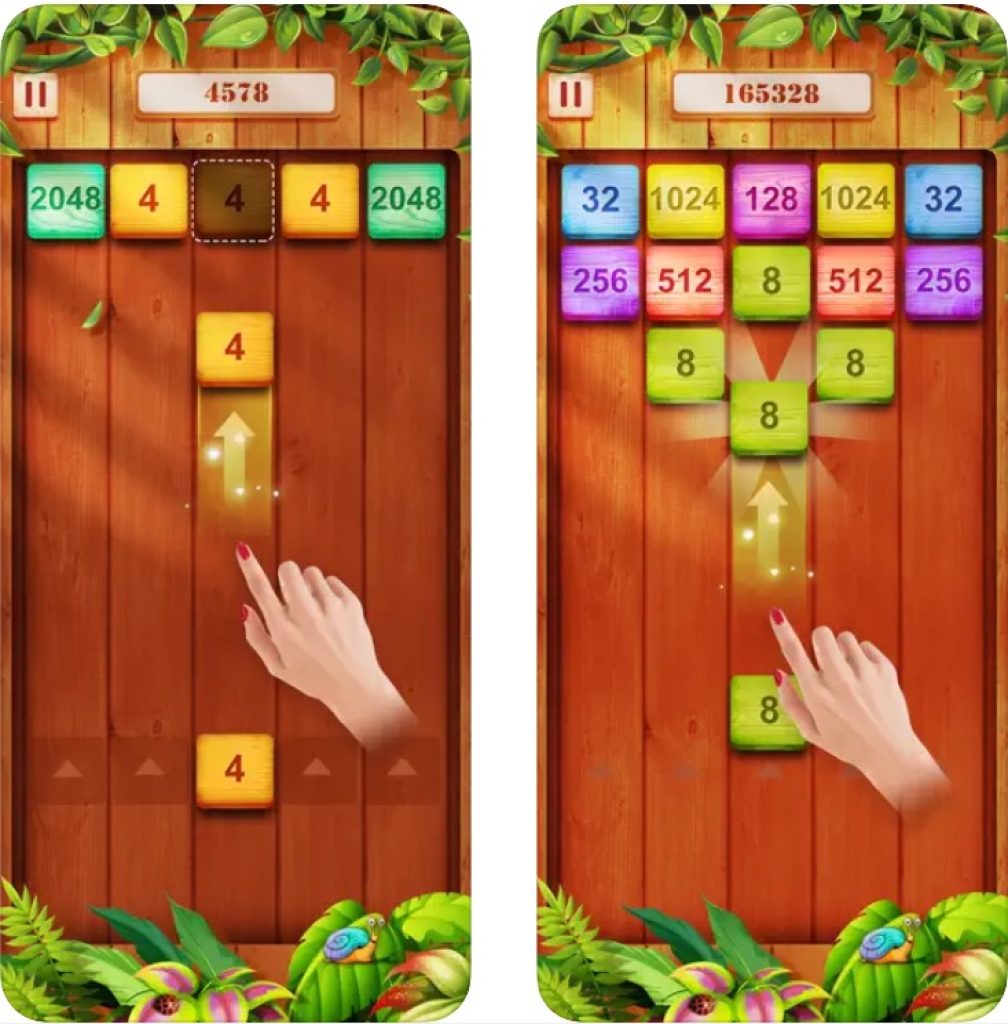 You may also like: 5 Best Emoji Puzzle Games For Android & iOS
Tetra Block – Puzzle Game
Tetra Block is a game that has gained the trust of users from all over the world in a short time. Thanks to the abundance of various functions and elaborate design, you can enjoy positive emotions and train your brain. The utility contains both classic modes and novelties of the Sudoku type.
As in all apps in this area, the developers have made a number of interesting visual themes that give a truly aesthetic pleasure. It is worth noting that if you find yourself in a situation with a difficult and impassable level, special items will come to your aid.