A couple of years ago virtual reality seemed to be a technology of the distant future, only occasionally penetrating into the everyday life of the user of mobile gadgets.
But already today the development of VR has reached the level where the world of new sensations is available to almost everyone, who has a smartphone with enough productivity in his pocket.
It remains only to add to it inexpensive glasses, allowing to turn the smartphone screen into the virtual reality helmet display and to start the VR application. By the way, there is a lot of cool dinosaur VR game apps out there that we recommend to check out!
But which VR player should I install on my smartphone? The answer to this question can be found in our ranking of the best Pansonite VR apps.
Google Cardboard
Cardboard is one of the two official virtual reality applications for Android, which can offer Google.
It is designed to help you set up a headset Cardboard VR and introduce you to the basic functions of VR.
You can download applications that support Cardboard, download VR videos, and view 3D demos.
If you want to experiment with the applications of Cardboard VR for Android, you need to install this application.
You can even try your hand at creating your own Google Cardboard VR headset if you do not already have one.


You can also check: 11 Best Apps to Download Youtube Videos to Android or iOS
YouTube VR
This application does not need any representations: you already know what makes YouTube.
Its superstructure VR for Android raises the impression of a step up, offering playback VR.
You use the same YouTube application, but the installation of YouTube VR allows you to switch to the mode "look in the VR".
You can enjoy the cinematic view of your favorite YouTube videos.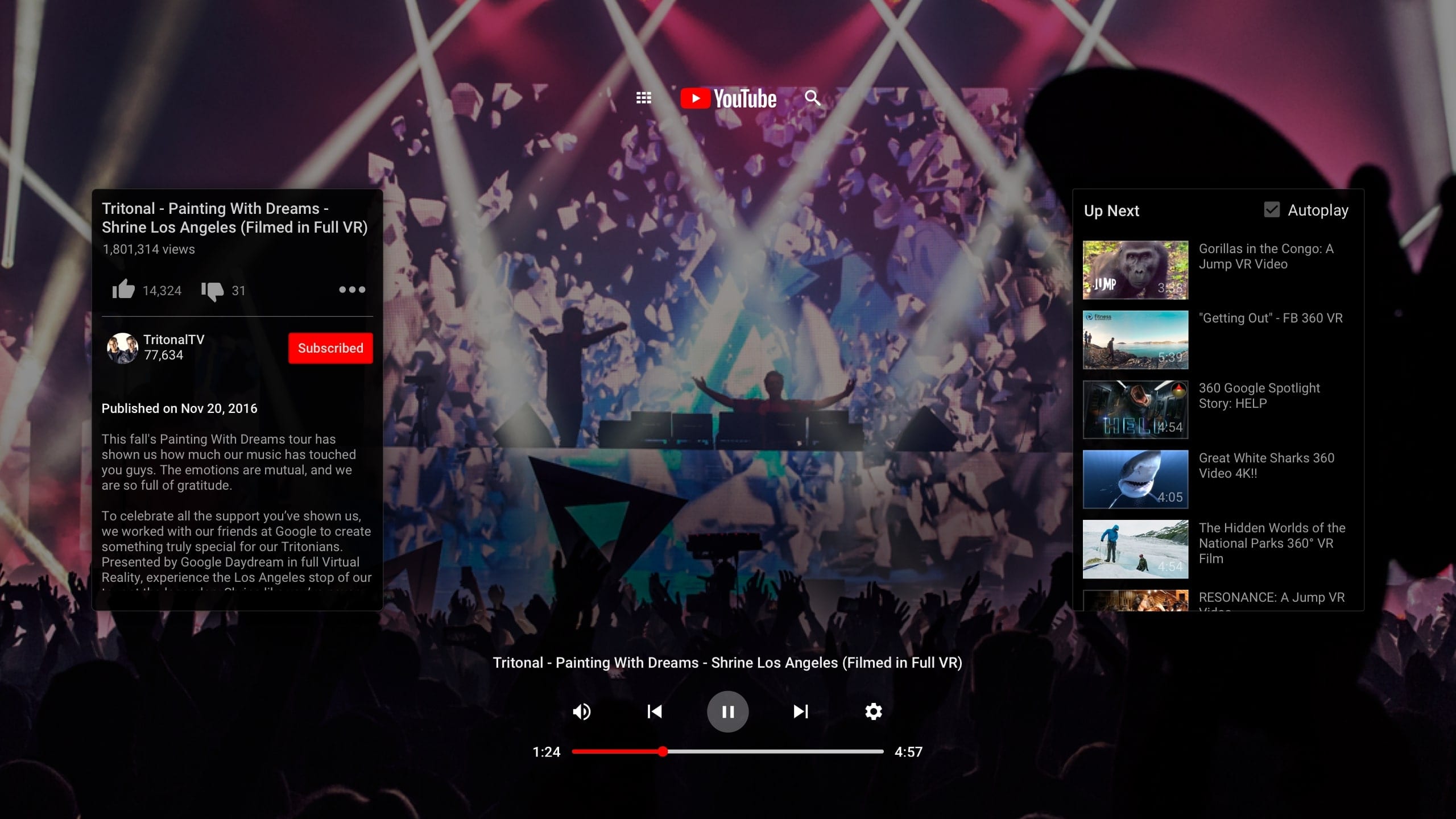 It is designed to work with all major virtual reality headsets supported by Android, but was created with the Cardboard and Google Daydream headsets in mind.

VR Abyss: Sharks & Sea Worlds
Underwater VR is an immersive virtual reality app that takes you on an exciting journey into the depths of the ocean. The app offers a stunning and realistic experience of underwater exploration, allowing users to dive into a 360-degree view of a colorful underwater world.
Here you will find high-quality graphics and 3D sound effects that create a truly immersive experience. You will be interacting with various marine creatures, such as sharks, dolphins, and turtles, and explore different underwater landscapes, such as coral reefs and shipwrecks.
One of the remarkable features of the app is its versatility. VR Abyss is compatible with various VR devices, including Google Cardboard, Samsung Gear VR, and Daydream View.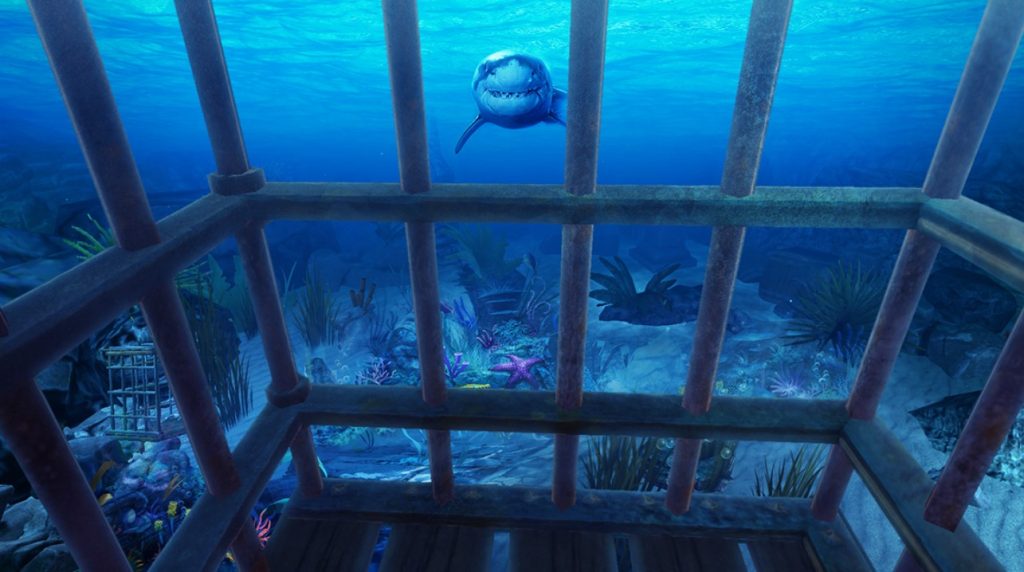 Fulldive VR
If you're looking for a virtual reality platform that offers everything from web browsing to storing your photos, Fulldive VR is for you.
It provides you with your own store containing hundreds of virtual reality apps that you can install and use through Fulldive VR.
You can also shoot 360-degree photos and videos with the app's VR camera.
You can also view millions of YouTube videos available through the app as part of 360 degrees 3D or VR.
The application works with any Android headset, including Oculus, Daydream, and Cardboard.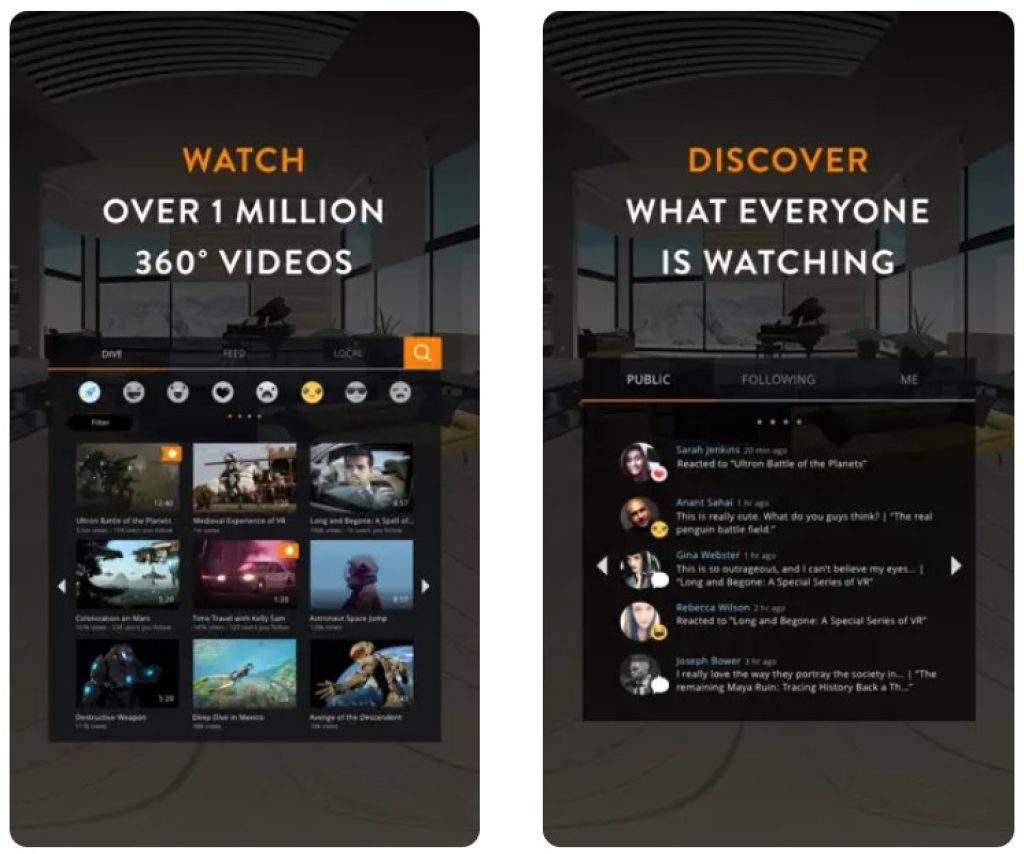 Netflix VR
Netflix for some time now supports virtual reality; it was one of the first VR users for Android.
The application Netflix VR for Android allows subscribers to watch content through the main VR headsets, such as Oculus, Daydream, and Cardboard.
With this application, you get two viewing modes.
The first is the village living room, offering a static view of your media content.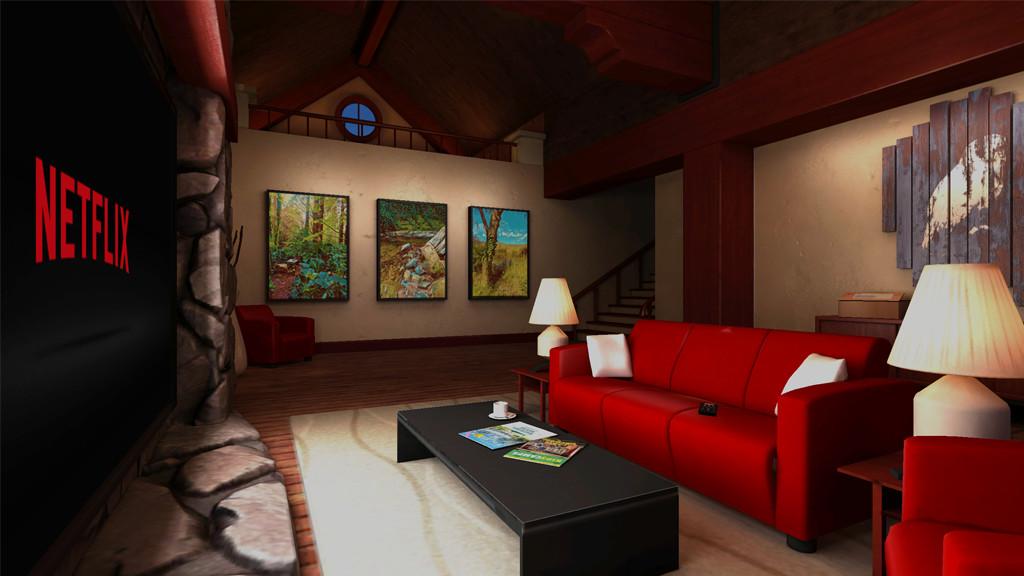 The second, useless, immerses you in watching TV or a movie by moving the content according to the movement of your eyes.

You may also like: 5 Best VR Fitness Apps for Android & iOS
VRThrills: RollerCoaster 360
Why go outside when you can get a thrill in the room?
As you might expect from the title, this game will give you an unforgettable experience of the roller coaster of virtual reality.
This is one of the most popular VR games in the Play Store, it has been installed more than 10 million times.
You will be able to experience a real roller coaster with pre-recorded panoramic videos or a simpler roller coaster modeled in 3D.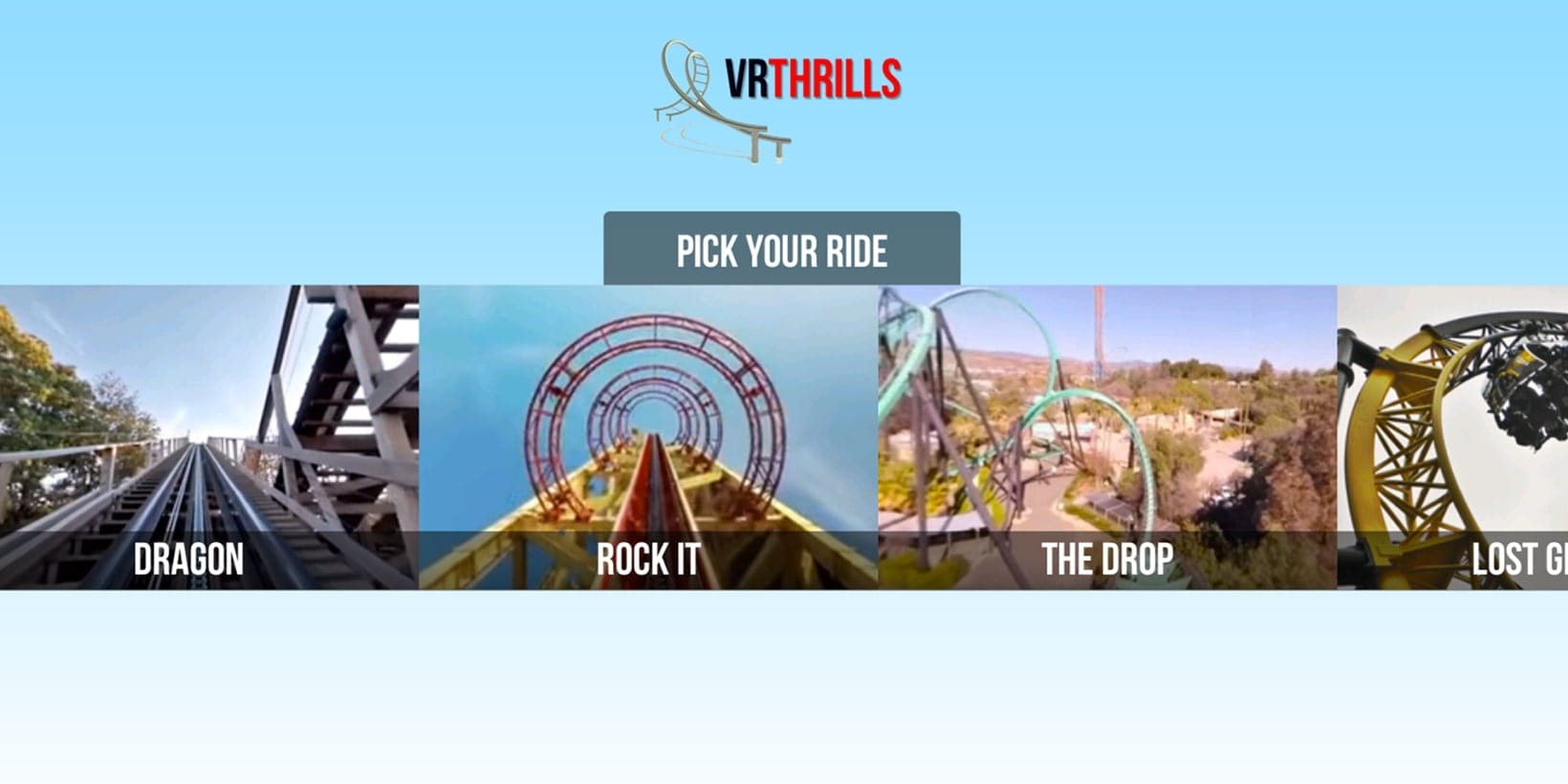 The game is "optimized" for Google Cardboard headsets. But if you want you can play the game without a headset, using the touch-control phone.

VR Jurassic Dino Park Coaster
fans of dinosaurs themes will definitely appreciate this app. This time you are invited to visit a park filled with life-size, animated dinosaurs.
The great AR graphics of this app will make the experience incredible. Users can explore different areas of the park, such as the dinosaur enclosures, the visitor center, and the gift shop. They can also interact with various dinosaur species, such as the Tyrannosaurus Rex, the Stegosaurus, and the Triceratops.
The interesting fact about this app is that it actually has educational value. The app provides information about each dinosaur species, including their habitat, diet, and behavior.
Overall, we would definitely recommend checking the Dino Park Coaster out if you're looking for an exciting AR app to have a fun time with.


Relax River VR
If you found yourself caught up in indulgence and the stressfulness of days, this app is definitely for you. Relax RIver VR is basically a realistic scenery of a river flowing through a forest. The app aims to reduce stress and anxiety by providing a relaxing environment that helps users unwind and recharge.
The decent graphics and natural sound effects create a realistic and lively experience. Users can customize the settings, such as the speed of the river, the sounds, and the time of day, to create their own personalized environment.
One of the remarkable features of the app is its versatility. The app can be used for various purposes, such as meditation, relaxation, sleep, or as background noise during work or study.
We really liked the fact that VR Relax River is an alternative kind of VR app that just helps you to relax and release your thoughts – even though it's a simple idea, it's timeless.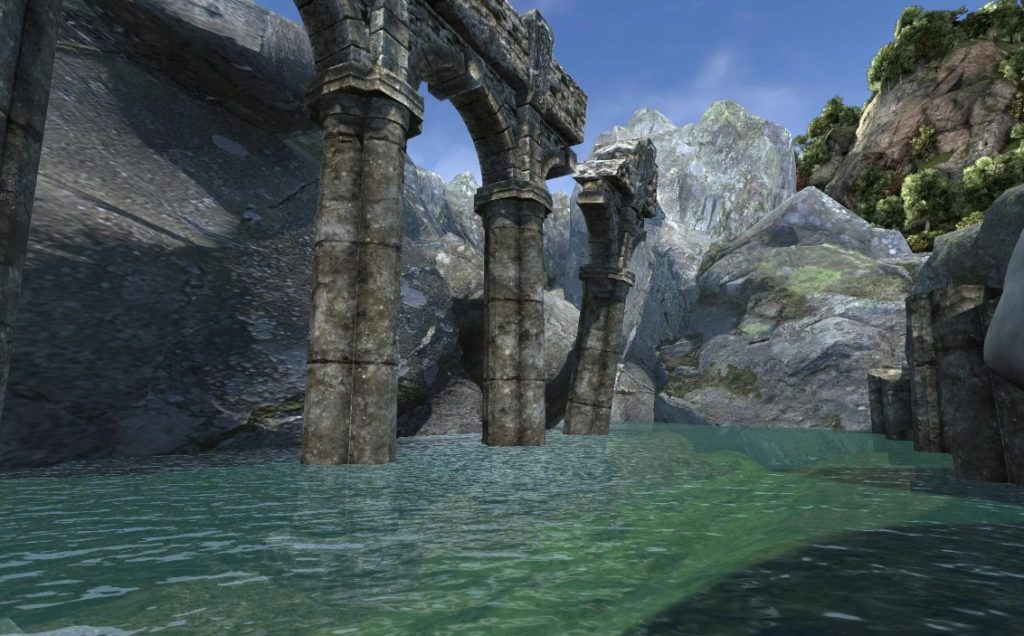 You can also check: 15 Free Websites to Stream Movies Online Without Signing Up
VR Space Stalker
This is an exciting game based on the space theme where you will dive into the atmosphere of cosmic battle, race on spaceships, and watch the stars. And the AR experience will make this game only better.
First of all, the app is remarkable for its high-end graphics. All the details are vibrant and colorful and fans of futuristic games will probably appreciate it. But keep in mind that the game doesn't have any solid plot since it's a VR game and you will mostly be enjoying the sceneries around.
For the races, you can select your own spaceship to ride in. The controls are decent, though it might be difficult for some players to handle them when the game has the VR element. With each task, you are stepping into the next level and the difficulty of the game increases.
in other words, if you are looking for an exciting, action-packed game with VR elements, you should definitely check Space Stalker out!