You will surprise nobody anymore with screen rulers, virtual designers of a premise, and other appendices for designing. But there are also other convenient tools that will help you in working on projects or your own house.
Some of our smartphone sensors allow us to use fairly unusual tools, such as a speedometer or compass. But what if your smartphone could become something else?
Many people design their own homes. The design process also includes planning for roof cover changes. In order for you to calculate everything correctly – and the number of materials, and even the angle of slope – you will need special tools.
But even if you do not have them, your smartphone will help. There are several special applications that can use smartphone sensors to determine this data. We've found 11 special applications that can help you measure tilt angles – many of which will work with any material or building.
ImageMeter – photo measure
ImageMeter is a universal tool in your smartphone. With it you can easily measure angles, lengths, and even distance in images.
You don't have to draw sketches manually and measure scale for drawings – ImageMeter will do it all for you. ImageMeter measures with a camera and uses laser devices that measure distance and transmit data via Bluetooth.
The application allows measurements to be made with a "reference" object. To begin with, you bring an object whose length or angle you know to the camera and based on these results the application will calculate everything by itself.
On the basis of the reference measurement, you calculate the indices of other objects in your house – roofs, corners, and room sizes. For convenient presentation, ImageMeter uses metric and imperial units. You decide which images and photos are worth measuring – you can optionally upload them to the cloud storage.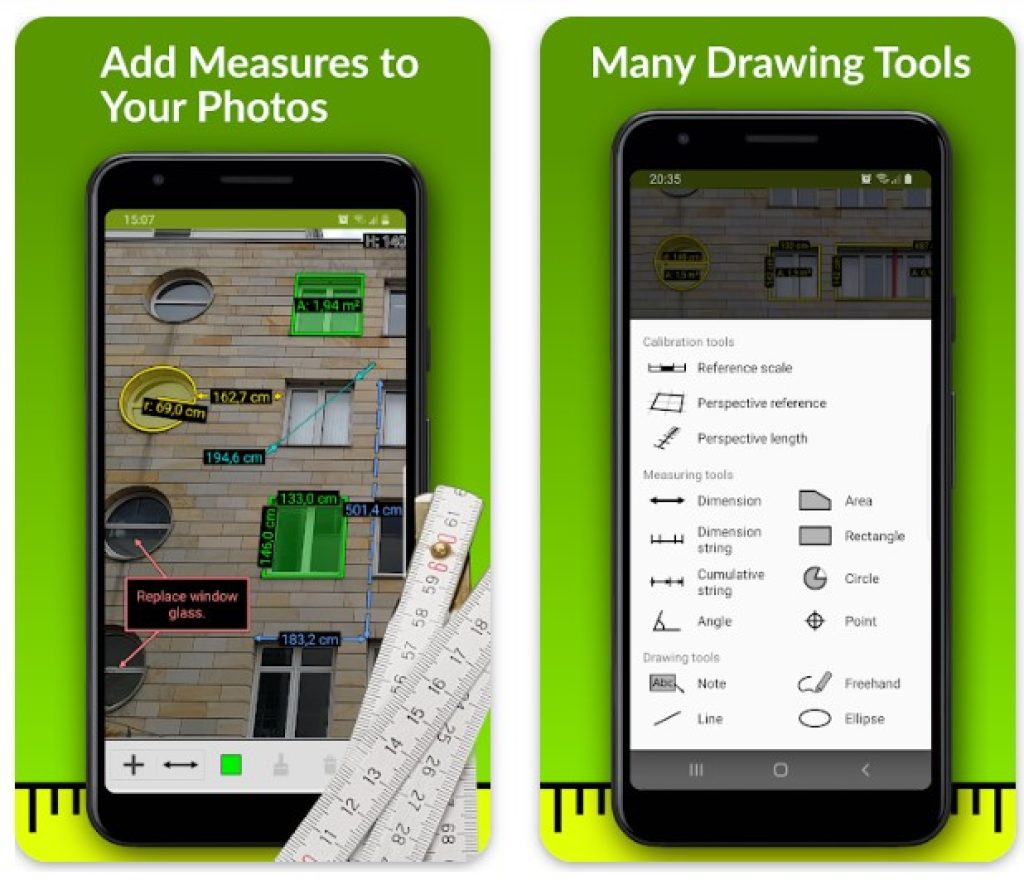 You may also like: 7 Best Distance and Area Measurement Apps for Android & iOS
Ruler – Bubble Level – Angle Meter
The need for measurements exists in absolutely different areas of life and work. You can only do the construction or simply change something in your own home – you will need special tools anyway.
In the application form 1 Bit, you will find 3 tools at once, which are reflected in the name – a ruler, a bubble level, and an angle meter. You can use them at your own discretion and anywhere you want.
In order to measure the angle, you need to place a point on the camera in the corner of the object, and then make all the necessary adjustments. The line to be placed according to the object will be displayed on the screen.
Then the length is already set and the angle is calculated. If you work with other tools, you will be able to adjust the units of measurement and even fix the resulting value, so that the indicators won't be confused.
It is worth calibrating the accuracy of each measurement that you will make. This application will be a really useful tool for household and work.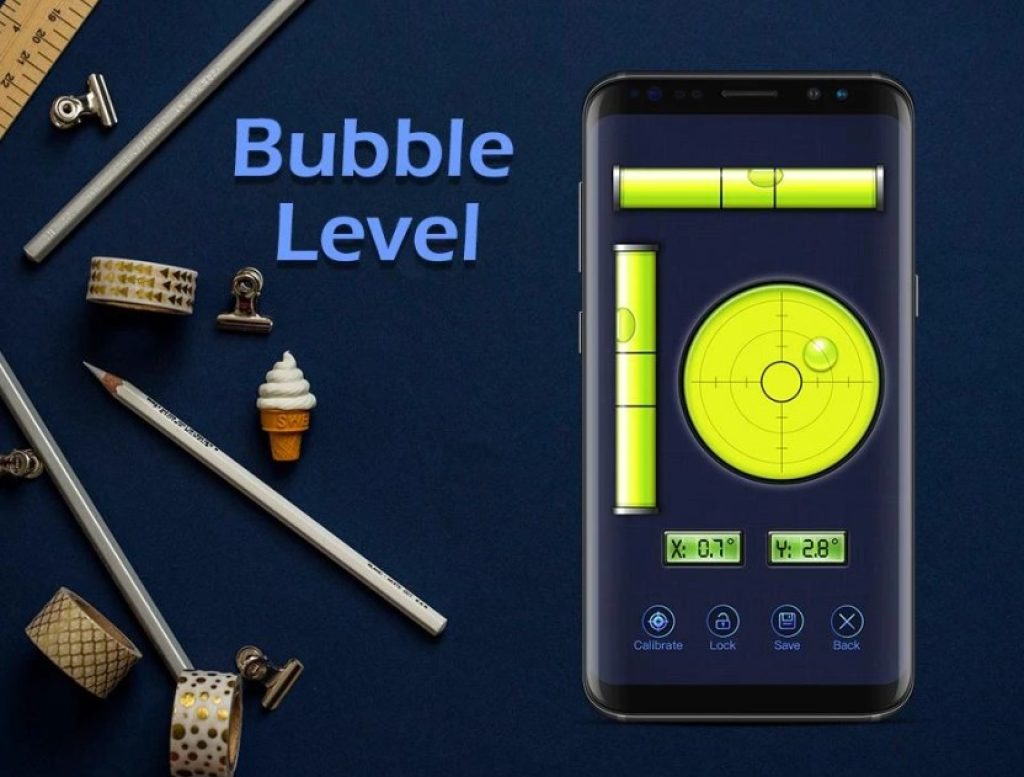 Simple Inclinometer
The Inclinometer app is a helpful tool for measuring the angle or slope of any surface. It can be used to check the roof pitch, among other things.
To use the Inclinometer app, simply hold your device against the surface you want to measure. The app uses your device's built-in sensors to detect the angle of the surface and displays the measurement in degrees or percentages.
When it comes to checking the pitch of a roof, you can use this app in several ways. By measuring the angle of the roof's slope, you can determine if it is within the recommended range for the type of roofing material you plan to use.
This information is crucial for ensuring that your roof is properly installed and will perform well over time.
In addition to its use in roofing, the Inclinometer app can be helpful for a variety of projects, such as woodworking, construction, and landscaping. Overall, it is a simple yet effective tool that can make many tasks easier and more accurate.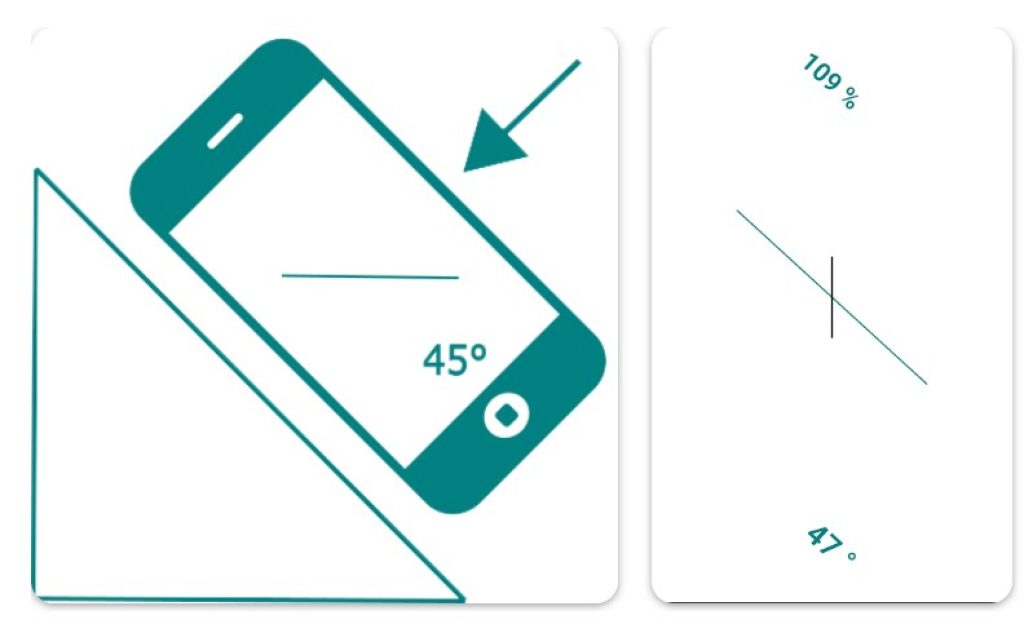 You may also like: 15 Best Measure Distance Apps for Android & iOS
Protractor™ by Tue Nguyen Minh
We already mentioned that there are applications that just provide you with a virtual protractor. Protractor is exactly that kind of application – but sometimes that's enough to get you the measurements you need right now.
With the help of the utility, all measurements will go quickly, and you can record the results in your notebook or anywhere else.
The Protractor interface isn't surprising – you'll see a protractor on the screen after launch and you'll be able to take all measurements with it. Accordingly, visual control is intuitive – especially if you have already used it in real life.
Measurements can be made both in degrees and in radians. The Protractor also has an integrated bubble level, which you may need for your design. For calculations, it is possible to use the built-in converter with a set of units of measurement.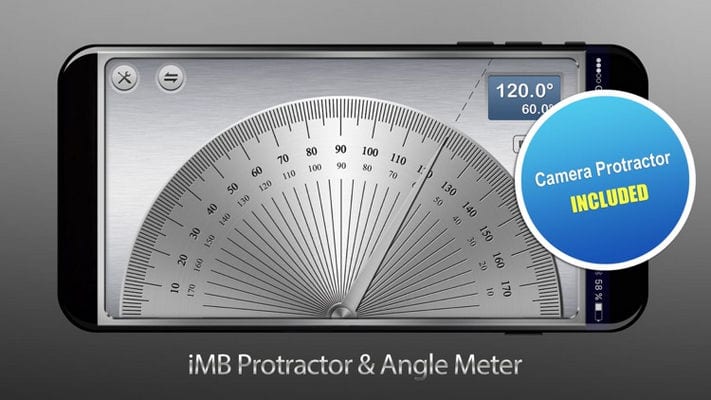 Protractor Tool – Transportador
Transportador makes it easy for you to measure all the angles around you. If you need to measure the level of your roof slope right now, or if you want to add a measure of the angles to your calculations, the application will quickly determine the right numbers for you.
In total, Transportador has three different modes of operation: manual angle measurement, digital inclinometer, and automatic angle measurement. You measure tilt angles, object verticality, and other indicators.
For automatic measurements in Transportador, you will need to select a horizontal base figure. On the roof, it can be the base or the level at which the foundation of the house is located. The slope is displayed more accurately on the digital display, where all the rails and signs will be located as well.
To fix the changes, it is recommended to press pause. It is also possible to calibrate the device and adjust the correct horizontal position of the smartphone for accuracy in Transportador. Turn the camera on and start measuring – it will not take you long.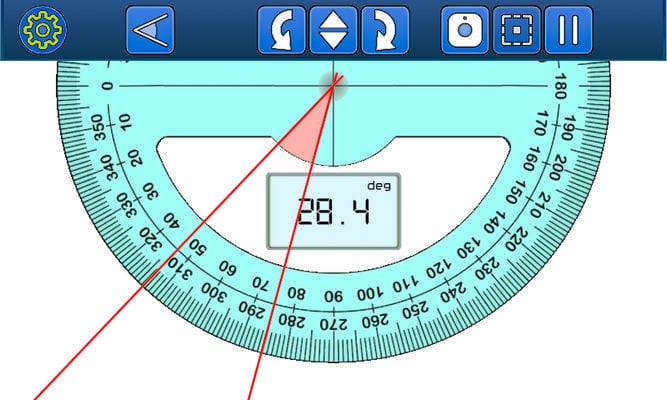 Protractor by keuwlsoft
Protractor is another application that represents a virtual protractor. It is designed exclusively for measuring indicators and angles, so if you are looking for a multifunctional utility, it is better to consider other options.
The Protractor interface itself is quite simple: on the screen, you see the protractor and a few work buttons – and that's where it ends. Minimalism in all its manifestations!
In order to measure something in space rather than on the screen, the application suggests you turn on the camera and point it at the object of interest. There is also a special pause button, which allows you to fix the image for accurate measurement.
After that, the horizontal and vertical lines are adjusted, which will be responsible for the resulting angle. For accelerometer calibration, there is also a separate point, which is better to use before all measurements.
Copy your measurements to the clipboard so you can send them by message or save them as notes on your smartphone.

iLevel – Protractor & Level
During construction or repair, it is often the case that you need a clinometer. Despite the fact that this is a really useful tool, it is not in the arsenal of every person. For you to have an alternative, we suggest you install the iLevel application on your smartphone.
Here you get a completely redesigned virtual clinometer, which will help you check the surface alignment, as well as measure angles.
The accuracy of iLevel calculations is 0.1 degrees – you have to admit, this figure is not always obtained even in real life. For dark places and rooms, you can even use a built-in flashlight.
For convenience, there is an acoustic signal and feedback that informs you about the size of the angle or the difference between the actual and the given angle. If you need to place something at a certain angle, you will enter the values in the application yourself and you can start setting it up.
In addition to a clinometer, you also have the option to measure distance or dimensions in inches and centimeters. iLevel is a good all-around tool.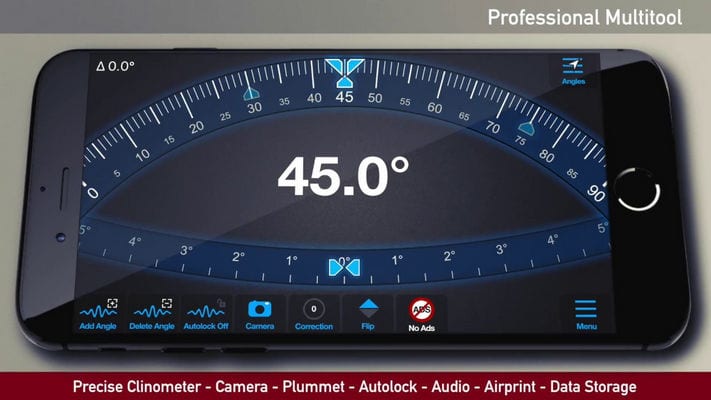 You may also like: 7 Free apps to measure blood pressure (Android & iOS)
Clinometer by PixelProse SARL
The most functional applications usually have a fairly simple design and functionality. Clinometer is the easiest and lightest visual application – you get accurate measurements with no extra effort.
Clinometer can measure both the inclination of objects as well as deviations that you want to know. Two metrics – roll and pitch – are used to calculate the indicators, so you can refine all the data.
In addition to measuring angles, you can measure how flat the surface is, as well as the slope of the floor or objects. To measure the inclination on either side, you will first need to rotate the phone around an axis perpendicular to the screen.
So your smartphone with Clinometer will be able to measure the slope. However, if you want to measure the pitch of an angle, you can use a special measurement to get a pitch close to zero. This is a good measurement that allows you to get accurate data when measuring from height or with a camera.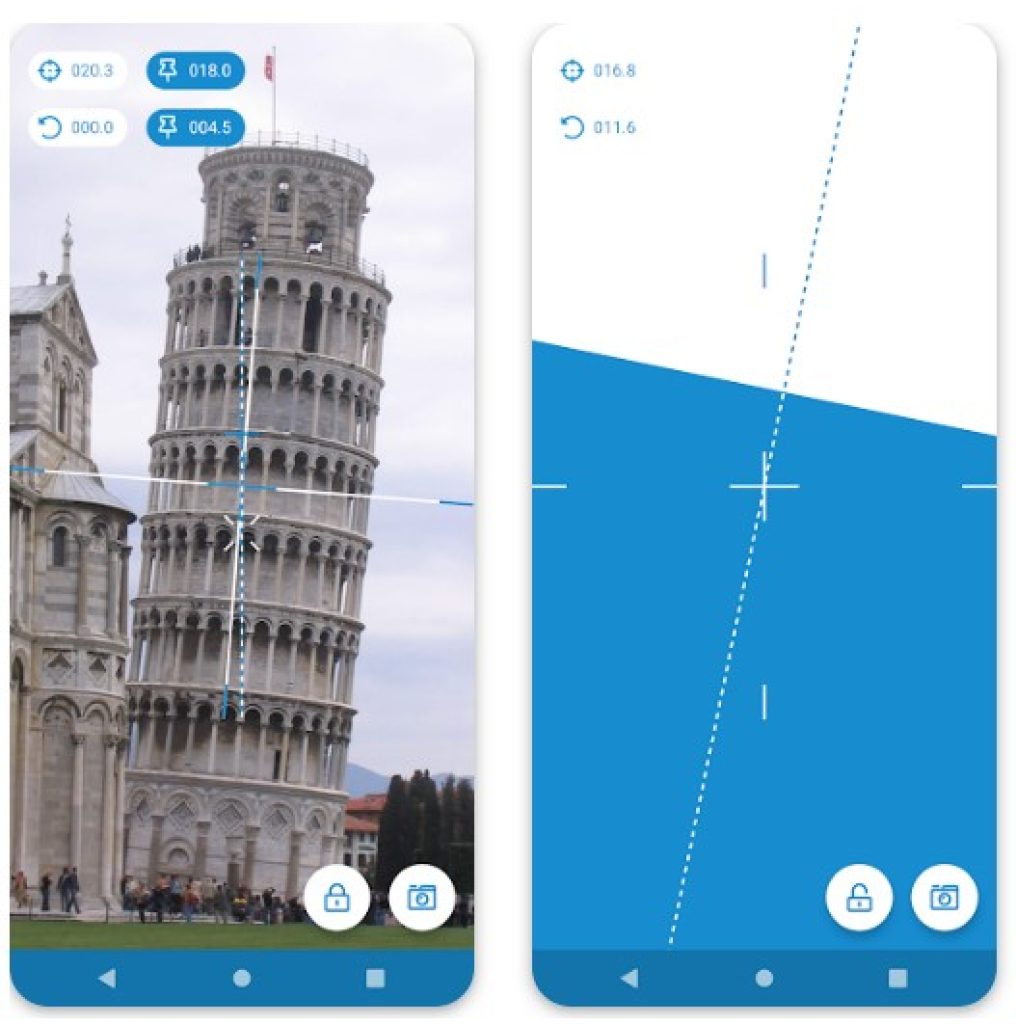 Smart Protractor
Smart Tools has already released many excellent products that help people in a variety of cases and areas. For example, they include virtual rulers, automatic room planners, and much more.
As you understand, the developers have created another useful application – Smart Protractor. It is one of several parts of the application, which is designed to measure angles, tilts, and deviations.
This application includes 2 basic tools to help you find out if the surface is really uneven and what angle your roof is. In touch mode, you will need to attach an object to your smartphone screen, where you can use the virtual protractor to measure the angle yourself visually.
In the second mode, you will need to use the weight and vertical lines – it is mainly used for the slope. Most importantly, this application has absolutely no advertising, as well as you can change the units of measurement as you need it.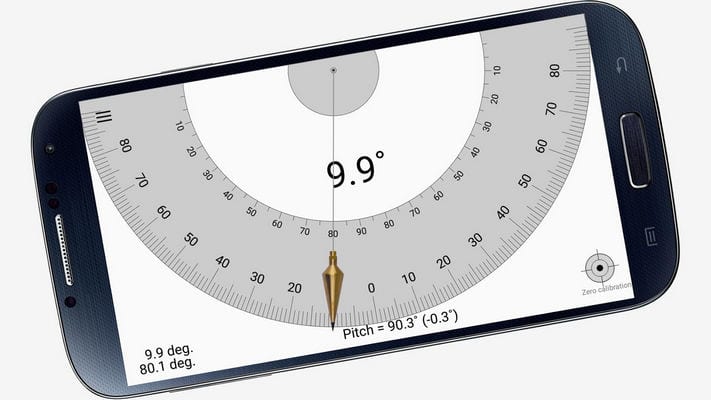 Roof Bid Helper
If you have decided to measure the angles in your roof, perhaps you are changing it. We've found a useful application that will help you calculate everything from the size of the roof waste to the starting dimensions you need to start with.
Roof Bid Helper is perfect for those professionals who work directly with houses and really need to measure and know all that data.
The Roof Bid Helper takes into account all roof factors to calculate how much material you need. You can use different types of tiles or cover a roof with a small angle of deviation – just add it all to your smartphone in advance.
For more accurate calculations, you can use field calibration – to keep track of the actual size of the tiles. The application will generate an approximate amount of everything you can use in the process. Stop ordering too much or too little material – this will save you money and time.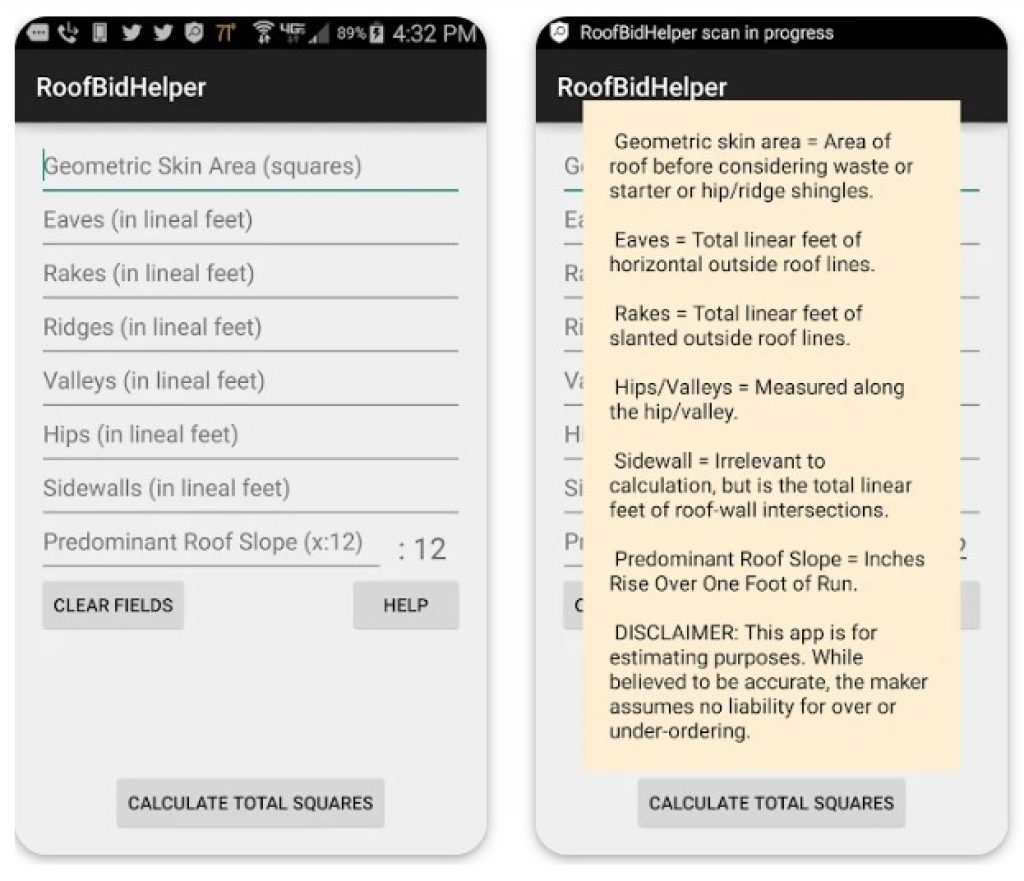 You may also like: 11 Best apps to measure air pollution (Android & iOS)
Angle Meter
The Angle Meter app is a typical boring Android app representative with a boring interface design, but at least it performs its features better than the other apps in this segment.
To use it, place your device on the surface you want to measure, and the app will display the angle in degrees, radians, or percentages. You can also calibrate the app to suit your needs, and it supports both portrait and landscape modes.
The app can also be useful when you need to measure the angle pitch. With it you can measure the slope of the roof and ensure that it is within the recommended range for the roofing material you plan to use. This is essential for proper installation and ensuring the longevity of your roof.
Aside from roofing, the Angle Meter app can be used for a variety of tasks, such as woodworking, construction, and so on. Its versatility makes it a valuable tool for both professionals and DIY enthusiasts.
It is not the best and most reliable app on the market for measuring the roof pitch, but it's a nice choice if other options didn't suit you.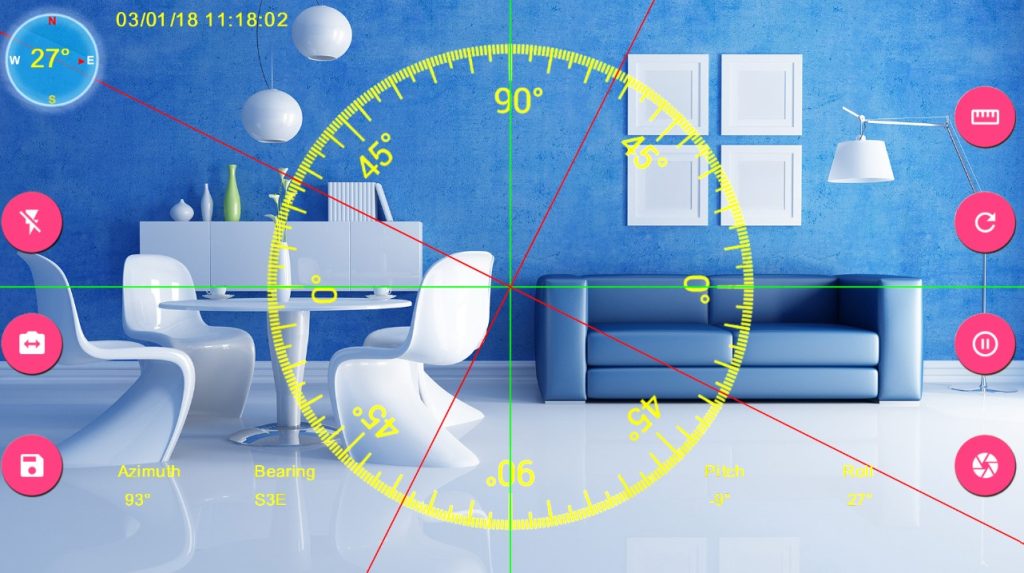 We understand that not all of these applications are specifically designed for roofs and buildings. Many of them just measure angles – but that's enough for the calculations.
If you're not sure of your own abilities or calculations, you can contact specialists – there are many companies that are ready to help you with the right payment. Even if you still have the desire to do your own house, we wish you good luck and hope that everything will work out perfectly.