Have you ever heard about Dollar General Penny Deals and Penny Shopping list? A big list of items appears on the shop shelves that cost just a penny. Items can really cost 1 cent. And It`s not a joke! Such extraordinary sales policy is relatively old practice in Dollar General stores. Products that haven't been sold for a long time and took much time on shelves are getting into the list of Penny shopping on a weekly basis. More precisely, the list is updated each Tuesday and on special occasions like Mother`s Day.
Customers can find a big variety of item from food to clothing items. There you can find socks, pants, bags, grocery items for 1 penny only.
Let me explain how it happens. Dollar General stores have regular discounts. It starts at a 10-25% discount. Then it rises up to 40%, 50%, 90%. Then the item will be added into a penny list. So it's a long process for an item to reach the bottom price. But from this moment you have a chance to buy what you need almost for free.
Next step is to recognize which items are Penny and which are not. And hardly you will find penny items among all the stuff on shelves. Plus, its not written on tags. For this, smart guys developed applications that must help you recognize penny items. We have chosen the most popular and most valuable application called Penny finder. The app was created for both platforms iOS and Android. It will cost you just 2.99$ once without additional payments and monthly subscriptions. Pay once and join a community of same as you Penny pinchers. So, let's have a closer look at the app.
Penny finder app

– Try to catch a penny item.
First of all, the app is not affiliated with Dollar General company. The guys who have decided to establish a helpful platform for penny items seekers are Independent developers. Thus, DG doesn't endorse Penny finder app.
Secondly, the app is available for both Android and iOS platforms, though developers` names are different on Android Market and Apple store. Was it a mistake or planned action, we don't know. From the first sight, you can notice that apps are similar with typical functions, designs and even its descriptions on markets.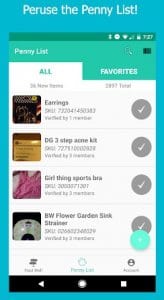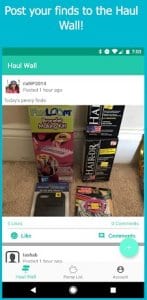 How it works:
The Dollar General store customers post photos and write details in the app after finding penny items. All this is to inform other users about such items and great a penny deals. Those items appear on a Haul Wall on the app like a list of news on FB. You just scrolling to check updates.

Items also can be found in a Penny list of the app. You will find a picture of the item its bar code number and know was it verified by others or no. Those who have found same penny item can press a tick button in front of the item in a Penny list showing that this is a real 1 cent deal.

To find out whether this product is a penny item or no you need to scan a barcode on the tag of the item through the app using your smartphone cam. Therefore, ensure that your phone supports these features. For example, iPhone 4 will scan the barcode slower or even can fail in this task. The barcode icon is placed on the top right-hand corner of the app. Press it and scan the item code to know whether this product in the list or it's just had some discount and still hasn't reached a "penny out" moment. The second option beside scanning a barcode is to type in the last 4 numbers of a barcode into a "search" frame.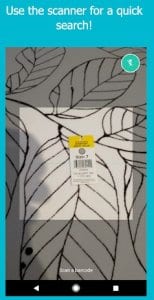 You must be knowing that the list of item that constantly renewed is hidden and it's not an easy task to find these secret "penny" items in the whole store. With this in mind, using the Penny finder app can be very beneficial.
Features of the app:
1 The app is easy to use and uncluttered. All information is divided into three sections:  Haul Wall, Penny List, and Your account details. Haul Wall has listed with all items sorted by relevance and the list of Favourite pennies that you can manage yourself.

The coloration of the app is a tranquil white with turquoise elements that is quite pleasurable for eyes.

The app will cost you 2.99$ once upon purchase and download. No need to pay any monthly or annual fees.
To sum up the information above, people review on the Internet and my own opinion the Penny Finder is a very beneficial and convenient app for those who are constant visitors to Dollar General stores. If you like to save some money don't hesitate to download this app that won't cost you an arm and a leg. Instead, it will help you to keep your pockets full.  We all know that if you look after the pennies, the pounds will look after themselves.