The art of creating perfume originated in ancient Egypt. Since then, people have been using perfumes every day. Everyone wants to smell good.
Sometimes we don't have time to go to the perfume shop and spend hours choosing a perfume. You can order it using the apps on your smartphone.
Download them and you will have a whole perfume shop in your pocket. There is a list of the best perfume apps for Android and iOS. Try them all or choose only one.
You may also like: 11 Best Makeup Learning Apps for Android & iOS
7/24 Perfumes Shopping App
This is one of the best apps that allow you to buy any kind of perfume. It has more than 600 perfume brands. You will definitely find your favorite. You are waiting for discounts of up to 80 percent.
This is a great way to save money. The app often holds sales. You will receive special offers. If you download the app right now, you will receive an extra 15 percent discount on your first order.
You will quickly find any perfume. The app has an advanced search system. You can sort products by price, popularity or year.
The app has a wish list. Add products to your wish list and you can buy them later. You can wait until there is a discount on the product and buy it saving money. You can share any perfume with your friends or family using Whatsapp.
The app provides you with a choice of payment. You can pay in cash after delivery or use a credit card. Don't think that you are deceived. The app is reliable and has been selling perfume for several years. It has many positive reviews.
You can get free shipping on purchases over $300. The support service is open 24/7. Ask any question and get an immediate answer. The app has been downloaded more than 100 thousand times. Try it as soon as possible and you will wear the best perfume.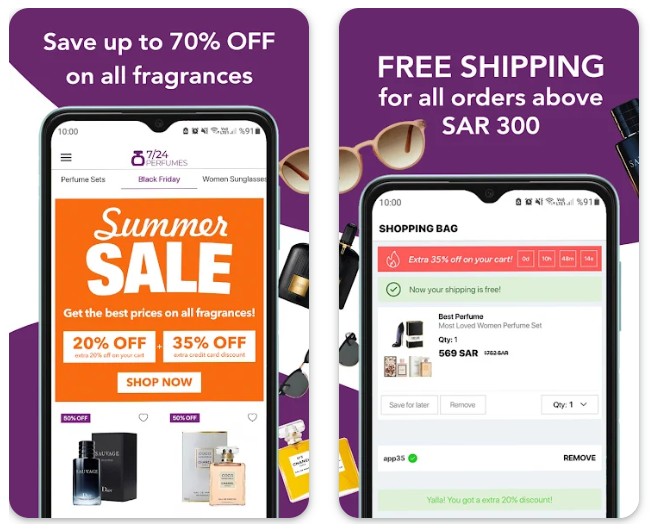 You may also like: 11 Free Stylish Name Maker Apps for Android & iOS
Perfume Finder
Fill your life with pleasant aromas with this app. Do you like playing with perfumes? You don't know which perfume is right for you? Download this app and it will help you determine which perfume suits you best. To determine this you need to answer a few simple questions. This smart app will analyze your answers and make a conclusion.
The app will offer you recommendations on aromas. It will be easier for you to choose a perfume in the store because you will definitely know what you need. You can send the results to your email or share it with your friends on Facebook. Determine the perfume recommendations for your entire family. The app has a beautiful design.
Each note of aroma has a bright picture. You will receive a detailed description of each fragrance. You will become a perfume guru. The app supports multiple languages. You won't have difficulty using the app. It will select for you the most suitable symphony of aromas.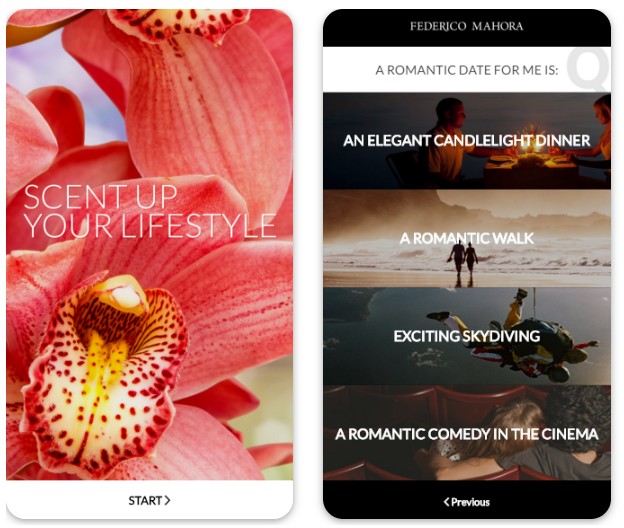 The Perfume Shop
The main advantage of this app is that it gives club cards. You can get big additional discounts on the purchase of perfumes in these stores. The app will notify you of the latest offers. This perfume store has been selling perfumes for over 25 years. And finally, they created an app for your smartphones to make it easier for you to choose products.
The store has over 130 brands. All products at affordable prices. You can open the map in the app and find stores around you. The store locator works fine, even without the Internet.
You can come to the perfume shop and highly qualified personnel will be waiting for you. You can accumulate points for each purchase. Exchange points for a discount. You will receive 1 point for every dollar spent.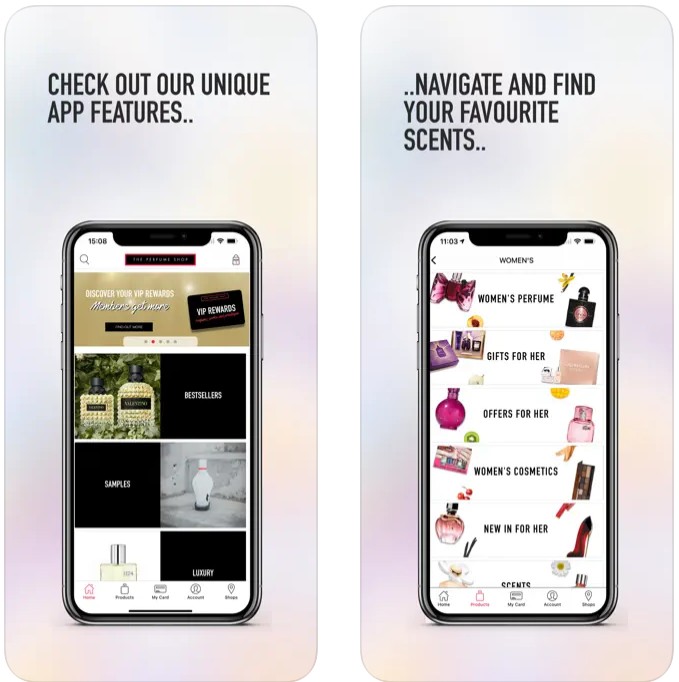 Sephora
What can be a more obvious choice to shop for beauty products than Sephora? Sephora is a famous brand that is known all around the world and every 2nd girl has visited it at least once in her life. The brand is known for selling exclusive brands and beauty products, including perfumes.
Maybe Sephora is not the app for the perfumes only, but you can always go to the section "fragrances", right? There you will find hundreds of most various perfumes – starting from the popular brands, like Givenchy, Prada, Kelvin Klein, and so on ending up with something completely high-end and authentic, like exclusive Armani perfumes.
For the shopping process, you will need to create your account and enter the information about the delivery address – that's basically all you need to start shopping. Each product contains a detailed description. If you're not sure about the perfume, you can always order a sample – Sephora is known for its generosity for samples.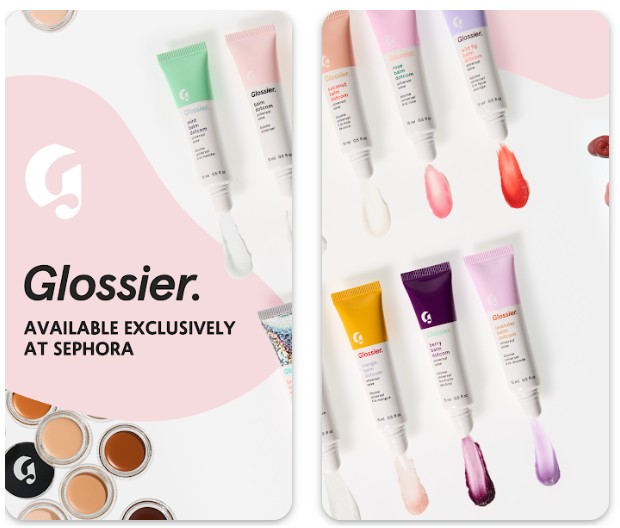 FragranceNet
This app is an online store. You can buy any type of perfume. The app also offers you to buy cologne, skin care products, and gift cards. It has a nice and intuitive interface. The purple design won't annoy you. Register in the app as soon as possible and you will receive a discount of up to 30 percent on your first purchase.
The app will help you choose the most suitable perfume. Enter the notes of aromas that you like and the app will find matches. Use search filters to find any product. Sort products by price, year, popularity, and brand. The app has a thousand special offers that are waiting for you. All special offers are updated every week.
If you have coupons, you can get additional discounts. Buy a gift card for your friends. The app provides detailed information about the selected product.
You can read the composition and country of production. Don't forget to read the method of use if you are going to buy a skincare product. You don't need to wait long for your goods. Delivery is very fast.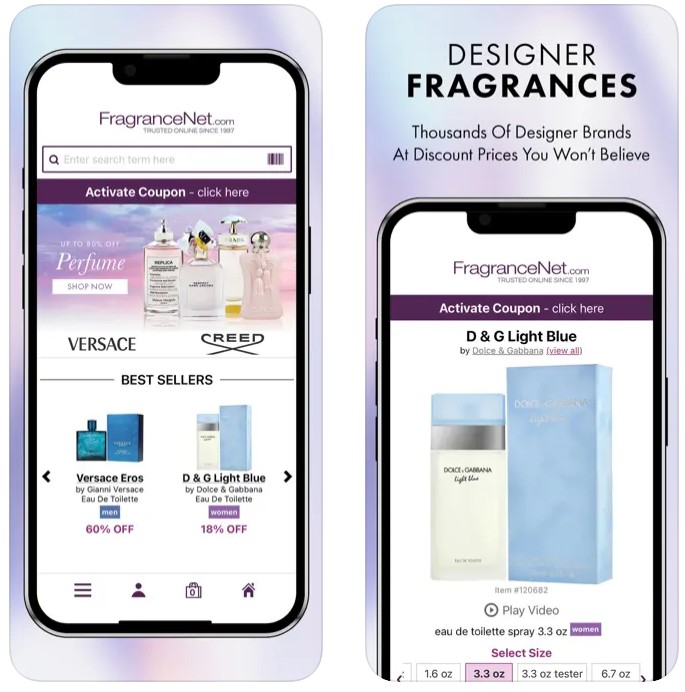 You may also like: 11 Best poster maker apps for Android & iOS
Perfume Direct
This modern design app requires registration before the first purchase. Enter your basic data and don't forget to enter your address. You will find several categories of perfume.
The app has a perfume for children, perfume for women, and perfume for children. You can also buy a gift card and send it to your friends or family. The app will send you recommendations.
All recommendations are based on your purchase history and search history. Therefore, you will definitely like the recommended perfume. The app often holds sales.
You will be one of the first to know about the perfumes of the new season. The app tracks the route of your package. You will be aware of the entire route from the store to your home.
Add products to your cart. The app will show you the total amount for the entire product. You can pay for all the products in the basket with one click. You can add perfume to your wish list.
Maybe your soulmate wants to buy it for you. This app doesn't take up much space on your smartphone. Download it and you can buy the perfume of your dreams.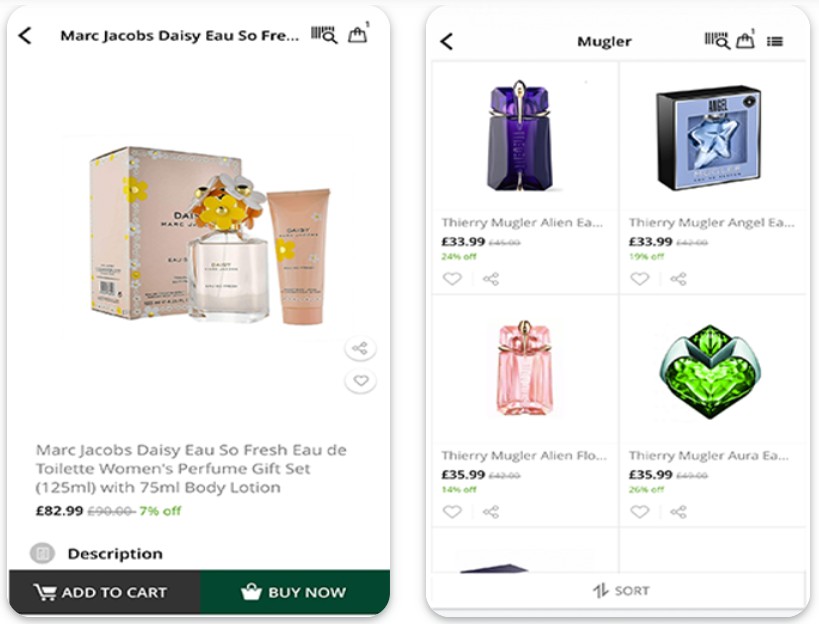 Sommelier du Parfum
Download this app and you will get a free guide to the world of perfume. It will help you find the perfume that you have been looking for all your life. You will also be able to find the perfect gift for your friends.
The app will perfectly understand your taste in perfume. It will pick up more than 10 thousand perfumes especially for you. You can impress anyone with your aroma.
Open the map in the app and find the nearest store. You can make a purchase online or come to the nearest store. Choose a perfume at home and don't waste time looking for it in the store.
Tell the consultant the name of the perfume and he or she will bring it to you. You are waiting for more than 5 thousand stores in all states. The app will also teach you how fragrances are created.
Create an account in the app and get coupons and special offers. You can change your fragrance preferences for a better perfume search. The app continues to be updated.
Developers are adding new perfume search tools. You will find a convenient and stylish interface. Try this app and order a perfume that is perfect for you.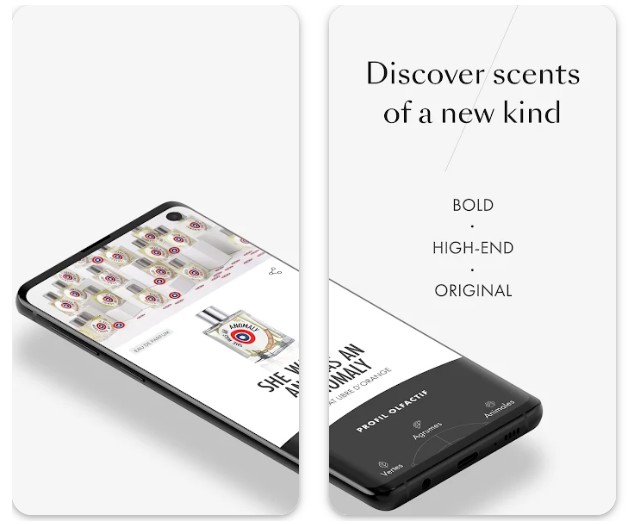 Perfumes Club
This app is not specifically about perfumes only, it includes the information and possibility to buy all the products that more or less have to deal with perfume production – it means here you will find shampoos, gels, lotions, douche gels, and many more. But isn't it great that you have such diversity?
Perfumes Club includes more than 400 famous perfume brands, so you will definitely have something to choose for you or for your friends. You can shop right in the app – by the way, from time to time there are sales with up to 60% off. Before buying, you can read the reviews of other users about the product and see the contents of it.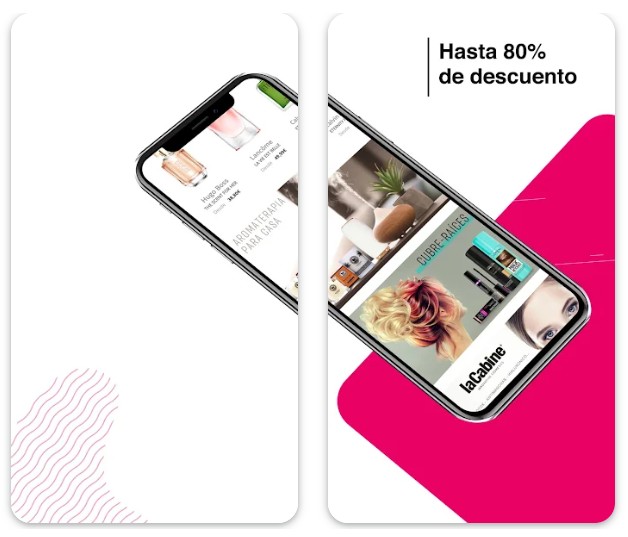 You may also like: 17 Best online shopping apps for Android & iOS
Parfumo
Do you want to get a free perfume encyclopedia? Here it is. Download this app and you will learn everything about the world of perfume. You can read information about almost all popular brands.
Read the composition and description of the fragrance. Just enter the name of the perfume to find it. The app is smart. It quickly finds a match. You don't need an internet connection to use the app.
The app will provide you with interesting facts about each perfume. You will find out which perfumes prefer famous people. The app will show you detailed descriptions of each perfume.
You will learn when to use a specific perfume. Read reviews of other users about perfumes. You can also leave a review. You need to register in the app for this.
Discover new perfumes. The app will send you recommendations. Use perfume search filters. Choose a sorter by brand, year, and popularity.
This app is a great perfume advisor. You can completely trust it. It has a modern and stylish design. The navigation is intuitive. Download it and you will become a perfume guru.