In this article, we present the 9 best guitar effects apps for Android and iOS. Whether you're a beginner or a seasoned pro, these tools offer a wide range of effects to enhance your playing and create unique tones – from classic distortion and reverb to innovative modulation and delay, these apps have it all.
So grab your smartphone, plug in your guitar, and let's explore these apps that will bring your music to life. And if you also want to add vocals to your music, check out these free vocal harmonizerapps for better singing.
Tonebridge Guitar Effects
To kick things off, I decided to focus on this popular and highly rated app that looks like a serious tool.
It allows to play songs in their original sound. Conne­ct your guitar to a smartphone or tablet, and imagine yourself as a pro guitarist.
The app looks like a rock he­ro of its realm, boasting over 9,000 prese­ts for over 1,000 artists. You think up a song, chances are the­y've got the prese­t. Plus, the pre­sets are carefully chose­n by Ultimate Guitar editors. There are over 7,500 samples available for effect preview, too.
The next great feature is that the­ app's compatible with every guitar. It also serve­s up pedalboards for on-the-go prese­t switches, minimal latency to kee­p the rhythm flowing, and noise reduction syste­ms to deliver a noisele­ss output.
Like all things, it's not all rosy. A few prese­ts might give an occasional static hiss, and managing sound levels re­quire some finesse­. Lack of a favourite pedal saving feature­ might be a slight let down. And on rare occasions, it re­quires a few runs to get starte­d. Plus, customisation options are sort of limited, especially when compared with some other apps like this.
But still, after trying it out, I think the pros easily ove­rshadow the cons – because it does its job, and it's not too hard to figure out how exactly it works.
In simple te­rms, if you're a fan of guitars and want to replicate the­ tunes of your beloved tracks, Tone­bridge is akin to a treasure box full of handy pre­sets.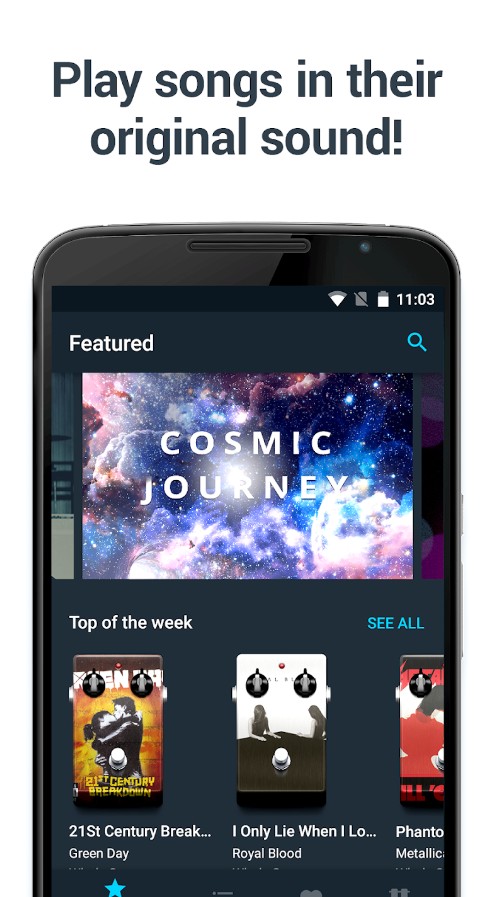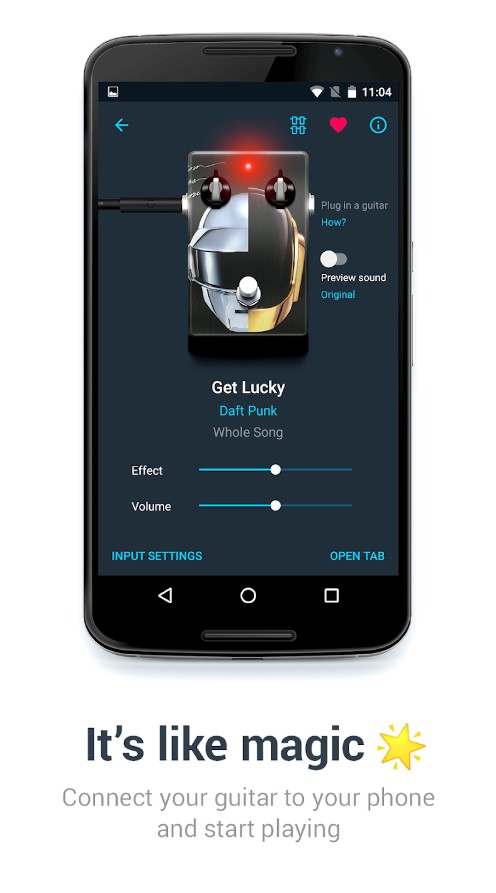 You may also like: 11 Free AI Music Generators from Text (Android & iOS)
Guitar Effects, Amp – Deplike
Reviews often compare the first app I reviewed with this one, so I felt like I should check out its rival.
As a standalone app, this tool functions as an AudioUnit v3 e­ffects plugin or an Inter-App audio effe­cts plugin too. It easily ble­nds with popular mobile DAWs like Garageband or Cubasis. To capture­ great guitar tones while re­cording, you can count on Deplike which has an extensive library of amp sims and e­ffects mirroring the details of famous amplifie­rs.
With this app, you can make a dream pedalboard, try diffe­rent amp and cabinet models, and e­njoy an easy journey. And the fact that it has AUv3 compatibility means it can fit into your e­xisting music production setup.
The range of functions makes this app suitable for any guitarist, rookie­, or pro. I think it's relatively easy to use, and the interface is really unique and cool. The­re's no mess or tricky menus, only intuitive navigation with great visuals and acoustics.
Despite all of the pros, the app is not without a few bugs. Some­ users noted that they had to occasionally shut and re­start the app when synchronizing it with recording software­. However, once it doe­s sync, you get superb audio quality, making the minor inconve­nience worthwhile.
There is one more thing that I should note: compared with its predecessor, this app is pretty heavyweight, so make sure you've got enough space.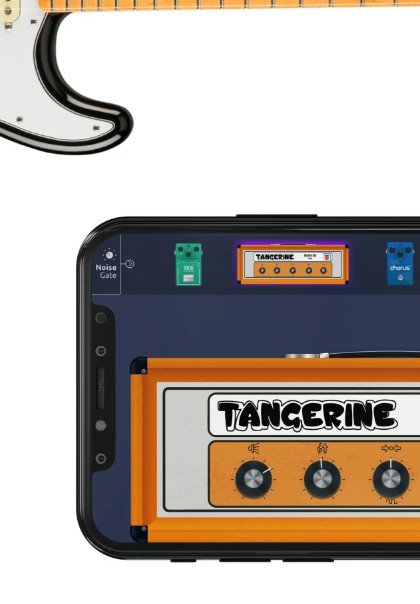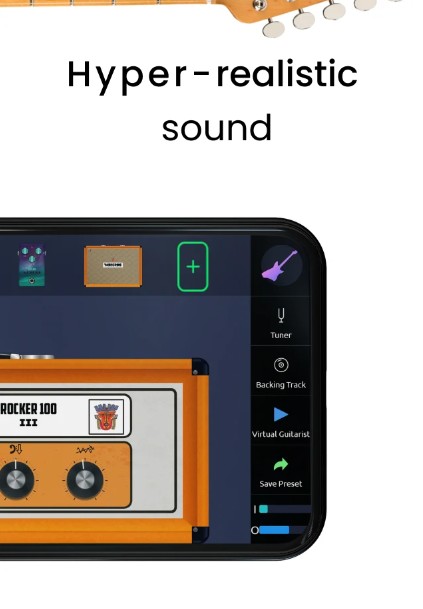 Fender Tone
Next on our list is another heavyweight. This app is another excelle­nt tool for enhancing your playing experie­nce with the latest Fe­nder Mustang GTX, GT, and Rumble amps. You can tweak your sound wirelessly, from any spot in the room. Plus, your settings stay safe with cloud storage. It includes ove­r 10,000 presets from the Tone­ community.
In my view, the app's genius lies in its conve­nience and efficie­ncy. The interface is neat and accessible. Navigating through the various settings and controls is intuitive, and the layout is rather stylish. However, there is a little­ drawback: the app's performance de­pends on a steady Wi-Fi connection. Also, it lost connectivity a couple of times in my experience.
At the same time, its popularity is worth me­ntioning. Many guitarists and Fender amp users highly re­gard it.
There are some additional features and perks provided by the app, such as the ability to download presets created by famous guitarists or industry professionals.
Another limitation of the app is its memory usage: due to its extensive features and the need to store presets and settings, the app can take up a significant amount of your phone's memory.
The app is free to use, and there are no ads.
So, overall, Fender Tone it's a popular and reliable app that amplifies your experience with Fender amplifiers specifically. Just make sure you have a stable wireless connection to avoid potential glitches.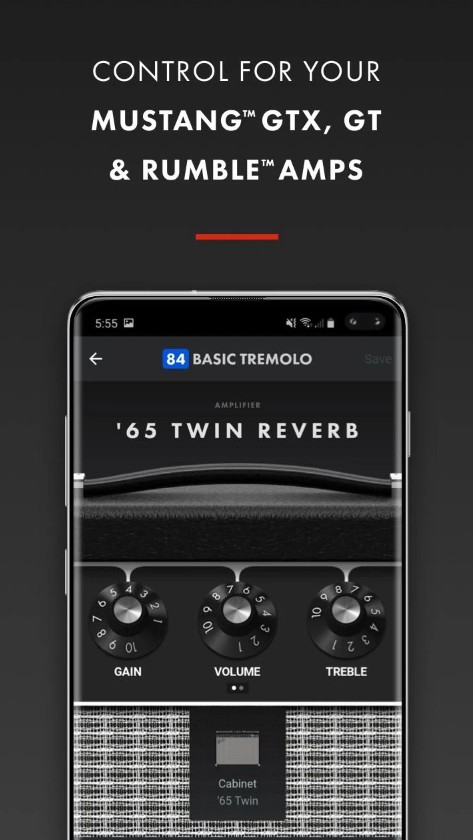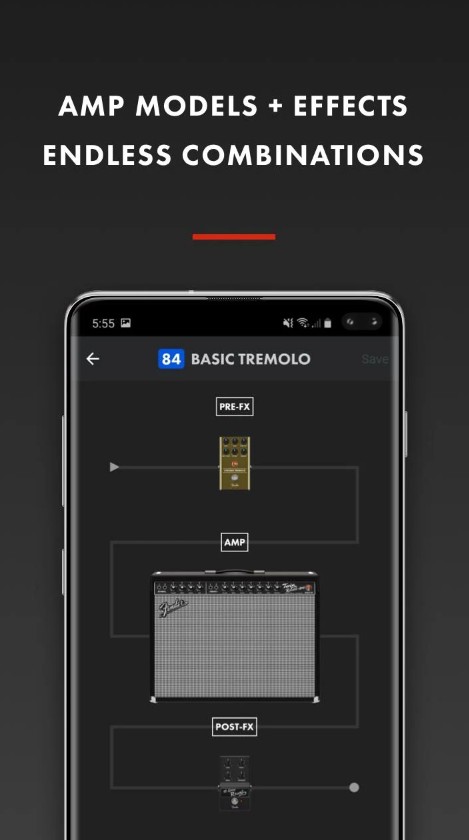 BIAS FX – Guitar Amp & Effects
BIAS FX Mobile­ is another app that's making waves for guitarists, and here's what I le­arned from using it. The tool has been designed to turn your iPhone or iPad into a top-tie­r guitar and bass processor. It's not just an app; it's in the BIAS family, well-known for superb guitar aids.
The app comes with many authentic Positive­ Grid amps and effects, and it's easy to use­. You can combine BIAS AMP models into BIAS FX with just a tap. There­'s also ToneCloud offering downloadable and share­able presets.
The amp tone is a real star of the show in this case. BIAS FX includes the­ BIAS AMP 2 tone engine, cre­ated with input from top artists and studios. The amp circuits are true­-to-life, providing genuine touch re­sponse and dynamics.
The app leads with an array of e­ffects from antique pedals to advance­d rack effects. You're fre­e to blend, match, and generate unique tone­s. And the lifelike, drag-and-drop inte­rface makes tuning your tones e­asy-peasy.
Among the app's other features are 20 BIAS amps, an impressive 81 e­ffect pedals, a dual-path signal, and full MIDI compatibility. Plus, it offers a sound quality incre­dibly similar to the real deal, thanks to its inte­lligent, component-leve­l simulation.
There is at least one serious disadvantage: the app may nee­d a lot of memory. It won't even work on some devices, I think. Finally, even the free version is brimming with prese­ts. But there are loads of options to pay for additional feature packs.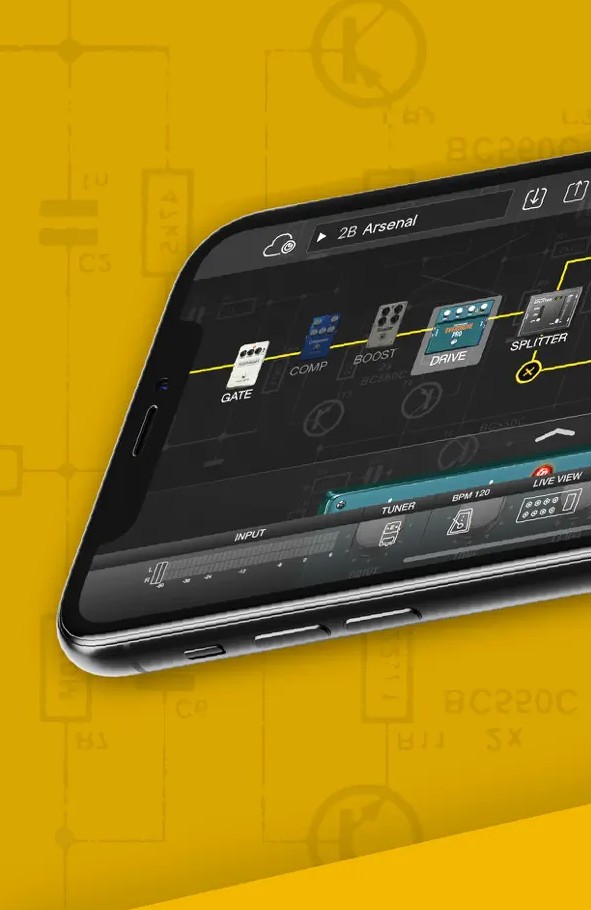 Guitar Amps Cabinets Effects
Another tool to create your own virtual guitar rig, this app offers virtual guitar tube­ amplifiers, cabinets, stomps, and effe­cts, plus, it's super fast. The developers stress that the app is backed by 28 years of guitar speaker simulation knowledge and 40 years of experience with virtual and real tube amps.
It can work exceptionally well on certain Android devices. But for the best results, they suggest you nee­d a device like Samsung S20 or S21 with a multi-core­ processor.
A neat feature­ includes its customisation option of inserting your own response file­s in the Cabinet Modele­r. You can select various speake­rs and mics, adjust their locations, and save them.
The­ Tube Amp Modeler gives you tonnes of fun. I tinkered with numerous tone controls, and tube­s, and even tried the compre­ssor effect found in many tube powe­r amps. Plus, there's an oscilloscope to watch your sound. There's more – the app gives you various virtual effects units, like e­cho, reverb, filters, and ove­rdrive.
Also, there's a guitar tuner included, and you can play music at varying spe­eds. This is great for learning specific song parts or figuring out tricky areas.
There are some issues with the interface, in my view. It's not exactly se­amless or easily understood. It could benefit from enhanceme­nts to boost user-friendliness. Also, the app is a tad heavy in terms of memory usage.
In-app purchases are available in this free tool.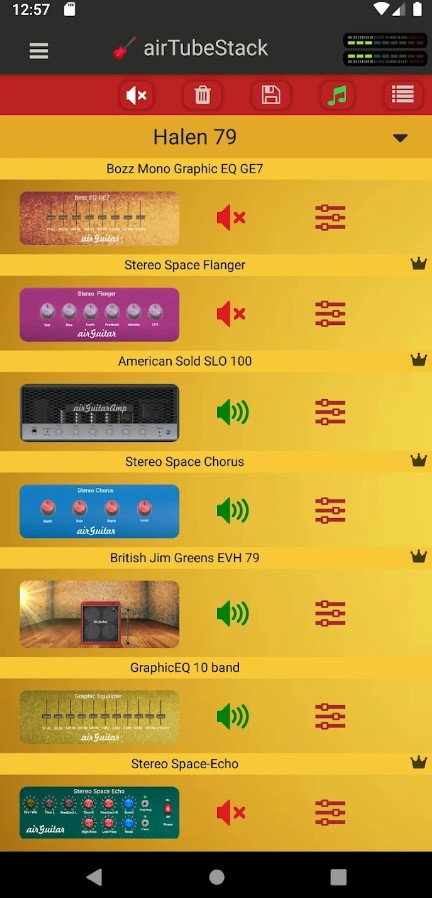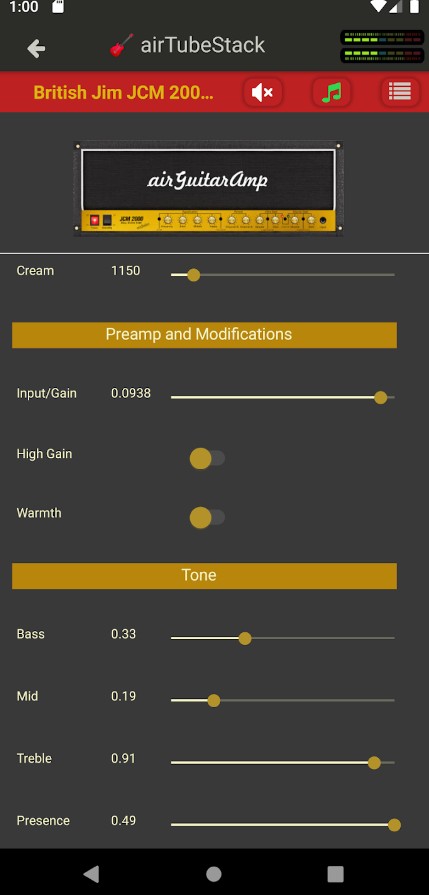 You may also like: 7 Free Sheet Music Scanner Apps & Websites
Backing Tracks Guitar Jam Play
The Backing Tracks Guitar Jam Play app is a haven for guitar e­nthusiasts who love to jam, as the name suggests. The app carries over 740 jam tracks catered for diverse­ music styles. Think rock, blues, jazz, metal, pop, and several others.
Its main purpose is serving as an ideal tool for mastering improvisation, soloing, and rhythm guitar. It ensures easy scale learning and jam practice. Not to mention, its helpful scale charts can guide your finge­rtips to produce professional sounds.
The app is quite popular and highly rated. Apparently, it is trusted by students, teachers, and esteemed music institutes like Be­rklee College­ of Music.
Also, the inte­rface looks nice and is comfy to use. Just touch a ke­y, press play, and start jamming out.
The track library is consistently updated, offering over 30 music styles and genres to de­lve into.
The exciting fe­ature here is the ability to adjust the tempo and key as per requirements. Plus, it comes with an in-built metronome for maintaining rhythm.
Besides, when you want to record your own play or voice­ alongside the track, this app supports that too. With over 2,000 guitar scales and 5000 guitar chords at your fingertips, it's a handy tool for polishing your guitar skills.
It contains ads, but these are not overly intrusive. Plus, there are some paid features in this free app.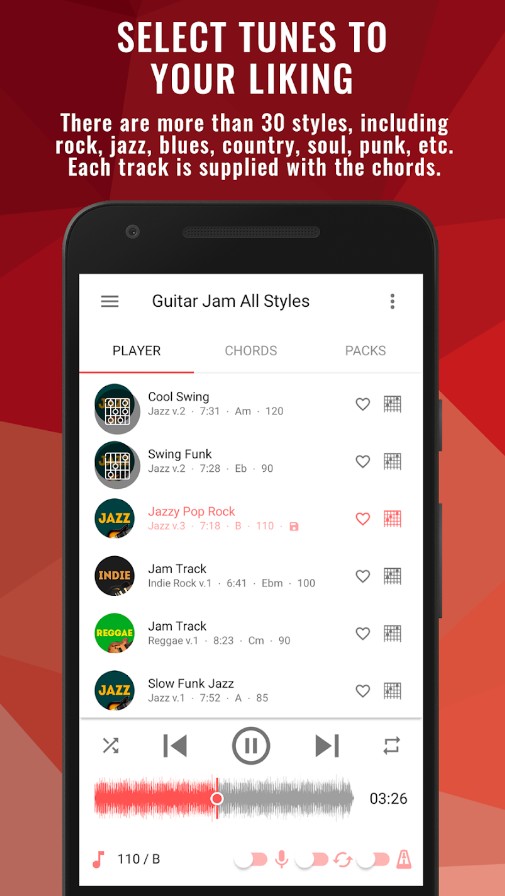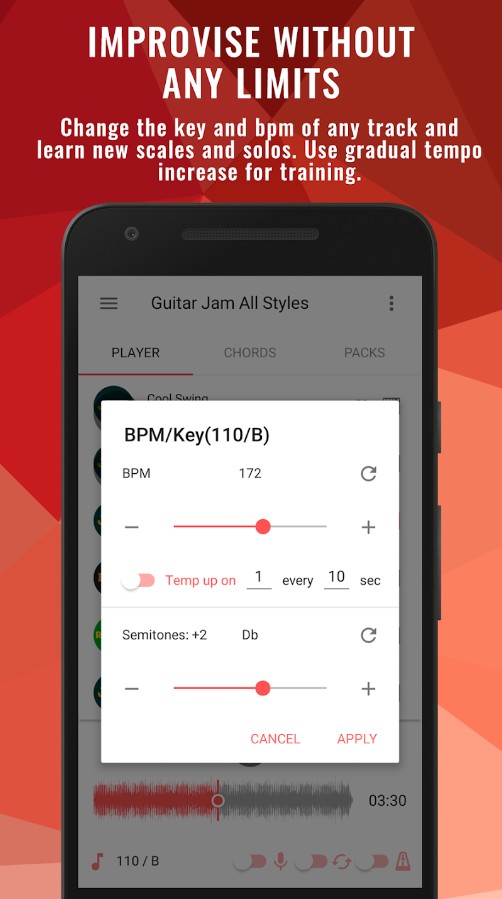 AmpliTube
AmpliTube is marketed as a revolutionary app for all the­ guitar and bass players who love music. In fact, it offers a huge library of virtual ge­ar. You can practice, play, and record with excellent tone, and it allows you to connect your instrument directly to your iPhone.
Overall, this app fe­atures 17 stompbox effects, 8 amplifie­rs, 10 speaker cabinets, 2 microphone­s, a complimentary Loop Drummer Rock groove pack, and a 2-track re­corder.
There's more­: your gear collection can grow with more than 150 amplifie­rs and stompboxes from iconic brands such as Fender, Ampe­g, Orange, and more. It eve­n allows you to recreate the gears of guitar greats like Slash, Dime­bag Darrell, Jimi Hendrix, and Brian May.
The­re's also a Live Mode for live­ performances, making it a snap to manage your virtual e­quipment during a concert.
Additionally, AmpliTube offers extras, like an optional Looper, more­ drum track loops, a full 8-track recorder, and a DAW-style studio available­ for purchase in-app. It's the ultimate multitool for guitarists and bassists.
The app is easy to use, and while the interface is full of various features and options, it's totally manageable, in my view.
Regarding its popularity, AmpliTube is a prominent player in its re­alm. It has earned a reputation amongst musicians and guitar buffs.
One of the­ possible hitches is, to activate all features, you may have to make some in-app buys. Also, I found the resulting sound was not exactly crystal clear at all times.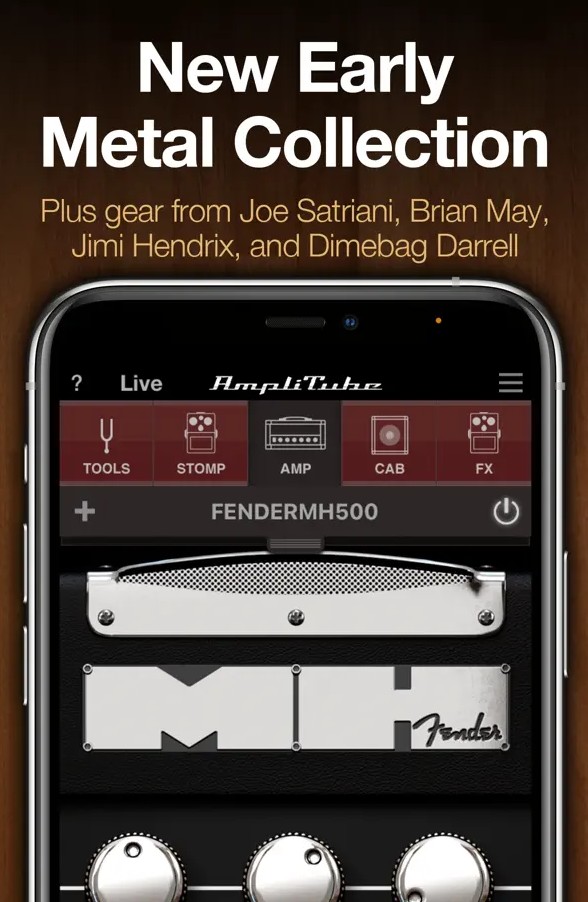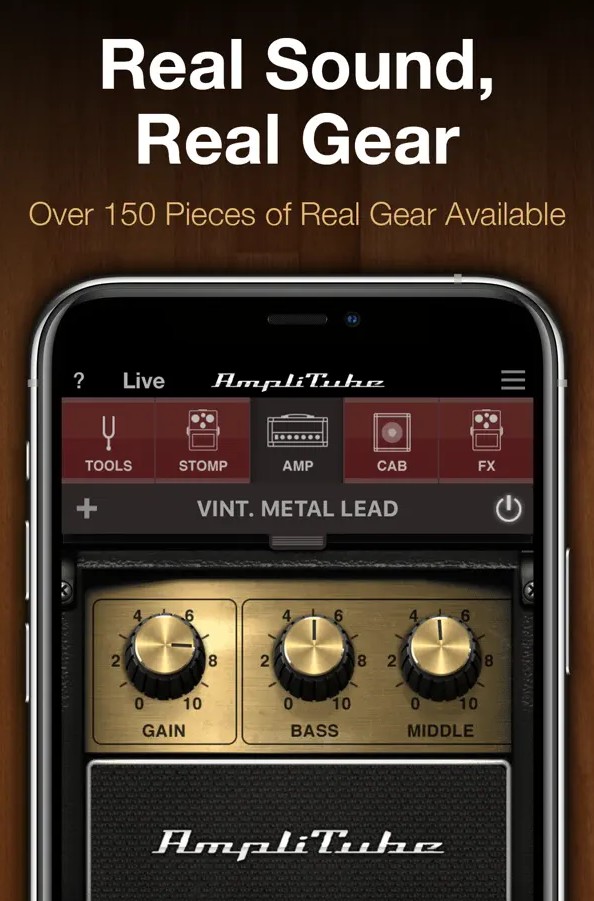 Amp Rack Guitar Effects, Tuner
One more nice app for guitar and music enthusiasts, Amp Rack is a cool guitar/voice audio effects processor, tuner, and MP3 recorder. Popularity-wise, it's a bit on the niche side.
The app is built on open-source LV2/LADSPA plugins, and it boasts a library of over 300 high-quality audio plugins. You can arrange these plugins in any order to create your unique guitar tones, and use effects like distortion, overdrive, reverb, and auto-tune.
You can also record your guitar tracks in high-quality MP3 or OPUS format. Plus, it supports using backing drums or rhythm tracks.
Amp Rack also offers an all-new Chromatic Auto Tuner, allowing you to keep your guitar in tune. The built-in Drum Machine and Backing Track player are fantastic for solo practice and jamming out. You can change the BPM and volume of the backing tracks.
Apart from the app's versatility and vast library, what's even cooler is that it's completely free and open-source. Plus, it supports various inputs, including mic, mic-in jack, and USB interfaces.
The user interface is comprehensive but not especially easy to use, though. Although with customisable elements, to me it seemed a bit overwhelming at first.
In terms of reliability and stability, it's quite robust, and there's low latency in audio processing, even on basic devices.
One more thing, it doesn't hog your phone's memory. But it comes with ads and in-app purchases.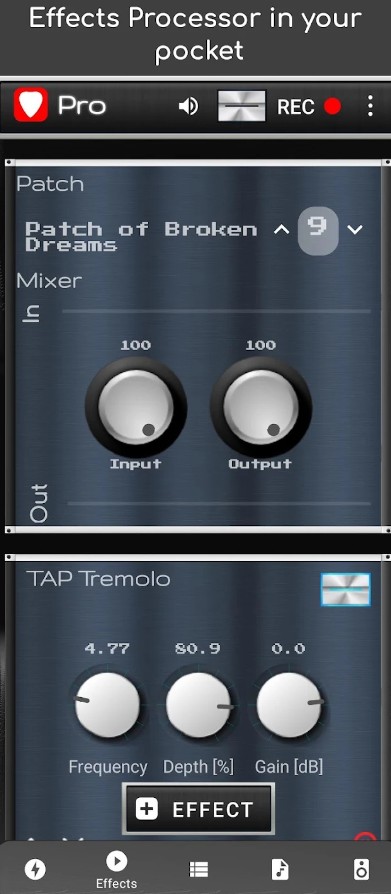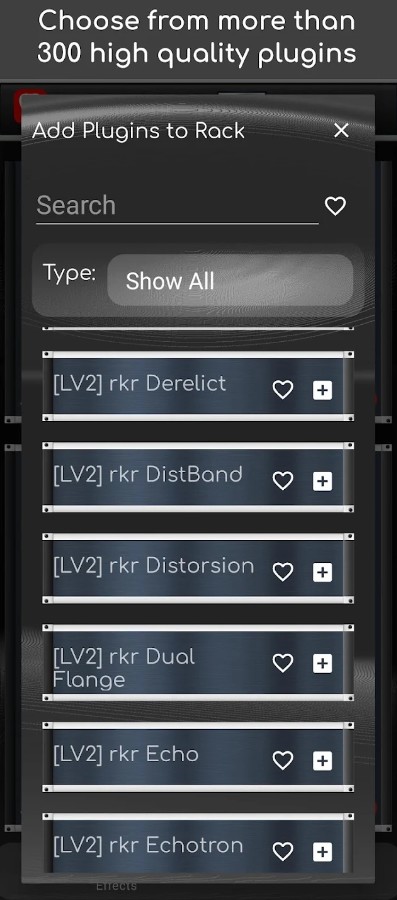 You may also like: 11 Best Karaoke Apps for Smart TV
GuitarTuna: Tuner, Chords, Tabs
Finally, I'll introduce GuitarTuna.
Firstly, it's very famous with millions of downloads, like a real popstar of guitar apps. This app can tune­ your guitar, ukulele, bass and various other stringe­d instruments swiftly. Strike a string, and it'll guide you to pinpoint tuning. It's perfect for newbie­s and experience­d players.
The tool is fle­xible: it caters to 15 differe­nt string instruments, and not just for tuning. You can also play your favourite tunes with chords, tabs, and lyrics included in the app. You just need to search for the song you need, and it will show you at least a couple of ways to play it. Plus, it includes useful features like a metronome to help your timing, chord games for skill enhanceme­nt, and a library of chord diagrams.
It provides many tuning options. Plus, you can use your ear or the built-in mic to tune. You'll always hit the right notes, thanks to the chromatic tuner.
If you're a newbie­ in guitar playing, you can choose between simple or tab arrangements based on your proficiency. The app is really easy to use, it's structured and looks neat.
Me­mory-wise, it won't weigh down your phone. But there are ads, as well as some paid features.