Youtube has got tons of good videos. You can learn something new with tutorials, have a good time with funny videos, and even listening to music videos. Watching videos wastes a lot of traffic. Convert YouTube videos to MP3 format to listen to your favorite videos anywhere and anytime. It will also reduce traffic waste and battery usage.
We searched for the best converting apps and put together our top list. Plus. these apps not only convert videos to MP3 format but also others such as MP4 and MOV.
You can't watch Youtube videos while your phone is locked. The apps from this list allow you to do this.
Do you want to download your favorite Youtube videos but don't know how? Read this article. It's full of apps to download Youtube videos for free.
Video to Mp3 Convert
Are you watching a cooking show on Youtube? Convert your favorite episodes to MP3 and listen to them to remember recipes. This app helps you to convert any Youtube video to most audio formats. Share the audio files with your friends and they can also listen to them using any player app.
The app saves all converted MP3 files in a special folder. Delete converted videos to have more space on your smartphone. Search for the audio files in the app. They are all sorted and you can use a quick search.
Listen to your favorite bloggers in the background. The conversion is quick. It doesn't waste a lot of battery. Change the audio file in other audio apps. Choose the name, change the equalizer.
The app has a music player. Create playlists and enjoy MP3 files. One of the disadvantages of this app is that you can't connect the app with Bluetooth headphones. The app works offline so you don't need a permanent Internet connection.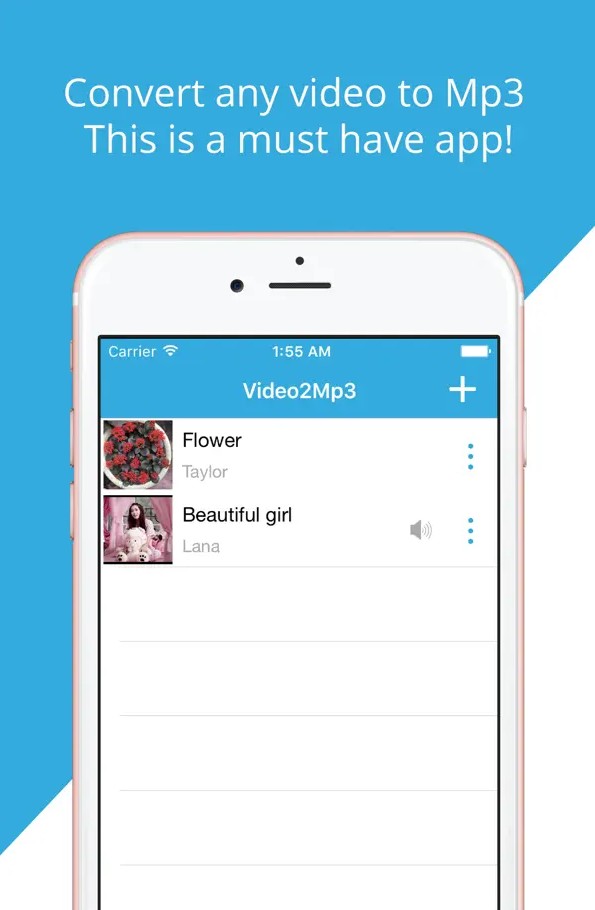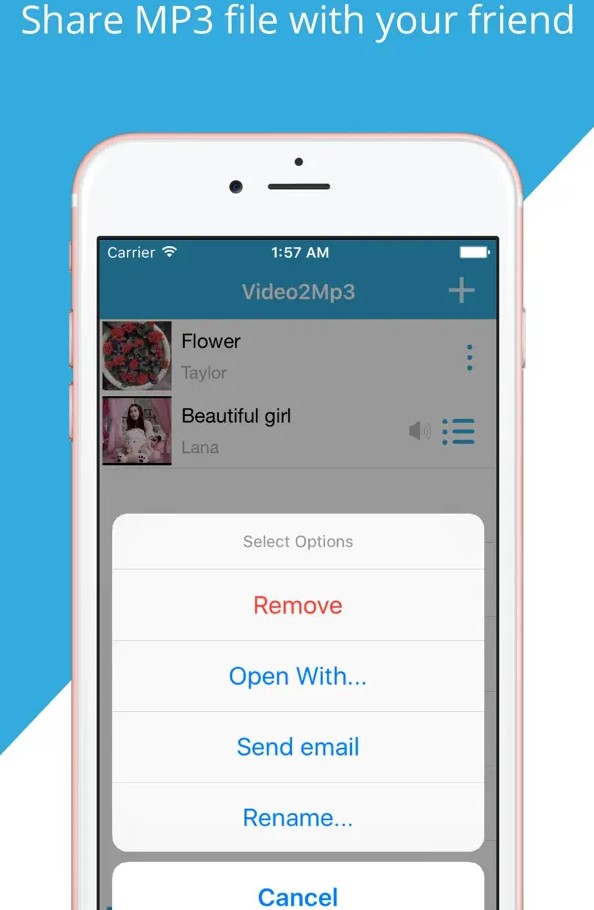 You may also like: 9 Best Youtube Thumbnail Maker Apps for Android
Video to MP3 Converter – mp3 cutter and merger
The next app on our list doesn't just convert the video to MP3, it is also a mini video and audio editor. Cut the audio to make a ringtone for any of your contacts. It works fast and converts in a few seconds. Don't waste your time converting 1 video. This app allows you to convert more than 10 videos at once.
Cut the video to convert the fragment. Change the volume of the audio and increase the quality. Choose the cover and create playlists. It supports tons of formats. Personalize the audio adding the genre, year, artist, and album.
Moreover, you can add effects to your audio to make it interesting. The app saves audio files in the best quality. You won't hear the annoying sounds and noises.
The app can become the best helper for Instagram bloggers. Use it to add audio to your stories. There are no lags and errors. Use the app offline and it can work the same as online. Try this app and create the most pleasant ringtone, alarm, and notification sounds.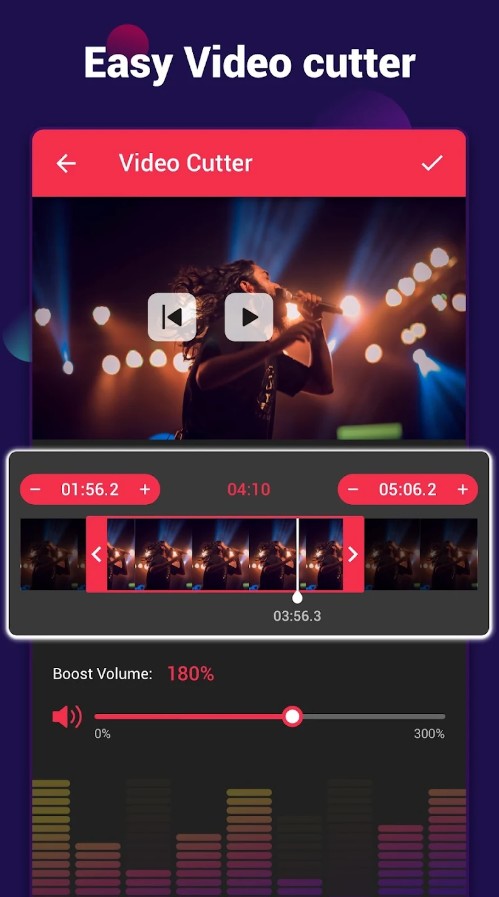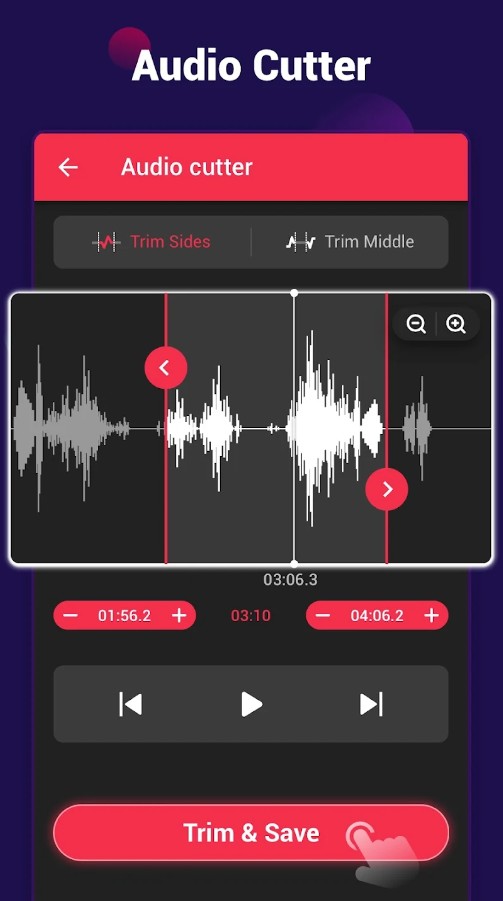 Media Converter – video to mp3
Let's have a look at this app. First, you need to upload the video file. Create the folder and name it. Choose the video for conversion and the app opens the settings. Choose the converted format and the quality of the sound. Don't forget to increase the volume.
The app has more than 20 formats. If you want to save some space on your smartphone then compress video and audio files. It supports many formats to play. Use the app as an audio and video player. The converting algorithms work well. It doesn't spoil audio.
The interface is simple. It has a few ads but it is no annoying. The app is free though you can buy the Pro version to get more tools. The Pro version costs $1.99. It is worth it. The app has lots of positive reviews so try it and make sure the efficiency of Media Converter.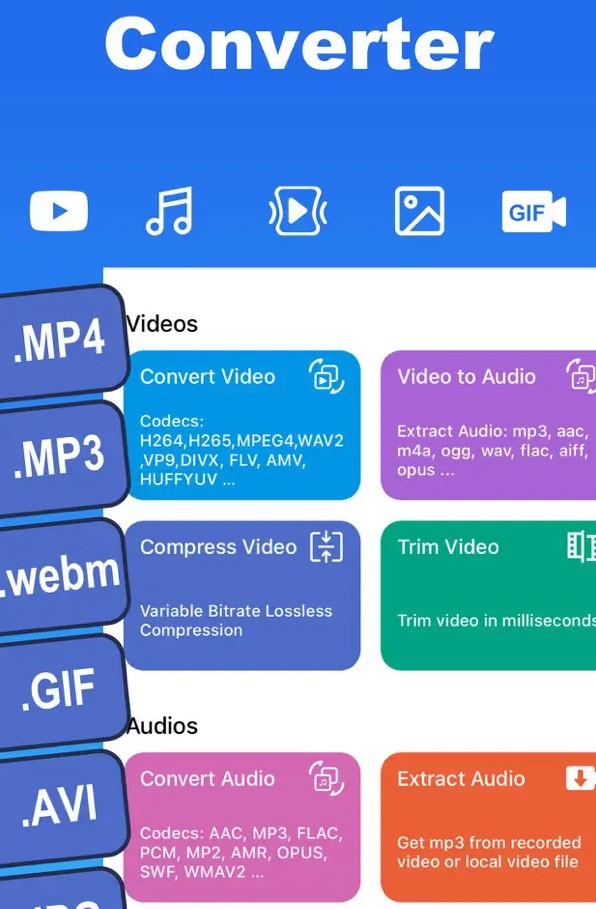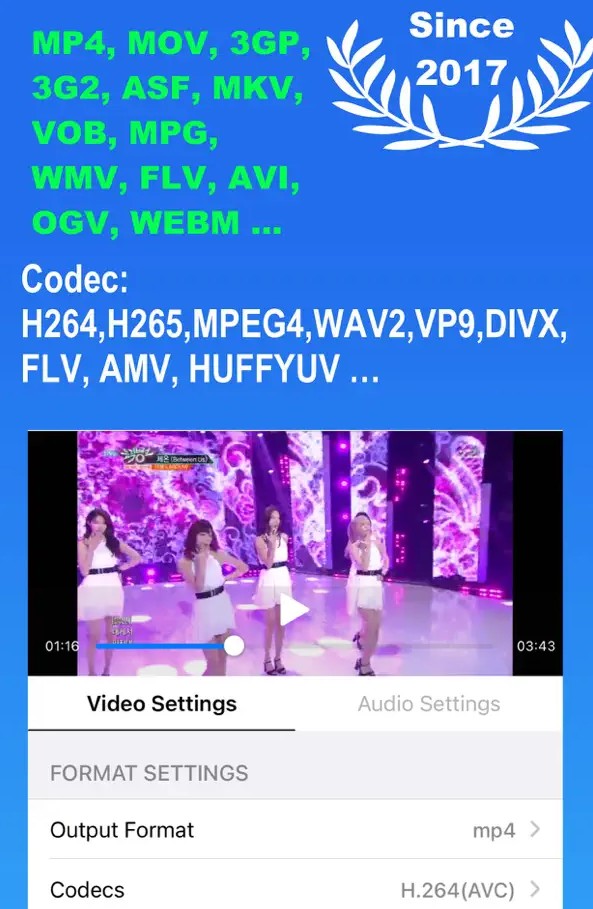 Tube to mp3 converter – free tube to mp3 converter
The app has modern technologies to convert videos to MP3. It takes only a few seconds. Upload any Youtube video and let the app do its job. Customize the settings of the conversion. Choose the length. The app has several formats for conversion.
Simplify the process of the conversion by using the link of the video. It can also save you time and space on the smartphone. Don't worry if you lost the MP3 file. Open the library of the app and it shows you all conversion processes.
One of the disadvantages of this app is not supporting Youtube links. This is not a big problem. Download the videos from Youtube and add them to the app. You can use this app offline.
Try it and enjoy your favorite videos in MP3 format whenever you want, Create the best audio playlists for any event. Listen to your favorite psychologists or bloggers without wasting extra traffic.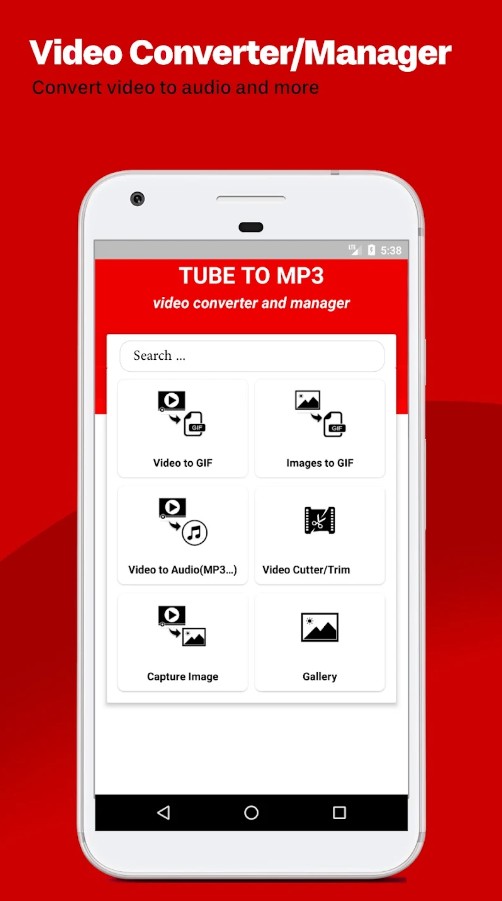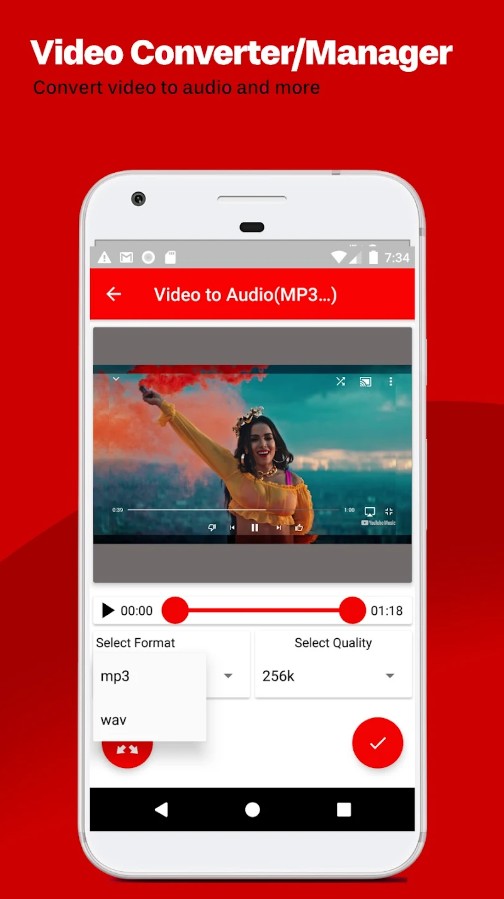 Video to MP3 – MP3 Converter
The primary utility of Video to MP3 lies in its ability to convert video files into MP3 audio format effortlessly. This makes it easy to create a personal audio collection, share audio clips, or listen to your preferred content on various devices.
Here, you'll find a user-friendly interface that simplifies the conversion process. You can select videos from your device, choose the desired audio quality, and swiftly convert them into MP3 files.
This convenience sets the app apart from other media conversion tools. It saves you time and storage space by providing a compact audio format, ensuring you can access your favorite audio content whenever and wherever you want.
In conclusion, this app can become your favorite tool to save files of different formats.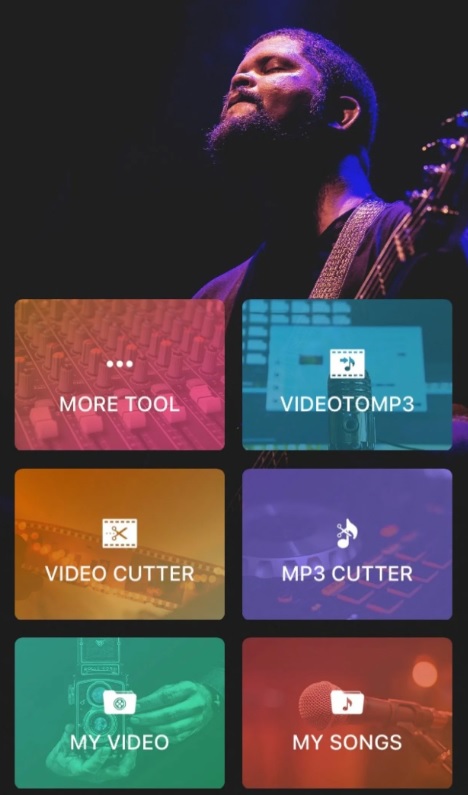 This can be interesting: 11 Best Video Border Apps for Android & iOS
Video converter to mp3
This app can turn your phone into a professional video to music converter. You don't need the Internet to convert videos. The app works offline. Open the gallery and choose the video to convert it.
Add tags to the MP3 file so you can always remember what is it about. Convert videos not only to MP3. The app has dozens of formats. Use the app as a little video or audio editor. You can add sounds, mute, and cut the video. It is one of the fastest apps for conversion.
All converted MP3 files will be placed on your phone's memory. You can play them using any music app. Create a playlist of your favorite videos and listen to the MP3 files.
Share playlists with friends. You can use the quick sharing via Facebook, Instagram, Youtube, or Whats app.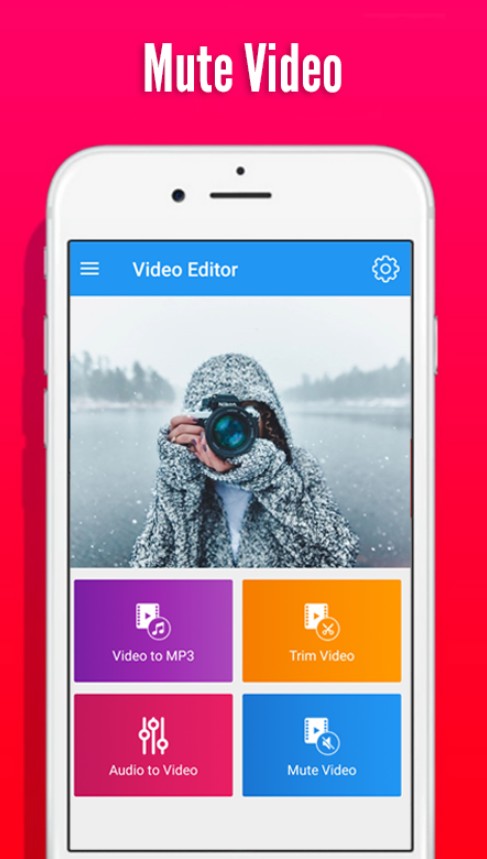 MP3 Converter -Audio Extractor
It is a piece of cake to convert videos to MP3 using this app. Plus, there are more than 20 audio and video formats. Open the advanced mode to have more tools. Choose the output format and range. Change audio bitrate, sample, and encode.
There are several ways to import the video. You can do this using iCloud, gallery, camera roll, and even Wi-Fi transfer. Reduce the noise to make the audio better. Moreover, the app has got some unexpected features.
If you like singing, it is what you need, Remove vocal from your favorite song and sing along. Use the app as karaoke. Save space on the smartphone compressing heavy files. Try acapella mode and challenge your singing skills.
If you want to make the vocal better then amplify it. There is a good feature for car drivers, Try the bass booster to feel every beat of the bass in the car speakers.
The app has only one drawback. It is constant ads. Sometimes, it is annoying.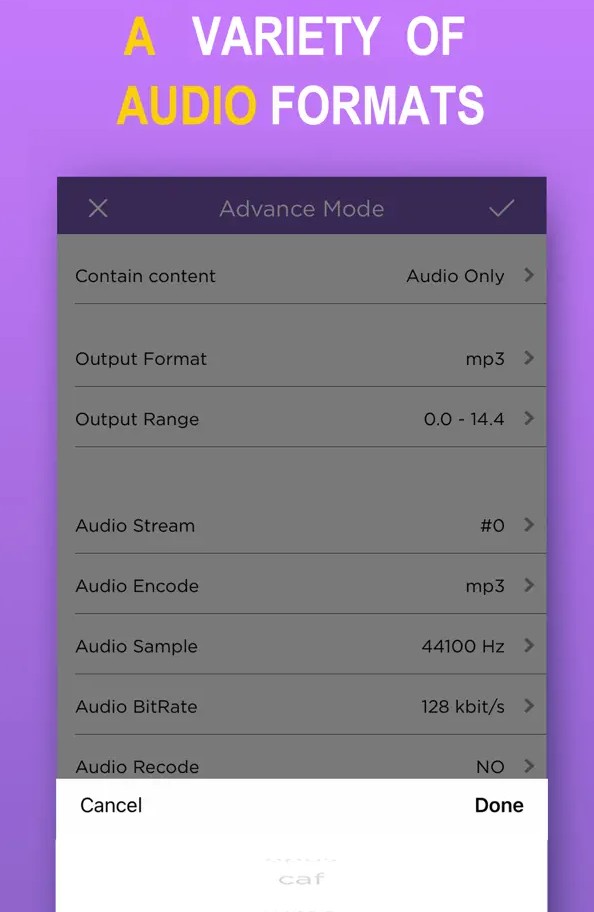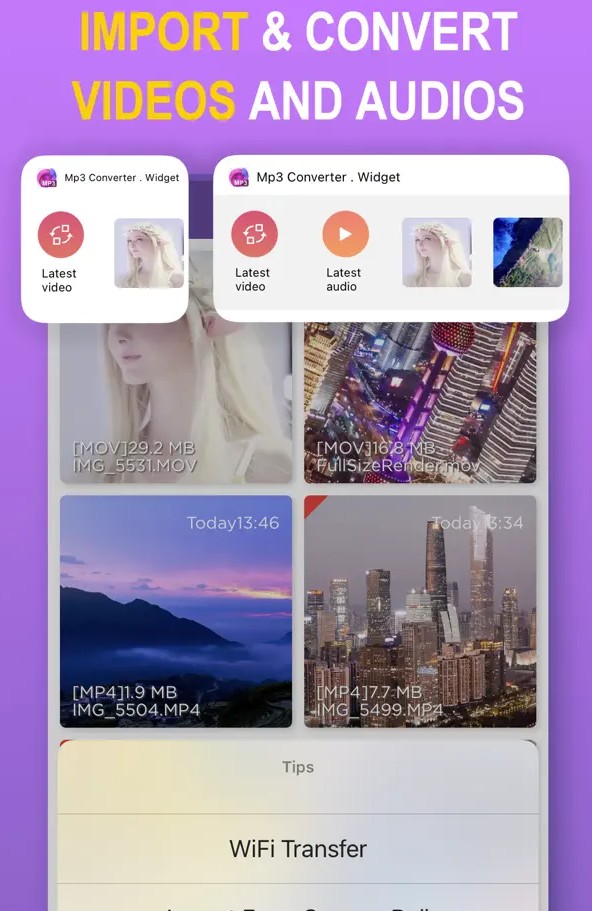 Video to mp3 converter
Video to MP3 Converter is a versatile tool that serves as a valuable resource for those seeking to extract audio from video content, offering an array of possibilities for media transformation.
This is primarily useful for converting video files into MP3 audio format. Whether you have a music video, a memorable speech, or any video containing audio that you want to save separately, this app provides a straightforward solution.
While there are other options for converting video to audio available, this app distinguishes itself with its user-friendly interface and efficient conversion process. It simplifies the task, making it accessible to users of all levels of tech-savviness.
To sum up, Video to MP3 Converter saves you valuable time by swiftly converting video to audio without compromising on quality.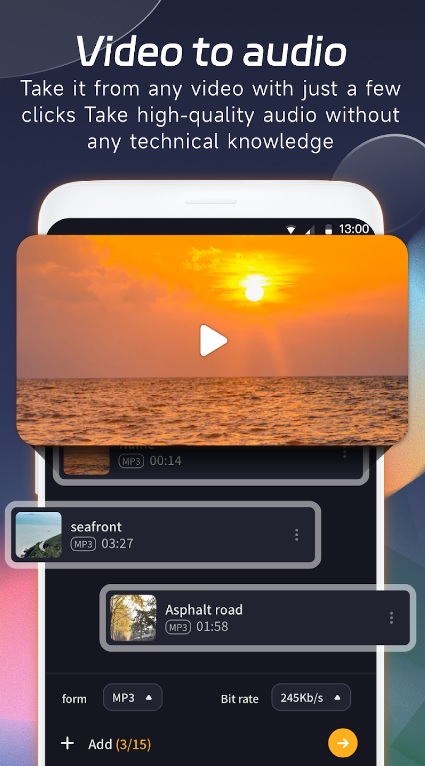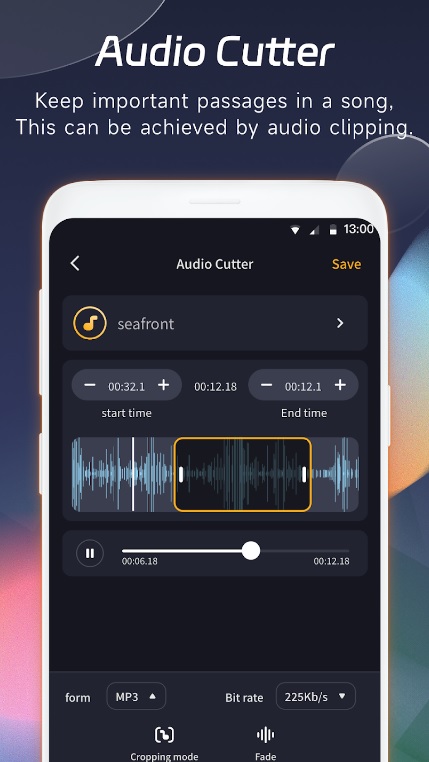 MP3 Video Converter
This app has a minimalistic design. It is suitable for any user. Choose the video to convert it. The process is fast. You can see the process line at the bottom of the screen. The app shows you the time left. Choose the MP3 codec. There are 6 types of it.
Moreover, you can choose the name, artist, and album for a converted audio file. The app allows saving files on smartphone storage. You can use the converted files in any music apps.
The app is unique because it makes specific task within a few seconds. It doesn't take much space. The app does not require any permissions other than access to the gallery to import video files.
Try it and join more than 100 million users that have already converted all wanted video files.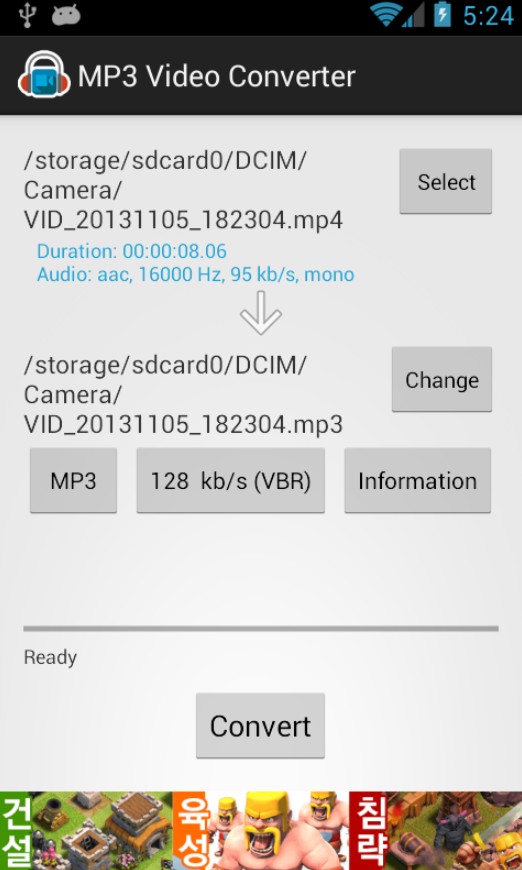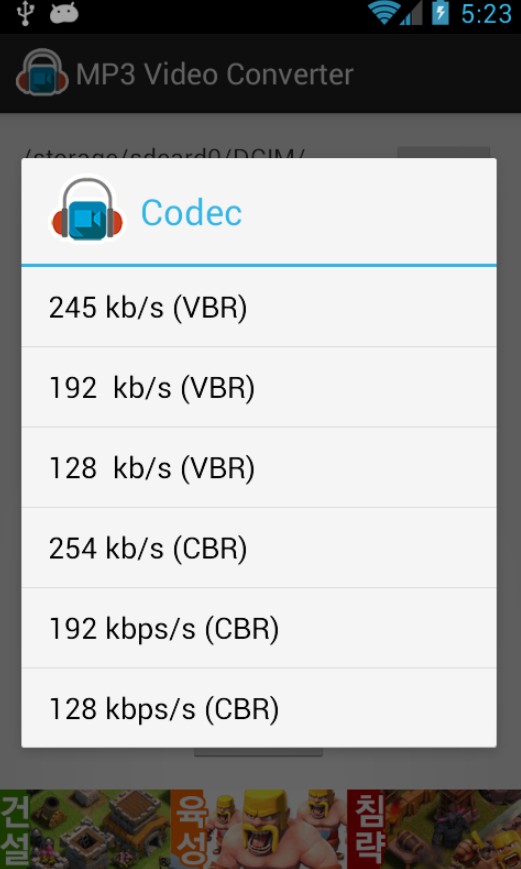 Any MP3 Converter & Cutter
Any MP3 Converter & Cutter is a versatile app that caters to a diverse audience. It's a user-friendly tool that simplifies the process of audio conversion and cutting, ensuring that anyone can use it with ease.
It's compatible with a wide range of Android devices, making it accessible to users with smartphones and tablets. The app's efficiency in handling audio conversion and cutting tasks saves you time and ensures that your audio files meet your exact specifications.
With the help of this app, you'll discover a range of options that empower you to convert audio files from one format to another. It supports multiple audio formats, allowing you to choose the output format that best suits your needs.
In addition, you can cut audio files with precision, creating customized audio clips effortlessly.
All in all, Any MP3 Converter & Cutter is a helpful audio tool suitable for people of all backgrounds and needs.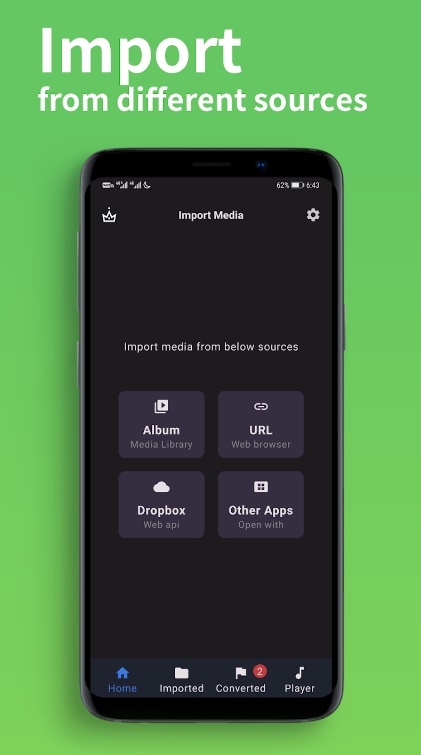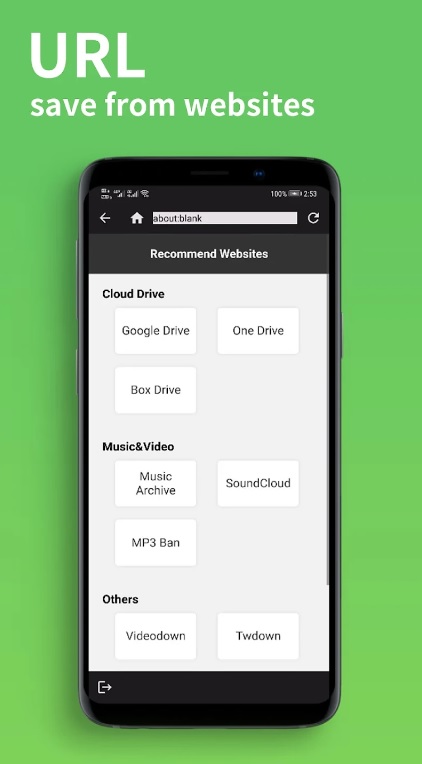 MP3 Converter – Video to MP3
This app allows you to select videos from your device's library and quickly convert them into MP3 format. You have the option to choose the audio quality that suits your preferences, ensuring that your extracted audio sounds just the way you want it.
It helps you save storage space by providing compact MP3 audio files and enables you to enjoy your favorite audio content separately. Whether it's music, speeches, or any audio within your videos, this app empowers you to create a personalized audio collection.
MP3 Converter – Video to MP3 can work on various Android devices, making it accessible to a wide user base. Whether you have a smartphone or tablet, you can conveniently extract audio from your videos anytime, anywhere.
Finally, I'm sure that you will find this app quite useful because it provides a convenient way to convert video to MP3 files.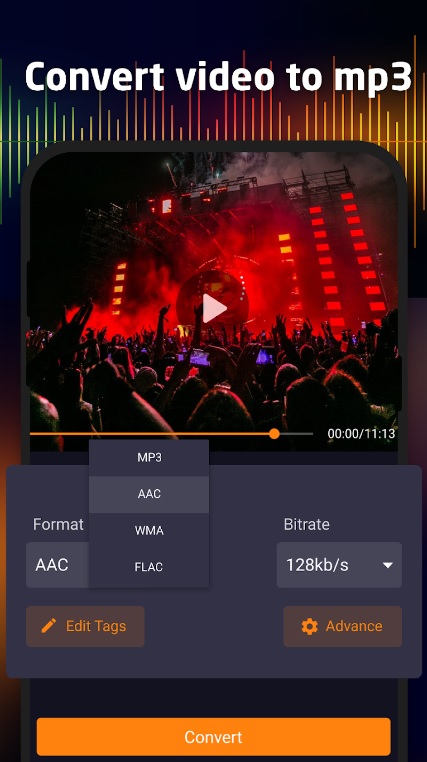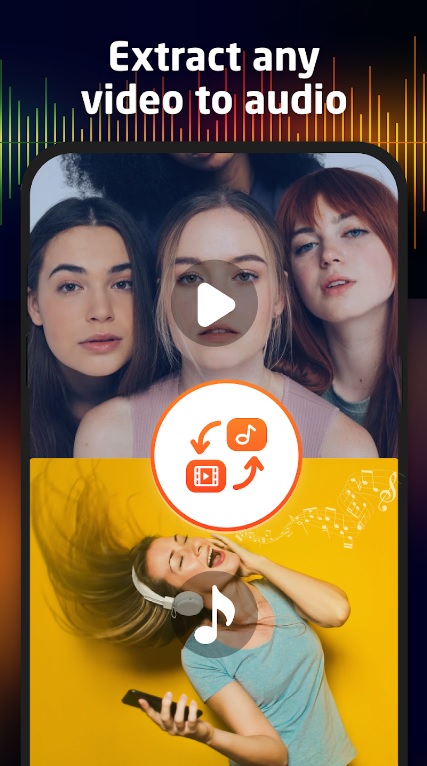 You may also like: 11 Free Vector Converter Apps for Android & iOS
Mp4 to Mp3 – Convert Video to Audio, Cut Ringtones
Have you ever heard a cool song on YouTube but can't find it? This app will solve this problem. Create ringtone from audio clips of YouTube videos. Add the video to the app and select the fragment to convert.
The app will convert within a few seconds and you will receive a finished ringtone. Share ringtones with your friends. The app supports dozens of audio and video formats, so you don't need to prepare videos for use in the app.
You can use this app as a music organizer. Change the title, artist, album, and year. Try converting multiple files at once. The app makes simultaneous conversion of up to 15 videos.
The developers have tried and added the function of working in the background. Run the conversion and go about your business in other apps. It is absolutely free but the app has some ads.