There are unpredictable situations in life when you might need a headshot photo. And nowadays you might even need them for your social networks or CVs – but please don't let them be those trivial pics with a stoned face. In fact, now you can create a perfect-looking headshot photo yourself, using one of the apps listed below.
And in case after you took your headshot photo you realized you need more makeup or you just need to correct some imperfection you don't have to repeat the process all over again – you can just use one of the apps from the article about the best apps to add makeup to photos.
MyHeadshots Professional
MyHeadshots Professional is our next app that does not just provide you with notable headshot photos, but generates fantastic resumes and keeps them all together! One of the best parts of this tool – you can register multiple profiles.
After creating the profile, you should download the app, or quickly snap from the camera. On the top of the screen, click on the + icon to add a headshot.
Below, there are also sections for resumes and editing pictures. Select the Resumes section and tap on the + button to build a required resume. Moreover, you can even download your old resume files in PDF format to save all the resumes in one place!
In the Photo Editor section, users can customize saturation, sharpness, warmth, or lightening. Plus, you can also trim pictures, apply effects, add frames, erase blemishes or red eyes, and do lots of other splendid things!
As for the app's drawbacks, we have to warn you that this app contains quite an expensive version. In addition, comparing in to the app above, it has quite a mediocre interface design.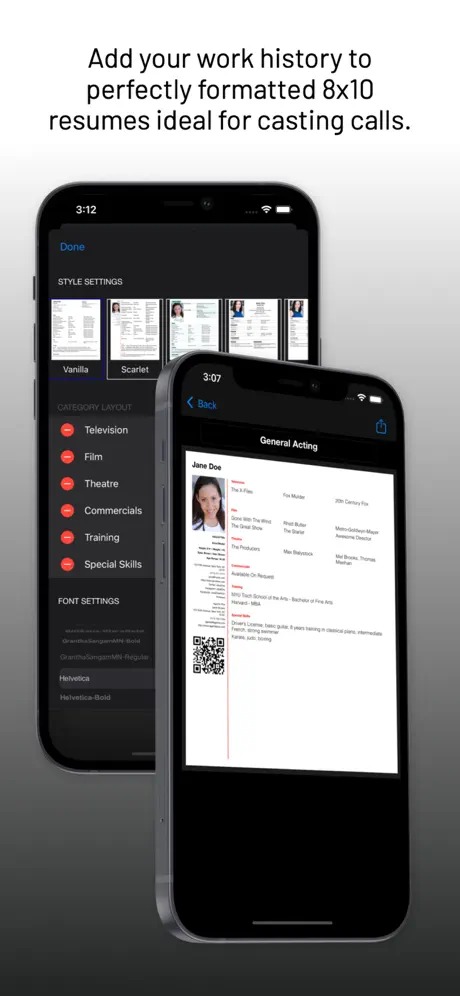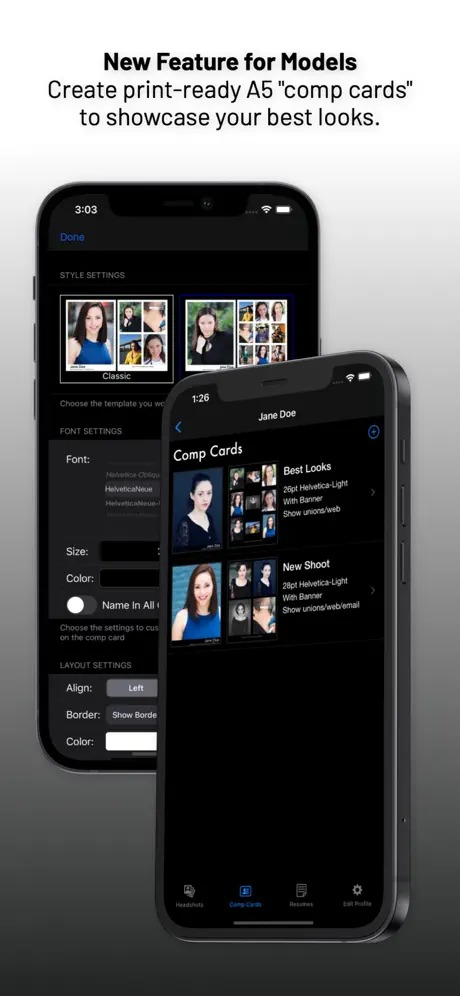 You may also like: 11 Best Photo Retouching Apps for Android & iOS
Passport Photo & ID Photo AiD by Passport Photo Online
Passport Photo & ID Photo AiD by Passport Photo Online is designed for professional photo processing. The photos created in this app meet the requirements for passports, visas, and other documents.
Forget about going to a photo studio to get photos in the required format. Use your phone camera to take high-quality photos. You can download a photo for processing from your phone's memory or make a new one right now.
The photo editor does all the basic work automatically. Specify for what purposes you are creating a photo. It has all the necessary information about image parameters for any documents.
The program sets a white or dark monochrome background. Working on creating a photo in a certain format takes a few minutes. In the end, the app checks the received photo for compliance with the specified parameters.
The finished photo can be printed, making several copies. Such a photo can also be used in digital format. Passport Photo & ID Photo AiD by Passport Photo Online allows you to get photos of both children and adults.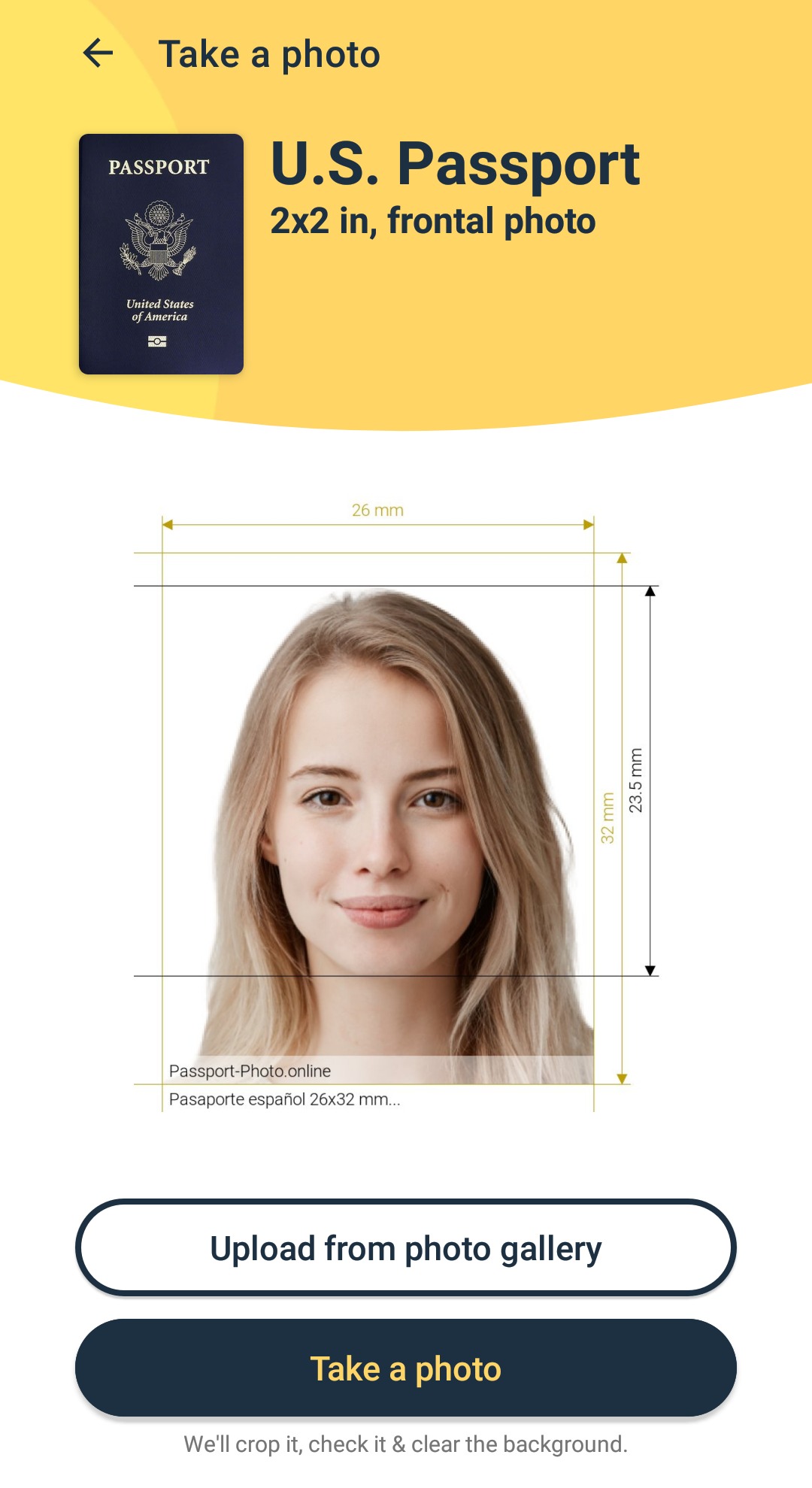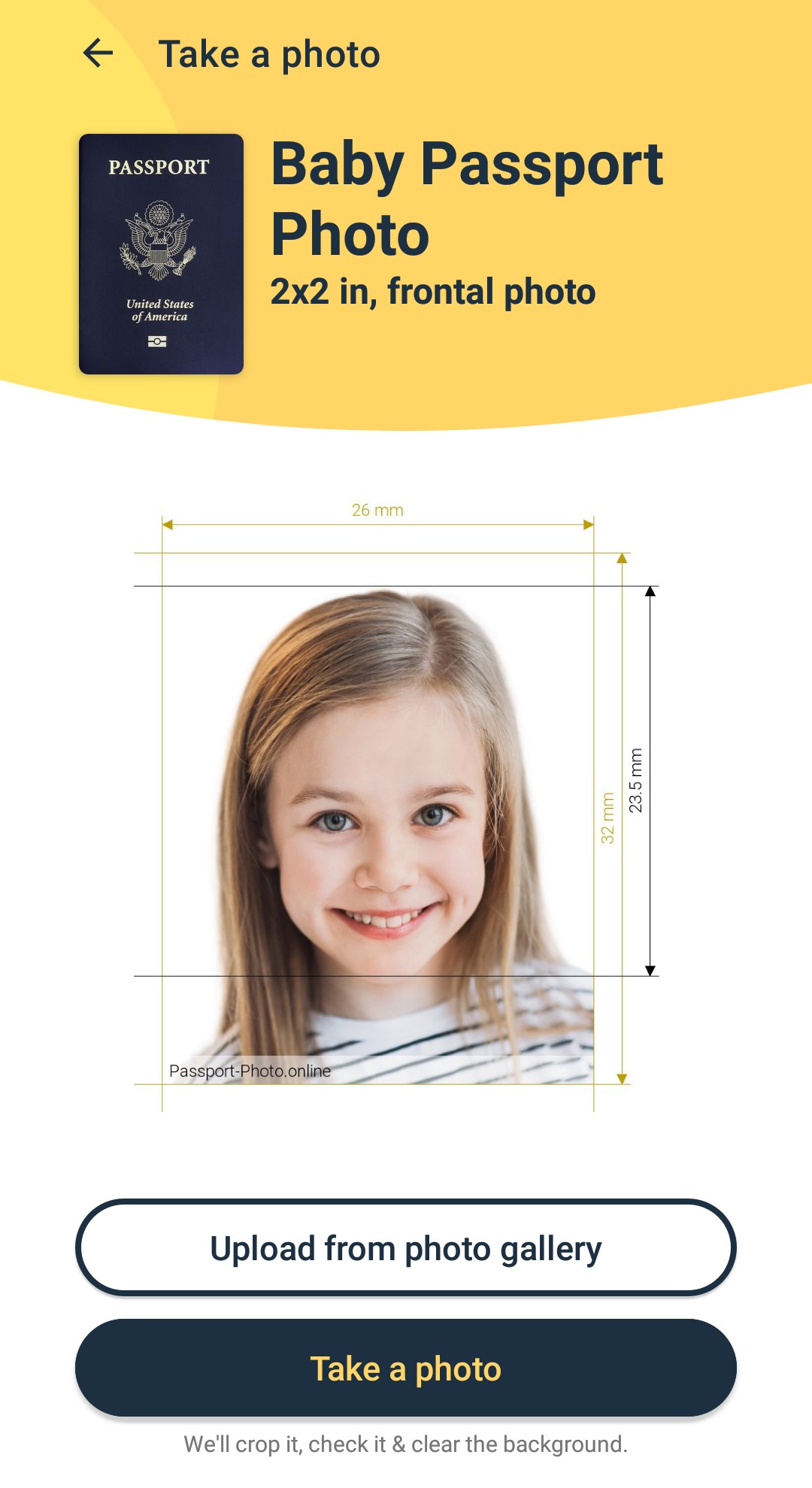 Passport Photo Maker – VISA/ID
Sometimes there is no time to take photos for various kinds of documents in special studios. Then this service comes to the rescue, which will allow you to be photographed for any type of official documents and certificates in just a couple of minutes.
All the necessary tools will be available for you to take pictures in a suitable format. You can even make several identical copies so that they will be enough for the whole package of documents.
In the app, you can either take a new photo or add to an existing one. You'll have the perfect one for your passport, license, visa, and other certificates from the ready-made photos.
Now you can choose your own successful photo to accompany you on all your personal IDs. You don't need to spend a lot of time editing, because the service will find the perfect format for a certain type of document by itself.
You can print the finished version both at home and in a special service. Now you can make photos for documents for yourself and for all your friends.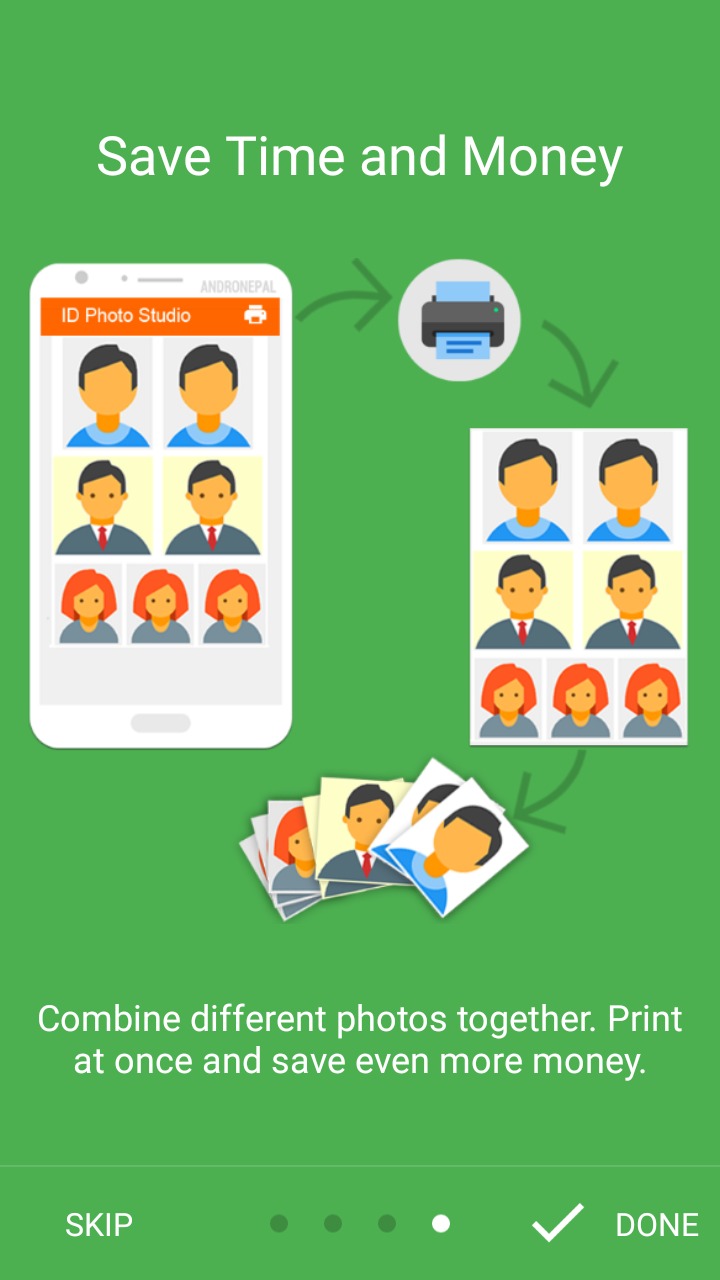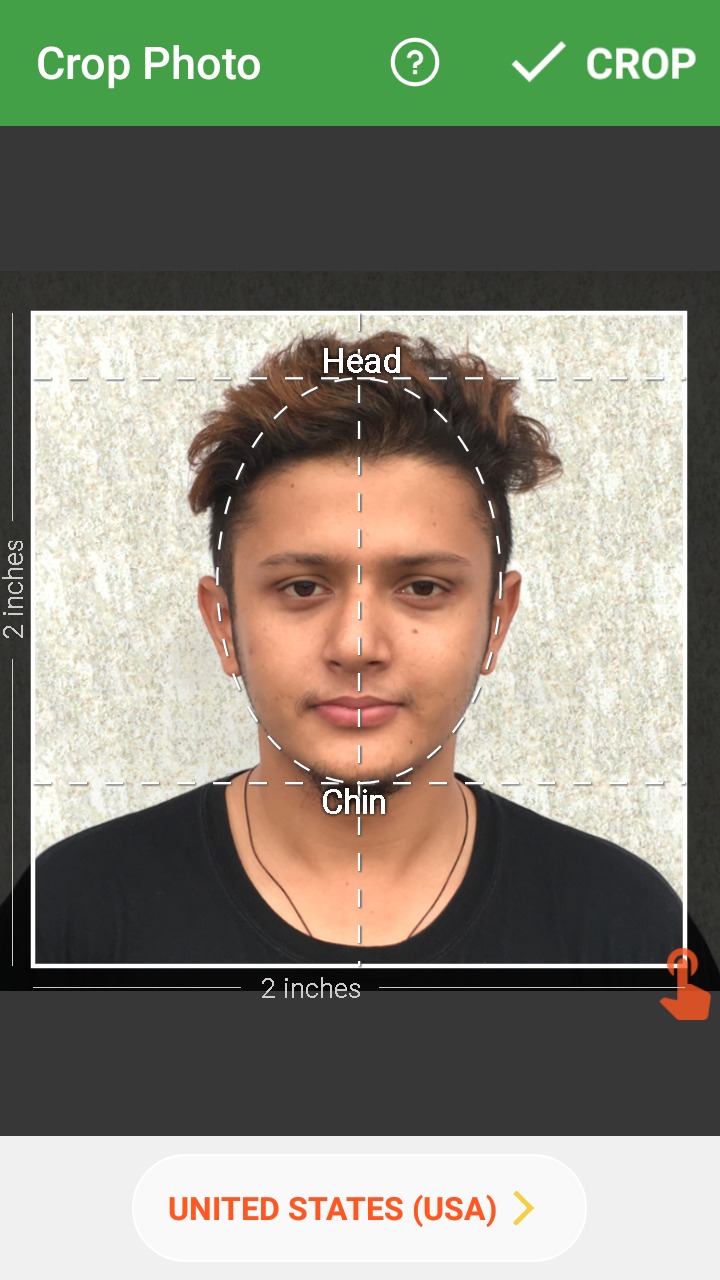 Passport Photo – ID Photo by Codenia
The Passport Photo app creates a photo studio right in your home. Use your phone's camera to take a high-quality and accurate photo. Upload the resulting picture to the app and select the document for which it is intended.
Each country has specific requirements for obtaining a passport. This app has ready-made templates for more than 100 countries around the world.
You don't need to leave your home and spend money on professional photography to create ready-made photos. Now you can create passport photos at any time. Copy the photos, print and email them.
Based on this app, you can fulfill photos of yourself, your kids, and other family members. It is free and has no restrictions.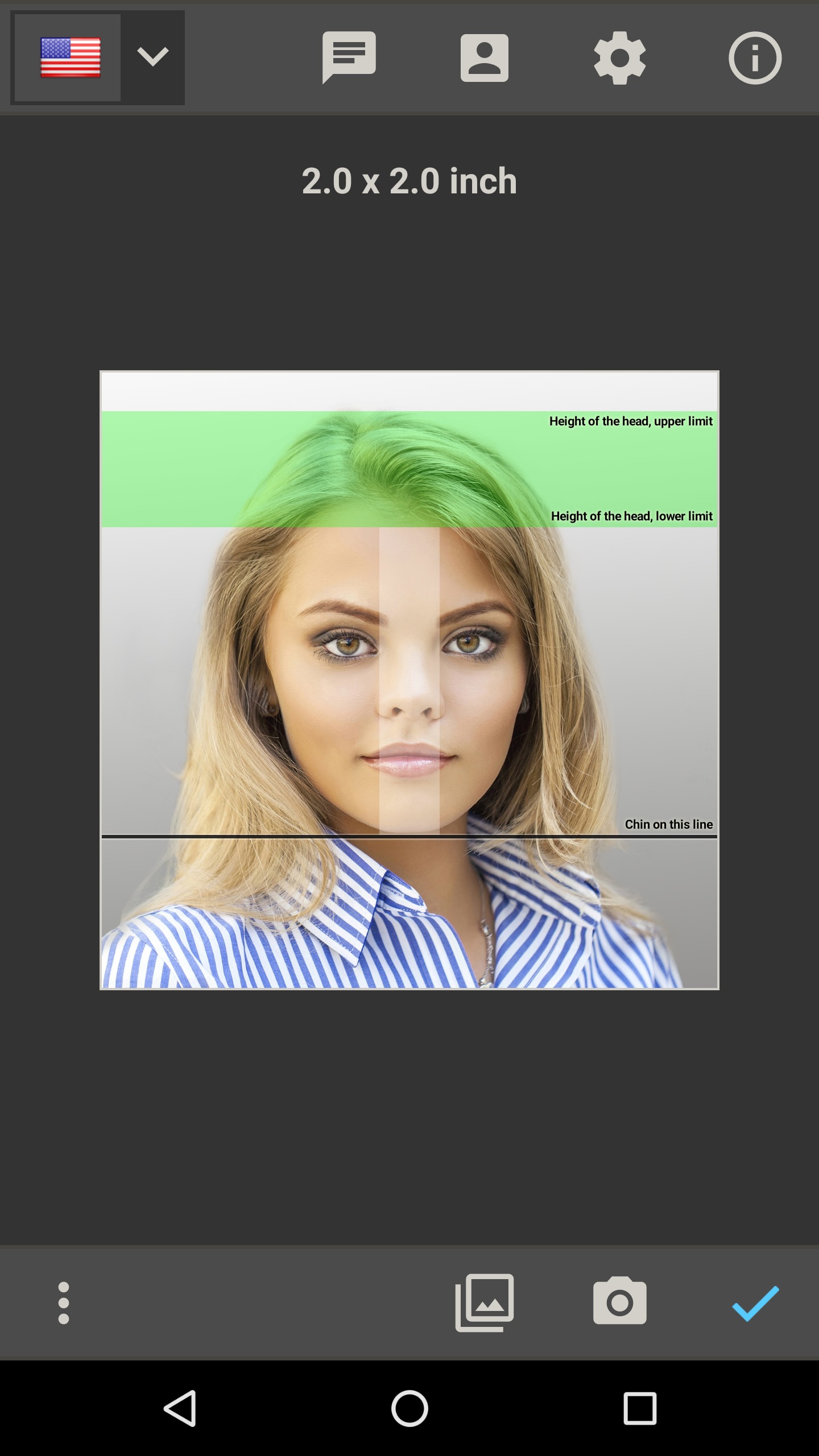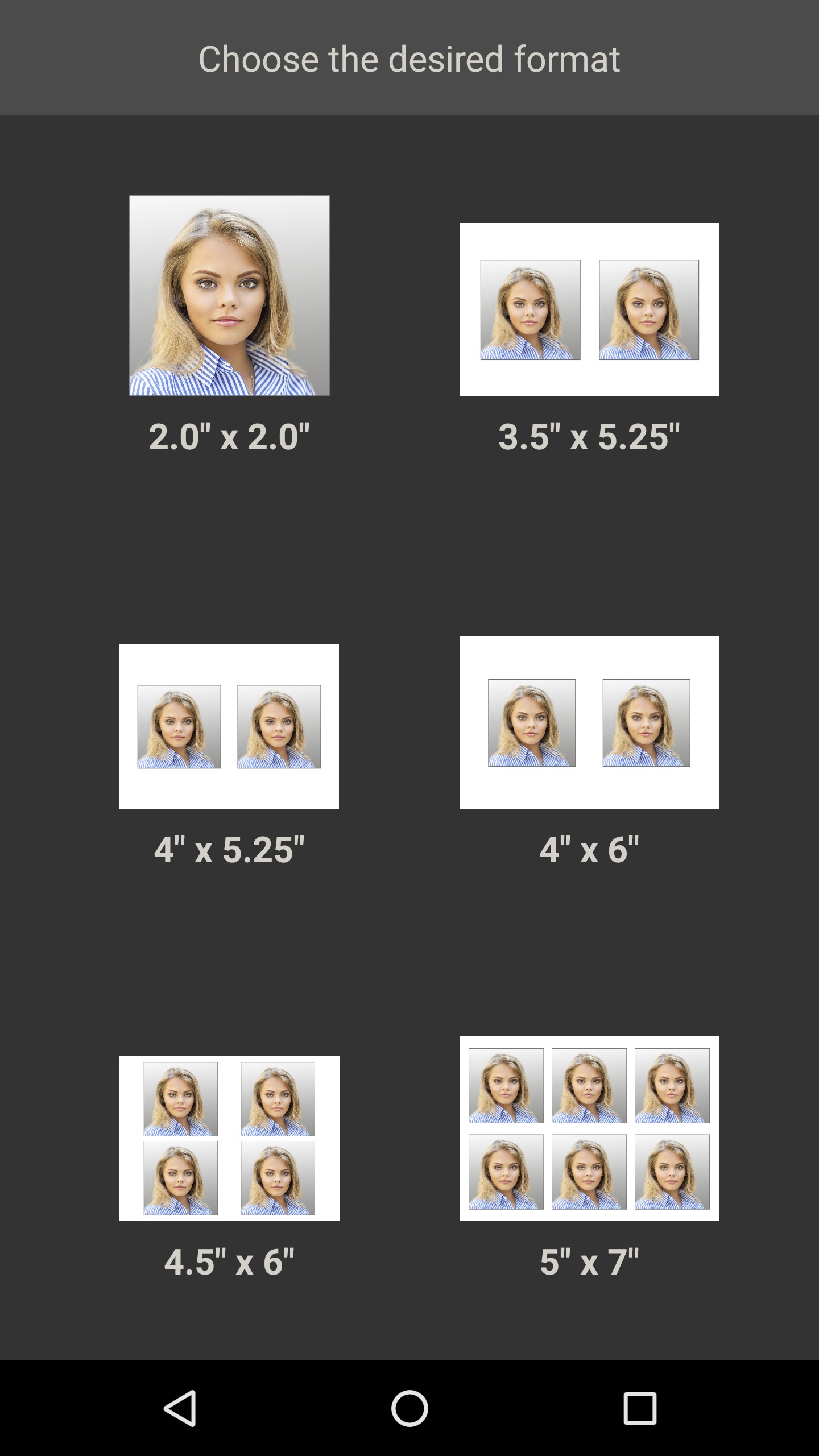 ID Photo – Passport Photo App by Pixster Studio
If you need to get a photo for your documents urgently and there is no Photoshop nearby, use ID Photo. This app contains numerous passport photo templates for different countries. There is even a format for a green card. All you need is a high-quality full-face photo of yourself and a few minutes of your time.
This app combines the functions of a photo editor and a database. Here you can find out what kind of photos are required for passport apps in each country of the world. Even the most minimal differences are taken into account.
When you upload a photo to the app, it will change the background and set the required size. Residents of more than 100 countries use this app without any problems. If you want, you can always switch to manual control and set the parameters yourself.
Choose the required number of copies and print them. The photos on the paper will be slightly larger than the specified size so that the user can cut them out without damage. You can easily save the photo in an electronic version for future use.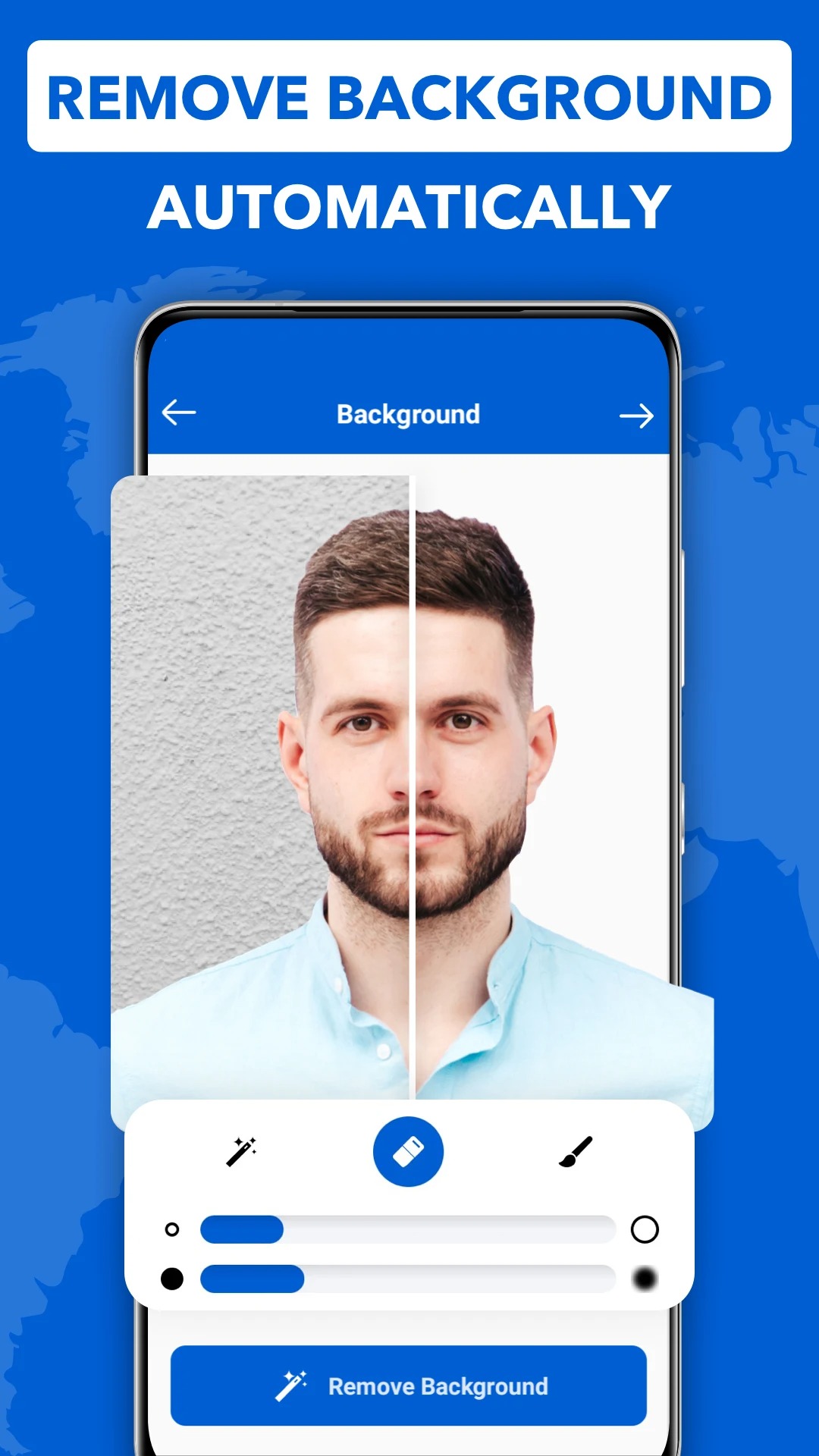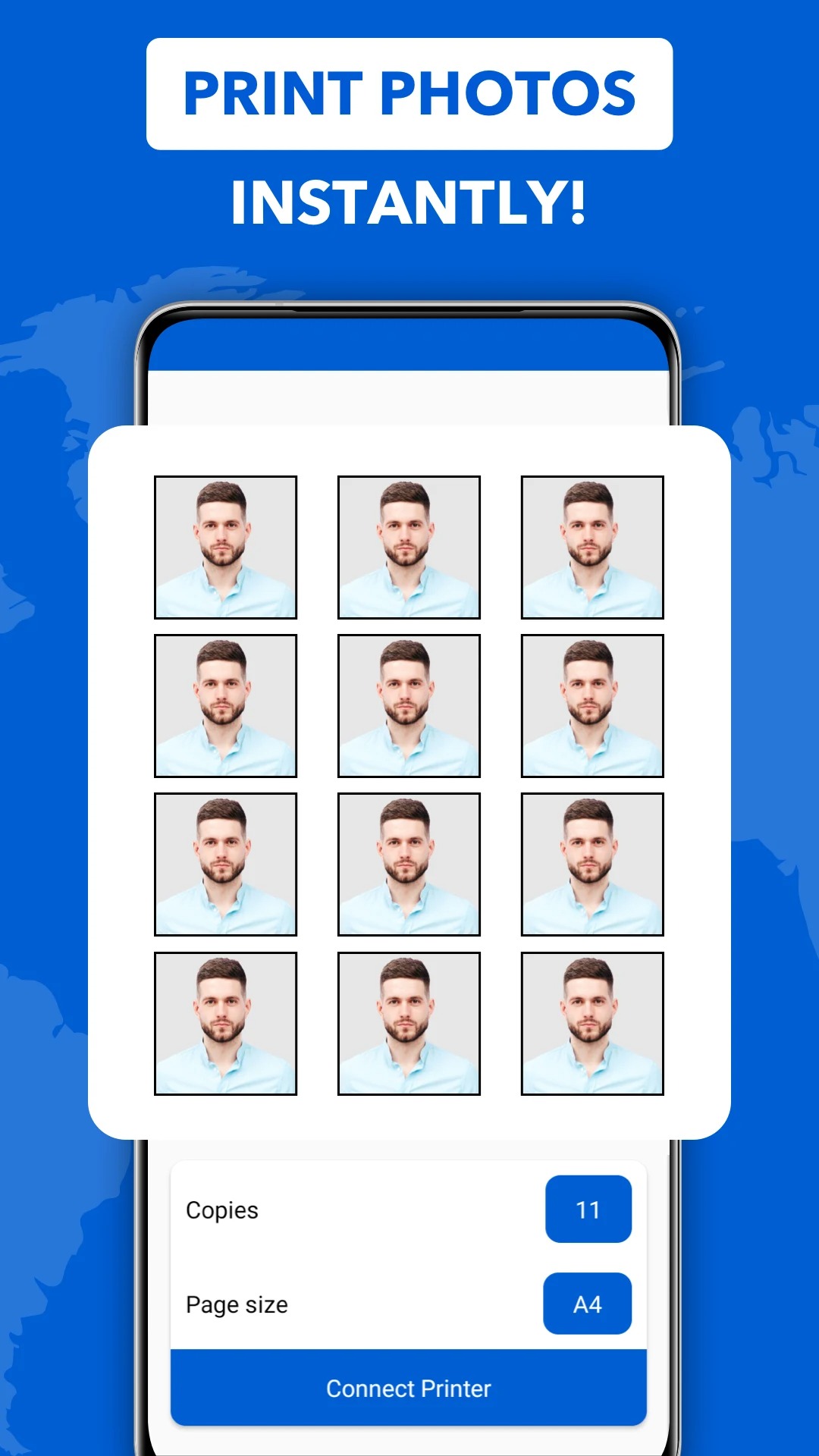 Lensa
Unfortunately, only a few headshot apps have editing features. Therefore, we advise you to download at least one photo editor that will help your headshots stand out among others.
Lensa is a full-featured photo editor developed for creating perfect selfies and portraits. Now let's have a look at the tasks this app performs:
Remove red eyes, whiten teeth, add makeup, improve skin tone
Cover up eye circles or pimples
Change backgrounds or add a background blur to emphasize the major parts
Build a desired shape of the eyebrows
Use color intensity to adjust poor lighting
Fine-tune the brightness, sharpness, and contrast
In addition to the aforesaid, users don't need to possess any professional skills. The app supports an automatic photo montage that will make perfect shots in a couple of clicks!
Despite all that mentioned above, Lensa includes one significant drawback that we ought to mention – sometimes when you subscribe for a free trial the app can charge the whole yearly fee right away. This is a problem some users face and tech support doesn't seem to be willing to fix it too fast.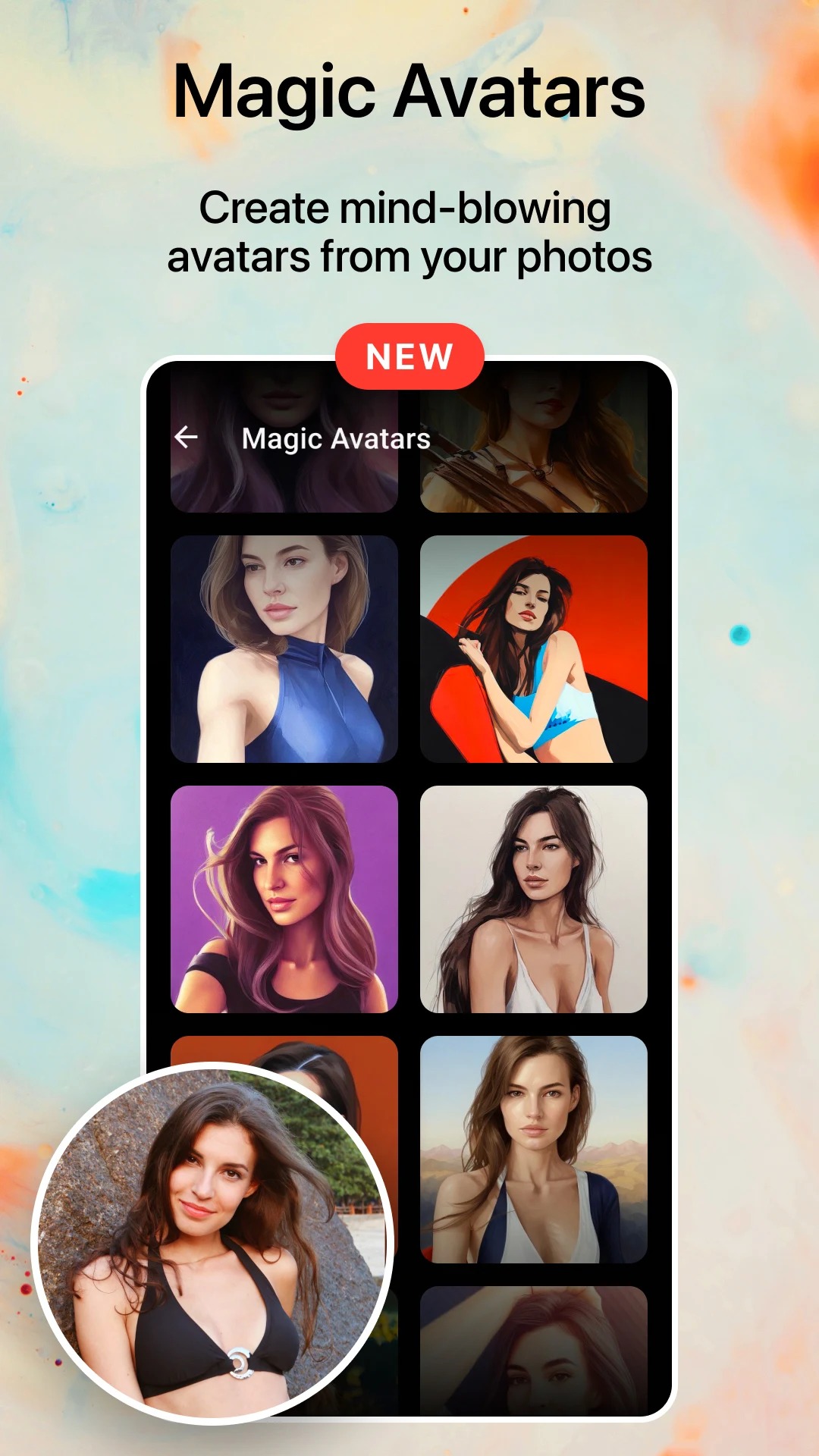 You may also like: 11 Best Photo Morphing Apps for Android & iOS
Passport Size Photo Maker
The passport is considered the most important identity document. That's why many people want to make a decent and beautiful photo of it, as it will accompany them for several years.
In most cases, the photos turn out to be far from what the clients want them to be. Redoing the photo takes both time and money. But now with this app, you can make as many copies of such a photo as you want and choose the best one.
The service provides this opportunity to citizens of more than 150 countries. Thanks to this anyone can make his passport photo the way he wants it to be.
The necessary format is chosen automatically after selecting the appropriate country. Take pictures not only for yourself but for your friends too.
Just edit ready-made photos or make them yourself within the app itself. That way you can create your ideal photo that will perfectly complement your ID card.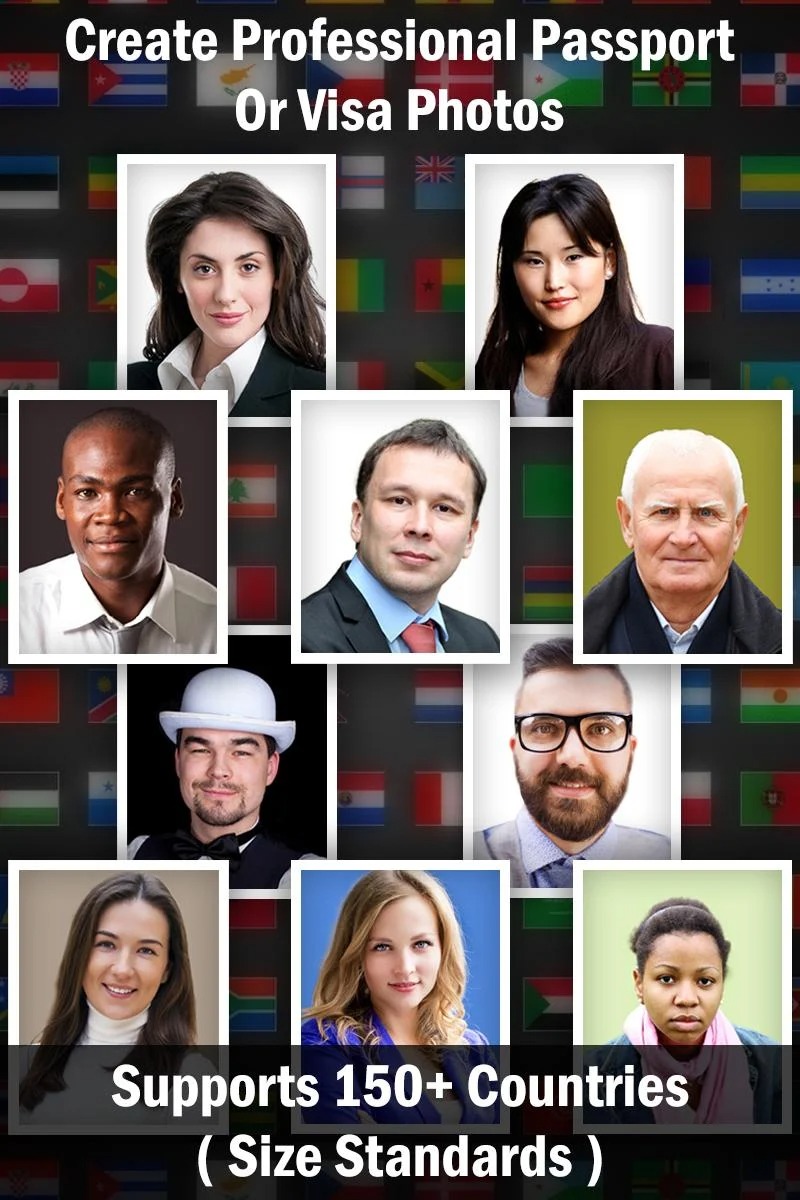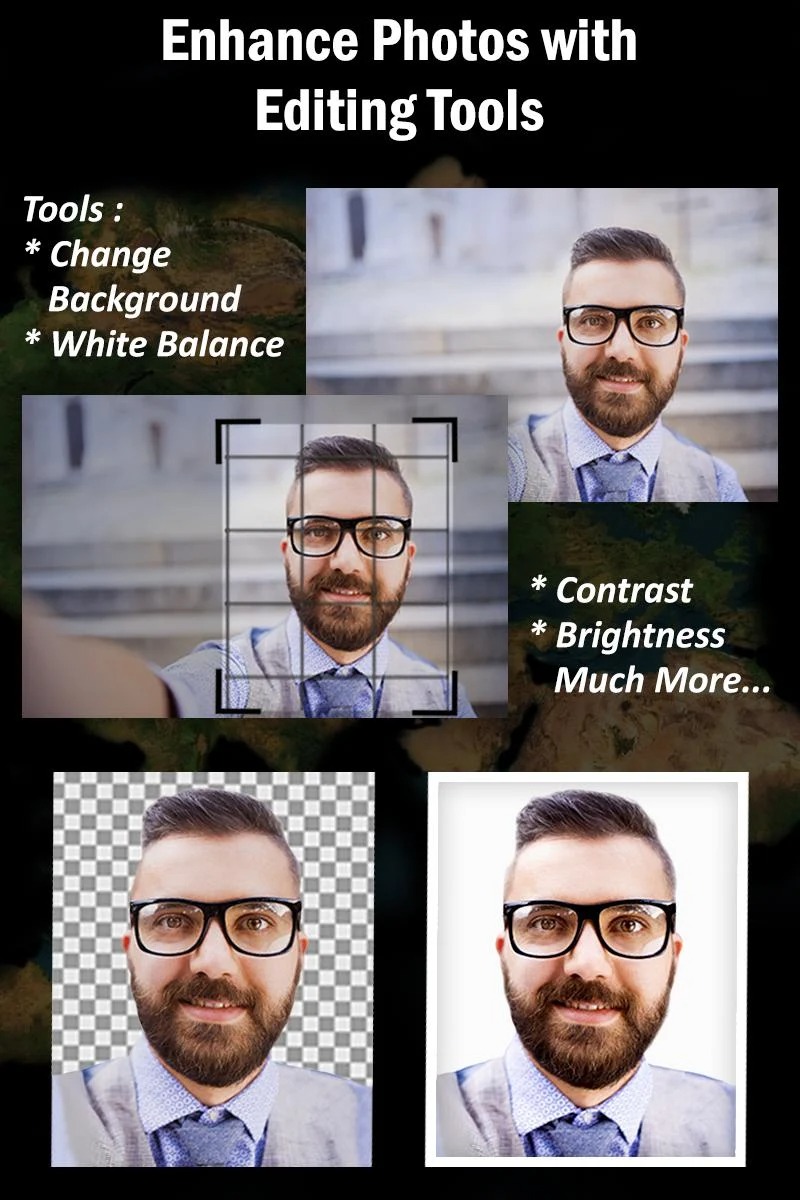 Headshot by Trueface
Headshot by Trueface is available only for iOS. The app is not very popular on the market, but it will erase all the imperfections on your face photo. When you launch this tool, the first thing you need to do – take a picture or download it from the gallery.
Plus, you can even upload the picture from Linkedln. After selecting the image, you will get to the editing page. The interface is pretty straightforward, as all the functions are located next to each other. So, at the bottom of the screen, you will find the following sections:
The first section enables you to apply the auto-lifting effect. But you can also lift face features manually. Due to this tool, users can eliminate skin roughness and remove wrinkles or pimples.
Furthermore, you can even simulate a smile by tailoring the round corners of the mouth. When your headshot is ready, you can even add a frame. The app runs fast and steadily, so the entire process will last only a few minutes!
The only fly in the ointment is that this app is just not for everyone. To some users, the modifications of faces that it provides may seem odd and assymetrical. It depends on your taste and fascial features, after all.
Summarizing all the points, Headshot by Trueface will be suitable for all executives, actors, models, or athletes.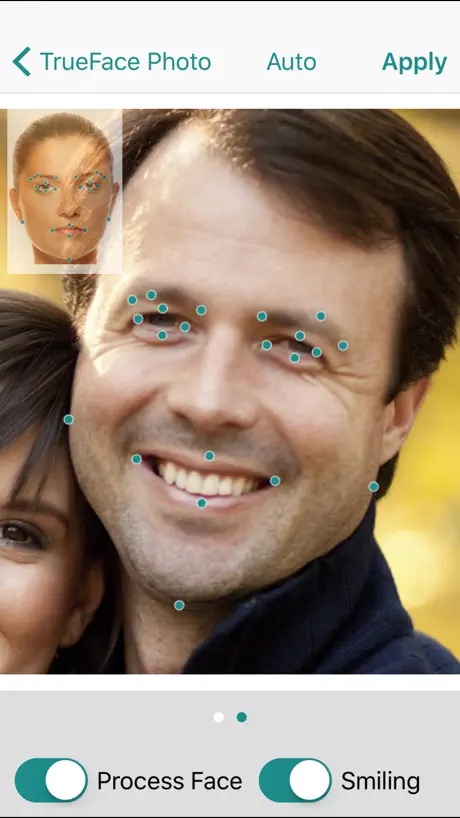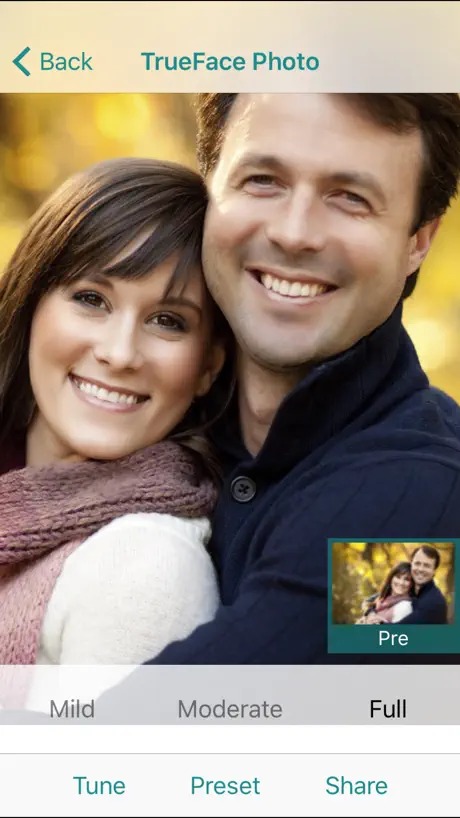 HeadShots
HeadShots is our next application developed by Samuel Salesas. Like the former app, this one is available only for iOS. So, when you open the app, you will get to the subject straight away. On the menu page, there will be 3 buttons – Portrait, Background, and Compose.
Initially, the app will ask you to download a portrait photo with proper distance between the subject and the background. Thereafter, you will have to select an appropriate background – choose from a standard one or download it from your media gallery.
The app determines the photo depth and overlays the background behind the subject. But you can modify depth, edges, or even blur the background manually as well. Apart from headshots, this tool will be compatible with ID, passport, or even social media profile pictures. Highly recommended!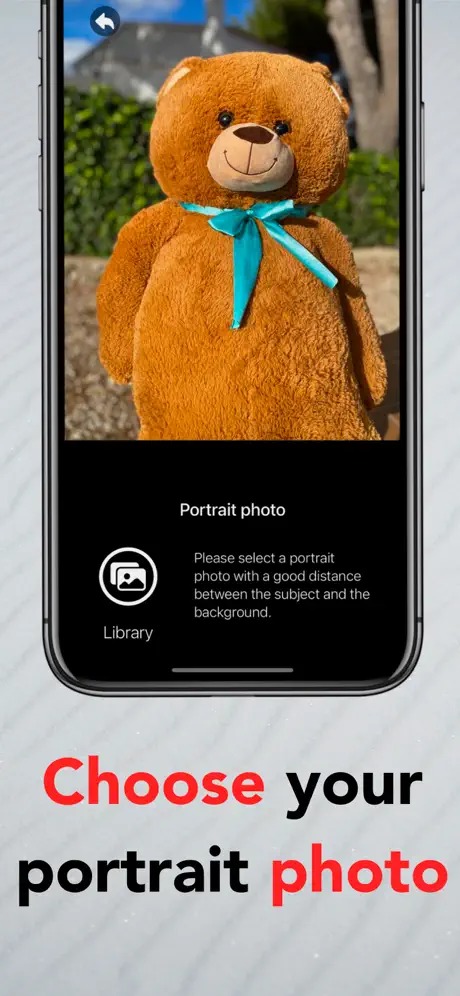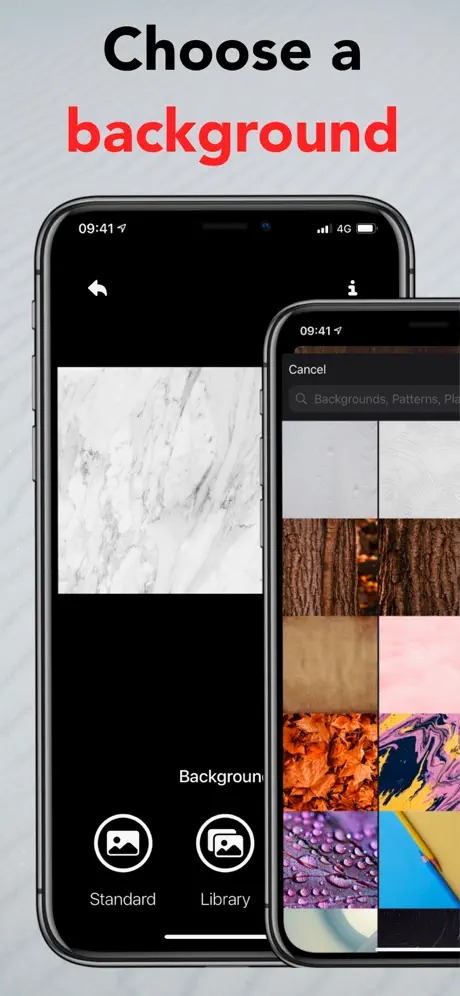 Focos
If you want to make your headshot's background look less distracting, you should use a blur function. Focos will help you to carry out this task! After passing a quick installation, you will instantly get to the menu page with several icons.
Then, you will have to take a picture or download it from the library. After that, you will procure access to diverse editing features. For example, you can customize brightness, saturation, contrast, etc. Plus, you can apply lots of stunning special effects!
The best part of this tool – users don't need to waste too much time on selecting the object to accentuate. Due to the built-in AI technology, the app will automatically detect the major objects and blur the background. Click on the drop icon on the top of the screen to run the photo blurring process. The app will ask you to pick a preferred Blur Type – Auto or Manual.
Additionally, Focos offers a wide range of blur facilities. For example, you can blur only a background or the entire picture. Use a brush to single out the area you want to blur. There is no need to worry if you have accidentally touched the edges you are not going to blur. The eraser tool will help you to underline the necessary area. However, we have found the only drawback there – tons of irritating ads!
All in all, Focos is a trivial photo editing app, but it apparently concentrates around headshot pictures.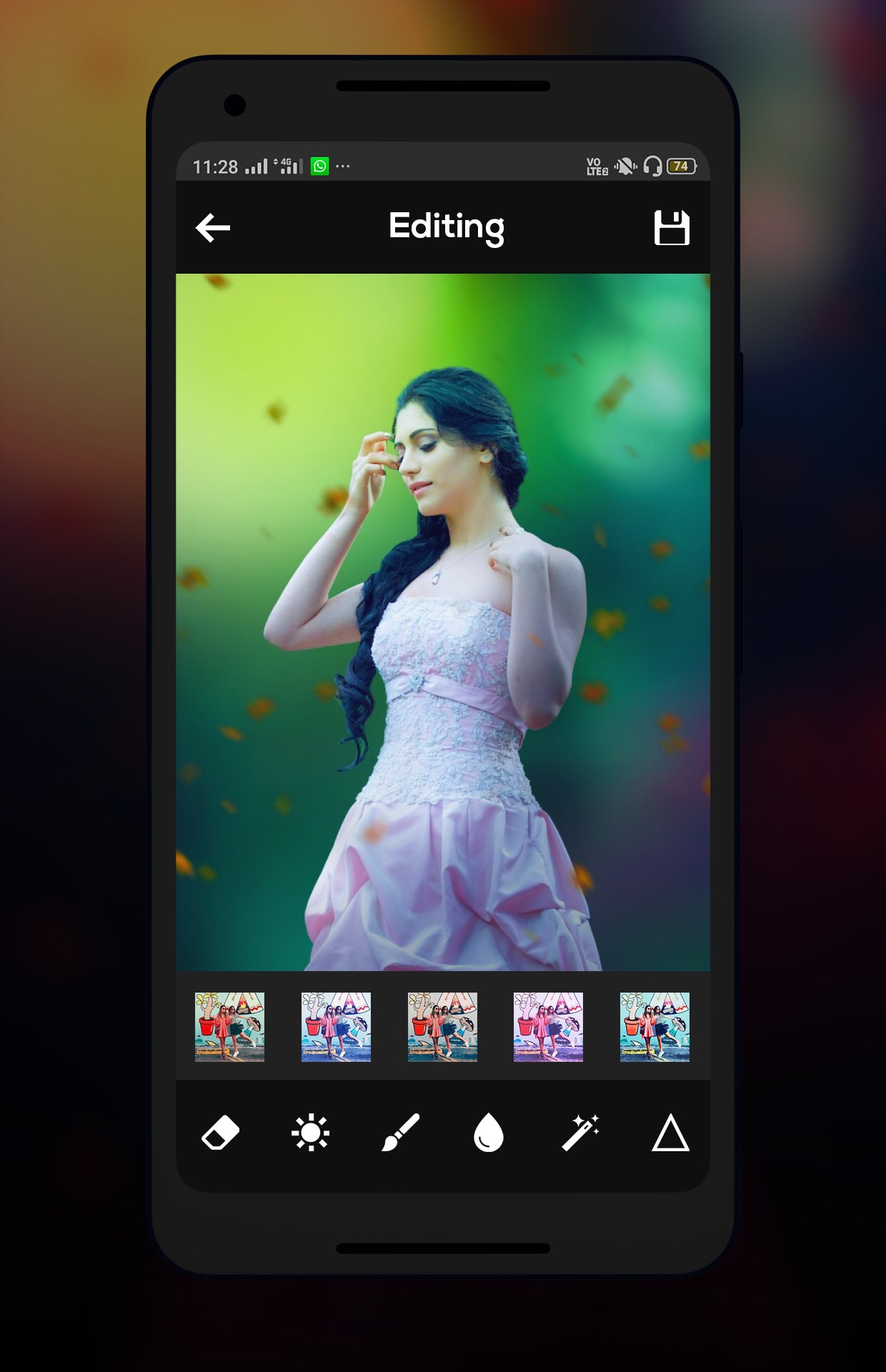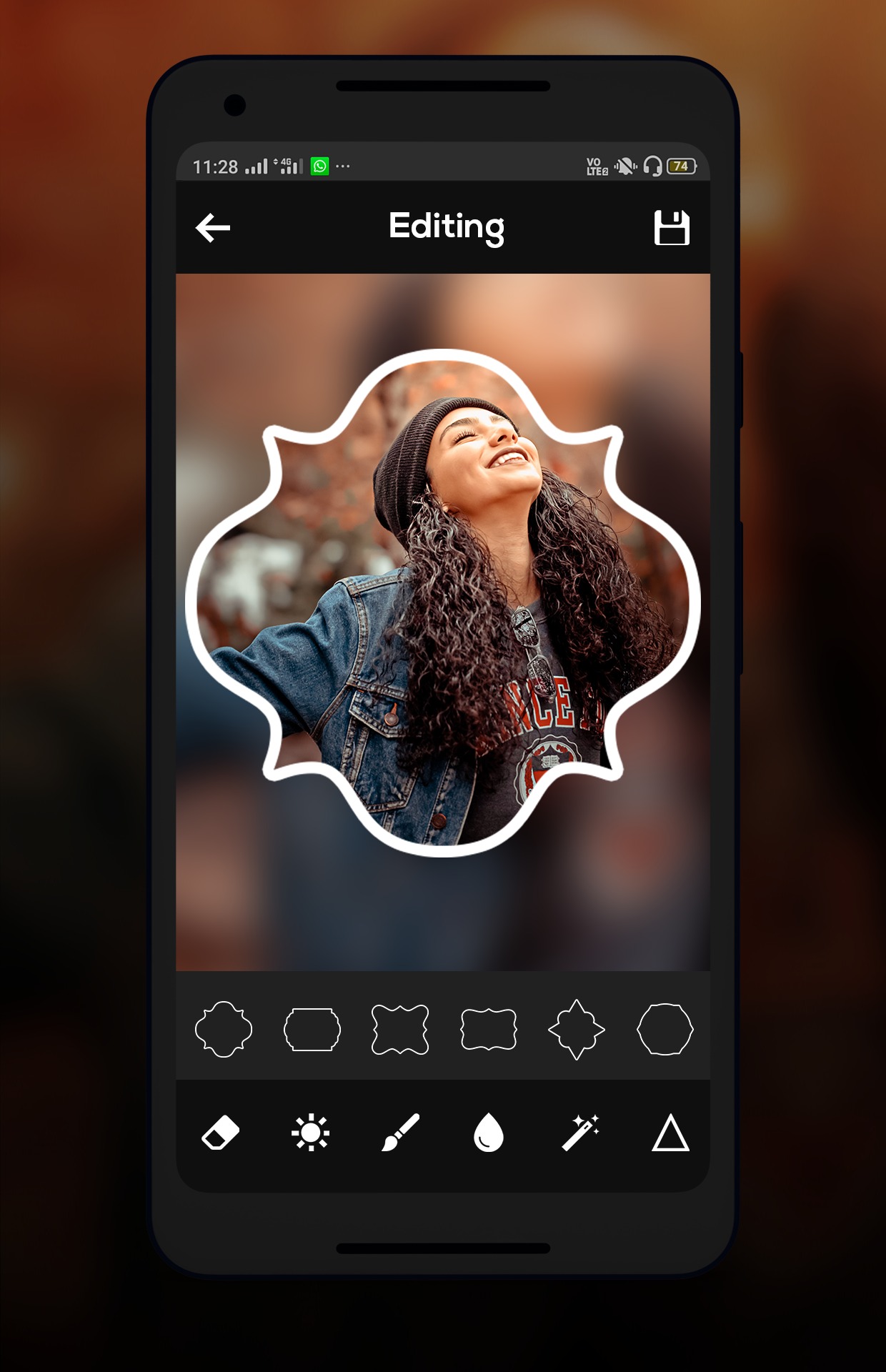 You may also like: 11 Best Portrait Camera Apps for Android & iOS
ID Photo & Passport Portrait
Now our article comes to an end and we would like to present to you a superior alternative to the basic headshots apps. First of all, we have to admit that this app operates like the aforesaid headshot applications, as it allows users to change the background color, apply filters, add annotations, or make other adjustments to the pictures.
ID Photo & Passport Portrait is compatible with an extended number of document formats such as ID card, passport for all countries, visa, driver's license, resume, certificates, etc.
Plus, you can also crop, mirror, or rotate pictures. The app offers users to choose from plenty of photo sizes. If you want, you can even specify custom size and unit. Meanwhile, you can also save the picture in different formats (JPEG, PNG, and WEBP) and resolution.
Like the prior apps, ID Photo & Passport Portrait lets users fine-tune the contrast, saturation, lighting, and other editing tools. The app comes with auto-processing or you can do it manually. We have to mention that the developer guarantees 100 % compliance with all photo documents requirements. The photo formation process will take just three minutes. Highly recommended!