Pole dance today is among the most popular types of fitness. Not only does it look good but it also develops your flexibility, strength, endurance, and coordination. So, if you are into pole dancing, you are certainly in the right way!
However, starting to pole dance might be challenging for beginners, especially if a one doesn't have an instructor. Fortunately, there are special apps that help to improve pole dancing skills.
Even if you go to a dance studio or to a gym, these apps will be useful to you. They'll keep you on the right track and give you lots of inspiration. Let's begin!
You may also like: 25 Best dance learning apps for Android & iOS
Polearn
Polearn is a great way to learn pole dancing at home. The application offers different levels of difficulty, from beginner to advanced
The application includes various functions as well as different systems and groups of workouts, such as dance, yoga or warm-up.
It also offers you a personalized learning experience by tracking progress and recommending lessons based on your progress and achievements.
One of the advantages of Polearn is its ease of use, which makes it easier to navigate and use the application.
Some users have reported issues with bugs and crashes in the app, resulting in frustration and inconvenience.
Some also pointed out that the free version of the app only offers limited access to lessons and features, which may be a disadvantage for some users.
This app is a good option if you are shy or don't have the opportunity to exercise in the gym. Most importantly, do not forget about safety during home workouts.
Application features:
Large selection of workout types
Easy to use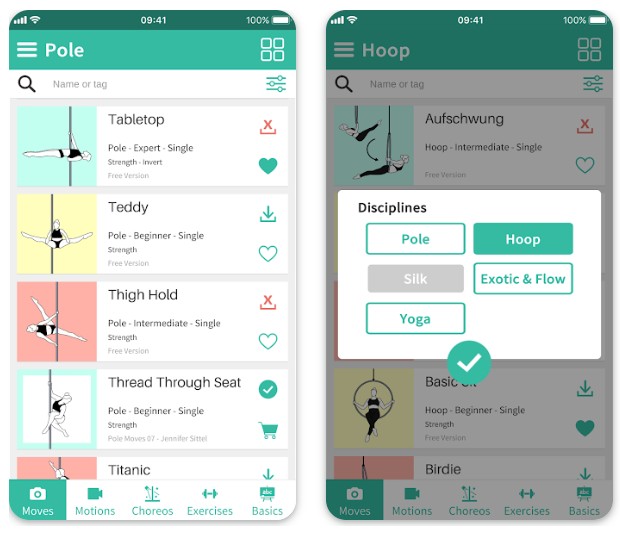 You may also like: 17 Best Stretching Apps for Runners and Dancers (Android & iOS)
PDC Pole Dance Syllabus
Pole Dance Syllabus is an app created by PDC (Pole Dancing Community) to guide you through a world of an endless variety of pole moves. It is a well-known fact that pole dance as a sport has been recognized quite recently and still not fully. Before that, it was considered to be just a dance or even a way to earn money in a bar.
But we all know that sometimes dancers need to be even more skillful than sportsmen, so the most dedicated pole instructors have decided to gather together to establish an official moves syllabus categorized by levels and a grading system for identifying one's level of skills.
Both of these elements can be found in the app. So, first and foremost, the app contains 336 moves categorized by 6 difficulty levels. All the moves are presented in short clear videos. And, secondly, there is the AAP grading scheme that will help you to rate your progress and celebrate small victories as you progress.
This app is not free, but it is perhaps the most useful app on pole dancing out there. It will give your dancing experience a professional touch and who knows, maybe, you'll become a professional at some point! All the videos are accessible offline, so you can watch the moves and practice the moves any time you want to. Download the app right now and level up every day!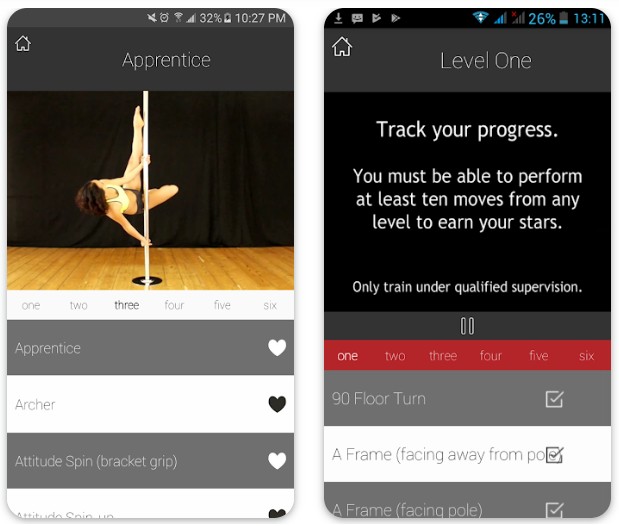 Pole Power App
Pole Power app is a fitness app designed to help you improve your strength and performance. The app offers you a variety of workouts designed specifically to help you develop upper body strength, core stability and flexibility. It also contains detailed instructions for various pole and mid-air moves, including videos and images.
The application has enough advantages, but the main thing in Pole Power is ease of use and ease of navigation even for beginners. The app also allows you to track your progress and set personal fitness goals. In addition, the app offers a community forum where you can connect with other pole dancers and aerialists from all over the world.
Some users have reported that the app has limited workout options, while others are having technical difficulties while using the app. Also, the app is only available in English.
Thus, the Pole Power app is a good option for you if you want to try something new or improve your current fitness level. While there may be some limitations, overall the app offers you a great opportunity to reach your fitness goals.
Features of the Pole Power app:
Easy to use application
Suitable for people with different levels of training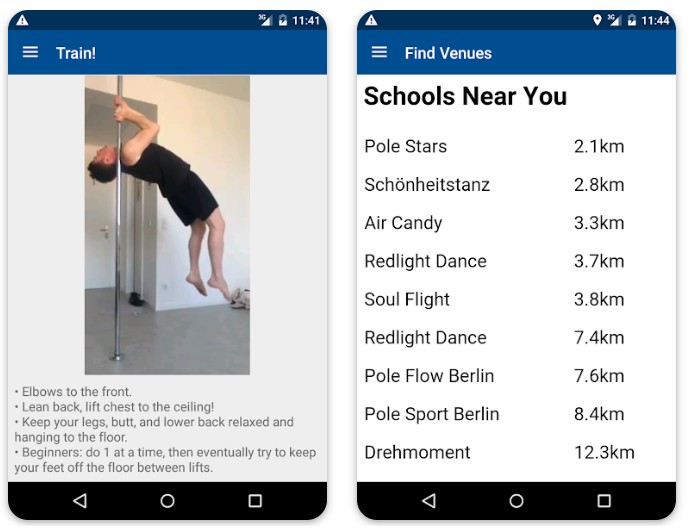 Pole Dancing Fitness
One more pole dancing app for iPhone (and iPad, by the way). This one also contains lessons on how to pole dance. There are 346 video tutorials on how to make different kinds of moves. Basically, you can learn everything by following the instructions in the app.
You can start with basic pole exercises and then end up learning how to perform such complicated tricks as pencil spin or boomerang spin-up.
The advantage of this app is that you don't need to sit and search for moves – you just watch something and then try to do it. One by one, you can become a top-notch dancer!
The downside is that the app is not free and there's no free trial, so if you don't like the lessons for some reason, you won't be able to get your money back. So if you are risky enough, get the app and start learning!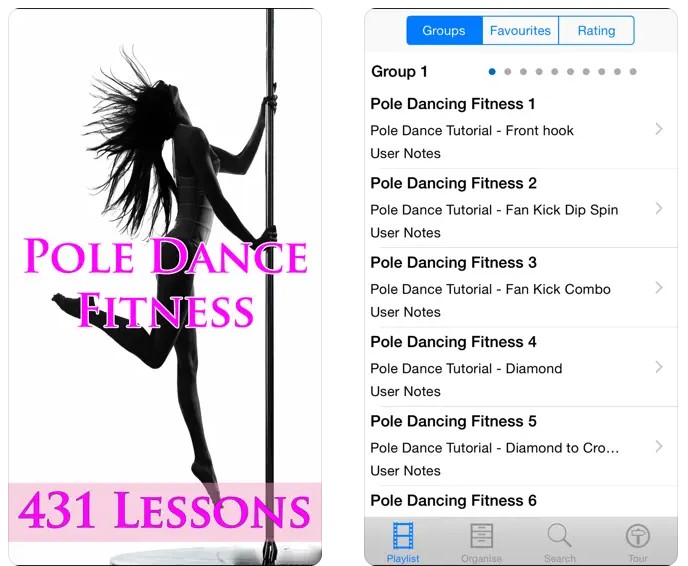 Bunny Pole Dance
Bunny Pole DanceA is not an app for learning how to pole dance. This is an app for finding places where you can learn how to pole dance.
Wherever you are in the world, you can use this pocket tool in order to find pole venues, stretching venues, etc. Lots of fitness schools are already included in the app and new ones are added all the time!
Besides searching for a place where to train, you can also use the app's video tutorials, instructions, tips and so on. But this part is more of a bonus. One more bonus is a counter that will help you to keep track of repetitions and warm-ups.
All in all, this is a very multifunctional app for pole lovers. If pole dancing is an indispensable part of your life, download the app today and make your life easier!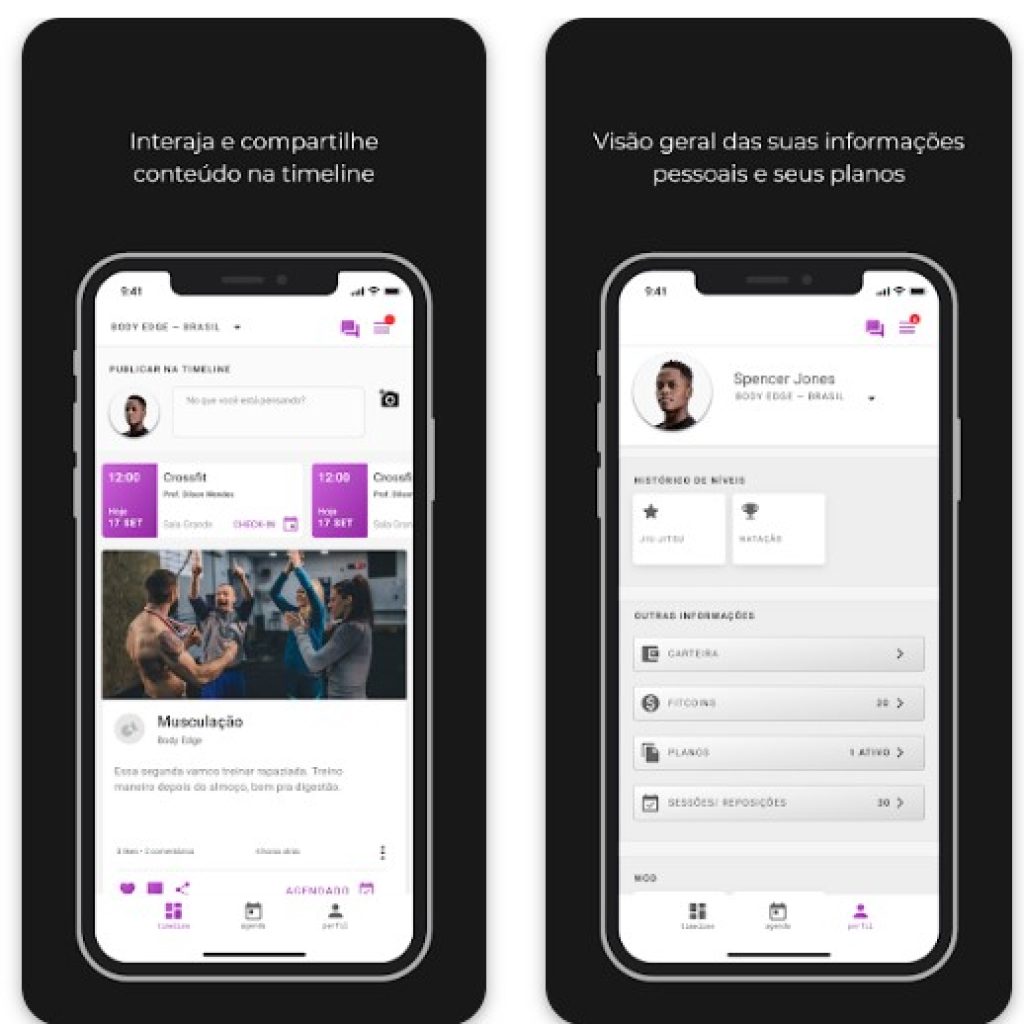 You may also like: 11 Free Face Dance Apps
Stretching Sworkit – Increase Flexibility & Pilates
If you want to be really good at pole dancing, you gotta be really good at stretching! Sworkit app can help you to achieve this goal. Be as stretchy as you like – the main condition is to train, train, and train. The app includes over a hundred stretching workouts that are divided into three groups – full-body stretch, head to toes stretch, and pilates.
All you need is 5 minutes of your day. You don't have to think about what to do. You don't have to be prepared. Just turn on the app, choose a training, and get started!
Stretching will improve your flexibility and make you less vulnerable to injuries. What's not to like? Get the app now and get more stretchy every day!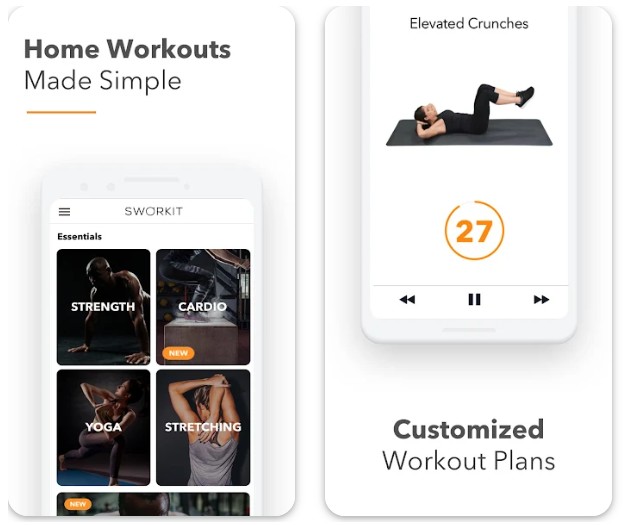 Pole Dance Lessons
Want to learn beautiful and hypnotic moves without the necessity to pay for the lessons? Then check out this app – it contains the full collection of the pole dance tutorials which will help you to make the first steps in this activity. All you have to do is to follow the video tutorials one by one.
The advantage of those lessons is that they don't just demonstrate you the moves and the complete dance, but also contain workouts for the better flexibility, video tutorials with the detailed explanations of the technique, pole dance lessons, stripper pole dancing, and pole dance exercises from beginner to expert no matter what level you are.
In total, there are 3 different teachers teaching various levels of difficulty. You will see that there is truly lots of staff to learn, unlike in other apps which just give you the basic knowledge that ends up already in 2 days. The program covers almost every move, including advanced combinations and performances.
Thus, the app will be perfect both for beginners and advanced learners.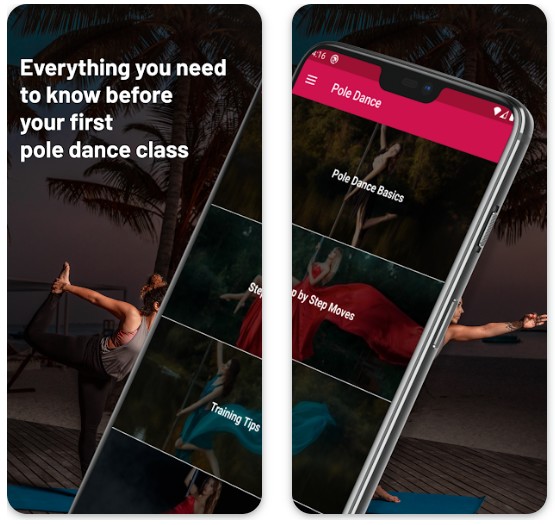 Pole Dance Companion
Pole Dance Companion is a great option for you if you have been wanting to try your hand at dancing for a long time.
This app provides a comprehensive list of over 150 pole dance moves, including step by step guides and videos for each move.
It is ideal for beginners who want to learn pole dancing and advanced dancers who want to expand their repertoire.
One of the best features of the Pole Dance Companion app is the ability to create your own workout routines. You can select specific movements and create a personalized workout that suits your skill level and fitness goals.
The app also includes a progress tracker to help you keep track of your improvements over time.
Unfortunately, some users have reported technical issues with the app, including crashes and slow downloads. There have also been some complaints about the app's layout and user interface.
Despite these issues, most users find the Pole Dance Companion app a valuable tool to improve their pole dancing skills.
Application features:
Ability to create your own workouts
Ability to select an existing workout in the workout library
A handy application that will suit any person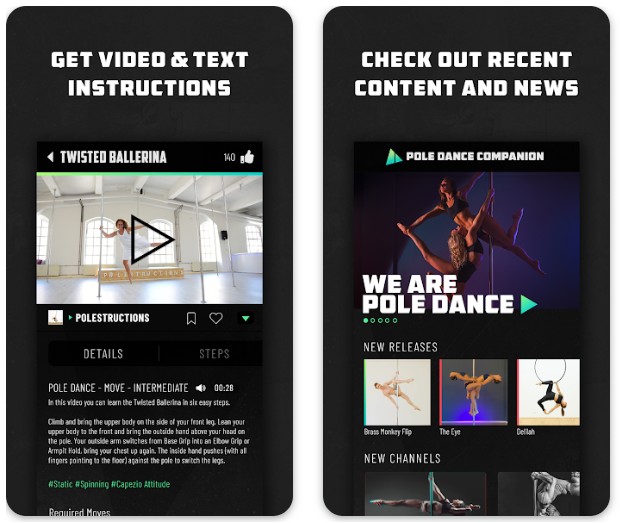 Pole Masterclass
Pole Masterclass is a fitness app that not only helps you improve your fitness but also teaches you something new. It offers a variety of pole dancing programs, tutorials, and classes for all skill levels, from beginners to advanced practitioners.
The advantages of the application include a user-friendly interface, well-structured training plans and the ability to track progress over time.
It also offers a wide range of exercises, from cardio to strength training, which can help users develop strength, flexibility, and grace.
However, some users expressed dissatisfaction with the lack of updates to the application and limited content that can be repeated over time. Some users have also reported technical issues with the app's interface, which can be frustrating.
The Pole Masterclass app can be a great tool for you if you want to improve your pole dancing skills or fitness level.
Application features:
Large selection of workout types
Easy to use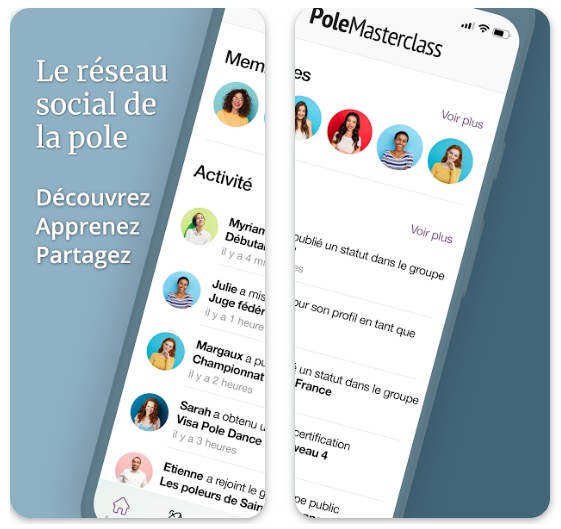 Pole Dance Addict
Pole Dance Addict is a great way to learn how to dance at home without too much guidance. With over 800 pole dance moves and tricks, this app is a comprehensive guide for beginners and experienced pole dancers alike.
One of the advantages of the Pole Dance Addict app is its user-friendly interface. The app is easy to navigate, and every move is accompanied by a video demonstration and detailed instructions, making it easy to learn and master new tricks.
Another benefit is the ability to create your own playlists and mark your favorite moves for quick access. This feature makes it easier to organize your workouts and allows you to focus on the movements you want to improve.
Despite a number of advantages, some users complained about the lack of updates and the limited set of available moves. Some reviewers also noted that some videos do not play correctly, which can be frustrating.
While it may not be perfect, it's definitely worth checking out if you want to improve your pole dancing game!
Application features:
Ability to create your own workouts
Ability to select an existing workout in the workout library
A handy application that will suit any person

You may also like: 7 Best strip poker apps for Android & iOS
Pole Dance Academy
Pole Dance Academy is an application that will allow you to master the technique of pole dancing at home. The app offers many features, including instructional videos, customized workout plans, and access to a supportive community of pole dancers.
One of the main advantages of the Pole Dance Academy app is the focus on personalized training plans. You can create your own custom workout programs based on individual goals and skill levels.
In addition, the app offers a wide variety of instructional videos, allowing you to study at your own pace and at your own convenience.
Some users have reported issues with the app's interface and technical issues. Some have also expressed dissatisfaction with the limited selection of movements and exercises available.
However, these negative reviews far outweigh the positive ones.
Whether you are a beginner or an expert, there is something for everyone in this app. Just remember to stretch before attempting any compound movements – we don't want stretched muscles!
Application features:
Large selection of workout types
Easy to use