For those who are constantly in search of inspiration and new ideas for their artworks, we collected the most effective posing apps in this article. Some of the apps allow you to create models in 3D format, some of them allow you to create them in cartoon format or work with templates, but they all manage their tasks perfectly.
You may also like: 12 Best 3D Animation Apps for Android
Easy Pose
We are opening our list with an app that will probably be notified by all manga fans (but not only). Easy Pose is a full-featured human body app for artists. The app allows users to customize models and scrutinize each angle of various poses. All the models are designed in comic style, therefore they will be apt for cartoons, animation, games development.
Plus, the app supports an auto-save function. Moving on, the multi-model control is provided. You can deal with 100 models simultaneously on the scene and vary over 1200 poses.
There are plenty of groups to a matching model – e.g. Sports, Fantasy, Couple, etc. After that, you will receive a model on a clear PNG background. The major benefit of this application includes a sensitive interface, which makes it easy to control the main joints, change the models' clothes, create realistic shadows.
Additionally, you can use parts presets – adjust shoulder, props, hand pose, etc. Easy Pose has quite good functionality, though some errors occur from time to time in the app, especially when you are choosing the clothes. However, even with the updates, the app keeps its position. Overall, Easy Pose is a must-have tool for both novice and seasoned artists.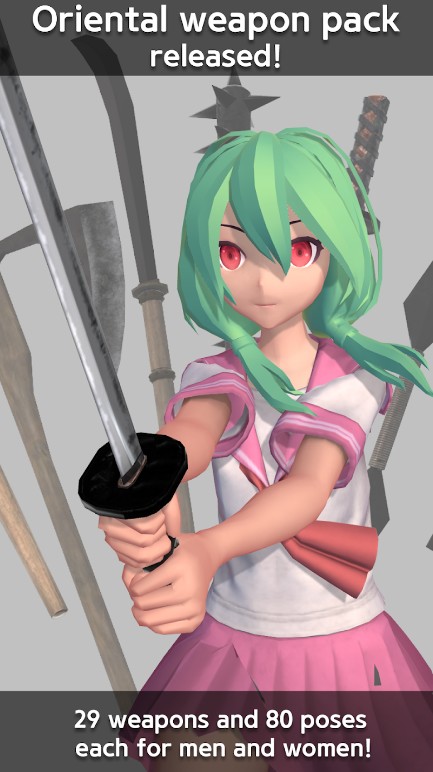 You may also like: 11 Best 3D Animation Apps for iPad
Manikin
Manikin is our next 3D posing tool with a great variety of advanced tools and models. The app is developed for drawing anatomically correct figures involving light and perspective. When you start using the app, you will find a wooden doll located on a dark background. Here you can make a 3D model of the skeleton, there is a large collection of poses, as well as various items. For instance, weapons, furniture, and so on.
The app's interface is developed in a minimalistic style, that's why nothing will distract you from the drawing process. On the bottom of the screen, there are several icons of tools. So, you can employ a wide range of editing features – e.g. outline, cut-out, grid, etc.
If you want to receive an exact angle of viewing, the app enables you to use a 360 mode or "point of view" mode. Moreover, there are 4 adjustable lights to set up dynamic drop shadows or realistic depth. Many people consider this application to be one of the best assistants in drawing and you can see a lot of rave reviews.
Another remarkable feature of Manikin is even its free version brings to your quite a list of possibilities – you can save images of models, you can create new poses, etc., and in a paid subscription, you get no ads and the possibility to create an unlimited amount of poses.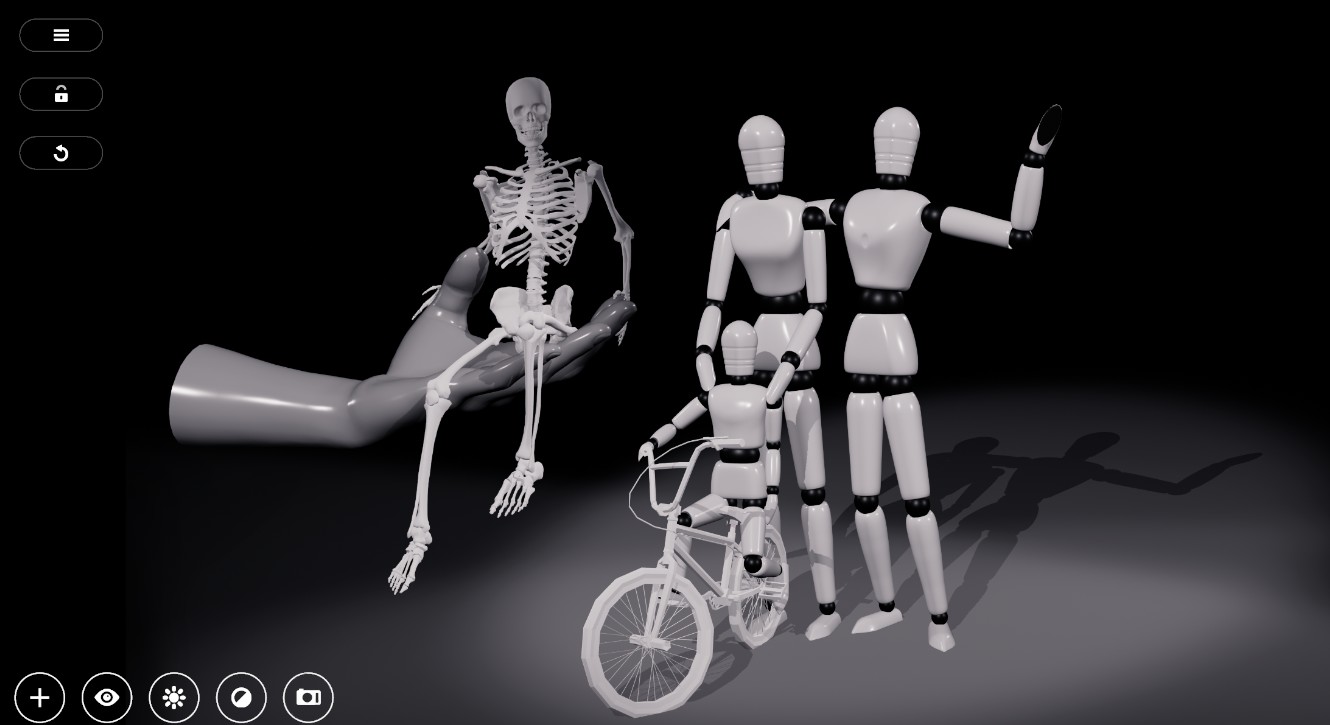 Pose Tool 3D
Pose Tool 3D is a top-grade application for proficient artists. The app is in the top 10 best posing apps list among users worldwide. After downloading the application, you will get to the main page containing the human model. In the sidebar, there are various buttons to navigate the figure. To receive access to the advanced features, click on the arrow button bottom right.
Here you will find multiple figures to pose and switch between male or female at any time. The app offers 6 various body types with both a realistic skin mode and mannequin mode. In addition, you will also find a skeleton and muscle mode that will help you study human anatomy in detail. Plus, the app supports a three-point lighting system.
Moving on, you can even add some items to your model. For this, you will need to get to the Inventory section and select the preferred items for head, hands, or back. For instance, you can choose a gas mask, a hat, a backpack, a weapon, and lots of other things! The app comes with convenient touch controls – one finger, one finger tap, or zoom in/out. Besides, with a pose reset icon, you can pose hips for complex angles.
Pose Tool 3D will ideally suit not only basic drawing, but manga, illustration, character design, or animation as well. The only possible drawback is its obsolete interface, in comparison to the previous apps – it doesn't contain that many features and can be a little difficult to navigate. Plus, all the poses that you create here, cannot be mirrored.


Visual Anatomy 3D – Human
If you are going to explore the human body thoroughly, you should definitely try a Visual Anatomy 3D. Due to this app, you can investigate the skeletal and muscular systems right up to the tiniest details via the anatomical 3D models. When you get straight to the working process, all the tools will be displayed on the bottom of the screen. The app combines extremely detailed anatomical 3D models:
Skeletal system
Muscle system
Accurate 3D modeling
Skeleton surface with high resolution textures up to 4K standard
In Visual Anatomy 3D, you will also find a 3D mode that will help you to explore in detail and volumetrically each part of the body. Thus, you can rotate and zoom in on each model in three-dimensional space.
The shape of each bone and muscle will be clearly visible and understandable even for beginners. Hence, this app is also great for anatomy students. All the muscles are grouped into layers – from the surface to the deepest ones. Plus, you can hide each bone or muscle separately. However, only male models are available here, which can be considered a significant disadvantage.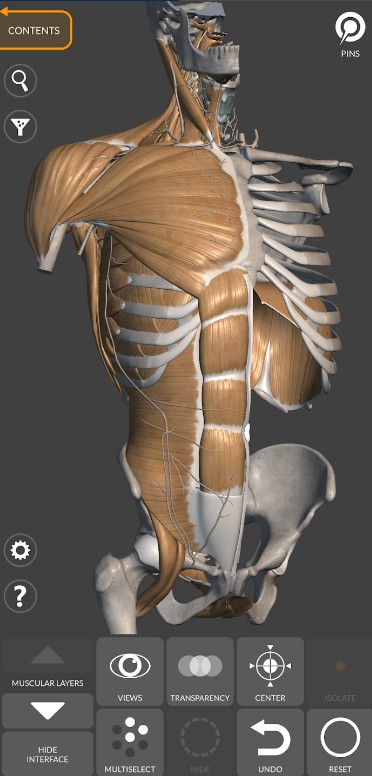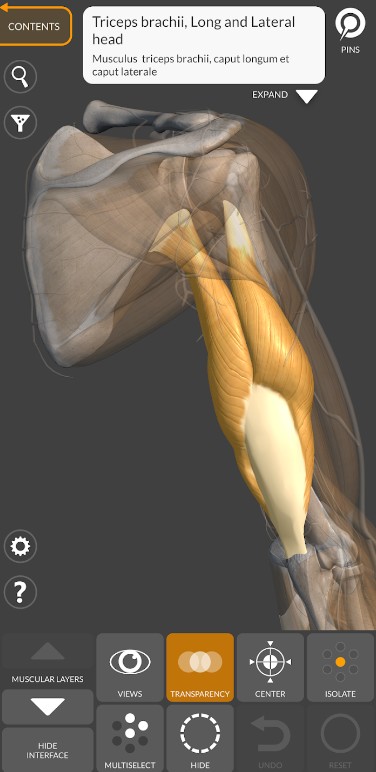 ArtPose Male Edition
Do you want to create a perfect pose in a few minutes? Then, ArtPose Male Edition will help you to carry out this task. This is not the most popular app in this category, but it definitely has something to bring to the table.
But as the former application, this one supports only male body types. In ArtPose Male Edition, users will have access to 60 preset starter poses. The body shape slider allows you to choose from skinny up to muscular male models. Plus, both black & white and color muscle structure models are provided!
By the way, there are various types of hairstyles, and you can also move the light to get the shadow you need. All terms from anatomy and the interface are available in 11 languages. The app features an intuitive navigation process. Below, you can check several guides:
Click on the muscle button to view the muscle structure data
Touch the body slider when in Camera mode changes the body type
Use the Perspective slider to adjust the perspective
Tap on the perspective buttons to load saved camera angles, press and hold to save
We have to mention that ArtPose Make Edition contains a paid version, but the price is quite accessible!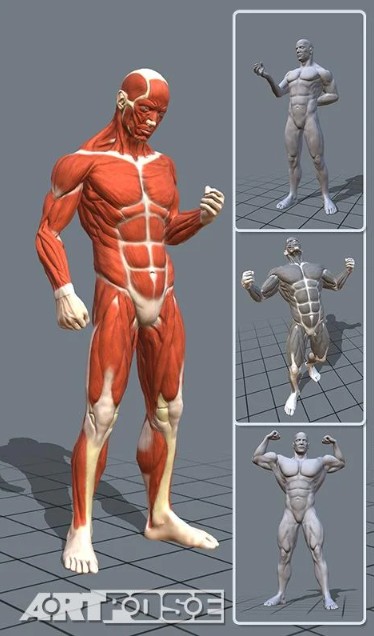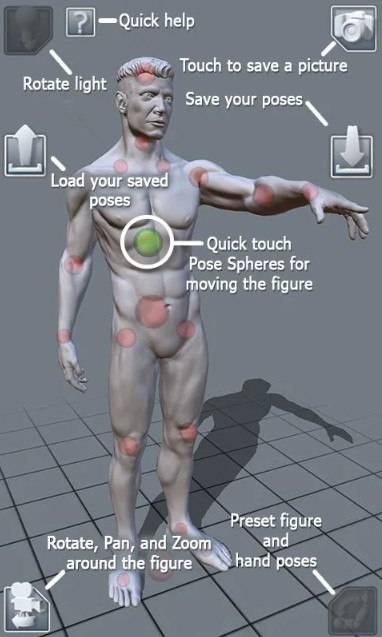 Hand Draw 3D Pose Tool
Hands are one of the most alluring and complex human body parts to draw. So, Hand Draw 3D Pose Tool is an indispensable tool, if you want to hone your hand drawing skills. Hand Draw 3D Pose Tool includes a bunch of preset poses and even allows you to create your own hand-pose just in a few clicks. However, you can only draw the natural position of the hands with or without the supplementary accessories.
The app supports male, female, and skeleton hands. Users can even fine-tune the light and brightness of the hand, rotate, zoom, and move the 3D view. Additionally, superb backgrounds, FX effects, and 3D materials are provided! n general, the app is extremely simple, but the interface design is still user-friendly.
And unlike other apps, this one doesn't have any paid subscriptions – everything is available in the primary free version!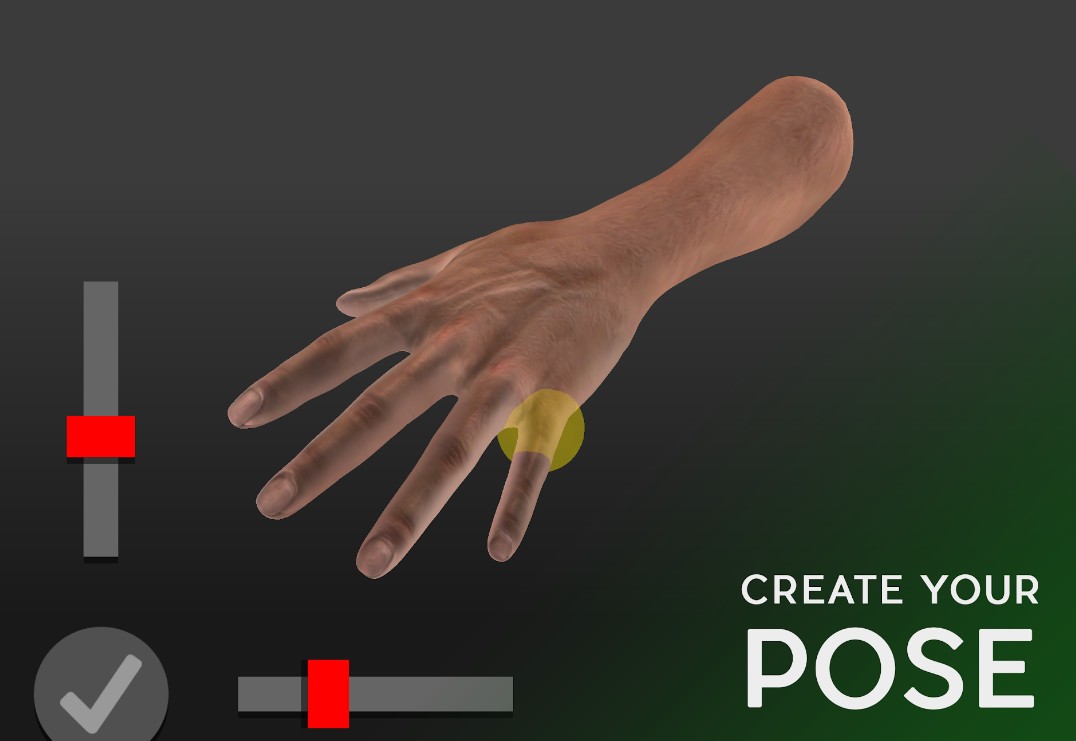 Poseit
Poseit is a posing app designed to improve the way artists conceptualize and execute their artwork. With its impressive array of features and user-friendly interface, Poseit aims to be the go-to app for artists seeking the perfect reference tool.
From anatomically detailed human figures to animals and objects, artists can access a huge amount of customizable poses and angles. The app allows users to rotate and scale the models, providing a view from every angle.
Also, artists can create pose libraries for easy access, streamlining their workflow and boosting productivity. Moreover, the app offers a mirror function, enabling artists to effortlessly create symmetrical artwork with precision and ease.
This app serves as a constant reference tool, eliminating the need for physical models or extensive online searches. With Poseit, you can focus on your creativity, knowing you have access to an extensive collection of pose references at your fingertips.
As for beginners, they have an option to learn the basics of anatomy, while experienced artists can refine their techniques and delve into complex compositions.
So, if you're looking to bring your artistic visions to life with precision and finesse, Poseit is the app that promises to unlock your true creative potential.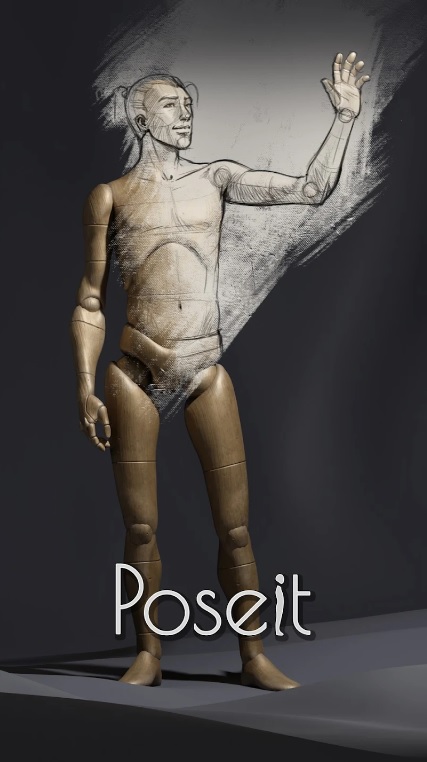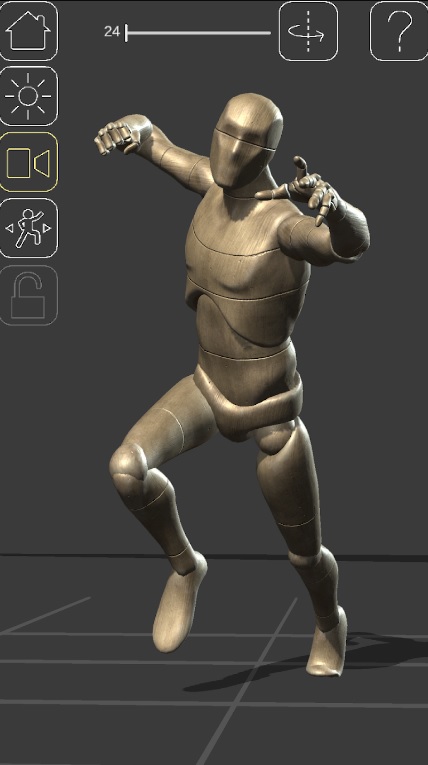 You may also like: 9 Free Silly Face Apps for Android & iOS
Gesture Drawing Practice
Gesture Drawing Practice is developed for learning to draw people without being distracted by animals, plants, or something else. This app looks like it's made for those who already have experience in 3D design instead of beginners.
This tool is developed for amateurs to practice learning a number of poses and gestures. The application is extremely lightweight, that's why you will install it in a couple of seconds. When you first open this tool, you will find several sections on the bottom of the screen.
So, in the beginning, you will have to pass the following steps:
Choose your own photo or import it from the library
Select the preferable time interval
Tap on the Start Practice button
If you wish, you can also pick an option to shuffle the images.
In addition to the aforesaid, you can also add various drawings to your gloss on Pinterest. There are no pointless functions in the application, everything operates steadily and clear. Highly recommended!


Pose Maker Pro – 3D Art Poser App
This app brings you probably the most diversified choice of models among all the apps listed in this article.
In Pose Maker Pro, users can pose realistic human models, manga-style models, and even animals that you can look at from different angles. Pose Maker Pro allows users to transform your model from child to an adult, skinny to muscular or make it fat, pregnant, etc. Plus, the app supports three-point lighting with adjustable intensity and color.
One of the best options there – you can change the facial expression of the model in a few seconds. This means that you can fine-tune the character's eyes, mouths, or eyebrows manually.
Thereafter, you can also import an image from the photo gallery to create a splendid background – just rotate and set it scale! If you want, you can also apply a number of props, such as vehicles, weapons, furniture, etc. Anyway, the app submits an unlimited amount of figures and props in a single scene!
One major flaw of Pose Maker Pro is that its working system is extremely fragile – if during the usage of this app you receive a text message or a call, it crashes. The graphics are also not the top-level, but it's bearable for such a diversity of models.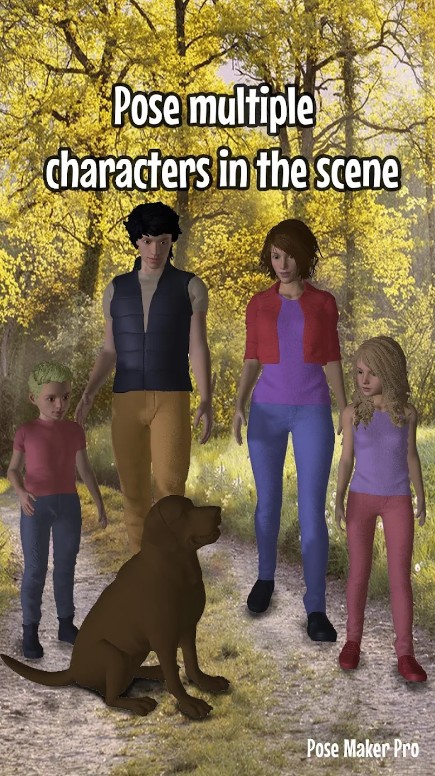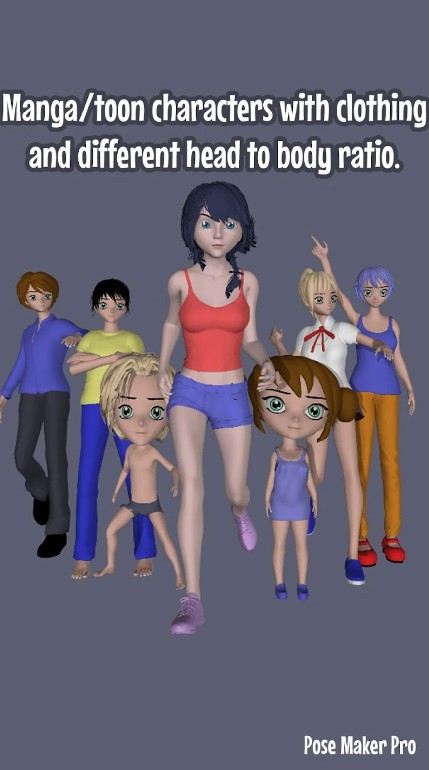 Make A Pose
Make A Pose is another multifunctional tool for smooth adjusting the joints and poses. Here you can easily alter the colors of your character, as well as tailor the light to get the shadow needed for drawings. The great benefit of this application – it is possible to save 9 poses at the same time. Users will have access to the special sections containing multiple poses – Male, Female, Hand, and Horse.
Moreover, you can add supplementary items to the models. You can also try various objects, their poses, and shadows. For instance, children, horses, a chair, an apple, a square, and so on. They can be applied the way you want. This app though forms all the models in the cartoon style, not 3D.
Below the screen, there is an adjustable ball. You should rotate the blue part of this ball to edit the joints. Then, you can also non-uniform scale each part of the character.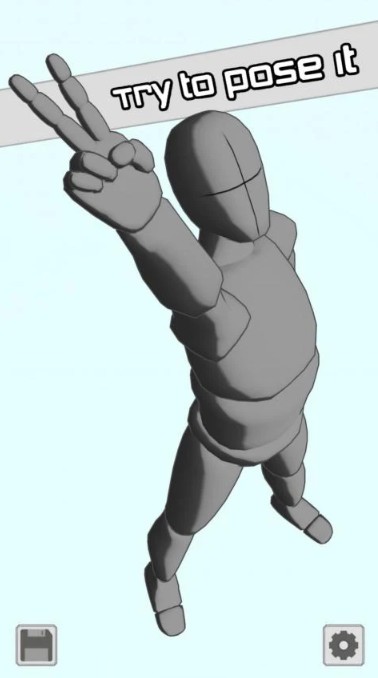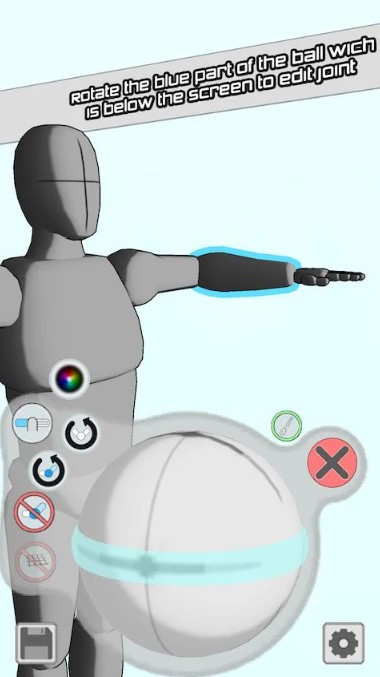 Magic Poser
Magic Poser is an innovative application that allows you to pose any number of 3D human models with versatile props. The application incorporates male and female models, as well as models of different ages and shapes. Magic Pose submits an immense number of models and props.
The app boasts a lot of free props as well – e.g. tables, chairs, swords, and shields. However, there are no animal models here, which can be considered a disadvantage.
Moving on, Magic Poser includes a super intuitive and straightforward control system. The built-in physics engine allows users to handle a human model like a real doll and automatically tweak it to the dynamic poses you need. Furthermore, you can also adapt your pose with sliders or text input to achieve 100% accuracy. Thus, you can portray even a joint of the human body.
All in all, Magic Poser is a requisite tool for drawing manga, comics, storyboards, character designs, and so on. However, the UI requires some improvements since in some cases it's not really user-oriented.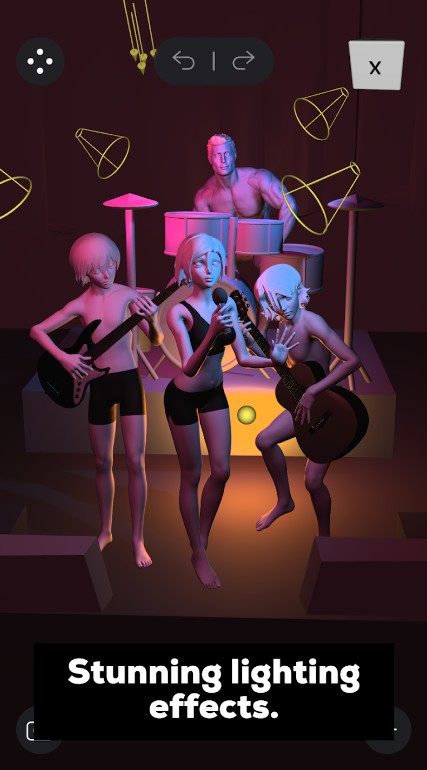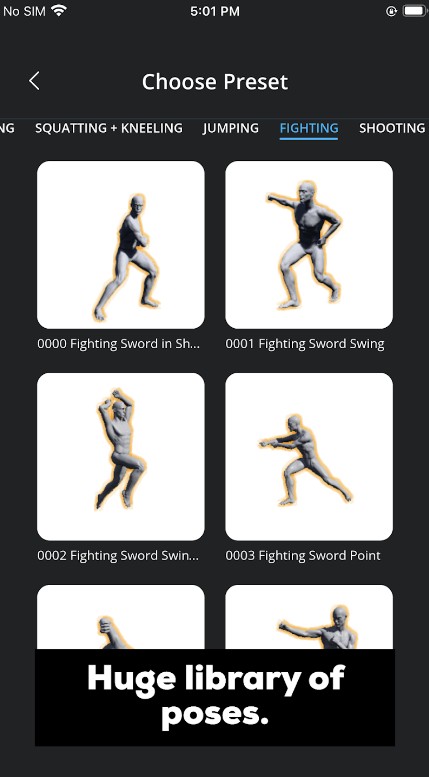 Pofi Create – Art Pose & Paint
With a range of impressive features, Pofi Create – Art Pose & Paint is suitable for both beginners and experienced artists, providing a platform for unleashing creativity on the go.
This app provides a vast library of pre-made art poses, featuring a variety of human figures in different positions for artists. These dynamic poses serve as a valuable reference for artists to study anatomy and master the intricacies of the human form.
Moreover, artists can customize these poses, adjusting angles and perspectives to fit their artistic vision.
One of the app's standout features is the inclusion of a comprehensive painting toolset. Artists can choose from a wide selection of brushes, colors, and textures to bring their imaginations to life on a digital canvas.
To sum up, Pofi Create is a great tool to improve your skills and get some inspiration.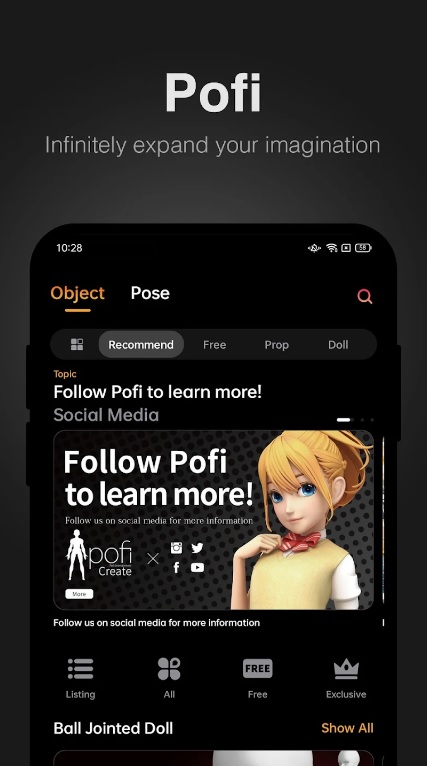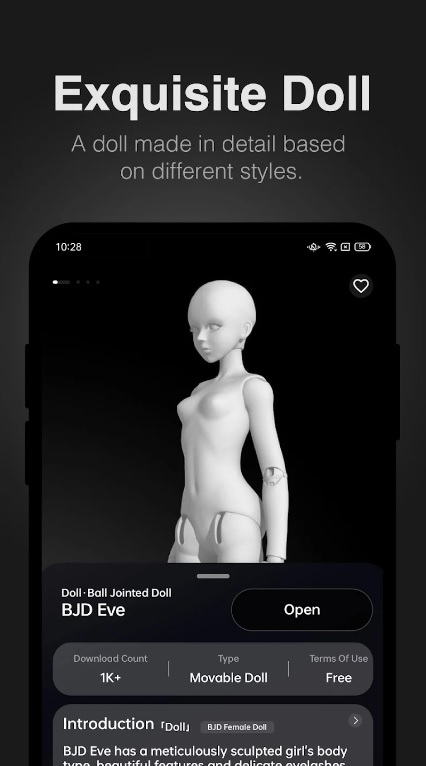 You may also like: 7 Free Distorted Face Apps (Android & iOS)
El Pose 3D
El Pose 3D is a source of inspiration for all who are working in the artist field. From human figures to animals and beyond, artists can explore a diverse range of poses, angles, and lighting conditions.
The app allows for seamless rotation, scaling, and positioning of models, ensuring artists can capture the desired essence of their compositions.
What is more, artists can superimpose the 3D models onto real-life scenes, creating a unique fusion of imagination and reality. This AR integration bridges the gap between the virtual and physical worlds, providing an unparalleled reference experience for artists.
El Pose 3D is a valuable asset for artists seeking precision and accuracy in their work. The app enables users to study anatomy, explore foreshortening, and refine complex poses without the need for physical models.
Beginners can grasp fundamental concepts, while advanced artists can push their boundaries and delve into intricate compositions. The app's lifelike 3D models and AR capabilities inspire creativity and elevate artistic expression to new heights.
So, if you're looking to amplify your artistic prowess and embrace a new era of posing possibilities, El Pose 3D is the app that unlocks the door to your creative wonderland.