6 Best Pottery Apps for Android & iOS
Pottery classes are trendy these days. Among other things, it is a very hipster thing to do. This could also be a good creative game for a kid, way more constructive than endlessly shooting humans and aliens. Besides, you can check if you are susceptive to vertigo. Here are best pottery apps for Android and iOS. 
Let's Create! Pottery HD Lite
Let's Create is easily the best pottery app. Even if you have never been interested in pottery, this game will surprise you with a totally addictive design. The wonderful high-resolution graphics look just mesmerizing on iPad's Retina screen. You can enjoy the view at beautiful renderings of your creations, revolving them with a swipe of the finger. The game itself involves producing pots using images you get from your Aunt Chloe and her friends. For a well-done job you get paid with coins, allowing you to purchase more items from the shop (of course there is a shop).
You start your pot with a basic shape which can be formed into anything from a cheap sad plate to a classy tall vase. It's obviously easier to create smooth curves and any other shapes on a larger screen, so iPad is a better choice.
Get Let's Create! Pottery HD Lite free for iOS here
Get Let's Create! Pottery HD Lite free for Android here
Pottery
Simple app with a simple name. It is basically a collection of tutorial videos. Videos are good for you, but it means that this app absolutely does not work without internet.
Get Pottery for iOS here, at $2.99
Pottery Design HD
You get this app if you want some antique-looking stuff. In fact, this app delivers a complete list of antique pots design. Other features:
1) Simple navigation flow with wallpaper looks.
2) Wide range of categories for pot designs
3) Share with friends and family
4) Regular updates.
And it is free.
Pottery Maker 2
An app game that costs you a few bucks. With this one, you can sculpt jugs of different shapes, use various bright colors of paint and numerous patterns. You can get workshop upgrades through earning money selling jars and pots, buying new shapes, patterns and dyes for your future masterpieces. And surely you have an option of taking pictures of your creations and sharing them with your friends.
Pottery Lessons – How To Make Pottery
This app gives a complete video guide for you to learn to make pottery. It is not a game like the app before. This application teaches throwing, centering, trimming and collaring. You will do that with shapes such as pitchers and handles, bowls, jars, candles, tea pots, piggy banks, goblets, two-piece pottery, casseroles and even face mugs (certainly not beginner's level).
Pottery Maker – Handmade Craft Deluxe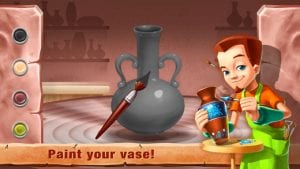 This app is a fancy game. You choose the design of your piece, mould it with a potter's wheel, put it in an oven to fire and then paint it as you wish. Meanwhile, you are training  at creating unique pottery design, using various colors, patterns and decorations. In the end, you can save your masterpiece and maybe show to your friends.
As far as apps go, these ones should be enough to get excited and inspired. Although, firstly you may be inspired to get a gadget with a bigger display. Just don't get clay on that.