If you have a car and you want to earn money by working as a private driver and have a lot of conditions for this that will make this work more comfortable, in this, case you can use the apps designed for this. In this article down below you will find the best private driver apps.
And for those who still don't want to hire a driver and like riding on their own, we suggest checking the article about the best car rental apps.
StickerRide
This app is quite popular among motorists and private drivers – here you can earn money not quite in the usual way, namely by advertising various brands and companies that will provide you with stickers pasted on the car and will charge you a certain amount for each mile traveled.
If you are taking your boss, clients or just children to school, you will earn money anyway, because a brand sticker pasted on your car will be a kind of advertisement. Using this app to earn money is quite simple:
Register your data and the data of your car in the StickerRide system
Apply for participation in the advertising activities of any company from the list on this app
Get stickers and attach them to your car
Just go about your business, drive anyone and earn money for every new mile
In addition to earning money on stickers on your car, you can also become a participant in various events and flash mobs with other drivers and earn more.

Moreover, the program of this app has a working system of bonuses, sweepstakes, and prizes, in which you can also participate on an equal basis with other users.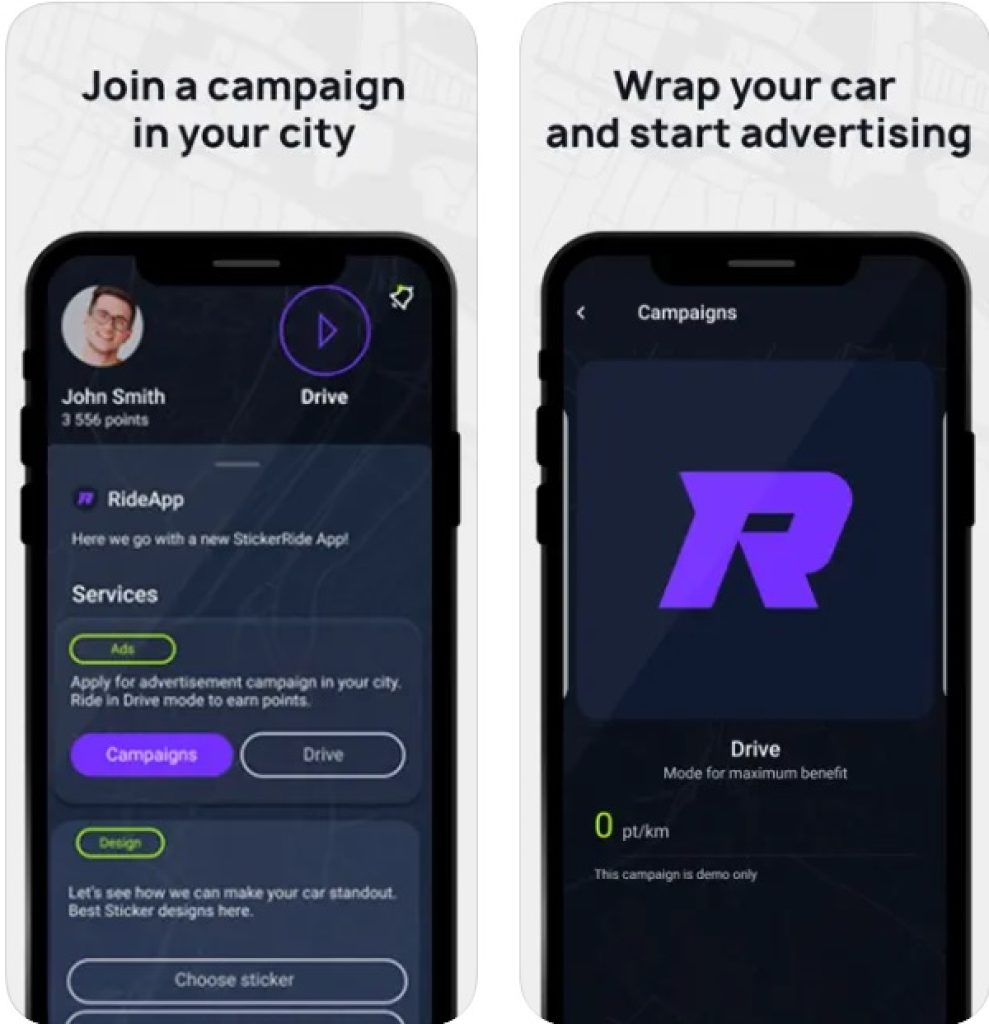 You may also like: 9 Best apps to rent a bike near me (Android & iOS)
Dryver Personal Hourly Driver
This app is created for both customers and personal drivers. Here you can find a person who will become your personal driver and will drive you in your personal car. Also, you can register in the system as a personal driver and provide people with travel services.
The system of work here is extremely simple:
Register in the app as an employee
Create your profile, which will include your data, driving experience, and reviews from other customers in the future
Next, you will receive orders from customers
Come to customers and drive them in their own car and earn money
To work as a private driver in this app, you do not need to use your personal car or rent it from a company: just drive people in their own car. After the trips, customers will give you driving marks, which will form a rating reflected in your personal profile.

Apart from this, you can also get regular customers who in case. if they need a private driver, they will contact you.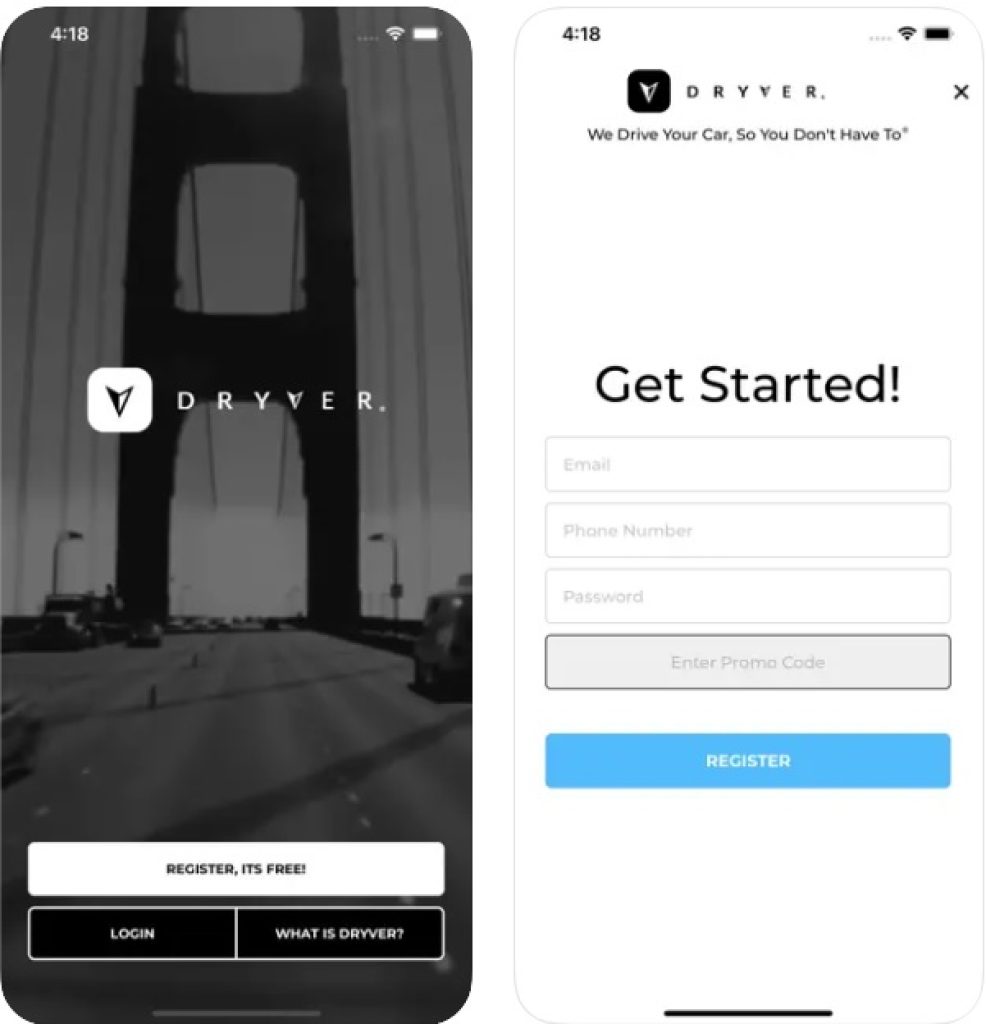 BlaBlaCar: Carpooling and Bus
This is a fairly popular app designed for private drivers and people with rights. Here you can find fellow travelers, as well as earn money while performing the duties of a private driver. Here you can also find people traveling not only by car but also by other vehicles.
The essence of this app is mainly to save money.

If you have a driver's license and want to go somewhere, in BlaBlaCar you will be able to find fellow travelers to reduce the cost of gasoline and even earn money, as well as find people who are planning some kind of trip but do not have a driver's license, and in this case, you will be able to offer them your candidacy as a private the driver.
Here you can monitor the publications of other users close to you who need a private driver. Your driver's license is enough to offer your services to users and earn money from it. BlaBlaCar guarantees security: you can check the personal profile of the user who requests the services of a private driver from you.

Users have a rating that will help you decide whether to contact this person or not. Also, in this, app there is feedback that will help in unforeseen circumstances to contact relatives and solve the issue that has arisen.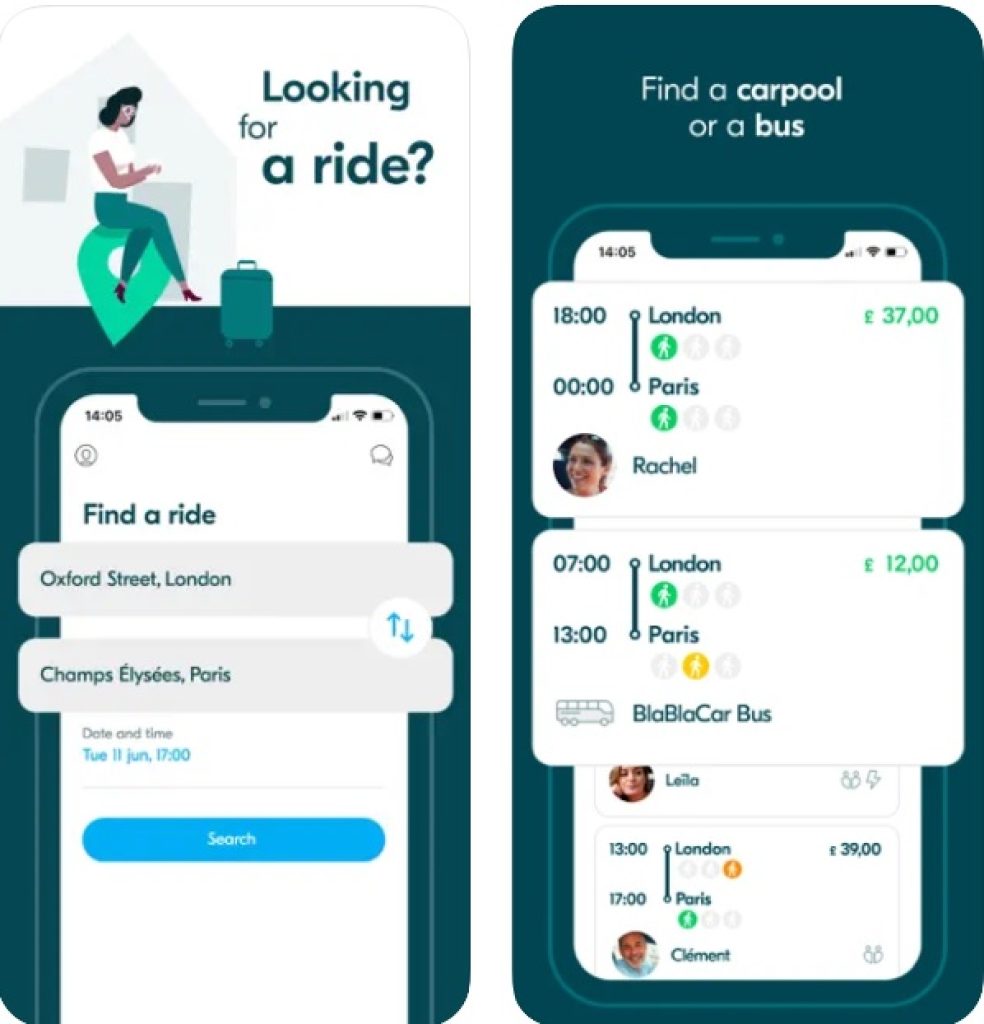 This is really the app that every private driver should have. Sometimes there are situations when you are taking someone out of town, where there is also no stable connection and Internet. MAPS.Me will help you navigate in an unfamiliar area, even if there are problems with communication and the Internet.
In Maps.me there are maps of all cities from many countries: full-fledged maps and addresses of the necessary buildings and minds that will help you navigate in an unfamiliar area.

You just need to enter the desired address in the search bar and the app system will automatically give you the route, travel time, and even information. by route congestion.

Also, you will be provided with timely hints, such as turns, U-turns, forks, etc.
Moreover, Maps.me It contains a certain collection of popular routes: if you need to get to some place of interest, this app will automatically give you the most optimal routes from anywhere in the city.

Maps.me – it is also a guide that will tell you the ratings of establishments, as well as the degree of congestion of certain attractions.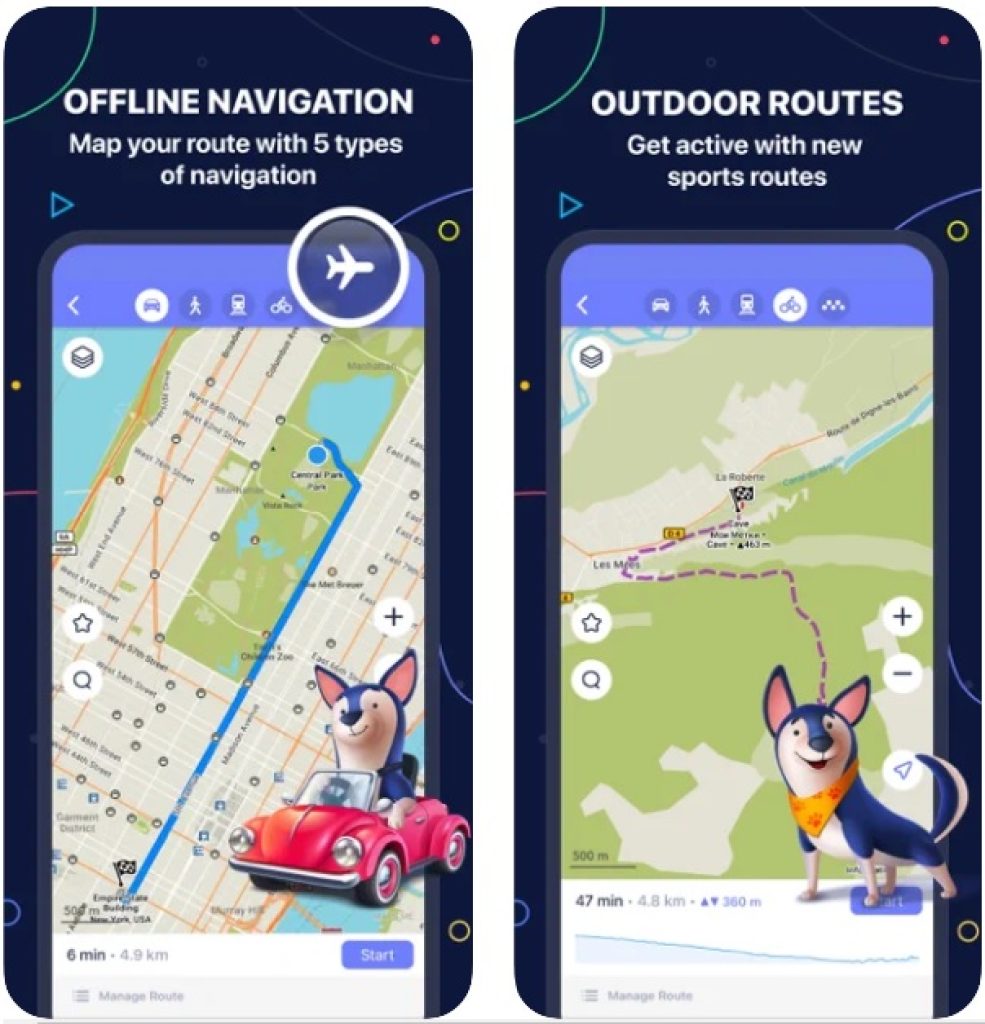 You may also like: 7 Best Apps To Rent A Boat Near Me (Android & iOS)
Cabify
This app is for private drivers who want to earn money in peace and meet new interesting people. Here you can receive personal orders from users who view your personal profile, as well as independently offer the services of a private driver.
Here you can implement the services of a private driver, traveling in your own car or in the car of the user to whom you offer the service. You can also become one of the participants of the Cabify fleet and use vehicles from the fleet of this app.
Cabify offers you to enter your personal profile – this means that in it you will be able to control the number of your trips, earnings, as well as the area in which you are ready to travel.

Set for yourself the limits of the area in which you are ready to accept orders and where you are ready to go in order to weed out unsuitable offers from other users.
Also, here you can keep your private driver profile: enter your data, such as driving experience, photo, and ratings so that users have confidence in you. This way you will be able to receive much more orders.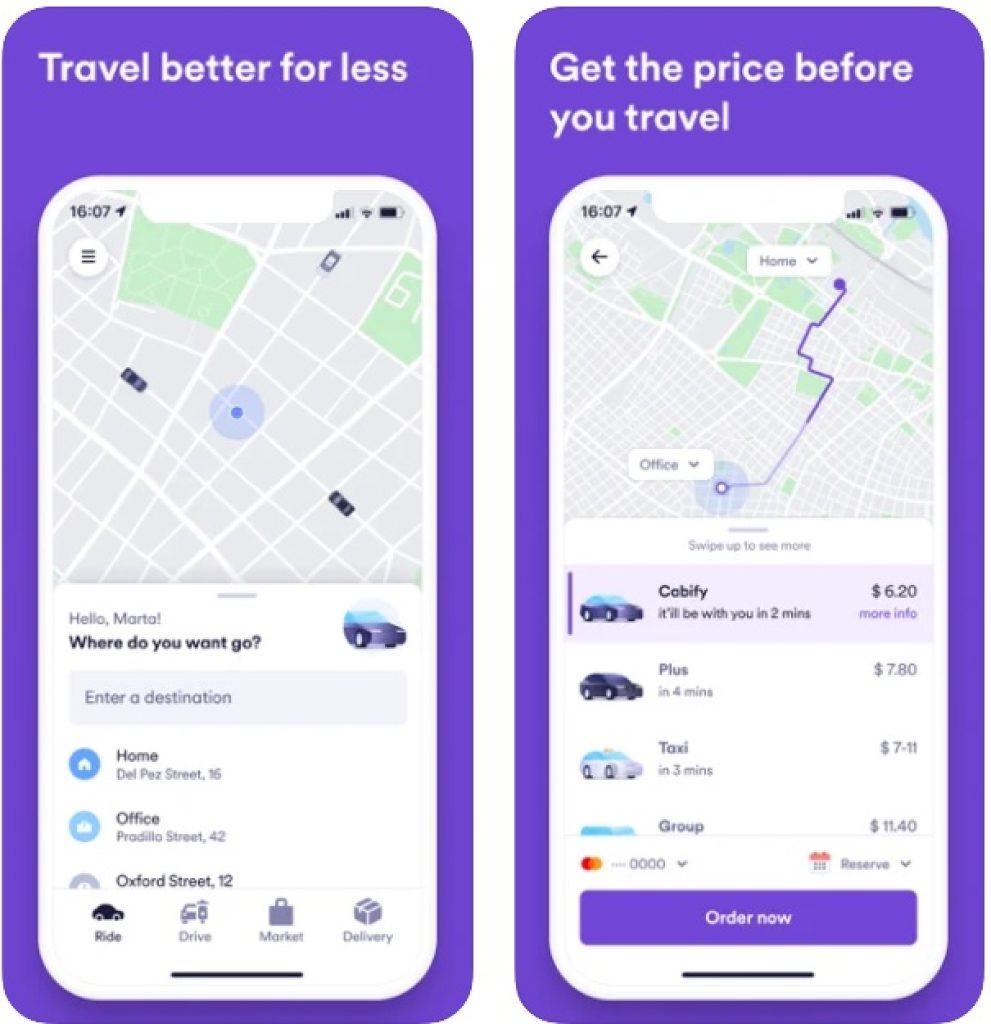 Allocab Private Driver Cab driver
This app is for those who want to use their driver's license to earn money. Here you can become a private driver for any users who need such a service.

Drive around the urban area, or move to other cities, earning money at the same time.
Register as a private driver in Allocab Private Cab Driver and start earning money by delivering people from one point to another.

Here you will need to create your personal profile, which will contain certain data, such as age, gender, name, driving experience, and so on.
Also, there is a rating system in this app. Your rating will include the ratings of users to whom you have provided services.

Also, the users themselves will have a rating, thanks to which you will know what kind of users they are and will be able to make a decision whether to indicate service to them or not.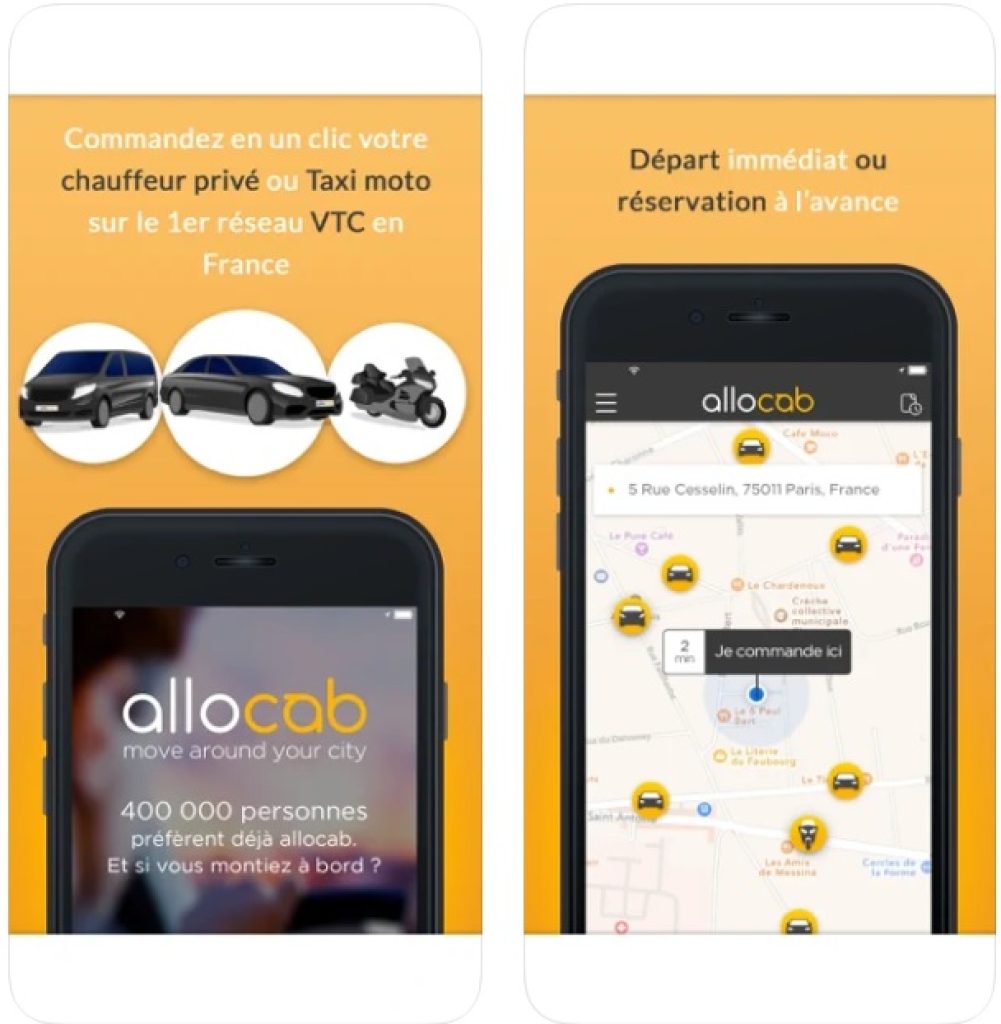 You may also like: 11 Best car locator apps for Android & iOS
HOPIN- Tap for Transport
This is an extremely multifunctional app that will allow you not only to promote your private driver service, but also to receive certain information about traffic jams, parking lots, traffic congestion, and much more.
You can register your private driver profile in HOPIN by entering your data on driving experience and experience as a private driver there and receive offers for the provision of such services from other users.

Also, you can monitor the publications of other users of this app and independently offer them your services.
Here you can view any information about a given client, as well as the rating of the user to whom you will provide the service. also, this app guarantees your safety and feedback: for all questions, you can contact the support service, where the operator will give you the answer to all your questions.