Have you ever wanted to switch the tone of any object on your pic? Then keep reading this article!
We've gathered together the best recoloring apps for Android & iOS that lets you repaint your pics as you need. These apps let you recolor any object — from eyes and clothes to trees, sky, and even furniture easy as pie. Some of these apps are automatic, other ones are manual but all of them give realistic results.
Here's the list of the best apps in that category you may try. Have a look!
You may also like: 11 Best Deepfake Apps (Android & iOS)
Color Pop Effects Photo Editor
First of all, we have a classic editing app with tons of color pop effects.
If you like to work with colors on your pic you can't go wrong with this app. This app covers all the possible colorizing effects you might need — from splashes or recoloring. Plus, you get some trendy features such as spiral or neon wings and borders to spice up your IG feed. And the best thing is — all the tools are free so you can try all the viral editing techniques in one app.
As you may guess, the recoloring tool lets you switch shades on your pics fast and easily. This instrument works on all the textures so no worries here. Thus, you get to turn the tone of your hair, clothes, eyes, and lips to any shade needed — just use the drip to pick it
It needs to be said, you may either recolor original pics or B&W ones — the results will be great anyway. Herewith, you'll need to repaint the pic manually so make sure to zoom it in for precise effect.
In case you'll cross the borders you can always use an eraser to fix it. Along with that, the app covers various layout templates so you can get extra creative here.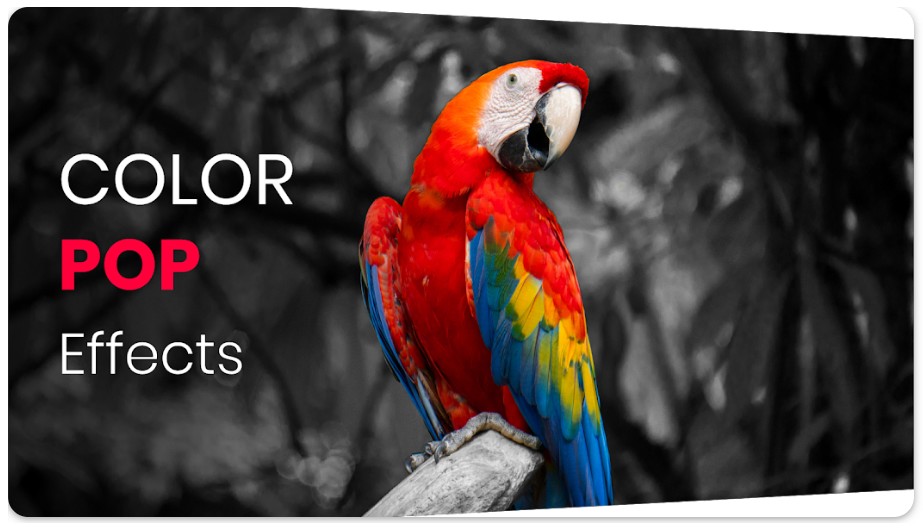 You may also like: 9 Best Photo Morphing Apps for Android & iOS
Paletta
This is the app that lets you bring colors to your pics effortlessly.
Experimenting with shades on the pics is fun — there's no doubt about that. However, constantly zooming the shot to highlight or repair the color is not for everyone. This app is here to help — it lets you add splashes or switch the tones on your pics automatically.
The app runs on AI the determines the tones and lets you switch them in a blink of an eye. Herewith, the app keeps all the textures and shadows on your pick original so it won't look like an odd coloring book. Plus, you get to alter the intensity of the tones and their mixing style if needed. In case there will be any mistakes with recoloring you can always erase the unneeded parts.
This app is very easy to use — you can turn the colors on and off with one tap, erase particular colors and quickly get them back to the original. As for the color palette, it's massive and you can even change the hue of the pixels.
The app runs on sub packs but the majority of tools are free anyway. However, the paid puck turns off the ads if it matters to you.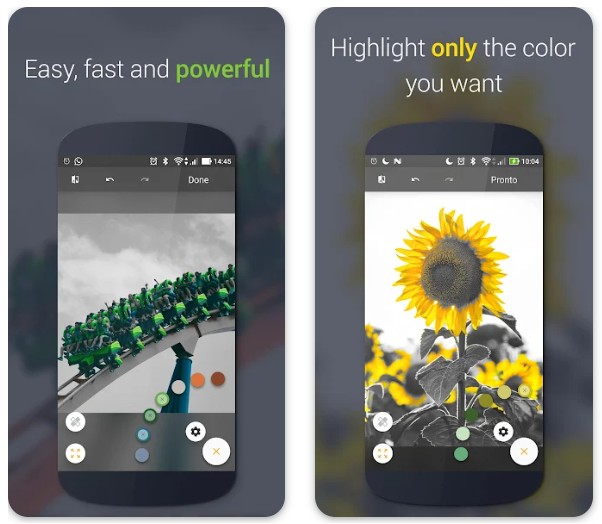 ReColor
The next app will turn your pics into pieces of art.
In the first place, this app is not the most user-friendly piece on the market. Thus, if you're an amateur and want a simple tool just for recoloring — you should probably move to the next app in line. However, if you're ready to spend some time figuring out how to use all the tools this app won't disappoint 100%.
The app covers over 100 draw brushes you can use for free. Along with the previous app, this one runs on a smart AI brush which makes color-switching as easy as pie.
All you need to do here is to pick the color you wanna switch and the one you want to switch it to. Herewith, the app doesn't paint over texture and shadows so your pics won't look plain.
Beyond that, the app covers various art tools such as a distortion brush, bending effects, bg remover, and more. There's even a motion tool that lets you animate your pics.
Plus, there are plenty of stickers, illustrations, and other stuff you can use to express your creativity. Some features are only available in the pro version but you can totally go without them.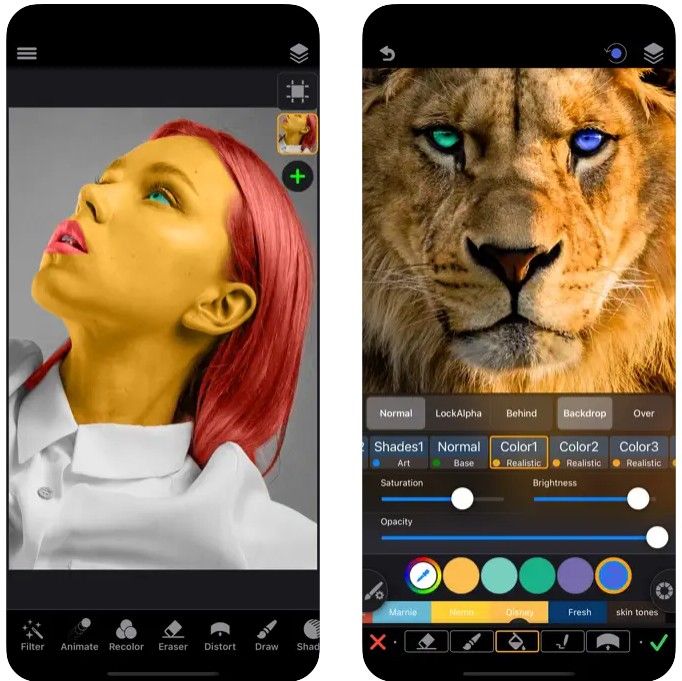 Check also: 7 Best Apps to Add High Heels to Your Photos (Android & iOS)
Photo Pop
This app is a bit different. It's originally made for selective coloring ob B&W pics but it can cope with recoloring as well.
First, the app covers a powerful color splashing tool that lets you splash any object n your pic. These features run automatically so you don't need to colorize individual objects on your own. However, if the app will get anything wrong you can always correct all the mistakes with an eraser brush.
Plus, you can change the color of splashed objects automatically as well. You can also do it without leaving any areas of the pic B&W. Just pick the tone you wanna repaint your pic to, pick the brush and start painting over. Herewith, the brush size is adjustable and you can regulate the intercity of it too.
Needless to say, you can zoom the pics in and out for a more precise effect. Additionally, the app covers various artistic effects such as neon lights, wings, frames, and all that.
Once you're done you can share it on SM or send it to someone right away. The app is totally free with no ads or something.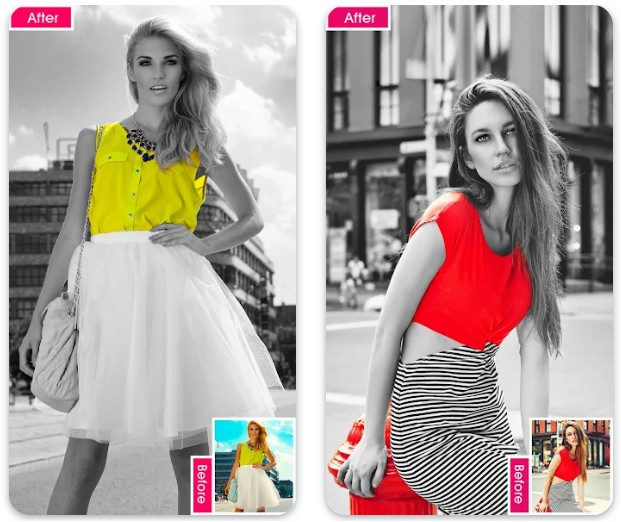 Color Changer
As its name suggests, this app lets you recolor your pics.
To be fair, this app has two features — recoloring one and a splash. The poping effect is classic — it makes your pic black and white but leaves some objects colorful.
Herewith, you may rather highlight one color, several ones, or just mark the needed area. The splash effect runs automatically but if there are any mistakes you can easily erase them.
As for the recoloring tool, it lets you switch any tones on the pic. All you need to o is to pick the original shape and the one you want to switch it to. There are no limits for the space you can recolor so you can modify the tone of your eyes, clothes, skin, or whatever else.
This tool is manual so you need to drag your finger to repaint the object. Herewith, you can pick between the original brush, a magic wand, or a rope.
The brush size is adjustable so no worries about that. Plus, you can zoom your pics to get the most precise result. Once you're done you can share the pick on SM right away.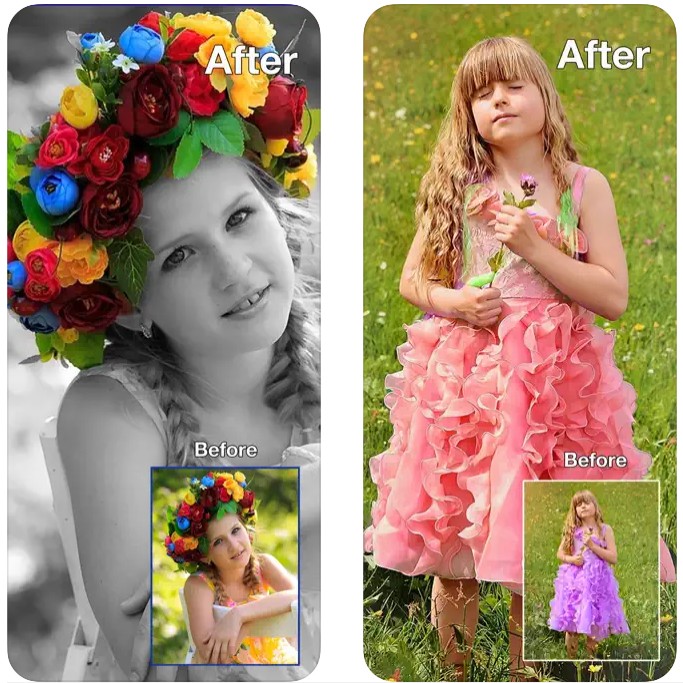 Colour Changing Camera
And lastly, we have an app that changes colors in real-time.
This is a recoloring cam that lets you switch the color of any object without even taking a pic. The app covers both frontal and a back cam so you can turn the shade of your eyes, hair, or jewelry. You can even change your skin tone if needed.
Herewith, the built-in cam doesn't take down the quality of your shots so no worries about that. Besides, the recoloring tool runs on smart algorithms so the objects don't look edited at all. In other words, there are no harsh lines or random color pops and you can regulate the intercity of the shade to make it appear more natural.
The app doesn't distort the texture of an object and doesn't cover the shadows as well. Plus, the app is easy to use — you just need to select the hue from the palette and touch the object you wanna recolor. Then, you can see how the object changes color in real-time and switch to another one if needed.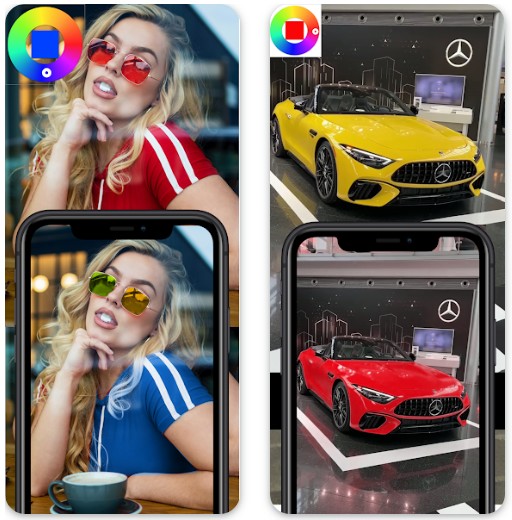 You may also check: 11 Best Photo Retouching Apps for Android & iOS
Colorize
Colorize is an application that allows you to transform your old and black and white photos by adding colors to them. The interface design is quite average, but its customization features do still deserve a try.
With Colorize, you can easily upload any photo from your camera roll or take a new one within the app. Then, using advanced algorithms, the application analyzes the photo and automatically adds color to it.
Large range of functions
Ability to color your photos
If you are not satisfied with the result, you can always adjust the saturation, brightness and contrast to achieve the perfect color balance.
One of the app's unique features is the ability to adjust the transparency of the color layer, allowing you to blend your original black and white tones with newly added colors for a vintage look.
However, some users have reported dissatisfaction with the app's accuracy, stating that it sometimes adds unrealistic colors or doesn't colorize certain parts of a photo.
Others have complained about the limited number of photos that can be processed for free, as well as random and app crashes.