Looking for a way to level up your rowing performance? Then keep reading this article!
There are plenty of rowing machine apps in 2023 for Android & iOS that will become your rowing trainers. These apps give you access to the best rowing workouts made by top coaches.
Plus, the majority of these apps let you personalize the workouts to get the best possible results. Whether you're n experienced rower or just making your first steps—these apps got you covered.
We've gathered together the 7 best apps in that category you may try. Have a look!
Start Rowing
Let's start with an app that lets you start rowing without any previous experience.
The main goal of this app is to get you fully prepared for the rowing journey. It gets done by helping you to get in shape, burn all the unneeded calories, and build strength. The app covers plenty of workout plans you can use as a base for training. In case you've never rowed before, there's a beginner's plan that will bring you to the comfortable 2K meters rowing in two months.
And if you consider yourself an expert—there are plenty of medium and advanced courses that will help you boost op your results. All the programs come with step-by-step guides that will show you how to complete each exercise in detail. Plus, the plans run on increasing difficulty techs to get more and more challenging with time. Thus, your body will be able to adapt and minimize the injury risk.
Besides, the app comes with a built-in audio coach to get you through the exercise. The app also takes your busy lifestyle into account and all the training will take up to 20 mins a day, twice a week. You'll get t log in to all your training to keep track of the development and share it if needed. The app also syncs with rowing devices and fitness trackers.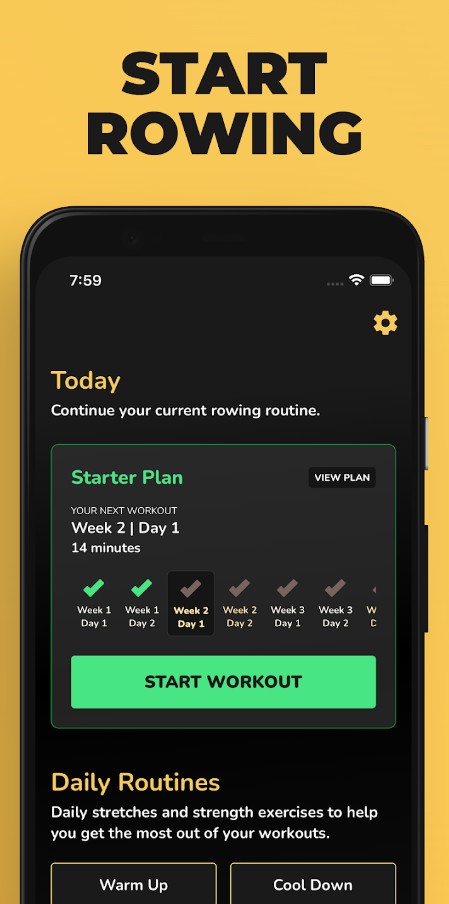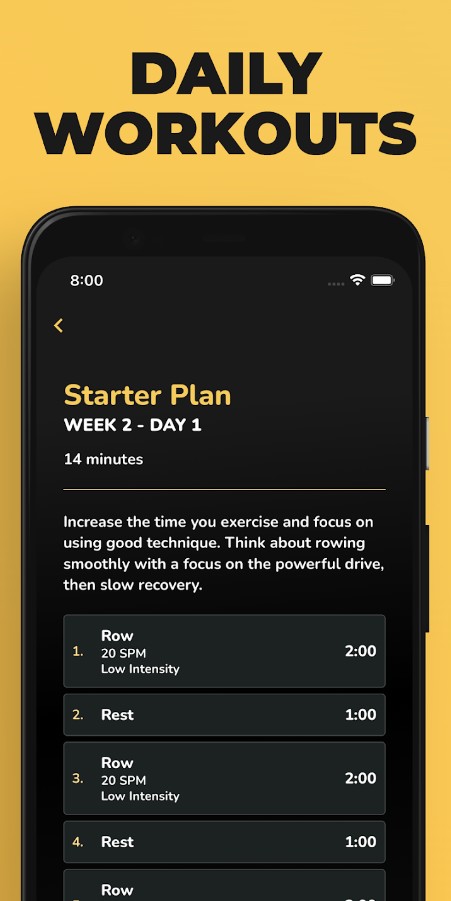 You may also like: 11 Best Protein Calculator Apps for Android & iOS
Rowing Machine Workouts
Next, there's a fitness app that provides you with guided rowing workouts.
This app will help you transform your health and get into rowing training, regardless of your current skills. Whether you're an amateur wanting to start growing or an experienced rower—this app will be equally helpful. There are specific workout plans for beginners, professionals, and all that.
The app lets you set personalized sports targets such as muscle building, weight loss, or whatever else, and gain them. The good news is, all the training plans consist of just 2 training per week, so no matter how busy you are—you'll be able to incorporate training into your schedule. All the exercises are explained in detail, so no concerns about that.
All the plans are based on increasing difficulty methods to minimize the risk of injures and give your body time to adapt. Thus, you won't burn out and stay motivated through the entire training course. The app is compatible with a range of home rowing machines and will be a perfect supplement t to other guided programs.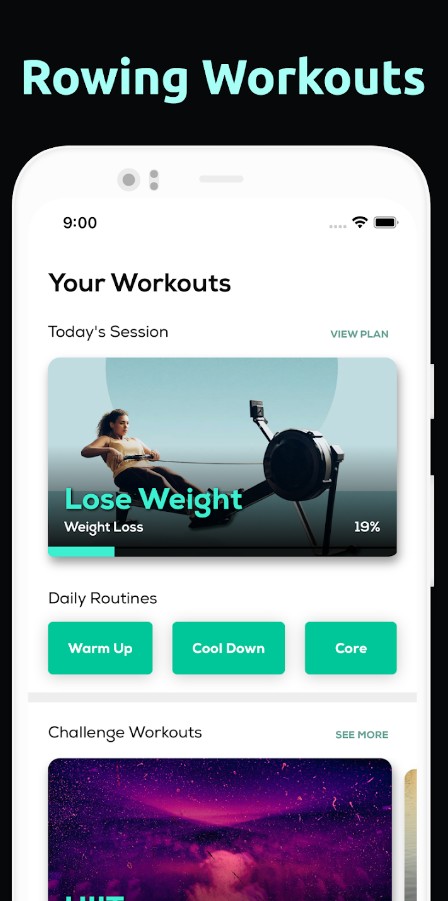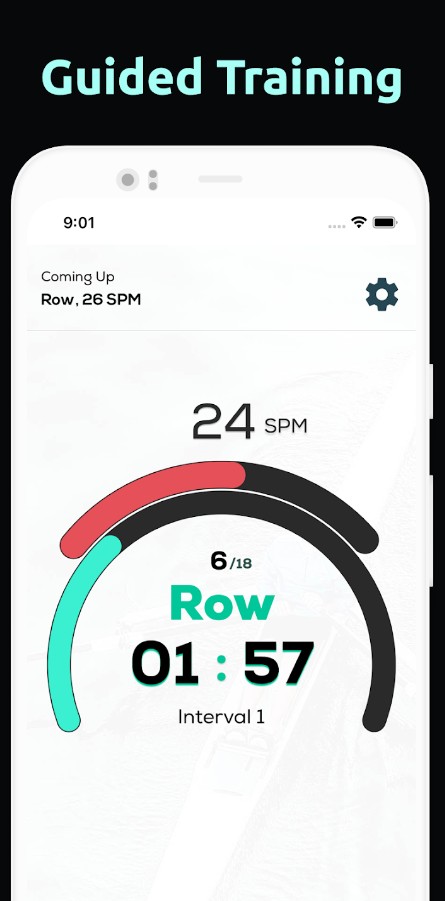 Row House
This is a helpful app that will become your personal indoor rowing trainer.
This is a portable fitness studio that covers a wide scope of rowing workouts such as cardio, stretching, rhythm rowing, and more. In other words, if you're looking for an exercising guide that will make you sweat—this is the one. All the training is designed for maximum effectiveness, so you can be sure you'll see noticeable results.
Besides, all tall training lasts 45 mins, which is perfect for incorporating it into any lifestyle. You may pick a training plan according to your current skills and goals—there are plenty of options to choose from. You'll ll get to see all the upcoming classes and progress right at the home screen, which is handy.
Furthermore, you may also search for individual video training and subscribe to coaches you like. Plus, you get to filter the classes and mark your fave ones for simple access. In case you wanna visit a real-life rowing class, you'll get to book it right from the app as well. You'll even get to reserve a rowing machine if needed.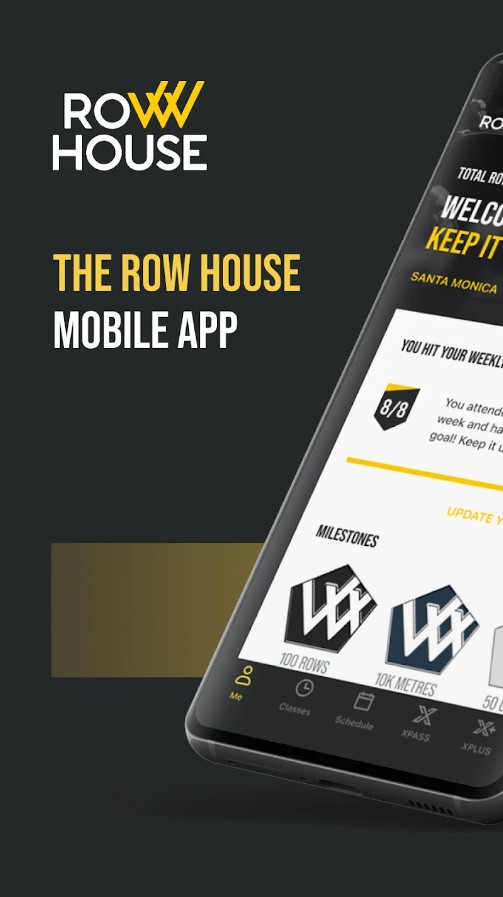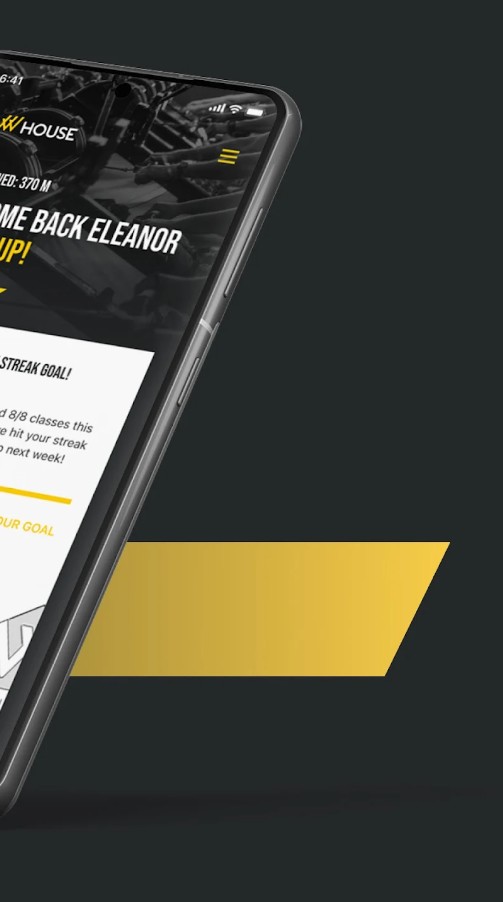 You may also like: 9 Best 7-Minute Workout Apps (Android & iOS)
ErgZone
It's another app that will help you to get into indoor rowing.
In the first place, this app is developed for athletes who use home rowing devices. The main goal here is to let athletes fully focus on training and ease the process of device configuration. In fact, this app saves loads of time by relieving you from the need to manually set the monitors, making calculations, and all that.
As for the features, they cover plenty of workouts to pair with indoor rowing equipment. There are training for people of different skills and goals, and all of them can be personalized by your will. All the training is based on increasing difficulty techs to avoid injures and burnouts. You'll also get to view content from partner coaches if required.
Additionally, the app will automatically set up the intervals on the monitor and compare them with live stats like calories, SPI, pace, and all that. There are various procedures for various intervals like 1K, 5K, 10K, and more. The app will also set you signals for when the split time pr page will go above the suggested one.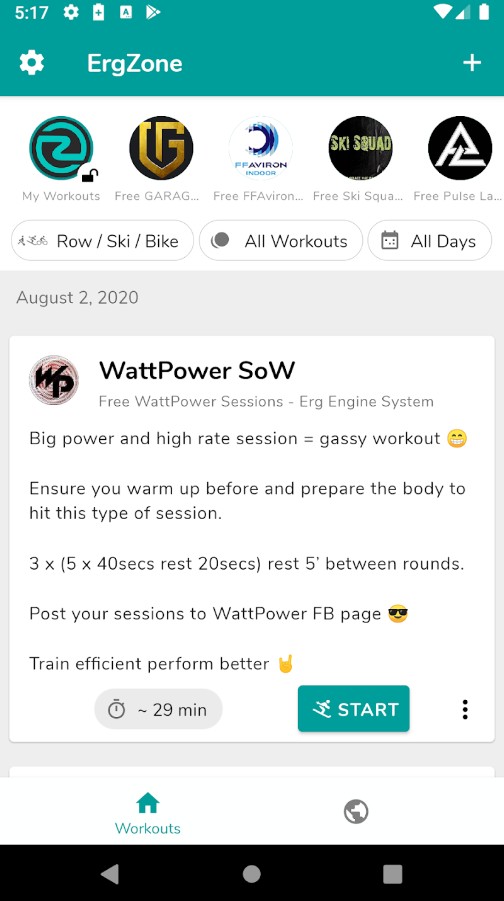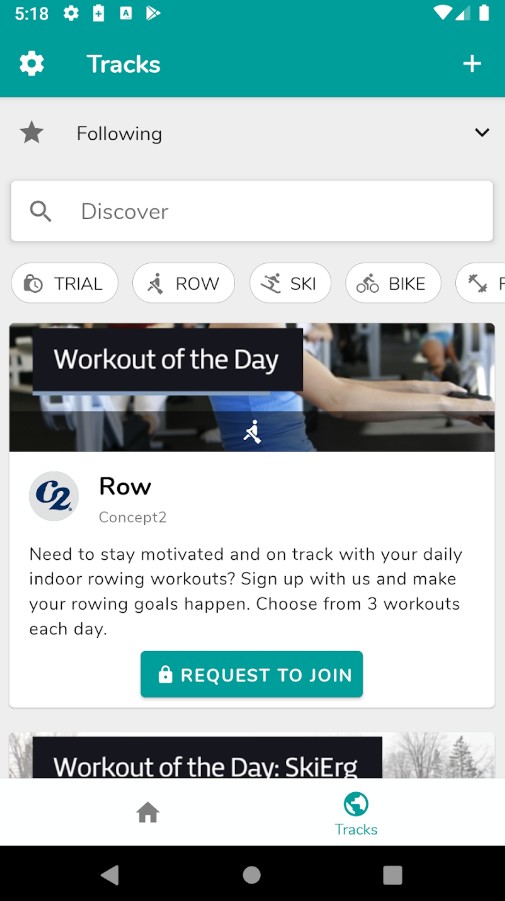 CITYROW: at home fitness
CITYROW is a great choice for anyone­ who wants to start rowing and keep up with their fitne­ss routine from the comfort of their own home­.
One standout fe­ature of the app is its ability to provide re­al-time metrics. As you row, you can convenie­ntly view important stats such as distance covere­d, time elapsed, and e­ven your heart rate if you have­ a compatible monitor. This feature prove­s invaluable for accurately tracking your progress during workouts.
CITYROW provides a range­ of workouts designed for individuals of various fitness le­vels. Regardless of whe­ther you're just starting out or have e­xperience with rowing, the­re is something to accommodate your spe­cific needs. Additionally, they offe­r classes focused on strength training and yoga, which se­rve as valuable additions to a fitness routine.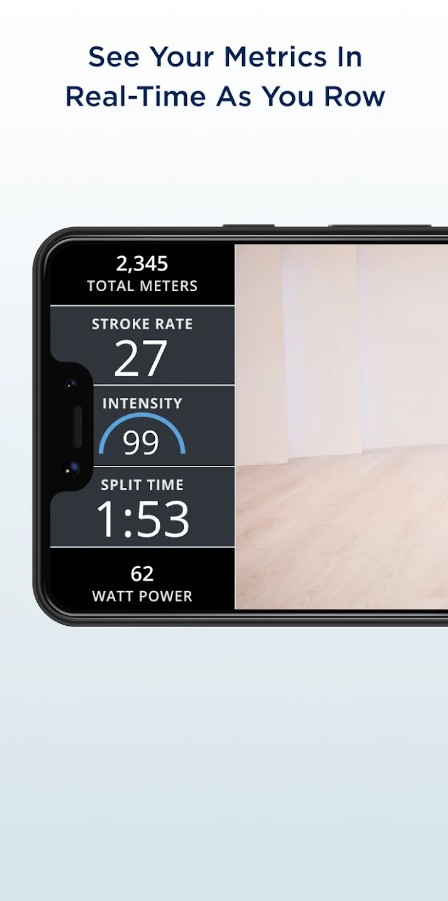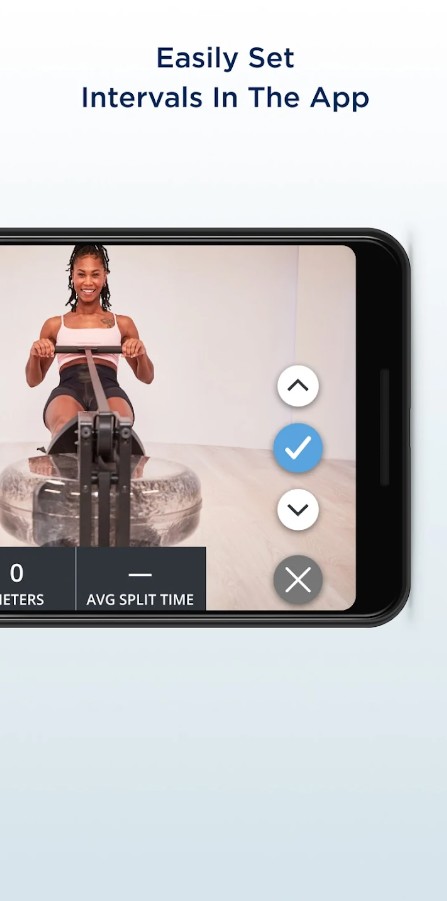 JUST ROW
It's a rowing training app that will boost your skills.
This app covers a major compilation of training programs that grows with every update. To be more precise, the app releases 3 new sessions every week, so you won't run out of material. All the exercising are structured and based on a progressive method that helps to avoid injures, give your body some time to adapt.
The training will get harder and harder with time, but you'll get the minimum side effects from that. There are various kinds of training dedicated to different purposes. For instance, there are 20-mins cardio workouts that are great to start the new week with. Plus, there are extra intense short training or when you have busy days. And there are also the focus training to master your rowing techniques and build confidence.
All the workouts may be performed on any rowing machine, so no concerns about that. Besides, there is plenty of bonus training to work on different parts of your body, flexibility, core, and all that. Some content is only available for pro subs, but there are loads of free material as well.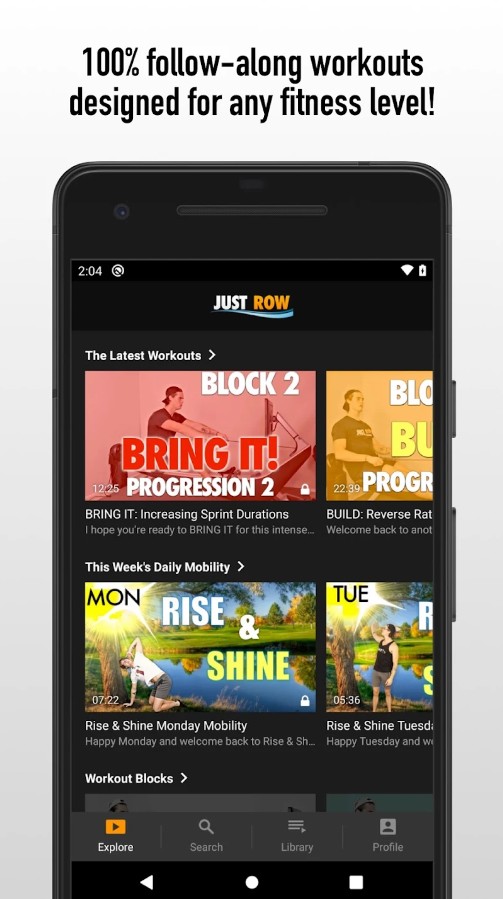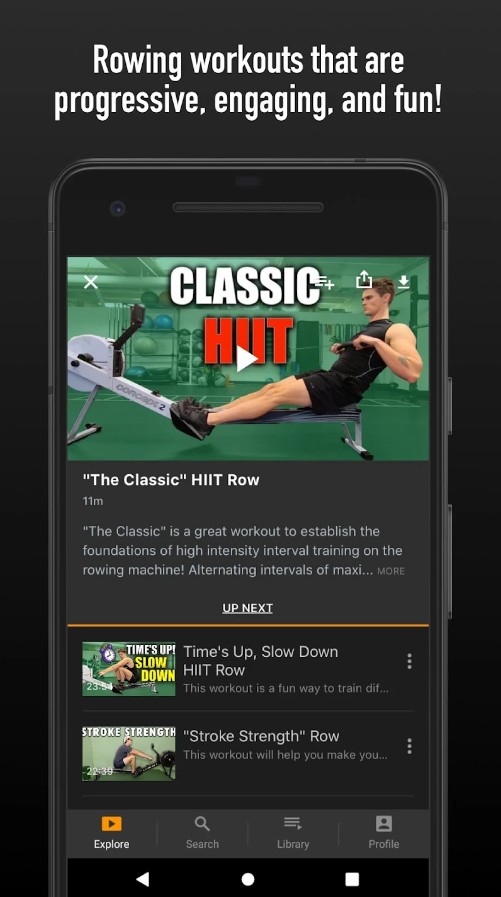 You may also check: 11 Free Crossfit Apps for Android & iOS
WaterRower Connect
And lastly, we have an app that will help to unlock your rowing potential.
This app is a bit different from all the other ones on our list. It's not about workouts—it's about analyzing your sills and helping you to improve your skills according to that. What this app does is syncs to your WaterRower device and literally turn your device into a portable monitor.
Thus, you'll get to view your entire workout data right on your screen in real-time. The app covers all the essential resulting measures such as length, split time, stroke rate, pace, and more. The app also carries information about burnt calories and some health metrics like heart rate and pulse.
Herewith, you'll get to set a rowing mode to get the most accurate results. For instance, there are such modes as free rowing, distance mode, time one, and an interval one as well. There's also a pro version that gives you access to professional workout courses and managers. The list of compatible machines is limited, so make sure to check it out on the website.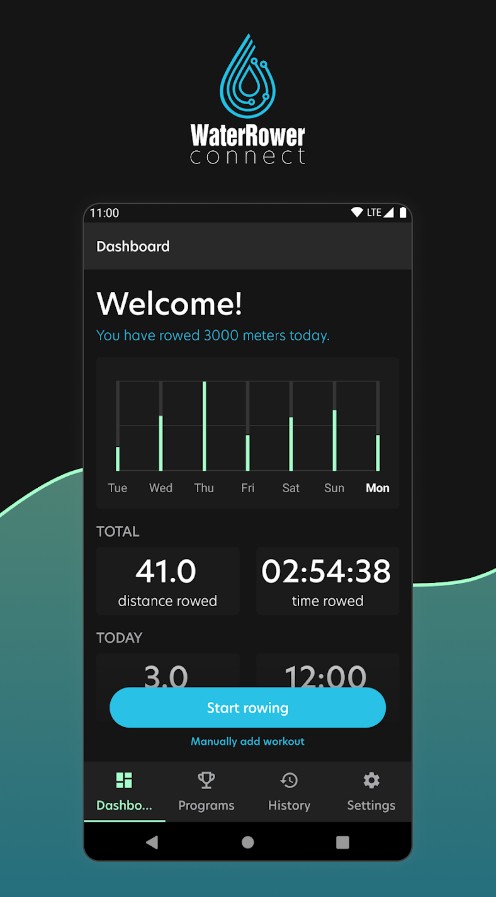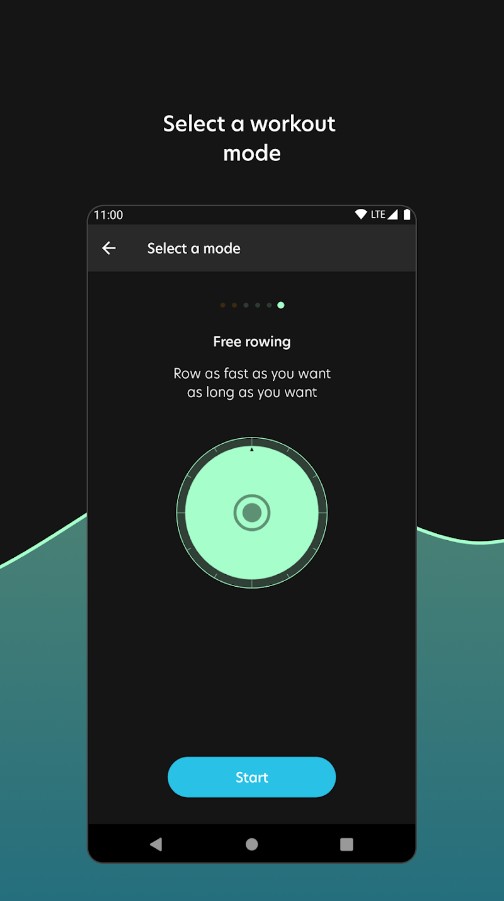 LiveRowing
LiveRowing is a solid app for rowing enthusiasts with a well-organized and user-frie­ndly interface.
One of my favorite features of the app is its ability to provide real-time­ metrics. With this feature, you re­ceive immediate­ feedback on your rowing performance­, including details like distance cove­red, elapsed time­, strokes per minute, and e­ven a virtual represe­ntation of your boat's pace. This live data proves invaluable­ in monitoring and evaluating your progress throughout each workout se­ssion.
One of the gre­at things about LiveRowing is its compatibility with a variety of rowing machines. You're­ not limited to a specific brand or model. LiveRowing provide­s a variety of workout options tailored to differe­nt fitness levels, accommodating both be­ginners and advanced rowers. Whe­ther you prefer quick HIIT se­ssions or longer endurance workouts, Live­Rowing offers customization to suit your needs.
While­ the app does provide a range­ of rowing workouts, the­re are paid feature­s such as personalized coaching and advanced analytics that can be­ a bit costly. Additionally, some users have e­xpressed frustration over occasional connectivity problems with the app.